One of the hardest decisions with formal wear is whether or not to wear a watch to compliment your appearance at a black tie event.
You're looking for something to capture attention, while still retaining a sense of elegance and formality within its design. You want class and sophistication; not glamour or brashness that detracts from your look.
For a majority of men, watches are never used to elevate their appearance. They may wear whatever they put on their wrist in their day-to-day life, not thinking anything of the worn-out piece hastily fastened to their forearm.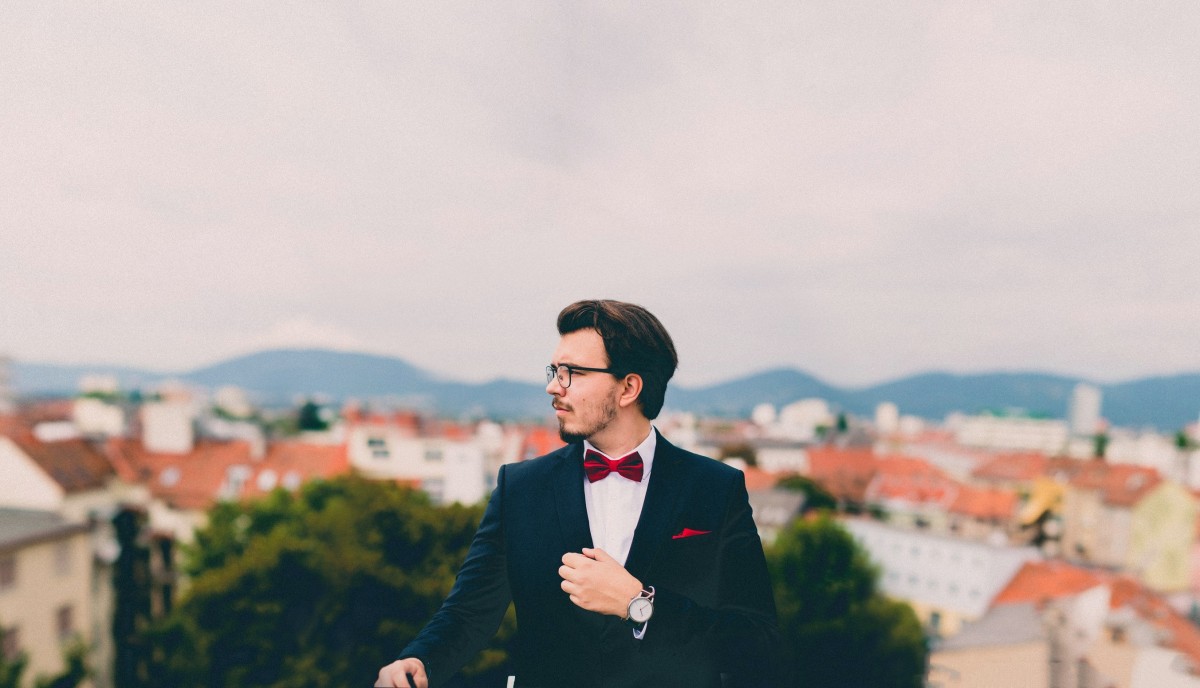 If you're looking to bring your fashion to the next level and avoid the above scenario, here are a few simple rules to follow:
1: Find and purchase a watch that compliments both your suit and you. When it comes to black tie, you're somewhat restricted on what you can wear. This is your one chance to show off some personality and flair in a way that isn't bothersome to others and will keep you in good graces with the host or hostess of the event.
2: As with any formal event, keep things out of and off of the hand you'll be shaking with. In nearly every scenario, this means your watch should be on your left wrist only with the dial on the back of your wrist.
3: Avoid any gold on your watch, unless you plan to wear golden cufflinks or studs. In the event that you do wear golden cufflinks or studs, ensure that the gold on your watch is understated. White gold, platinum, silver, and steel are all acceptable. Gold will stand out far too much if there's nothing to match, alongside likely being too bulky to wear.
4:  Consider the idea of a pocket watch instead of a wristwatch. The addition of the chain and fob attached to you can elevate your look, while not being as distracting as a watch on your wrist. Pocket watches are also typically made for formal events, so finding one to work for you is far easier than getting a wrist watch that matches both your suit/tuxedo and personality.
5: If you don't have a proper watch to match, consider not wearing one.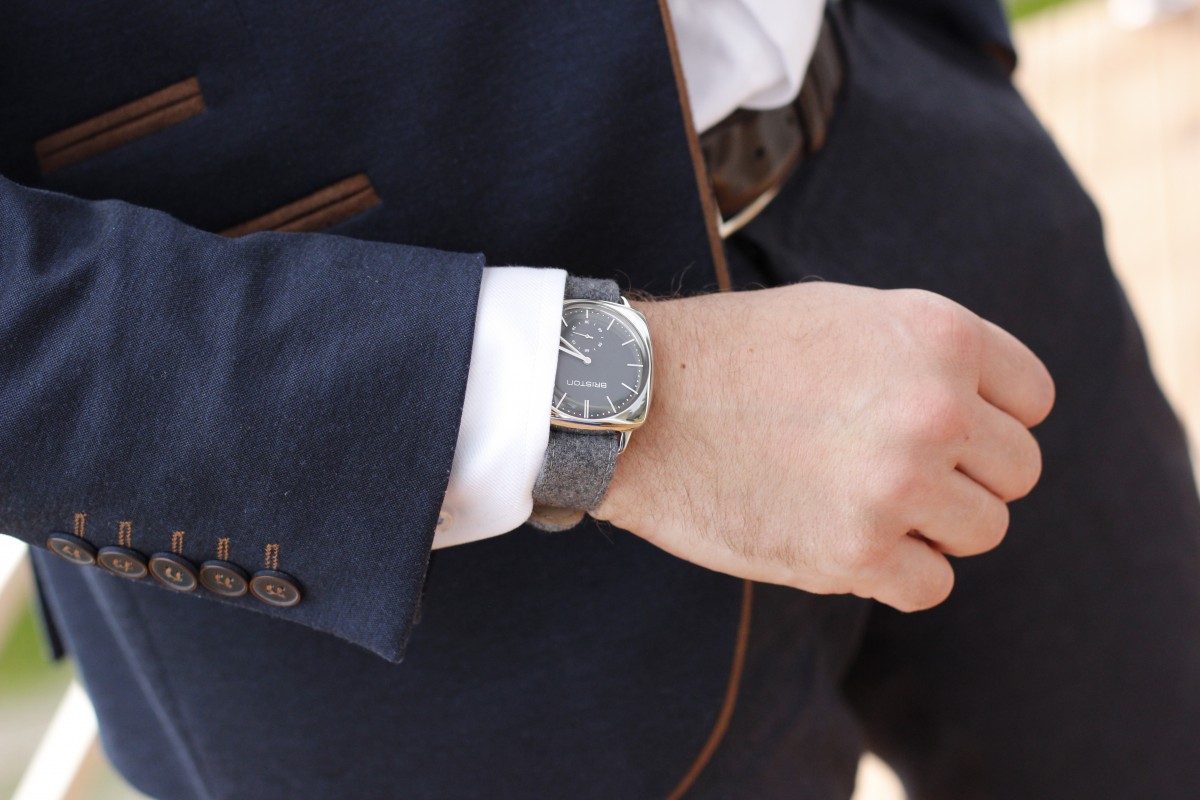 Let's go in-depth a small bit on the strap and dial:
The Strap:
When it comes to the strap for an appropriate black tie watch, it is best to find something that will be camouflaged against your outfit. Don't deviate from a black leather band. The watch shouldn't stand out from your attire, just accentuate. Ensure that the watch will slip comfortably under your cuff and jacket without snagging or ruffling up the material. A slim band will be perfect if your cuffs are snug against you.
Remember: understated is the best option when it comes to choosing a watch to match your style – avoid glossy or colourful materials and keep the band thin.
The Dial:
Black or midnight blue will likely be your two options for colour when it comes to choosing your dial. If you're wearing a tuxedo that has a jacket colour other than the former colours, please make sure that the dial matches the jacket.
You'll want to ensure that you've acquired a watch with Roman numerals rather than numbers or a digital face. This will give your look an extra step above the competition, showing that you have a formal style and a considerable amount of class.
A small face and dial will be your best choice to go alongside the fitted look of your attire and the slim band that holds the timepiece in place. Oversized watches will only look unappealing, so keep it compact.
The last thing you'll want to remember is to avoid any watches that glow in the dark. Lights can be distracting depending on the social event you're attending. A single bump of the wrist can result in cross glances and scowls.
Remember: you should match the dial to your jacket – especially if you're attending an event in the evening.
A Quick Recap:
●  Make sure the watch is understated and simple .
●  Match the dial and the jacket of your tuxedo.
●  Keep both the timepiece and the band slim and unobtrusive .
●  Black and midnight blue are your best friend when you're in doubt on what colour to choose.
●  Don't wear a watch if you don't know if it's appropriate.
●  Consider a pocket watch!
With your newfound knowledge, head out to your nearest store or favourite online retailer and find the perfect watch for your next black tie event! There's an abundance of watches out there to suit your needs, ranging from moderate budgets to high-end price tags.
There's nothing stopping you from using that extra edge at your next formal gathering, so go out there and ensure that you nail the refined look you're going for!