The Armani Group has been a legendary player in the fashion industry. The company chiefly provides fashion needs that never fail to impress. Generally known as a designer brand, the company houses various labels and one of those is Emporio Armani. This sublabel of the eponymous label Giorgio Armani particularly caters to the younger generation. The famous sublabel generally manufactures casual clothing and accessories. Not only do they provide basic styling needs but they also allow younger fashion enthusiasts to wear the brand's storied name. Among their many products creating a buzz in the industry, Emporio Armani watches certainly are scene stealers.
However, to understand the essence of each product, we must take a quick dive into the brand's legacy. How did the sublabel come about? What makes it a major player in the explicitly competitive fashion industry? Above all, what makes Emporio Armani a recognisable brand in the watch industry?
The Empire of Giorgio Armani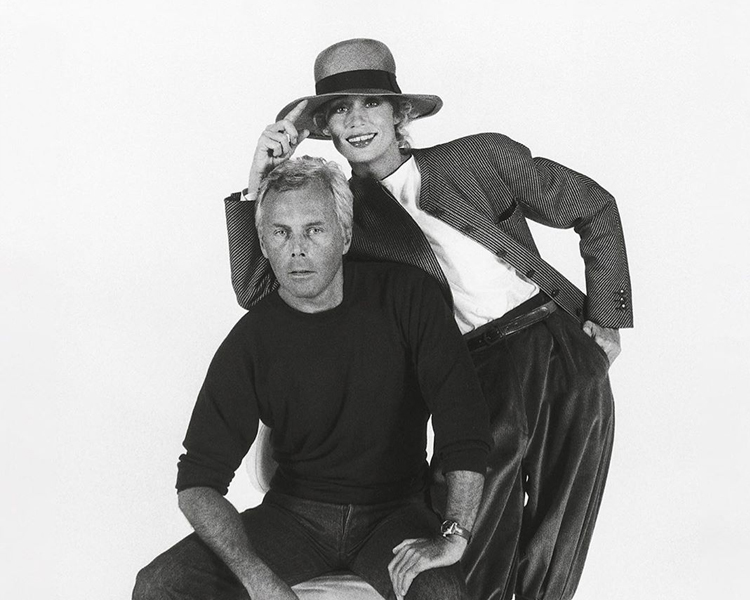 Giorgio Armani's journey began in the later 1950s to early 1960s. In those days when fashion was beginning to boom as an industry in itself, he established himself through humble beginnings. After a quick stint in the armed forces, Amani worked as a window dresser at a department store in Milan, called La Rinascente. He later took on the role of designer for the Nino Cerruti company, a men's clothing company. Armani worked for the company for a decade before moving on to follow a path of his own.
In his journey, he met architectural draftsman Sergio Galeotti who later pursued him to open an atelier of his own. During his transition from a corporate designer to establishing his own name, he freelanced for various luxury brands. These brands include Allegri, Bagutta, Hilton, Sicons, Gibò, Montedoro, and Tendresse which were significantly big names back then. After a breakthrough fashion show and in collaboration with Galeotti, Armani founded  Giorgio Armani S.p.A. in 1975.
The company is one of the pioneers of ready-to-wear fashion due to a collaboration with Gruppo Finanzario Tessile. This partnership led the company to take an innovative step to develop luxury ready-to-wear in a manufacturing environment. Under the strict supervision of Giorgio Armani himself, the brand later flourished and established itself further west by launching in the United States. It wasn't long until the company gained international recognition leading to the establishment of various sub-labels including G. A. Le Collezioni,  Armani Junior, and Emporio Armani.
Emporio Armani for Days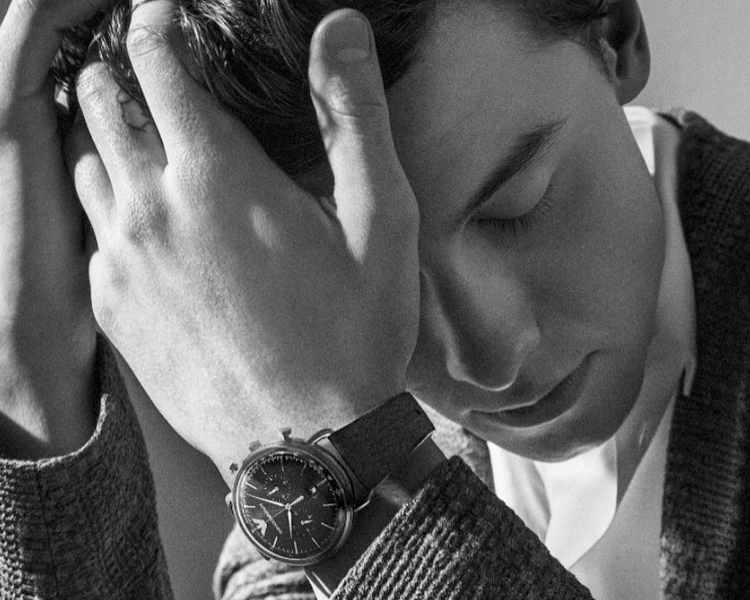 It's important to realise that Giorgio Armani is an innovator by nature. He's changed the fashion industry with groundbreaking innovations as well as by breaking norms that ruled the industry. For one thing, the industry gives Armani the credit for pioneering red carpet fashion. With his love not only for fashion but for the glamorous entertainment industry, he created a culture we laud to this day. Not to mention, he banned models with a BMI under 18 after the tragic death of model Ana Carolina Reston due to anorexia nervosa. In addition, he's one of the most celebrated friends of the digital age. In 2007, he hosted the first Haute Couture fashion show on the internet via MSN and Cingular. He also partnered with Samsung in crafting the Giorgio Armani phone.
Indeed, his journey progressed through technology. With this in mind, the progression of the Emporio Armani as a sublabel pushed the industry to boundaries unimaginable. At first glance, you would think that Emporio Armani is just another fashion label. However, the label continues to prove us wrong as it presents itself today as a lifestyle. Today, the sublabel brings forth style and function, both seen on Emporio Armani watches today.
For the best reasons, we know Emporio Armani watches as one of the most stylish in the industry. Not only does it serve the function that the new generation needs, but they also work to suit today's hippest style. Various designs transcend time with classic aesthetics and some take us beyond the future with modern complexities. Where Giorgio Armani excels, his brand follows. Perhaps, this is why Emporio Armani continues to innovate through the years.
10 Ways to Wear Emporio Armani Watches in Style
With a variety of designs on its roster, Emporio Armani watches are wearable not only on a casual setting but also for high-fashion functions. And knowing that the selection can be overwhelming for a discerning patron like you, we gathered the best watches from the storied sublabel and match them with the right style and function. From casual nights out to high-fashion red carpet glamour, we breakdown how to style the best Emporio Armani watches.
1. Suit and Tie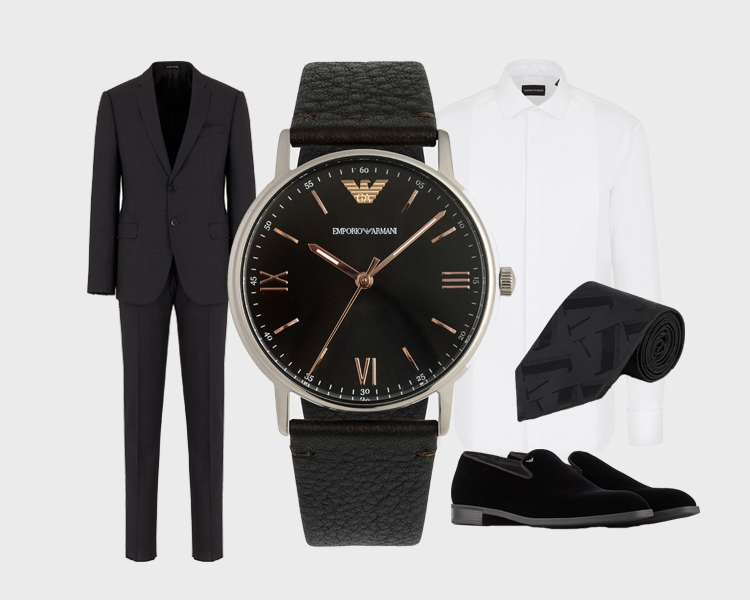 There are certain fashion rules that generally make styling easier for everyone. And while it seems easier to style men than women, it doesn't mean we have to slack in picking the right items for a function. Especially for a high-fashion function such as a suit and tie event. So, if life gets you in a fashion dilemma, it's best to go classic. Take a classic black suit ensemble and pair it with a black three-hands leather watch.
The stainless steel case of this Emporio Armani dress watch makes for a subtle contrast while the deep soft deep black leather complements the function and look just right. The soft metallic hue coming from the hands and markers make for a stand-out piece. If you're into some James Bond action, you'd probably get to live the dream as the watch boasts a water resistance of up to 50 metres. Powered by a quartz movement, it can surely endure light shocks and remain accurate through time.
2. Hollywood Glamour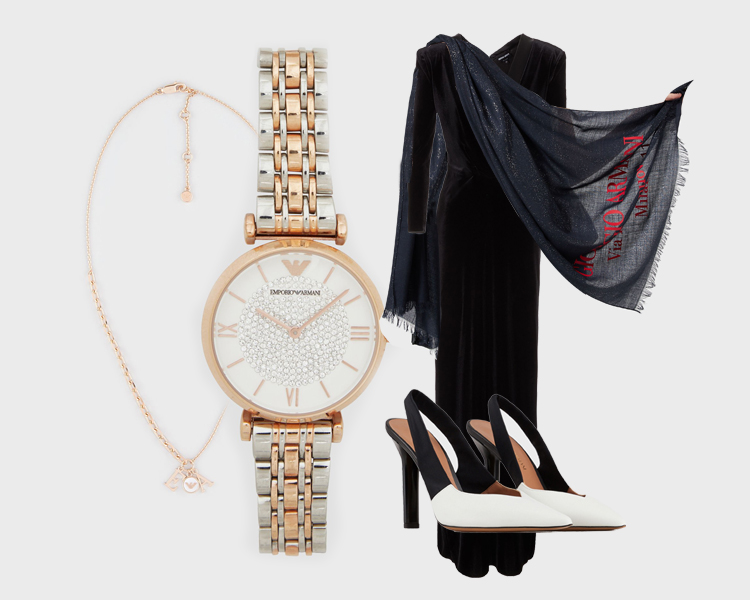 What's the first thing that comes to your mind when it comes to Hollywood Glamour? I say the fabulous era of fashion in the early 20th century. We're talking Marilyn Monroe, Jean Harlow, and Grace Kelly. If these names don't strike the image, maybe these ideas will: The Great Gatsby, West Point, or Breakfast at Tiffany's. Not only is this a celebrated era of what was then but it's also a theme that's always present in today's functions. If you find yourself in a turmoil of what to wear to perfectly exude the era's glitz, the key is to find the right accessories. Our best bet: an Emporio Armani women's two-hands stainless steel watch, like this Emporio Armani Retro Gold Watch.
In addition to its dainty aesthetic, the crystals on its dial truly embody the jewels that rocked that era. You'll find an elegant mix of steel and golden steel to further boost the flashiness we're aiming for. Its 32mm case fits delicate wrists and sits comfortably where you want it to. It's also splash-proof so a little spill of rosé won't hurt!
3. Femme Power Suiting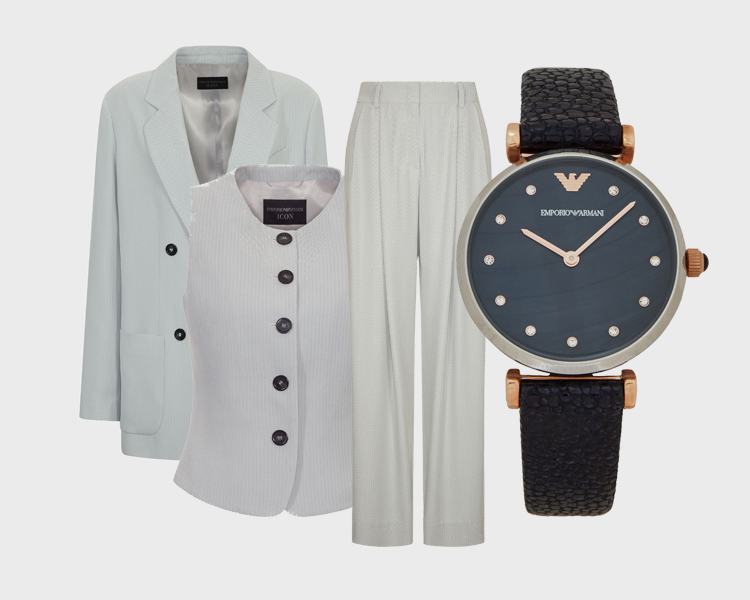 Every man and woman deserves a watch that can evidently keep up with their style without trying. One of the most prominent styling that takes after the powerful fashion statement of the 1980s, power suiting is a style that particularly works with the boss. No, you don't have to walk Wall Street to wear this despite it being its popular origin. In fact, you don't have to be an executive. You can be the boss of your own self and still wear power suits.  If you're the type to wear power suits, there is an Emporio Armani watch for you. But one of our most favourite is the label's women's two-hands leather watch.
There is something powerful about this watch that makes it a perfect contemporary to the power suiting era. It's understated yet it strikes a balance between its soft edges and dark tones. Its steel round case is home to a decorated dial. The bright crystals significantly enhance the markers with its soft glitter. Moreover, the dark blue hammered leather strap makes for a powerful statement.
4. Understated Nine-to-Five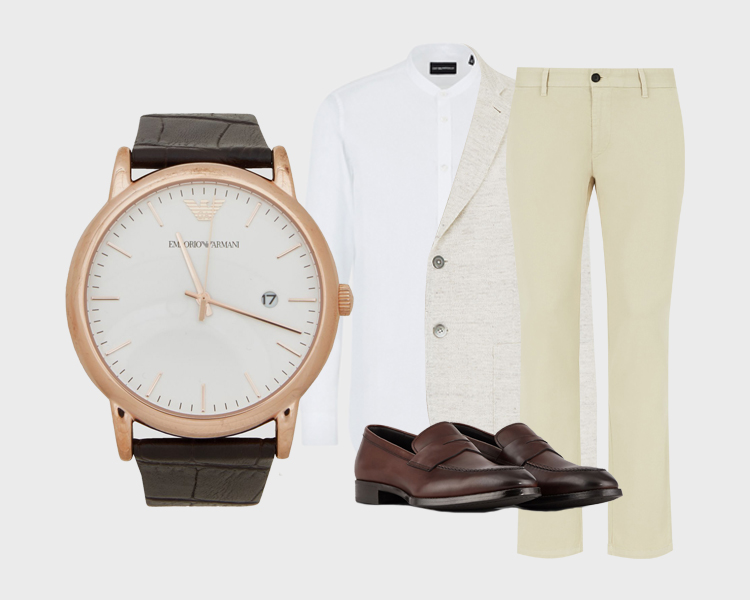 There is something about the designs of Emporio Armani watches that make them such classics. And to elevate your everyday life, one must always have one classic watch to wear every day. This go-to watch has to match your lifestyle and keep you up to date (and time) with current trends while staying classic. With most of us working a nine-to-five, dressing appropriately for work is much necessary. It certainly was difficult to pick just one watch from the label. However, we found the quintessential classic watch every man should have: a classic, leather dress watch.
Not only does it elevate an everyday look but it also functions according to your lifestyle. This elegant watch has an IP rose gold stainless steel 43mm case that defines its charm. The quiet date window on the dial is so understated that it sits well with the gold hands and markers. The strap also speaks sophisticated volumes with a crocodile-effect leather.
5. Corporate Chic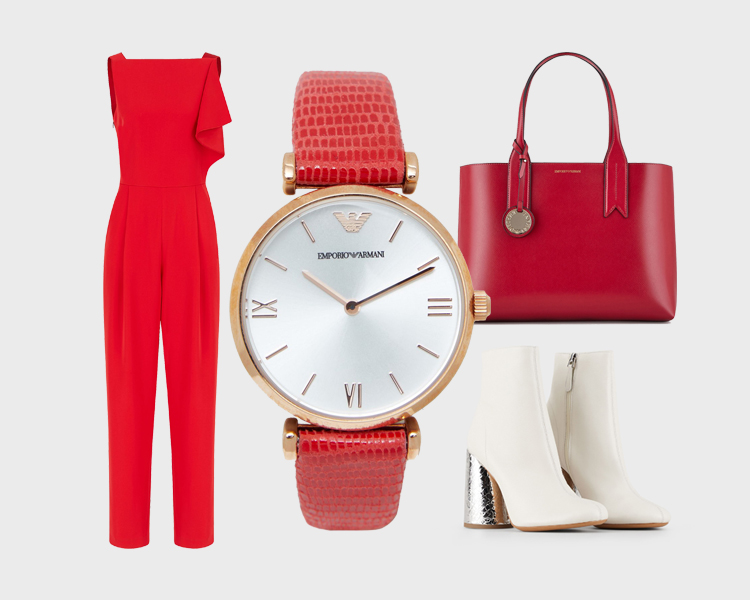 Women rule the corporate scene as well. And by all means, working in a corporate setting still gives people the freedom to explore appropriate style choice. If you're the type to work that figure-hugging dress à la Christina Hendricks in Mad Men, corporate chic is how we should define you. Looking for the perfect watch to match your red blouse and pencil skirt? Perhaps try pairing it with Emporio Armani's women's rose-gold-plated watch with a red leather strap. Besides the pop of colour that can define your character, the watch's silver face add luxury to its face.
The watch works hard in bringing in equally effortless luxury and modernity through its design. Plated with rose gold through a PVD technique, its 32mm case ensures durability as well as flair to the watch. This perfectly complements the silver-plated face while contrasting the lizard-print red leather strap.
6. Insta-Worthy Subtlety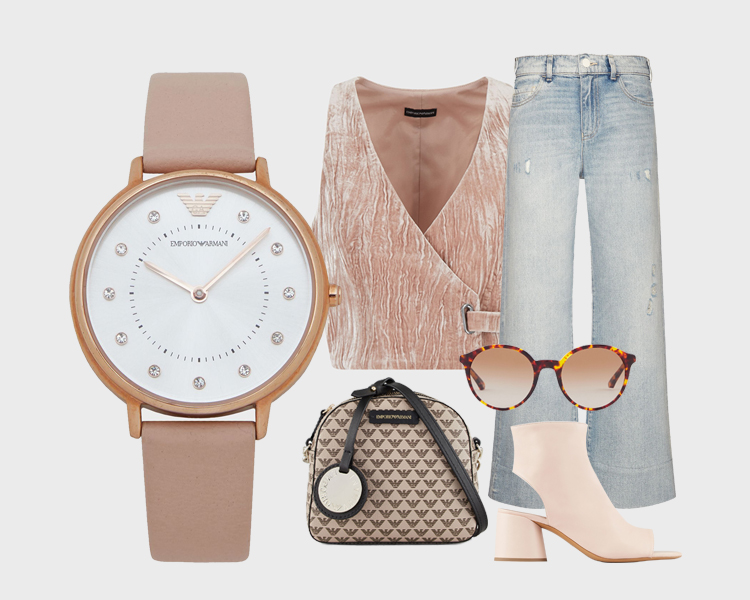 No matter how we'll try to put it, Instagram surely became the new platform to show off style. Not only do you get instant feedback for it but it also showcases images better than any other platform. So it's not a surprise that we're dedicating one entry for fans of the platform. Despite the existence of other platforms, we have to admit that it's Instagram simply is easier for the eyes. It focuses on aesthetic and equally embraces all kinds of style. So we picked just the right watch to match just about all the styles you'll see on the platform. From casual looks to festival looks, this watch rather fits every single occasion. I am, of course, talking about this Emporio Armani Connected two-hand ladies' watch from the roster of Emporio Armani watches.
The watch's beige leather strap makes for a great fit to wear just about anywhere. It also builds a strong case of elegance with the bright crystal markers. In addition, its mineral glass makes it a durable option to wear perhaps at a music festival. Moreover, this smartwatch can be linked to your smartphone, so you can be connected and stylish at all times!
7. Contemporary Street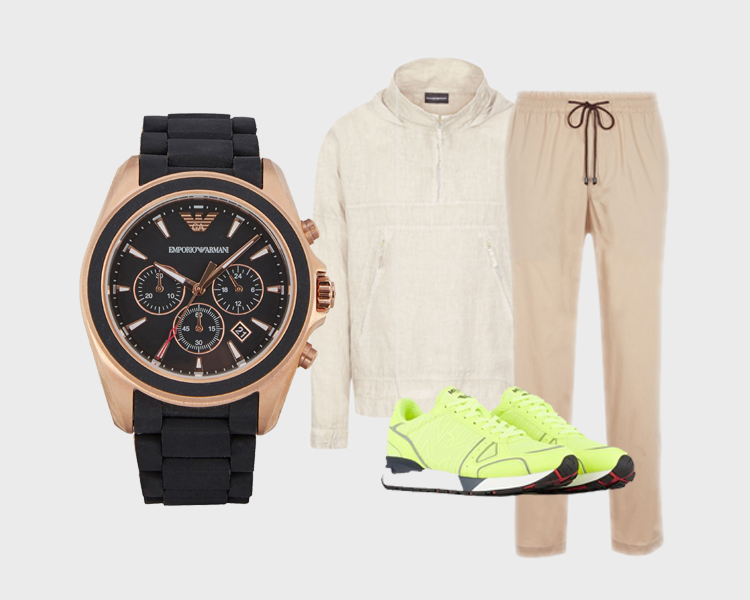 Street style is a fashion trend taking over the world. That is to say, the trend roots from classic streetwear elevated to higher fashion grounds. These days, the streets became better runways than the stages at fashion shows. However, streetwear has taken over fashion weeks as well. You'll see popular brands in the lineup marking the new era in fashion. Street style certainly swept the world off its feet as everyone finds it easier to wear. It's equally fashionable as it is comfortable. This is without a doubt, the core ideas of what streetwear should be. But with eccentricity out there, accessorising can be a bit of an overkill for this style. So, you really need to choose the perfect items to pair with your style. We recommend an Emporio Armani rubber chronograph.
This chronograph not only redefines a classic function but also rediscovers the timelessness of its appeal. The unique strap comes in solid steel covered in opaque silicone so as to complement the case. The case, as well as other details such as markers and hands, are in rose gold plated steel. With the silicone-covered bracelet, you'll surely be able to pair it with classic streetwear staples.
8. Classic Monochrome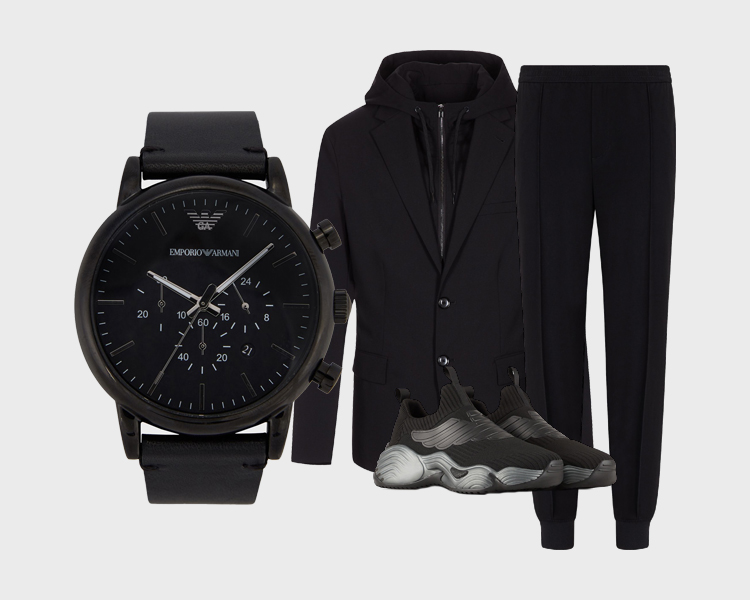 We all love a monochrome every now and then. Besides its simplicity, the subtlety it comes with is incomparable to other styles. If you like to lead a monochrome life, styling should come easier for you. However simple it may look, we have to admit that everything is easier to pair with another piece if it's black. If you're one of the people who, like me, turn to black when all else fails, then this watch is for you. From one chronograph to another, this monochromatic timepiece has to be the easiest to pair among all Emporio Armani watches.
This leather chronograph embraces the bold combination of tone on tone details. From its dial, markers, down to its strap and buckle, every hue is monochrome. The IP black steel case comes with a glossy finish to enhance its stylish features.
9. Preppy Sixties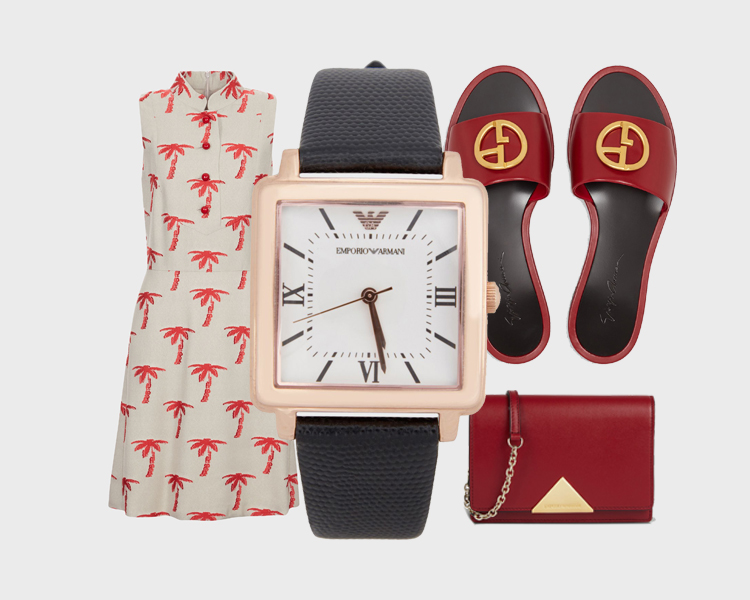 Want to go back in time? The Sixties has to be the most colourful and iconic era for watches. During this time, heavy-cased watches have ruled the industry. This is to match the boldness of characters that emerged at the time. It's the era of the early flower power as well as the hippie culture. However, this era was also prominent for the preppy culture that survived through all the colours and psychedelics. We're envisioning English prep schools that also turned to be a style that prevails to this day. To match this, we're thinking more of odd-shaped watches just like this square-shaped watch that should be common at the time.
In general, the composition of the watch is in stainless steel, soft leather, and pink gold-plated details such as with the case. Like a classic watch, it has a printed leather bracelet with adjustable buckle closure. It also has the quartz movement to ensure accuracy and continues ticks and tocks.
10. Active Pulses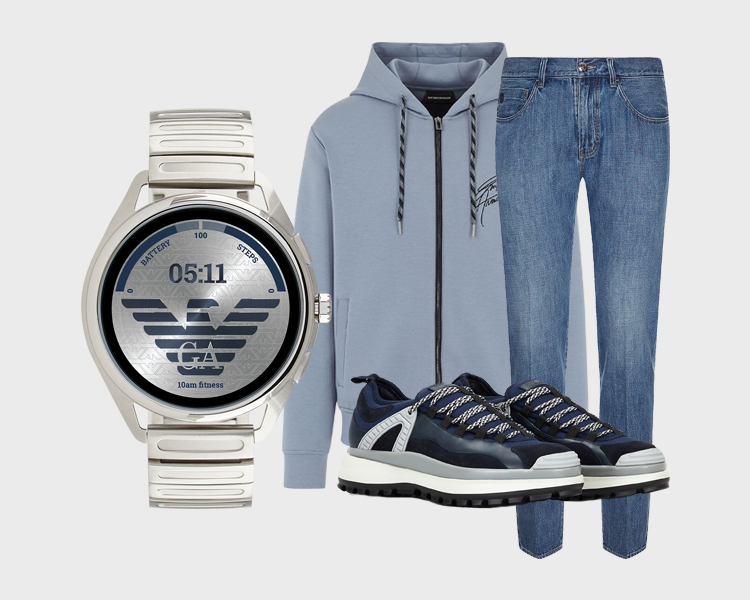 An active lifestyle requires a watch that can keep up with you. Everybody needs a watch that can keep track of the most important things efficiently and effectively. That is to say, a smartwatch should do the job for you. If you're looking for a designer smartwatch that looks as fine as it works, then the Emporio Armani Smartwatch 3 is for you.
It bears the features of a classic watch such a steel bracelet but it works with modern technology through the Wear OS by Google. The 44.5mm smartwatch provides a highly personalised experience as well as compatibility with iOS and Android systems. To emphasise, the watch has a Qualcomm Snapdragon Wear 3100 processor to complete all its functions. It also sends notifications for texts, emails, social media platforms, and other app alerts. Moreover, it functions with multiple timezones to accompany your trips and Bluetooth for better device compatibility. Additionally, the watch provides heart rate tracking, GPS, Google Pay, and music controllers. Not to mention, the watch is swim-proof with interchangeable watch band to match your lifestyle even further.
Emporio Armani Watches for Every Lifestyle
Looking back, no one would have thought that Armani Group would expand to providing watches that are as functional as they're stylish. With founder Giorgio Armani focused on apparels in his early career, there was no trace or hint of diving into this industry. However, with time and continuous innovation, the brand only proves that it came to conquer more than just fashion. It's ready to take on the complex industry of homology. Where Emporio Armani watches go from here? No one knows but we are excited to see what the future holds.
---
 Looking for more watches that can go with your style? Check out these watches that you can dress up or down with.