Seiko has always been known for its focused collections. With their clear message crafted with collections that are cohesively surrounding specific purposes.
In the early 60s, the Seiko 5 collection was brought to the public. These watches were more youthful-looking and were intended to bring the youth of that period who were looking for high-quality watches at a budget price. Designed with a set group of traits, the people could be assured they would get just that.  
In this article, we will be looking at some of the most iconic Seiko 5 Sports Watches. But first, let's look at the history and traits behind this collection.
Are Seiko Watches Good?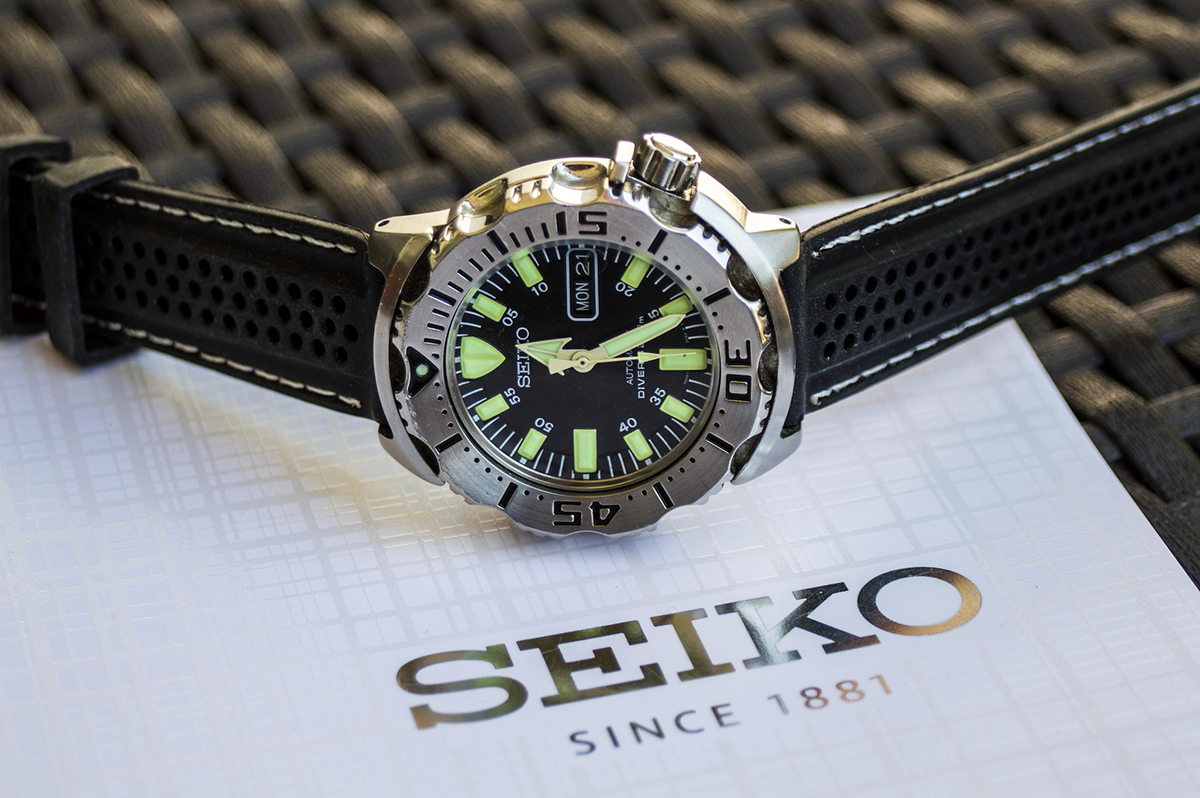 Seiko has always been a great watch company. One that offers high grade watches on par with some of the higher-end options at a much more affordable price. The reputation built by the Seiko 5 Sports was carefully crafted with a group of traits that were designed to get the most out of the watch's materials and mechanisms. 
The traits you could be assured you would get are:
An automatic movement
Day/date window
Water resistance of good quality and depth
A crown built into the 4 o'clock indicator
Durable case and band
These may seem like they are just run of the mill options, but they would not be standard if it weren't for watch companies like Seiko. All these amazing qualities and attention to detail is why the Seiko 5 Sports watch collection had the success it did and still does to this very day.
They were so iconic that recently the Seiko 5 Sport collection made a comeback. Using the same idea behind the original launch, the new line is modelled after what the modern youth are looking for in a timepiece.
The new collection, instead of having multiple models, takes one model and makes several variations to ensure there is a watch for everyone. Seiko watches are built with style and durability in mind. If that is something you are looking for, your answer to the question if Seiko watches are good, is yes!
List Of Seiko 5 Sports Watches
Seiko started from humble beginnings in Tokyo during the first part of the 20th century and in the early 60's added the Seiko 5 Sports collection. There are a lot of great modern models, but today we are going to concentrate on the classics to help you understand why any addition of a Seiko 5 to your collection is a great idea.
1. Seiko 5 DX Automatic
The seventies would bring a new model to the Seiko 5 line, and it was a classic looking option in comparison to some of the earlier or later models. The DX Automatic uses the 5 pillars of construction to build a high-quality option that was the go-to for many youths throughout the 70s.
There are, of course, multiple variations and can be found for little to nothing or up to almost $1000 in price tags. This watch model is a great everyday choice for that guy who is looking for a touch of classic elegance.
Features
Stainless steel case (35mm)

Automatic mechanical movement

Multiple variations

Manufactured between 1970 -79
Price
$900
2. Seiko 5 Sportsmatic
The mid-60s would see our next classic Seiko watch inception. The Sportsmatic is a sleek and stylish sports watch that can easily be dressed up or down. It is an elegant piece that doesn't quite fit our modern thought process of what a sports watch should look like. Simple and elegant this watch has a true 60s style to its overall design.
There are a few things that may fall short of what you expect from the 5 pillars of the Seiko watch. The water resistance capability is less than the typical, and so this is truly a sports watch in name only.
Features
Steel case (38mm)

Water-resistant down to 35'

Steel bezel

Automatic movement (7619 caliber)

Power reserve 48hrs.

Multiple variations
Price
$150
3. Seiko 5 Sports SNZH55K1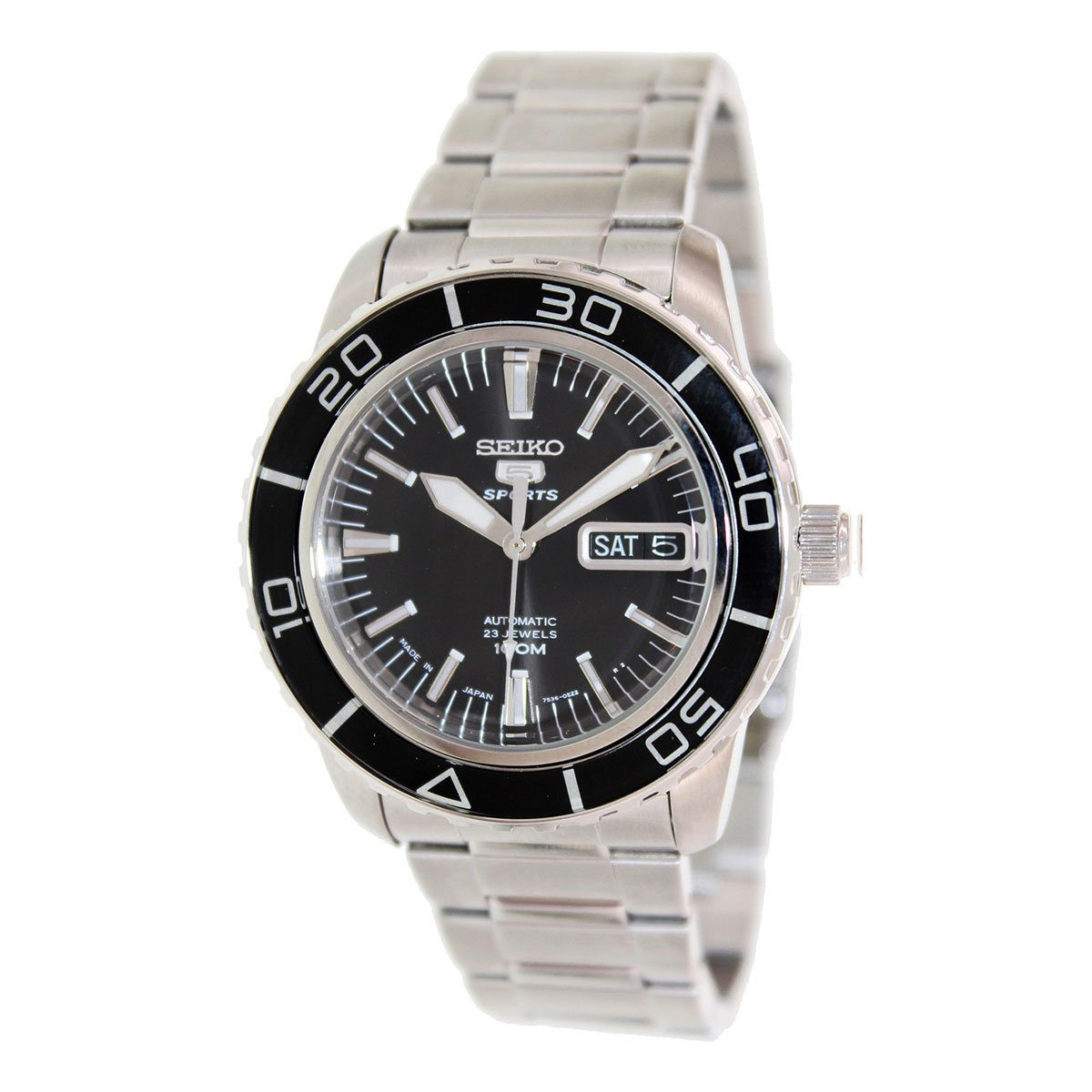 This sports watch belongs to the more modern part of the sports collection.
Built with a larger case and a bit more modern stylistic accents, the SNSH55K1 is one model that could be mistaken for a modern watch. With its divers-like resistance to water and its durable build, the watch is a rugged yet elegant option for the everyday life of every man no matter what their day looks like.
The precious of the inner workings of this watch help make it one of the best and most reliable models in the Seiko 5 Sports collection.
Features
Stainless steel round case 

Crystal case back

Unidirectional rotating bezel

Automatic movement (7S36 Calibre)

Water-resistance down to 328'
Price
$300 and up
4. Seiko 5 Speed Timer
In 1969, the race was on to create the first automatic chronograph. This would see the birth of many of the most iconic watches that are sought after by many watch collectors.
This watch was the first automatic chronograph fitted with a vertical clutch and column wheel. The unique technological advances used in the construction of the classic Seiko watch is just one of the many reasons why watch enthusiasts love this timepiece.
The style of this watch translates well to the modern-day with its stainless-steel casing and automatic movement. This watch is great for a casual day out on the water or even running errands. Though not one for a fancier occasion, this watch is a versatile addition to your collection.
Features
Steel case (40mm)

Water-resistant down to 165'

Mineral glass lens

Automatic movement

Multiple variations
Price
$425
5. Seiko 5 SRPB89K1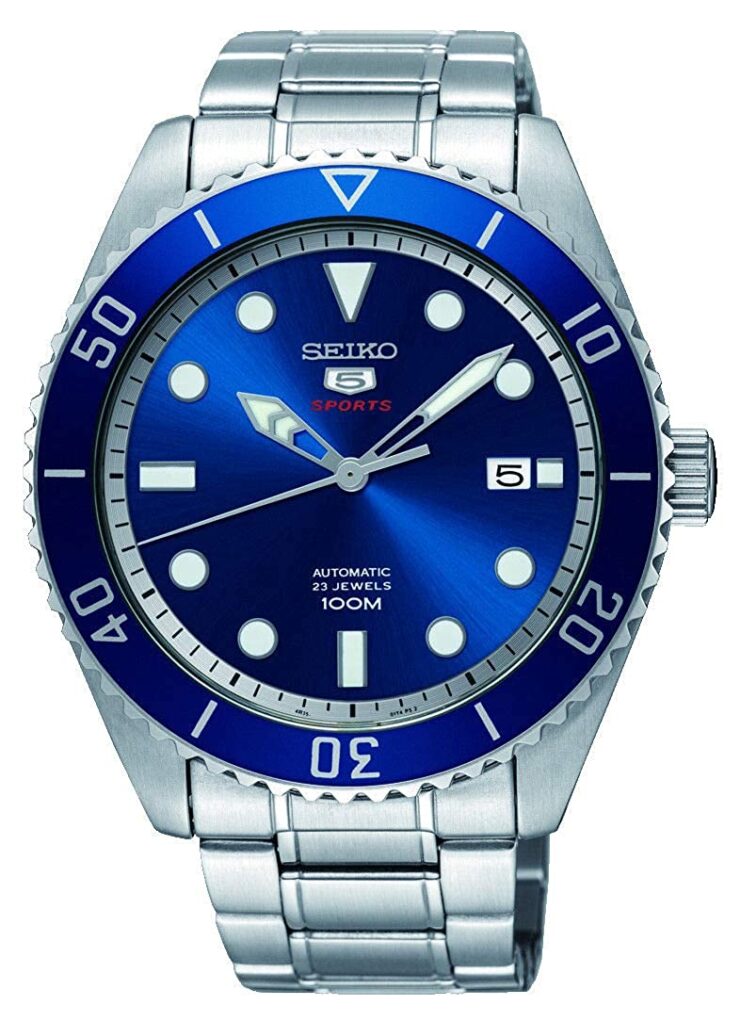 This Seiko watch is one of the newer models on our list, but that doesn't take away from its classic styling and reliability. This model sticks with the classic pillars and brings those into the modern age with style. A perfect watch for everyday use. It is a rugged and durable watch that comes with a lot of great features.
Designed with new tech like the Hardlex crystal and the rotating unidirectional bezel, this watch looks smooth and with adding a sense of sophistication to any man's style.
Features
Stainless-steel round case (43mm)

Unidirectional rotating bezel

Automatic movement (4R35 calibre)

Hardlex crystal lens

Water-resistant down to 330'

Multiple variations
Price
$250 and up
6. Seiko 5 Sports Day-Date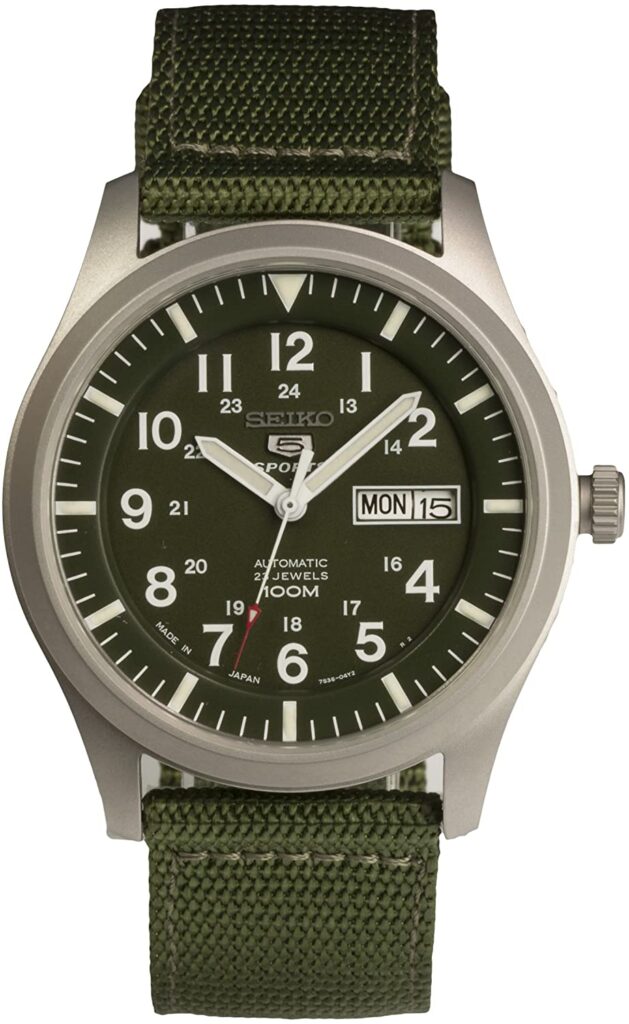 The Day Sport from Seiko adds in complications not found with every model. The inclusion of the day and date gives this model a comparative look that is on track with its competitors of the time. Even with the evolution of the line, Seiko did not lose a beat and found themselves with another classic watch on their hands. 
This watch has the efficiency and features of a high-quality dive watch while still holding the elegance of a traditional wristwatch. This model is a daily wear option that will add just that little extra something to your casual look.
Features
Steel case (48mm)

Water-resistant down to 330'

Automatic movement (4R36 calibre)

Mineral glass lens

Multiple variations
Price
$350
7. Seiko 5 Sports Atlas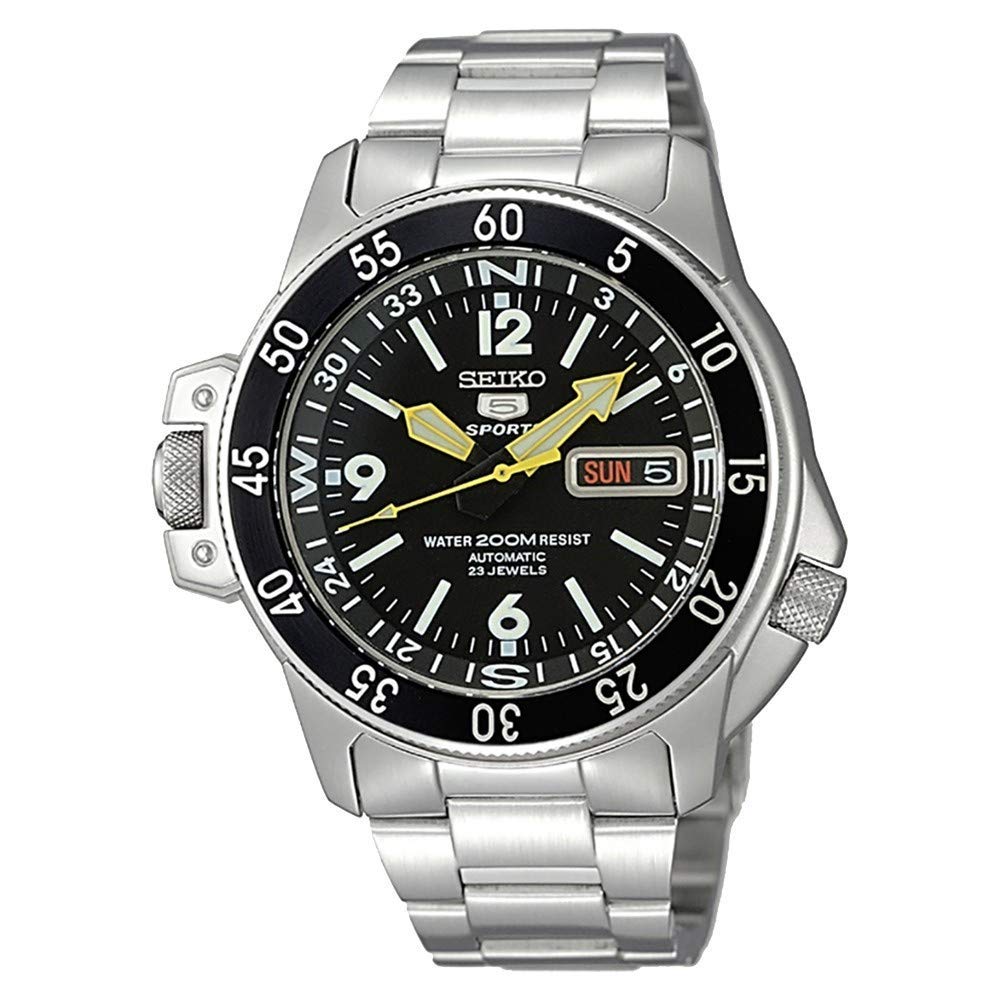 Released in 2005, this is another of the more modern options on our list. With this model, Seiko stepped up the water-resistance of this model and set a new precedent. This model is good to a depth of 660', and that makes this model perhaps the best diving option from the Seiko 5 Sports collection. A nice rugged member of the family, with this model you will make a statement.
Features
Stainless steel round case (40mm)

Water-resistant down to 660'

Power Reserve 40 hrs.

Automatic movement (7S36 Calibre)

Scratch-resistant Hardlex lens

Unidirectional rotating stainless steel bezel
Price
$200
8. SRPB91J1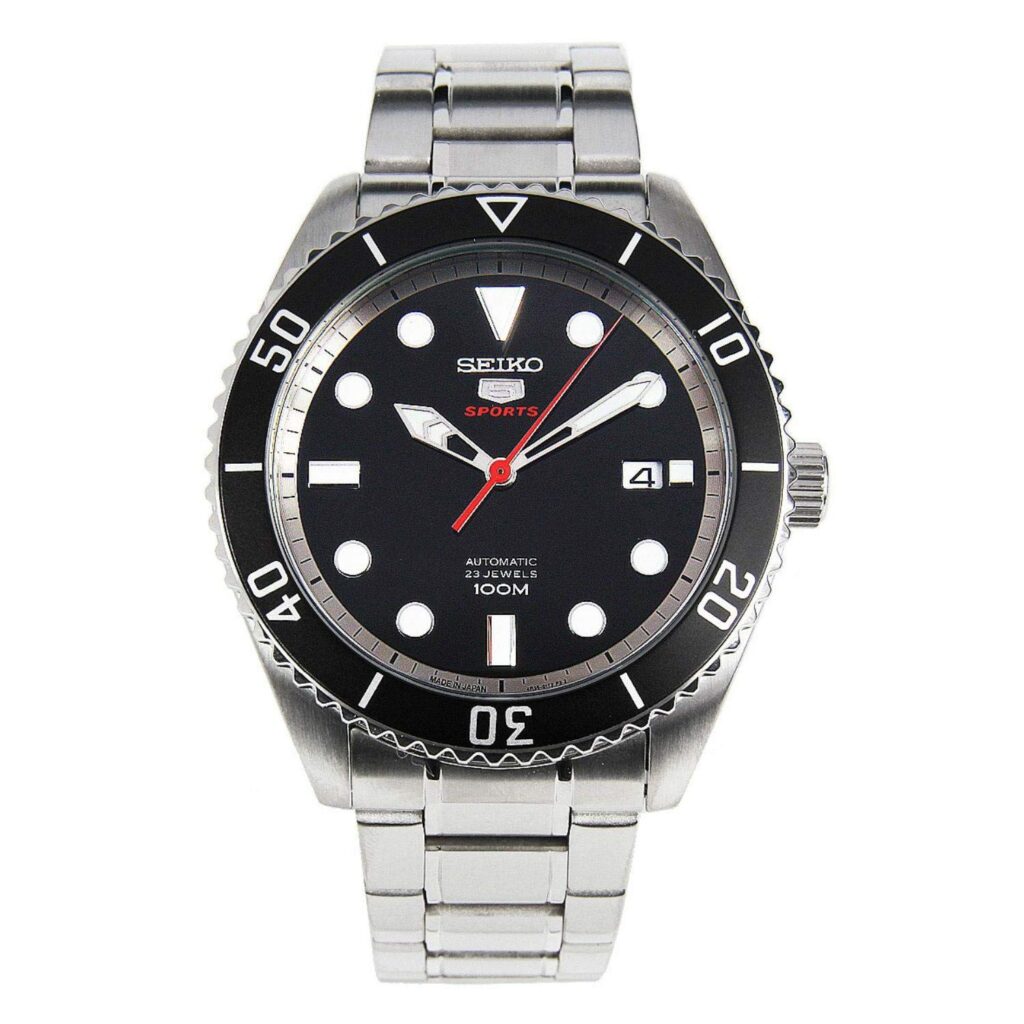 Our final entry is one of the new collections. This variation of the new line is by far the most modern in both style and technology included in the build. Though not as well suited for the fathoms of the ocean, it still offers a good depth level of resistance, and therefore is a great choice for the active man who wants a watch that stands out amongst the crowd.
Features
Steel case (43mm)

Water-resistant down to 330'

Mineral glass lens

Power reserve 40hrs.

Automatic movement (4R35 Calibre)

Multiple variations
Price
$320
Final Thoughts
With an introduction to the beginnings of the Seiko 5 Sports Collection, you can see why so many have fallen in love with them. The level of performance, a style that holds while still being budget-friendly, makes them a great way to start your collection.
Seiko's dedication to its 5 pillars of design shows in everything they do, especially in the relaunched collection that the Seiko enthusiasts have been clamouring for years for. Listening to the masses as Seiko so often do, they have crafted a new line of soon to be iconic watches that rival even their most classical designs.
If you enjoyed exploring this article, be sure to also discover 7 Super High-Tech Watches That'll Surprise You.