Golf fashion trends constantly change year by year. Whilst it may be easy for you to choose which golf equipment suits you best, it's quite a challenge to pick just one golf watch to complete your ensemble — there are just so many options!
A golf watch is an essential part of a golfer's outfit. For one, looking your best is a given, no matter what you do or where you are. With a golf watch on your wrist, you'll be playing in style. Secondly, a sporty watch will improve your performance overall. This is true any other profession in the business and health sectors, among others.
Finding the perfect golf watch will help you keep track of the holes, let you know the distance to the pin, record your statistics for the sake of skill improvement, and more.
Furthermore, a good golf watch will keep track of the calories you burned. Some of them may even prevent you from missing an important call while you are somewhere between the teeing ground and the fairway.
So, watches used by golfers may prove to be as crucial as golf equipment. They enhance your game experience and help improve your skills in general.
The following watches are amongst the best watches for golfers. If you're looking for the perfect watch to wear on your next trip to the golf course, you might want to consider these:
Garmin Approach S60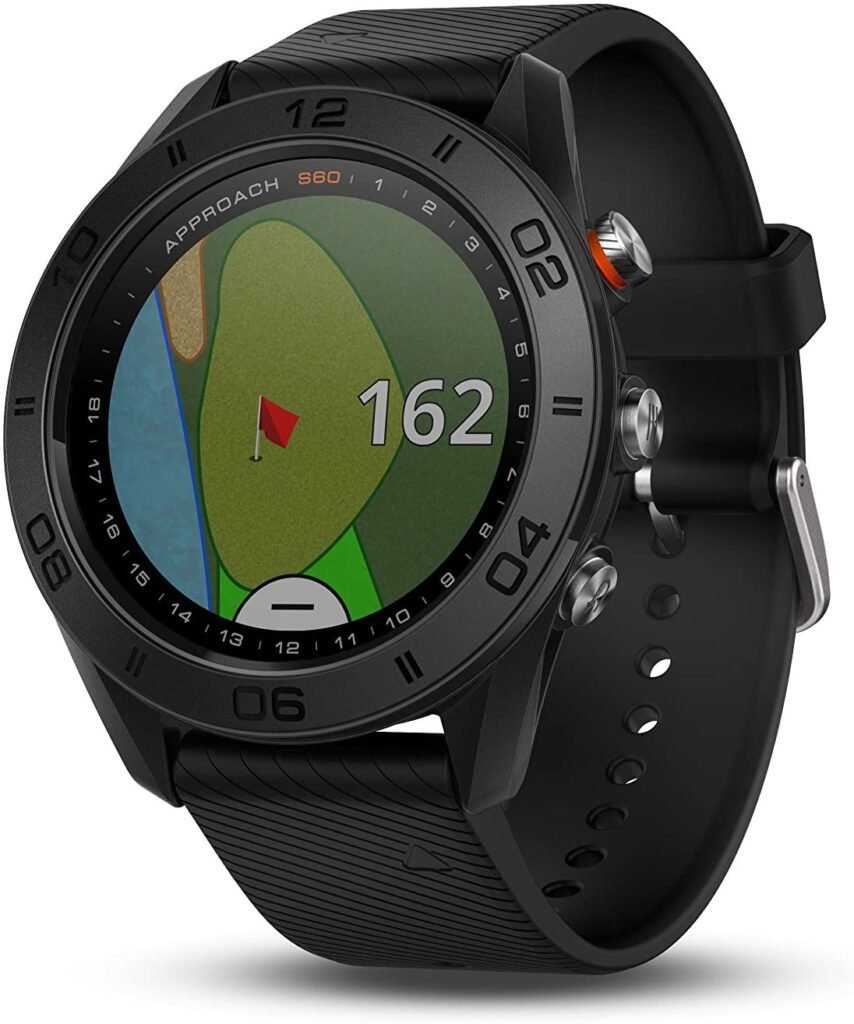 The Garmin Approach S60 golf watch is amongst the best luxury golf watches available in the market. This particular piece is as elegant as it is practical, to which you will agree to as soon as you put it on and explore its features.
For starters, its touchscreen display is perfectly visible even when it's too bright outside, so you won't have to squint and struggle reading the time. If golf fashion changes (and it will), you don't need to buy another watch just because of outdated bands. QuickFit bands allow you to make changes without trouble at any moment.
Once you start competing on the golf course, you will realise what makes this particular watch a favourite amongst golfers.
Garmin Approach S60 is compatible with the Garmin TruSwing. This swing analyser will always remain in golf fashion since it will notify you about the impact of your swing on the flight of the golf ball. So much for blaming the wind.
A database of around 41,000 golf course maps is preloaded into this fantastic piece. It also features a green view which gives you the perfect shape of each green no matter where you are in the golf course. Additionally, for greater accuracy, you may also manually correct the location of the pin yourself through its drag-and-drop feature. PinPointer even tells you the direction to the pin when you have a blind shot. Finally, its battery life in the golf mode is ten hours which increases to ten days in watch mode. 
The price of the luxury golf watch fluctuates between $370 to $500, in general.
Garmin Approach S20 Golf Watch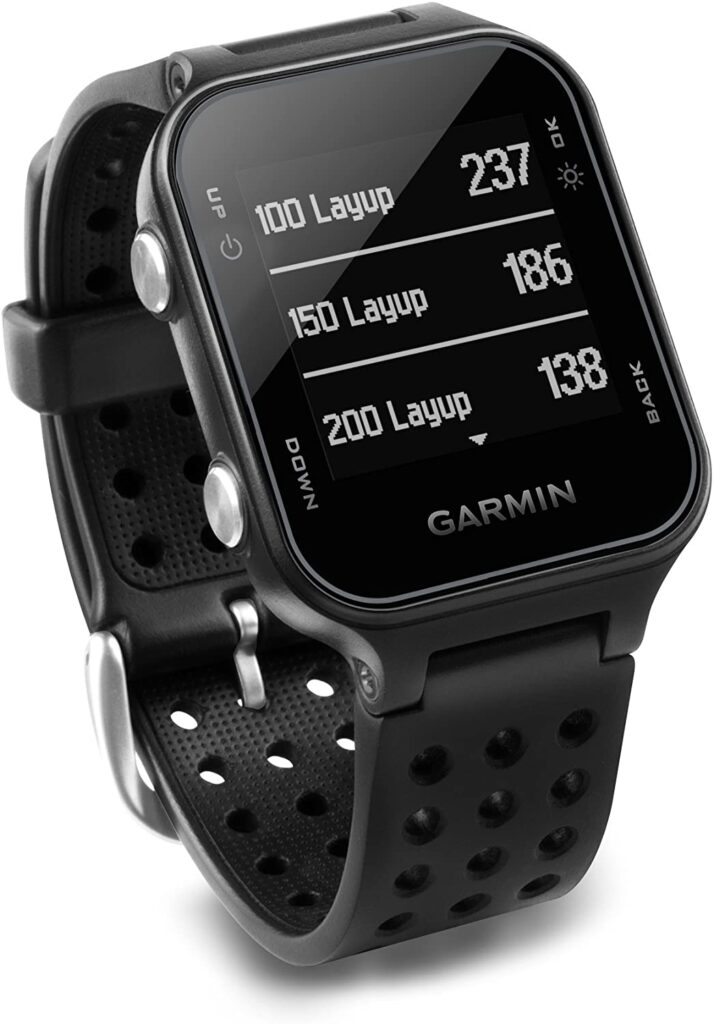 If you could do with a little less golf fashion, maybe the Approach S20, another model from Garmin, will suit your tastes well.
Some crucial differences between the S20 and S60 models consist of the following:
The S60 has a colour screen, whilst the display of the S20 is black and white

The S20 has a smaller display compared to its more fashionable counterpart

Unlike the Garmin Approach S60, the S20 model won't show you holes, fairways, and hazards from an overhead perspective

The S20 doesn't feature the PinPointer

The Garmin Approach S20 doesn't have apps for swimming, biking, paddle-boarding, skiing, and a few other sports
If you don't mind these differences, purchase the more affordable of the Garmin watches and save for a luxury dinner.
On the brighter side, the Garmin Approach S20 features a longer battery life — five hours longer than the S60 (15 hours in total) — allowing you an additional round, if you wish.
Bushnell Golf Excel GPS Watch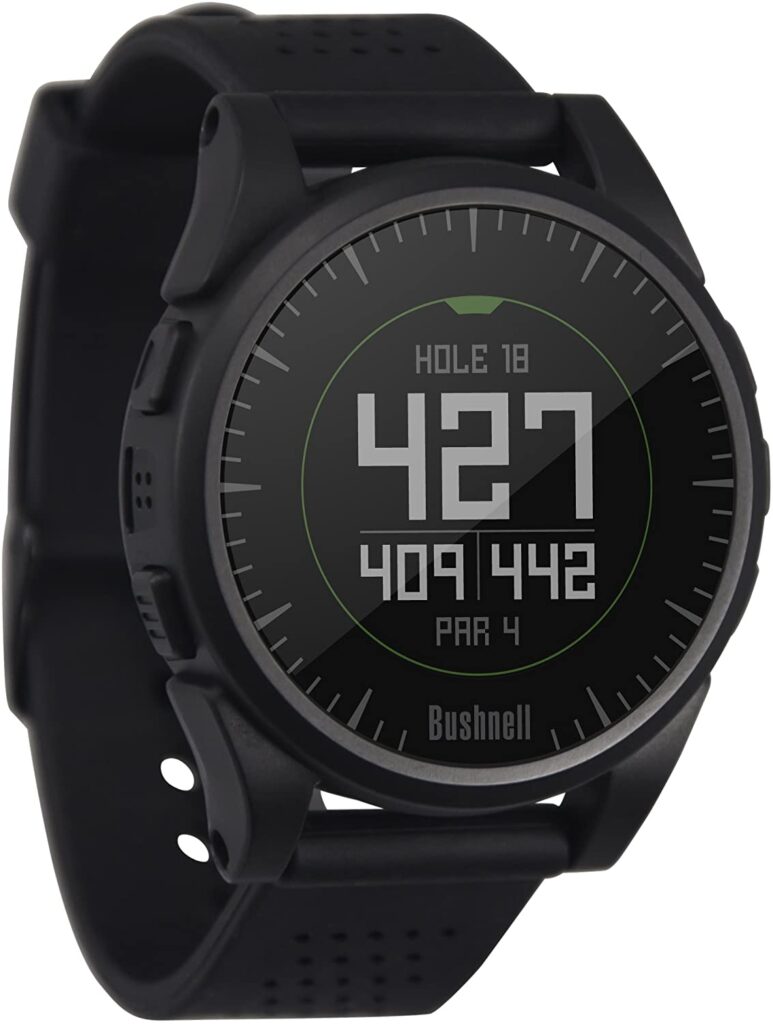 This particular Bushnell watch is the best golf watch for entrepreneurs who are passionate golfers. The duration of its battery will allow you to play three rounds. At the same time, you can leave the office for a game of golf since its Bluetooth technology allows you to check for calls and messages.
Besides these useful features, the Bushnell Golf Excel GPS watch combines other benefits that will always be in golf fashion. A compatible app keeps track of your statistics, records tee times, and analyses swings.
It also offers you an overview of the golf course, showing colourful overhead views of hazards, hole layouts, and distances. You can even check out over 35,000 golf courses in 30 countries, all of which are easily accessible in this tiny yet amazing watch.
The price of the Bushnell Golf Excel GPS Watch is around $150.
GolfBuddy WTX Smart Golf Watch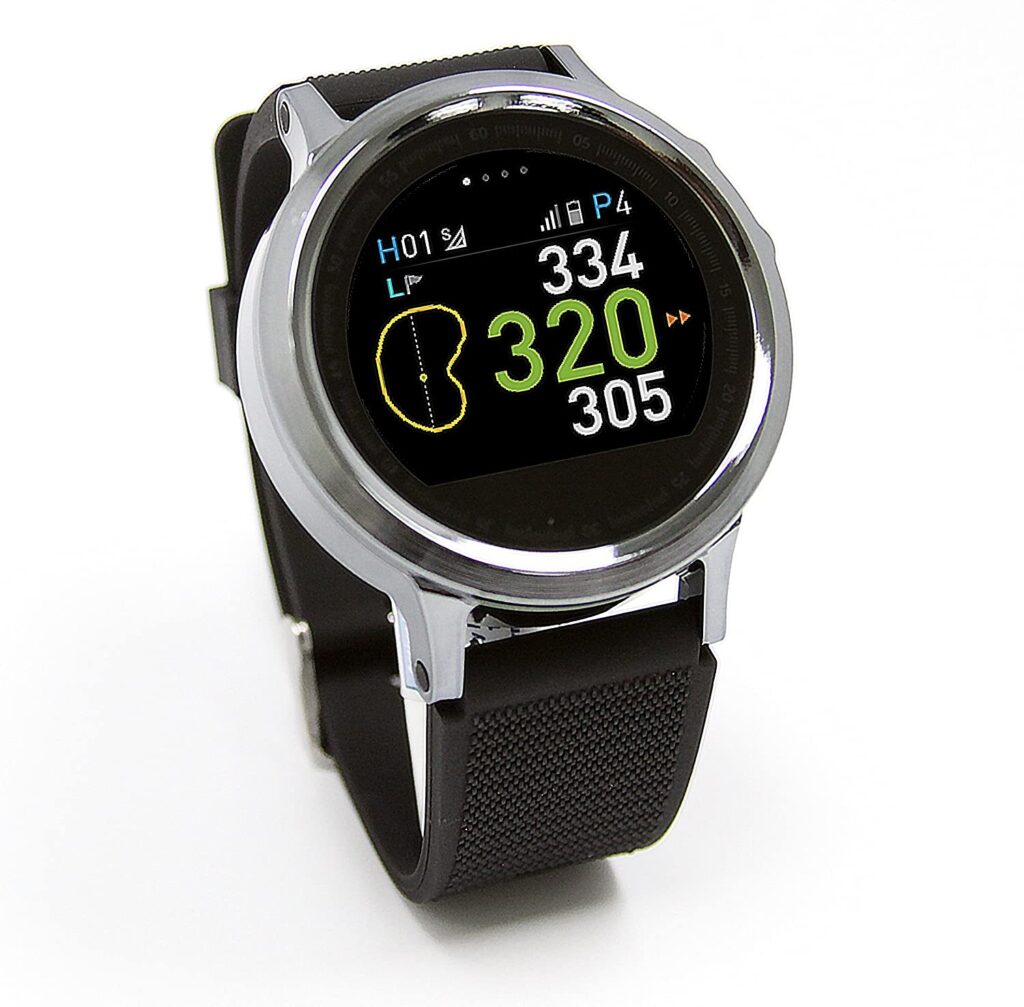 Golf players who would like to benefit from premium features for an affordable price should turn their attention to the GolfBuddy WTX Smart Golf Watch. What additionally makes this golf watch popular amongst golfers is probably the fact that you will get the best value for the money you spend on this piece.
The full-colour touchscreen display will notify you about your exact location on the golf course. If you pay attention to golf fashion, you know that constant updates are essential. Thus, the GolfBuddy is amongst the best golf watches since the GolfBuddy smartphone app allows you to stay updated through Bluetooth.
You can use the unisex GolfBuddy WTX Smart Golf as a golf or an ordinary watch. The map of each hole and the hazards info are easy to understand, and the database contains 38,000 pre-loaded golf courses.
Additionally, you will receive smartphone notifications on this watch. So rest assured that you won't miss someone's birthday or a game of golf with your buddies.
The only bummer is the 8-hour battery life, requiring four hours to recharge. Still, if golf is more of a pastime than a profession to you, this shouldn't trouble you.
TomTom Golfer 2 GPS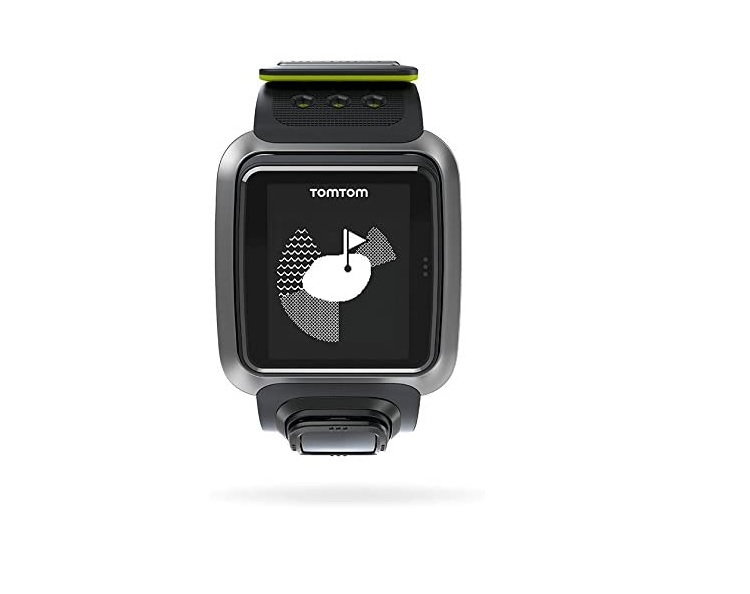 New golfers will make good use of the TomTom Golfer 2 GPS Watch. Golfer 2 GPS is considered the best golf watch for money by many. It isn't in the class of luxury golf watches, yet it features high functionality.
In addition to showing essential parameters, such as the distance to the green, this golf watch collects the game statistics. For example, this watch enables you to review the hole-by-hole analysis through a wireless connection to your smartphone. Other relevant parameters are available, too.
Moreover, the TomTom Golfer 2 GPS warns you of a nearby hazard and reveals exact distances. If things go badly, all you need to concentrate on is getting the ball out of the pond since this golf watch is waterproof for up to 40 metres.
With over 40,000 pre-loaded courses from around the globe, the Golfer 2 GPS outranks even some of the more luxurious golf watches in this regard. What's more, the company, TomTom, allows you to receive course updates for free.
On the downside, the battery life is eight hours, and shot detection sometimes detects side movements. This watch comes with a price tag of $249.
Garmin Fenix 5X Plus Golf Watch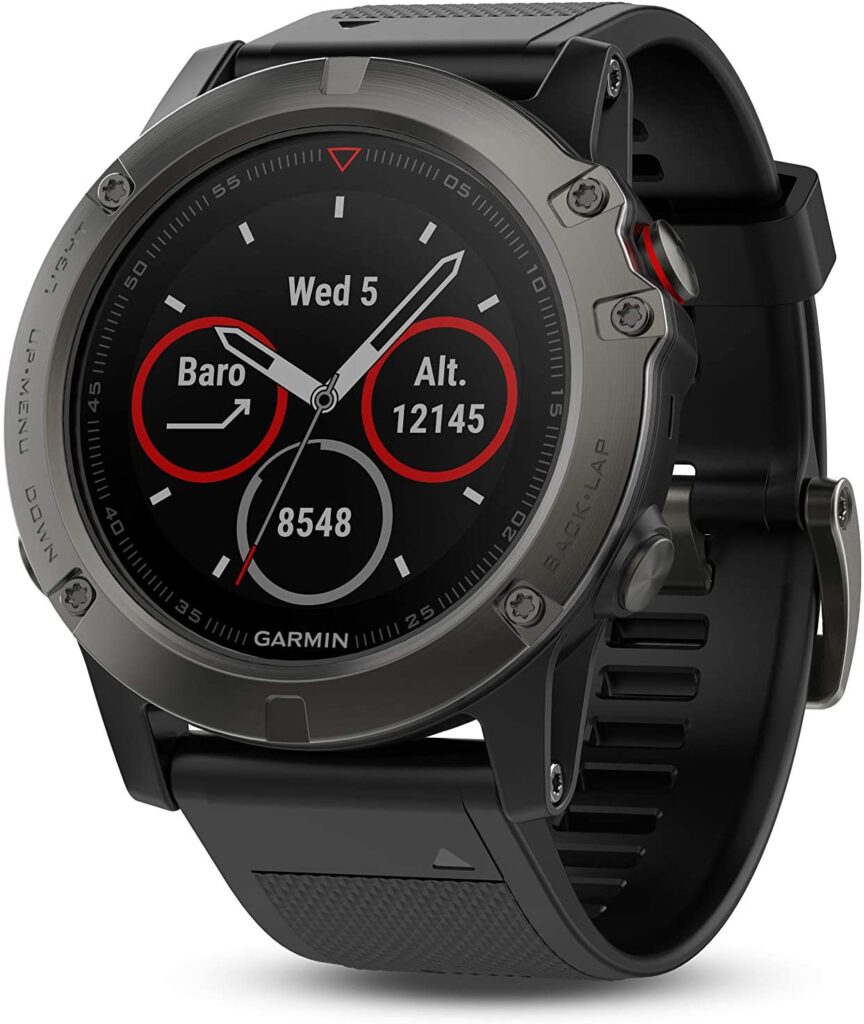 The Fenix 5X Plus Golf belongs to a line of luxury golf watches of the Garmin series. In short, this particular watch is the most complete sports watch that cater to the needs of golf players, bikers, joggers, and other athletes.
This watch makes use of full-color topographic maps, whilst swimmers keep track of their performances through pool swim metrics (stroke count, pace, burned calories, and more). Besides, the Garmin Fenix 5X Plus Golf watch has a sizeable golf course database.
You can use this luxury golf watch as a credit card and a jukebox. Connect your credit card to Garmin Pay or upload 500 of your favorite songs to listen to music via Bluetooth headphones.
The battery life is 13 hours in GPS mode, allowing you enough battery to do some shopping on your way home after three rounds of golf.
The Garmin Fenix 5X Plus Golf watch has a price range of $799 to $1,149.
Callaway GPSy GPS Watch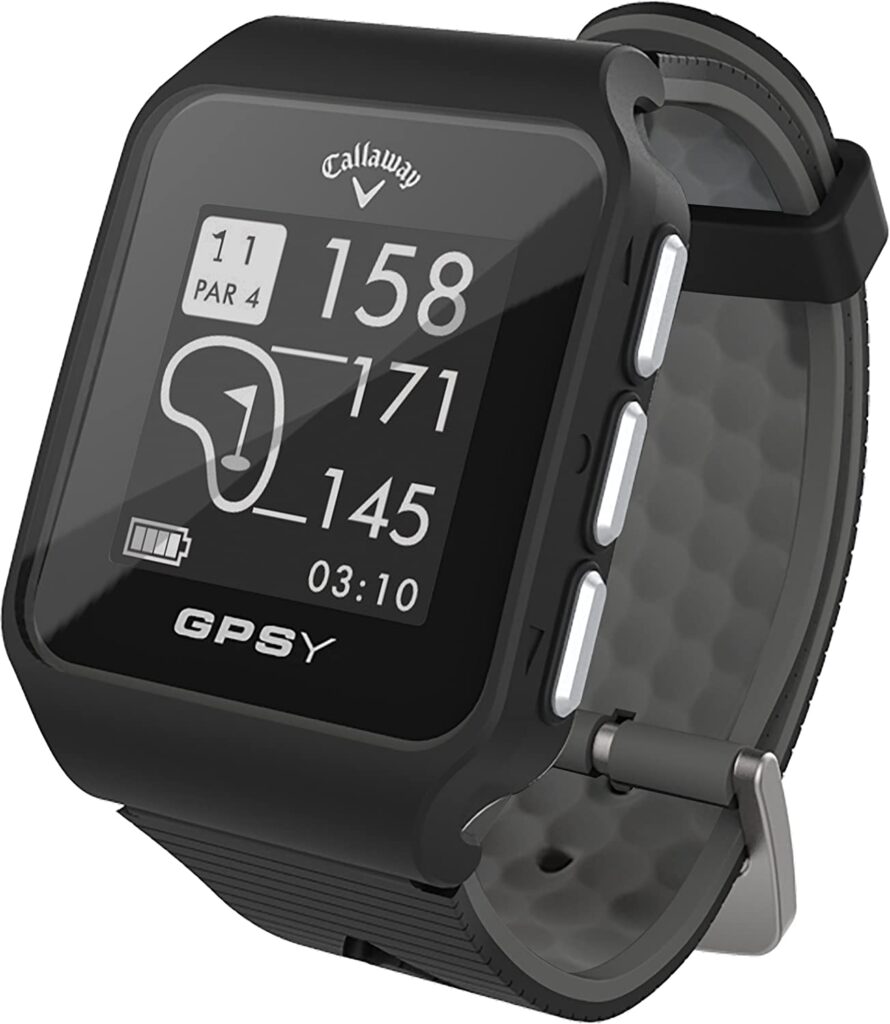 If keeping track of the golf statistics is as important to you as playing a game, the Callaway GPSy is your perfect fit. What makes this golf watch famous is its ability to thoroughly record golf statistics.
The GPSy GPS watch records your performance at every hole, distances to the green, the number of putts, and more. In short, the golf watch keeps track of the statistics through the entire game. More so, you will always know where to expect hazards and doglegs.
The display of the best golf watch for scorekeeping is easy to read, even under bright sunlight. One disadvantage though is the fact that you cannot connect to the Internet.
In golf mode, the battery life of the Callaway GPSy GPS is up to 12 hours. In regular watch mode, the battery will last for up to three months.
Other Golf Watches You Might Want To Consider
The Approach S40 is a Garmin watch that is a significant addition to your golf ensemble. Some of its main strengths are the battery life of 15 hours in golf mode and the AutoShot tracker that records everything you have done right or wrong on the golf course.
The Bushnell ION Golf GPS boasts of a hole and course identification, whilst the reversible wristband allows you to adapt your golf style according to current needs.
The SkyCaddie Linx GT features an app that provides HD views of the hole you are trying to find with your golf ball. The Linx GT is the best golf watch for popular players since their fans can watch their games via the SkyGolf 360 cloud service from anywhere in the world.
Before you play your next round of golf, which of these watches have you considered to accompany you out in the golf course?
Now that you know which golf watches to consider, be sure to have a look at 16 Best Military Watches That Can Survive the Battlefield.