The Orient Defender is the Japanese brand's foray into military watches. While the first iteration of the model was a success, there are a few things that could be improved about it. Enter the Orient Defender 2, which was released a few years after its predecessor. Find out below if Orient upgraded the right parts.
A Quick Look at the Orient Defender
While the Japanese watchmaker is mainly known for making superb divers, Orient also makes affordable yet worthy field watches. The Orient Defender, in particular, can go head-to-head against Seiko's Alpinist and Timex's Expedition Scout. That said, this watch was made for people who love exploring the outdoors while still looking cool. Which is why you can expect the Orient Defender to be durable, accurate, and easy to read.
Customers have the option to choose the watch in different styles — Orient Defender 2 with a metal bracelet, Orient Defender 2 with a rubber strap, Orient Defender 2 with a leather strap, or even Orient Defender 2 with a NATO strap.
Orient Defender 2 Specs
Case material: Stainless steel

Case dimension: 42.4mm

Movement: Automatic

Power reserve: 40 hours

Water resistance: 100m
The Case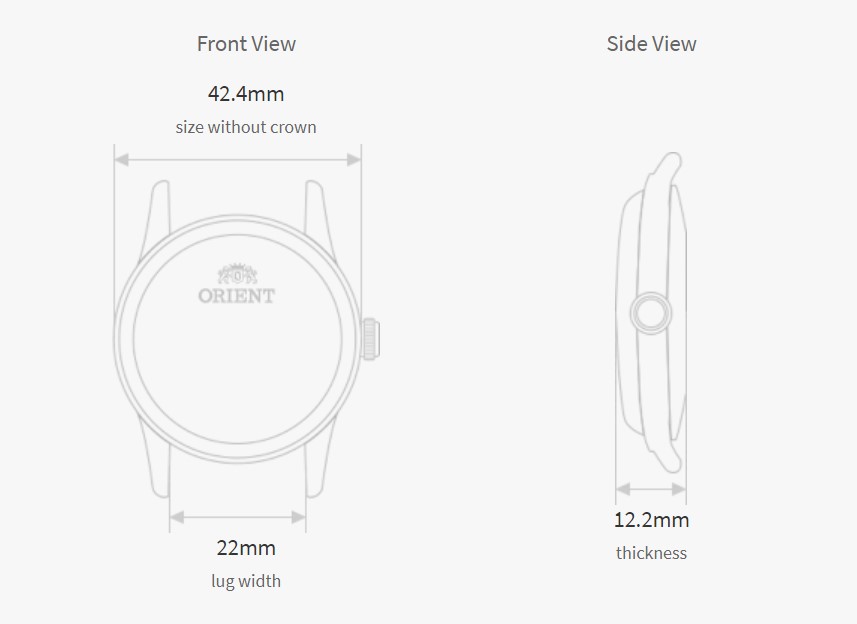 Overall, the Orient Defender 2 and its predecessor look very much alike. They both give off a military vibe, thanks to its matte steel case which makes it look simple yet attractive. No matter which angle you look at, the case does not give off any reflections. The Defender might not be as elegant as other expensive watches, but its rugged handsomeness will appeal to the outdoorsy folks who need something robust. All in all, the watch aims to highlight its functionality instead of its looks.
When it comes to measurements, the 2nd generation is a bit larger at 42.4mm, while the first generation is exactly 42mm. Both watches feature a 22mm lug width, which isn't the most common size but still offers a variety of choices for straps. This size is a bit large but it also blends in well with the rest of the watch's proportions. For instance, a smaller lug width might become overpowered by the thick lugs and bezel.
One odd thing about the original Orient Defender is the position of the screw-down crown. Unlike in other conventional watches, its crown is slightly geared towards the lower right corner of the case. I know this orientation might trigger some perfectionist folks, but this actually adds to the watch's comfort as this position prevents the crown from digging into your wrist. Its successor, however, uses the standard crown position at 3 o'clock. So if aesthetics is your top priority, this is something you should consider.
The Dial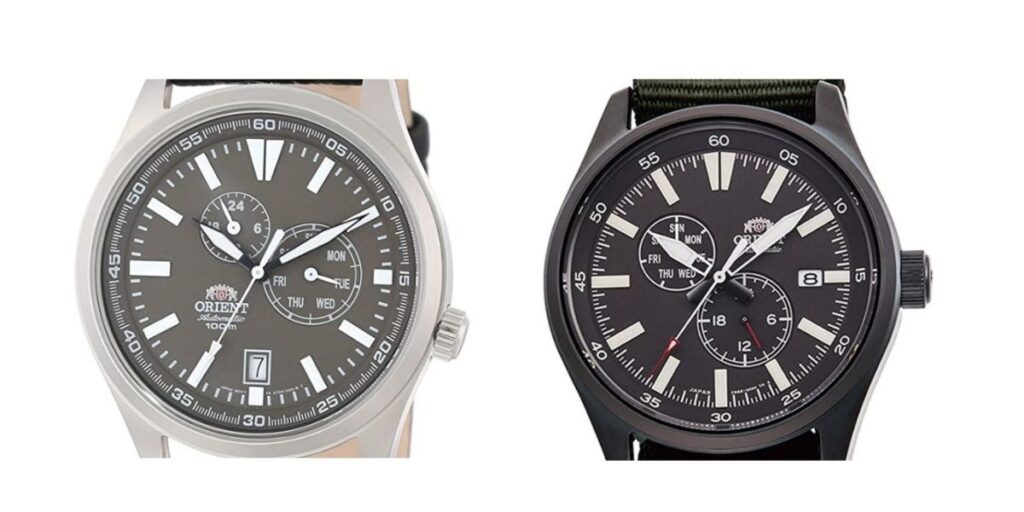 Unlike its competitors, namely the Seiko Alpinist or the Seiko SNK, both the first and second generation's dials have more things going on. It has two sub-dials with one showing the day of the week and the other an AM/PM indicator. These sub-dials are asymmetrical, which you don't see often on military watches. But despite these added elements, the Orient Defender is still legible, thanks to the high-contrast colour scheme.
Furthermore, the whole face of the watch looks high-quality. The hour markers are raised and contain a lot of lume. Ample lume paired with thick markers equate to top-notch legibility. So if you ever find yourself in a room with little to no light, you will still be able to read the time.
You might have missed the subtle difference between the gen 1 and gen 2's dials. I don't blame you because it is easy to miss. The date window of the first model is slightly taller and is located at the 6 o'clock position. On the other hand, the 2nd gen's date window is smaller and is at the 3 o'clock position. Which one is better is purely dependent on personal tastes, but I prefer the Gen 2's layout, as it looks more natural to me.
On top of it all is a durable flat mineral glass. While this is considered hard enough, it is not as durable as sapphire. If you're the type of folk who often scratches their watch, you should consider upgrading it to a sapphire one in the future. But if you're careful enough, then the stock glass is enough.
The Movement
People's gripes about Generation 1
Removing the caseback, you'll see that a Japanese-made Orient 46B40 calibre powers the first Orient Defender. This movement is made in-house, self-winding, and beats at a frequency of 21,600 vph. This is a reliable movement that has been tried and tested. However, it is not perfect. For one, it lacks hand-winding and hacking features, which would have been very useful for people who love wearing their watches daily. But for its price, we couldn't complain much.
Despite its shortcomings, this movement still has a lot to offer. Aside from the usual date window, it gives you two extra features — a 24-hour tracker and a day sub-dial. To my knowledge, Orient has not offered a movement that has these complications and the hand-winding features at the same time.
Another gripe that fans have about this watch is its lack of quick set date function. This means that when you haven't worn your watch for a few days, you have to adjust the date the long way. To demonstrate, you have to turn the time in between 10 pm and 4 am again and again until you get the correct date. This can be tiresome and time-consuming if you need to adjust the date from say 4 to 20.
Overall, the movement of the Orient Defender is considered simple yet reliable. It may lack a few features that can make things a breeze to use, but its complications and timing capabilities are more than enough for the average Joe.
What improved in Generation 2?
Orient listens to its consumers, which is why the 2nd generation of the Orient Defender consists of an updated movement. In particular, it runs on the F6B22 calibre, which has more features like hacking and manual winding which people wanted in the previous generation. Like the previous calibre, this is in-house and self-winding movement. It also has the same complications like the day, date, and 24-hour sub-dial.
When it comes to accuracy, a few tests have reported a rating of -15/+25 seconds per day. Moreover, it can power the watch for up to 40 hours or more when fully wound. That said, you are getting a good value from this calibre at this price point.
If you are choosing between Generation 1 and Generation 2, it all boils down to how much you value hacking and manual winding features.
The Straps
1. NATO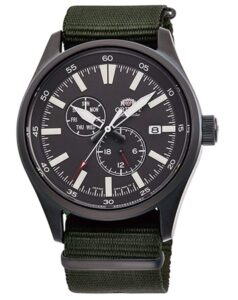 There's a reason why the military watch and NATO strap is a popular combo. One is that the NATO strap looks good. Second is that it is very comfortable to use and easy to adjust. This makes it accessible even to people with either large or slim wrists. Lastly, it is versatile and easy to change. One moment you can wear something that has a loud print while the next second you can change it into something plain.
If you are going for that military look, you can't beat the Orient Defender 2 RA-AK0403N with a NATO strap. Apart from the various designs you can choose from, it mimics the look of vintage field watches worn by soldiers. Not to mention, NATO straps also run cheap!
2. Metal Bracelet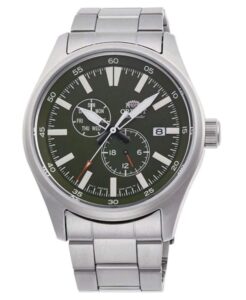 The metal bracelet is a safe bet if you're not quite sure what aesthetic you're trying to aim for. Case in point: the Orient Defender 2 RA-AK0402E watch comes in an Oyster style bracelet that will go well with most, if not all, of your outfits. To demonstrate, it is the perfect choice for a jeans-and-T-shirt kind of afternoon. Apart from that, it is also appropriate for business casual environments.
One of the downsides of the metal bracelet is its weight. Some people may find it too heavy when worn. Apart from that, it is more difficult to adjust and will require spring-bar tools to get the perfect fit.
However, metal bracelets are known to be durable. In fact, it is the most robust choice among the straps listed here. With that said, this bracelet is hard to beat if you're living an active lifestyle. Its stainless steel material will surely last you years.
3. Rubber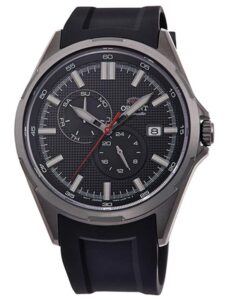 The main selling point of a rubber strap is that it can repel water. This makes it ideal for wearing during water activities. Even if you're not into water sports, you can also find this useful if you live in a hot and humid climate as your sweat won't ruin the strap. 
Another thing to consider is that rubber straps will not likely stain. If you do find your strap dirty, it is easy to clean it with water and a soft cloth.
In conclusion, a rubber strap requires little to no maintenance. If you want a no-frills watch that can do the job without worrying about having the strap serviced, this is the best choice for you.
4. Leather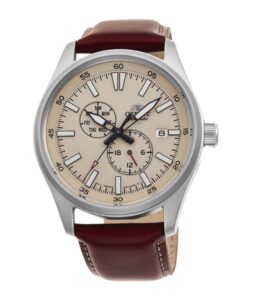 For a smarter look, consider getting a leather strap. It will also give the watch an old-school vibe if you're into that. The good thing about leather is that you can dress it up with a blazer and no fashion police will give you a ticket.
Now onto the bad stuff. Leather straps are notorious for giving off a foul odour when exposed to sweat. Any type of liquid will also make it deteriorate faster. However, if you live in a country with a cold climate or if you don't mind buying a new leather strap every now and then, this disadvantage is irrelevant.
Reasons to Upgrade to the Orient Defender 2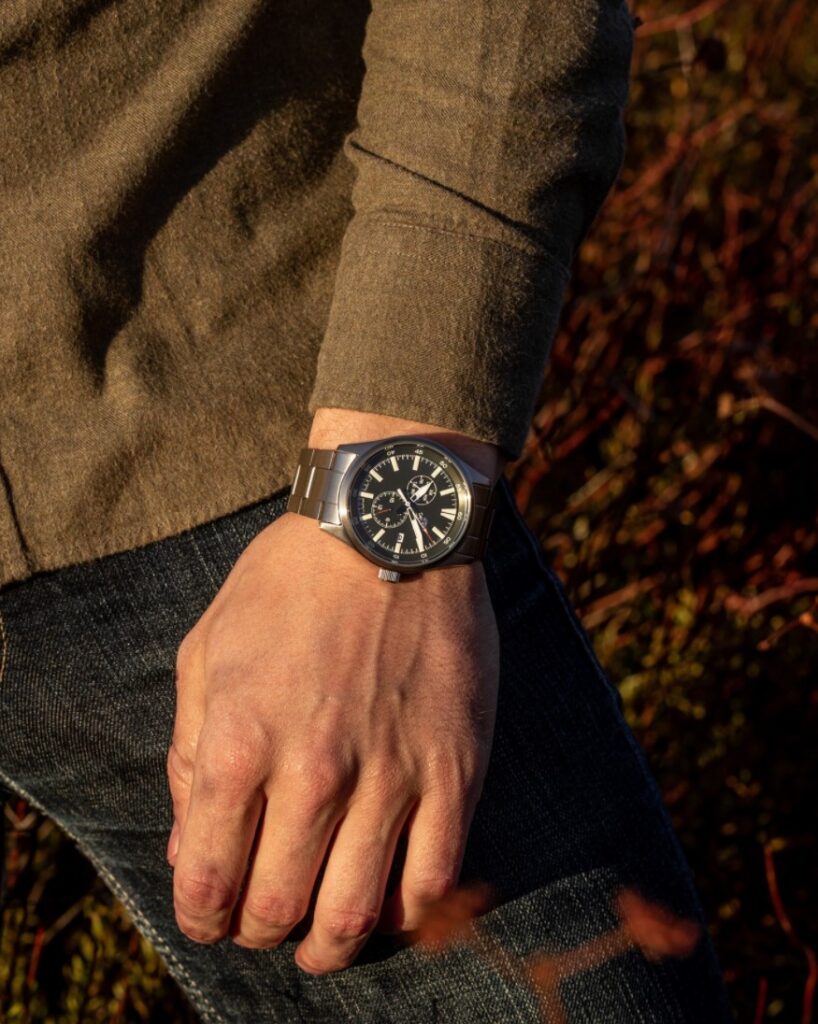 1. You are meticulous when setting the time.
If one of your requirements for a watch is to be able to set the time accurately up to the second, then it is worth upgrading to the 2nd generation of Defender. As mentioned above, the improved calibre allows you to hack the seconds so you can set the time more accurately.
2. The off-centred screw-down crown looks weird to you.
Some people hate the positioning of the Defender 1's crown so much so that they don't wear it as often as they'd like. If the 1st generation's aesthetic puts you off so much that it prevents you from using it, then it is worth upgrading to the 2nd generation that uses a normal crown positioning.
3. If you don't own an Orient Defender yet.
If you're reading this to get your first Orient Defender timepiece, then I suggest jumping into the 2nd version. In my opinion, the extra features you get from the improved model justifies the price difference between the two generations.
Reasons NOT to Upgrade to the Orient Defender 2
1. You already own an Orient Defender 1 and you have no complaints about it.
Buying an Orient Defender from scratch is one thing. But buying a 2nd Orient Defender is another thing. If you have no qualms about your current watch, then I think it is not worth it to shell out another $300 for an almost-similar watch.
Final Notes
This watch is proof that Orient listens to its consumers. People had only a few complaints about the first model and the brand fixed them. If the hacking seconds and manual winding feature are both a big deal to you, you'll be delighted with the Orient Defender 2.
Can't get enough of military watches? Check out Russia's version called the Vostok Amphibia!