For the past five years, ceramic watches have been all the craze. Manufacturers have been exploring and experimenting with various watch materials and as of late, ceramic proves a popular choice for various reasons. Big brands such as Hublot, Omega, and IWC venture into the ceramic watch business. It's no surprise since many enthusiasts find merits in using ceramics in watches. However, there are also downsides to it.
If you're planning on purchasing one, let us guide you through the pros and cons of ceramic watches. We've also listed down the 10 best ceramic watches you can find on the market today! So, sit back, relax, and read on as we answer all your questions about ceramic watches.
What are ceramic watches?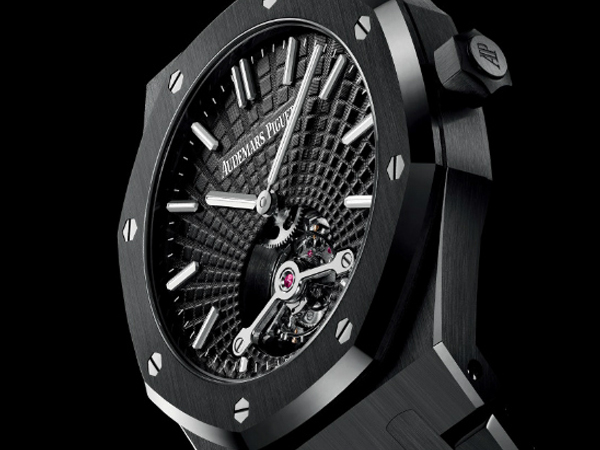 Ceramic is a material we see on a daily basis. Things such as clay products, silicate glass, and even cement are ceramic. However, just like how those materials differ, ceramic in watches also prove unique. Generally speaking, ceramic is non-metallic. However, it's also a solid material. In watches, combining metal compounds with pure materials or powder with alloy makes up ceramic. This exactly is how Rolex creates its proprietary Cerachrom material. To create Cerachrom, Rolex mixes very fine zirconium oxide or aluminium oxide powder with organic binding agents. The latter gives the Cerachrom such a bright and bold pigment.
With that said, it's only rightful that ceramic watches get easily associated with luxury watch brands. Ceramic gives any timepiece a polished look as compared to metal with varying finishes. It's also not as typical as the ceramic we see in our kitchen. Ceramic in watches is durable and robust. In fact, many watch brands employ the same technology as NASA with their rockets and satellites.
Most of the ceramic in watches come from fine powder or fibres. That's what makes the end results appear more defined and smooth. This is the reason why ceramic watches have a specific look that no steel or precious metal watch possesses.
Pros of Ceramic Watches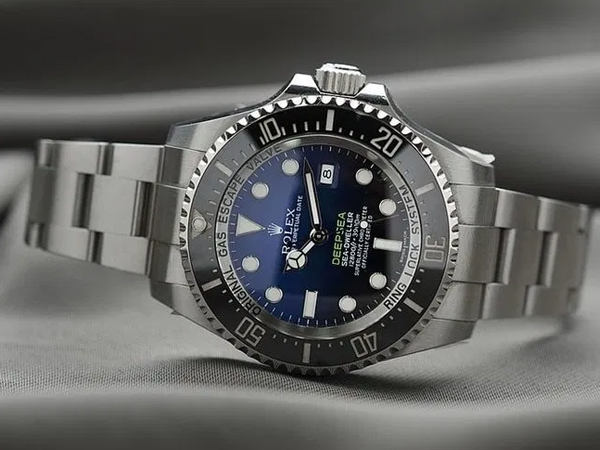 Durability
The great thing about ceramic watches lies on the fact that they're generally durable. For various reasons, ceramic watches boast the best quality compared to other watches. Firstly, they are virtually scratch-resistant. Combined with a sapphire crystal, ceramic watches can be truly scratch-proof. Secondly, ceramic is resistant to UV rays, which maintains its pigmentation. The reds remain bright red and the blues just as deep, for instance. Despite many years of use, a ceramic watch can look just as pristine as the day you bought it. Thirdly, ceramic also boasts being anti-magnetic. Extremely high or low altitudes are no match to this type of watch. It can take just about any environment with its hardness and overall features.
Hypoallergenic
With the way manufacturers make ceramics, coating and metals remain out of the picture. This makes the watch ultimately hypoallergenic, perfect for people with sensitive skin. Not to mention, pigments won't wear off on your skin if you constantly wear this type of timepiece.
Lightweight
Ceramic watches may look heavy around the wrist, but it's actually lightweight. With it being durable and scratch-resistant, and the nature of ceramics around us, you'd think this material will weigh a watch down. On the contrary, ceramic watches prove light and comfortable to wear day in and out.
Cons of Ceramic Watches
Potential Brittleness
We know we said that it's durable, but huge impacts may still take a toll on your ceramic watch. Due to the molecular integrity of ceramic and the way it's constructed, it's possible that it can still shatter. While we've yet to hear horror stories about ceramic watches breaking, we're not keeping this possibility away.
Expensive
To make a ceramic watch, many manufacturers go through a whole ordeal. It's not an easy process to make. Ceramic watches require a certain technology that ultimately bumps their selling price up. Given all the pros of a ceramic watch, many watchmakers opt for this material. However, since they're not easy to make, they also end up being rare. In the future, we may find more ceramic watches in the market. But that won't make the watch any cheaper with the tech required to create it.
10 Best Ceramic Watches
If your mind is set on buying ceramic watches, there are various options to consider. So we compiled 10 of the best ceramic timepieces you can buy today. These watches don't only have ceramic bezels but also have their cases made from ceramic. You might miss a few giants on our list like Rolex's great Cerachrom watches. However, this list comes with varied brands on different price points. In no particular order, here are the 10 best ceramic watches on the market today.
1. Hublot Big Bang Unico GMT Ceramic Watch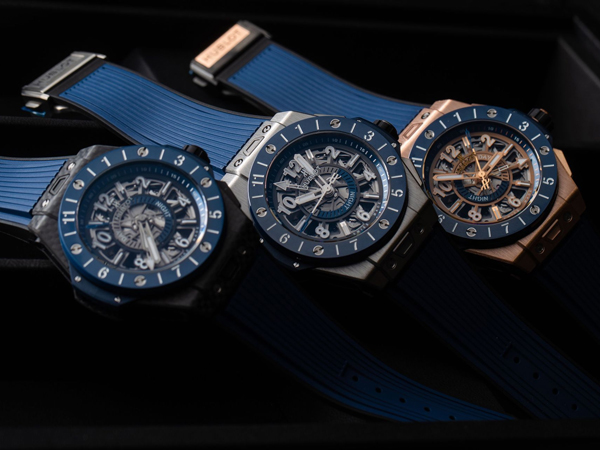 At a glance, the Hublot Big Bang Unico GMT ceramic watch is a sight to see. Generally, Hublot Big Bang watches come with a unique design. The concept of the Big Bang in itself looks exactly as it sounds. It's an amalgamation of various materials to create a stunning watch. Big Bang Unico comes in a 45mm case with a skeleton dial design. This will give you a nice view of the Hub1251 UNICO Swiss-automatic self-winding movement. With a ceramic case and sapphire crystal, it's virtually impossible to damage this watch. The anti-glare finish of the crystal also makes it a highly readable watch. This could be one of the best skeleton watches from Hublot to date!
2. Audemars Piguet Royal Oak Tourbillon Extra-Thin Ceramic Watch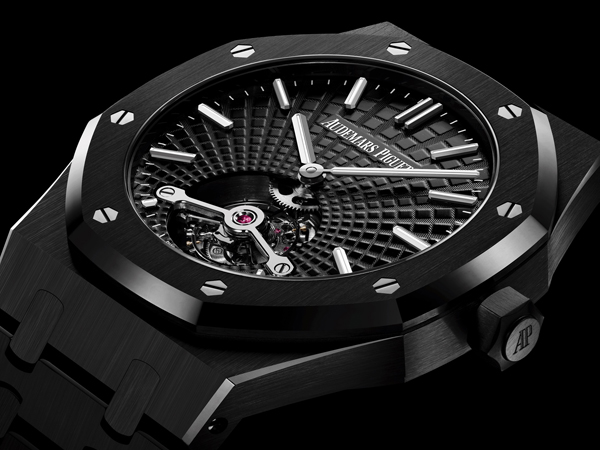 Perhaps, the Audemars Piguet Royal Oak remains as one of the most popular watches in the world. Since its launch in the 1970s, it inspired many configurations that also became bestsellers. Among its many iterations include a tourbillon escapement as well as an extra-thin movement and casing. For this watch, the grand tapestry dial comes customised to give way to the tourbillon escapement at 6 o'clock. You still get the same old Royal Oak design with the octagonal case and exposed screws. However, they look more sleek and incredibly stunning in ceramic. Plus, it only comes at a 9 mm thickness that's even more comfortable around the wrist.
3. EONE Bradley Element Ceramic Quartz Watch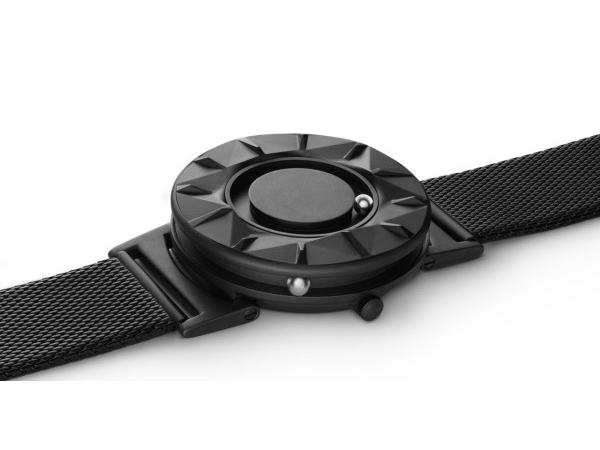 The greatest thing about EONE is its unique design that caters even to the visually impaired. Building upon the design, EONE released the Bradley Element Ceramic Quartz Watch. This timepiece comes with two balls: one on the face of the watch, and another on the edge. This is how it tells time. It also has contoured markers for easy reading. The 40mm watch features a durable and scratch-resistant ceramic. To further strengthen this, the case comes PVD-coated. However, aside from the case the rest of the watch is not made of ceramic. Its mesh strap comes in stainless steel giving it more dimensions. The timepiece comes with a quartz movement that takes its price down a notch while remaining reliable and accurate.
4. Rado DiaMaster XL Plasma High-Tech Ceramic Watch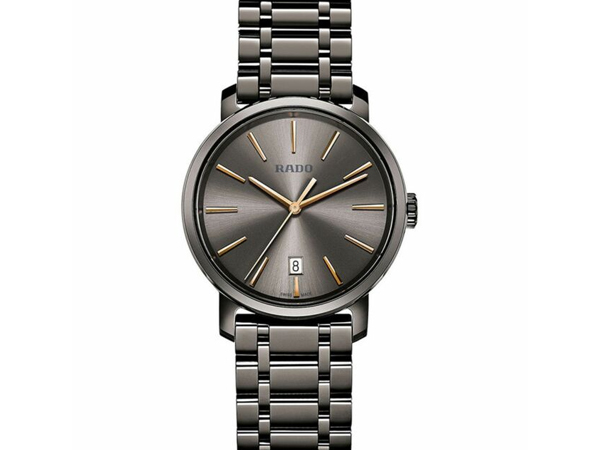 If you expect ceramic watches to only look modern or sporty, this watch begs to differ. The Rado DiaMaster XL Plasma High-Tech Ceramic Watch features a truly classy design. Unexpected for a dress watch, this one comes with a high-tech ceramic case and bracelet on select models. For the DiaMaster XL, the case of the watch comes in a 41mm ceramic case with 100m water resistance. At 3 o'clock, the watch features a date display. The exhibition caseback of this timepiece gives a clear view of its Swiss automatic movement. Rado takes the design up a notch by playing with textures on the dial of the watch.
5. Panerai Radiomir (PAM00384)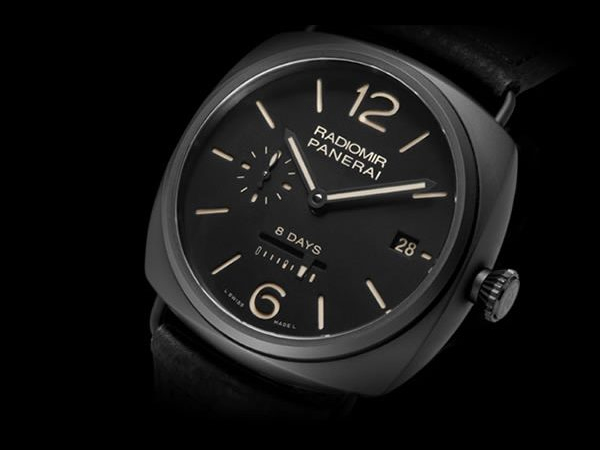 For the longest time, Panerai has been one of the leaders when it comes to innovation in watches. With a century-long history of crafting timepieces, it's not surprising how Panerai leads the charge in producing ceramic watches. Its timepieces mostly rely on a simple design without having to sacrifice modern technological advancements in horology. The Radiomir remains as Panerai's flagship model. As expected, the brand came up with innovative ways to up the game of its most prestigious watch. The Radiomir PAM00384, in particular, comes in a black ceramic look. Despite it being 45mm big, it remains sleek and polished. The movement of this watch also makes it a reliable one with up to 8 days of power reserve. This is typical in most Panerai watches. Moreover, it features a date display, a small seconds sub-dial, as well as a battery gauge.
6. Omega Speedmaster Moonwatch Co-Axial Chronograph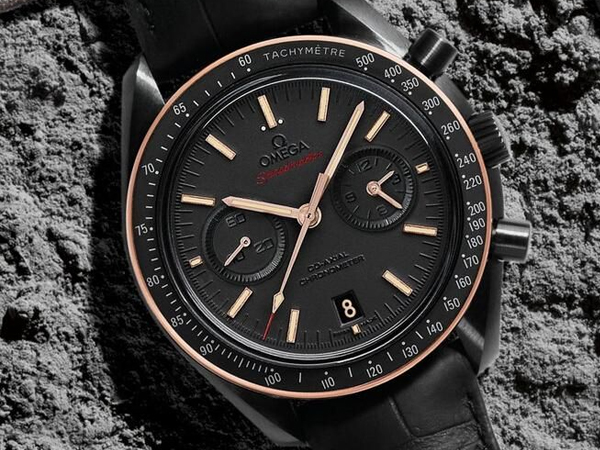 Everybody knows how Omega watches made it to the Apollo 11 mission. On the wrists of Neil Armstrong and Buzz Aldrin were Omega Speedmaster watches. Decades later, in 2013, Omega launched the first Dark Side Of The Moon Speedmaster at Baselworld. Many people adored the watch, making it one of the most successful timepieces from the brand. This inspired a 2015 re-release with additional variations and configurations. Among those include having an all-black ceramic Moonwatch in the roster. As expected, the watch comes with black zirconium oxide except for the red gold bezel and indexes. The case, dial, crown, pushers, as well as strap buckle of the watch are all made of ceramic. The timepiece, albeit limited edition, became an instant favourite among collectors.
7. Longines HydroConquest Ceramic Watch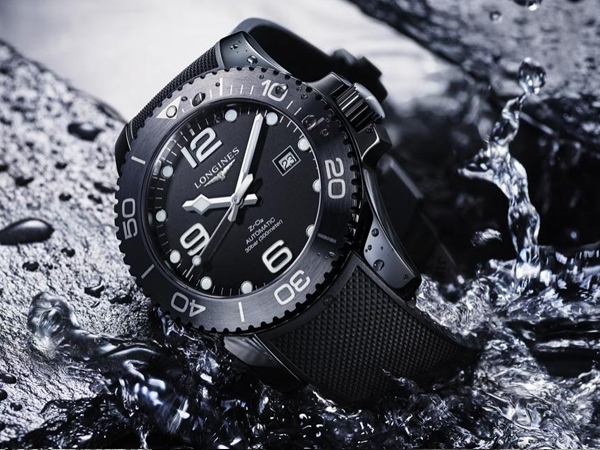 Longines watches boasts the quality of its timepieces not only through features but also through designs. The brand continues to put out timepieces that are both classy and technically impressive. Among Longines' most popular timepieces include the HydroConquest. This classic watch comes with a balanced aesthetic that fits perfectly in a 41mm case. The watch comes with both stainless and ceramic components. More than the ceramic case, it also features a sapphire crystal that boosts scratch-resistance. With a Swiss automatic movement, the HydroConquest comes with a date window at 3 o'clock. Moreover, with 300m of water resistance, this watch perfectly works as a dive watch as well.
8. IWC Top Gun Mojave Desert Flyback Chronograph Ceramic Pilot Watch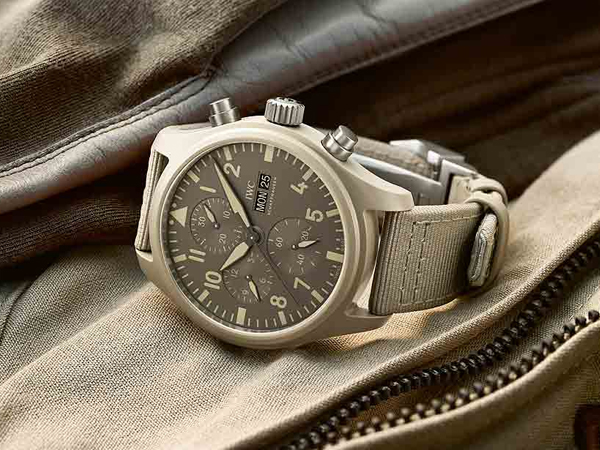 IWC goes beyond excellence when it comes to its timepieces. With various lines perfect for different needs, IWC continues to innovate each of its collection. The IWC pilot watches certainly are favourite among them, especially the Mojave Desert Flyback Chronograph. Not only does it come with a ceramic case but it's also perfect for people working on the battlefield. With a desert brown colour, it provides a rugged military vibe. It is equipped with IWC's in-house calibre 69380. The movement has 33 jewels and a power reserve of 46 hours. The precision timekeeping it comes with takes from the 28,800 vibrations per hour. Additionally, the flyback function of the watch's chronograph makes time measurement come easy with a single push of a button. With a soft-iron inner case, this pilot watch can go around any magnetic field without a hitch.
9. Bell & Ross Ceramic Camo Watch (BR03-92)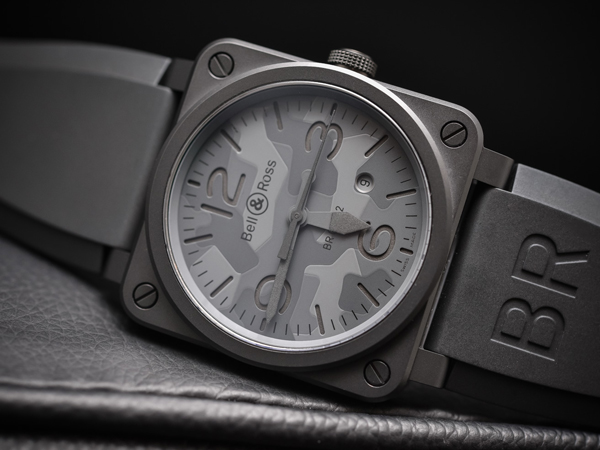 Bell & Ross watches come with a unique design recognisable from just about anywhere. The BR03-92, in particular, takes the brand's iconic design up a notch with a ceramic case. Not only does it have a rugged style but it also virtually disappears on the field with a camo design. Moreover, it remains legible no matter the condition with its 42mm case. To make it even more durable, it also comes with a scratch-resistant sapphire crystal. With a 100m depth rating, it can be taken for a light swim or a quick submersion in the water. If it's not the best ceramic rugged timepiece you can get your hands on, we don't know what is.
10. Blancpain Bathyscaphe Chronograph Flyback Ocean Commitment Watch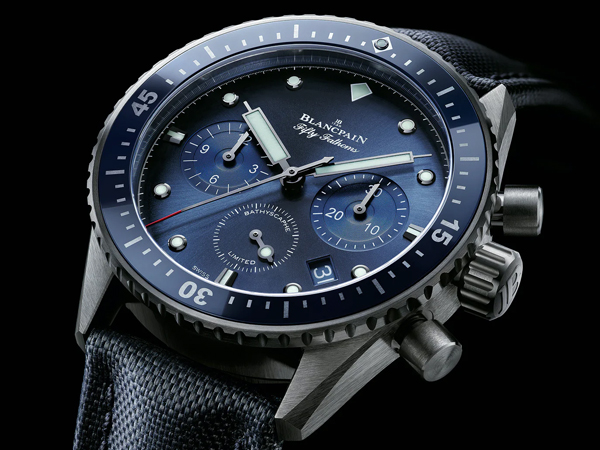 Perhaps, the greatest thing about ceramic is its anti-magnetic properties. This makes it the perfect material for a pilot watch. It's not a list of the best ceramic watches without the Blancpain Bathyscaphe Ocean Commitment Watch. Right off the bat, the watch strikes as a sporty yet classy timepiece. With its outstanding features, jetsetters and pilots won't have any worries wearing this ceramic watch on flights. Firstly, this timepiece comes with a flyback chronograph feature. The watch runs on the calibre F385, a 37-jewel automatic movement with a whopping 50 hours of power reserve. Its sleek design perfectly suits the on-the-go traveller. Not to mention, it is comfortable and reliable during long travels.
Are ceramic watches worth the hype?
Ceramic watches may be quite expensive but they're great investment for the future. Not only do they offer features that let the watches have a lasting design, they also prove to be reliable. If you're in need of a timepiece that goes beyond aesthetic, a ceramic watch is perfect for you. You're surely getting more than your money's worth with this timepiece!
---
Looking for durable and reliable watches for your next adventure? Check out these 16 best military watches that can survive the battlefield!
Photo credits: 1| 2 | 3 | 4| 5 | 6| 7 | 8 | 9 | 10 | 11 | 12