Once on the fringe of the prestige-watch world, minimalist watches are a recent trend that shows no sign of retreating. The most luxurious watch brands create simple yet elegant offerings that can be worn just about anywhere.
Why Do You Want a Minimalist Watch in the First Place?
There are two very good reasons to invest in a minimalist watch — first as an expression of your personality and sense of aesthetics and second as an investment that appreciates with age. A minimalist watch says you have little to prove while subtly displaying your distinctive taste and style.
Sophisticated with a casual side, you spin magic in the digital wonderland by day and help the kids with homework by night. And minimalist watches retain both value and relevance with classic designs that feel contemporary even decades after purchase. That's why luxury brands such as Omega, Rolex and Patek Philippe all include minimalistic watches in their lines.
Choosing Versatile Lux Watches for Women
An uncomplicated yet sophisticated choice for women is the Patek Philippe Ladies' Calatrava. Descended from a line created the 1930s, the watch exudes the same disarming charm and understated elegance that's been a hallmark of the Swiss watchmaker for nearly a century. Wear the Patek Philipp while browsing the farmer's market or at a formal social affair.
Employing the same dial style and case as its male counterpart, the Slim d'Hermes L'Heure Impatiente is a newer entry that emulates its classic forbearers. But with a whimsical twist. There's a countdown function with a charming ring that's for the wearer's ears only.
Drawing inspiration from Bauhaus minimalism, the Orion from German watchmaker NOMOS Glashütte has a design with contoured glass that is at once contemporary and timeless. Its gentle flowing lines are appropriate from the beach to the boardroom.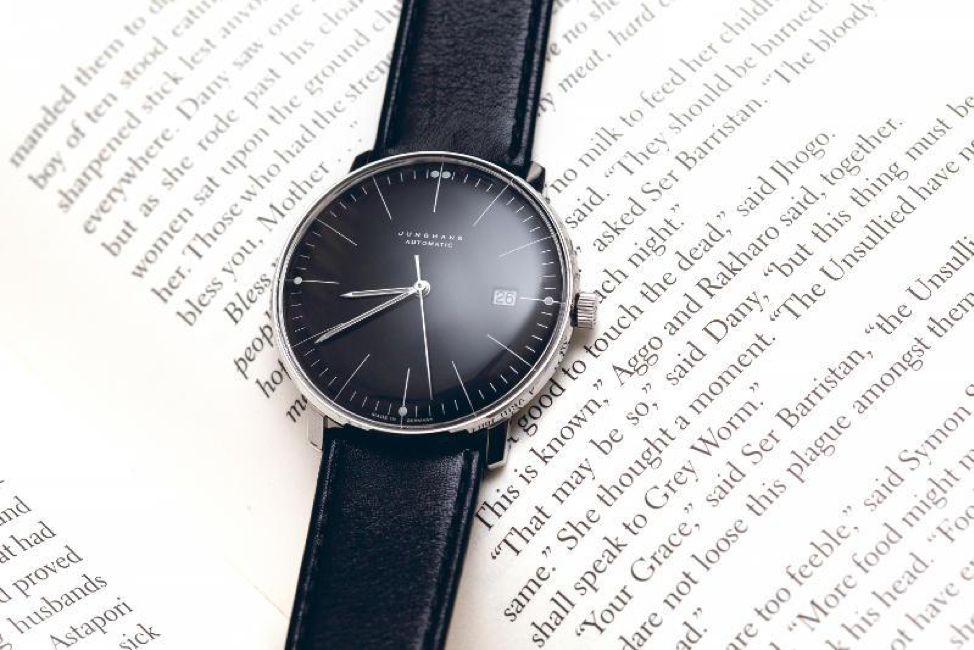 Junghans Max Bill. Source: Flickr
Choosing Classic Watches for Men
For upscale and classic style, it's hard to beat the Junghans Max Bill. Created by the namesake designer, the Max Bill has remained nearly unchanged since its debut in 1961. Minimalist design gives the German timepiece a modern feel with a stainless steel case and understated Milanese strap.
A Swiss watch that you can pair with a suit or weekend wear, the Double 8 Origin 87WA154210 exudes relaxed elegance with its deep-blue dial and matching leather band. A relatively fresh face in the Swiss-watch market, 88 Rue De Rhone was founded by the grandson of celebrated Swiss watch pioneer Raymond Weil.
Across the Atlantic, Hamilton watches have been crafted in Pennsylvania since 1982. For a multi-use minimalistic piece, check out the Jazzmaster Slim Auto with a sleek black dial, black leather strap and polished stainless steel case that embodies time-honored tradition.
Where Can I Wear My Minimalist Timepiece?
Anywhere. That's the beauty of the minimalist watch. Though there are guidelines you should follow. For formal settings, consider a timepiece with a plain white face and a basic black leather strap. The monochromatic scheme is the perfect elegant yet unassuming accessory for a black-tie affair. For the office and semi-formal social gatherings, a metal watch with minimalist style works best. A model with a brown leather band is a good idea if you're on holiday or having a casual day out. For more active outings, consider a sporty minimalist watch with a canvas strap that complements a casual chambray shirt and your favorite jeans.
Fashion to Match a Minimalist Watch
And speaking of fashion, if you're looking for a minimalist watch there's a good chance are you're a fan of minimalist couture. Creating a minimalist wardrobe is easy with a few simple steps. Consider cutting your ensembles down to two themes — greyscale and neutral.
Shove your brighter prints and plaids to the back of the closet in favor of basic shades of grey, black and white with just a hint of silver accenting. But you can't go grey every day.
So alternate with a softer more-neutral palette with browns, beige, khaki and other muted hues. Focus on button-downs, high-quality tees, blazers and solid pants that have simple lines and clean geometric shapes. You'll be a walking testament to minimalism in no time.
Complement Your Minimalist Style With Color
Yes, it is something of a cliché. You've scrolled through a gazillion Pinterest pics with taupe, black and grey ensembles accented by "playful" splashes of color. But it works if you don't overdo it. So it's best to carefully curate your color pops.
The first and safest route is to stick with neutral tones and just a dash of color. Think a simple silk camisole in a cheerful primary shade. Perhaps socks of the same.
A more versatile means to add a bit of vibrancy is to find a combination of colors that suits you and rotate complementary pieces into your more achromatic outfits.
For a bolder approach that fits quirkier personalities and the more forward-driven, consider colors that unashamedly clash. The cardinal sins of combining fuchsia and emerald green or crimson and cyan will be forgiven (even applauded!) if the world sees you are making a statement.