Universal Geneve began in 1894 in Le Locle, Switzerland. Within a few early years of its establishment, the company gained unsurpassable popularity among the masses.
Initially, Universal Geneve's assembly process consisted of receiving the ébauches (third party movements) and then fitting the dial, cases, and hands subsequently. In 1919, it moved operations to Geneva. And in 1925, the company began to produce trench and pocket watches for soldiers of conflicting nations.
That same year, Universal Geneve produced its first automatic watch called the "Auto Rem." With its distinctive octagonal shape, the watch gained popularity among consumers almost immediately and brought the company to the attention of many.
In this article, we discuss the timeline of Universal Geneve and learn more about its current operations.
Overview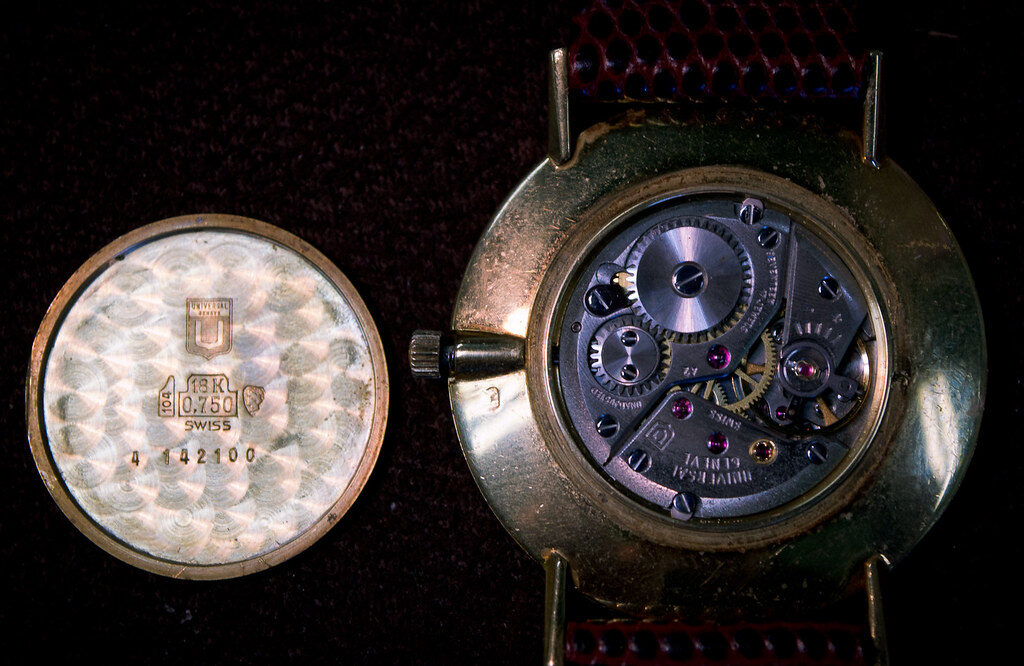 Universal Geneve in name remains very much in existence at present. Since 1989, it has been run by a Hong Kong investment group called Stelux. However, though it held a short re-launch in 2001, there have been no updates about any new products since 2009.
Although Universal Geneve is currently a member of the Federation of the Swiss Watch Industry, its present activities remain unclear. Other than the fact that it oversees Cyma, which is another Stelux owned brand, nothing more is known about the company's current operations.
So can we expect a Universal Geneve to release a new lineup in the future? From the looks of it, the company might experience an upcoming rebirth. In fact, its website has been pretty much up and running since February of this year. This shows that a possible relaunch might be underway, though no-one knows for sure.
History
The Company's Rise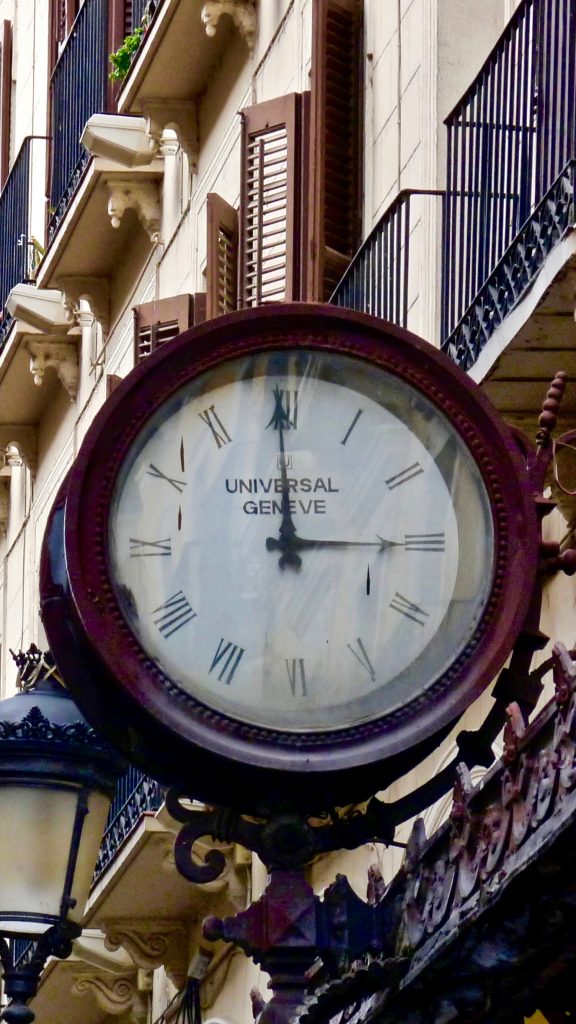 During the 1950s, Universal Geneve stood as one of the most watch companies around the globe. Though no longer as popular a name as other luxury Swiss brands, it carries quite a heavy historical background.
At the time of its popularity, Universal Geneve produced timepieces for crewmembers of the SAS (Scandinavian Airline System). When the airline announced its new Europe to California route via the North Pole, Universal Geneve took the opportunity to commemorate the event in its own way.
Not long after the SAS introduced the new route, Universal Geneve launched a lineup of new automatic precision watches capable of resisting the Polar region's strong magnetic forces. One of those who helped the company achieve this goal was Gérald Genta, a young 23-year-old watch designer.
In the years that followed, Genta became known as one of the best watch designers the world had ever seen. He worked for a wide range of companies and created various masterpieces such as the Omega Constellation, the Bulgari Bulgari, the IWC Ingenieur, the Audemars Piguet Royal Oak, and the Patek Philippe Nautilus.
The Polerouter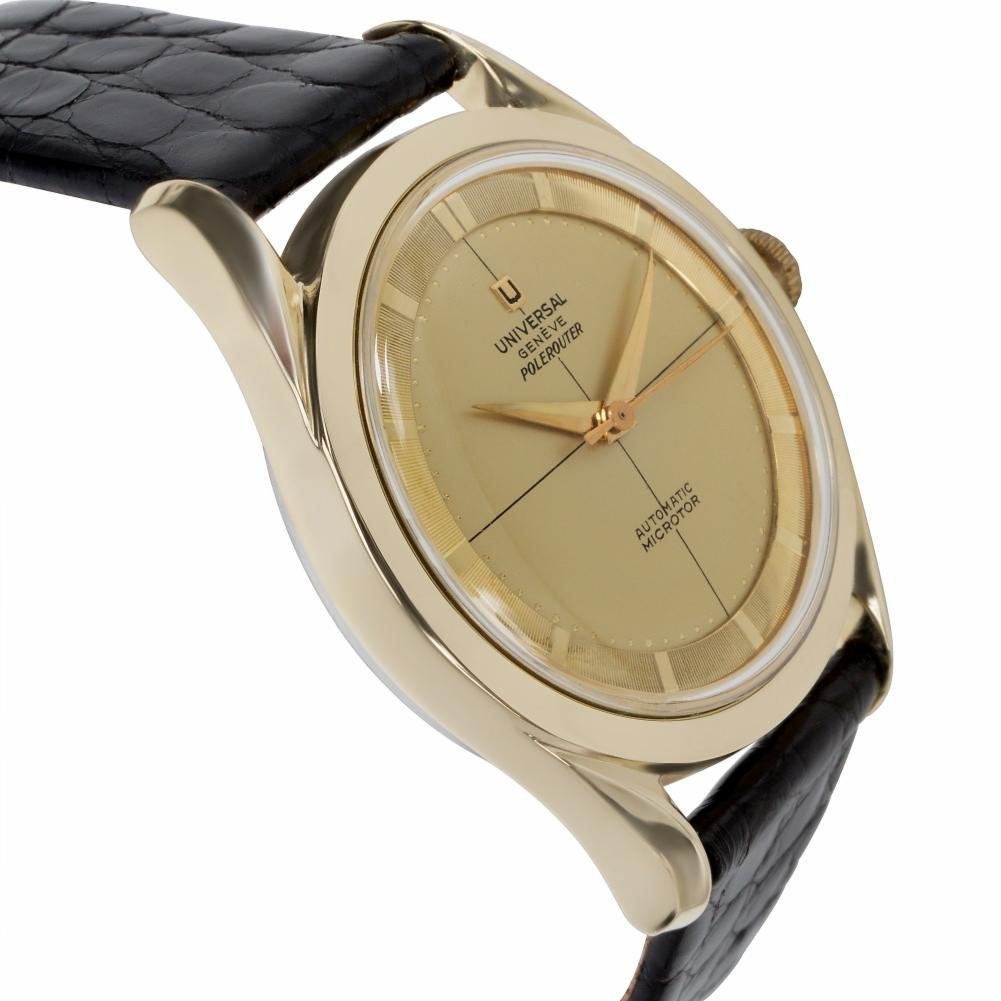 Genta's most famous model was the Polerouter (originally the Polarouter). This watch launched in 1954 and immediately became available for purchase thanks to its unsurpassable demand and popularity.
The Polerouter initially featured an automatic calibre 138 SS along with a pendular mass that oscillated between the two shock absorbers. Not long after, it received an update in the form of the calibre 215 Microtor. Within the movement, a rotating mass worked to ensure higher precision.
The most captivating feature of this watch however was its stunning inner bezel which added a 3D effect to the Polerouter's dial. The model thus became so highly notable that over the next 12 years, Universal Geneve launched a wide range of variations.
After the introduction of jet engines, the North Pole route lost its importance. Hence, the Polerouter watch lost popularity and completely disappeared by the end of the mid-1960s. Despite an attempt to revive it in 1990 as a quartz model called the Polerouter Sport Chrono, Universal Geneve failed to regain the watch's former prestige.
Not many vintage watches carry a rich historical heritage like the Polerouter. Today, many consider its invention as one of the watershed moments in aviation history. Its design by a legend of the watch industry is also a significant reason for its enduring popularity.
Legacy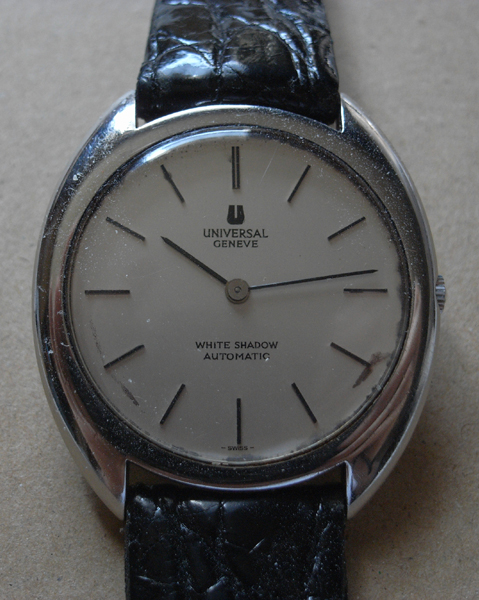 Despite it no longer being a dominant force in the watch industry, Universal Geneve continues to live in the minds of many. As such, watch enthusiasts continue to praise and hunt for its watches over online platforms. In fact, the history associated with the brand makes its watches one of the most sought after in the world.
Additionally, Universal Geneve watches have now become one of the most recommended timepieces for those on the hunt for affordable vintage watches. Besides their historical linkages, another reason why these watches possess high value is their past usage by some of the most influential personalities around the world.
One of these personalities is US President Donald Trump who is known for having formerly sported a Senna Chronometer. He later donated this watch in 1999 to charity. Upon being auctioned, it was sold at a selling price of $6,000.
The story of Trump's Senna Chronometer demonstrates how Universal Geneve continues to attract public attention even after years of having ceased production. So if you get a chance to grab one of its popular models, rest assured that it won't be a bad deal. After all, Universal Geneve watches are definitely worth your money.
Universal Geneve Watches As Compared To Other Models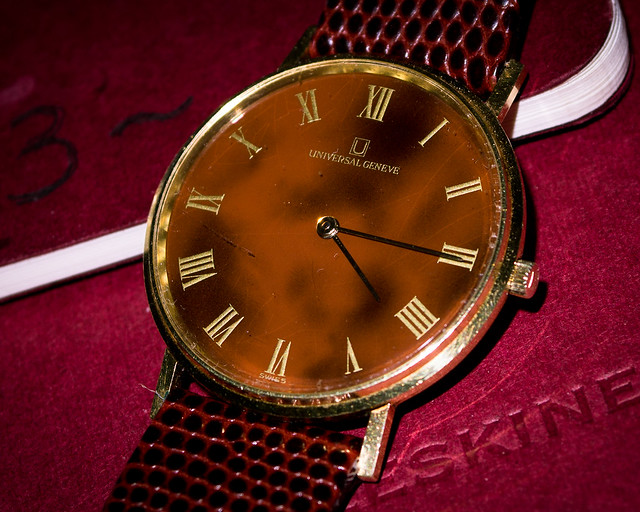 The typical Universal Geneve watch was once referred to as the gentleman's timepiece, meaning it was quite affordable during its time. As time went on however, the company's models grew in popularity and in value.
As highly valuable and well-made timepieces, Universal Geneve watches rank among the list of most luxurious watches. Below are a few models still in vogue among watch enthusiasts:
Universal Geneve Cairelli Split-Second Chronograph
With each passing year, vintage Universal Geneve watches make their way to the collective consciousness of various watch collectors. With an increase in the price of Rolex watches, it's probably a good time to head out and search for a cool Universal Geneve watch.
Arguably, one of the most preferred and undisputed kings of Universal Geneve vintage watches is the Cairelli Split-Seconds Chronograph. This particular model, which came to the fore during the 1950s, was a famous tool watch mainly designed for navigators of the Italian Air Force.
There are numerous factors which explain this watch's popularity. Besides being way ahead of its time, its massive 44mm case diameter was a highly prominent design feature which caught buyers' attention.
Another fantastic feature of this watch is its 24-hour dial layout which is highly indicative of its military roots and made it highly distinct from its more civilian counterparts. Additionally, this watch features a clean, crisp dial which beautifully displays bold Hindu-Arabic numerals. Inside, this watch contains a 17-jewel Valjoux 55, which is the same movement that powered the Rolex 4113.
The Cairelli's blue-coloured hands count as its most stunning design feature. This particular attribute maximized the dial's open dial space without compromising its legibility. As such, it shows the Cairelli's superiority over the Rolex 4113 in terms of aesthetics.
Overall, thanks to its classic design and features, this watch ranks as one of the most desirable and collectable timepieces of all time.
Universal Geneve Aero-Compax
When winding a vintage watch, one always gets that amazing sensation of going back to the past. Although this feeling may apply to many vintage chronographs, only a chosen few can bring out that powerful nostalgia. The Universal Geneve Aero-Compax is one example.
Universal Geneve was at the height of its fame when it launched the Aero-Compax in 1941. The Aero-Compax proved to be a beautiful and eye-catching timepiece, something definitely needed at the climax of the war.
The Calibre 285 served as the powerhouse of the Aero-Compax. This was a manual winding calibre specifically designed for this model. In addition, this watch had many other amazing features such as a column wheel a crown on the left side which allowed the wearer to set the time. As such, its popularity endured for several decades.
At present, the Aero-Compax is a highly acclaimed and sought-after vintage chronograph. Many collectors conduct diligent research on this watch and are incredibly eager to acquire it.
Universal Geneve Okeanos
The Universal Geneve Okeanos is an automatic self-winding watch which consists of a grey dial and stainless steel bezel. It is one of the very few vintage watches out there that remains in immaculate condition.
It's considered a pure luxury to own this aesthetically-alluring timepiece. With its large 43-millimetre case, exquisite dial, beautiful bezel, and leather-alligator band, it is definitely a rare and eye-catching antique. In fact, this watch has more value than you can think of.
Final Words
It is incredibly rare for any defunct brand to gain even a slight resurgence in popularity. Universal Geneve is one of those brands and has been gaining a considerable following for some time now. This flurry of activity extends throughout the globe, thereby causing many collectors to dig deep and find a Universal Geneve masterpiece.
From what we've learned so far, even though Universal Geneve is no longer operational, many still consider its watches as highly valuable collectables. As such, expect to hear more about it in the years to come.
Thank you for taking the time to read this interesting piece. For another insightful read, check out Fourth of July Time: Best Luxury Watches Made in the USA.