If you're thinking about getting your hands on a Movado watch, but want to learn more about the brand, then join us as we explore Movado watches.
Movado watches are widely known for their stylish allure. With a variety of models, allow us to help you choose the right Movado watch suitable to your needs.
In this article, we discuss everything that relates to Movado. This particular Swiss watch has been around for over a century and still gaining popularity with each passing day. So let's take a look at its history and how it has managed to build its stellar reputation.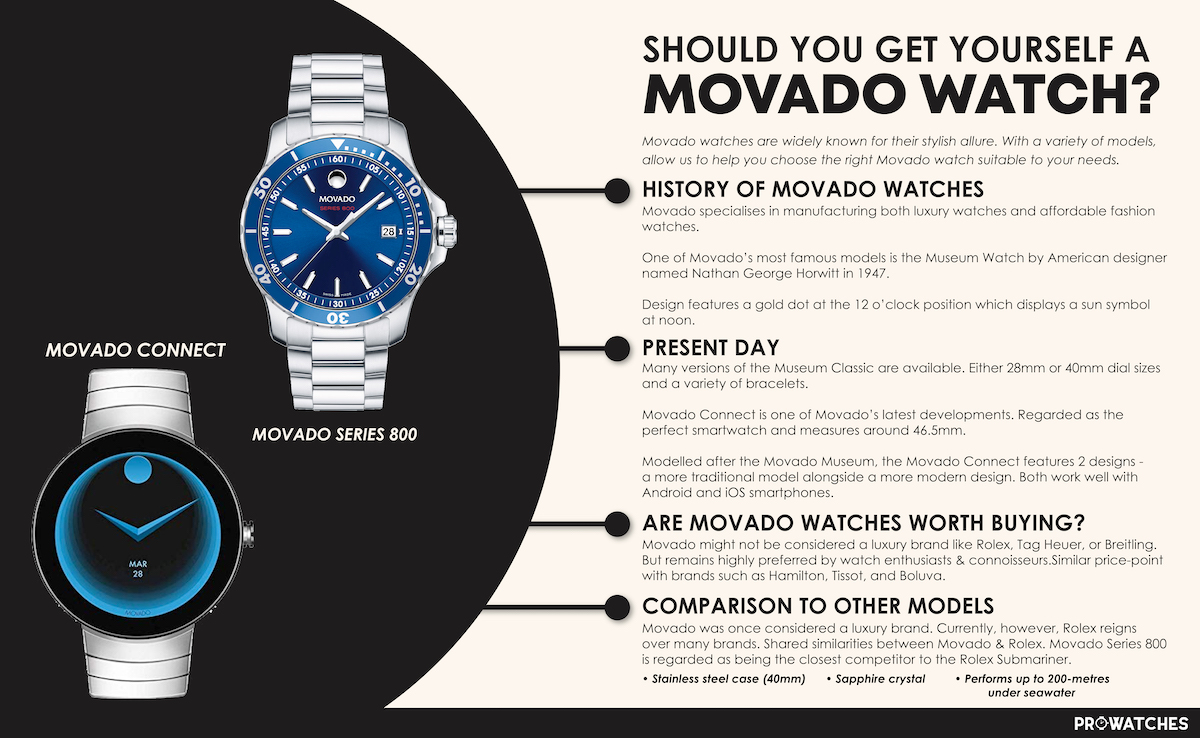 History Of Movado Watches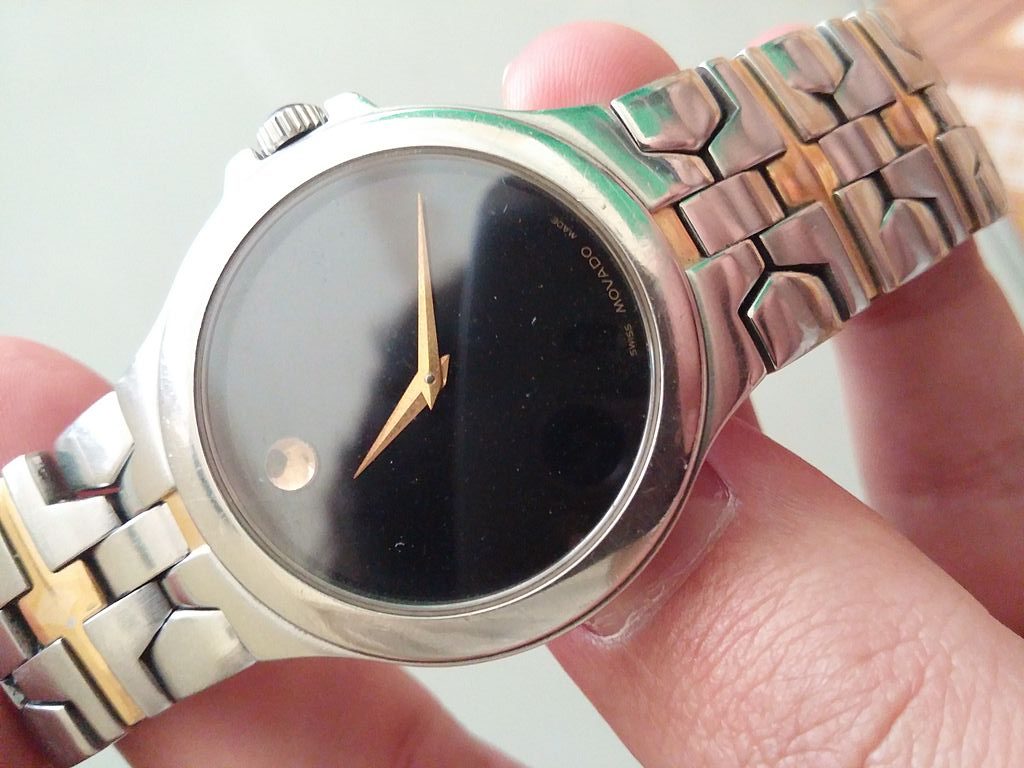 Humble Beginnings
Movado specialises in manufacturing luxury watches as well as affordable fashion watches. Movado watches' aesthetic features and their high precision level are some of the factors that make the company stand out among other luxurious brands. In addition, its models' well-crafted dials, exquisite bracelets, and attractive dial features make them a collector's gem.
One of Movado's most famous models which is popular among collectors is the Museum Watch. This unique and elegant watch came from an American designer named Nathan George Horwitt in 1947.
This watch saw inspiration from the Bauhaus art movement during its time. Its design features a gold dot at the 12 o'clock position which displays a sun symbol at noontime. This watch's popularity soared to new heights after its selection to be part of the New York's Museum of Modern Art's collection in 1960. In fact, it was the first watch ever to earn such a distinction.
Present Day
At present, many versions of the Museum Classic are available some of which include 28mm or 40mm dial sizes and various types of bracelets. Some Museum Classic editions come with exquisite diamond markers. Among them are the 28mm Men's Museum Classic and Women's Museum Classic, both of which feature 11 diamond markers.
The Movado Connect is one of Movado's latest developments and is regarded as the perfect smartwatch. You are provided with the option of a more traditional looking design or something more modern.
This watch uses Google's Wear OS and its screen is much bigger than most of Movado's male watches. In fact, it measures around 46.5mm.
The Movado Connect features an optimized resolution as well (400×400). In addition, it offers both Bluetooth and WiFi connectivity. Meanwhile, an extremely durable Gorilla Glass protects the watch screen.
Like many other smartwatches, the Movado Connect also allows you to respond to messages, use apps, and receive notifications. Thus, it works well with both Android and iOS smartphones.
Notwithstanding its many features however, the Movado Connect is somewhat costly when compared to its competitors. In fact, it is more expensive than any Samsung Galaxy Watch or even an Apple Watch.
So, are they worth buying?
Are Movado Watches Worth Buying?
When buying a luxury watch, a question usually comes to mind, and that is whether the watch you are purchasing is worth its price.
Although Movado might not be considered a luxury brand like Rolex, Tag Heuer, or Breitling, it remains highly preferred by many watch enthusiasts and connoisseurs. Moreover, Movado watches earn great distinction for their high quality and unique design. Thus, they are one of the most collectable watches around the world.
In some ways however, Movado watches do share some similarities with brands like Hamilton, Tissot, and Boluva. They are each common with one another in that they are priced similarly.
Comparison To Other Models
At one point, Movado was considered to be a luxury brand. At present however, many watch enthusiasts prefer Rolex watches over other models. This is because of Rolex's dominance in the watch industry thanks to their incredible craftsmanship and watch design.
Nonetheless, the beauty of Movado watches shouldn't be underestimated. Below, we explore the differences and similarities of these watches with models from other brands.
Rolex Submariner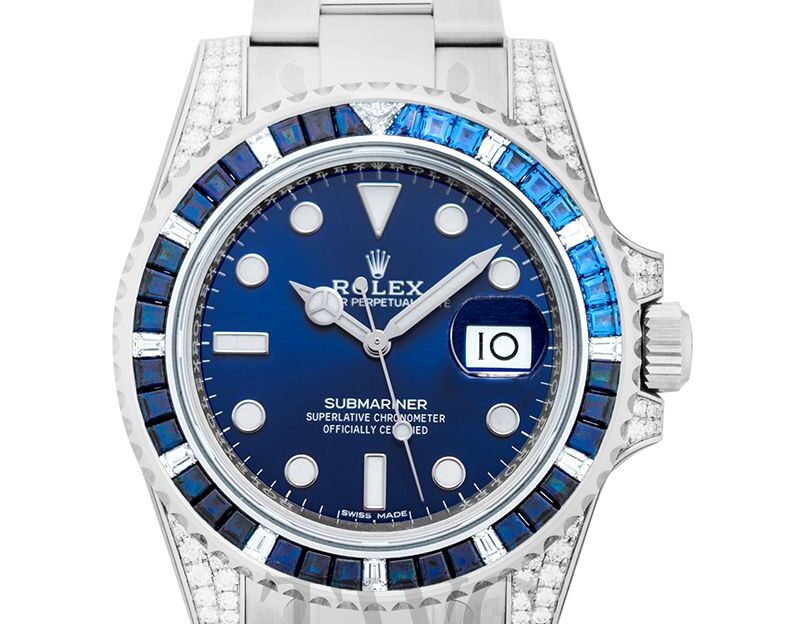 Released in 1953, the Rolex Submariner is considered to be a classic timepiece. Since its inception, Rolex has continued to modify this watch with the latest technology to maintain its stature in the market.
The Rolex Submariner is truly a one-of-a-kind invention, especially for a dive watch. One reason for its unsurpassable popularity is its classic and stylish design. Furthermore, the flexibility and versatility it provides to wearers make it a highly-regarded model.
The Rolex Submariner consists of a 40mm stainless-steel casing and features a beautiful oyster design. This watch provides comfortable fitting and exudes a bold look with its stainless steel bracelet. Not only that, but its scratch-resistant crystal makes it all the more valuable.
This watch's scratch-resistant and unidirectional ceramic bezel beautifully complements its black dial. Its water-resistant feature also works up to 300-metre underwater. Moreover, its amazing 3130 Swiss movements enhance its precision and performance level. Its blue luminescence is also another convenient feature for professional divers.
Movado Series 800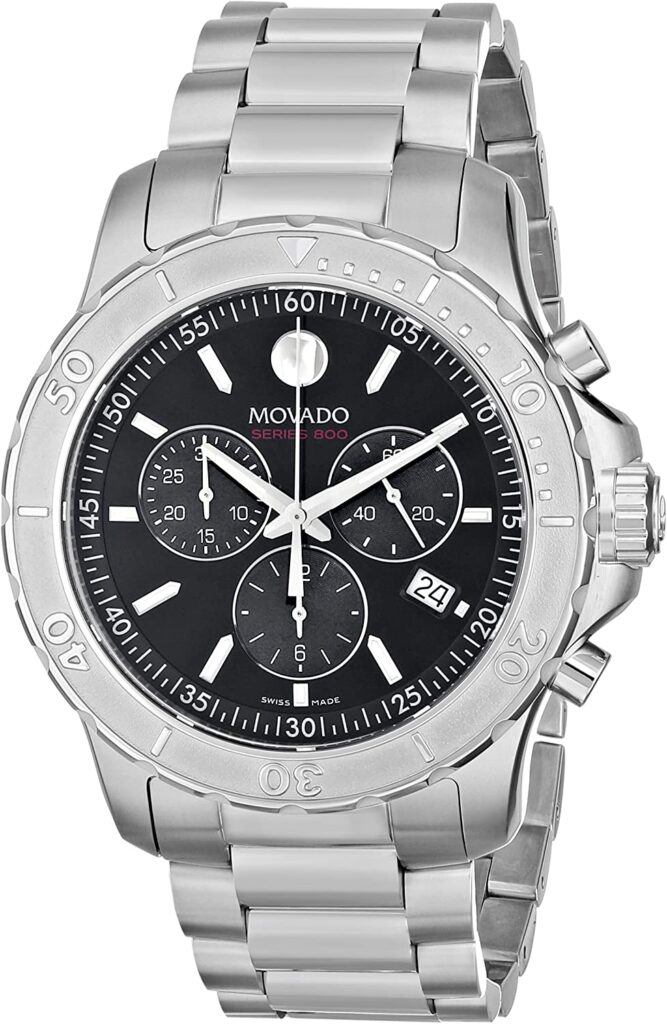 The Movado Series 800 is regarded as being the closest competitor to the Rolex Submariner. After all, it is one of the most beautiful dive watch ever launched by Movado.
This watch comes with a stainless steel case (40mm) and a well-crafted sapphire crystal. It can work perfectly well up to 200-metres under seawater. In addition, it is a great choice for those looking for a performance-oriented dive watch.
The classic design of this particular watch makes it a perfect option for any occasion. However, it fails to compete with the Rolex Submariner for obvious reasons. For one, its stainless steel isn't as durable and polished as the Submariner. Moreover, its build is regarded by some as being sluggish-looking.
Movado Museum Watch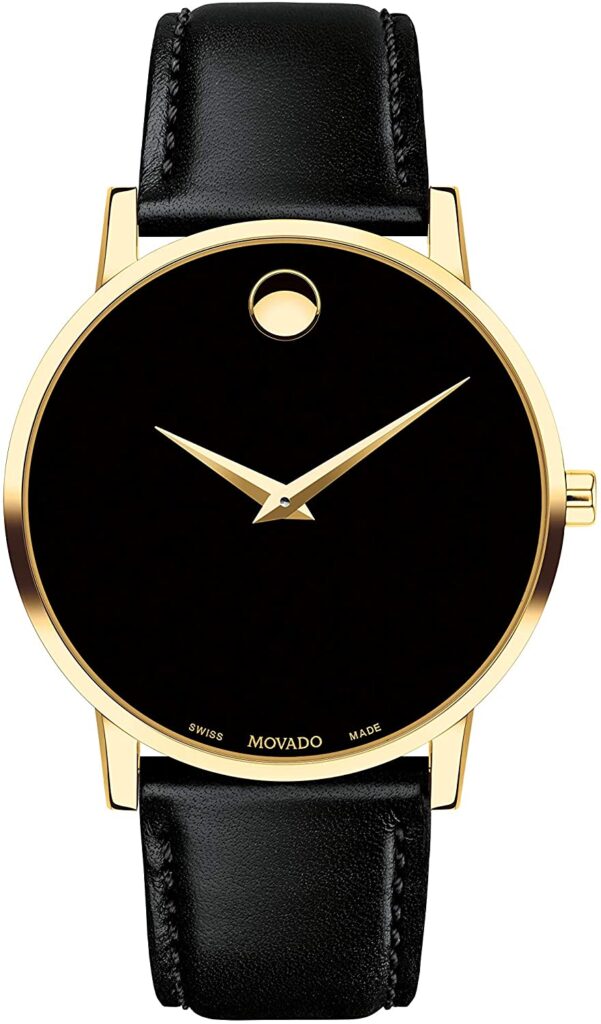 In case you're not familiar with Movado's Museum Watch series, take a look at this simple rundown of what you should expect:
Minimalist

Perfectly round shape

Single dot dial

Clean looking face
Although the simplistic design features of the Movado Museum Watch may fail to impress some prospective buyers, its clutter-free face is undoubtedly one of its most appealing qualities. Furthermore, it counts as the best possible option to consider for those who prefer practicality, convenience, and alluring design in a watch.
This unique timepiece utilizes a reliable Swiss quartz movement. Not only that, but it also features an analogue display. And alongside its stylish, efficient, and sleek appearance, it is also comfortable to wear. 
The Museum Classic Watch is a great Movado dress watch which serves as a perfect companion for both formal and informal gatherings.
Bulova Dress Watch 96C132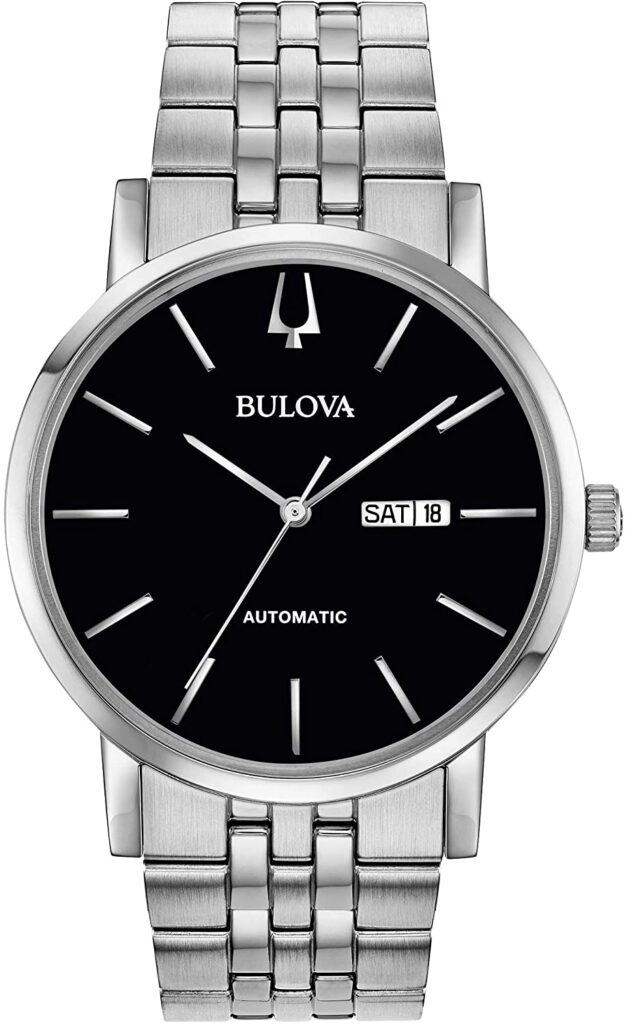 When it comes to appearance, the Bulova Dress Watch 96C132 offers a traditional type of aesthetic. This makes it a perfect choice as a dress watch. In addition, it has all the necessary features that buyers usually look for in a classic dress watch.
Besides a sleek 42mm case, this watch also includes a pitch-black dial and silver stainless-steel case strap. Furthermore, its overall appearance is accentuated by its silver hands and digits.
In comparing the Bulova Dress Watch with the American Clipper, one can say that the latter takes the edge with its more classic appearance. It's no question that the American Clipper is elegant, reliable, and sophisticated. However, due to some lacking features, it remains a somewhat less desirable choice of timepiece enthusiasts.
Bulova Gunmetal Precisionist Chronograph Watch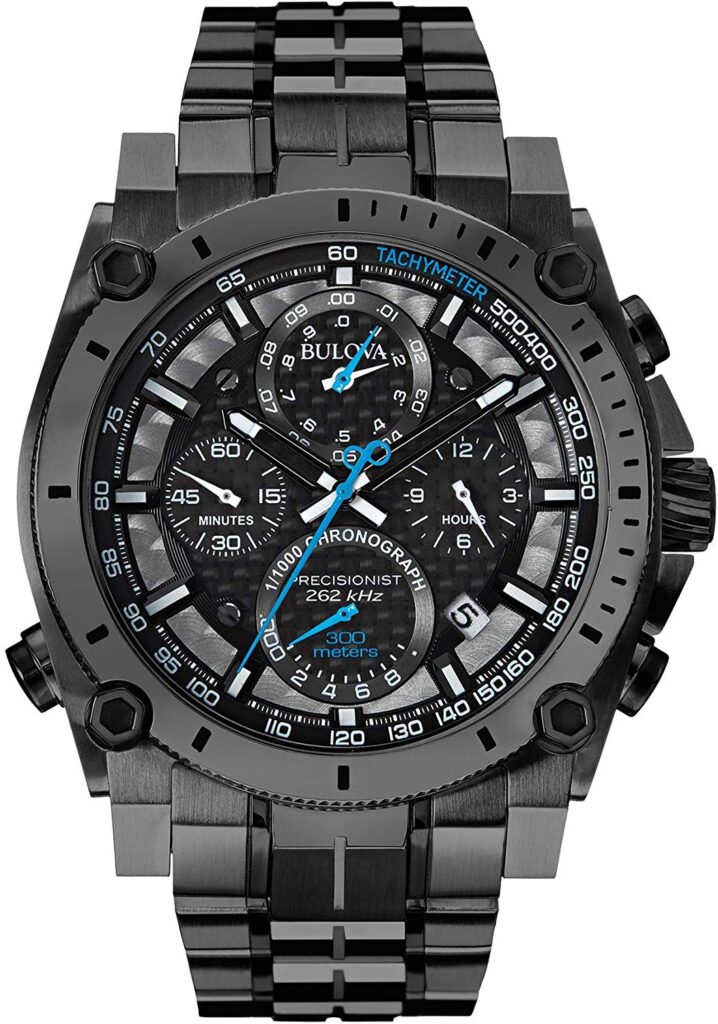 This watch is one of the most rugged and tough-looking models out there thanks to its incredible design. Moreover, it is stylish as well as durable. With a 46mm black stainless-steel case, this watch offers a unique and impressive appearance.
This watch is somewhat heavier than the Movado Museum Sport. Nonetheless, it proves its mettle by including a traditional analogue display which is unavailable in the Movado Museum Sport. This feature allows you to check the time much more easily than when relying on a sometimes unreadable dial.
Lastly, the Bulova Gunmetal is comfortable to wear and doesn't cause any soreness even if worn throughout the day. This affirms its reputation as a watch that delivers high-level precision, accuracy, and convenience.
Final Verdict
There's no doubt that Movado is a head-turner. In fact, it ranks among the best watches which offer unique and amazing features. When it comes to watch designs, Movado does the job pretty well in most instances.
The Movado brand has shown that it possesses its own unique personality. This is in contrast to brands like Bulova who follow a more traditional route with their designs and tend to produce more standard-looking watches.
Despite the aforementioned however, Movado fails to offer anything new especially for those interested in a much more bohemian style. In fact, its watches show little difference to those of other brands in performance and reliability. This is one possible reason that explains why many of them are priced similarly to other models as well.
Overall, if you're in search of watches that show enhanced performance at a lower price, Movado watches may not be for you. On the other hand, if you're looking for a watch that is meant to serve your everyday needs, then why not head out and give them a try.
If you enjoyed reading this piece, be sure to have a look at 5 Different Watch Styles Every Man Should Know.