Jules Jurgensen is a Swiss watchmaking company founded by Jürgen Jürgensen in 1740 in Denmark. At that time, Jürgensen's company was partnered with Isaac Larpent, under the name "Larpent & Jürgensen".
In 1811, after Jürgen's death, his youngest son Urban took charge of the company. In 1814, Urban proceeded to rename the company "Urban Jürgensen". More than two decades after that, in 1838, Urban's son Jules took over. It was then that the company was again renamed "Jules Jürgensen Copenhagen", after its current head.
In 1936, a U.S.-based company took over Jules Jürgensen. The watch brand continued to manufacture its watches in Switzerland until 1957.
In 1974, Mort Clayman, a watch distributor in the U.S., purchased the company. Jules Jürgensen ran for nearly 40 more years, before finally closing upon Clayman's death in January 2010. Fortunately, just one year later, in 2011, Dr. Helmut Crott, owner of Urban Jürgensen & Sønner, acquired the rights to the brand.
For 75 years, Jules Jurgensen has been American-based. Over the years, its watches have gained a reputation for their history, use of quality materials and high value.
How Valuable Are Jules Watches?
Being almost 100 years old, Jules Jürgensen has certainly mastered the classic watchmaking techniques, allowing it to create a wide range of exquisite, reliable timepieces. Jules Jürgensen watches are considered antiques and they hold good value in today's watch market. One of the most obvious factors that define the value of a Jules Jürgensen watch is its use of high-quality materials and its durability, which keep the watches in good condition.
As most people who are familiar with the watch industry know, different watch materials constitute a watch's value. The better the material used in a watch, therefore, the greater its value. For instance, a Jules Jürgensen timepiece with an 18-carat gold bracelet is worth more than one with a leather strap. A watch's age also plays a role in how valuable it is. Rare vintage watches, for example, often come at more exorbitant prices than modern releases.
If you sell your Jules Jürgensen piece, make sure you are getting real value for your money. Indeed, having a Jules Jürgensen watch is a great idea for every watch lover who loves collecting vintage pieces.
With all that said, here are some of the most famous Jules Jürgensen that will certainly blow your mind. Have a look!
Best Jules Jürgensen Watches to Add to Your Collection
Jules Jürgensen Men's 7811SS Slim Line Watch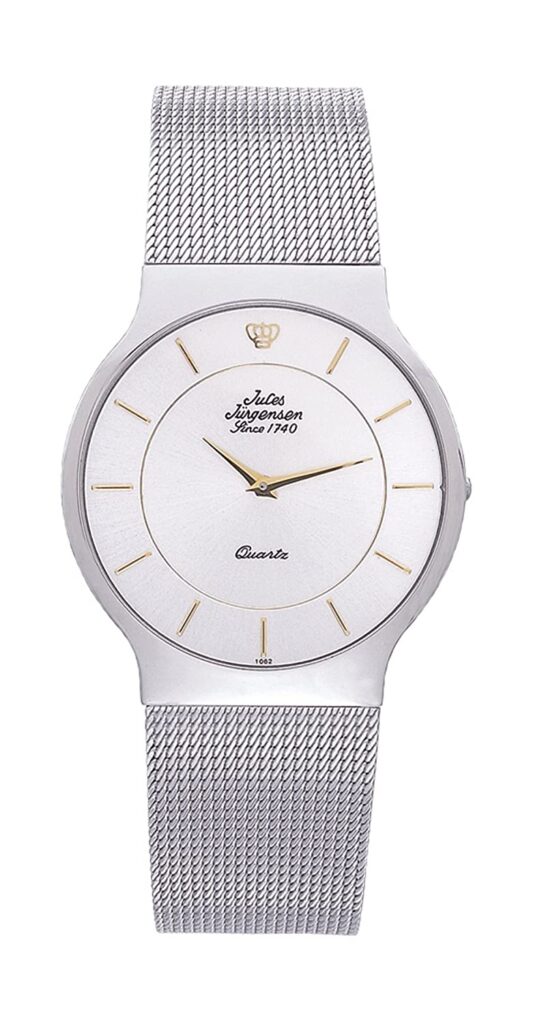 Whether you are an office-going person or you just want a casual watch for your everyday routines, a versatile silver bracelet piece is the best option for you. For a more relaxed and timeless look, grab the Jules Jurgensen Men's 7811SS Slim Line Watch.
There is a strong case for calling this Jules Jürgensen watch one of the most versatile timepieces ever made. Not only does it look stylish, but the sheer craftsmanship placed into its use of different metals, gold indices, silver bracelet, and dial design make it a perfect match for anyone's tastes. This watch's classic analogue display also makes it look fantastic with any outfit. In addition, it can function as an easy-to-read dress watch that reflects your love for vintage pieces.
This watch's case measures 34mm and it is waterproof up to 10 meters. It boasts a unique fusion of modern and classic design elements, which will make anyone who wears it look fabulous. To top it all off, its quality stainless steel build also makes it feel extremely cool and comfortable against the skin.
Since this is an antique watch, you can purchase the Jules Jurgensen Men's 7811SS Slim Line Watch through auctions and some online stores.
Jules Jurgensen 7382JC Air Force Pocket Watch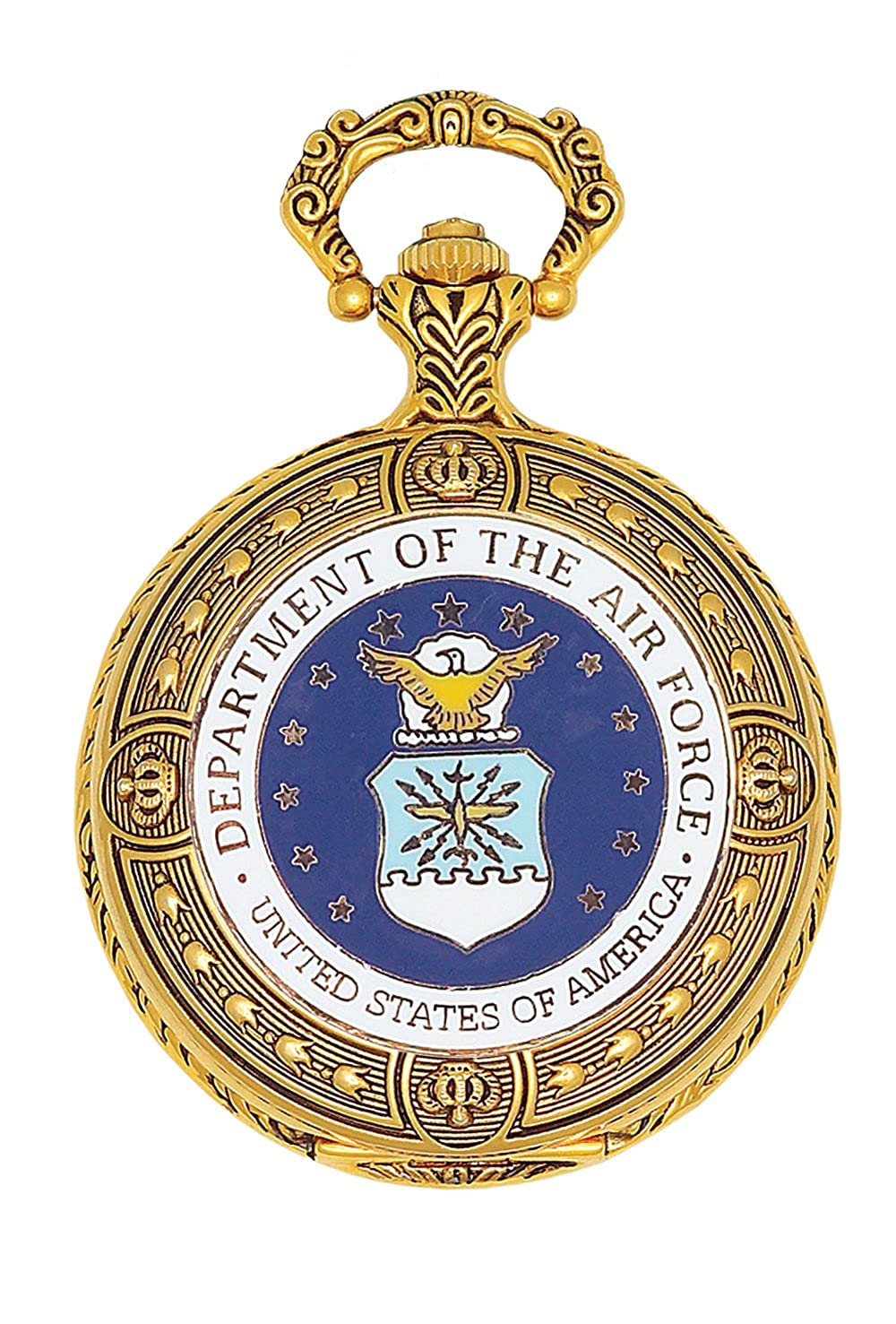 The Jules Jurgensen 7382JC Air Force is a pocket watch that was designed for air force pilots during the war. Its lovely gold-tone metal case with a truly original design makes this a great vintage piece to invest in. The front of this watch's case features an elegantly painted, retro-looking U.S. Air Force symbol. The case of this watch measures 47mm in diameter and 15mm thick, so you can easily carry it around in your pocket. On the handle, you can also find a large, ornate push-pull crown that adds to the handsome look of this pocket watch.
This watch's dial, on the other hand, showcases a clean white finish. It bears black indices which make the dial look attractive and easily readable. This dial also includes a handy date display. An analogue quartz movement powers all of these features.
All in all, this classic pocket watch makes for a special gift for any family member or friend.
Jules Jurgensen Men's 7678Y Classic Goldtone Watch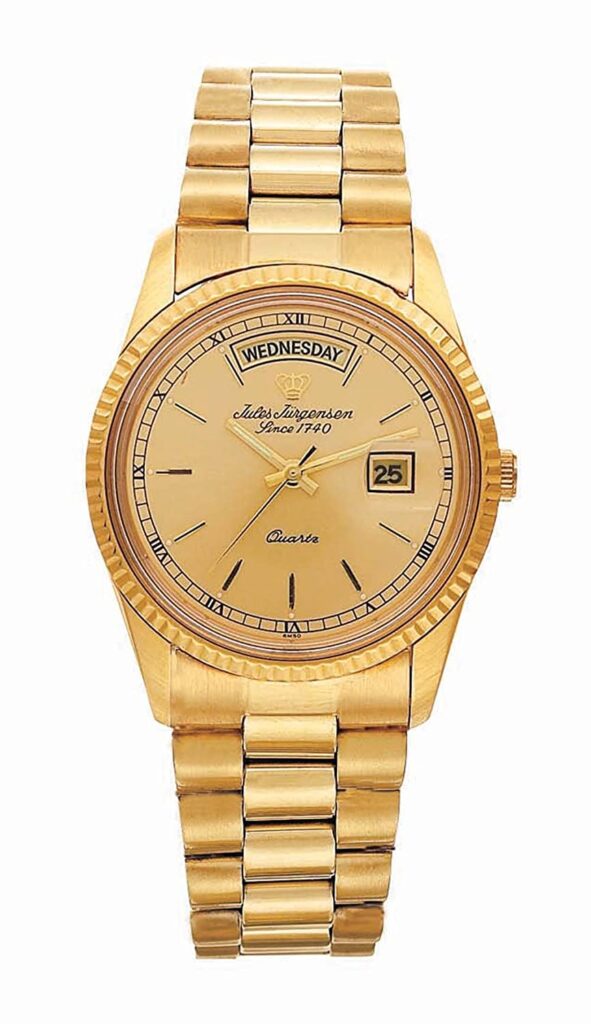 For the ideal luxury watch, check out the Jules Jurgensen Men's 7678Y. With its gorgeous all-gold exterior, this lavish timepiece is compatible with just about any attire. Wearing this not only makes you look stylish but also attractively high class.
This Jules Jurgensen Classic Men's Watch sports a gold-tone stainless steel case and a matching three-link bracelet made of the same material. This bracelet is equipped with a fold-over safety clasp, which ensures the watch stays securely fastened to your wrist at all times.
The dial, meanwhile, shows off a similar, champagne gold finish. It consists of thin stick indices, gold blunt hands, a date aperture, and an elongated day display at 12 o'clock. A layer of mineral glass protects the watch's dial. Finally, this watch also has a water resistance capacity of 50 meters, so it can survive any accidental splashes or showers.
Jules Jurgensen Men's 5000YG Chronograph Watch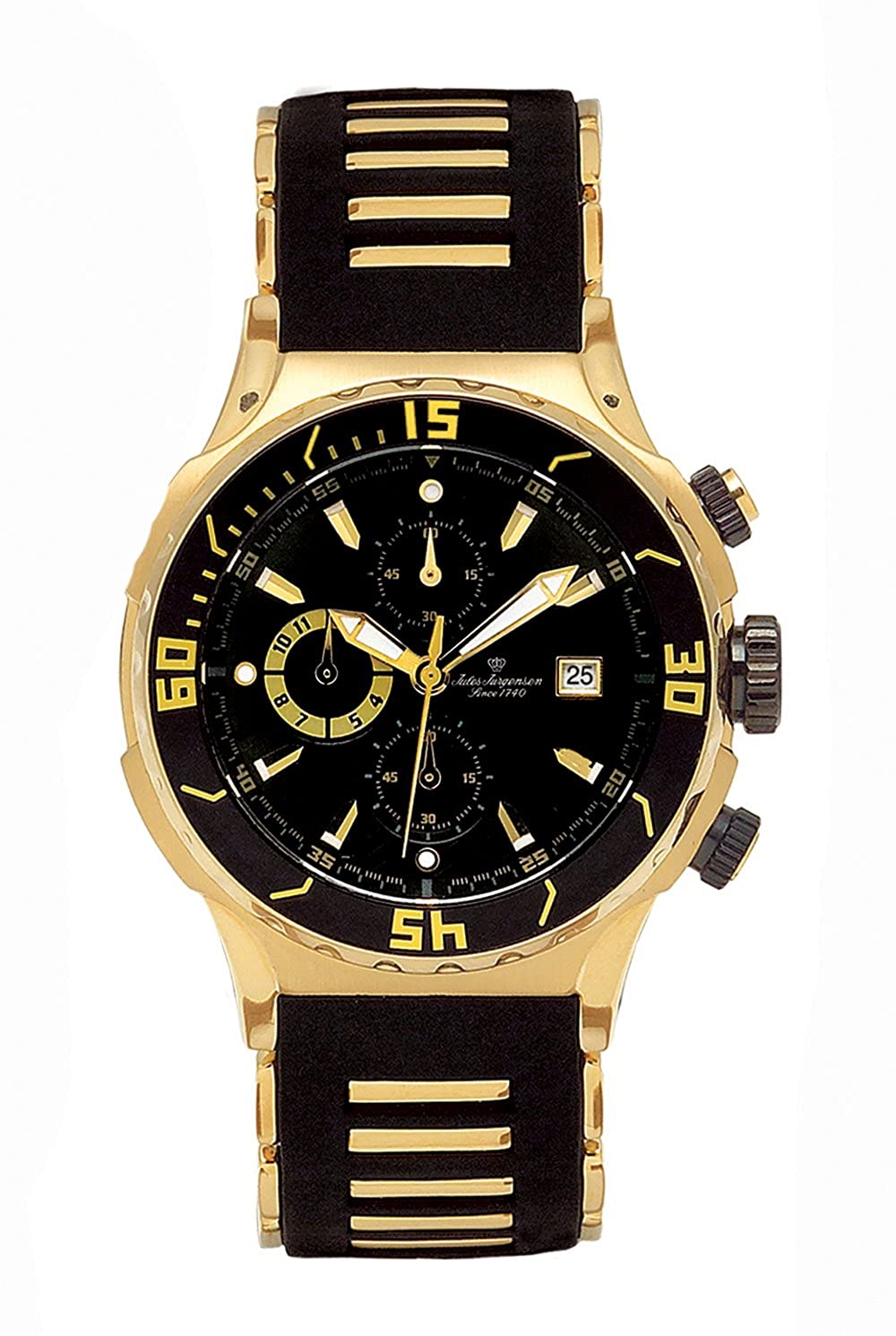 A chronograph watch is a specific type of timepiece that works as a stopwatch and comes with a useful chronograph display. A basic chronograph comes with an independent sweep seconds hand, which you can start, stop, or reset to zero using a pusher. With a chronograph function, a watch can perform many other functions apart from just simple time-telling.
One great chronograph watch in Jules Jurgensen's catalogue is the 5000 G Chronograph. This is one of the oldest complication watches on the market and was used by many pilots and army men in the 1950s. Its beautiful combination of black and gold gives this watch a certain classic, timeless look. The dial, which comes in black, is also embellished with lovely gold accents. It contains applique hour indices, thick sword hands, a date complication, and three sub-dials for the 60-second, 60-minute, and 12-hour counters.
If you happen to be a watch enthusiast with a fondness for collecting vintage chronograph timepieces, then the 5000 G Chronograph is a perfect choice for you.
Jules Jurgensen Skeleton Manual Pocket Watch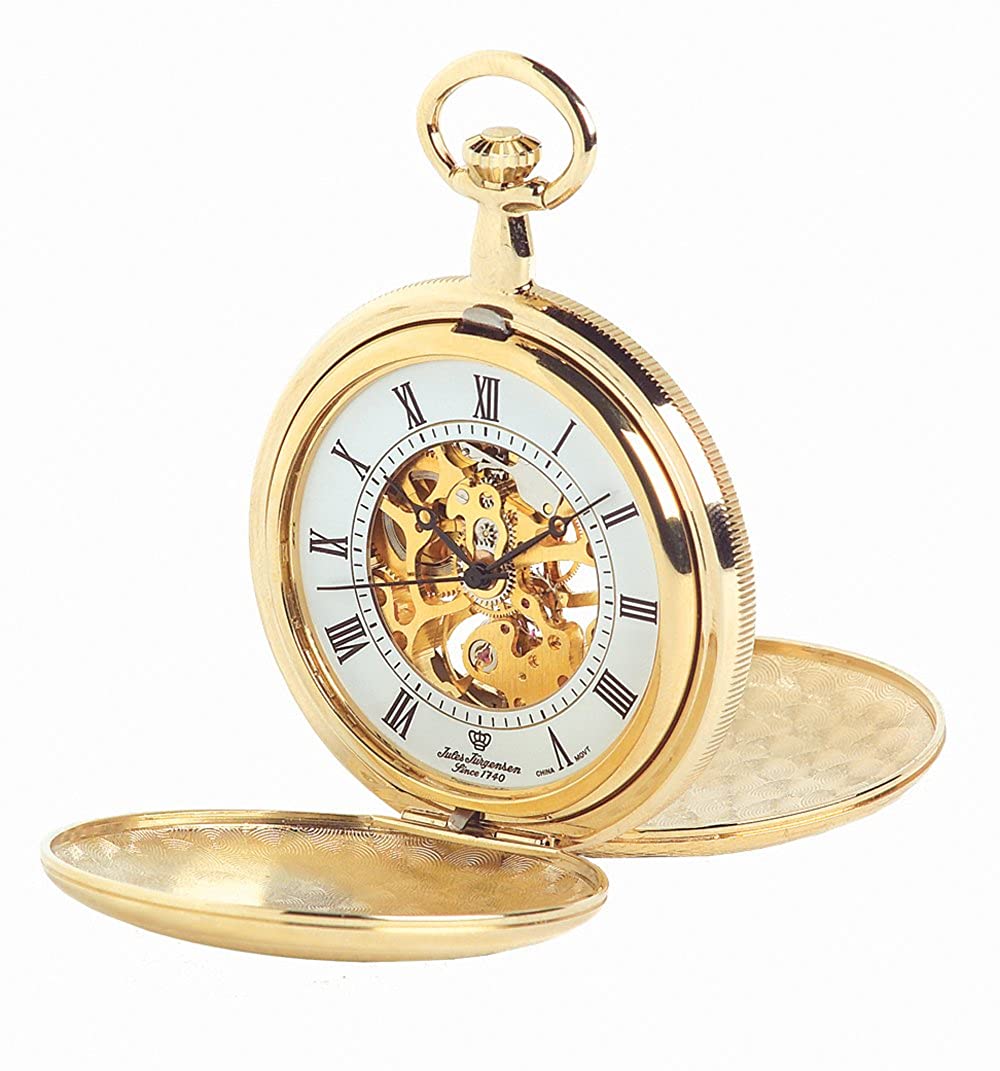 The Jules Jurgensen Skeleton Manual Pocket Watch is yet another gorgeous pocket watch from the brand. In the 1800s, upgrades in Jules Jurgensen's watchmaking process allowed it to dominate many competitions in the Swiss watch market. The Jules Jurgensen Skeleton Manual Pocket Watch was a testament to that success.
This watch came with improved winding and hand-setting mechanisms, with the quality of its movement making it globally renowned. It set many records at various observatories and competitions. As a result, this pocket watch continues to be famous amongst watch lovers today.
With a rich history and a highly accurate timekeeping mechanism, this watch showcases fine American craftsmanship. It boasts a sophisticated and beautiful open-heart design, as well as a lavish case in either 14-carat or 18-carat gold, which enhances this watch's luxuriousness.
When it comes to getting the Jules Jurgensen Skeleton Manual Pocket Watch, your best bet is probably to look at some watch auctions near you.
Jules Jurgensen Women's 7445 Leather Watch

From antique pocket watches to highly-practical chronographs, Jules Jurgensen has everything a watch enthusiast could want. Since its inception, this brand has also produced some high-quality ladies' watches. If you are in search of antique ladies' timepieces, then take a look at the 
Jules Jurgensen Women's 7445 Leather Watch
This watch utilises an 18-carat gold case as well as a high-quality brown leather strap that looks beautiful on your wrist. The dial of this watch showcases a soft white finish and comprises elegant alpha hands and Roman numeral markers in a fine, slanting typeface. A layer of mineral glass also guards the watch's face, ensuring that wearers get a clear and readable view of the dial. Driving this watch is an automatic movement, which gives it a depth rating of up to 30 meters.
Final Words
Vintage watches from brands like Jules Jurgensen are always captivating. They are an important part of Swiss watchmaking history and many of them have stood the test of time over centuries. Moreover, their timeless looks and sophisticated mechanics make these vintage pieces highly valuable, so they are great choices for experienced watch collectors.
If you are new to the fascinating world of timepieces and want a vintage model of your own, you should definitely start with the Jules Jurgensen watches. There is no doubt that you will enjoy the beauty that comes with its antique pocket watches. You could also opt to get a Jules Jurgensen piece in luxurious gold or silver, depending on your preferences. Indeed, these watches hold really great value and investing in them is an excellent idea.
After reading this article, why not check out Watches That'll Make the Perfect Gift for a Groom?