Zodiac is one of many legendary and original dive watch companies with a legacy of creating some of the world's most outstanding timepieces. Many of the watches made by this company are often fashion-oriented or technical in their design. They also often carry a historical background as well as practical functions for the wearer.
Zodiac began operations almost a century ago. The obvious reason why it has stuck around for so long is its ability to create not just ordinary watches, but exquisite timepieces. In fact, the models produced by the company are second-to-none in terms of aesthetics and precision.
Zodiac has had many milestones throughout the years. Among them is its release of the first automatic sports watch in the world almost 90 years ago. Besides this model, why not have a look at five of the most elegant watches offered by Zodiac.
Zodiac Aerospace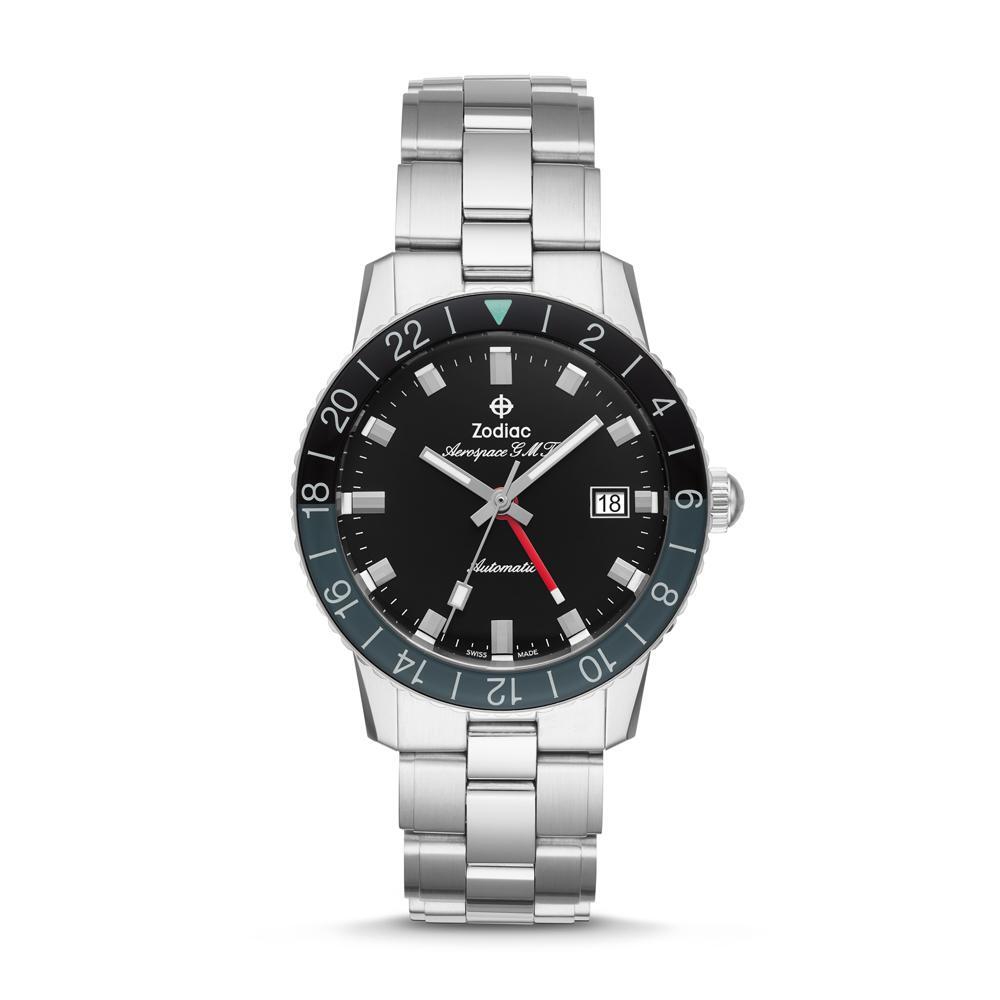 The Zodiac company proves its continued ability to create amazing modern watches with the release of the original Aerospace GMT in a new modern layout. One version of this watch comes with an orange and blue bezel, which is an homage to the look of the famous gyro horizon found in planes.
This watch features a 40mm-wide case similar to that of the Zodiac Sea Wolf. It also includes a GMT bezel that rotates in both directions. Meanwhile, its dial and bracelet are designed distinctively to present an aesthetically-alluring appearance.
The Aerospace GMT does not include an in-house movement. As a matter of fact, it is powered using Swiss automatic GMT (ETA 2893-2) movements which are relatively expensive. As such, this watch has a higher price compared to other models.
Notwithstanding the watch's high price, there's no doubt that the movement it runs on is incredibly accurate and reliable.
At present, there are two basic versions of the Zodiac Aerospace GMT available. One of these includes mineral crystal-topped bezel colours. The second version on the other hand offers a more sombre black and grey-blue colour theme along with a red hand.
Thanks to this watch's large dial, its numbers are clear enough for the user to track time. In addition, this model also includes a bracelet which mimics the band design that came with the original Aerospace GMT.
Zodiac Super Sea Wolf 53 Compression Watch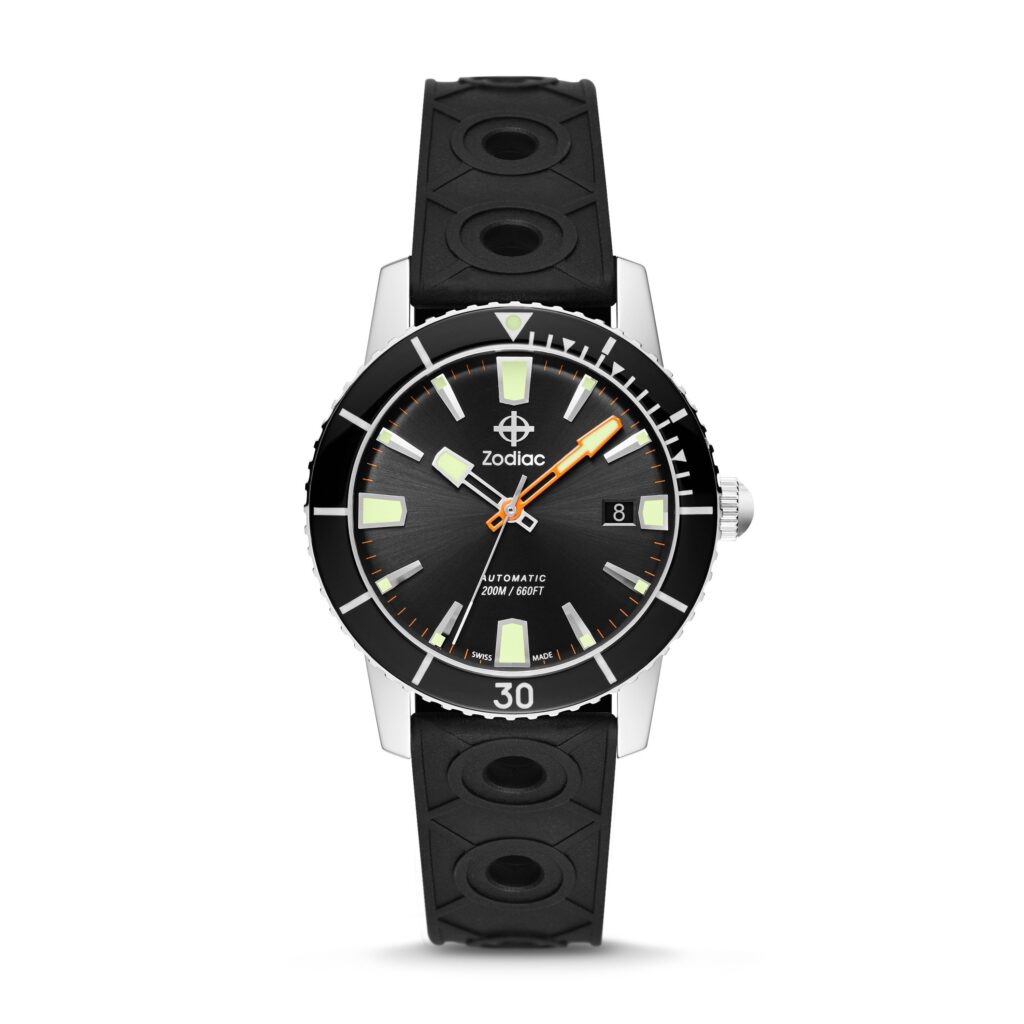 If you're looking for a watch that not only looks great but also performs seamlessly, look no further than the Zodiac Super Sea Wolf Compression Watch.
The deep-green hue on this watch's dial (made of sapphire crystal) offers the wearer sufficient visibility in almost any lighting conditions. Its three luminescent hands also allow you to keep track of time without any fuss. In addition, it also displays the date and month. Overall, it's aesthetic features make it a classy signature watch with a timeless style.
This particular watch has stood the test of time thanks to its long-lasting internal features. It uses a Swiss automatic chronograph movement (ETA Valjoux 7750) which offers a 48-hour power reserve and 4Hz operation. As such, the wearer is afforded with durability and excellent precision.
The most appealing feature of the Zodiac Super Sea Wolf is its Jubilee bracelet. With a gleaming and polished surface, this band shines brightly in a captivating allure. Another unique feature of this watch is its sapphire crystal window, which allows the wearer a clear and mesmerizing view of the movement.
Zodiac Astrographic Watch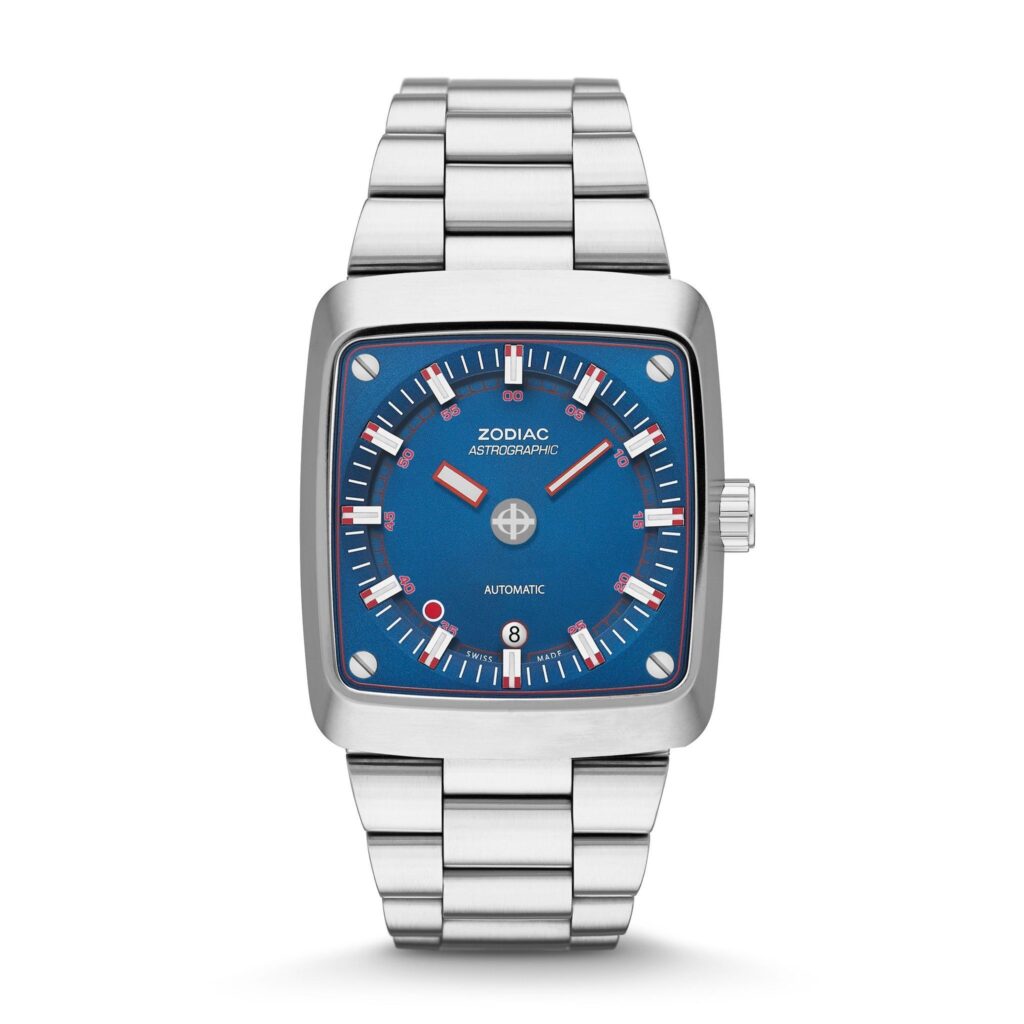 Many watch brands boast a slew of historical models. However, only a few of them can match the charm of Zodiac's impressive pieces which pay tribute to the futurism of the mid 20th century.
The modern Zodiac Astrographic offers an entirely modern and captivating design. With its unique and distinct craftsmanship, this watch has the capability to impress buyers from whatever corner of the earth. Besides its amazing features, it also offers the same standard of build quality and precision as other Zodiac models.
In contrast to many other watches which have a conventional round shape, this watch features a barrel-shaped design. Moreover, its grey watch face perfectly complements its stainless steel bracelet and case. Like other Zodiac timepieces, it also features three hands.
Features in the latest edition of the Zodiac Astographic include: a 45-mm rectangular steel case, integrated bracelet, and a signed crown. This watch's dial features specially made screws at every corner. In addition, it includes a disc in either a black colour or a shade of sunburst white.
Another distinct feature of the Zodiac Astographic is its floating index system. These indices float on sapphire disks which rotate through an outer gear train hidden from plain view. Furthermore, the watch also includes a slender rectangle which displays minutes, a larger rectangle which indicates hours, and a peripheral red circle which represents seconds.
The Fossil Group-developed automatic STP 1-11 calibre serves as this watch's power source. Although it has some slight modifications in order to be compatible with the dial. This calibre offers a 44-hour power reserve and can be viewed through the watch's sapphire case back.
Zodiac Oceanaire Automatic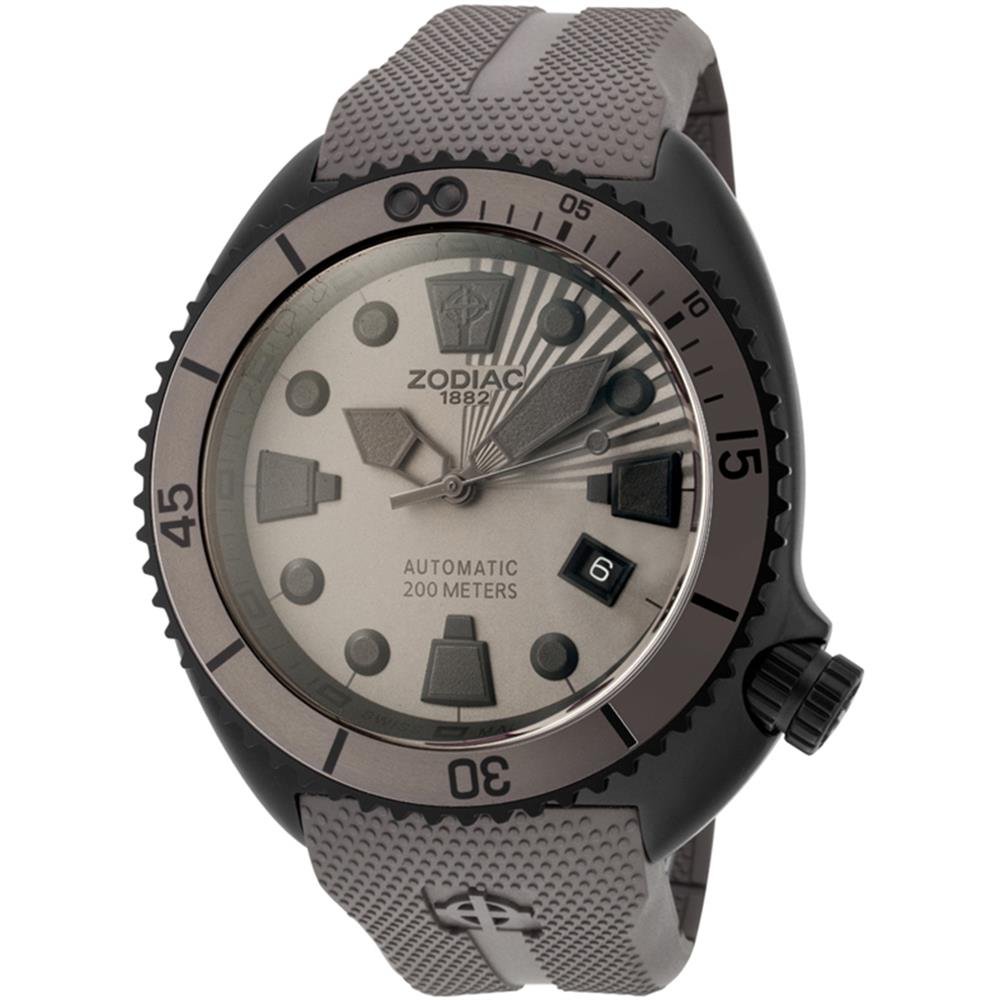 Since its inception, this watch stood ahead of the rest regarding its appearance and performance. Most importantly, the accuracy and precision level offered by this watch is way better than any other watches of this stature.
The Zodiac Oceanaire Automatic's most outstanding feature is its durable black rubber construction. With this design, the watch radiates a stylish but rugged look. While the watch has complete black structures all around except for the face and dial, its orange accents serve to complete its eye-catching composition.
This watch includes three time hands as well as a date tracker. In addition, it can be used in any form of physical activity while maintaining its level of durability and performance. Furthermore, its large dial makes it quite easy to track both the time and date even in dark conditions. As such, it is a highly suitable accessory to wear during nighttime outdoor activities.
The massive size of the Oceanaire may not appeal to some buyers due to being built for bigger wrists. Nevertheless, it remains a stunning timepiece thanks to its brushed stainless steel finish as well as its beautiful dual strip design that runs through the length of the bracelet. Its sturdy uni-directional bezel also makes it highly captivating.
Zodiac Sea Dragon Chronograph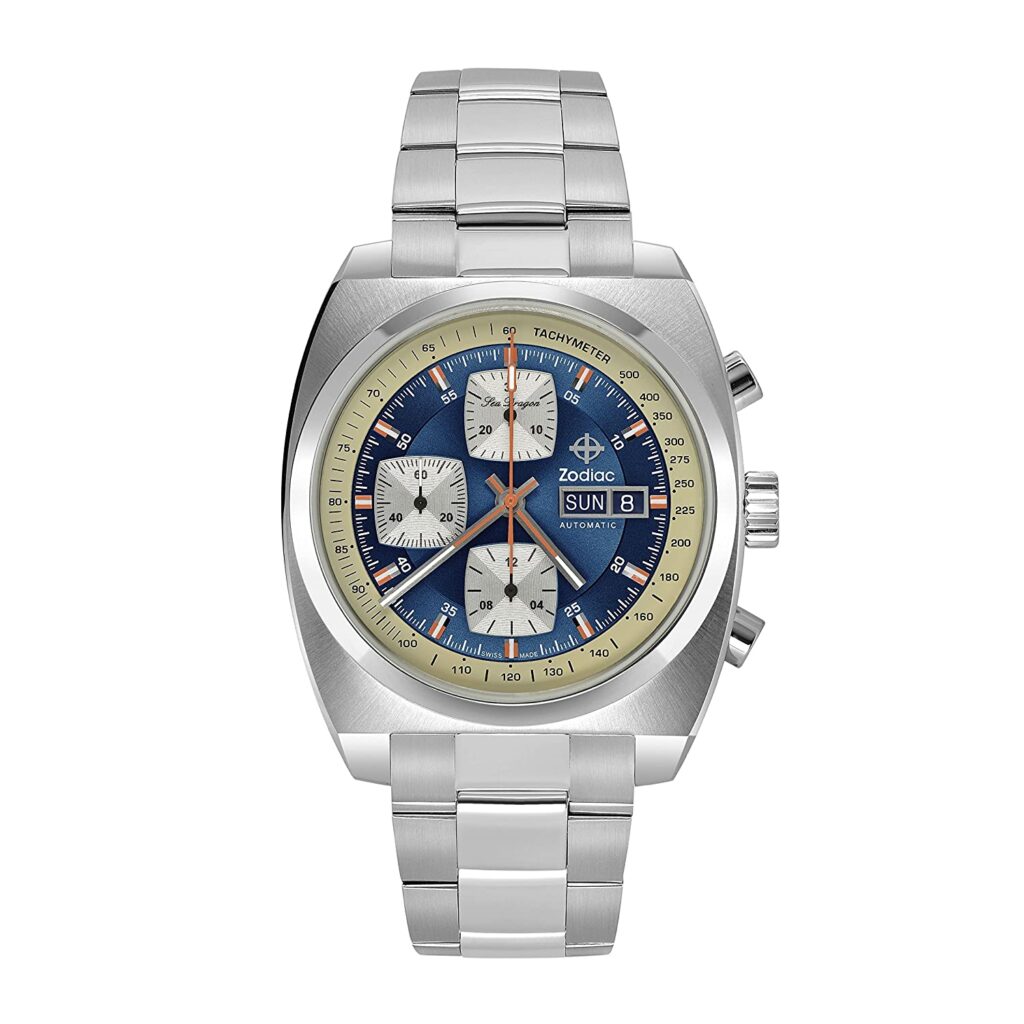 The Zodiac Sea Dragon Chronograph was released around the early part of 2016 and later turned out to be one of Zodiac's best-received watches. This watch offers a marvellous design as well as amazing features that you may never think of finding in any other watch.
At present, there are only a limited number of Zodiac Sea Dragon Chronograph watches (standard-edition) available, with two models featuring a distinct design layout.
One version of this watch consists of a distinctive colour palette and an exclusive steel bracelet addition. It also features a three-hand Sea Dragon design which is a nod to some of Zodiac's previous watches. Meanwhile, its elongated stainless steel case radiates a refined and smooth barrel-like appearance.
This watch is functional as a stopwatch and can also be used to keep track of the time, day, and date all at once. In regards to its movement, the Zodiac Sea Dragon Chronograph is powered by an ETA Valjoux 7750. This ensures that the watch provides the best accuracy and performance in almost any given situation.
Many features of the Zodiac Sea Dragon Chronograph complement one another. Not only that, but the watch itself provides many convenient functions as well. Overall, if you're in need of an aesthetically pleasing and performance-enhanced Swiss watch, then this particular model is worth considering.
Final Verdict
As stated previously, the Zodiac watch company has been able to endure in an ultra-competitive watch industry thanks to its outstanding timepieces. The level of quality and precision maintained by this company is simply unbelievable. It's no wonder therefore why its watches have gained so much popularity among watch fanatics and collectors.
Even though many years have passed since its founding, Zodiac continues to enjoy its position of being one of the best watch brands around the world. Although some of its watches may be a bit pricey, their top-level manufacturing quality and outstanding design features make them worth their value.
If you enjoyed reading this article, why not have a look at 6 Things to Know About Montblanc.