If you're a watch enthusiast or love collecting timekeeping devices, you'd most probably be aware of the many different types of watches. There's a lot you can find out there based on your lifestyle, personality, and style.
You have military watches, automatic watches, chronograph watches, pilot watches – the list goes on! Then, there are also the dive watches which is used exactly as the name itself suggests. 
As diving began to emerge as a popular recreational activity in the past decades, so did the market for the watch. More and more watchmakers started to design unique and practical features that will make this watch function efficiently underwater.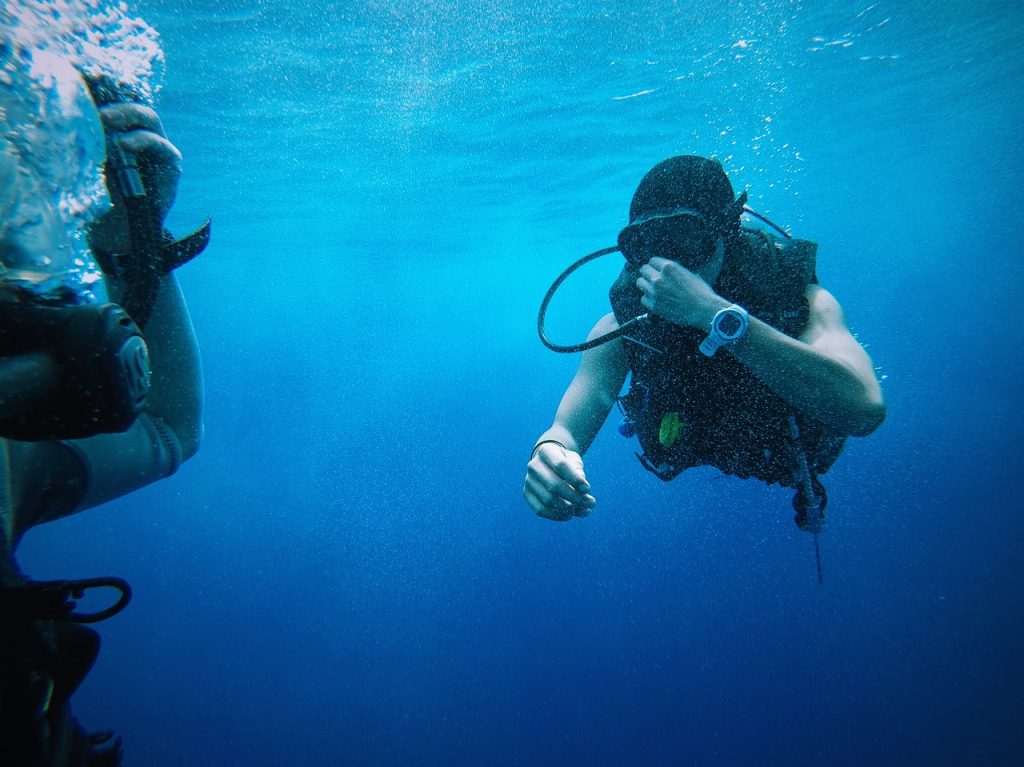 A dive watch is mainly built and designed to be waterproof and resistant to water pressure. Hence making it a perfect fit for divers or people who spend a lot of their time in the water. 
With lots of existing watch brands made available in the market, it can be quite overwhelming to choose one that will fit your needs, preferences, and budget. When it comes to searching for a label with a professional background and reliable quality, Squale is one name you might wanna look out for.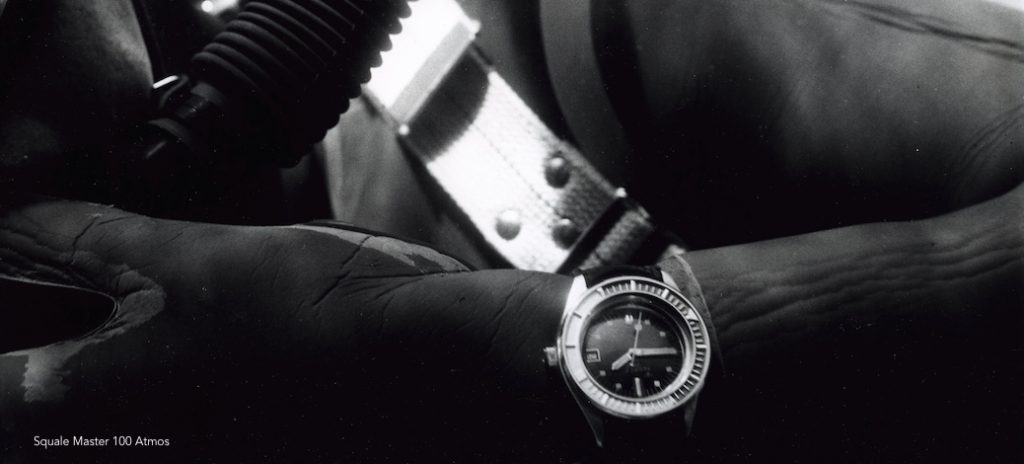 Squale may sound unfamiliar to many, but it has an extensive and notable history in watchmaking.
A Dive Into The History Of Squale 
In 1946, Charles Von Buren founded von Büren S.A. / Montres in Lake Neuchâtel, Switzerland. This Swiss watch brand is currently known as Squale.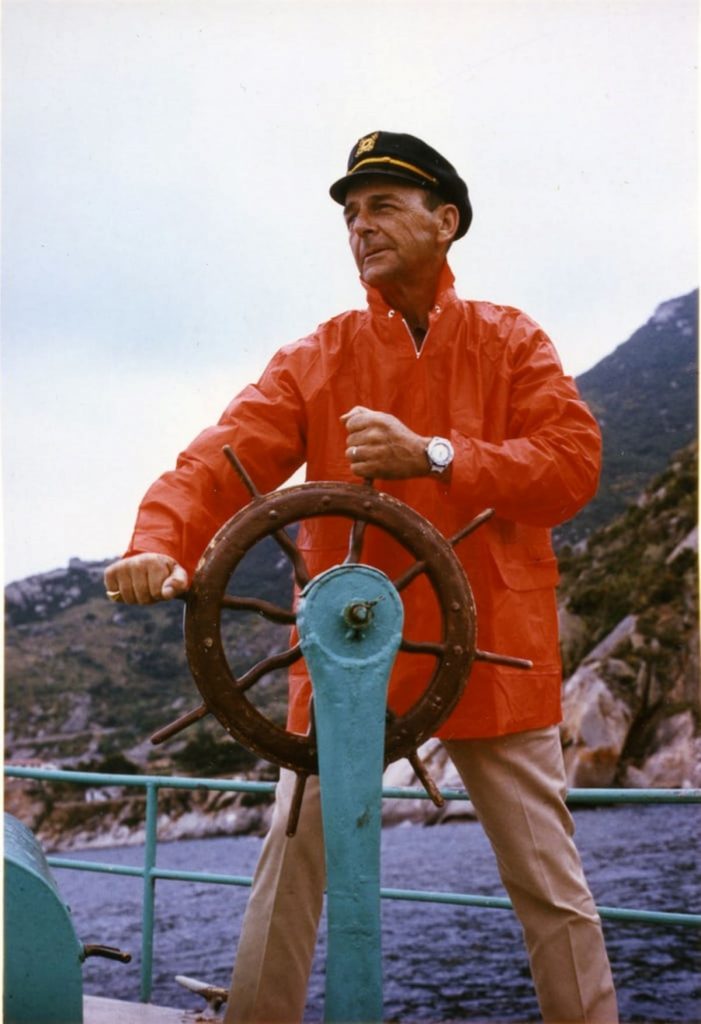 Squale started as a small company that supplied cases and watch components to independent or high-end Swiss brands. When founder Von Buren took interest in the trend of dive watches, he began creating and designing watches suited specifically for this.
The name "Squale" originated from the Italian synonym of the word "shark." The classic curved shark image later became the brand's distinct logo in its dial. The symbol became synonymous with quality Swiss-made diving watches, as several brands bear the same logo in their dials and case backs.
Squale was a large case manufacturer for other known labels in the watch market, even before making dive watches under their name. They sold Super, Master, Medium, 1000M, 500M cases to some of these brands: TagHeuer, Blancpain, Jean Perret Geneva, La Spirotechnique, Doxa, Ocean Diver / Blandford, Deman Watch, Auricoste, Sinn, Margi, Berio, and Eagle Star Genève.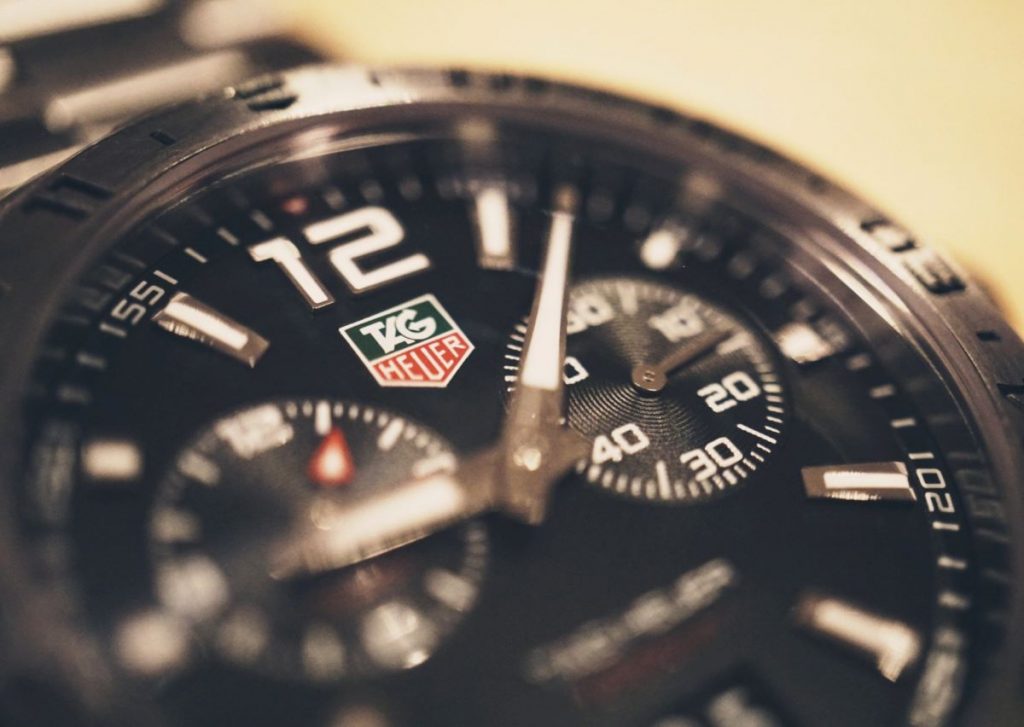 They also provided timepieces unofficially for special corps of armies such as the paratroopers of the "Folgore Brigade" part of the Italian Airforces ( "Aeronautica Militare Italiana") and the Italian Navy's Diving Corps ("Marina Militare Italiana").
During the 70s, Squale started producing its dive watches. One of the best known is the Squale 101 Atmos. It has a depth rating of 1000 meters. Squale 101 Atmos boasts its sapphire crystal and revolutionary bakelite bezel that rotates in both directions under elastic pressure.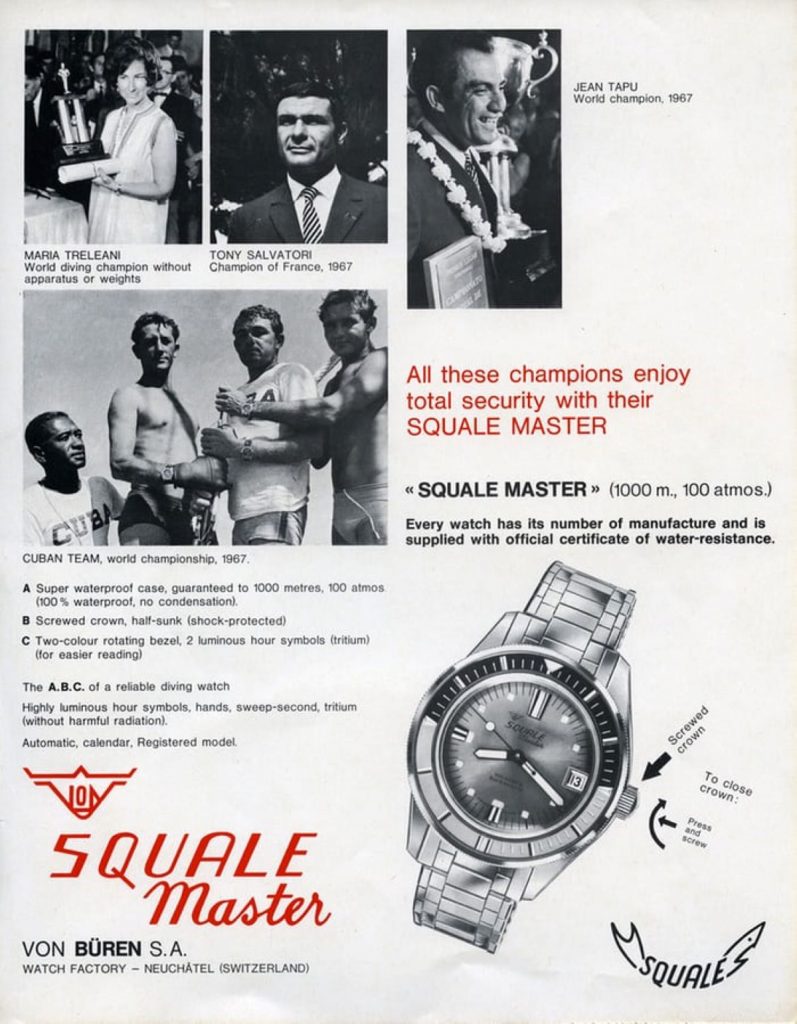 The 101 Atmos also didn't need to use a Helium release valve which is very useful to wear at particularly deep depths. Squale continued its watch production for other companies even after entering the market as an independent entity.
A Look into Squale Watches
Let's take a look into some of the well known Squale watch models. These watches are some of the highly sought after and popular among divers and watch enthusiasts. Although Squale remained unknown to the majority compared to its competitors like Rolex and Omega, it maintains its unique functionality, durability, design, and value.
Squale follows the Swiss tradition of watchmaking. The case for Squale watch is made from Swiss 316L steel. The gaskets, winders and winder sleeves are all built on Swiss parts. These essential parts ensure that the watch will withstand and endure the saltwater and its high pressures.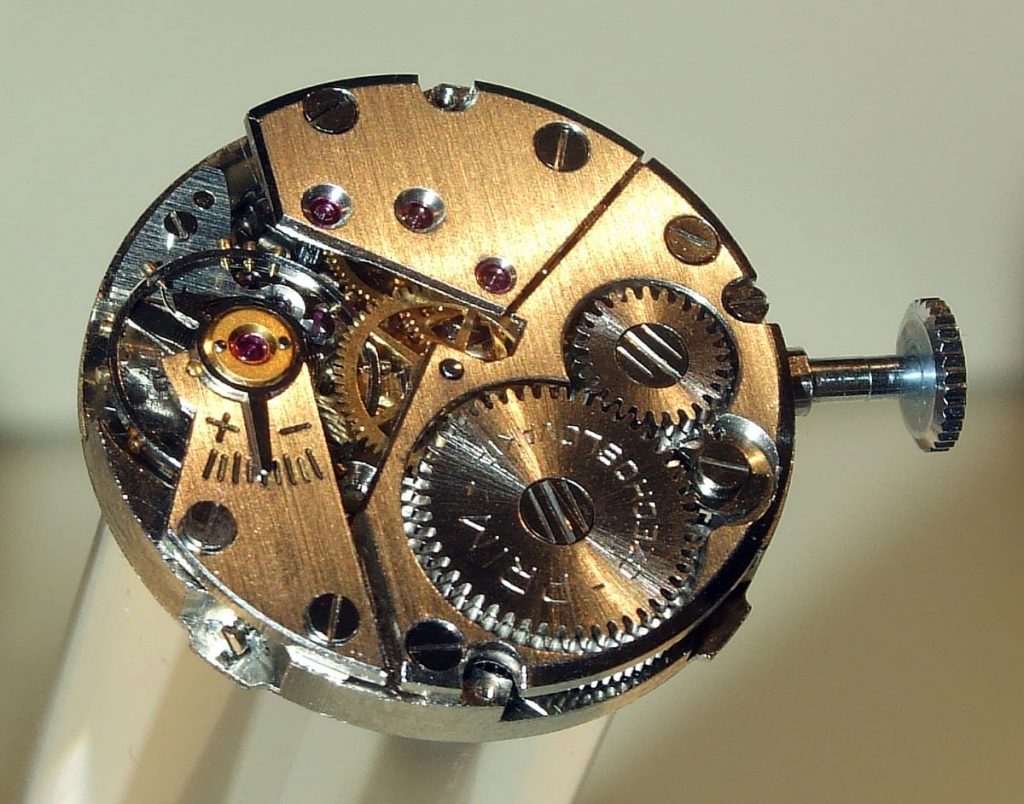 Squale 50 Atmos
The Squale 50 Atmos model is iconic for its unique case curves. The case is built of 316L stainless steel. Its case dimension is at 41mm wide and 48mm lugs. The case style for the 50 Atmos is also called the "von Buren case". If you look at its crown, you can find a historical reference to the company.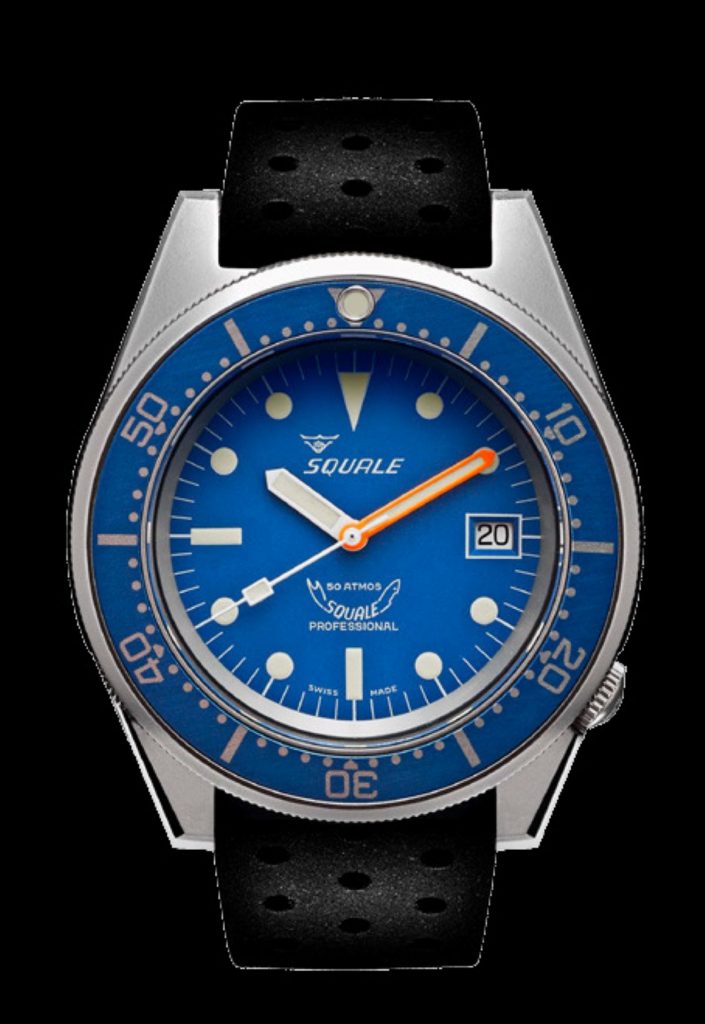 It is capable of 500 meters of water resistance. Squale 50 Atmos is equipped with a uni-directional bezel. This bezel has 60 clicks. Squale watches use the well-known Swiss automatic movement ETA 2824-2. One of the most widely used movement in a lot of Swiss watches. It has a power reserve of 42 hours.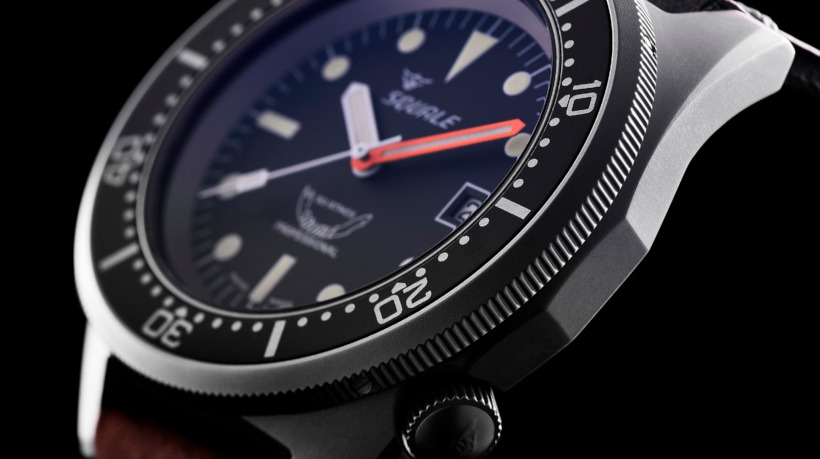 The screw-down crown located at four o'clock position ensures a safety placement against any unwanted damage or pull out underwater. The dial also features a luminous and vivid hour and minute hands for easier time readability underwater.
The 50 Atmos watch comes with a variety of straps to choose from. There's a vintage brown Italian handmade leather strap, a retro blue, or a black rubber strap that is highly durable and resistant to ultraviolet rays and saltwater. At the 3 o'clock position, you can find the date function.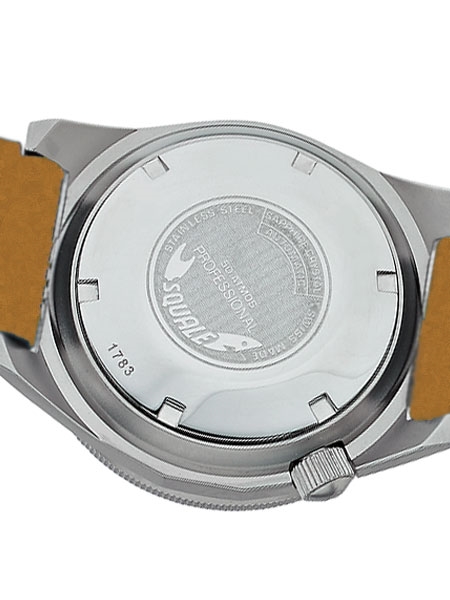 The case has a flat sapphire crystal that is a large 42mm and 14.5mm thick. At each back of the case, you can also find an individual engraved serial number.
Squale 30 Atmos
One of the dive watch models created more recently is the Squale 30 Atmos. Its design is inspired by the vintage elements of 1960s-era watches and the first produced GMT model. The ETA 2893-2 Swiss-made automatic movement powers the 30 Atmos. It has a quickset GMT feature together with the date function.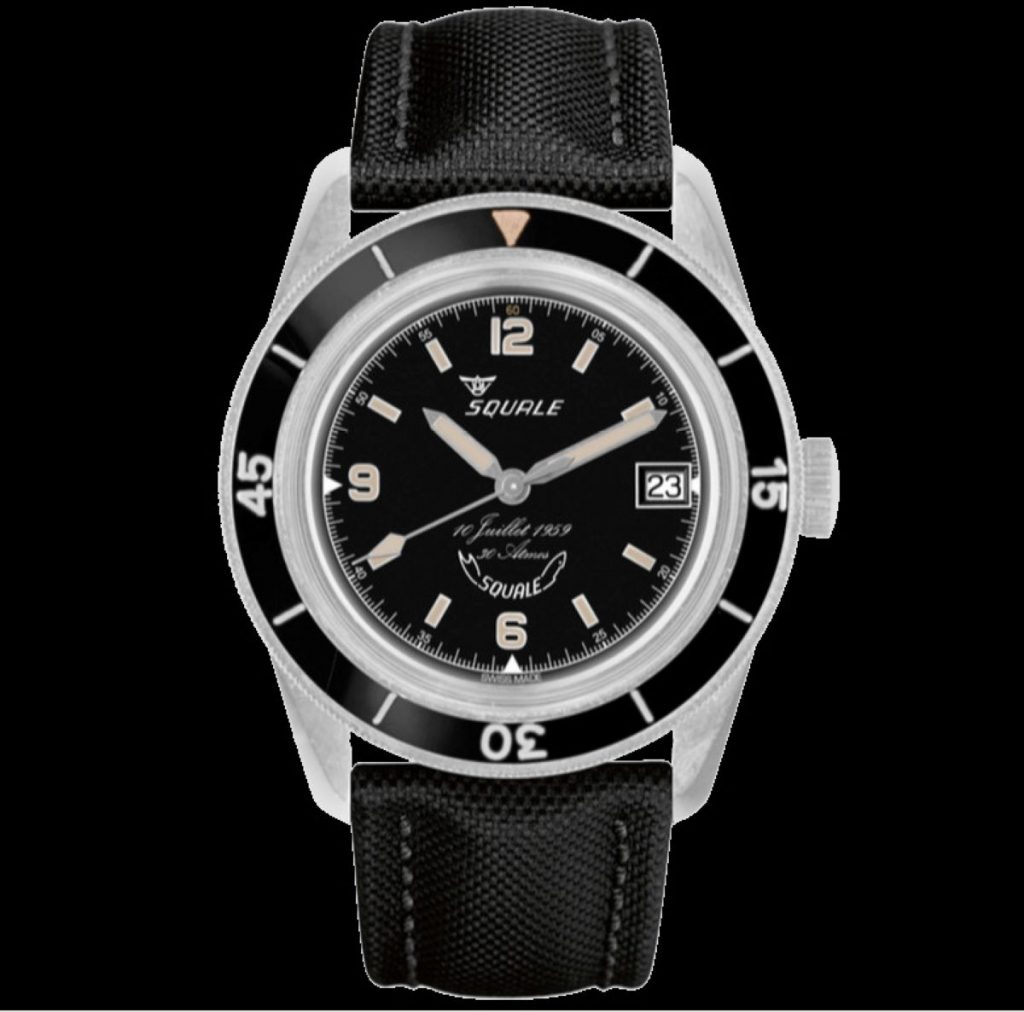 The stainless steel case dimension is 42mm with 13mm thickness. Squale 30 Atmos also has 300m of water resistance. The two-tone ceramic bezel is scratch resistant with 120 clicks uni-directional rotation. The glow in the dark radium SuperLuminova coating enhances the bezel. There is also a flat sapphire crystal with 2.5 times magnifier for superb readability underwater. The sapphire crystal also has a built-in anti-reflective coating for more clarity.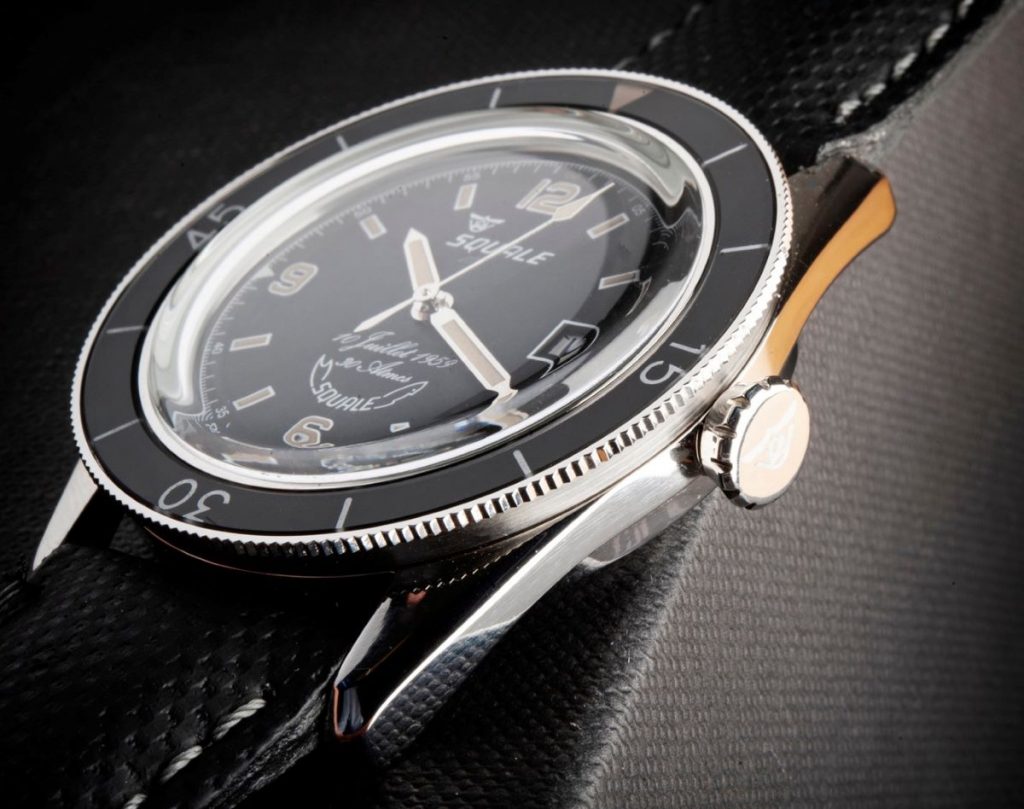 The 30 Atmos resembles the Swiss luxury Blancpain watch, one of the brands which Squale produced cases for. The elements of its dial such as the minute hand, second hand, hour hand, and GMT hand seem to be inspired by the Rolex 16710 case as well. The built-in leather strap or classic oyster link style bracelet adds to the sharp and sleek finish of the watch. 
Squale 20 Atmos
Another well-known model is the Squale 20 Atmos. Interestingly enough, it appears to have a similar style to the famous Rolex Submariner when you look at this watch from afar. But it is uniquely different.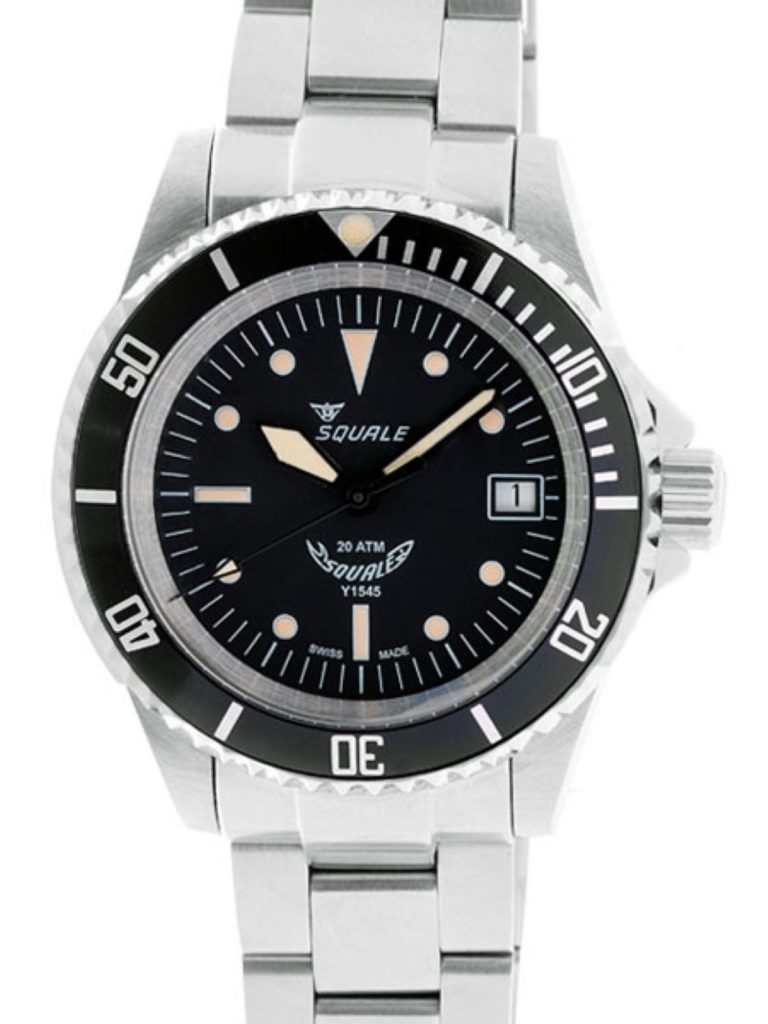 The Squale 20 is equipped with an ETA 2824-2 and a 25-jewel movement. The watch also has a 42-hour power reserve. It has 28,000 vibrations per hour making the timepiece run smoothly. This model has a 40mm case that is 12.1 mm thick. The thick, 120 click rotating enhances the screw-down crown. The date function is positioned at 3 o'clock. It features deeper grooves on its crown making it more durable especially when diving because of its strong grip.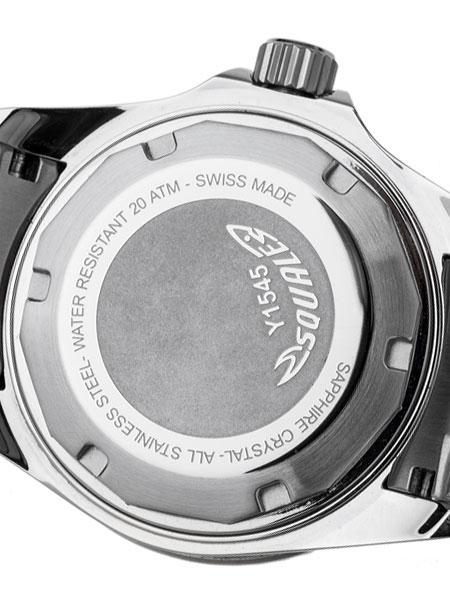 The classic design of the dial features a SuperLuminova GL old radium enhancements that boast easy time reading under great depths. On the interior side, you can find the domed sapphire crystal. Its anti-reflective treatment feature further enhances clarity. The watch is capable of 200 meters of water resistance and waterproof screw-down crown. It comes with a steel bracelet with screw links.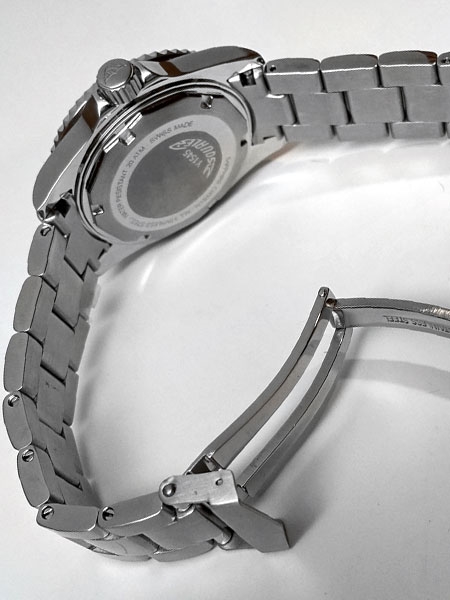 The unique features and traits of Squale watches made it highly attractive and desirable to divers and dive watch enthusiasts. But of course, if you put it up against high-end models like Omega Seamaster Diver or Rolex Submariner, it might fall short.
However, it is still an affordable substitute for the said top tier brands. Squale can also take pride in its durability if compared to other watches of the same price range, like the Seiko USA II for instance. If you're looking into a market for a mid-grade watch, it is a good dive watch to have at its price point.
Are Squale Watches worth the purchase?
With its interesting history and background in professional watchmaking, Squale proves to be a reputable brand in providing reliable dive watches. It holds its legacy in being one of the pioneers in the dive watchmaking industry worldwide. Its name has been a reference point of dive watches for decades.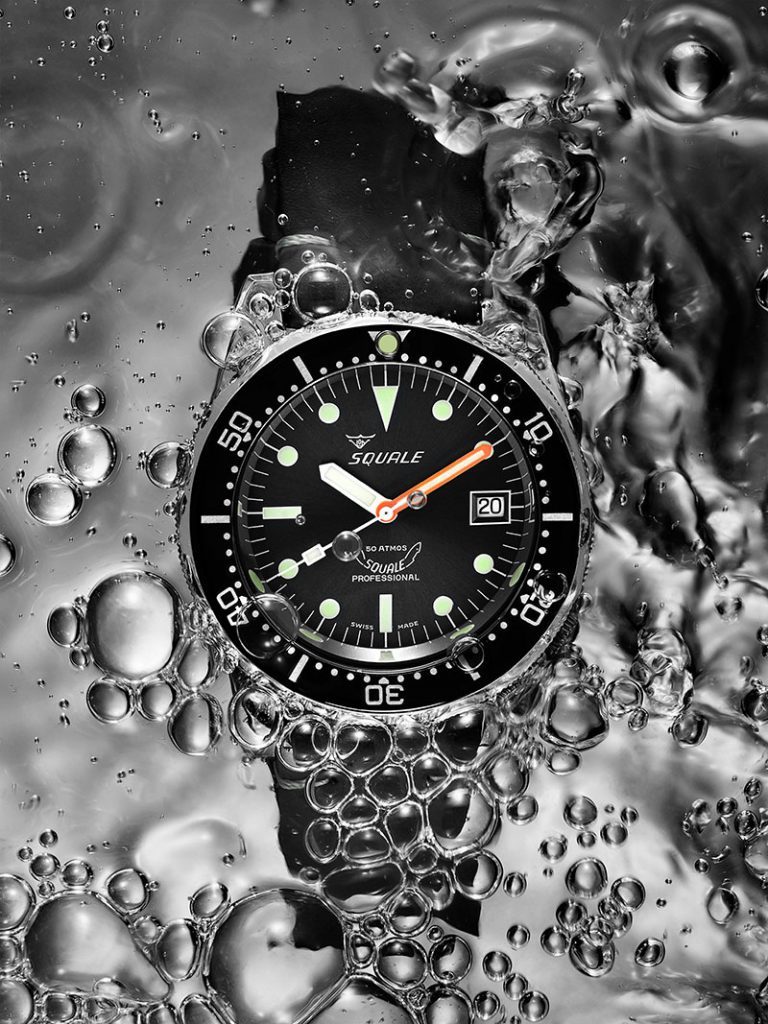 Squale watch is a great choice for its elegant attributes, durability, and efficiency. You are surely getting a good deal without compromising the quality. The watch quality is guaranteed the same as those of the vintage Swiss watch models. Not a lot of watch brands of that standard can promise you with the same affordability. 
Dive watch enthusiasts and collectors who appreciate the vintage appeal with modern functionality cannot go wrong with Squale. It provides great comfort and style that even resembles some of the best existing models in the market. Although it is incomparable to giant brands like Rolex or Omega, it is still a solid tool watch. Squale continues to make an impressive line of watches at affordable prices.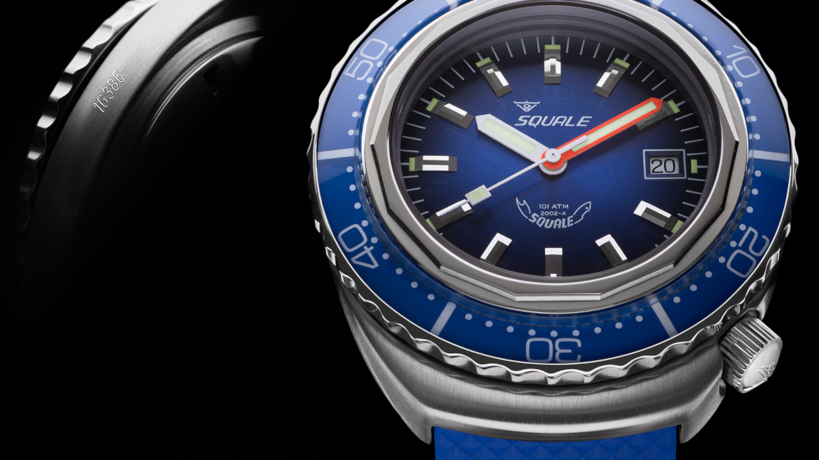 So if you are on the lookout for high quality, durable dive watch that will give you great value for your money, then Squale watches would be worth a try!