The Desco von Schulthess company launched the first model under the Maurice Lacroix (Maurice Lak-rwa) name in 1975.
The Desco von Schulthess company had been making excellent timepieces since its founding 1889 in Zurich. But although its reputation as a highly rated watchmaker was already cemented by the late 20th century, it decided to take a huge leap of faith by establishing its own watch lineup under the name Maurice Lacroix.
Maurice Lacroix As A Luxury Brand
Maurice Lacroix is a Zurich-based watch company known for manufacturing some of the best Swiss watches in the industry. Besides producing its own models, this brand also produces its own mechanical movements.
Many of Maurice Lacroix's watches exemplify a perfect combination of traditional and complementary watch designs. In addition, they are highly revered by watch fanatics due to their exquisite appearance and prestigious design features.
As a result, thanks to their top-notch build quality and excellent features, many consider Maurice Lacroix watches as being highly valuable luxury timepieces.
Best Maurice Lacroix Watches
With operations based in their state-of-the-art facility in Saignelegier, Maurice Lacroix has been a manufacturer of luxury watches for over 40-years now. Thus, we present you with a few of the best Maurice Lacroix watches to consider:
AIKON Quartz Chronograph 44mm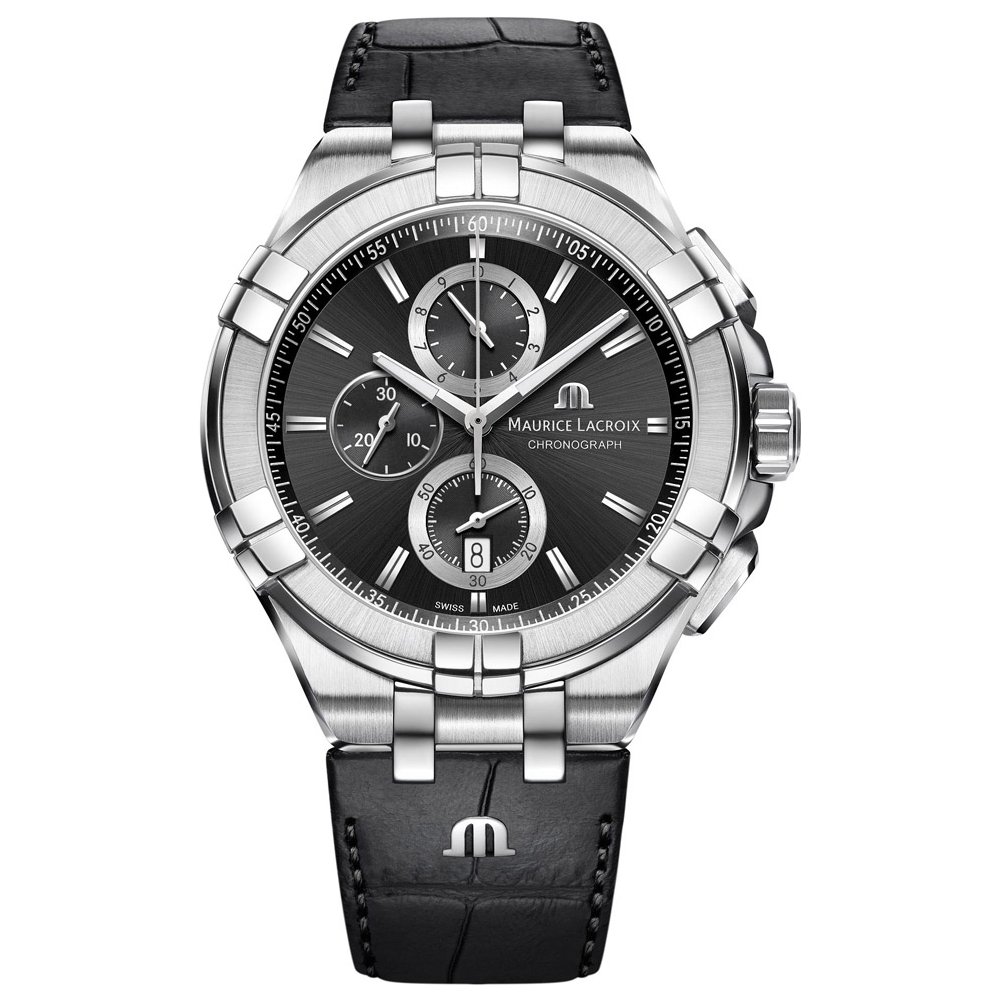 The AIKON Quartz Chronograph is an exemplary watch that comes in three different versions, all of which look stunning as well as distinctive. This watch offers the highest level of performance, quality, and precision. And its combination of red, white, and blue colours only adds to its already attractive design.
The Automatic Chronograph 44mm comes with a perforated leather strap. These straps are easy to swap as the watch's Aikon case comes with proprietary quick-release bars. With some versions of this watch, buyers have the option of selecting the steel bracelet's design based on their own preference.
This watch uses a quartz movement and comes with a stainless steel case. In addition, it measures 44 mm in diameter. In addition, its anti-reflective sapphire crystal ensures that all elements on the dial are readable while its Superluminova feature provides enough brightness in dark conditions.
Maurice Lacroix Masterpiece Gravity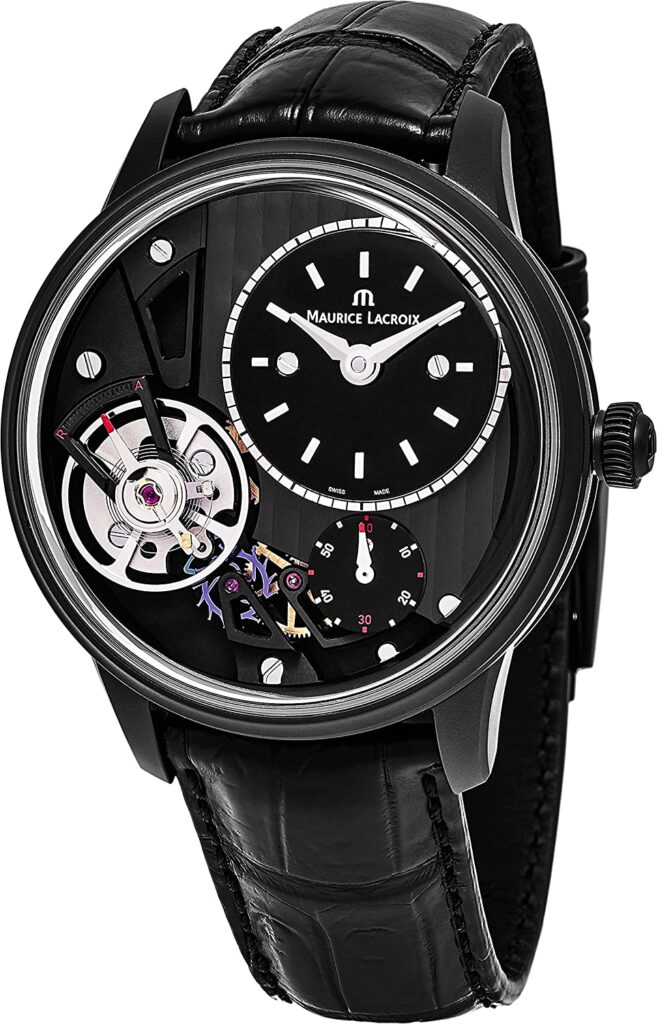 The Limited Edition Maurice Lacroix Masterpiece Gravity is popular for its astounding design. Its unique and attractive features such as its bright yellow dial and sub-dial make it a highly popular watch.
This watch's 16mm-thick and 43mm-wide case is water-resistant (50m). In addition, it also includes an impressive and aesthetically-pleasing PVD finish and a hairspring and balance wheel on the dial side.
This watch also has a 50-hour power reserve which is a great feature. However, its 2.5Hz frequency makes it somewhat slow when compared to other modern watches.
What makes the Maurice Lacroix Masterpiece Gravity a highly distinct watch is its usage of the brand's own ML230 movement, which is visible to the wearer. This makes it not just a piece of hardware, but a definite masterpiece that amazes buyers everywhere.
Eliros Moonphase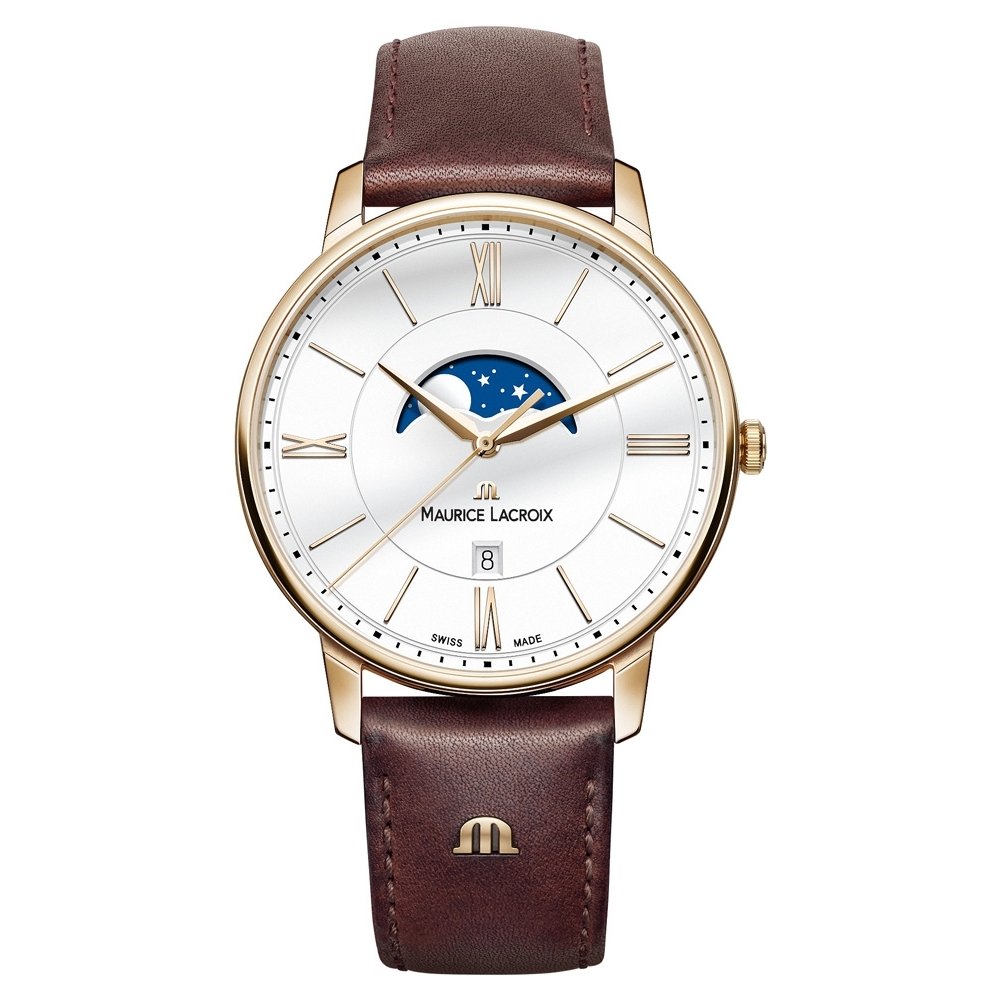 The Eliros Moonphase is an extraordinary watch that comes with unique design features and functions. The following are a few aspects that make this watch stand out from the rest.
One noticeable feature of the Eliros Moonphase is its sleek and refined appearance. Besides beautifully complementing the blue leather strap, this watch's white-coloured face serves as a great contrast to its stainless-steel case. Additionally, the face also features a moon phase symbol which updates daily at 6 a.m.
This watch's case diameter measures 40mm and comprises of rose-gold PVD. Meanwhile, its water-resistance feature works perfectly well up to 50-metres. Its white lacquered dial and rose-gold plated hands, on the other hand, give the dial a stunning appearance.
Besides its quartz movement, the Eliros Moonphase also provides the wearer with a precise time-tracking system as well as a moon-phase tracker. This makes it a highly convenient watch for all.
Maurice Lacroix Pontos S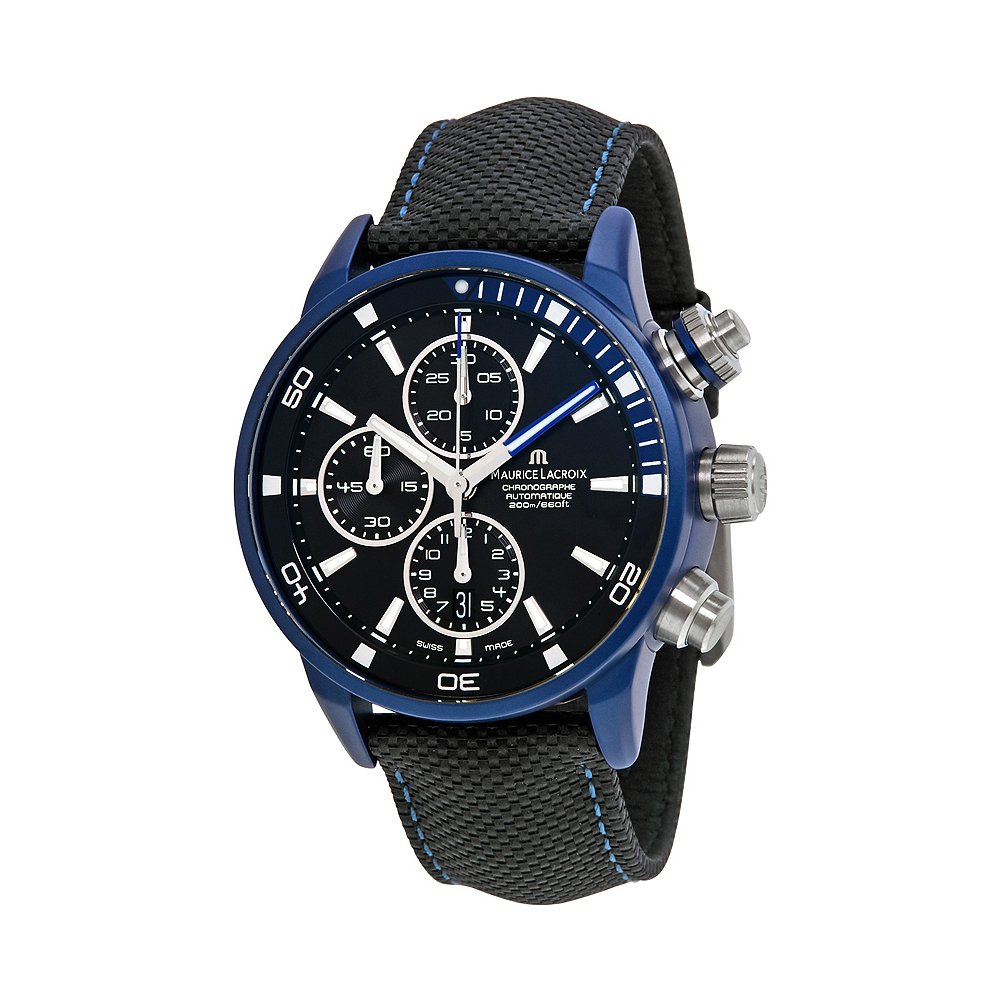 The Lacroix Pontos S Chronograph is a highly outstanding timepiece thanks to its wide range of attractive features. In addition, it features a perfectly contemporary design not usually seen in a modern dive watch.
This watch includes a case measuring 43mm wide which can either come in a steel design or a Maurice Lacroix designed Powerlite alloy. It is also powered by a Swiss ETA Valjoux 7750 mechanical chronograph movement.
Among the notable features of this watch is an internal rotating bezel which the wearer can control using an integrated crown. You won't find this type of bezel arrangement in any other watch available on the market. Moreover, it comes with a matching steel bracelet that makes it highly valuable.
Besides its steel bracelet, this watch comes with a number of other bracelets which you can swap. Designs include a custom-fitted rubber and a perforated leather strap. Hence, you can style your Maurice Lacroix Pontos S in any way you like.
Overall this watch comes with a multitude of sensible and uniquely-designed features which buyers will enjoy.
AIKON Automatic 42mm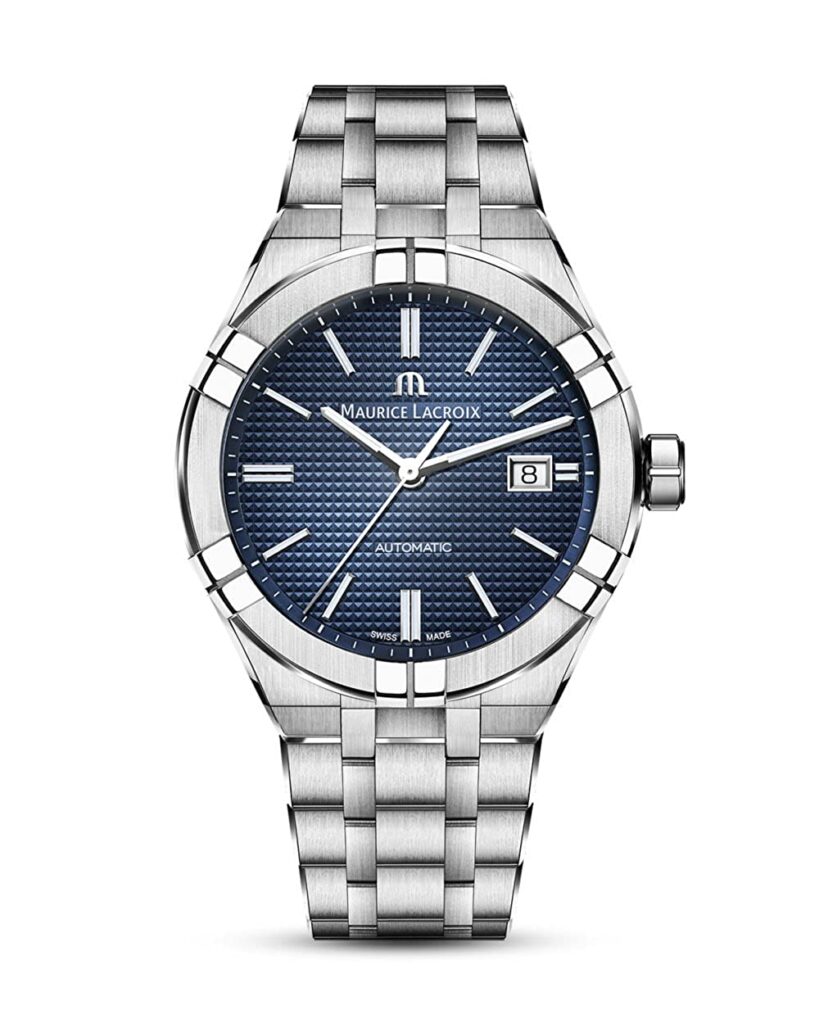 The AIKON Automatic 42mm is a highly popular watch which is available for purchase in different versions. It is also an incredibly useful timepiece which can serve different purposes. Besides that, its overall construction is exquisite and durable.
This watch's various features are purely machine-designed including its case and bracelet. Its black sun-brushed case features perfectly polished rhodium-plated indices. In addition, its hands exhibit a certain design that makes this watch look perfect and attractive.
Only a small amount of luminous material comprises this watch's hands and indices. Despite that, they remain highly visible to the wearer during nighttime and in pitch-dark conditions. This watch also features a precise time-tracking system. Moreover, it comes with a basic automatic movement and a reasonable 38-hour power reserve.
The Maurice Lacroix contains a calibre ML115 which comes with Geneve stripes, perlage, and 26 jewels. However, although Maurice Lacroix is capable of creating its own in-house movements, its movement is manufactured by a third party company. Hence, its uniqueness is somewhat reduced.
Watch enthusiasts highly appreciate this watch's strap design. Indeed, the AIKON Automatic's straps look stunning, irrespective of the dial colour. Additionally, the watch's straps are swappable which is a great option for wearers. As such, you can upgrade this watch's appearance without fear of causing any damage to the dial or bracelet.
As a whole, the layout, precision, and quality of this watch are simply outstanding.
Comparison To Other Models
When comparing the Maurice Lacroix with other luxury watches, one must consider the importance of functionality and design. Moreover, it is also essential to keep an eye on a watch's price.
Here are a few comparable models launched by other renowned brands.
Oris Aquis Date Automatic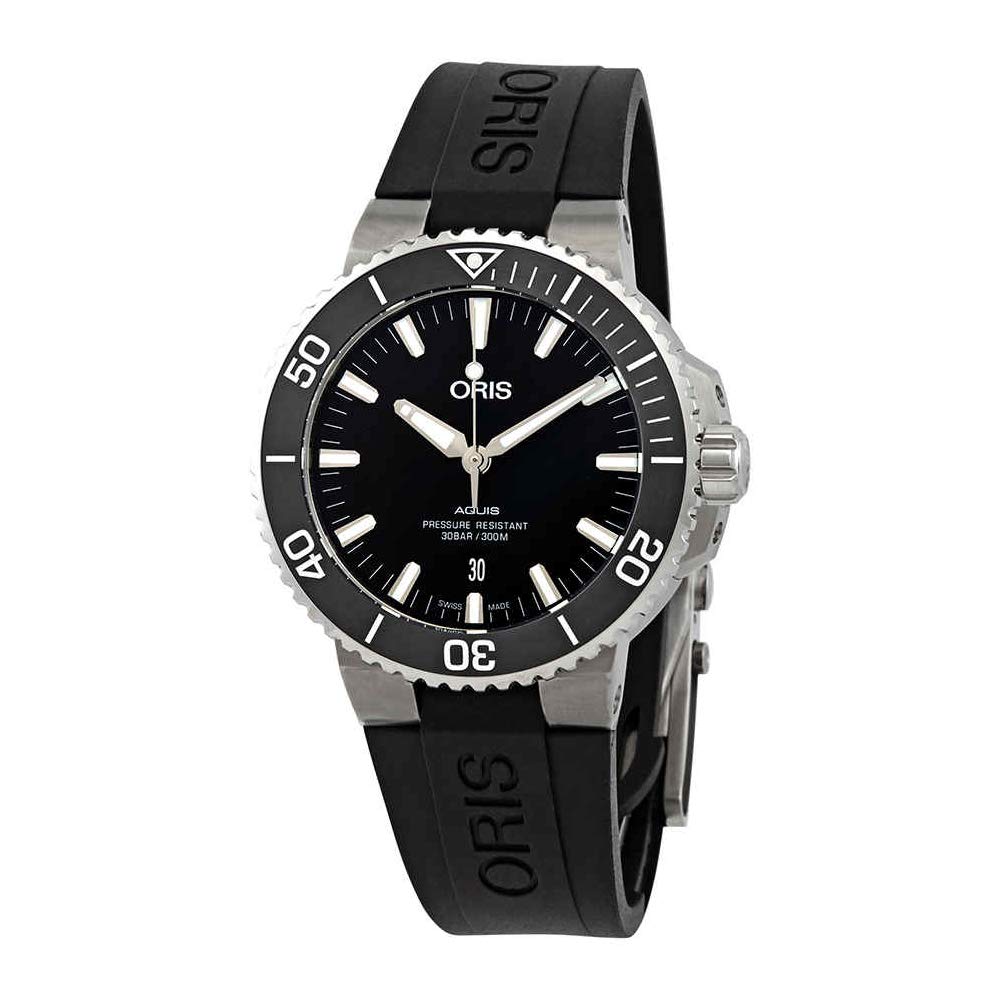 The Oris Aquis Date Automatic is a good-looking timepiece, capable of stealing the attention of watch lovers everywhere. Its stainless steel case has a diameter of 43.5 millimetres. In addition, it also features an impressive-looking sapphire crystal back. A crown with a screw-down mechanism is also included which gives this watch a certain flair.
Besides its aesthetic features, this watch also holds a power reserve lasting 38 hours. It also comprises of perfectly luminous hands and indices which are easily visible in dark situations. The bezel meanwhile is made of ceramic and works in a unidirectional manner. Furthermore, this watch features a water-resistance function which can work up to 300-metres underwater.
TAG Heuer Carrera Calibre 5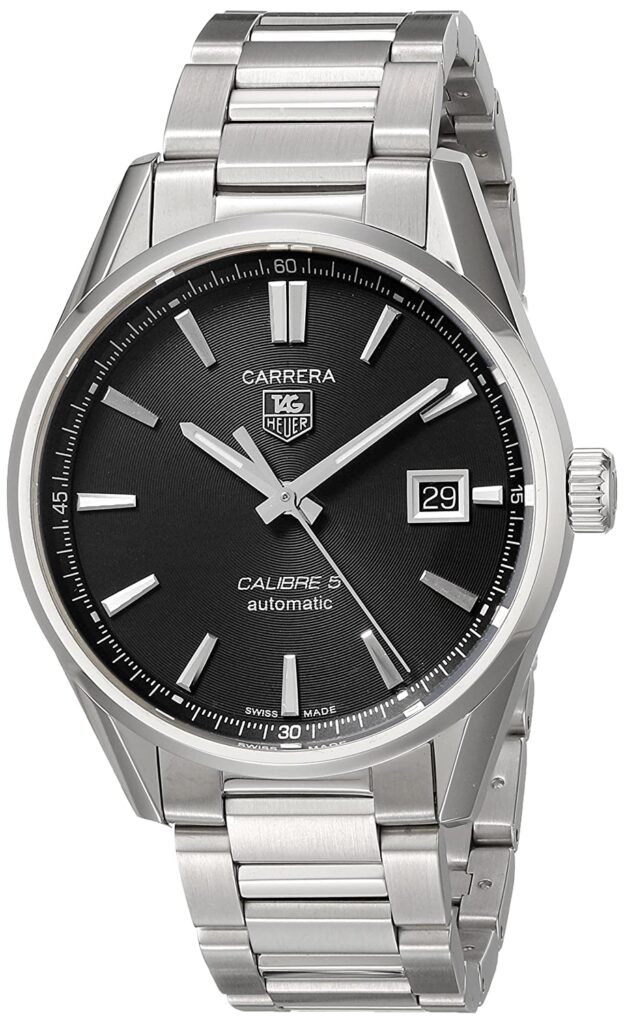 The TAG Heuer Carrera Calibre 5 includes some features which are particularly interesting. Among them is a Guilloche black dial which gives the watch a stunning appearance. This allows the wearer to track both the time date, thereby making the watch highly efficient.
The watch receives its power through a self-winding automatic Calibre 5 movement. Additionally, it features a durable exhibition case back made of sapphire crystal which gives it a unique touch. Its bracelet and steel casing meanwhile are manually brushed and polished. This not only gives the watch a perfect finish, but also makes it highly scratch-resistant.
When comparing this watch with various Maurice Lacroix watches, it's clear that there are some notable differences. Nonetheless, it's also apparent that Maurice Lacroix watches have some features which make them stand out on their own.
Verdict
One can't deny the level of precision and accuracy ensured by many of the watches mentioned above. Indeed, these watches are real masterpieces on another level when it comes to style and functionality.
Just like everyone else, you may have an urge to head out and select the perfect watch. Most luxury watches are true eye-catchers which makes them highly valued. There are also companies like Maurice Lacroix, however, that offer highly functional luxury watches which are also incredibly affordable.
Having said that, it's not the price that provides a watch luxury; rather, there are a variety of factors which define their value, aesthetics and appearance included.
Furthermore, the value of high-quality timepieces hinges on their significance as status symbols. This is where Maurice Lacroix watches come in. Thanks to their unique designs and high-quality features, these watches offer the wearer a proud sense of style as well as an adequate sense of comfort.
So what are you waiting for? Head out and look for a Maurice Lacroix store near you.
If you enjoyed this article, be sure to also have a look at 10 British Watch Brands To Lookout For.