Pulsar watches may sound unfamiliar to you and if that is the case, then you are missing out on some amazing watches that can add a touch of innovation to your collection. 
Pulsar watches, now owned and distributed by the watch giant Seiko, have long been known for their quality, durability, and eye-catching designs. After all, the company itself has always kept its designs modern by releasing new innovative complications with each new model. Sounds awesome, right? 
In this article, we explore everything you need to know about Pulsar watches. So let's begin with the history of these amazing timepieces.
History Of Pulsar Watches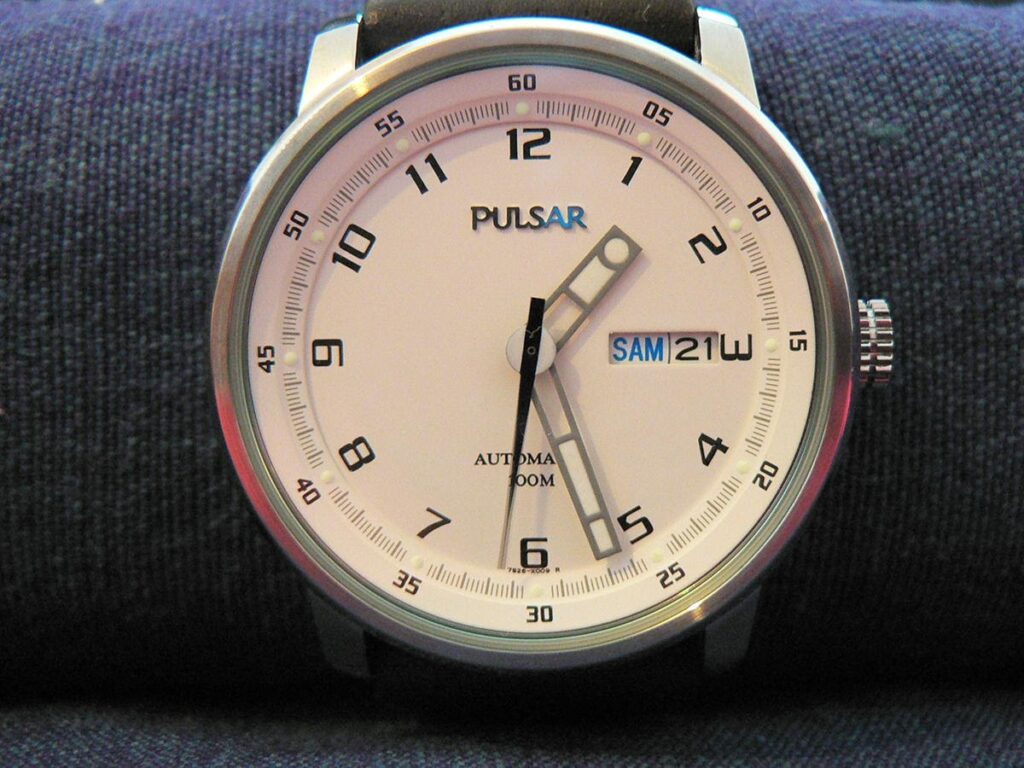 As mentioned, Pulsar watches (which are designed for both men and women) are distributed the world over by the Japanese watch giant, Seiko. However, its history goes back further and begins with the Hamilton Watch Company which was founded in Pennsylvania in 1892. In 1972, Hamilton decided to embrace the future and began manufacturing a line of watches under the name Pulsar. 
Hamilton made use of space-age trends and incorporated them into its Pulsar watches for a unique design. In fact, the name Pulsar itself is a nod to space. It didn't take long for Seiko to notice these innovative and uniquely-designed watches. 
Just seven years after the first Pulsar was released to the market, Seiko acquired the designs and the line form Hamilton Watch Company and the rest, as they say, is history.
Using their own innovative skills, Seiko turned the Pulsar lineup into the first all-quartz collection available for both sexes. With this expansion also came an increase in the distribution of the watches themselves and soon, these illustrious and space-age inspired models began to hit markets all over Europe. After all, the 80s brought new style trends and technology that was expertly used for the construction and design of these watches. 
Seiko also began to expand into luxury watches and initiated a focus on crafting high-quality women's watches. In the 90s, the brand expanded further and began to use new metal construction and diamond accents for some of their sports watches. Technology also began to advance rapidly and with that Pulsar began building watches that included stop motion hand and circuit technology. Since then, the company has continued to move with the times by adding technology and design trends that make its watches stand out in a sea of amazing options.
Now, let's look at a few of the most iconic models from Pulsar's men's collection:
Pulsar Watch Models
There have been a lot of great Pulsar watches for men through the decades, but these three are some of the best models to have. 
By exploring these watches, you'll get to understand why many watch collectors absolutely adore Pulsar watches and you might even be convinced to add some of them to your collection.
1. Pulsar PAR147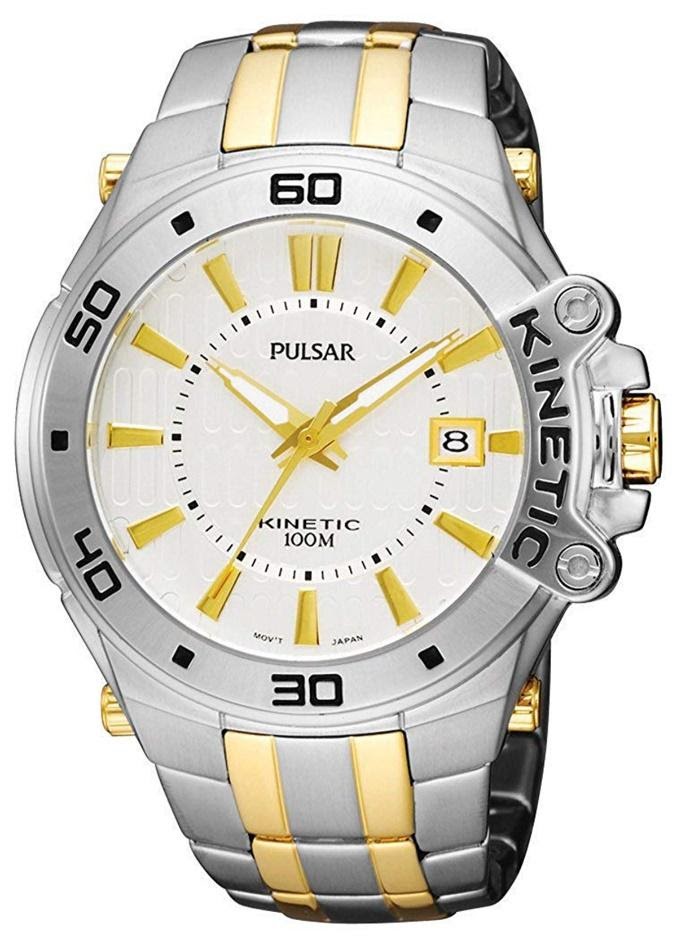 This watch is an elegant choice and uses accents and features to heighten its impressiveness. With a stainless-steel case and polished gold-tone hands, this watch will make you the talk of the town as you sport it everywhere you go.
The use of contrasting colours of silver and gold alongside the complications and inner mechanisms gives this watch a sleek look and heightens its reliable and accurate timekeeping capabilities. 
Though bracelet adjustment is limited, this watch offers a wonderful amount of power as well as a beautifully crafted raised dial face. As such, it is a great addition to any collection.
Features
Stainless steel round case (43mm)

Stainless steel stationary bezel

Hardlex lens

Water-resistant up to 330 feet

Kinetic self-winding movement
Price
$175 -$250
2. Pulsar Gents Solar Chronograph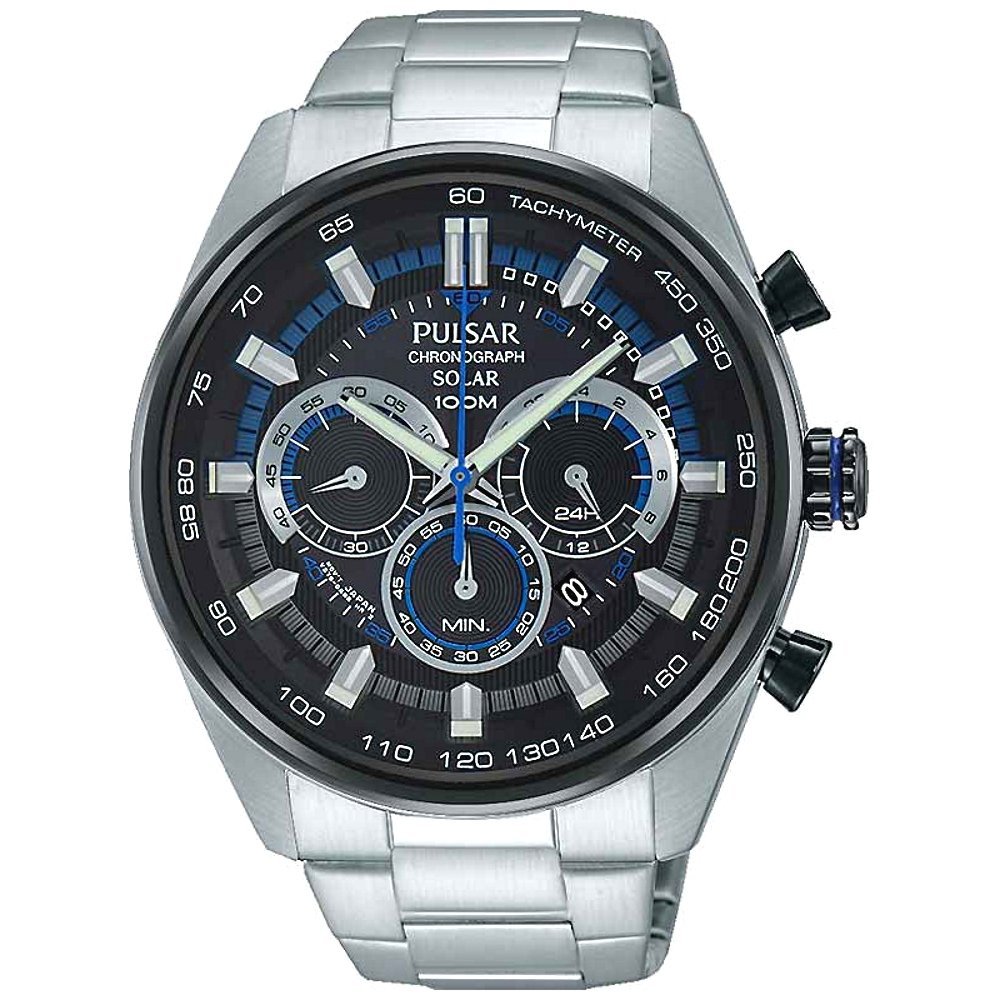 This watch combines functionality with style to emphasize its uniquely-made chronograph. Fitted with triple dials along with beautiful crafted illuminated hands, the Gents Solar Chronograph features a stunning combination of both ruggedness and elegance. 
The most innovative part of this watch though is its solar-powered quartz movement. It not only gains power from the sun but indoor lights as well. This means that it never runs out of power. In fact, because of this system, its power reserve can last an amazing six months.
Features
Powered by solar energy

Curved mineral, scratch-resistant glass lens

Illuminated hands and indicators

Stainless steel round case (45mm)

Black ionized bezel

Power reserve lasting 6 mos.

Screw-down case back

Water-resistant up to 330 feet

Solar-powered quartz movement
Price
$100 – $200
3. Pulsar PX5031 Chronograph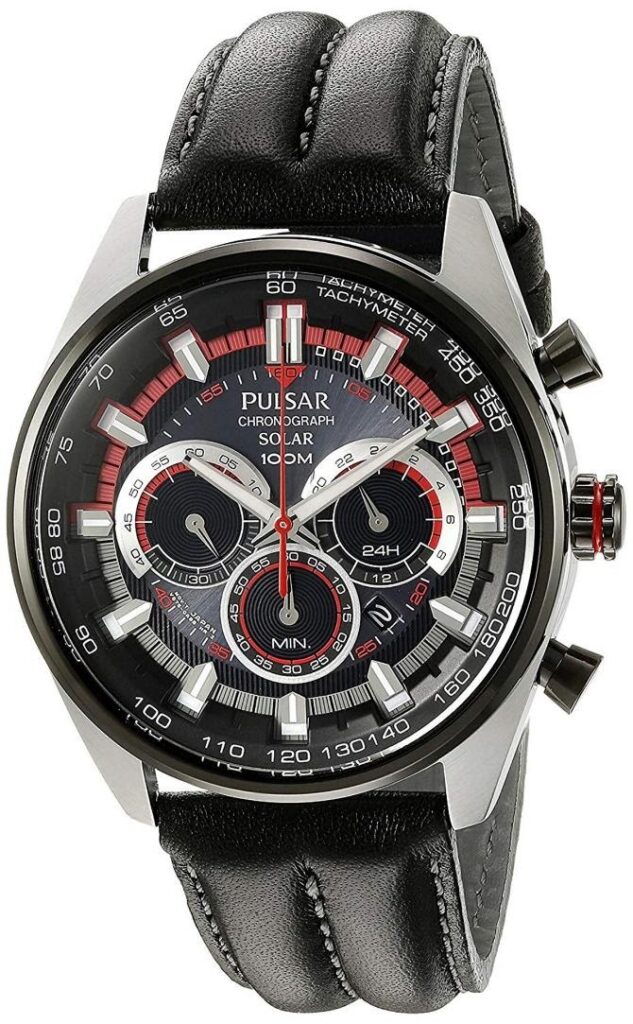 You'll be amazed once you see how meticulously this watch is designed. Though it is has a casual vibe to it, it still has a level of design that commands respect. Built with the kind of dedication that all Seiko watches have imbued in them, this watch is crafted with the highest-grade material. 
The PX5031 is an easy to use chronograph that is durable and can act as a go-to watch for many years once you've added it to your collection. It uses solar power just like the Gents Solar and that means a long-lasting power reserve for the wearer. Also, its water-resistance level enables it to be used during diving activities.
Features
Stainless steel round case (45mm)

Tachymeter bezel

Water-resistant up to 330 feet

Japanese quartz movement

Hardlex lens

Analog display
Price
$100 -$200
Pulsar Watch FAQs

Inevitably, there are a few questions that might still linger in your mind notwithstanding all the information discussed. Here are some of the most commonly asked questions that we've compiled and answered for you:
How Does A Pulsar Watch Work?
Watches from Pulsar are quartz watches that are typically activated with self-winding mechanisms. This means that you get to set the time manually and on a consistent basis. You will need to start the movement by winding the pendulum for no shorter than 30 seconds. 
You will want to do the previously stated action until you hear a ticking emanate from your watch. Afterwards, you can then begin to set the watch. Simply pull out the crown on the right side of the watch case and turn it clockwise until the correct time is set. Afterwards, push the crow back. You will want to turn the crown to wind the watch until there is no resistance. 
These steps should be done on a daily basis.
Are Pulsar Watches Waterproof?
Yes, but the level of resistance depends on the specific model. If you see nothing written on the case back, then it's likely that the model isn't water-resistant. For other models, a label is included indicating the inclusion of a water-resistance feature followed by a number of bars. 
Most of the models discussed previously are resistant up to 10 bars which equal 330 feet. This level of water resistance is good for swimming or bathing as well as diving in shallow depths. However, it is not ideal for scuba diving.
Do Pulsar Watches Need Batteries?
Pulsar watches like most other watches require batteries. As such, you will have to replace the battery after a period of time. Here's a quick look on how to do that:
Wipe down the case back before removing it so that you do not risk any debris or dirt getting into the open watch.

Figure out what type of case back the watch has to know what proper tools to have for removal.

Use your small screwdriver and carefully open the back. Then insert it into the indentions and gently apply pressure.

Lift the case back and set it aside. Then remove the old battery.

Place the new battery in and set the case back to its proper alignment. Afterwards, reset the watch
If you do not want to do this yourself, you can always take the watch to a jeweller for the job to be done for you.
Are Pulsar Watches Good?
Pulsar watches are designed with the same innovation and durability given to Seiko watches. Hence, they are some of the best models available on the market. As such, even though Pulsar may not be a household name, they hold a respectable amount of popularity among watch enthusiasts. Therefore, it can be said without any doubt that Pulsar watches are great watches to add to any collection.
If you enjoyed this article, why not check out 9 Fashion Forward Watches for Women Under $1,000.