Why exactly should you buy a Bremont Watch?
Bremont is a watch company that grew out of two brothers' true love for both mechanics and aviation. Their passion for these two mediums came together and produced high-quality mechanical watches. These watches have become extremely popular among adventurers, military people, celebrities, and classic timepiece lovers.
Unlike quartz watches, which run on replaceable batteries, Bremont watches work mechanically. The movements demand a premium because they're made and assembled in-house by a qualified Bremont craftsman, often entirely by hand.
Moreover, Bremont men's watches are luxury mechanical timepieces, carefully constructed in line with uncompromising principles of durability, legibility, and precision.
Investing in the Bremont watch will enable you to make a bold lifestyle statement. From a quality point of view, these watches are perfectly well-made. As long as they're taken care of and have regular servicing, you can be sure that they'll keep running for a long time.
List Of Bremont Watches
Choosing the right luxury watch for yourself can be challenging if you're unaware of what best fits you. So it's important to know what to consider when buying a high-end Bremont watch. In this article, we tell you about top models of Bremont that will help you in deciding which Bremont watch you should buy.
Therefore, let's dive into the details of the Bremont watch collection.
Bremont Supersonic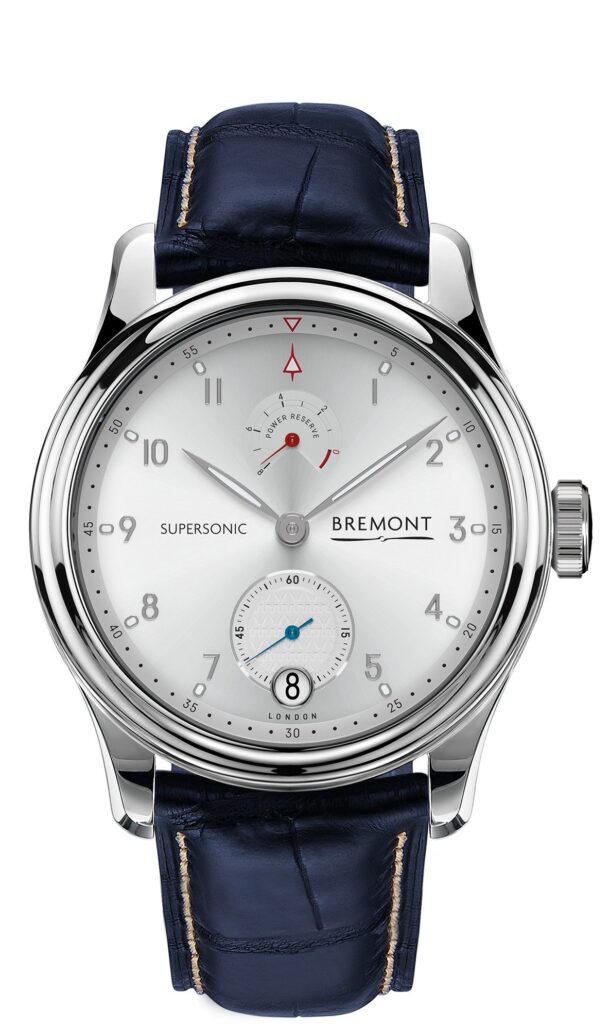 Recently, Bremont joined up with British Airways to celebrate the Concorde (world's most advanced passenger planes) with its chronometer luxury watch known as the Supersonic. This watch was created to celebrate Concorde's 50th anniversary.
The Supersonic aviation watch is Bremont's first-ever timepiece equipped with a manual winding movement that offers an eight-day power reserve. The power reserve indicator sits at the 12 o'clock position on this iconic watch. Meanwhile, the blue hands of the Bremont Supersonic reflect the British Airways hue on the Concorde's famous livery.
The sunburst white shade of the dial reflects the white paint scheme of Concorde that was specially developed to avoid overheating caused by air friction. Moreover, the Supersonic has Bremont's Trip-Tick case construction and is water-resistant up to 100 metres.
This watch also comes with a Connolly leather strap that gives it a distinct and beautiful look.
Bremont Supersonic comes in three different models:
Supersonic Rose Gold


With this shade, the rose gold ring around the dial exudes a classic look. The combination of rose gold with a brown leather strap is just amazing gives the wearer a royal look. You can match this watch with any suit and amaze your colleagues with your style.

Supersonic White Gold


The white gold Supersonic watch is something that you shouldn't ignore. It looks best with any attire and makes you party-ready in no time. Moreover, the combination of white gold and a rich navy blue crocodile strap leather strap looks just stunning on your wrist.

Supersonic Stainless Steel


Stainless steel is not only versatile and classic, but it also provides durable material for watches. This watch with a brown strap gives the wearer a sharp and professional look.
Bremont Supermarine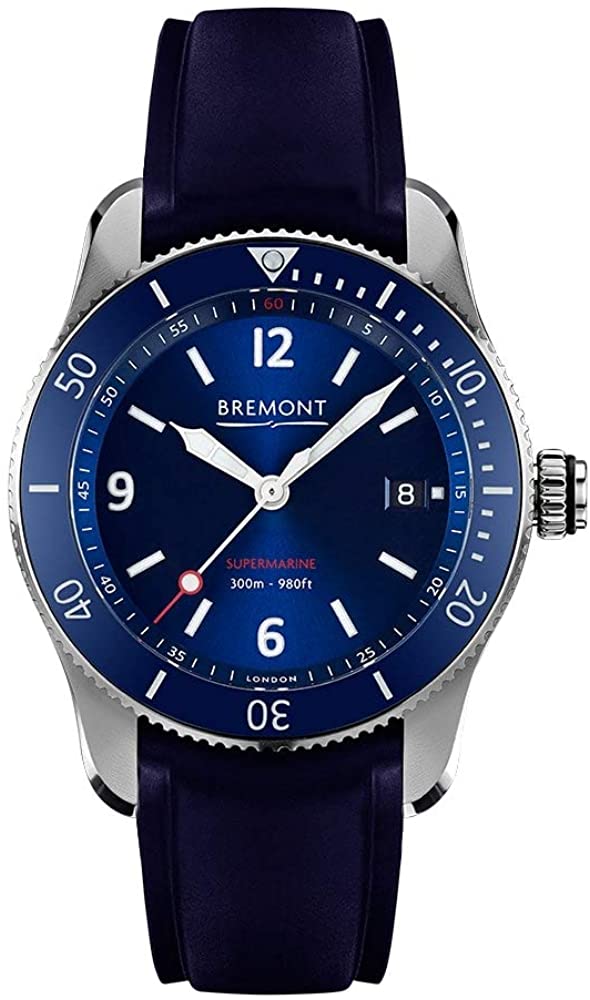 Dive in deep with the Bremont Supermarine timepiece. This watch is one of the most durable dive watches in the market. It offers water-resistance up to a depth of 500 metres. Not only that, but is an attractive timepiece that provides a strong blend of today's practicality and yesterday's charm.
The Supermarine collection as a whole is one of Bremont's best lineups. It has formed part of the company's merchandising for years and comes with multiple sub-collections of different styles. Additionally, the Bremont Supermarine showcases the most attractive designs that Bremont has ever produced.
This watch is the least expensive among many luxury watches. The following are watches under the Supermarine lineup:
Supermarine S300


The Supermarine S300 was introduced in 2017 as a compact dive watch with a 40-mm diameter. It is water-resistant up to 300-meters. In addition, its white dial colour complemented by a dark blue ceramic bezel makes this watch a perfect stylish timepiece.

Other watches under S300 line include: S300/BR blue, S300 black, S300/BR black, and S300 white/BR. You can get any S300 watch in accordance with your taste or style. All Bremont S300 watches are fit perfectly on any wrist.

Supermarine S2000

Bremont is famous for its robust watches, and the Bremont Supermarine S2000 is an arguably durable model with an improved depth rating of 2000m. This makes it a suitable luxury watch for any commercial diver or serious watch hobbyist.

Besides its impressive water-resistance level, the S2000's Trip-Tick steel case provides durability. It also comes with Bremont's typical array of movement protection including an anti-shock case mount.

The two models in this category include the S2000 yellow and S2000 red. You can get either of these in accordance with your personal requirements.
Bremont AIRCO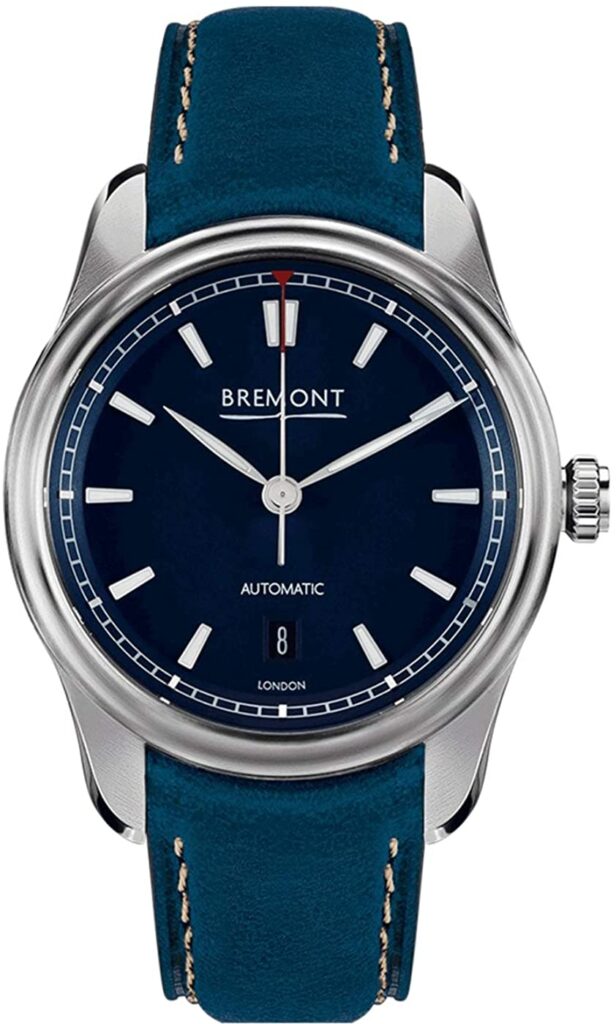 Bremont has established itself as a leader in the field of aviation watches. In fact, the AIRCO collection showcases some of their best models. These are perfect pilot watches that can be used by anyone with ease.
AIRCO watches are styled in a very different way and are available in both stainless steel and leather.  The case size of this Bremont watch measures around 40mm. Moreover, these watches are designed using Bremont's technical three pieces 'trip tick' cases
AIRCO MACH 1

If you're in search of a matte finish luxury watch, then the AIRCO MACH 1 is for you. This watch is an everyday kind of watch, paying respect to the military-issue watches of the 1940s. Not only that, but this elegant companion promises a useful power reserve lasting 38 hours. Thus, it is just perfect for travel and socializing.

The AIRCO MACH 1 features a stark black dial, thereby creating a perfect backdrop for the orange second hand. A stop second function and date are present at the 6 o'clock position thereby adding a touch of functionality.

AIRCO MACH 2

The AIRCO MACH 2 comes with a polished stainless steel case. It features a white dial with applied indexes which makes it even more of a classic timepiece. The design of this watch best matches with military clothing, which demands a smarter model that can fit easily under the cuff.
Bremont Armed Forces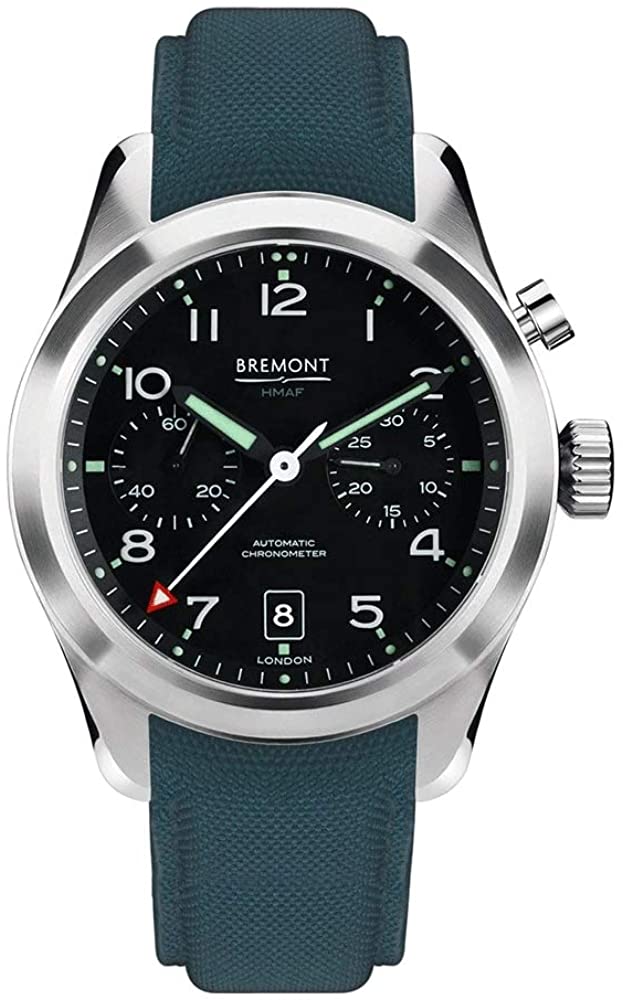 Bremont has had a long history of collaboration with military organizations to produce limited-edition collections. Most recently, the brand partnered with the Ministry of Defense to produce a series of Armed Forces watches. These custom-made designs are mostly available for men.
All three designs of the Bremont Armed Forces collection resembles the image of the 'Dirty Dozen' watches commissioned by the British Army during WWII. The following are three amazing designs of the Bremont Armed Forces collection.
Bremont Broadsword

The Broadsword (Army) is a simple aviation watch with a date display at the 3 o'clock position and a small-seconds indicator above the 6 o'clock position. This watch's case size measures 40 millimetres and is water-resistant up to 100 metres. Moreover, luminous spots on the hour markers and slim hands ensure optimum legibility.

The watch also features a self-winding BE-95-2AV power, a chronometer-grade movement, and has a power reserve lasting 38 hours.

Bremont Arrow

The Bremont Arrow represents the British brand's first monopusher chronograph watch. It features a 42 mm case made up of stainless steel, thereby making it a model fit for everyday use. The pusher present at 2 o'clock helps to start, stop and reset this fantastic timepiece's chronograph.

The sub-dial at the 9 o'clock mark indicates the seconds counter, while a 30 minute counter sits at at the 3 o'clock position. This watch offers a power reserve lasting 48 hours and features a black dial with white Hindu-Arabic numerals.

Bremont Argonaut

Last under the Bremount Armed Forces collection is the Argonaut. One can say that this watch resembles a combination of the Dirty Dozen design and a diving watch.

This watch features a rotating inner bezel operated by a second crown at the 4 o'clock position. In addition, the black dial designed with lume allows for readability underwater. This luxury watch also comes with a 42mm case and is water-resistant up to 300-metres.
Final Thoughts
Bremont is by no means a newcomer to the world of aviation watches. Nonetheless, all its lineups put a different spin on the company's award-winning tradition of watchmaking.
Bremont watches are excellent in terms of features, durability, material, and style. So now that you know about the different models of the watches, select one that suits your personality and comes within your budget.
We hope you enjoyed reading this list! For another stimulating read, check out 5 Top Most Breitling Superocean Sports Watches.