Although the watch brand called Baltic is still unheard of, they have been offering promising products so far. And one of those watches that you should keep on your radar is the Baltic Aquascaphe. Read on to find out why we can see a potential star in this vintage-inspired dive watch.
History of Baltic Watches and Baltic Aquascaphe
Three years is very young. Especially when you compare it to other watch brand giants which have been around for centuries. All things considered, there is no denying that the Baltic brand is still a toddler in the world of horology.
In spite of that, the brand has its own interesting history to tell. And in just three years, they managed to catch the attention of various watch communities around the globe. 
Like Father, Like Son
It all started when Etienne Malec inherited a collection of watches from his late father. Apparently, the collection did not only contain the watches. It also had a journal where his father recorded every watch that he owned. Also written on the pages were the history and price of each watch.
As Malec sifted through the pages, his love for watches grew. His growing passion combined with his father's legacy prompted him to start his own watch brand.
What's in a Name?
To honour his father, Malec decided to name the brand after his father's origins in north Poland along the Baltic Sea. Thus, he settled with the name Baltic. According to him, his father's story will endure through the watches. This is also the why his pieces are all inspired by the vintage watches in his father's collection.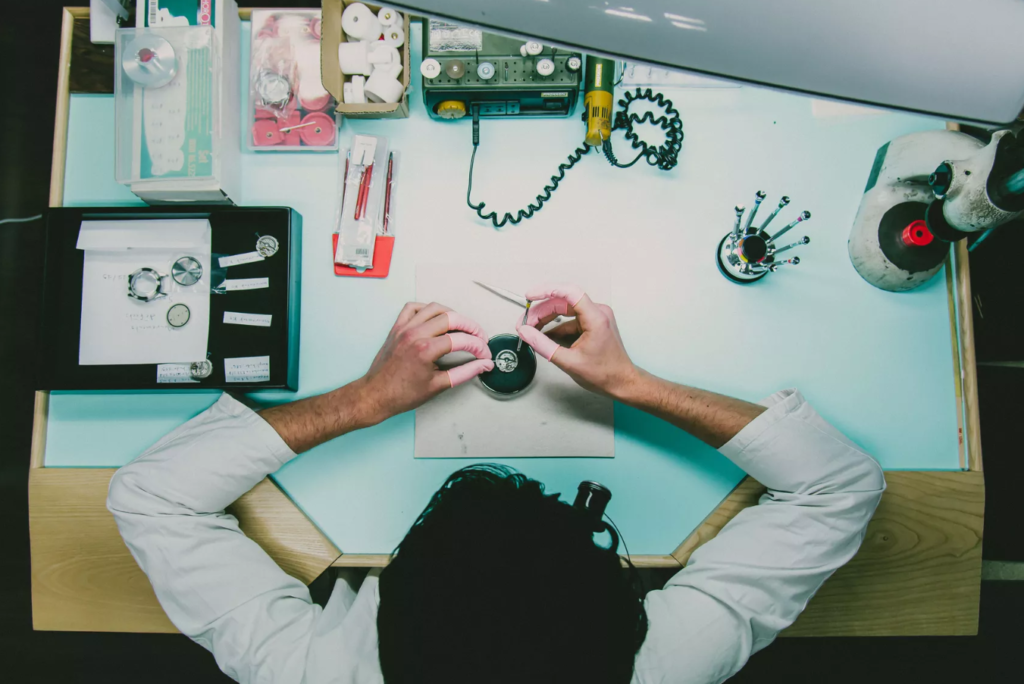 It Started as a Crowdfunding Project
Ah, Kickstarter. To a lot of people, that website is a nursery where future great companies are groomed. Indeed, it is the place where Baltic Watches earned their very first traction. With that said, if you love supporting startup projects, you might have come across Baltic Watches on Kickstarter around the year 2017.
The first collection consisted of two watches — The HMS and Bi-Compax. Undeniably, the designs of the duo were very minimalistic. However, their historic details stood out. In fact, the watches borrowed a few elements from Calatrava-shaped watches and made it their own.
Add a reliable calibre to the equation and you got yourself a jackpot. That's why it didn't come as a surprise when the project took off successfully.
Baltic Aquascaphe: A No-frills Dive Watch
Things went so well with Baltic Watches. In fact, the brand was able to expand its collection in just a few years. Room was made for a vintage-inspired dive watch called the Baltic Aquascaphe. Let's learn more about this timepiece.
Specs Sheet
Below are the important numbers about the dive watch.
Case: Stainless steel

Movement: Automatic Miyota 9039

Power reserve: 42 hours

Case Diameter: 38mm

Thickness: 12mm

Water-resistance: 200m

Available straps: Beads of rice bracelet, tropical rubber strap

Available colours: Blue Gilt, Black Silver, and Black Cream
What Makes the Baltic Aquascaphe Good?
I have to say, these are impressive numbers. But that's just the tip of the iceberg. Here are a few reasons why the Baltic Aquascaphe is worth your attention. Let's get to the nitty-gritty and dig deeper into this marvel.
1. Design Influence
Firstly, let's talk about the aspect where the Baltic Aquascaphe shines best. Like the other Baltic watches, this diver draws inspiration from vintage watch designs. In fact, some even claim that they're seeing a bit of mid-century dive watches in it. Some even say that it shares some resemblance with the Blancpain Fifty Fathoms.
The references are very noticeable such as the coin-edge bezel and the round hour markers. It also bears the usual requirements of a vintage dive watch — a large screw-down crown, robust case, and drilled lugs. Consequently, the result was a '50s diver packed with 21st-century technology.
But that's not to say that the Aquascaphe's design was a complete copy. In fact, they were able to integrate it to their own branding. Just flipping through their whole catalogue will give you the impression that they're following their own style bible.
2. Case and Bezel
The case of the Baltic Aquascaphe is made of steel which is entirely brushed. Thus, it feels solidly built. It comes in a 39mm diameter — the usual size of vintage divers. Meanwhile, its lug-to-lug measurement clocks in at 47mm.
Despite that, the watch feels smaller and thinner when worn. This is due to the lugs that are set low to maximise comfort. Even a person with a small wrist can wear this watch comfortably on a daily basis.
Furthermore, the crown at the 3 o'clock position is oversized. While it was derived from vintage design trends, it is still useful today. Its size allows people to adjust the time easily and conveniently.
A coin-edge unidirectional bezel sits on top of the case, which is expected of a dive watch, whether modern or vintage. Fortunately, it is easy to rotate and features 120 clicks. Meanwhile, the bezel insert is made with a polished sapphire that bears Arabic numerals as markers.
Lastly, the case is durable enough to have a 200m water-resistance, which is more than enough for scuba diving purposes. It just proves that the Aquascaphe is also exceptional when it comes to features.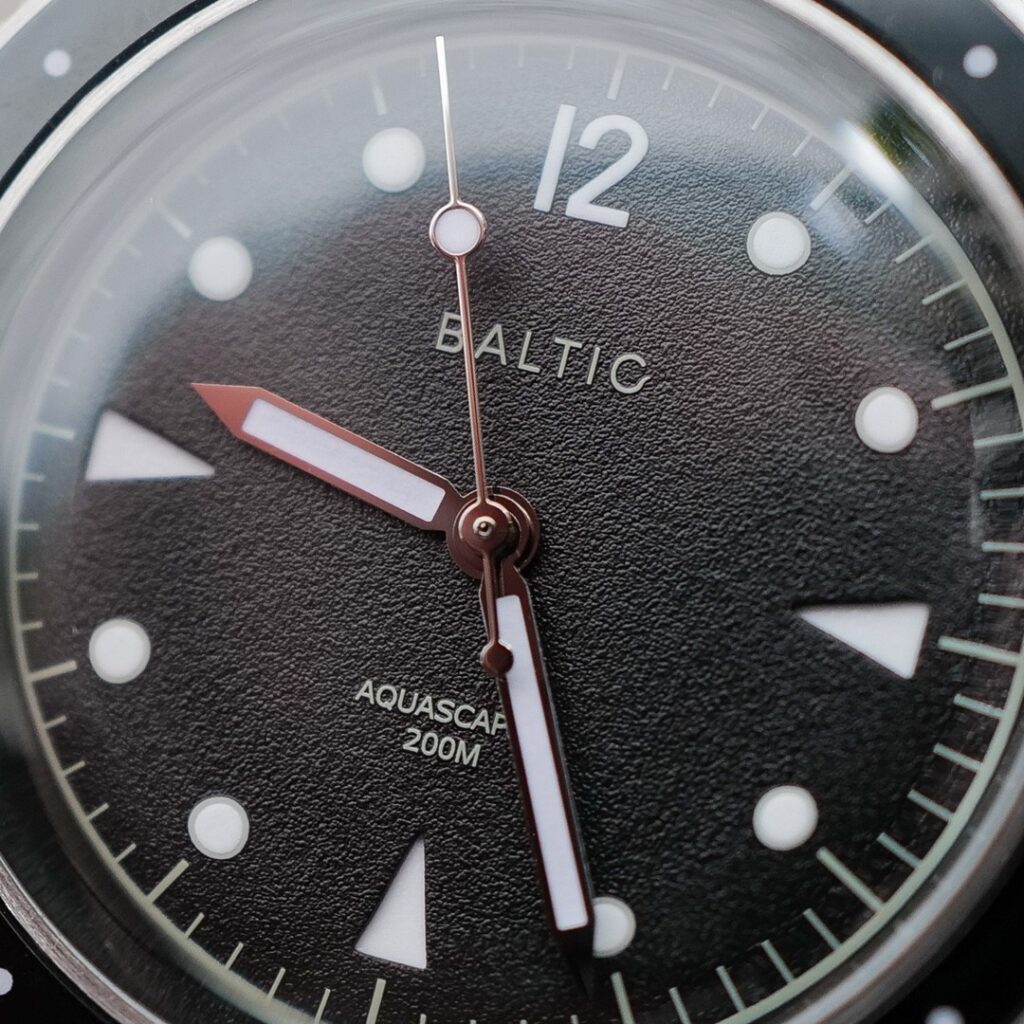 3. Dial
As mentioned above, the Baltic Aquascaphe comes in three different colourways — blue gilt, black silver, and black cream. Each version has its own personality, but beyond their colours, they share the same dial design.
Looking closely, the triangular hour markers at 3, 6, and 9 o'clock are all recessed. Meanwhile, the other markers come in a round beige-painted material. The only marker that comes in Arabic numeral form is the one at 12 o'clock. Additionally, it follows the same font that can be found at the bezel as well as the other Baltic watch models. I have to say, that detail was a subtle way of giving the brand its own identity.
Moreover, the tips of the baton minute and hour hands come in an arrow shape while the lollipop seconds hand adds to the vintage vibe.
The surface of the dial varies according to the model. With that said, the two versions with the black dials feature a grained matte finish. On the other hand, the blue variant has a sunray-brushed pattern.
4. Movement
As a new brand, Baltic should not be judged like other watchmaking giants when it comes to movement. But that doesn't mean that they skimped on the watch's engine. In fact, they use reliable Japanese automatic movements.
For the case of the Baltic Aquascaphe, they use the Miyota 9039. It offers satisfactory precision and accuracy. If you want to see some numbers, the announced accuracy rating is -10/+30 seconds per day. However, there are some reports that say it has improved at -10/+10 seconds per day.
Furthermore, it beats at 28,800 bph and has a total of 24 jewels. It can also power the watch for up to 42 hours when fully wound. Hand-winding and hacking features are also available.
To conclude, Baltic made a good choice when it comes to movements. Apart from being reliable, the Miyota 9039 proves to be affordable. That's not bad for a watch brand that hasn't even reached its 5th birthday yet.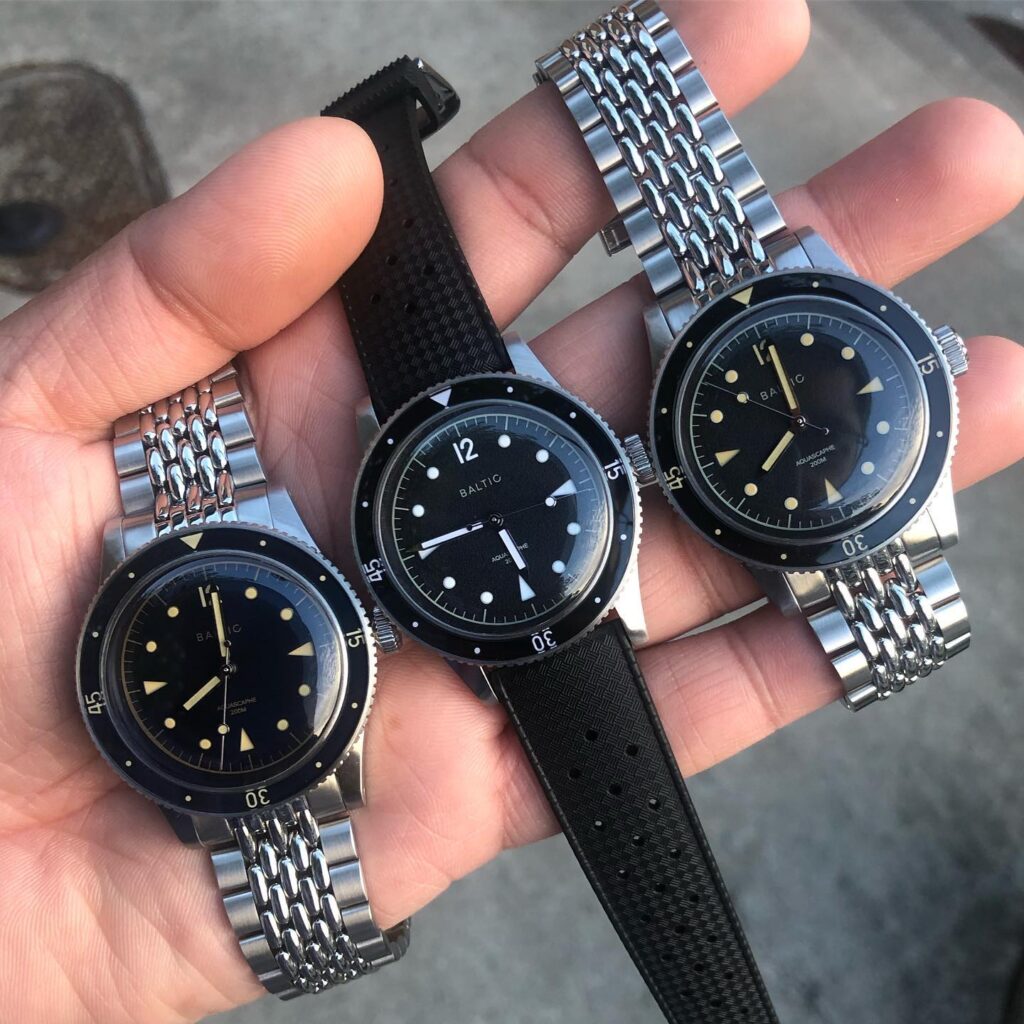 5. Bracelet or Strap
Wearers have two options when it comes to the Baltic Aquascaphe's strap. The first one is a black tropic-style rubber strap. It has a retro-themed pattern that goes well with the vibe of the whole watch. Despite being rubber, it looks formal enough to wear with smart casual clothes.
The second one is what they call the Beads-of-Rice (BOR) bracelet in steel. In my opinion, this option adds to the vintage vibes and suits the watch perfectly. It is also comfortable to wear and convenient to adjust due to its seven micro-adjust positions. In addition, its spring bars have quick-release tabs so you can install it without using any tools. 
Best Baltic Aquascaphe Watches
Albeit still small, the whole Baltic Aquascaphe lineup is a marvel. Each model has its own unique personality that will surely fit different people's tastes. Check out what makes each timepiece special below.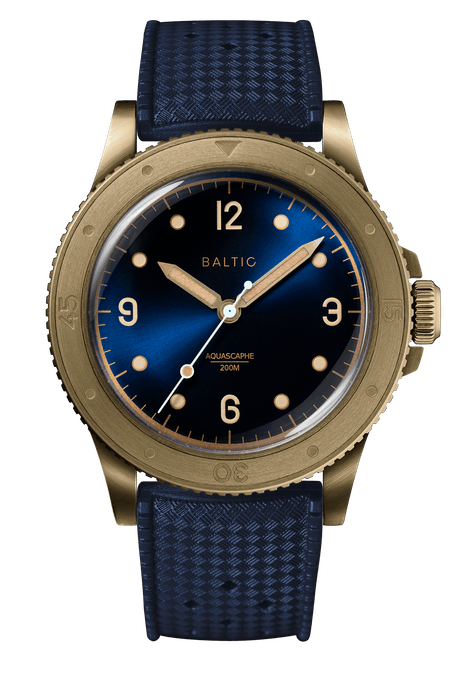 1. Baltic Aquascaphe Bronze Blue Gilt
Why is it good?
The Aquascaphe Bronze Blue Gilt is the most colourful model in the lot. It bears the sunray blue dial that gives off various shades of blue depending on the light conditions.
Aside from that, its bezel is made of CuAL8 bronze, which is a resistant copper-aluminium alloy. To add, this type of material develops a uniform patina. Granted, the bezel will age depending on the wearer's habit. What a way to make it more personal and special!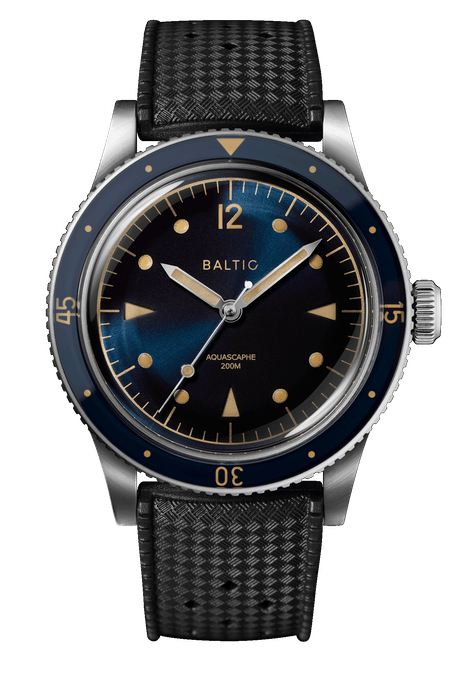 2. Baltic Aquascaphe Blue Gilt
Why is it good?
The Aquascaphe Blue Gilt is for people who want to stand out and lay low at the same time. While its colourway is definitely neutral, a closer inspection would separate it from the others. 
Looking closely, it has the same dial that the Bronze Blue Gilt has. Meaning, you can view different shades of blue with just a flick of the wrist. This keeps the dial fascinating and unpredictable.
Lastly, the round hour markers are patina-coloured. This gives off a vintage vibe that will appeal to a lot of people.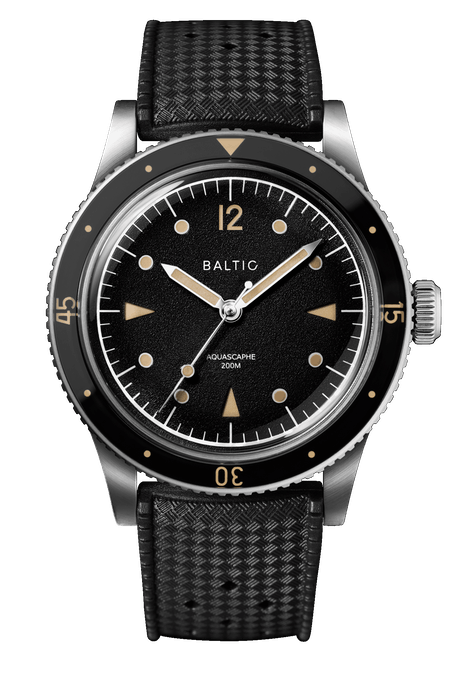 3. Baltic Aquascaphe Black Cream
Why is it good?
If I didn't know any better, I'd think that the Aquascaphe Black Cream is a dive watch straight from the 1950s. There's no doubt that it drew inspiration from iconic watches like the Fifty Fathoms and the old versions of the Rolex Submariner. 
With that said, it features a simple black dial with a grainy texture. Its hour markers and hands are also coloured with a patina. This gives the effect that the watch truly is from a few decades back.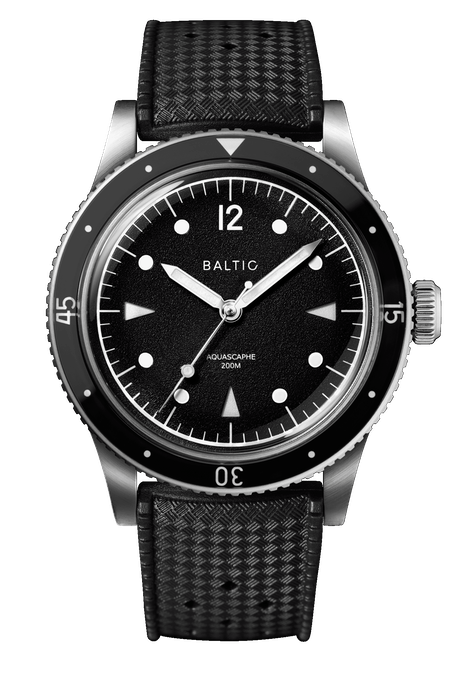 4. Baltic Aquascaphe Black Silver
Why is it good?
The Aquascaphe Black Silver is the most toned-down version of the watch with its black-and-white colour scheme.
But that's not to say that it is boring. In fact, Baltic managed to give the classic black dial a twist. If you look closely, the dial features a grainy texture. Really, it is incredible how Baltic manages to make a simple thing such as a black dial stand out.
Final Notes
In its short three years in the industry, Baltic has proven to be a worthy contender and the Baltic Aquascaphe is proof of that. This diver has everything you need and more. A decent water-resistance rating? Check. Nice design? Check! A reliable movement? Check. 
Really, the only thing missing to complete the equation is a long brand history. But who cares about that? I'll bet my bottom dollar that in a few years, this microbrand will rise to stardom and that the Baltic Aquascaphe will be an in-demand diver.
Can't get enough of vintage watches? Dig deeper with our guide on pocket watches!