One of the most controversial topics in the watch community is the consensus on homage watches. Indeed, nothing seems to divide the watch community more than homage watches do. In one camp, they claim that these timepieces are just counterfeits given a more respectable name. On the other hand, some would defend these watches as just paying respect to a cult classic timepiece.
Whichever team you're on, let's delve deeper into the realm of homage watches.
What are homage watches?
As mentioned above, the definition of "homage watches" can vary from person to person. But a general understanding is that these are watches which pay tribute to popular watch brands or even specific models. In other words, makers of homage watches try to create more affordable versions of existing watch models
And when I said "more affordable versions", I meant duplicating the design up to the smallest details. This is exactly the reason why some people regard them as counterfeits or fakes. But are they really?
Are they just glorified counterfeit watches?
Based on what I've said above, you might be thinking that these homage watches are just replicas. However, there is one thing that separates them from outright copies. Their makers don't pass them off as the real thing. Apart from that, they don't even illegally use the logos and names of the watches they try to pay homage to. In fact, some even proudly market their models as a homage of a certain watch.
Their main objective is not to pretend, but to pay respect to their more expensive counterparts. And to make them more available to fans who cannot afford the real thing. In a way, they can be likened to covering or remixing popular songs.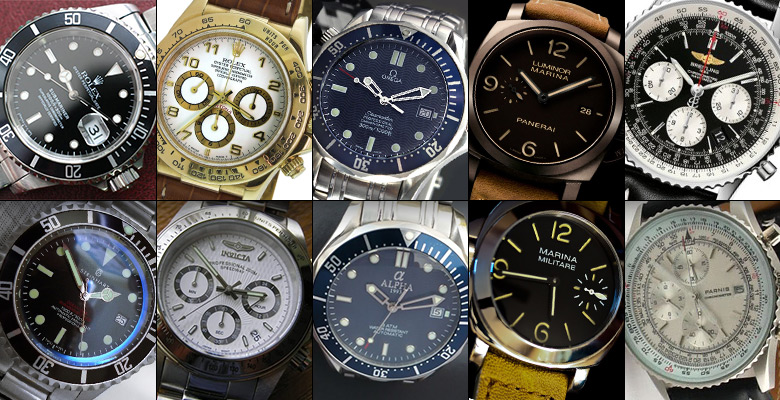 Pros and Cons of Owning Homage Watches
Pros
1. Homage watches are more affordable.
While some homage watches may cost above $500, they are generally more affordable than their counterparts. Of course, with a smaller price tag, there will be compromises when it comes to the functionality of the timepiece so it is important to set realistic expectations when hunting for a homage watch.
To add, getting a homage watch first is a nice idea if you're still developing your taste in watches. Not sure whether the highly-coveted Rolex Submariner is for you? A homage watch can give you the idea of owning one without having to break the bank.
2. They almost look exactly like your dream watch.
The number one reason why people buy homage watches is that it looks almost exactly like your dream watch. If you're pretty much in love with the looks of the Omega Seamaster but can't justify paying a few grand for it, then the homage watch route is the way to go. Depending on the model you're getting, some can recreate even the smallest details of a watch.
3. There are a lot of high-quality homage watches around.
Apart from getting the right looks, some watches got the quality right. One good example is the Steinhart Ocean one, which we will be seeing in a short while. A lot of these brands produce not only aesthetically-pleasing models, but also fine movements. To add, a lot of homage watches have solidly built cases especially considering their price tags.
With that said, it is important to research which homage watches are worth looking at, and which ones would give you the best value for your money.
Cons
1. Some enthusiasts frown upon homage watches.
I have said that homage watches are different from counterfeit watches. However, this does not stop people from disliking them. You'd probably hear them say "call them whatever you want, they're still fake". So if you're going to wear your homage watch, there's a chance that you'll merit some glares from some people.
2. They won't fully quench your thirst.
Let's face it. Some people only consider homage watches because it is the closest they can get to their dream watch. While there's nothing wrong with buying these watches as stepping stones, there's a chance that it might not give you the same fulfilment of owning your dream watch.
Popular Watches and Their Homage Counterparts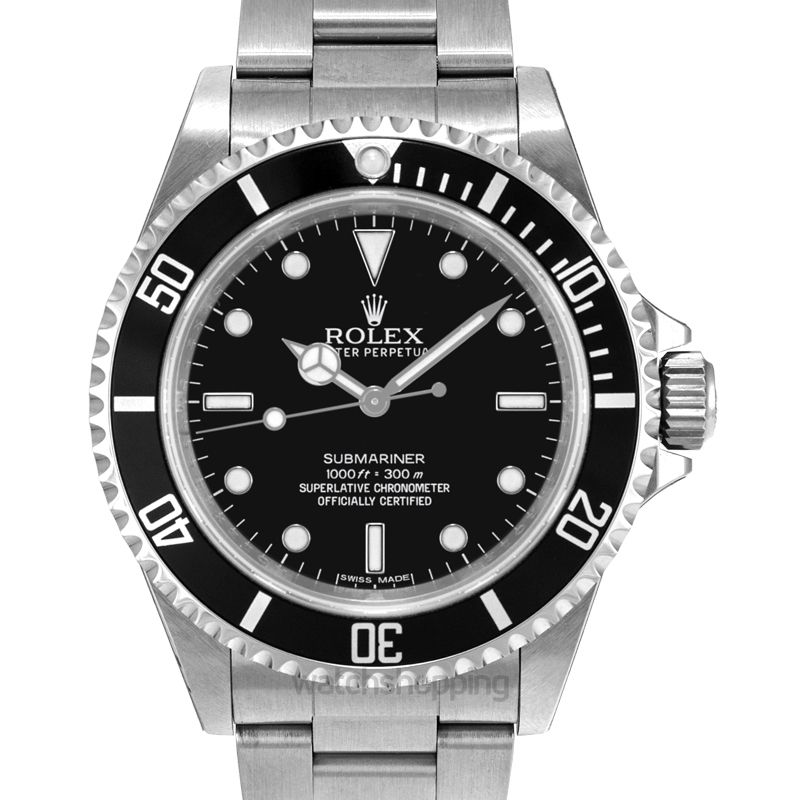 1. Rolex Submariner
The Rolex Submariner is one of the most famous, if not the most famous, watch models around. Even outside the watch community, this timepiece needs no introduction. It also goes to say that it has one of the most copied designs. That being said, consumers have a lot of options when it comes to its homage watches. Here are a few models that you should check out.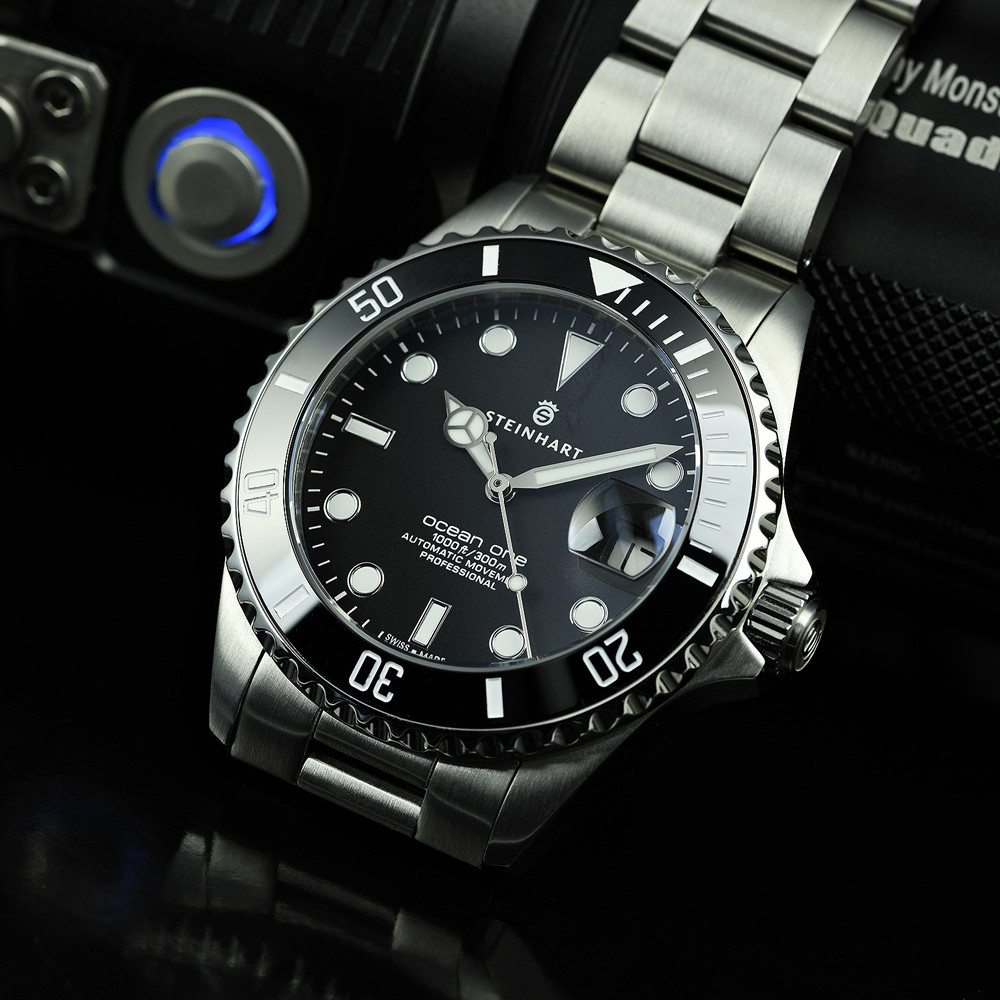 Steinhart Ocean One
Why is it good?
Perhaps the Steinhart Ocean One is the highest quality Submariner homage watch you will ever see. Although it may be hard to believe, there are some instances where one would prefer this model to the glorious Sub. Indeed, many enthusiasts have spoken a lot of good words about this model.
As far as appearances go, it goes without saying that the Steinhart Ocean One looks like the Submariner from the colourway up to the Mercedes hands. It also has a cyclops that has a 1.5 times magnification instead of Rolex's 2.5 times. Apart from that, it has a screw-down crown and an impressive build that gives it an impressive water resistance rating of 300m.
The Steinhart Ocean One definitely nailed the looks. Steinhart also succeeded in making the watch a beaut in the performance department. It uses the ETA 2824-2 movement, which is a known Swiss workhorse calibre. The movement has impressive specifications and even offers a smooth sweep of the seconds hand. Overall, the calibre's timekeeping is accurate and reliable.
So far, Steinhart has received nothing but good comments from watch lovers around the globe. Which is why you can never go wrong with the Steinhart Ocean One if you're looking for a cheaper alternative to the Rolex Sub.
Steinhart Ocean One Specs:
Case material: Stainless steel

Case dimensions: 42mm

Movement: Automatic

Power reserve: 40 hours

Water resistance: 300m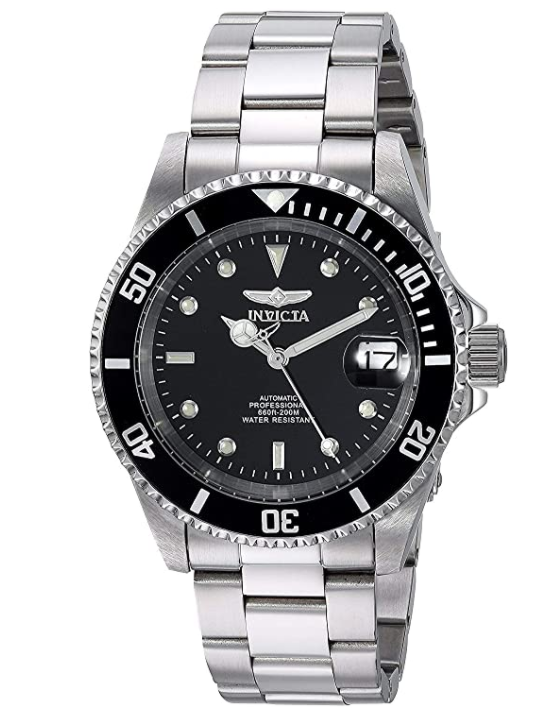 Invicta Mako Pro Diver
Why is it good?
If you're looking for something cheaper, the Invicta Mako Pro Diver ticks your checklist. Its price tag won't even go above $100.
One of its advantages is its size. The Invicta Mako Pro Diver has a 40mm case, which is the same number that you will see in the Sub's specs sheet. Apart from that, the finishing is something to admire as it makes the watch look twice as expensive as it actually is. But you will experience more of the magic once you wear it as it offers superb comfort.
To add, its aluminium bezel is solidly built as well. Especially when considering the watch's price range. Its clicks even feel as if it's coming from a more expensive watch. At the side of the case, you'll see an engraving of the Invicta logo. Meanwhile, the caseback features an exhibition window where you can take a peek into the heart of the watch.
Taking a peek inside the see-through caseback, you'll see the automatic NH35A movement. It is a non-branded 4R35 calibre from Seiko and it is known to be reliable. A few of its features are a manual winding, hacking, and around 40 hours of power reserve. For a cheap watch, I gotta say this movement is very impressive and is sure to give you your money's worth.
Invicta Mako Pro Diver Specs:
Case material: Stainless steel

Case dimensions: 40mm

Movement: Automatic

Power reserve: 40 hours

Water resistance: 200m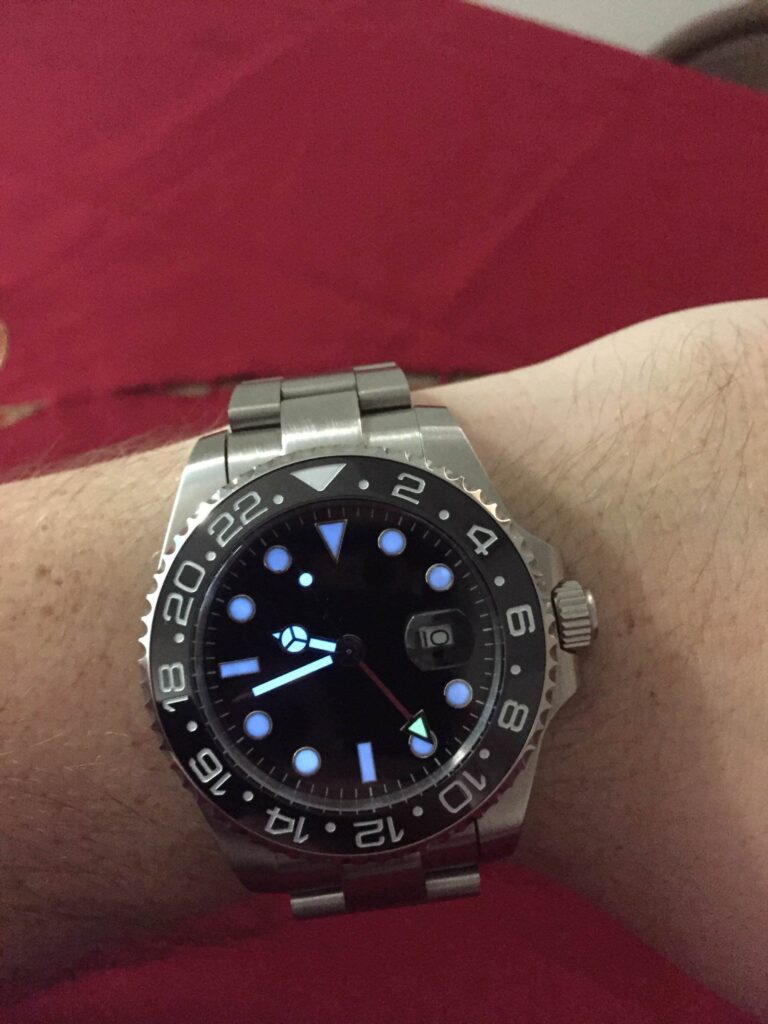 Parnis Sterile Submariner
Why is it good?
For the minimalistic folks who shy away from branding, the Parnis Sterile Submariner might be the perfect watch for you. It is an affordable alternative to the Submariner that has impressive specs for the price.
Of course, one of the first things that you'll notice about this model is its branding or its lack thereof. Like the original Sub, its dial is matte black with round indices save for the 3, 6, 9, and 12 o'clock markers. Apart from those, it bears the familiar Mercedes hour hand and a date window. However, there is no cyclops or any magnification tool right above it.
Inside, it uses the DG2813 automatic movement. This calibre is cheap, yet it has a growing reputation when it comes to reliability and accuracy. It has a frequency of 21,000 bhp (i.e. 6 ticks per second) and can power the watch for up to 40 hours. Lastly, it has hacking and hand-winding features for convenience.
To conclude, this watch offers excellent value considering its price. Whether you're trying to scratch an itch for the Rolex Sub, or when you just wanna try if the dive watch aesthetic is for you, this model is a great way to test the waters.
Parnis Sterile Submariner Specs:
Case material: Stainless steel

Case dimensions: 40mm

Movement: Automatic

Power reserve: 40 hours

Water resistance: 30m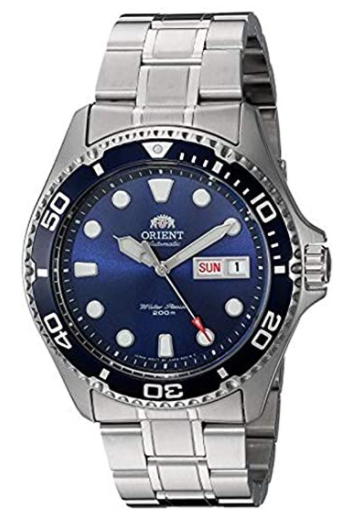 Orient Ray II
Why is it good?
Last but not least is the Orient Ray II. And like the Submariner, this fan favourite needs no introduction. Indeed, it is considered as the king among the watches that belong to its price range. Although it doesn't look like a carbon copy of the Submariner, its high quality is something to write home about.
As mentioned above, its physical appearance is distinct from the Submariner. Although it still bears the aesthetic that dive watches commonly have. Its hour markers are still round, save for the 6, 9, and 12 o'clock markers which have a trapezoidal shape. Meanwhile, there is a day and date window that is located at the right side of the dial.
When it comes to diving, the Orient Ray II offers impressive features. It has a screw-down crown to increase its resistance to water. Apart from that, it has a 120-click unidirectional diving bezel that has a coin edge. And to add, it offers a great lume that will let the user read the time underwater without any problems.
To conclude, this contender from the Japanese brand is something you should never overlook. Yes, it does not exactly resemble the Rolex Submariner, but its Japanese aesthetic will still make heads turn. This watch has been tried and tested by a lot of watch enthusiasts and they have a lot of good things to say about this timepiece.
Orient Ray II Specs:
Case material: Stainless steel

Case dimensions: 41.5mm

Movement: Automatic

Power reserve: 42 hours

Water resistance: 200m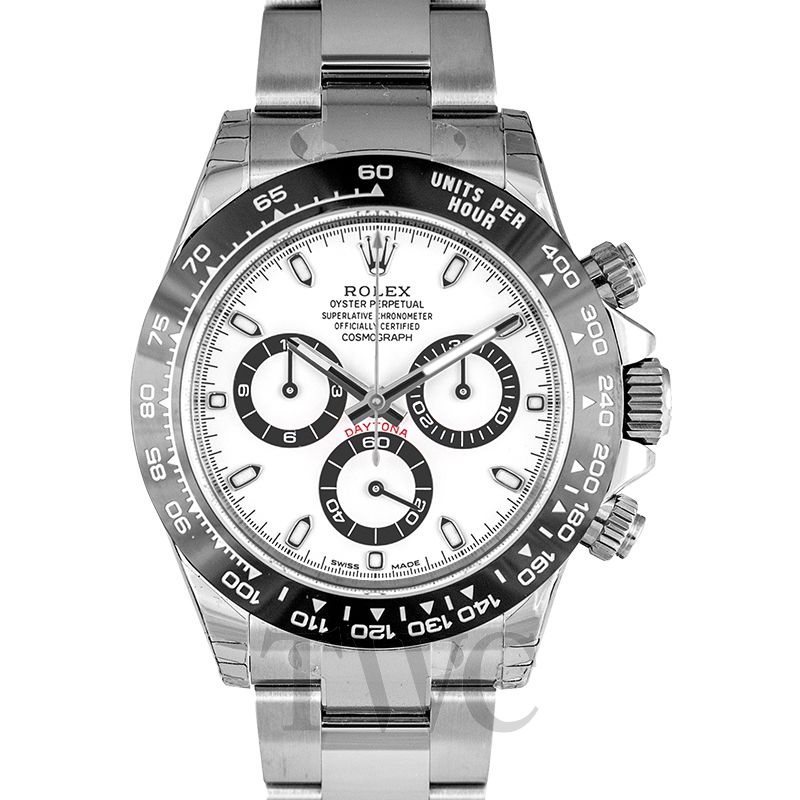 2. Rolex Daytona
Another Rolex model that gets its fair share of homage watches and even counterfeits is the Rolex Daytona. This legendary chronograph was first introduced to meet the timekeeping demands of racecar drivers. In fact, a lot of people relied on its ability to calculate the average lap speed.
As the years passed, the Daytona became more and more popular. It was even associated with a few celebrities like Paul Newman and John Mayer. Apart from that, a lot of watches started adapting the Panda dial which the Daytona first sported. So without further ado, here are some of the Rolex Daytona homage watches that are worthy of your attention.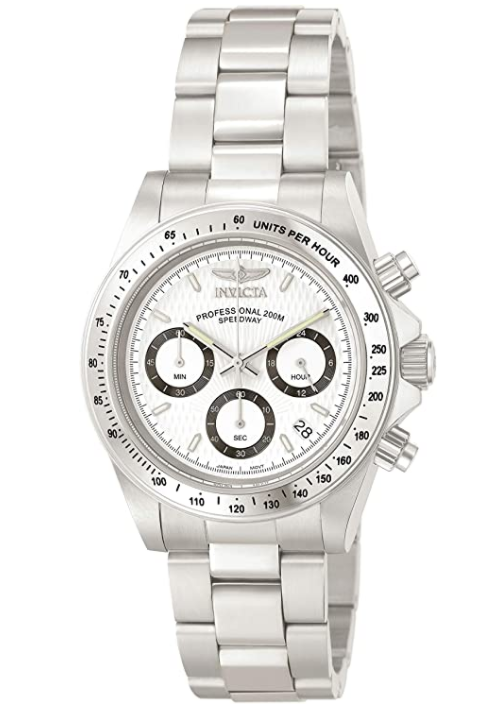 Invicta Speedway
Why is it good?
From afar, the Invicta Speedway looks exactly like a Rolex Daytona. Indeed, they even got the colour combination right. For its price, the watch has a decent build and enough bells and whistles.
As expected, the Invicta Speedway has three sub-dials. Each of these displays the elapsed minute, 24-hour format, and elapsed seconds, respectively. In addition, it also has a small date window just between the 4 and 5 o'clock markers. Meanwhile, the fixed bezel is highly polished and nice to look at. The black font of the numbers contrasts well against the background, making it legible.
When it comes to the movement, the Speedway uses a Japanese quartz calibre. Fortunately, this movement features a hacking movement that stops the seconds hand when the crown is pulled out. This allows the exact time up to the seconds to be set, which is useful for various activities that require precise timekeeping. And just like any other quartz movement, you can trust that its timekeeping abilities are accurate.
Most importantly, the chronograph function of this watch is very easy to use. So all things considered, the Invicta Speedway is definitely something to watch out for. It has a reliable quartz movement, the looks of the Daytona, and a very affordable price tag.
Invicta Speedway Specs:
Case material: Stainless steel

Case dimensions: 39.5mm

Movement: Quartz

Power reserve: n/a

Water resistance: 200m
3. Cartier Tank
There is no denying that the elegant design of the Cartier Tank has been coveted by many people. Indeed, its Roman numeral hour markers and Art Deco style are worth drooling over. However, only a few people are able to enjoy this dress watch on their wrist due to the price tag. 
Luckily, there are reputable watchmakers who have made homage watches to honour the Tank. If you're into the Art Deco style of the Tank but want something cheaper, you have a few options.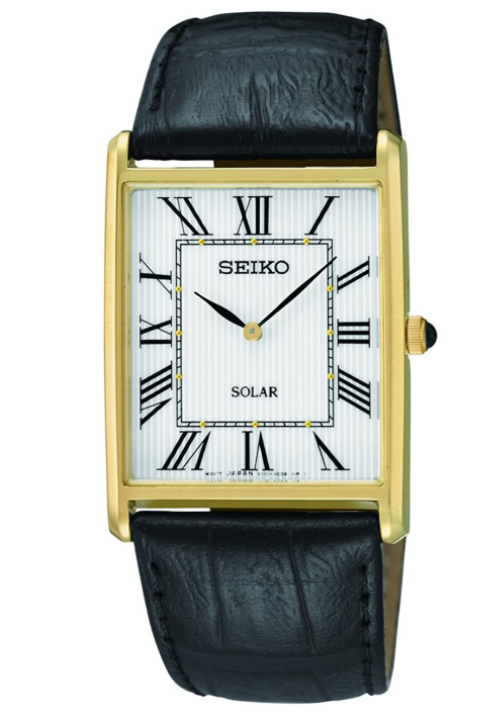 Seiko SUP880
Why is it good?
Seiko has done it again with the SUP880. This rectangular dress watch is definitely a great way to quench your thirst for the Cartier Tank. Indeed, this homage watch takes after the Tank's key characteristics and it does it well.
Like the tank, the SUP880 comes in a small, rectangular case. In particular, this one measures 28.5mm which is close enough to the size of the original Tank. Of course, it has the same Roman numeral markers, although it comes in a thinner font. Its white dial also bears a very subtle pinstripe pattern that you wouldn't notice unless you looked very closely. Apart from that, its crown has a black jewel on the tip to make it look more elegant.
What's most intriguing about this watch is its solar-powered quartz movement called the V115. The user wouldn't have to wind the watch nor would they have to change the battery to get it started. They simply had to let the watch charge for less than 10 minutes in direct sunlight. After recharging, its power would be enough to keep the watch ticking for around 10 to 12 months.
Overall, the Seiko SUP880 is a very impressive dress watch that you'll be proud to wear in the office or during business meetings.  
Seiko SUP880 Specs:
Case material: Stainless steel

Case dimensions: 28.5mm

Movement: Quartz

Power reserve: n/a

Water resistance: 30m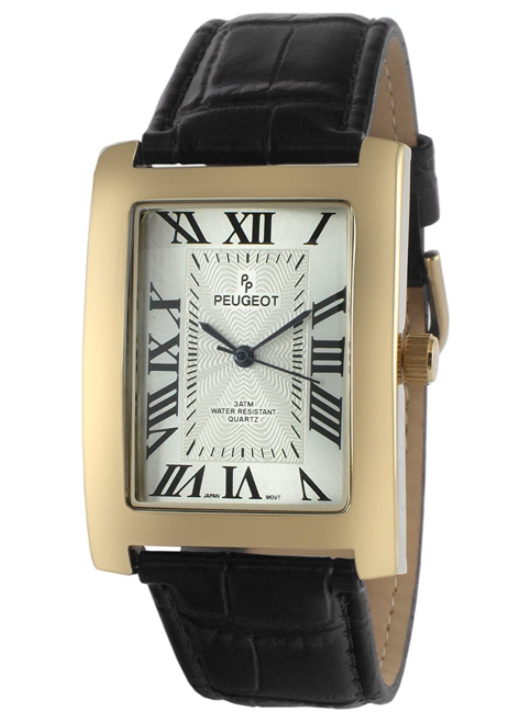 Peugeot Rectangular Vintage Watch
Why is it good?
Another cheap Cartier Tank homage that you should read up on is the Peugeot Rectangular Vintage Watch. As its name suggests, it has the look of a vintage dress watch influenced by the Tank's Deco style.
Its rectangular 30mm case is plated with 14k gold. Meanwhile, the rectangular space just inside the minute tracker features a textured wavy pattern. And of course, the hour markers are written in Roman numerals, just like the tank. The background of the hour markers is made with a shiny silver finish that is distinct from the material used in the inner dial.
To keep the watch's price tag low, the brand opted for a quartz movement instead of a mechanical one. Anyway, the original Cartier Tank comes in a quartz movement as well. Lastly, this model comes in 2 leather strap colours. One is the classic black while the other is a medium brown.
All things considered, this watch is a handsome accessory that will complete your business outfit. Its elegant design will surely fool people into thinking that it is more expensive than it actually is.
Peugeot Rectangular Watch Specs:
Case material: 14k gold plated

Case dimensions: 30mm

Movement: Quartz

Power reserve: n/a

Water resistance: 30m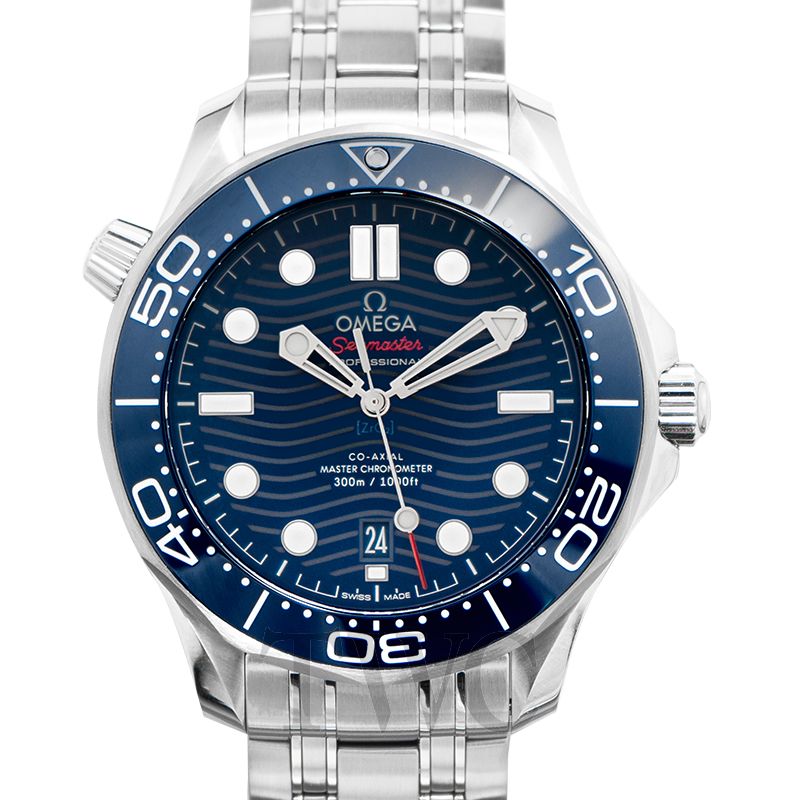 4. Omega Seamaster
Apart from the Rolex Submariner, the Omega Seamaster is another cult classic among watch collectors. Indeed, this is another diver that many people recognise. One reason why it became popular is that it was the watch used in the recent 007 films. But apart from its Hollywood exposure, Omega has always been known to make fine watches.
With that said, it is inevitable that other watchmakers draw inspiration from this model. Below is a homage watch that is worthy of checking out.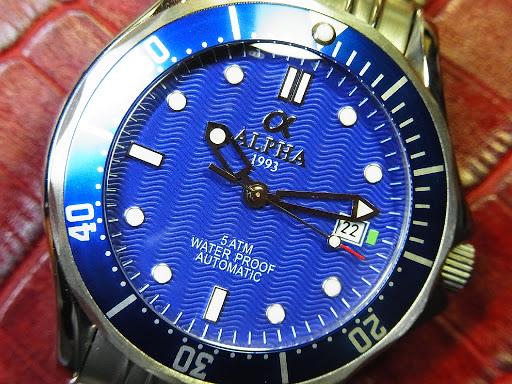 Alpha Seamaster
Why is it good?
Based on its name alone, you would guess that the Alpha Seamaster is a watch that pays homage to the Omega Seamaster. And one look at it would cast all your doubts away because it looks a lot like the Seamaster from the bezel to the bracelet.
And speaking of the bracelet, you would be delighted to hear that it is solidly built. It has screwed links and solid end links, making it comfortable to wear. Apart from that, it also features half links to get a better fit when adjusting. And when it comes to the dial, it replicates the ripple pattern that can be seen on the original Seamaster.
Unfortunately, the Alpha Seamaster is not something you should go diving with as it is not a true diver. Surprisingly, it has a low water resistance rating which is 50m which falls 150m short of the required rating for it to be considered as a dive watch. However, it makes up by providing a reliable movement. It uses a 21-jewel automatic calibre that runs at a frequency of 21,600 bph.
Considering its price tag, the Alpha Seamaster does a good job. No doubt that a lot of people will find its design pleasing. If you're not sure about getting an Omega Seamaster yet, the Alpha Seamaster will let you test the waters without hurting your wallet too much.
Alpha Seamaster Specs:
Case material: Stainless steel

Case dimensions: 47mm

Movement: Automatic

Power reserve: 40 hours

Water resistance: 50m
Final Notes
While replicas and homage watches have a lot in common (e.g. trying to replicate the looks of another watch), its definition all boils down to intention. Is it trying to fool people into thinking that it's the real thing? Or is it trying to honour a more popular model?
Whether or not you're a believer of homage watches, there is no denying that it tries to make the watch community more inclusive by giving people affordable alternatives to watches that are hard to acquire.
If you're a fan of Gerald Genta, you'll love our article about the Universal Geneve Polerouter!