The watch industry teems with a plethora of brands to choose from. You have your classic Swiss manufacturers such as Rolex, Philippe Patek, and Omega. Iconic Japanese brands such as Casio and Seiko conquered the industry when it comes to affordable timepieces. You'll also find new and brooding watch brands with a very promising collection of quality timepieces. With time, watches became more and more affordable and before we know it, everyone can now afford a good functioning watch or two. This is all thanks to the rise of microbrands that make watches more than just a symbol of luxury as in olden days. These brands bring the luxury of time closer to people in a relatively inexpensive price range. Today, we highlight one of these brands that spark conversations among enthusiasts in watch forums: Spinnaker watches.
Pride of the East
Hong Kong-based Spinnaker watches market their products as affordable divers. The company rose to the top for its cost-effective watches with nautical designs. However, their watches don't only rely on the oceanic appeal as aesthetics. With timepieces that claim incredible water resistance, it's safe to say that Spinnaker produces today's most affordable diving timepieces.
The designs of Spinnaker watches include homages to the iconic dive watches from well-known brands. However, unsurprisingly so, most microbrands commonly take cues from iconic designs. Spinnaker does this to keep up with modern technology while baiting many collector's generally favourable response to vintage tributes. Each watch from Spinnaker boasts 316L stainless steel cases with movements that come from notable Japanese manufacturers. Some of their watches feature Seiko movements, while others, Miyota and Hattori.
Spinnaker's name comes from a specific sail more often found in racing yachts. The timepieces from the brand truly embody the archetypal nautical accessory for every enthusiast. All these combined make Spinnaker one of today's most talked-about microbrands. They successfully incorporated classic designs with cost-effective modern tech.
5 Best Spinnaker Watches
But not all affordable watches prove worthy of the hype. A brief stay in watch forums will give a mixed impression on Spinnaker watches. A lot of people find its watches worth it, given the price and features, while others have some issues on the timepieces. Let's dive down on Spinnaker's most iconic watches and find out for ourselves, shall we?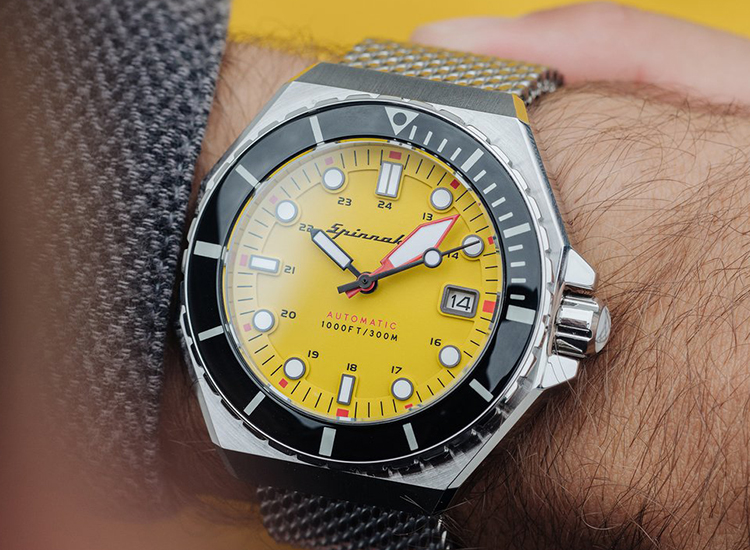 1. Spinnaker Dumas
The Spinnaker Dumas proves to be one of the most — if not the most — popular model from Spinnaker's vintage line of timepieces. The octagonal watch exists as an ode to Frédéric Dumas, therefore its name. One-third of the Les Mousqemers (or The Three Musketeers), the French diving legend pioneered diving as we know today. Alongside Jacques-Yves Cousteau, Philippe Tailliez, and engineer Émile Gagnan, Dumas developed the diving regulator.
Taking hints from 1970's aesthetics, the Dumas represents the more muscular form and more hefty designs in dive watches. It encapsulates its true purpose as a dive watch, focusing only on function and practicality. However, the watch doesn't fall short when it comes to aesthetics. With colourways that take from iconic dive watches, it remains pleasing to the eyes as it is functional.
Case & Bracelet
In its bold silhouette, the watch leans more on an industrial aesthetic. It's chunky as with any dive watch of such form and function at 44mm in diameter and 15mm in thickness. The octagonal marine-grade stainless steel case does appear big. However, it remains comfortable and sits nicely on the wrist. Anyone who adores big cases and lard watches finds this watch just the perfect match for them. The watch features a sapphire crystal so it proves to have decent scratch resistance as well as a 300m water resistance. Equivalent to 1000 feet, this demonstrates a pretty impressive depth rating for a watch of such price. Moreover, the watch has a 120-click uni-directional turning bezel, another pretty impressive feat for an affordable watch. These features alone prove how durable and great the watches are for nautical adventures, even for a recreational swim or snorkelling.
The watch's Milanese mesh strap also refers to the 1970s trend in timepieces. The watch perfectly suits any yacht enthusiast's style choices. However, if you prefer to change it to a NATO-style strap, that may not be a smart option given the size of Dumas' lugs. Leather watches, on the other hand, come perfectly matching the existing Dumas designs.
Dial
As the watch focuses more on functionality rather than aesthetics, its dial remains matter-of-factly in essence. It doesn't have unnecessary parts that make it hard to understand. However, for a watch with straightforward information, it sure has interesting combinations of shapes and colours throughout the design. Reminiscent of the typical colourways of sports watches, the Dumas also features various dial colours. They come in simpler black, white, grey, and blue dials as well as a bright yellow.
Just as with any information you'll need, you'll get with great legibility. The no-fuss design features circular and rectangular hour markers and oversized minute hands. The distinct colour of the minute hand edges makes for easier reading. Not to mention, a powerful lume makes the watch legible even in the dark.
Movement
Powering the Dumas, the Seiko NH35 automatic self-winding movement remains popular, especially for microbrands. It's incredibly affordable even with an accuracy of about -20/+40 seconds per day. Its 42-hour power reserve also makes for a compelling case. With the watch's exhibition case back, the movement can be easily observed.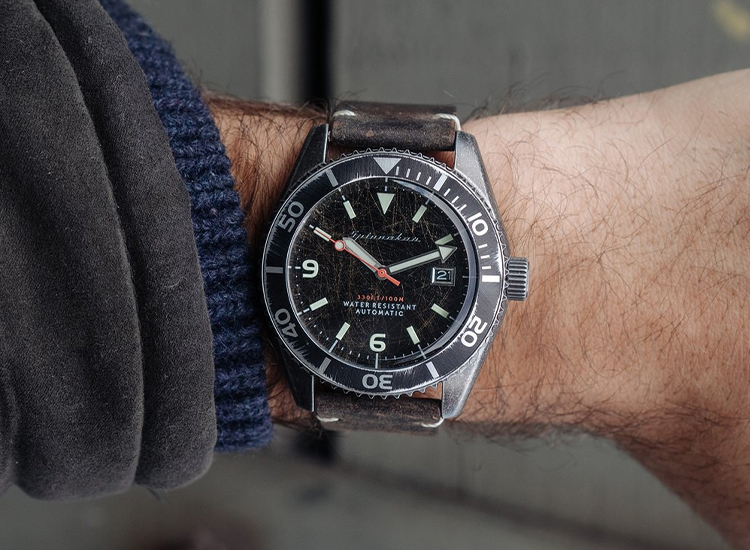 2. Spinnaker Wreck
The Spinnaker Wreck appeals mostly for fans of a truly vintage look. The Wreck revisits the historical advantages of scuba diving. Its existence led to many discoveries such as the undiscovered underwater world or shipwrecks with its own piece of history. The Spinnaker Wreck reminds us of the sombre remains of wars, accidents, as well as natural disasters. But it also shapes the stories that surround them. This timepiece returns to the roots of scuba diving as well as the discoveries along with it.
Case
The Wreck effortlessly looks like a watch found in a shipwreck. The 316L stainless steel case measures 43mm in diameter and 14.5mm in thickness. Lug to lug, the 50mm difference further emphasizes the watch's large exterior. However, the watch appears to be smaller with its curvy design. The rounded edges, absent from other Spinnaker watches, make the Wreck stand out more than other designs.
The Spinnaker Wreck features a 120-click unidirectional bezel with an aluminium bezel insert. With this, the watch boasts a smooth yet sharp and precise bezel turn. The edges of the bezel make it easier to grip and turn. Turning the face of the watch, you'll see an exhibition caseback with a flat mineral crystal to protect the movement that powers the watch. However, after some observation, the caseback's appearance is a departure from the shipwreck concept.
To protect the dial, on the other hand, the sapphire crystal provides a clear view of the dial. At 10ATM, the timepiece can go as deep as 100 meters or 330 feet. Therefore, the watch doesn't meet the standards of a dive watch. If anything, it's suitable for a quick dip on the water at most.
Dial
If you're not a fan of aged looks, then this might not be the watch for you. Given the name of the watch, it does look pretty wrecked. Forced ageing on the timepiece leaves it with scratches and a faux patina as well. The dial colour, meant to be black, appears to be brown as with any vintage watch. The Wreck features rectangular hour markers except for 6 and 9 o'clock that come in large arabic numerals. At 3 o'clock, a date window. What the Spinnaker never lacks would be the lume that always proves powerful among all its models. The Wreck, despite its forced aged look, remains at its brightest. The hands and indexes remain legible even in the dark.
Strap
The forced ageing on the watch applies on the strap as well. However, it's not at all out of place. With a black leather underlining, the strap persists to be strong despite its soft appearance. It has slight discolourations on certain spots as with any old watch. If you're going to take it for a quick dip, you can choose to wear the watch with the same strap or exchange it for a more robust water-resistant silicone strap.
Movement
Just as with the Dumas, the Spinnaker Wreck also features the Seiko NH35 movement. To recall, it includes a 42-hour power reserve as well as an accuracy of about -20/+40 seconds per day.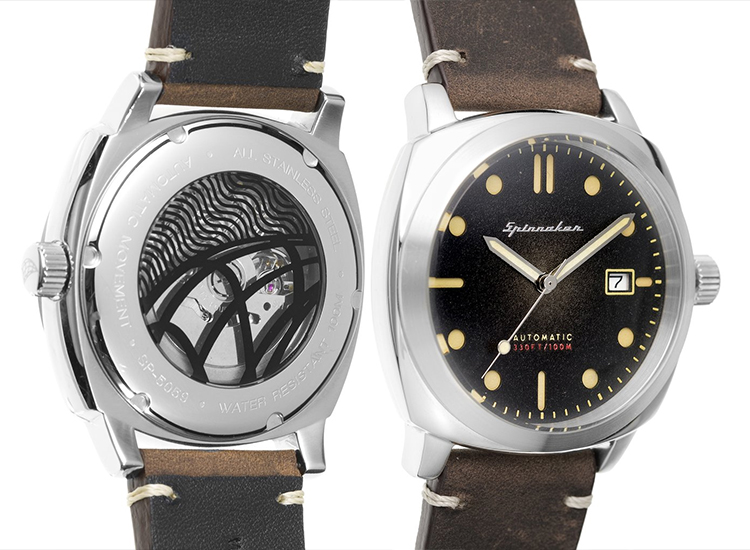 3. Spinnaker Hull
Just like with the Wreck, the Spinnaker Hull takes on the vintage look with all seriousness. It shows a finesse balance between a classic look, modern technology as well as an aged look. While it's not as aged as the Wreck, it still has a vintage feel to it that makes for a great addition for watches with vintage appeal, like a Dan Henry diver, perhaps?
Case & Bracelet
The watch's cushion case is reminiscent of many diver's watches given that it's 42mm in diameter. However, it's only 12mm thick which makes it pretty thin. But it completely makes sense especially that it's a watch without a functional turning bezel. It also has a standard 22mm lug size so it would most probably suit any easy changes with any strap available to you. As with the other Spinnaker watches we've already featured, this timepiece has an exhibition caseback to give a clear look of the Seiko NH35 movement in the watch. Water-resistant for up to 100 metres, it's not as impressive as the Dumas. It surely could do better but it appears that this timepiece focuses more on the vintage aesthetic.
Dial
The watch's fumée dial comes in various colours such as brown, blue, or green. The warm lume comes in a cream colour that makes for a stronger vintage feel. It remains understated, however, with rounded hour indexes and sharp dials. The watch also features a sandwich dial to give it more depth. As minimalist as it looks, the Hull only gives off the necessary information and will definitely appeal to any yacht and watch enthusiast.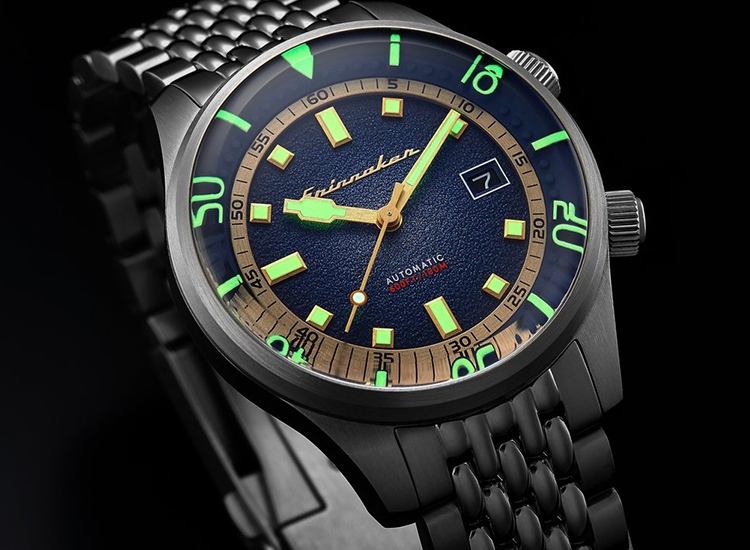 4. Spinnaker Bradner
The Spinnaker Bradner carries the best of modern and vintage looks in one model. It leans on the vintage aesthetic as with other Spinnaker timepieces, but more on the modern side of history.
Case & Bracelet
The watch comes in a smooth 316L stainless steel case with a satin-brushed finish. The compressor-style case features two crowns at 2 and 4 o'clock as well as an inner rotating bezel. At 42 mmin diameter and 15mm in thickness, it remains true to its dive watch aesthetic. It has an exhibition caseback with a flat mineral crystal, showcasing the Seiko NH35 automatic movement. The screw-down crown at 4 o'clock controls the hands on the dial while the one at 2 o'clock controls the inner rotating bezel. Protecting the dial is a sapphire crystal with an anti-reflective coating. At 180m of water resistance, the watch is suitable for swimming but not for diving. This model comes in various straps and bracelets — from a stainless steel bracelet to leather strap.
Dial
The Bradner's dial, given its design, appears to be multidimensional. The depth that comes with it surely looks more modern than vintage, but the inner bezel appears vintage in all sense. It also demonstrates a custom mould with five-minute markers. The Swiss Super-Luminova makes it easier to read even in dimly lit places, from the main dial to the inner bezel.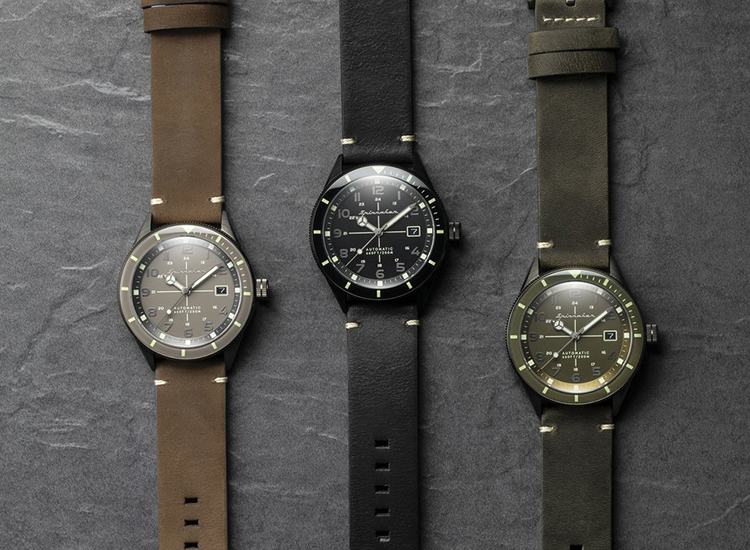 5. Spinnaker Cahill
The Cahill family from Spinnaker came as a tribute to scuba diver James Cahill. This 200m diver goes as far as to echo the imagery of the Rolex 5513. A version also comes with a crosshair dial, a famous design among timepieces.
Case & Bracelet
Vintage timepieces don't usually have large cases but as with other Spinnaker timepieces, it's at 43mm in diameter and 15.8mm in thickness. Yes, it's thick but with its rounded case, it still appears smaller. The watch's sapphire crystal protecting the dial provides efficient scratch resistance as well. With 22mm lugs, changing straps shouldn't be a problem if you'd have any issues with its leather straps. The watch also features a 120-click unidirectional bezel that turns smoothly.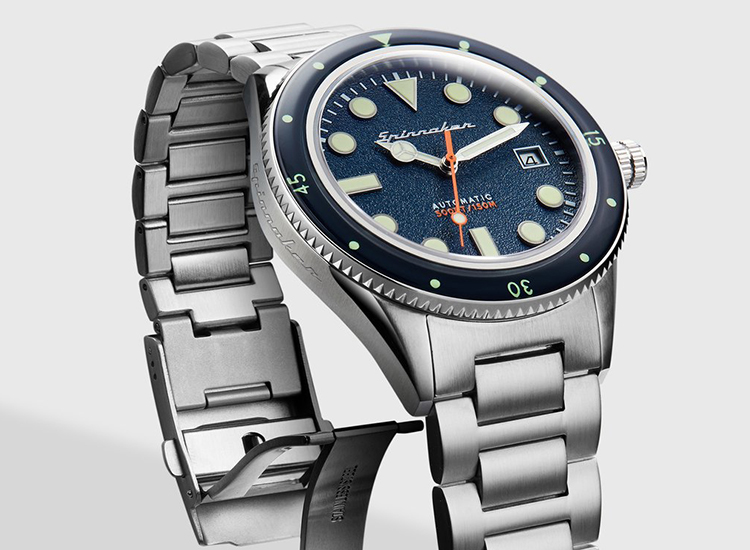 Dial
The utilitarian design comes with a masculine as well as a minimalist feel to its aesthetic. Cahill has various designs when it comes to the dial. One design option comes with Arabic numeral markers while other designs feature only circular markers with bright lume. Another option to the design comes with a crosshair print while another's plain. With the "Mercedes" hour hand, this watch comes with a particularly classic look.
An Early Favourite
The verdict is in, the truth is out — Spinnaker does offer a great selection of quality timepieces. They're very much affordable with great features necessary for anyone who loves exploring the seas and beyond. Whether it's on a yacht or by taking a dive, Spinnaker watches do come in handy for many occasions. The brand truly makes for a strong competitor in the market despite being fairly new to the scene or having been labelled a watch microbrand. Because for a microbrand, it sure makes a huge difference.
---
Vintage watches are making a renaissance thanks to microbrands popping left and right. Check out these Dan Henry watches to see more vintage-inspired timepieces.