Dan Henry is, without a doubt, one of the most popular watch collectors of today. With a collection featured on its very own dedicated website, Henry subsequently opened a brand of his own. Featuring vintage-inspired designs, Dan Henry Watches shortly rose to popularity among enthusiasts. With an affordable selection of watches, the brand grew a massive following since its establishment in 2016.
Learn more about the microbrand's history, its founder, as well as their watch models below.
Who is Dan Henry?
Dan Henry is a collector right off the bat. Henry collected shells, rocks, magnets, and glowy things as a child. However, Henry never knew where his fascination came from. It almost came naturally to him. According to him, the uniqueness of each object drew him to them.
After receiving a Roskopf pocket watch on his 10th birthday, his admiration for watches begun. He spent nights in an attempt to understand the mechanical mystery he obtained. He pursued the engineering behind the watch and admired how it worked without batteries, fuel, or electricity of any sort.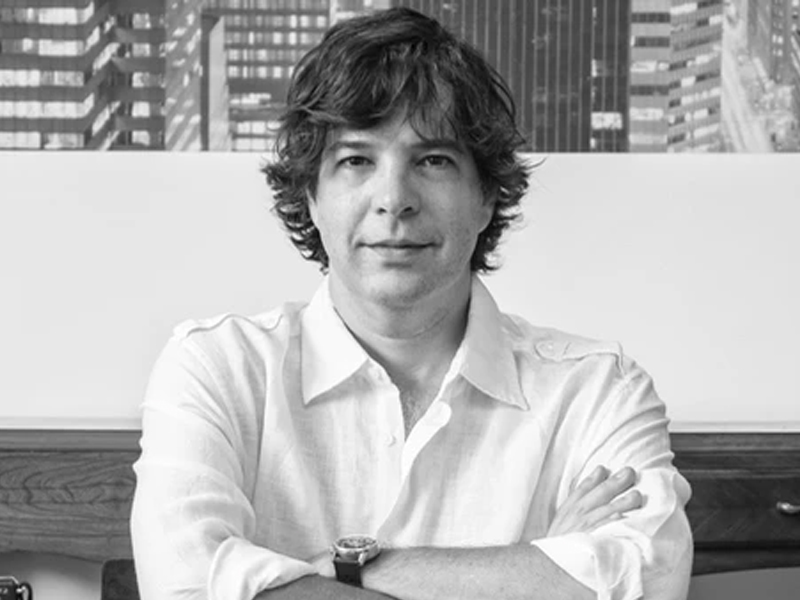 Inside a Collector's Mind
Since then, Dan Henry went on a personal journey in search of appealing timepieces that challenged him. In his search, he had three things to consider before acquiring an item.
Firstly, he considers its beauty. Each timepiece must show the designer's penchant for refined beauty. Watches, after all, are accessories with dedicated functions. Nonetheless, they must carry an aesthetically pleasing quality that would appeal to the collector.
Secondly, he respects the dedication of each watch's maker. Each watch has a designer whose knowledge and understanding of the craft transcends to his work. Henry takes this into account and applauds the time and effort a designer spends on a timepiece. With the complications and microengineering that make up a timepiece, it's only rightful to recognise the watch's maker. Horology requires dedication and commitment and it must show on the watches experts make.
Lastly, he pays attention to each timepiece's historical meaning. The technology of then and now greatly varies and it truly is fascinating to witness how far limited technology goes. With this, Henry acknowledges the groundbreaking aspects of a watch. How each watch changed or revolutionised the industry to what it is today can indeed be rewarding.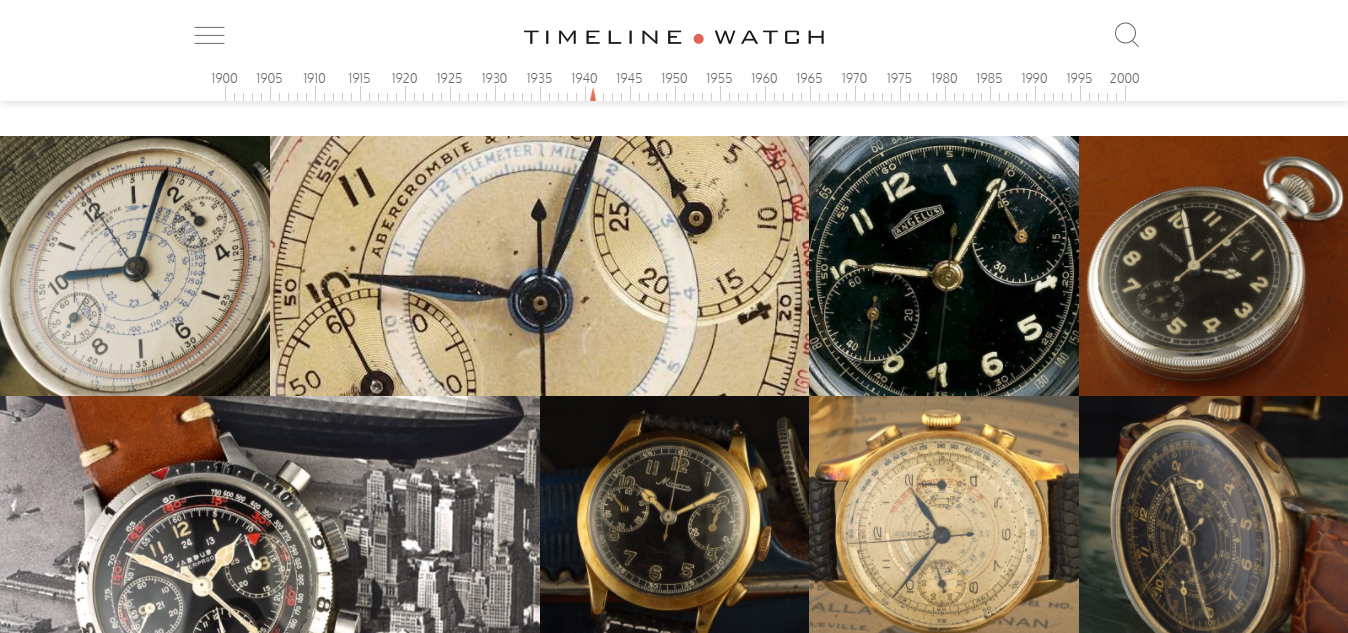 Creating a Database of Vintage Watches
Gradually, Dan Henry built a meaningful collection with each watch exceptional in its own right. He featured his massive collection through Instagram and later opened an interactive website, timeline.watch. Amassing over 1,500 watches, the website features a timeline of each piece Henry has in his personal collection. Arranged in chronological order, the website highlights how technology has improved throughout the years. Through this website, people understood how one brand innovated through technology and the design choices made.
From here, Dan Henry Watches came to be.
The Beginnings of Dan Henry Watches
The watch community gave Dan Henry's collection a lot of attention. It received great interest, especially among vintage enthusiasts. But Henry sought to share more than just pictures of the collection. A lot of vintage enthusiasts seek the very rare timepieces in his collection. However, due to their scarcity and, in select cases, rarity, the watches subsequently end up being extremely expensive. The astronomical price tags of vintage watches end up breaking the hearts of many collectors, especially those working under a certain budget. So, Henry came up with a project that will eventually become the microbrand loved all over the world.
Dan Henry Watches seek to create elegant watches reminiscent of vintage ones at an accessible price. Its purpose ultimately became a vintage watch collector's go-to brand.
Every Vintage-Inspired Dan Henry Watch
The most iconic watches on his personal collection inspired the watches on his brand. They possess tried and tested design as well as a revolutionary technology that changed the way wristwatches work. They're daring and iconic enough to be recognised in today's standards. Today, there are 8 models in the brand's catalogue whose names come from the year that inspired its design. Here are all every vintage-inspired Dan Henry watch from the brand's catalogue.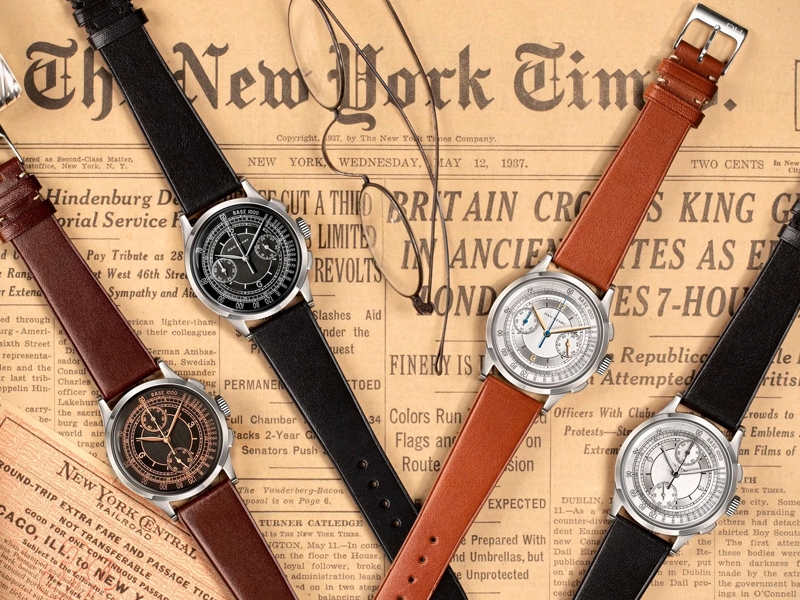 1937 Dress Chronograph
The Dan Henry 1937 Dress Chronograph takes any of its bearers back to the cosmopolitan 1930s with its art deco look. It has four dial and strap designs, and eight colours to choose from. During the 1930s, stylish New Yorkers strutting from the Rockefeller Center to Wall Street don art deco watches. These timepieces stand out with sophisticated elegance with a modern-day twist that sets the decade's fashion direction.
Design
The 1937 Dress Chronograph embodies the greatest elements of the Art Deco design philosophy with its symmetry. Geared toward urban lifestyle, this timepiece doesn't compromise when it comes to design. You can choose from a wide variety of design options with the same great functionality all across.
At 39mm in diameter, the watch is perfect for a gentleman looking for a starter chronograph. Among the design options available are the two sub-dials positioned vertically or horizontally on the dial. You may also choose whether or not to add a date function on your 1937. Moreover, a sapphire-coated double-domed K1 mineral glass with Anti-Reflective treatment protects its dial.
To further the watch's affiliation to 1930s New York, the screw-in caseback features an engraved profile of the New York Central Hudson locomotive, an institution when it comes to Art Deco engineering. The watch also has its serial number from the limited 1,937 pieces in this edition.
Function
It has a complex sector dial with a tachymeter scale that displays prompt speed readings. The square pushers on the side activate the chronograph. Among the watch's features include a 60-minute sub-dial for more accurate time readings. Powered by the Seiko VK64 Mecaquartz movement, the watch's battery can last up to 3 years with normal operation. The expected accuracy for the watch is less than +/- 20 seconds per month at normal temperatures. Furthermore, the watch is splashproof with water-resistance of up to 30m or 100 feet.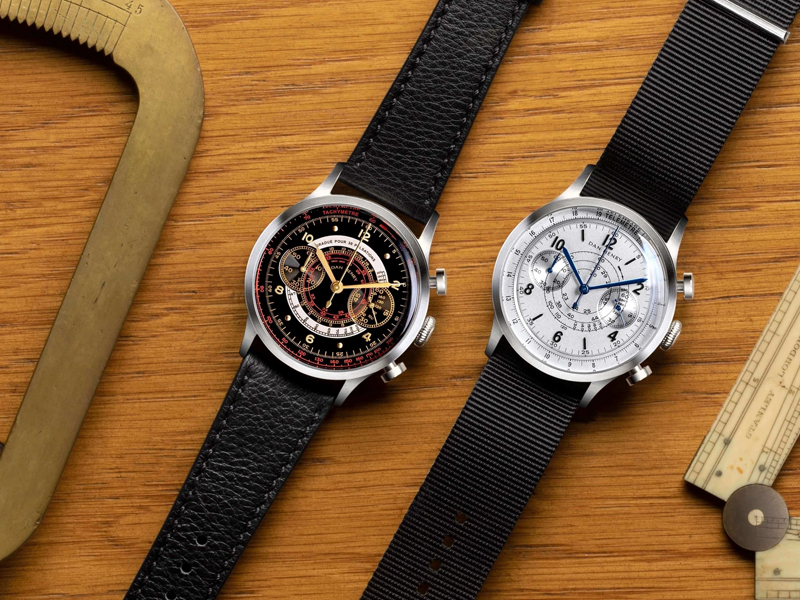 1939 Military Chronograph
The year 1939 truly was a dark year in world history. In September 1, 1939, World War II broke out that claimed the lives of many. At the time, every aspect of the war was important to win in a battle not only for firepower but also wits and courage. During this time, a lot of military fleets require their soldiers to be prepared for anything at all and remained unified amid the chaos. Many nations commissioned watch companies to manufacture watches specifically for their troops.
Design
There are a lot of requirements for a military watch and that includes a robust body, as well as an accurate and precise reading. At the time, large dials are beneficial in the battlefield for optimum reading. After all, troops don't have all the time in the world to figure out the reading on their wristwatches. The 1939 Military Chronograph meets this qualification with a 41mm case. With this, pushers must also be oversized to make operation possible even with gloves on.
The watch also has temperature, fuel consumption, pressure and speed conversion tables on the screw-back case. Just like the limited edition 1937 Dress Chronograph, this watch has a sapphire-coated double-domed K1 mineral glass with Anti-Reflective treatment protects its dial.
Function
The Dan Henry 1939 Military Chronograph has three calculation functions. Firstly, a telemeter to measure the distance that sound travels. Then, a tachometer to calculate the average speed according to the distance travelled. Lastly, it must have a pulsometer to count one's heartbeats specific to its black gloss dial design.
Powered by the Miyota 6S21 quartz movement, the watch can be taken to a quick swim at the pool but not for diving. The watch has a water resistance of 50m or 165 feet. The watch comes with a leather and military-grade NATO-style straps. The 1939 is also limited to, you guessed it, 1,939 editions.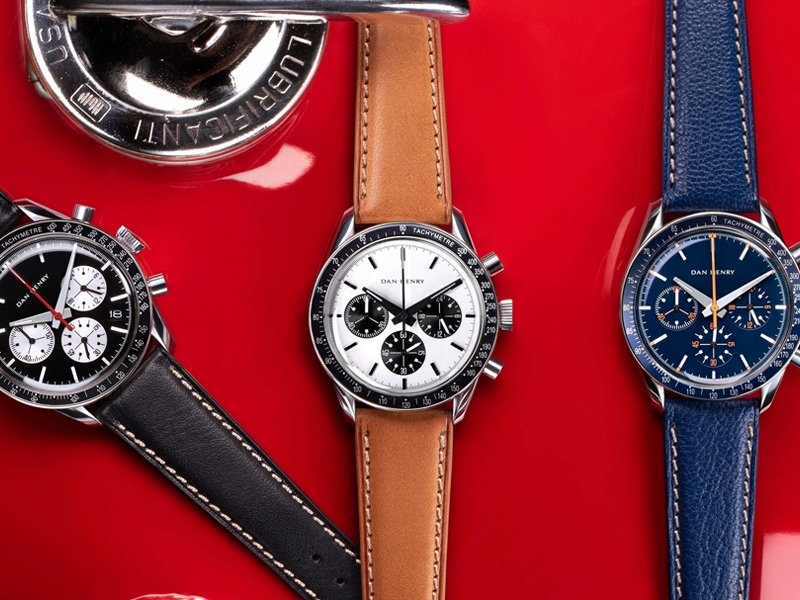 1962 Racing Chronograph
The automotive industry has long been an ally of the watch industry. We've seen various collaborations between watch brands and car brands. It should also be remembered that professional race car drivers are favourite collaborators of various brands. Taking into account the rich history that racing and horology shares, Dan Henry adds various elements to this watch that makes it truly a vintage racing watch.
Design
With a 39mm case, the 1962 Racing Chronograph caters to the traditional size of vintage racing chronographs. It has three dial variations namely Panda, Evil Panda, and Blue. The Panda design features a white dial as well as black sub-dials and bezel. Evil Panda's black dial and bezel contrast this with white sub-dials and a red second hand. Blue, on the other hand, looks fresh with a blue overall face and a yellow second hand as well as sub-dial indexes. Each of the watches has LumiNova for optimal readability.
The 1962 watches also feature a faceted, screw-in caseback with an engraving of Maserati Tipo 60 Birdcage automobile. Alongside this iconic sports car comes the individual serial number from the 1,962 pieces in this edition. The 1962 also has a double-domed K1 mineral glass with anti-reflective treatment.
Function
This sports watch has an external bezel to show an immediate reading of speed. Its sub-dials provide only the essentials such as elapsed time, minutes, and hours. The watch's Seiko calibre VK63 mecaquartz allows for a crisp feel and the performance of a mechanical chronograph. To further the watch's customisation, you may opt for a date or no-date dial. The date version has the 31st day in red that historically refers to past reminders to adjust the date for months with 30 days. You can take the watch for a swim with a water resistance of 50m or 165 feet.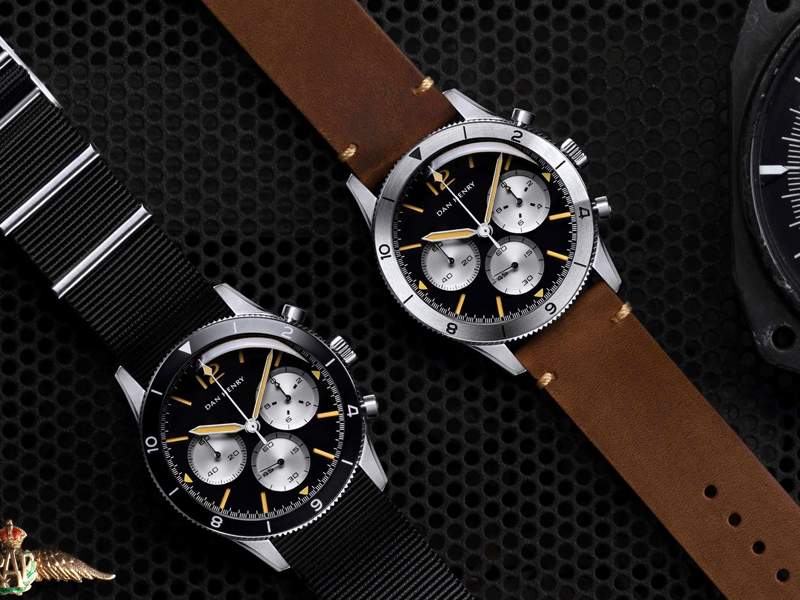 1963 Pilot Chronograph
In the 1960s, flying wasn't only for those fighting the war in military jets. A lot of hobbyists turned to flying and dared to cross nations in daring expeditions. Watches are their companions in the air as they take on these fun adventures. In the cockpit, most pilots need legible watches that are easy to operate and can withstand pressure changes in the atmosphere. Inspired by this, Dan Henry designed the 1963 Pilot Chronograph. This watch takes you to the glamorous '60s in an aeroplane with a leather jacket traversing the sky.
Design
With a large 42.5mm case, the watch caters to a wider dial and therefore increased legibility that pilots need while in the air. The watch also highlights the chronograph complications that help in the maintenance, operations, and flight procedures. The sandwich dial comes with patina Swiss lumens and silver sub-dials. It has large luminescent areas that prove greatly functional during night flights. The watch also has a sapphire-coated double-domed K1 mineral glass with anti-reflective treatment that protects its dial. The 3D caseback displays an embossed Lockheed SR-71 Blackbird spy plane.
Function
Each of 1963's sub-dial functions with a Miyota 6S20 quartz movement, allowing for a 60-minute chronograph at 9 o'clock and 1/10 seconds subdial at 3 o'clock. The watch also has a stainless steel 12-hour rotating bezel tracks longer durations with a 5-minute click. Additionally, the rotating bezel also functions as a GMT indicator. You can take the watch for a quick dip on a pool with a water resistance of 50m or 165 feet.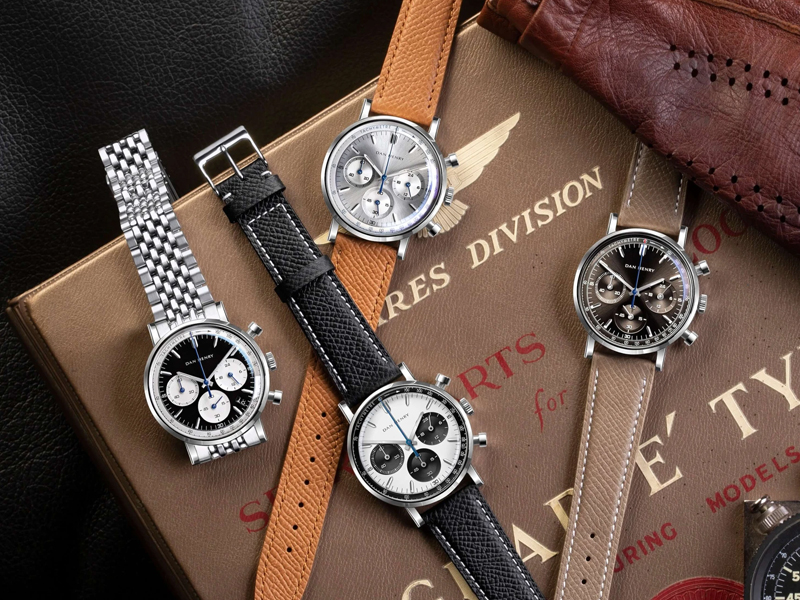 1964 Gran Turismo Chronograph
Everybody who's into motorsports would know the beauty and the thrill of having a grand tourer. We're talking about high-speed long-distance driving popular in the European region. Catering to this grand touring lifestyle, the brand released the 1964 Gran Turismo Chronograph. It's heavily influenced by the watches that accompanied iconic competitions from the past. The 1964 Gran Turismo Chronograph will fire up the high-performance driver in you with an elegantly sporty watch.
Design
Designed after 38mm vintage driving watches, the watch has a clean dial that shows only the necessary information. This includes elapsed seconds and minutes, and tachymeter for average speed. The 1964 Gran Turismo comes in five variations namely White Panda, Silver Panda, Evil Panda, Slate Grey, and Silver. Just like any of the brand's watches, it comes with or without a date window.
In addition, to pay homage to GT sports cars that ruled in the past, the caseback of each watch features an engraved Aston-Martin DB5. The watch comes with a stainless steel bracelet crafted in the classic beads-of-rice style for a flexible function and lightweight feel. However, it also comes with an easy-change leather strap. Each of the watches has LumiNova for optimal readability.
Function
The 1964 Gran Turismo impresses with a tachymeter, a 60-min chronograph as well as a 24-hour indicator. Powered by the Seiko calibre VK63 mecaquartz movement, the watch has a crisp feel with the performance of a mechanical chronograph. Take it for a swim with its 50m water resistance.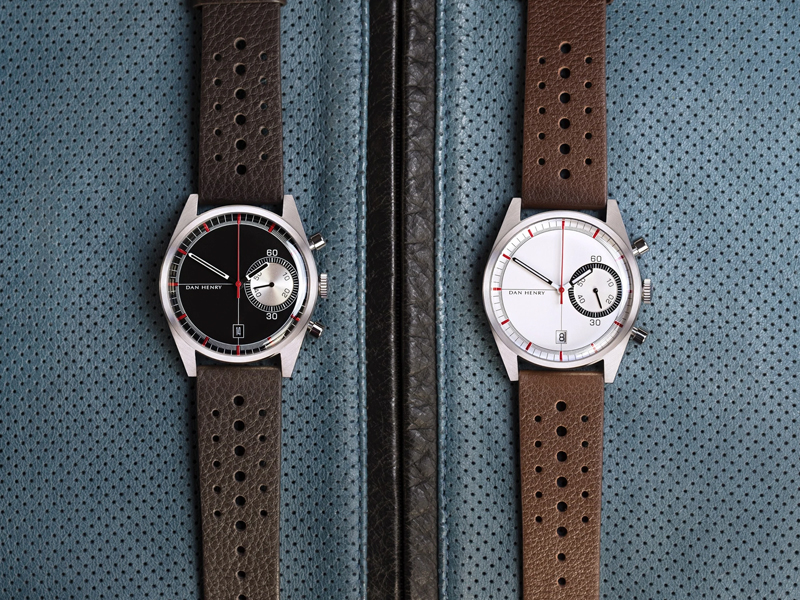 1968 Dragster Chrono
The 1968 Dragster Chrono is as minimal as a minimalist vintage watch can get. This watch successfully captured the modernist design of the era with its simplicity design-wise. This minimalist watch is the most unique on the list. With a clever mix of imbalance and asymmetry with elegance, this watch truly upholds the 1960s design. It graduated from the dressy and fancy designs of the 1950s to a sportier dial with only the essentials on display. Highlighting contrasts, this watch keeps traditional watch design with new perspectives. At a time when racing events ruled the roads, lap timing was truly essential for every watch enthusiast.
Design
The 1968 Dragster Chrono focuses on the minutes passed as well as the seconds' chronograph hand. The watch has red second hands as well as chronograph hand for a focused reading. It also has red 5-minute indexes that strike its bearer with the essential information in style. The watch comes in a 41mm stainless steel case with a screw-back case back engraved with a 3D maze. As per usual, this watch's dial has the sapphire-coated double-domed K1 mineral glass with Anti-Reflective for optimal protection.
Function
Unlike the other models, this watch has no option for a no-date-window dial. At 6 o'clock is a sleek date window and at 3 o'clock is a second sub-dial. Powering through with a Miyota 6S20 quartz movement, the watch has an accuracy of about  +/-20 seconds/month.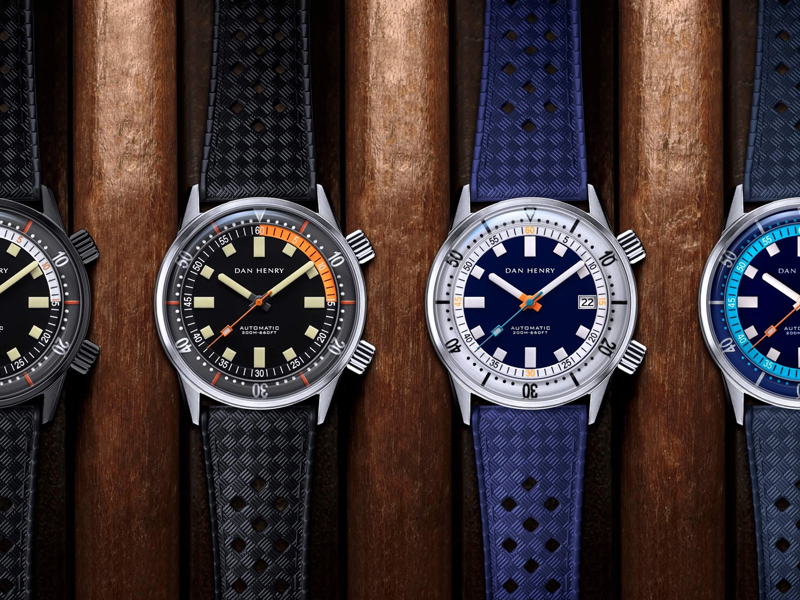 1970 Automatic Diver
From driving to diving, watches have come a long way. From the sky to the land now to the seas, the 1970s saw the rise of automatic divers. Practical diving equipment begins to innovate to cater to the intrepid thrill-seekers of that generation. Today, we live to experience it with the 1970 Automatic Diver. What was used to tell divers when to return to the surface has come a long way. There are a lot of challenges to making a diver with water resistance being the hardest. Not only does it have to survive submersion on water but also pressure changes. The 1970 Automatic Diver dares this with new tech and classic designs.
Design
Following classic designs, the 1970 Diver has an inner bezel that times each dive. This isn't only for style purposes as it's a revolutionary step to solve the water-resistance problem divers had then. The 40mm watch promotes legibility with large handset and indexes as well as bright colours to boost. The crowd definitely favours the orange tint against a black background. With a sapphire-coated double-domed K1 mineral glass with Anti-Reflective treatment and LumiNova, the watch remains visible when worn at great depths over a wetsuit. This automatic watch also has large crowns for better operation even when wearing a wetsuit. This watch also has a screw-in caseback engraved with a Scaphtopus 3D medal.
Function
The 60-min inner rotating bezel can be controlled through the 2 o'clock crown. Meanwhile, the 4 o'clock crown adjusts the time. The watch's automatic Seiko calibre NH35 has 24 jewels and 41 hours of power reserve. It functions at 21,600 beats per hour with -20~+40 seconds of accuracy per day in normal conditions. This diver goes as deep as 200m or 660 feet.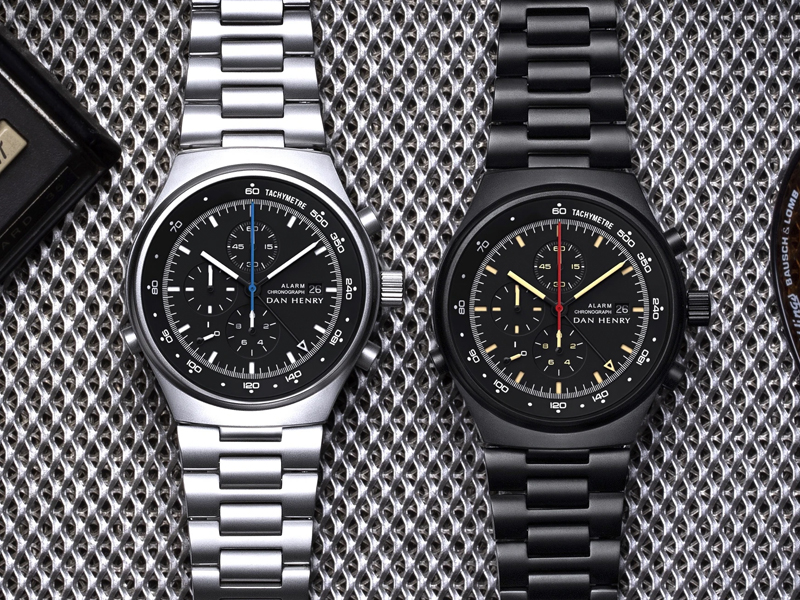 1972 Chrono Alarm
The 1970s marked the birth of super watches. From high-powered divers to high-precision chronographs, engineering takes the front seat this era. With the problems of oceanic adventures solved and the space conquered as well, earth waited for its turn for a taste of quality watches. As everything became faster and faster on the ground, the Concorde generation was born. Thrills and speed double up and pump up a generation of enthusiasts. Perfect to embrace the engineering prowess of 1972, the Chrono Alarm comes.
Design
The 41mm watch comes in either black or silver designs. Both, however, have black PVD sandwich dials with Swiss lumens, contrasting Chrono hand and central alarm. This high-contrast design embraces the minimalist design that makes everything relatively more readable especially when in fast-paced situations. With a complex design, making a watch legible can become a challenge that only simplicity can answer. To further the class of the watch, it's also individually numbered with a limited-edition screw-back case. Engraved with the Ducati 750 Imola Desmo medal, it's the poster child for all things fast.
Function
The 1972 Chrono Alarm can be the ultimate pilot watch especially with a 12-hour chronograph, alarm, sapphire crystal, and tachymeter. In addition, it has a 60-min Chrono sub-dial at 12 o'clock and a 1/10- second sub-dial at 6 o'clock. The date window is at 3 o'clock to perfectly balance the design and the alarm indicator is at 7 o'clock. All these possible through the watch's Miyota 0S80 quartz. It's resistant to brief encounters with water at 50m or 165 feet.
The Affordable Vintage
With vintage watches continuously fascinating collectors, it's hard to find ones that suit the budget. Dan Henry Watches allow every collector to experience vintage without breaking the bank. They're respectful to watch histories and the pioneers as seen through their designs. These watches should definitely be any new collector's must-have. Its vintage look plus modern technology truly makes for a great buy.
---
A fan of vintage watches? Check out these MeisterSinger Single-Hand Watches that are truly vintage.
---
Photo credits – Featured | 1 | 2 | 3 | 4 | 5 | 6 | 7 | 8 | 9 | 10