I'm sure that the beloved Seiko SKX needs no introduction. Indeed, it is one of the most famous watches in the community. A lot of people even say that owning one is a rite of passage to becoming a watch aficionado. Although that is going a little too far.
This watch is often referred to as "the perfect beater" mainly due to its impressive build and durability. But that's just the tip of the iceberg. Read on to find out what made it earn its current reputation.
Seiko SKX Specs
Case material: Stainless steel

Case dimensions: 42.5mm

Movement: Automatic

Power reserve: 41 hours

Water resistance: 200m
1. Case
For a dive watch, the Seiko SKX has an average size. Its case measures 42.5mm wide with a lug width of 22mm. However, it is quite thick at 13.25mm. Note that this characteristic is commonly found in Seiko divers.
When it comes to design, it borrows different elements from previous models. When compared side by side, you will see a lot of similarities between it and its ancestor model called the 7002. Meanwhile, the sides are highly polished while the lugs feature a fine-brushed finish.
One unique thing about the Seiko SKX is the placement of its crown. Typically, you would see it beside the 3 o'clock marker. In this case, it is positioned at 4 o'clock with a pair of crown guards to protect it. Indeed, the design is unorthodox, but it keeps the crown from digging into your skin thus making it more comfortable to wear.
2. Dial
There is only one word to describe the Seiko SKX's dial — utilitarian. It also features a matte background. Meanwhile, most of the hour markers are white and rounded to give it a nice contrast. An exception to that rule are the day and date window at 3 o'clock and the inverted triangle at 12 o'clock.
Furthermore, the hour and minute hands are thick and easy to read. The minute hand comes in a sword shape, while the minute hand looks like a stylized arrow with a broad base. In addition, both of these hands have a needle tip and have a sufficient amount of luminous material.
Speaking of lume, the Seiko SKX has the LumiBrite solution. This luminous paint is longer-lasting, brighter, and completely free of radioactive substances. This ensures safety for both the wearer and the environment. Furthermore, it can last up to five hours in the dark, which is 10 times longer than the average lume. 
Protecting the dial is a Hardlex crystal that has a flat face and chamfered edge. This material offers great protection against shattering. However, the downside is that it is less resistant to scratches compared to sapphire.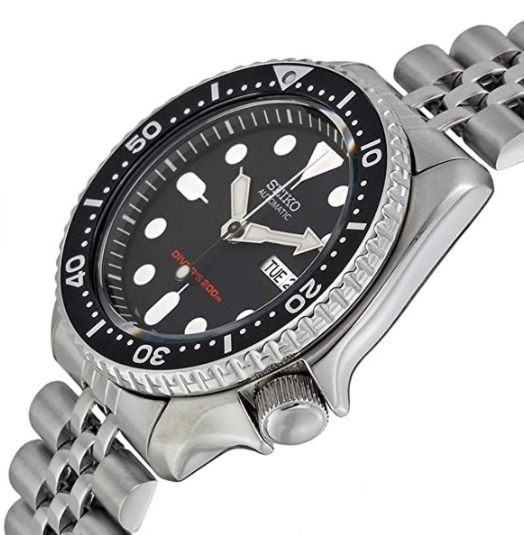 3. Bezel
Like any other diver, this one features a unidirectional 120-click bezel. In my opinion, this part of the watch is the most well-executed. In fact, it is considered as the most iconic part of the Seiko SKX.
At the side, it has a two-tiered groove pattern that gives the wearer a more secure grip. Even if you are wearing gloves, this would still be easy to adjust and manoeuvre. And unlike bezels in other cheap dive watches, this one rotates in half-minute increments. Indeed, a lot of affordable divers have bezels that click in whole minutes.
Its high quality is evident in the way it moves. The bezel moves smoothly and the tip of the triangle marker lines up perfectly on the index mark — very impressive considering the cost of the whole watch.
4. Movement
Under the hood, the Seiko SKX uses the 7S26 calibre. It is a simple self-winding movement that features a quickset day and date complication. Apart from that, it has an automatic bi-directional winding made possible using Seiko's patented Magic Lever System. The movement has a total of 21 jewels and beats at a frequency of 21,600bph.
However, the 7S26 movement does not feature a manual winding and hacking system. Although this is a very minor detail considering the price of the watch. And in terms of accuracy, its rating is approximately -20 to +40 seconds per day. While this is considered as average, it is enough to get you by on your diving session.
Fortunately, the calibre makes up for it with the Diashock protection system. This means you don't have to worry about bumping it during your activities. And frankly, you will find this feature more useful than the hacking system when it comes to dive watches. Durability has been the top priority of the watchmakers behind this movement.
Diving Capabilities
The Seiko SKX has everything needed to be considered as a "true dive watch". Simply put, the Seiko SKX adheres to the standards of the ISO 6425. A few of those requirements that the Seiko SKX has are the following:
A water resistance rating of at least 100m

Has minute markings that are clearly distinguishable on the watch face

Readable at 25cm in total darkness

Resistance to magnets and shocks, and chemicals

Has a unidirectional bezel with markings at least every 5 minutes

Has an indicator that a watch is running in total darkness (usually comes in the form of a seconds hand with a luminous tip)

The solidity of the strap or band
Needless to say, it is very impressive that a watch at this price point has passed these requirements. No doubt, the Seiko SKX is a very capable and reliable dive watch and you should not worry about it malfunctioning during a dive session.
Seiko SKX Models
The Seiko SKX dive watch is available in two models — the SKX007 and SKX009. In case you were wondering, these two are the same watch. And the only difference between them is the colourway.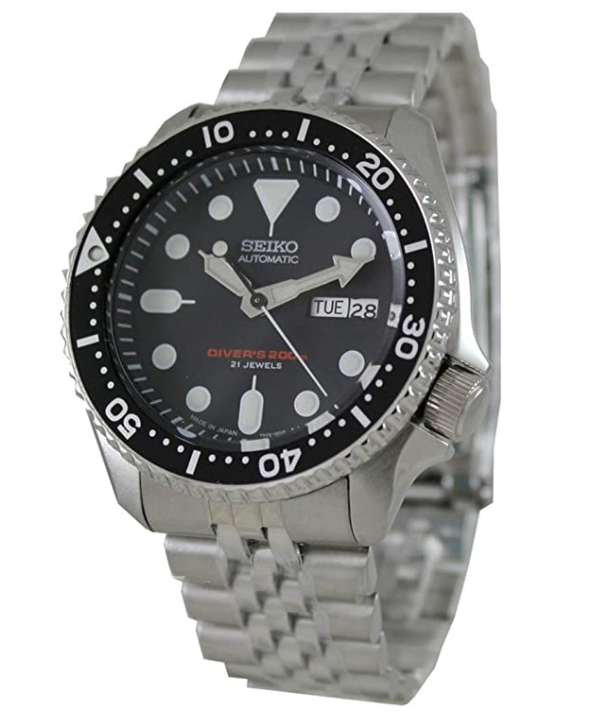 Seiko SKX007
The SKX007 is for those looking for a simple design. It features a matte black dial with a black bezel. In my opinion, this is perfect for people who want a simple and clean watch.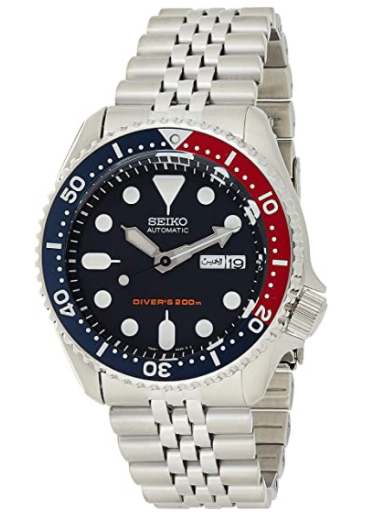 Seiko SKX009
For a bolder choice, the SKX009 fits the bill. It features the famous Pepsi colourway. In other words, about a quarter of the bezel comes in red. Meanwhile, the rest comes in dark blue. Just like the colour scheme of the famous soda with the same name.
Pros and Cons of the Seiko SKX
Pros
1. The Seiko SKX is very affordable.
There's a good reason why the SKX is often recommended for beginners. And it is because it offers tremendous value at an affordable price tag. It is ISO-compliant, durable, and legible. Indeed, you will get your money's worth with the SKX.
2. It is durable.
If there's one thing that the SKX does best, it's being durable. There is no doubt that this watch has great build and quality. You can drop it and bump it against rough surfaces and it will still work. With that said, you can trust that the SKX will be able to serve you for years.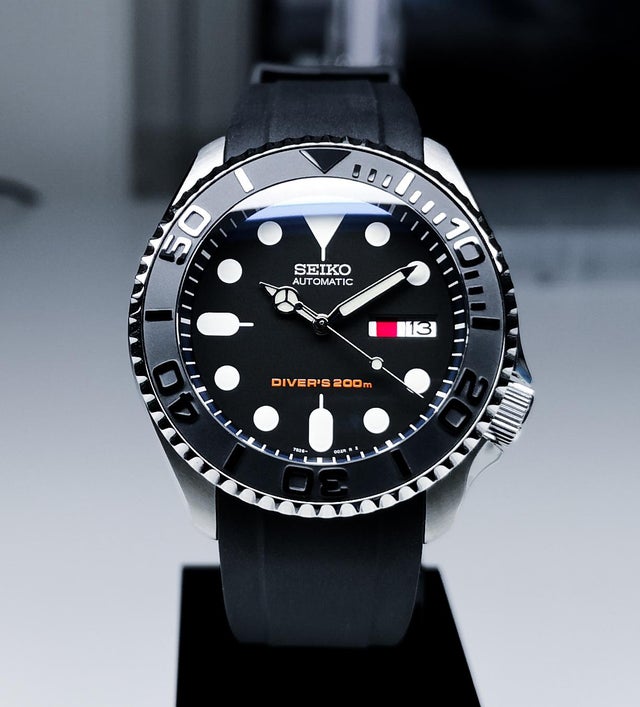 3. Has a lot of aftermarket parts and mods available.
One of the things that fans love about the SKX are the mods available. The market is filled with different dials, bezels, and hands that you can use for your watch. Thus, it is very easy to make it more personal. A few popular mods you can do are the Yachtmaster bezel, a Submariner-style bezel, and a 24-hour bezel among others.
Cons
1. Uses an outdated movement.
While the SKX's movement is not terrible, it is also not outstanding. And many people complain about its lack of certain mojos. In particular, it doesn't offer the hacking and hand-winding features. To add, a lot of watches in its price range offer the said features. That being said, the SKX may not be a good match for you if those features are a must-have for you.
Alternatives to the Seiko SKX
Unfortunately, the Seiko SKX has been discontinued by Seiko in 2019. You don't have to panic, though, as I'm sure that some resellers still carry your beloved timepiece. In fact, a lot of people don't think that the SKX will be going anywhere, thanks to its status. 
But just in case, here are a few alternatives to the Seiko SKX that are just as impressive when it comes to diving.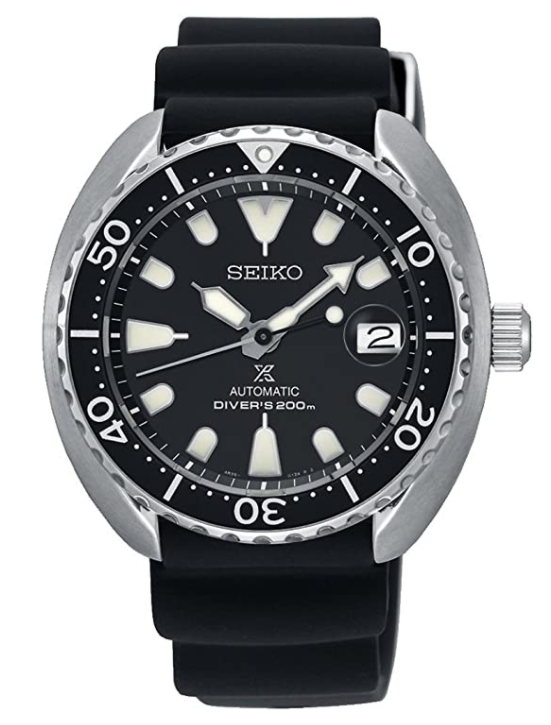 1. Seiko Mini Turtle
Why is it good?
What better alternative than another dive watch from the same brand? The Seiko Mini Turtle has roughly the same dimensions as the Seiko SKX. In particular, it measures 42.3mm in width and 13mm in thickness. 
However, the shapes of their cases are easy to distinguish from one another. Apart from that, its crown is located at the 3 o'clock position instead of the 4 o'clock position. But in terms of diving skills, it is as capable as the Seiko SKX with a water resistance rating of 200m.
Furthermore, it uses the 4R35 calibre that is reliable. Unlike the movement that the Seiko SKX uses, this one has only a date complication. Whereas the Seiko SKX indicates both the day and date.
Seiko Mini Turtle Specs:
Case material: Stainless steel

Case dimensions: 42.3mm

Movement: Automatic

Power reserve: 41

Water resistance: 200m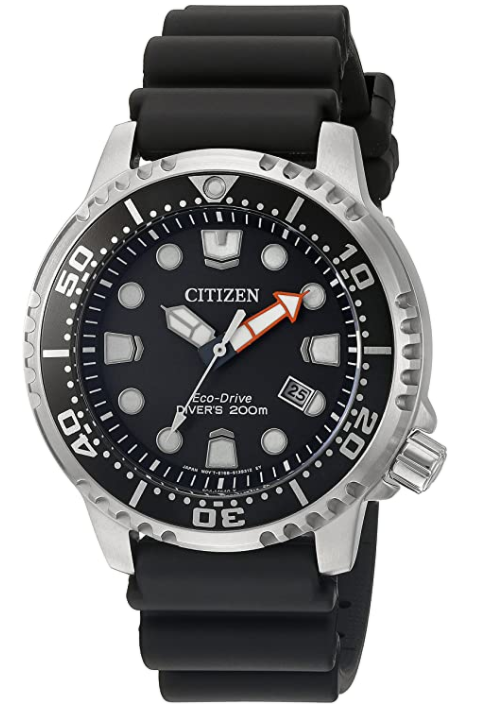 2. Citizen Promaster Diver
Why is it good?
The Citizen Promaster Diver is another watch that receives a lot of love in the community. It does the job well and has a good quality-to-price ratio. Just like the Seiko SKX, this watch has round hour markers and large hands. To add, it bears the same matte black dial that the SKX has.
One major difference between the two watches is the movement. While the SKX uses a self-winding one, the Promaster Diver uses solar-powered quartz. Despite being quartz, the Promaster Diver offers great convenience as the watch draws energy from light. Thus, you wouldn't have to change its battery every now and then.
When it comes to diving, it has everything you could ask for. It has the same 200m water resistance and it also meets the standards of the ISO. Indeed, this is a good alternative to the SKX if you want to deviate from mechanical watches.
Citizen Promaster Diver Specs:
Case material: Stainless steel

Case dimensions: 44mm

Movement: Quartz

Power reserve: n/a

Water resistance: 200m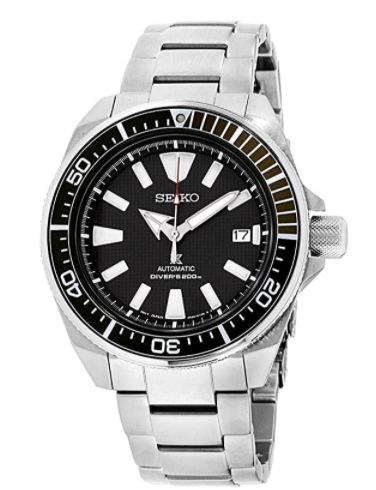 3. Seiko Samurai
Why is it good?
Another good alternative is the Seiko Samurai. This is especially recommended for people who are looking for a watch with a modern design. To demonstrate, its hour markers are made with thick rectangles while its hands have a sharp edge. It also has a textured dial to keep things visually interesting.
Looking past the design, you can also see an upgraded specs sheet. Its 4R35 calibre features both hacking and winding functions which the SKX lacks. Apart from that, it retains the ISO 6425 certification, making it a very reliable dive partner.
With that said, the Seiko Samurai is for people who are looking for everything the SKX can do but with a modern twist to the aesthetics. You definitely can't go wrong with this one.
Seiko Samurai Specs:
Case material: Stainless steel

Case dimensions: 44mm

Movement: Automatic

Power reserve: 41 hours

Water resistance: 200m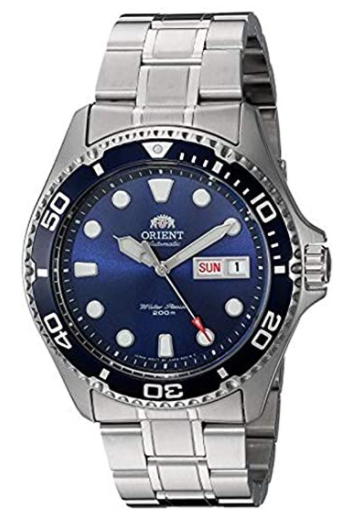 4. Orient Ray II
Why is it good?
The Orient Ray II is the direct competitor of the Seiko SKX, which makes it one of the most logical alternatives to the SKX. In fact, a lot of beginners start with either of the two as their first dive watch.
When it comes to aesthetics, the Ray II shares the same round indexes that the SKX has. To add, the Ray II offers the same colourway — Pepsi and black. But while both watches share the classic look of a dive watch, the Orient Ray II has a bit more elegance and refinement, whereas the SKX is more utilitarian.
Apart from the design, the Ray II also boasts a reliable diving pedigree. It has a water resistance rating of 200m, a screw-down crown, and a 120-click unidirectional bezel. To make the deal sweeter, its movement offers both hand-winding and hacking features.
It is also one of the cheapest dive watches on this list. So to conclude, the Orient Ray II offers great value for your money if you're looking for an alternative to the SKX.
Orient Ray II Specs:
Case material: Stainless steel

Case dimensions: 41.5mm

Movement: Automatic

Power reserve: 40 hours

Water resistance: 200m
Final Notes
Based on the primer above, there is no doubt that the Seiko SKX is deserving of its reputation. And despite the watch being discontinued, its fan base did not waver. There is no denying that this model has jump-started dozens of dive watch collections. And I'm pretty confident that it will continue to do so in the coming decades.
Looking for more Seiko watches? Check out our review of the Seiko Arnie!