Whenever you think of which watch companies to patronize, Rolex, Breitling, and Omega probably come to mind. Those are all great companies on which to build your watch collection foundation, but they are all from the old guard. 
Over the last two decades, there has been an expansion in the number of watch companies. They are known to offer just as much luxury and functionality but get little acknowledgement. In addition, they offer watches designed with a vintage style and high-quality craftsmanship. 
One of these new companies is the German watch manufacturer, Nomos. As such, we shall discuss just why you should get a Nomos watch or at least have them on your radar for your next purchase.  
So let's find out more about this brand, some of its best models, and why they're worthy of purchase.
What Exactly Is Nomos?
Though they are well known in their home country of Germany, only in the last year or two has Nomos begun to gain traction in other parts of the world. This company began operations in 1990 — just a few months after the fall of the Berlin wall. 
Nomos' first headquarters was situated in the former DDR. This small city known for its fine watchmaking ability is just an hour away from Dresden where the company's first factory was located. 
Nomos focuses on offering limited edition finely crafted timepieces that include their own proprietary parts and mechanisms.
Nomos Watch Models
Over the past two decades, Nomos has strived to flourish in quality, not quantity. Thus, they often release limited amounts of watches, making them highly sought after and very collectible. 
Nomos delivers around 50 watches a year. So here are some of their best models available today:
1. Nomos Tangent Neomatik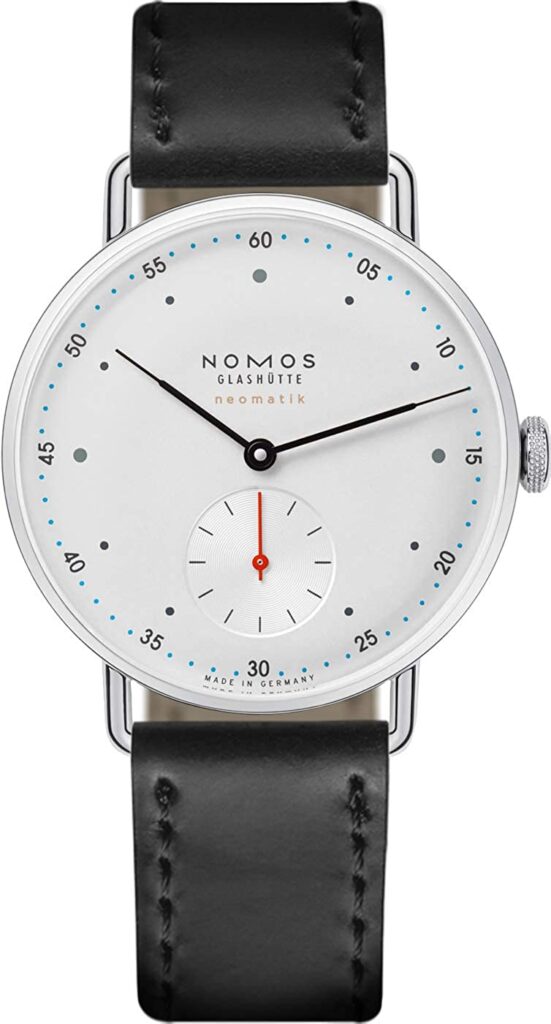 This Bauhaus inspired watch takes the edicts of the famous Bauhaus movement and shrinks them down into a simple design that is clean and legible. Though this watch may be lacking in fancy flourishes, its clean and crisp design makes it an excellent watch for the everyday t-shirt and jeans kind of guy. 
Buyers might face possible problems with the lug width which can complicate in changing the straps. Nevertheless, this watch is a stylish and functional accessory that would be good to have in any collection. Its classic manual winding movement enables the user to have a good power reserve and a highly accurate timepiece.
Features
Stainless steel case with a sapphire crystal back (35mm)

Sapphire crystal and scratch-resistant lens

Automatic Nomos calibre (DUW3001)

Water-resistant up 30-metres

43-hour power reserve

Watch face designed in Bauhaus era motif
Price
$3460
2. Nomos Orion 38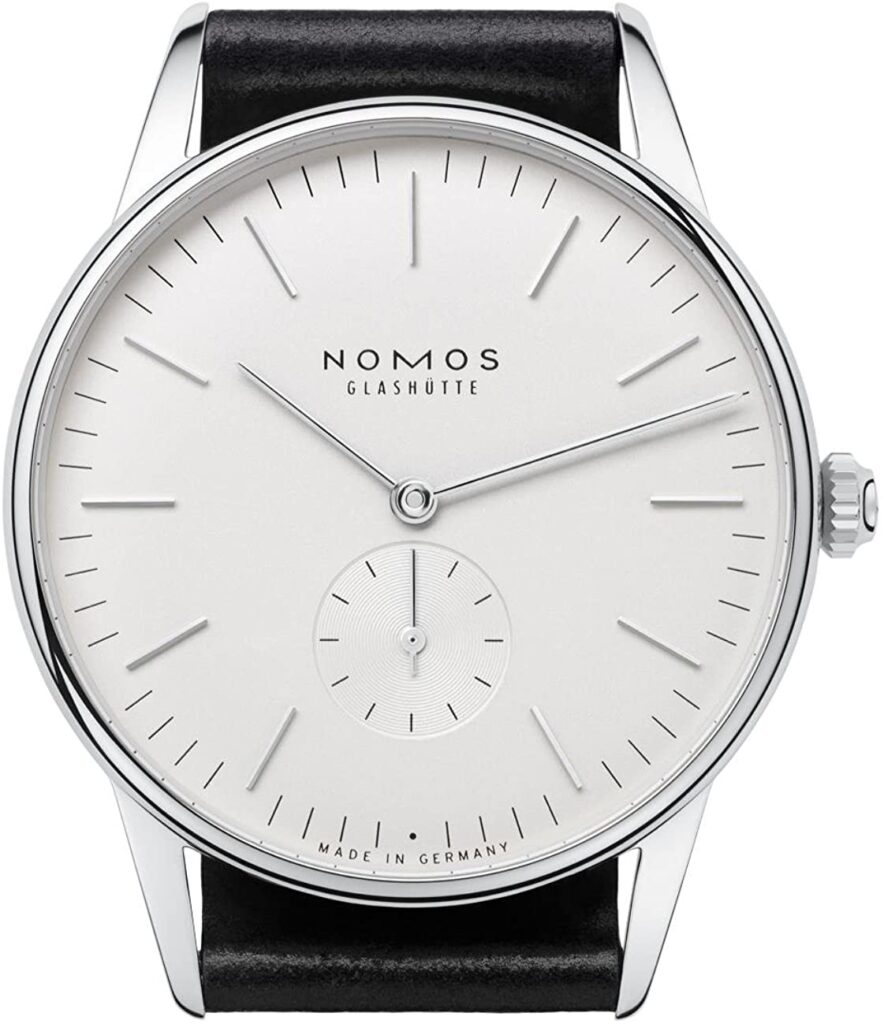 Sometimes the simplest things are the most beautiful and undistinguished. This is definitely true with the Orion 38. Once again incorporating the design ideas of the German Bauhaus movement, this simple yet elegant watch does what it is made to do. 
Sometimes, watches meant to help make your life easier only end up making your timepiece more of an accessory. Not so with this watch. 
The readability of the watch's hands is not obstructed unlike other watches with more features. With high-grade stainless steel and a sapphire domed lens, this watch can take whatever you throw at it and maintain its appearance. 
The exterior casing and overall design are often considered as this watch's most renowned features. But we would be remiss if we didn't talk about the internal gears and workings of this highly accurate and reliable piece. 
Using their own proprietary movement, this watch houses the Alpha Caliber that most Nomos watches are known for. So all in all, with the Nomos Orion, you get a sleek and stylish watch that accurately tracks time and is easy to read. 
What more could you ask for in a watch?
Features
Stainless steel case with tripartite stainless-steel back (38mm)

Sapphire Crystal glass domed lens

Water-resistant up to 30-metres

Power reserve lasting 43 hours

Alpha manual movement
Price
$ 2260
3. Nomos Ahoi Date Siren Blue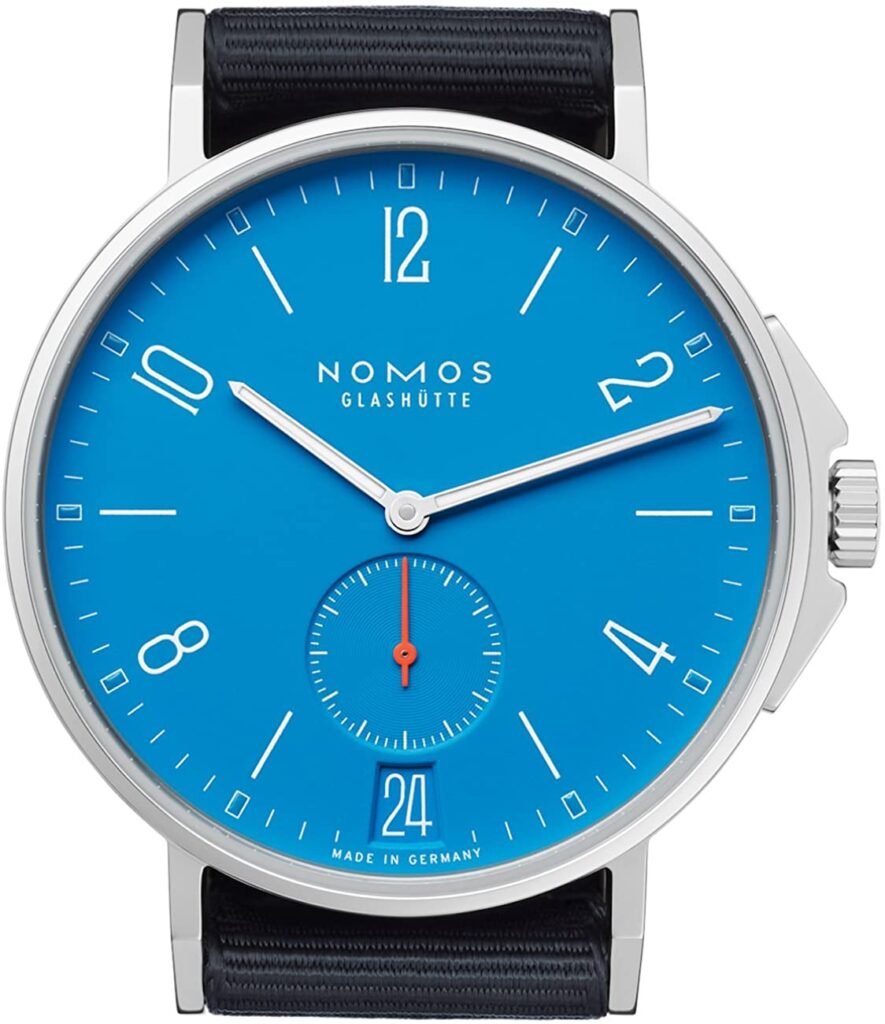 The original model of the Ahoi was released back in 2013 and this more recent version is not that much different. 
This watch includes a smaller case, a date display, and some fun watch face colours to choose from. Not only that, but the fresh coat of paint makes this minimalistic watch stand out among other models. 
This watch also offers illuminated hands and indicators. Furthermore, it is fitted with a thinner movement not only to ensure reliability but also a thinner wrist print. It is also one of the most comfortable to wear as the strap itself is designed with a nice nylon strap of the two-piece variety. 
This beautiful watch is great for casual outings or even informal business meetings. It can also grab people's attention without being too pretentious. Overall, the Ahoi has the ability to exude a classic and minimalistic design with a style and elegance that only few other watches can.
Features
Stainless steel case with a crystal glass back and screw-down crown (40.3mm)

Sapphire crystal glass domed lens

Water-resistant up to 200-metres

Automatic manual winding calibre (DUW5101)

Power reserve lasting 42 hours
Price
$4660
4. Nomos Zurich World Time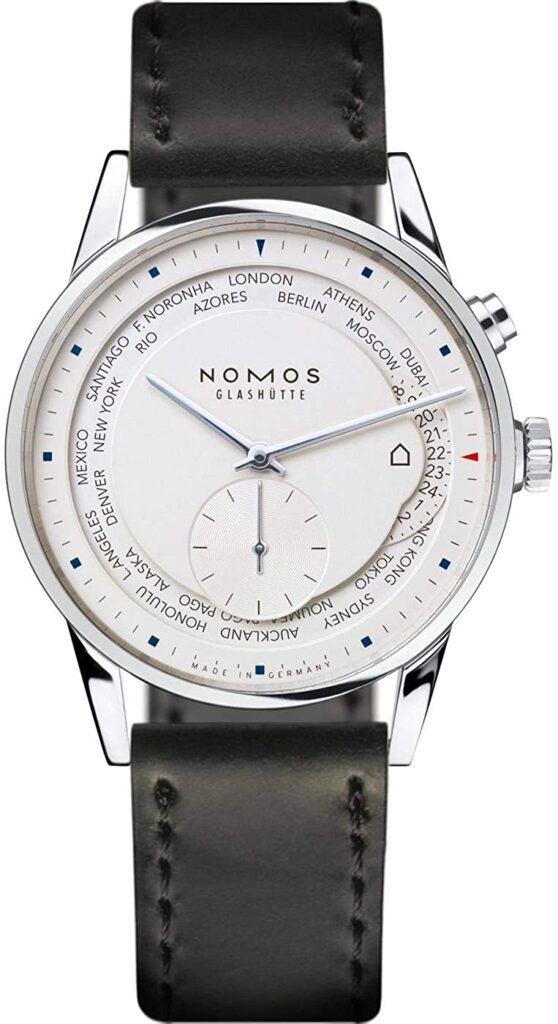 This may look like a complicated timepiece, and it certainly requires a bit of adjustment. Nonetheless, if you are a traveller, this watch is a great choice for you. 
With two built-in time zones, this watch allows you to keep an eye on the time wherever you go. It includes 24 separate cities that all coincide with a specific time zone. 
Whenever you need to adjust to a new time zone, all you have to do is turn the dial until it matches the correct time. The clock itself has a prestigious look and will surely catch the eye of many people.
Due to its reliability and functionality, the Zurich World Timer is one of Nomos' most expensive options. Hence, this model might not be within reach for all watch collectors except for those with enough cash. 
Overall, if you want a watch that can keep up with a jet-set lifestyle, this is the watch for you.
Features
Stainless steel case with a tripartite sapphire crystal glass back and fixed screws (39.9mm)

Anti-glare sapphire glass-domed lens

Nomos automatic calibre (DUW5210)

Power reserve of up to 42 hours

Water-resistant up to 30-metres

Comes in multiple variations
Price
$ 6100
These are just a few of the best watch models from Nomos. Among these fantastic options, there is always something for everyone, especially those who appreciate clean, crisp designs similar to Nomos' Bauhaus stylings.
How Valuable Are Nomos Watches?
Often times when you are looking into investing in a timepiece, especially if you're willing to drop a few thousand dollars, you want to consider its value. As with cars, watches naturally lose value the minute you use them no matter their brand. 
As such, despite having a large following and being considered rare, Nomos watches are no exception. Nonetheless, if you're on the lookout for high quality and high performing watches, these watches won't leave you feeling sorry.
Final Thoughts
Whether or not you're a loyal purchaser, there's no doubt that this watch company brings a lot to the table. With a focus on sleek and functional style, Nomos brings a breath of fresh air to the watch market with its simplicity. 
In addition, the Nomos company has taken it upon themselves to hold themselves highly accountable for buyers' watch experience, not something you would find elsewhere.  
This attention to detail and pride in their craftsmanship makes Nomos unique. Hence, if you're looking to update your watch collection or simply looking for a fitting and reliable watch, choosing a Nomos model is a great choice.
If you enjoyed this article about why you should get a Nomos watch, why not have a look at 7 Super High-Tech Watches That'll Surprise You.