The Rolex Oyster is a name most people wouldn't think twice of reading. They might even think of this as being one of the many variations of the standard watch that Rolex has learned to perfect over many years. Alas, this is not the case.
Some say that the story of the Rolex Oyster is the story of Rolex as a whole. In fact, the Rolex Oyster is one of the most important inventions by Hans Wilsdorf. This revolutionary watch remains one of Rolex's best-selling models to this day.
In order to understand the present, we must first take a look at the past and see how we got here.
Hans Wilsdorf founded Rolex in London, England over 100 years ago. At Rolex's beginning, all watches in the United Kingdom were basically identical. They each had a clock face and a belt-like strap.
Additionally, one could even screw off the protective covering for the watch face which would sometimes fall off altogether. This made maintaining a beautiful watch a difficult and trying process. Due to this inconvenience, water, dirt, and grime would creep its way inside the watch case. The watch would thus become mouldy and corrode from the inside out. Yuck, right?
Well, if you've ever come into contact with a Rolex watch today, you'll see that it's a far cry from the way the company's models were a long time ago. So, why not take a look at the journey these watches went through?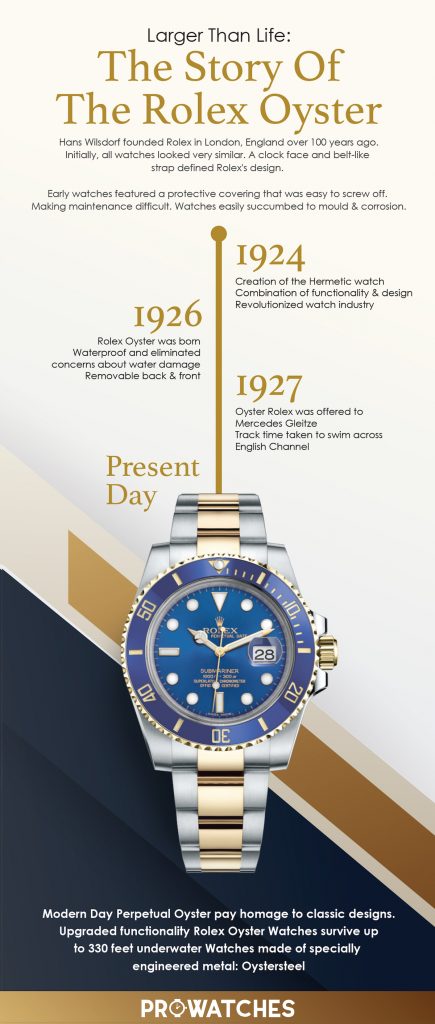 Early Models

Hans Wilsdorf knew there was a better way to create watches, and he knew he himself to be the one to make them better for all. So that's exactly what he did.
In 1924, Wilsdorf created the Hermetic watch. This innovative type of watch mixed style with functionality as dirt and moisture could no longer reach the watch's interior. This model had a sleek, glossy design, and it also protected the device from external elements. Now no-one would have to deal with mouldy wrist decorations.
The technology for this new hermetic style watch was rather brilliant yet simple. It would go on to revolutionize the watch industry and leave a lasting impact for years to come.
How the technology worked was that one watch had a corkscrew imprint attached to it, and another had that same aligning screw pattern which allowed the two pieces to align.
Although this was a good starting point on the road to creating the Rolex Oyster, Hans Wilsdorf knew that there were bigger and better things in store.
In 1926, Wilsdorf created the very thing that would put his company on the map for watchmaking: The Rolex Oyster. This waterproof watch marked an incredible point of advancement in the industry. Now anyone could take their watch anywhere and not have to worry about water damage.
But besides its waterproof feature, there were also other selling points for this watch. It was the first of its kind to be removable at the back and front. This was a great feature for those interested in looking at the mechanics of the model or who simply wanted to fix a loose screw.
The original Rolex Oyster had a hatch that was also removable. This innovative clock face featured a waterproof aspect that watch-enthusiasts had always yearned for. Now, not only could you be at peace about the cleanliness of your watch's interior, but you could also go swimming with your new piece of technology.
A Strange Turn of Events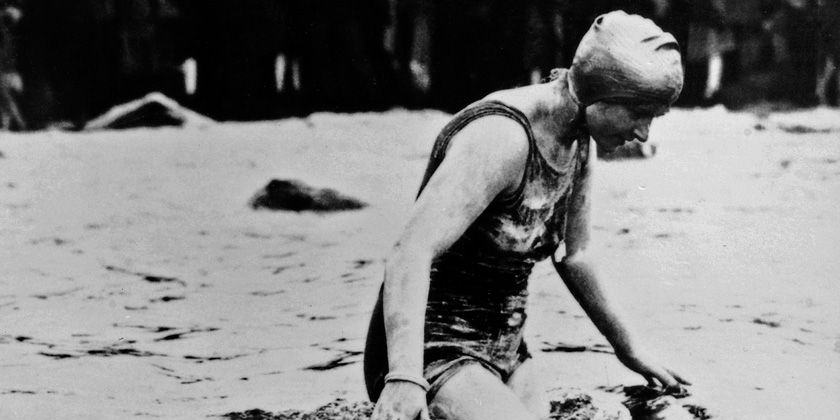 Again, in order to understand the full significance of the Rolex Oyster, we need to understand the whole story, which includes a lesson in good publicity.
In the late months of 1927, Mercedes Gleitze, an ordinary secretary from England, became the first British woman to swim across the English Channel.
It took Mercedes fifteen hours and fifteen minutes to complete the lengthy swim, which was an incredibly difficult process for her. Mercedes had attempted to swim across the channel eight times before this one and during her successful swim, she was nearly killed by passing ships. The fog was incredibly thick that day.
The conditions Mercedes found herself in were not ideal to spend fifteen hours under. By the time she made it to the beaches of France, Mercedes passed out cold. This was mainly due to the sixty-degree water had swam in throughout the day.
As Mercedes recovered from such a trying task, another woman, Dorothy Cochran, claimed to have crossed the channel in thirteen hours and ten minutes. This would have been an amazing feat if it were true.
Sadly, Dorothy had fabricated the story and had, in fact, only swum part of the channel. This revelation caused the media to question whether Mercedes had lied as well about her voyage. These allegations made Mercedes angry, and she swore that she would swim the channel again in two weeks.
This is where Hans Wilsdorf came into the picture. Although he was not a Swiss watchmaker, he sure was a great businessman. He saw Mercedes' retribution swim as a great publicity stunt. Thus, he offered her an Oyster watch to wear around her neck. Although Mercedes was unable to complete her second swim due to cold water temperature, she would remain in the limelight for years to come thanks to the Oyster.
Hans thus made Mercedes into a Rolex celebrity. And so he put her on catalogues, posters, and even magazines. As a result, she became one of the first female sports celebrities in England. And throughout the years, her status only grew.
The Modern Rolex Oyster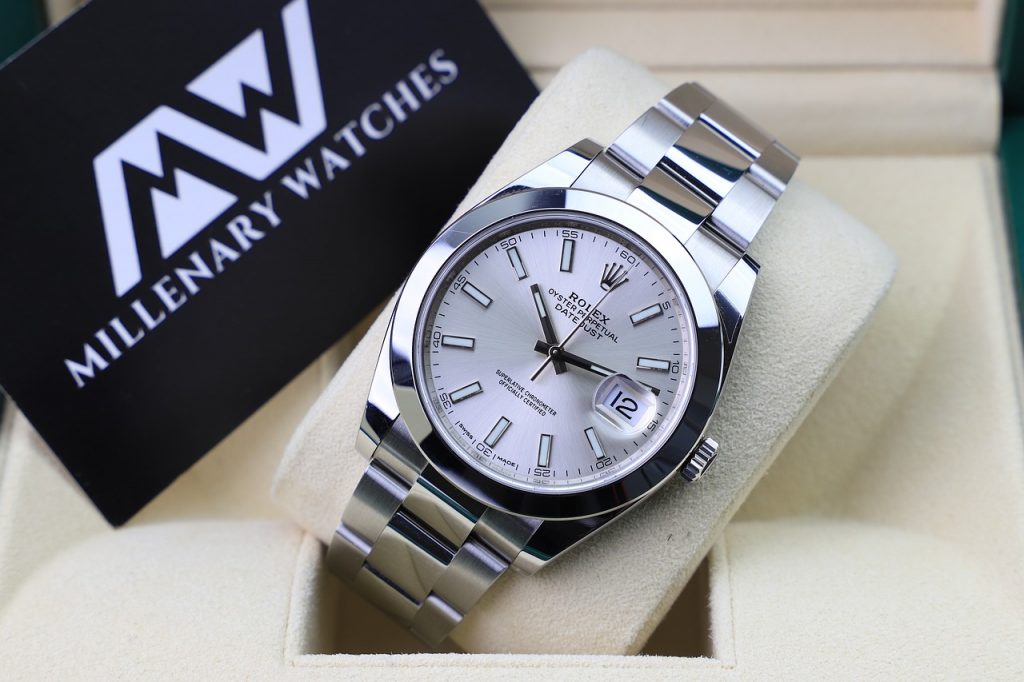 The Rolex brand and its watches have continued to improve over the years. As the saying goes: as time goes on, things change. Inventions, therefore, must change too. The original Rolex Oyster was impressive for its time, and it is understandable why. It was the first watch of its kind and will thus always remain a classic.
Newer Rolex models such as the Rolex Perpetual Oyster pay homage to the simple classic design dating back to the 1920s. These watches keep the same aesthetic design intact to remain true to their origins.
Another improvement Rolex has made to their Oyster watches involves colour and size selection. Oyster watches now come in a tasteful variety of metal types, faces, and rim colours which you can select according to your own tastes.
Besides making improvements to their aesthetics, Rolex has also improved the durability of its Oyster watches. Newer models are now protected from water pressure. So now you can go diving and not have to worry about your watch being broken. In fact, Rolex Oyster watches can survive up to 330 feet of water. That's definitely deep!
The steel material has also improved from its early days of use. Rolex Oysters now use a type of metal specially engineered by Rolex called "Oystersteel". This new type of steel helps prevent corrosion and maintains the metal's shiny coating.
The Rolex Oyster Compared To Other Brands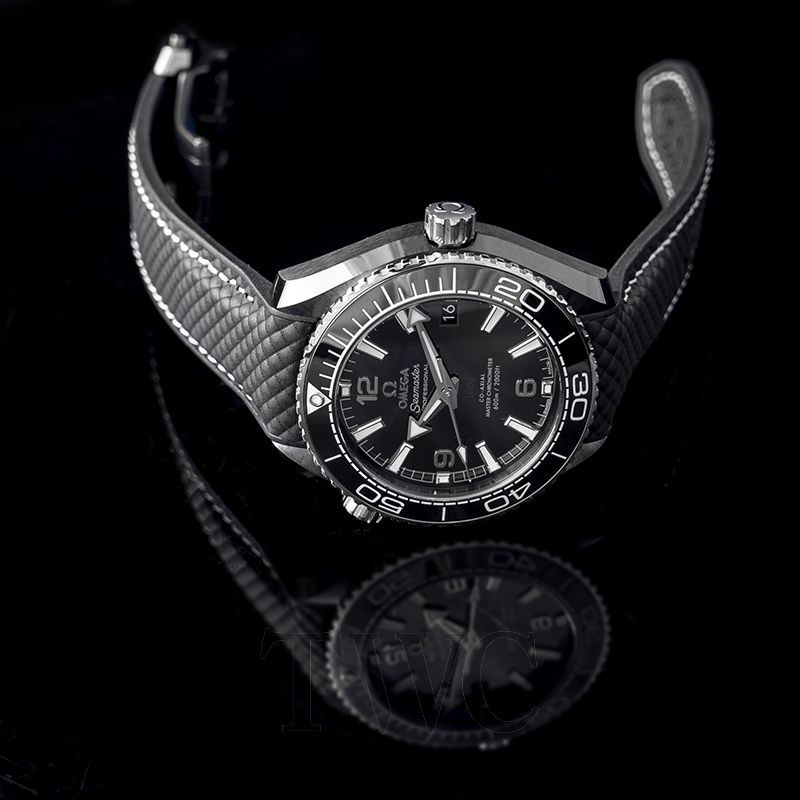 You get what you pay for when it comes to luxury watches. So you definitely have to pay a pretty penny if you want to get your hands on a Rolex Oyster.
Other formidable watches similar to the Rolex Oyster are also available for purchase however. Here are a few of the best ones we've found which feature a similar sporty style, are made of steel, and have a nearly monochromatic design.
The Blancpain Fifty Fathoms Automatique watch features a type of steel similar to the Oyster. It is actually more expensive, but both are basically identical in regards to their details. This watch is an original and features small precious gems over the bezel.
The Tudor Heritage Black Bay watch is actually owned by the Rolex people, although Tudor and Rolex remain two separate entities. This watch is made out of aluminium bezel instead of ceramic, which makes it less durable. Nonetheless, its price is considerably less than that of the Oyster. 
The Omega Seamaster Planet Ocean is a unique diving watch whose features have been perfected over many decades. This watch looks a bit clunky in comparison to the Oyster. Despite this, it remains a formidable alternative.
Conclusion
The Rolex Oyster has a larger than life history which has shaped the art of watchmaking.
Without Hans Wilsdorf, the watch industry would probably have been stagnant for much longer than it was. Wilsdorf pushed everyone to make changes in an industry which needed to undergo a change in order to thrive. As such, we can say that Rolex changed the game for both marketing and the watch industry.
We're glad that you enjoyed reading this article! For another interesting read, check out 5 Tips to Keep in Mind If You Want to Become A Watch Collector.