The Rolex Pepsi is one of the most popular watches in the world. Even those who are unfamiliar with the watch industry have seen or at least heard of this iconic timepiece at least once in their lives. Given all the fame and hype around the Rolex Pepsi, sometimes, you might wonder why this is the case. This is precisely why, in this article, we will be taking a deeper look into this emblematic legend. 
All About The Rolex Pepsi
Before looking at the different Rolex Pepsi models over the years, let us backtrack a little and see how it all started. The Rolex GMT-Master was originally designed to as an aviator watch. Released in 1954, it was made in collaboration with the Pan American World Airways. The company asked Rolex to create a watch that could track multiple timezones during transatlantic flights. This is also why Rolex chose to use the distinctive red and blue Pepsi colors for the watch's bezel, as these were known to be Pan Am's colors.
Rolex Pepsi: Through The Years
Over the past few decades, Rolex has released numerous versions of the Rolex Pepsi. Let us take a look at each of these models, in chronological order.
Rolex Pepsi Ref. 6542
First, we have the Rolex GMT-Master Ref. 6542, which is also known as the original Rolex Pepsi. As mentioned, Rolex created this watch in collaboration with the Pan American World Airways. The brand produced this model for six years, from 1954 up until 1959. This watch was also dubbed the "Pussy Galore" during its time, as it famously featured in the 1964 James Bond film, Goldfinger.
This original Rolex Pepsi model is very different from the modern Rolex Pepsi variants in the brand's current catalog. Its iconic Pepsi bezel was made out of a material called Bakelite, which is a form of synthetic resin. However, complaints about it easily cracking and breaking caused the brand to switch to anodized metal for later models.
Despite not being the most advanced model out there, this Rolex Pepsi watch is one of the most sought-after timepieces from Rolex. Given their vintage status, however, Rolex Pepsi Ref. 6542 watches are not frequently worn. Instead, watch enthusiasts tend to place these rare collector pieces in a display, so they can be safely admired.
Rolex Pepsi Ref. 1675
The next model to be introduced was the Rolex GMT-Master Ref. 1675, in 1959. This watch is one of the longest-running models in Rolex's history. It lasted in production until 1980, for a total of 21 years. Looks-wise, this Rolex Pepsi variant is not that different from the original, especially to the untrained eye. However, on close inspection, you can see the significant changes that came with this version.
For instance, up until the late 1960s, this Rolex Pepsi model featured a small arrow on its extra GMT hand. Rolex later replaced this with a bigger arrowhead tip, so the GMT hand stood out more distinctly. Early versions of the Ref. 1675 came with chapter rings and pointed crown guards, although this was later changed to the rounded crown guards we can see on the Rolex Pepsi today. In addition, the Ref. 1675 showed off either gilt dials or matte dials, depending on the production year.
One of the biggest changes made to the Ref. 1675 is that it was the first Rolex sports watch to be paired with both the Oyster and Jubilee bracelets. If you are thinking of collecting Rolex Pepsi models, this model is relatively easier to find compared to the original.
Rolex Pepsi Ref. 16750
The model that replaced the Ref. 1675 is the Rolex GMT-Master Ref. 16750. Rolex ran this watch's production for eight years, from 1981 to 1988. While it was only available to the world for less than a decade, this timepiece served as a good changeover model. It famously introduced numerous impactful technical innovations to the horological world.
The exterior and design of the Rolex Pepsi Ref. 16750 remained similar to that of the Ref. 1675. The real changes in the Ref. 16750 came from within, specifically in terms of its excellent, robust movement. This version of the Rolex Pepsi operated using the iconic Rolex Caliber 3075. This is an automatic movement that beats at an efficient 28,800 vibrations per hour. It comes with a handy quickest feature, which you can use to easily change the date without having to move the hour hand. It also has a great hacking component, where you can stop the seconds hand instantly by pulling the winding crown out.
The Rolex GMT-Master Ref. 16750 served as a great addition to the brand's GMT-Master collection. It offered many impressive technical improvements which made the Rolex Pepsi even easier to use. Indeed, this is a must-have for anyone collecting Rolex GMT-Master timepieces.
Rolex Pepsi Ref. 16710
Now, we move on to the Rolex Pepsi Ref. 161710. This was the first watch in the GMT-Master II line to come with the iconic red and blue Pepsi bezel. It was first released in 1988 and was able to hold its place in Rolex's catalog until 2007. During that period of time, Rolex delivered excellence by making consistent improvements to this particular version through the years.
The Ref. 16710 showcases a lovely, sleek case, specifically designed to house the brand's new Caliber 3185. This caliber comes with a unique feature that allows for independent setting of the hour and GMT hands. This made it easier for wearers to set a second timezone. Other modifications include the use of tritium dials, which utilized either LumiNova or Super-LumiNova pigments until the late 1990s.
To many, the Rolex Pepsi Ref. 161710 is the staple Rolex Pepsi model. It served as a great transition piece, which really showcased the change from 20th-century watchmaking to 21st-century innovation. While the changes made to this model were not too loud or too obvious, it still introduced a different, yet equally excellent, form of craftsmanship.
Rolex Pepsi Ref. 116719 BLRO
For the next variant, we have the Rolex Pepsi Ref. 116719 BLRO. This is the model that came right before the current Rolex Pepsi watch in production. Available from 2014 to 2018, the Rolex Pepsi Ref. 116719 BLRO introduced the concept of a Cerachrom bezel to the Rolex Pepsi models.
This watch originally sported an 18-carat white gold case, which added another layer of exclusivity to this already-coveted watch. It also came with the brand's patented Triplock system, which provided the watch with greater durability and resistance against water damage. Lastly, this Rolex Pepsi piece ran on a new movement in the form of the Caliber 3186. This movement featured a revolutionary blue Parachrom hairspring that significantly bolstered its resistance to both shock and heat.
The Rolex Pepsi Ref. 116719 BLRO had a short run of only five years. Nevertheless, it is a defining timepiece in watchmaking history. It paved the way for many impressive features and technological upgrades that continued to be used in Rolex watches moving forward.
The Present-Day Rolex Pepsi Models
Now that we know more about the older Rolex Pepsi watches, let us delve deeper into the models that can be found in Rolex's current catalogue. 
Rolex Pepsi Ref. 126710BLRO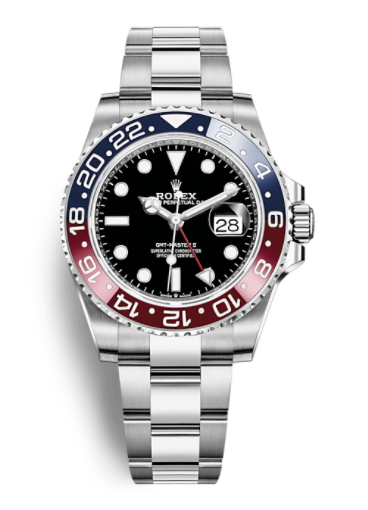 Today, the Rolex Pepsi Ref. 126710BLRO is the go-to option for many who are looking to buy a GMT-Master II watch. It has a classic and sophisticated look that pairs well with just about any ensemble. With its robust, well-polished exterior, this watch exudes boldness and sportiness that make it an instant stunner.
This Rolex watch utilizes a 40mm Oystersteel case, along with the brand's iconic Oyster bracelet, which boasts a three-link system. Affixed to the top of the watch case is a bidirectional bezel, which is made out of Oystersteel. This bezel also bears an insert made out of Rolex's patented Cerachrom material, in the classic red and blue Pepsi colors. The dial, on the other hand, showcases a captivating, jet-black finish. It contains large, luminous hour markers in various geometric shapes, iconic Mercedes hands, and a GMT hand in red with a large arrowhead tip. A date window with a cyclops lens can also be found at 3 o'clock.
An in-house Caliber 3285 drives this timepiece. This is a COSC-certified movement which boasts an outstanding 70-hour power reserve and an accuracy rate of +/-2 seconds per day. You can also opt to get this model with a Jubilee bracelet if you want a more formal, professional look.
The Rolex Pepsi Ref. 126710BLRO retails at around $10,760 USD.
Rolex Pepsi Ref. 126719BLRO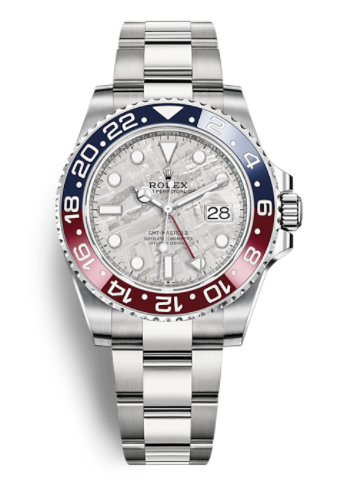 The next model is the Rolex Pepsi Ref. 126719BLRO, which is actually offered with two different dial designs. This gives you a greater variety to choose from, depending on whether you want a more classic aesthetic or a more creative watch accessory. If you want a sporty and elegant GMT watch, then this is one of the most valuable models you can add to your collection.
This Rolex watch comes in a 40mm case made of 18-carat white gold, coupled with a three-link Oystersteel bracelet. Of course, it also boasts the iconic red and blue GMT bezel, with a 24-hour graduation. As mentioned, there are two different dial designs available for this watch: one is a royal blue finish, while the other is a captivating white meteorite dial.
This dial also has a very straightforward, easy-to-read layout. It comprises geometric hour markers, signature Mercedes hands, an additional red GMT hand, and a magnified date window. Powering all of these functions is a Manufacture Rolex Caliber 3185 which has a 70-hour power supply.
If you are interested, the price range for this model goes up to as high as $85,500 USD.
Is it worth it?
If you are new to the watchmaking game, you are still probably wondering about what makes the Rolex Pepsi so special when there are numerous other watches on the market. Well, here are some of the main reasons why it is truly worth the hype. 
A Good Investment. For many watch collectors, this first point is one of the biggest reasons why they choose to invest in the Rolex Pepsi. It is known as one of the most highly sought-after timepieces ever, which means it is extremely difficult to get your hands on one, whether vintage or new. This has led its resale value to shoot up, making it one of the best investment watches out there. Just to give you an idea, many Rolex Pepsi models sell at over $25,000 USD in the resale market.

 

Historic. Another reason why the Rolex Pepsi is worth the hype is that it has cemented its name in watchmaking history. As the first of its kind, this watch inspired a trend of Pepsi watches, with many other brands mimicking Rolex's ingenious design. After all, when you hear the words 'Pepsi bezel', there is little doubt that the Rolex Pepsi would be the first one to immediately come to mind.
Unparalleled Quality. On top of its prestigious brand name, the Rolex Pepsi actually showcases unparalleled quality. It would not be so highly coveted if it did not come with outstanding characteristics and components that made it stand out from the rest. Over multiple generations of Rolex Pepsi watches, Rolex has consistently made new innovations and upgrades, ensuring that this watch remains as state-of-the-art as it can be. As such, it is equipped with excellent features which make it a true must-have for many watch collectors.

 
Final Thoughts
After reading all that, hopefully, we all have a better perspective regarding the Rolex Pepsi. It is a watch that deserves all the glory it is getting, all thanks to its inspiring historical value and specifications. 50 years from now, you can bet that people will still be as enamoured with this timepiece as they are today.