With more than 100 years of horological expertise, Japanese master watchmaker Seiko certainly deserves its prestigious spot in the watchmaking industry.
Seiko watches have been delighting women for decades, so much so that Seiko is almost always every girl's first watch. Stylish, affordable and with an excellent timekeeping reputation, Seiko watches never fail to impress — whether quartz or mechanical.
Seiko's history dates back to 1881 when Kintarō Hattori founded the brand in Tokyo, Japan, at a young age of 21. The founder's fascination with clocks and watches started at 13 when he worked in a clock shop to learn everything he could about watches. At such a young age, the enterprising boy decided he wanted to open a clock shop that will not only sell clocks but also repair them. More than 130 years later, his legacy still lives on.
Here are our top 10 picks for the trendiest ladies' Seiko watches to help you up your fashion game.
Seiko Classic Presage SRP856J1 Automatic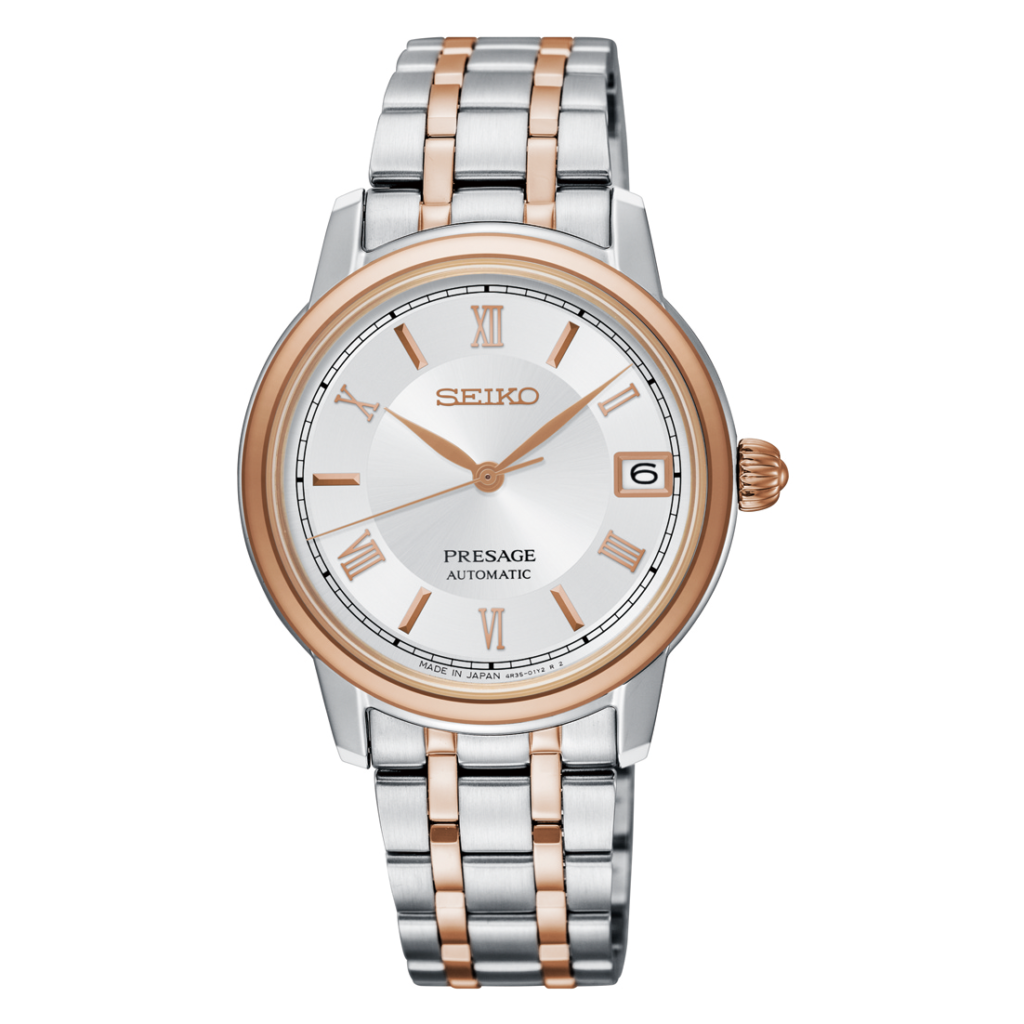 Women need a staple watch for everyday wear without having to worry about the style factor — something that they can wear from full-day meetings at work to impromptu happy hour dates with friends. And the Seiko Classic Presage SRP856J1's is exactly that. Although its 34.2mm dial and clean design mean business, its two-tone minimalist style spells a laid-back attitude.
Powered by the Calibre 4R35 movement this watch features a date display and stop second-hand functions. This Seiko's Classic Presage Automatic watch also has a manual winding capacity, giving it 41 hours of power reserve.
Seiko Lukia Solar Electric Wave SSQV048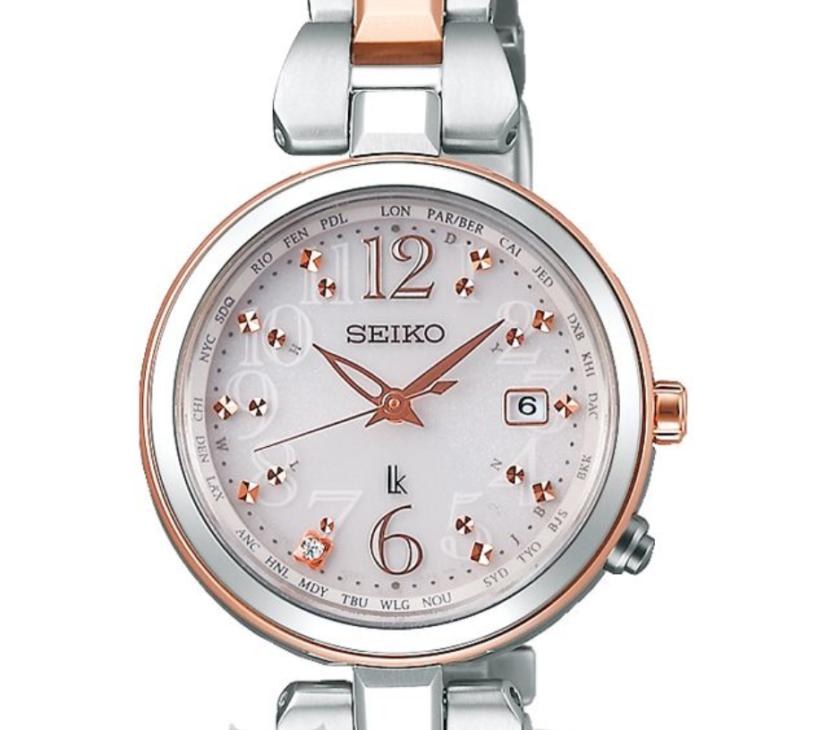 At 35.2mm x 28mm, this Seiko Lukia Solar Electric Wave SSQV048 is a delicate and graceful timepiece. It features a slim, metal bracelet with alternating silver and rose-gold hues. With rose-gold gems adorning the dial, the watch enchants its wearer and onlookers alike.
The watch is crafted in Seiko's new, advanced Comfotex Titanium case. Lightweight and nickel-allergy friendly, the unique titanium compound promises utmost luxury and comfort. With the Seiko Lukia Solar Electric Wave, you can experience style without breaking your budget.
Seiko Ladies' Solar SUP176P9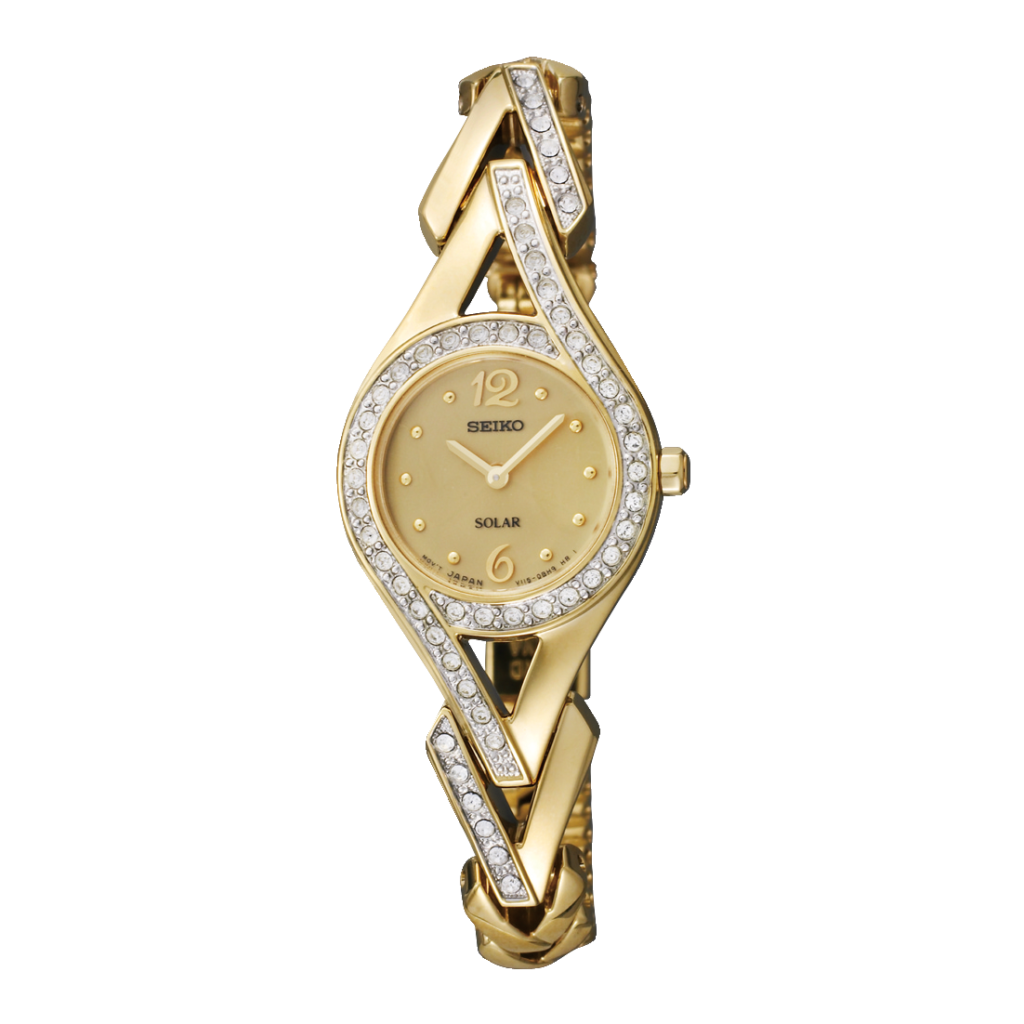 Perfect for an evening out, the Seiko Ladies' Solar SUP176P9 is dainty enough that it won't overpower your overall look, yet stunning enough to stand out on its own.
The gold tone of the bezel and bracelet is made more elegant by the sparkling Swarovski crystal accents, making this Seiko Solar watch a perfect accessory for a dressy evening. But don't let the delicate 22mm stainless steel case fool you, this Seiko best-seller still packs a punch with its Japanese quartz movement and 30m water resistance.
Seiko Ladies' Solar SUP403P9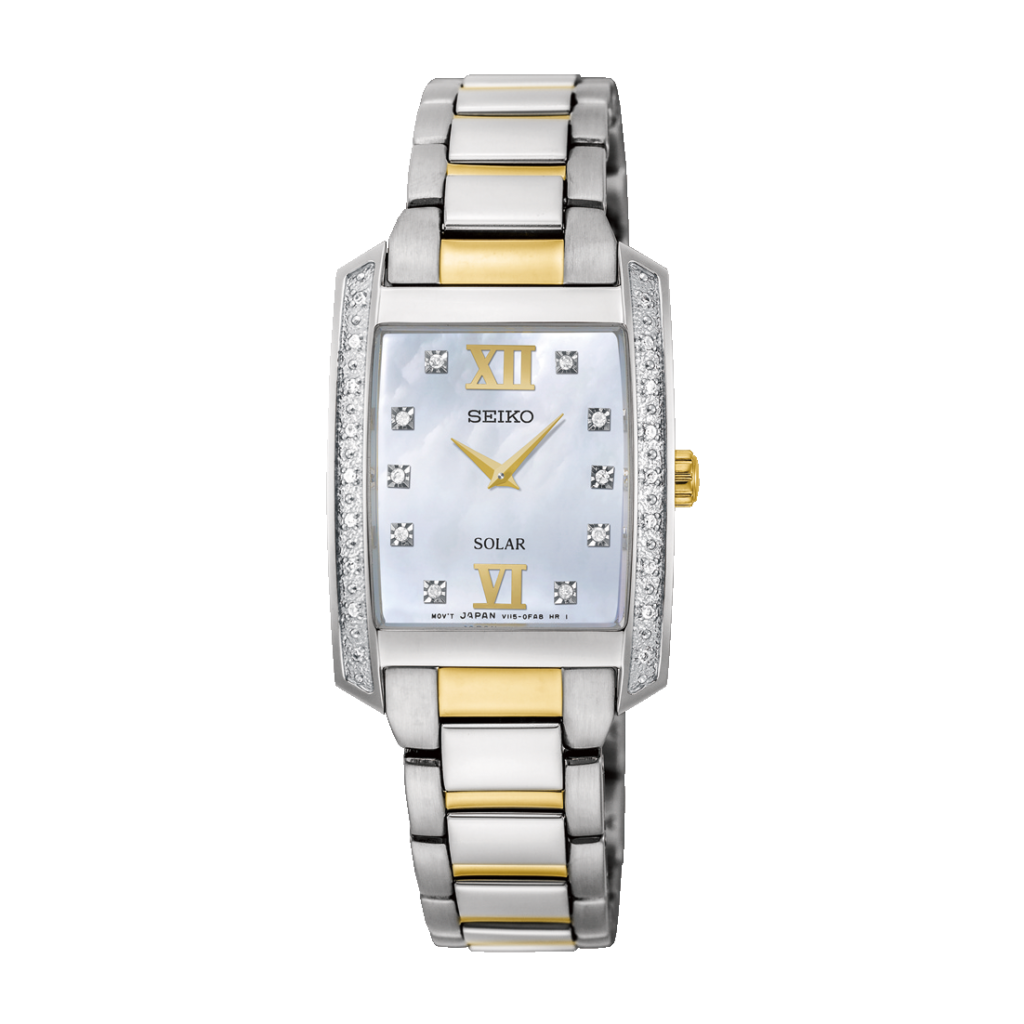 Go green and stay chic with the Seiko Ladies' Solar SUP403P9 watch. With its Calibre V115 solar movement, this watch ensures that you minimise your carbon footprints while keeping your fashion style on point.
Its tank-shape, mother-of-pearl dial keeps it classy for daytime wear, while the diamonds on the bezel add glamour to the piece, making it suitable for an evening affair, too! Appealing on the eyes, easy on the pocket, yet friendly to the environment — what more can an eco-friendly fashionista ask for, right?
Seiko Ladies' Solar SUP391P9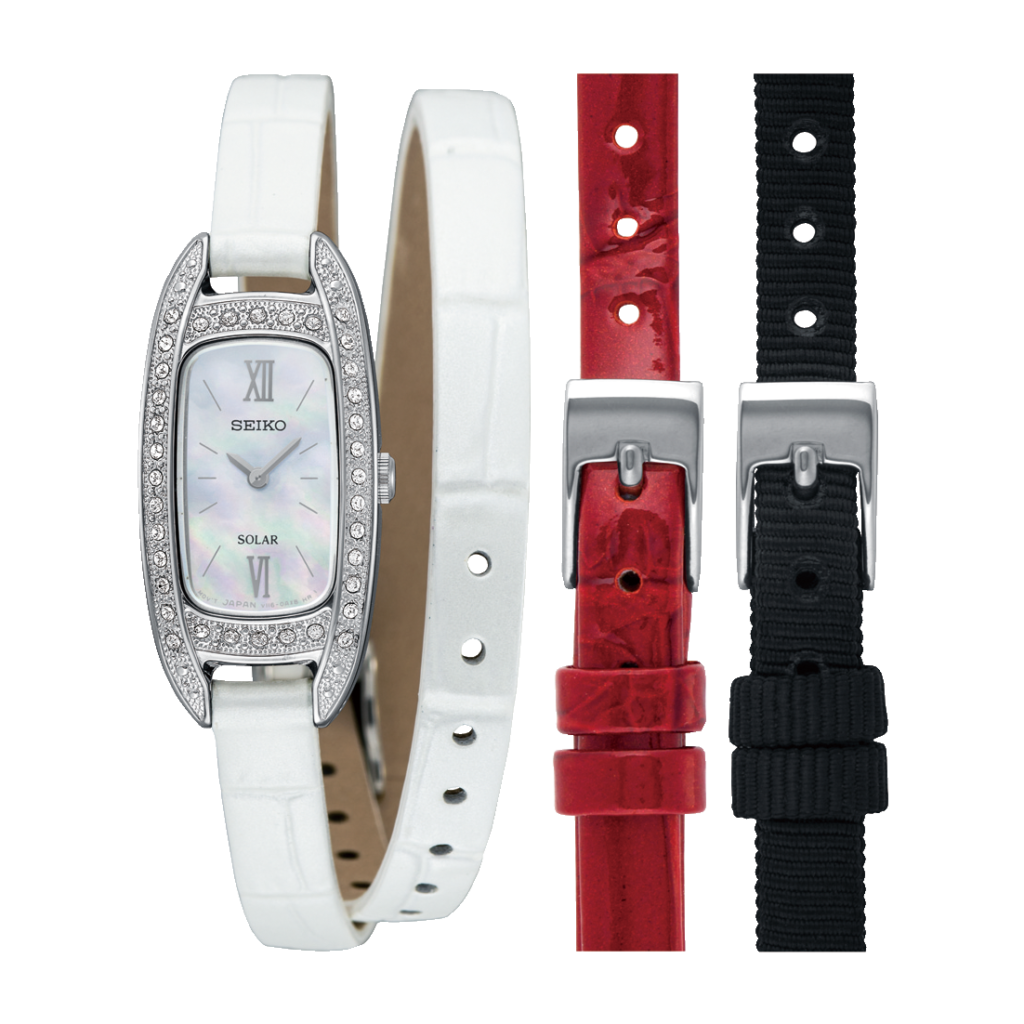 Chic and trendy, the Seiko Solar SUP391P9 watch with a double strap is a perfect accessory when going out with friends. Whether you are out shopping, cosying in for a movie night, or out trying the new brunch place in the city, this fun and sophisticated addition to your solar watches collection is a real head-turner.
Play with the strap by changing it depending on your mood and activity of choice — white for bowling, red for shopping, or maybe black for painting the town red? What's more, the Swarovski crystals on the bezel and lugs and the mother-of-pearl dial make the watch elegant enough for some fancy, Michelin-star dinner with your BFFs.
Seiko Lukia Solar Electric Wave SSVW123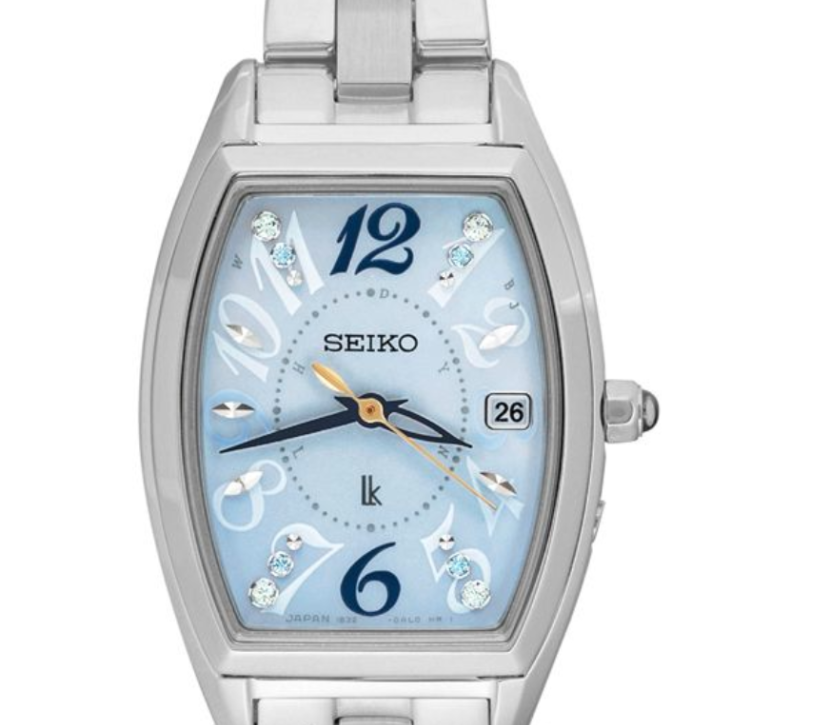 This Seiko Lukia Solar Electric Wave SSVW123 model features a tonneau-shaped case that is made with stainless steel. The rectangular case with rounded corners gives the watch a high fashion, art deco feel. The 23.9mm case encloses an exquisite light blue dial.
Precious blue crystals decorate the dial, enhancing its ethereal quality. The dark blue and white Arabic numerals complement the sky blue dial and create a minimalistic look. A steel bracelet adds a chic finishing touch to the watch. The reliable Calibre 1B32 ticks at the heart of this timepiece.
Seiko Ladies' Quartz SXDG98P9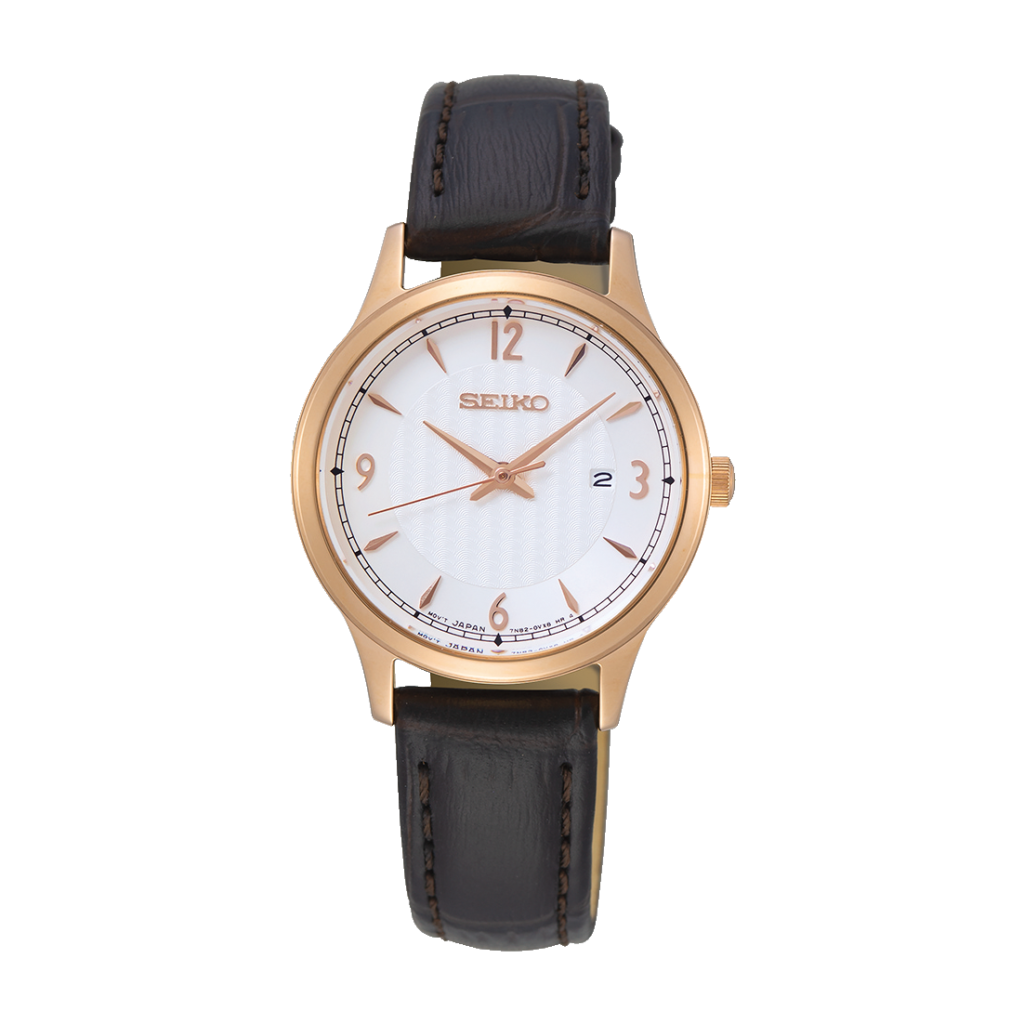 There's nothing like a good old black-strap dress watch to make you look pulled-together. And this Seiko's Quartz SXDG98P9 watch is exactly that and more.
Relying on the 7N82 Calibre quartz movement for accuracy and precision, this understated and elegant timepiece means business without being boring. The rose gold-plated bezel and lugs keep the watch stand out, while the date display at 3 o'clock makes sure you don't ever miss an important date, ever. And with its 28.7mm dial, the Seiko Ladies' Quartz SXDG98P9 watch is light and sophisticated enough for running around with a full-day schedule.
Seiko Lukia Solar Automatic SSQV042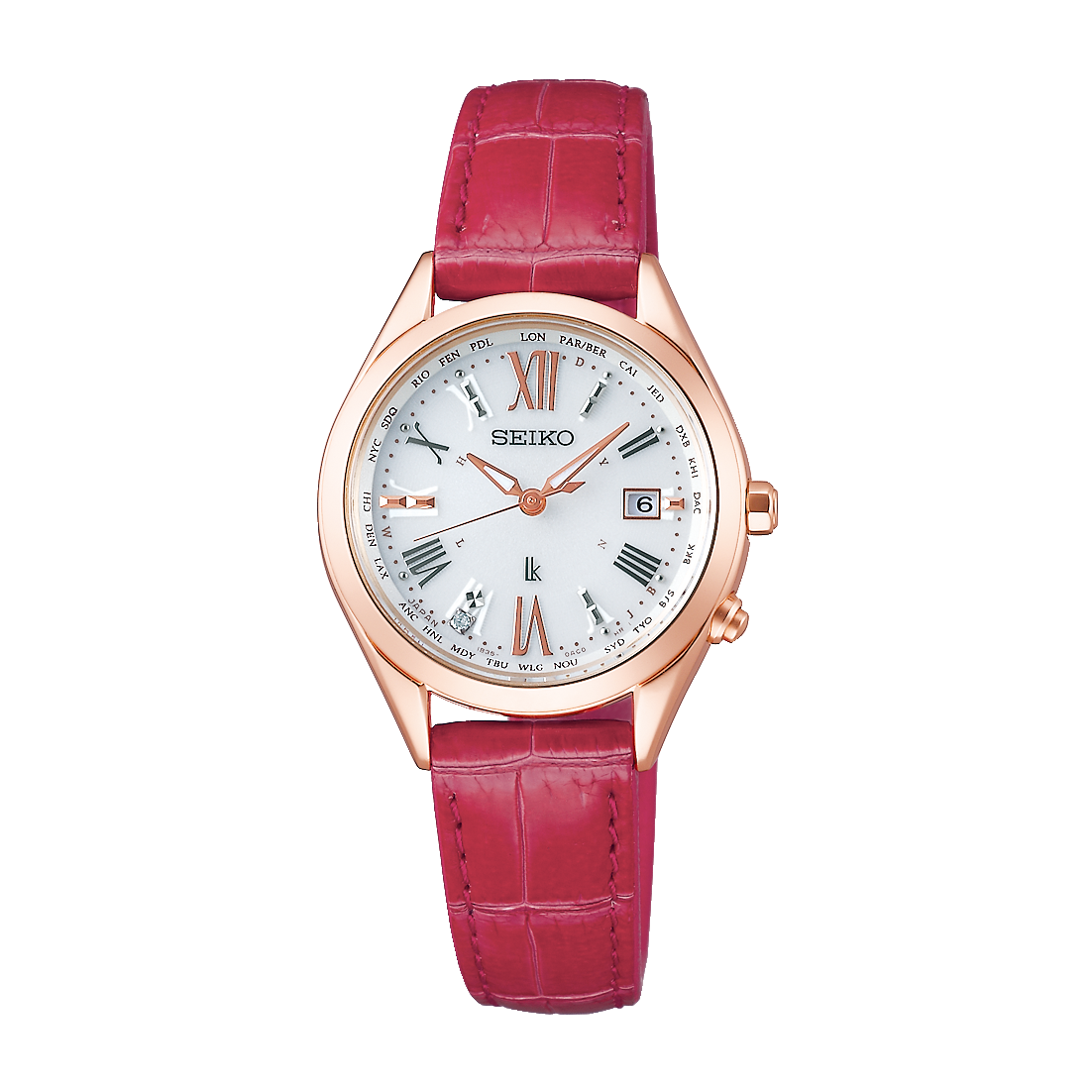 There's more to the Seiko Lukia Solar Automatic SSQV042 watch than its cheerful, pinkish-red strap. In fact, it could be one of your trusted travel companions with its world time functions, featuring 25 zones.
Powered by the Calibre 1B35 automatic movement, this Seiko Lukia watch is packed with other useful functions. These include the full-auto calendar correct (until 2099), radio signal receiving, as well as automatic hand position alignment. But don't let these technicalities intimidate you. The watch features a dainty diamond at 7 o'clock, making it every bit a girl's best travel buddy.
Seiko Lukia Mechanical SSVM023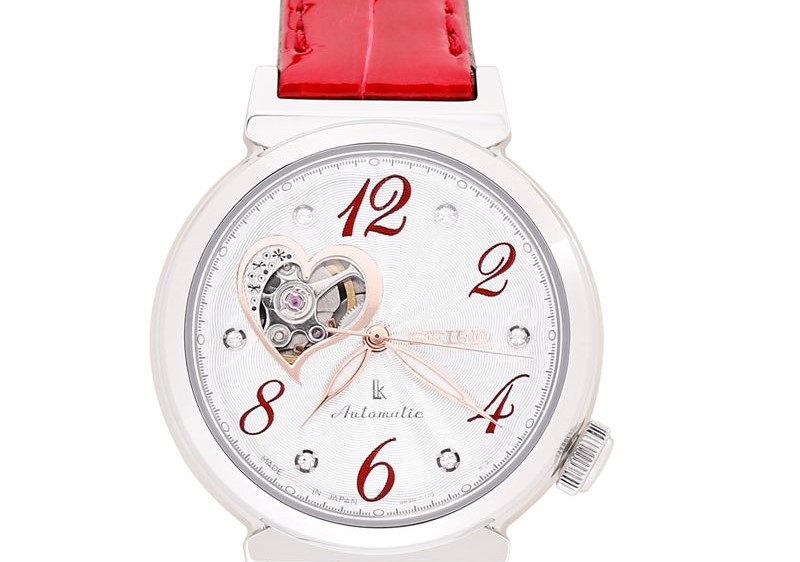 The Seiko Lukia Mechanical SSVM023 is a timepiece for the fun-loving and spirited ones. The open heart dial offers a glimpse into the intricate Japanese-made automatic movement. Powered by Calibre 4R38 movement, the watch offers a power reserve of 41 hours. Similar to other Seiko models, it offers water and magnetic resistance.
The 34.6mm stainless steel case encloses a charming white dial that is adorned with precious Swarovski crystals. Paired with a vivid red leather strap, this Seiko Lukia timepiece has a unique and memorable design that catches the eye. Elegantly built, this is an exquisite and feminine timepiece that makes a bold fashion statement.
Seiko Sportura Ladies' Chronograph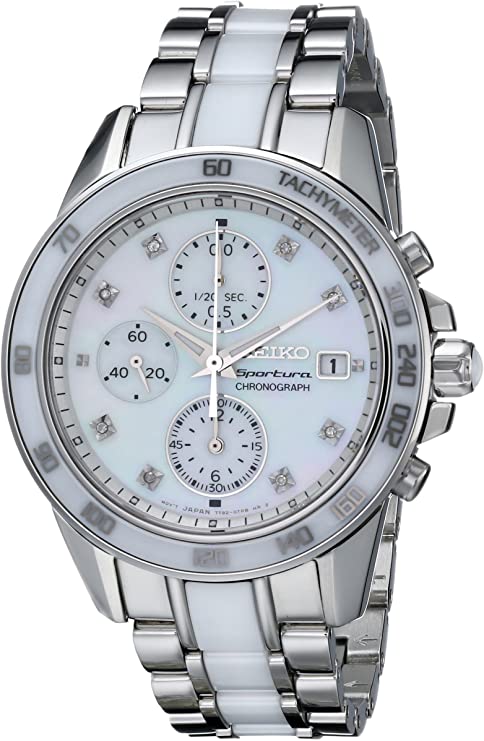 The Seiko Sportura Chronograph for Ladies has all the elements perfect for the sporty and stylish woman. From the classic, white elegant design to the 38mm dial, the watch is all about precision, style, and high performance.
A delicate mother-of-pearl dial studded with eight brilliant diamonds gives the sporty watch an understated feminine touch. Water-resistant for up to 100 metres, the watch also comes with a tachymeter for measuring speed. Wear it for your next adventure weekend or for a weekend brunch with friends. Either way, the Seiko Sportura Chronograph is a great addition to your wardrobe staples.
In the mood for a white watch? Check out our feature on trendy white watches here.