One of the most iconic collections from Swiss luxury watch brand Patek Philippe, the Patek Philippe Nautilus is the ultimate embodiment of the brand's sports watches.
Launched in 1976, the Patek Philippe Nautilus collection demonstrates the brand's watchmaking craftsmanship and rich heritage. From the rounded octagonal-shaped bezel to the embossed dial and the iconic porthole-inspired case, the Patek Philippe Nautilus has been enchanting watch lovers for over 40 years.
Founded in 1839 in Geneva, Switzerland, Patek Philippe is one of the last independent, family-owned Swiss manufacturers around. As a matter of fact, each Patek Philippe timepiece is meticulously crafted by hand using techniques that were passed down from generations of Genevan watchmakers.
Today, the Patek Philippe Nautilus is one of the most sought-after watches by collectors and watch connoisseurs alike. What's more, with their sophisticated and timeless design, these watches add a rugged elegance to any outfit. Hence, here are seven of the most coveted ones that are not only a good addition to your collection, but also a great investment, too.
Patek Nautilus Chronograph 5980/1R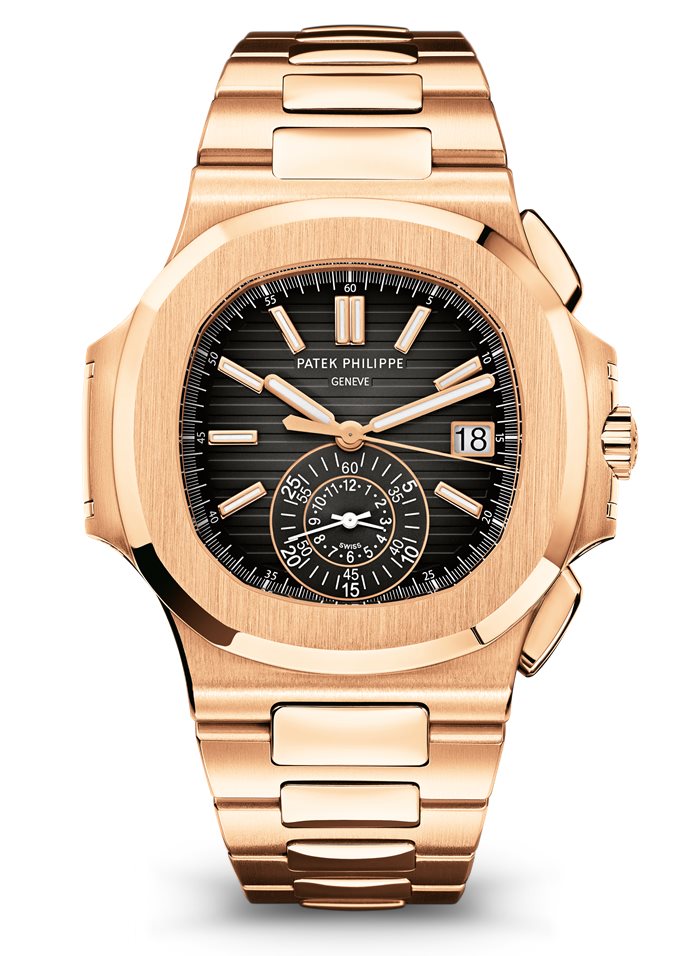 With an exquisite rose gold design, this Patek Philippe Nautilus Chronograph in full gold stands out from the rest. Contrasting against the 18K rose gold case, its black dial features a horizontal embossed texture. Concurrently, it lives up to the name of Patek Philippe with its sapphire-crystal caseback and water-resistant properties of up to 120 metres.
Powered by a mechanical self-winding movement, the chronograph has both 60-minute and 12-hour mono-counters. The date is displayed within a gold frame at 3 o'clock mark. Overall, this full-gold Patek Philippe Nautilus Chronograph is certainly a sturdy and handsome timepiece that will bring out the confidence in its owner.
Patek Philippe Nautilus Travel Time Chronograph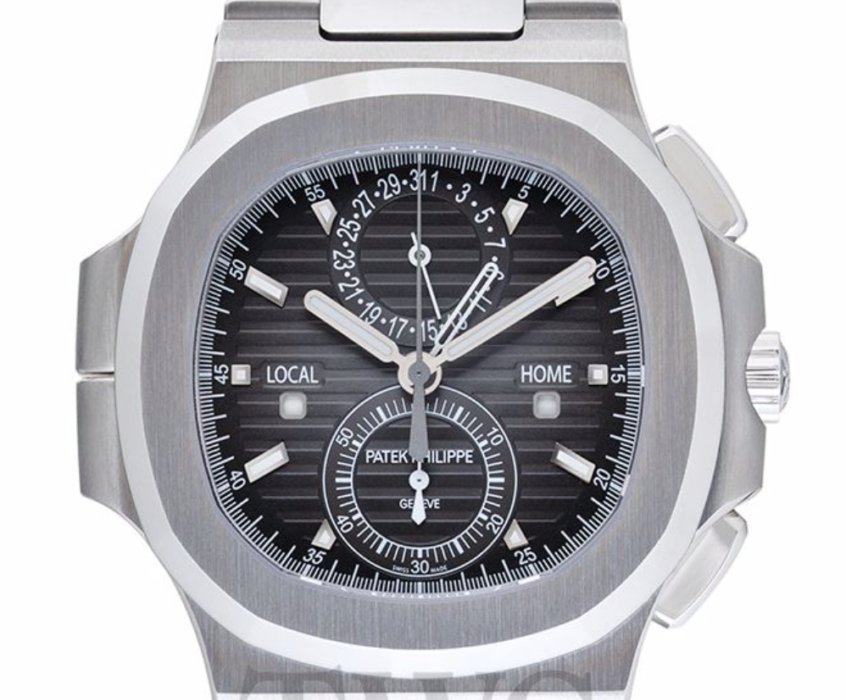 The Patek Philippe Nautilus Travel Time Chronograph is furnished with a time travel function, which indicates two different time zones at a single glance. Combined with a chronograph equipped with a 60-minute counter, this is a highly functional timepiece that offers everyday convenience to professionals.
Enclosed within a 40.5mm steel case, the watch boasts a black dial with gold applied hour makers. The calibre CH 28-520 C FUS, specially developed for the Nautilus Travel Time Chronograph, powers this watch. Furthermore, instead of a traditional column wheel with a disk clutch, the chronograph features the Time Travel mechanism.
This innovative movement allows for the dual time zone function without compromising the amplitude of balance and rate accuracy of the watch. With an iconic octagonal bezel, this silver-black chronograph melds functionality with a rugged elegance.
Patek Philippe Nautilus Chronograph 5980R/001

The Patek Philippe Nautilus Chronograph 5980R/001 is the first Patek Philippe Nautilus that features a leather strap.
Debuted at the 2010 Baselworld, this timepiece proves that gold and brown are the perfect partners in crime. It also possesses a handsome, rugged vibe with its black-brown dial and a 40.5mm case crafted in 18K rose gold. At the same time, a matte brown alligator strap further accentuates the watch's masculine elegance.
Exuding strength and style, the Patek Philippe Nautilus 5980 is a versatile accessory perfect for a casual weekend or a professional setting in a suit and tie.
Patek Philippe Nautilus Moon Phase 5712/1A-001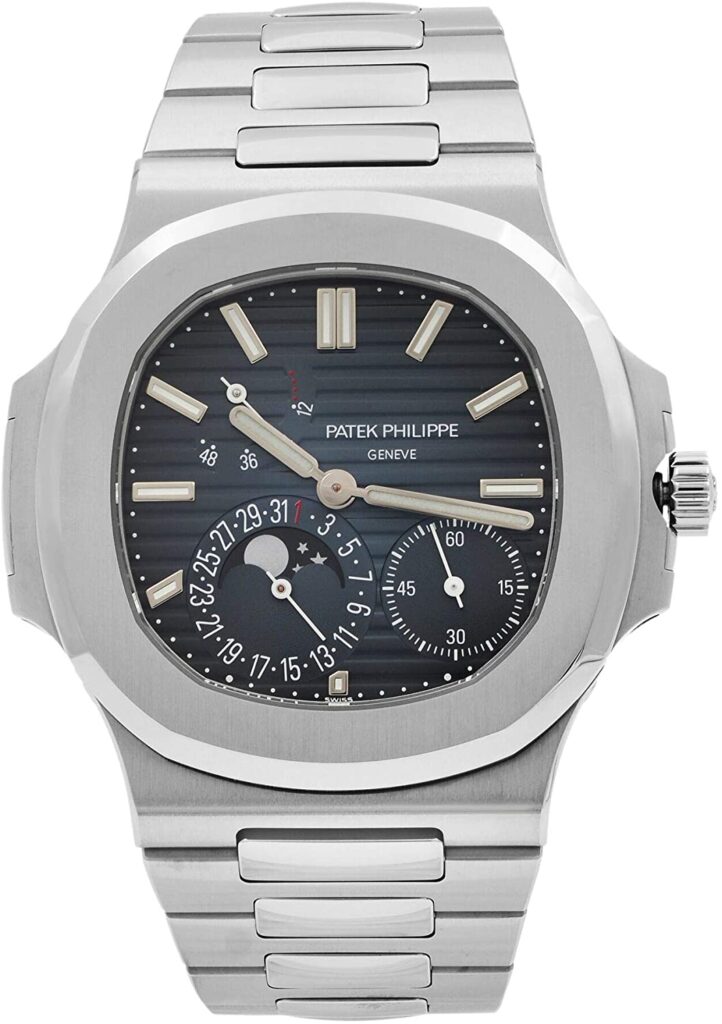 With a dial coloured in an enchanting shade of black-blue, this Patek Philippe Nautilus Moon Phase 5721/1A-001 watch is powered by a self-winding mechanical movement. What sets this watch apart from other Nautilus models is the unique moon phase indicator.
On the dial, a sapphire-crafted disc rotates within an aperture to indicate the different moon phases. Reminiscent of the night sky, the disc is decorated with golden stars and two golden moons.
At the start of each lunation, the edge of the golden moon emerges, representing a new crescent moon. As the lunar cycle progresses, the moon appears full and then wanes as it disappears behind the terminator on the right. As a result, the moon phase indicator offers a unique way to chart the passage of time. Not only that, but with its silver and midnight blue design, this timepiece embodies craftsmanship at its finest.
Patek Philippe Nautilus Date/Sweep Seconds 5711/1A-o11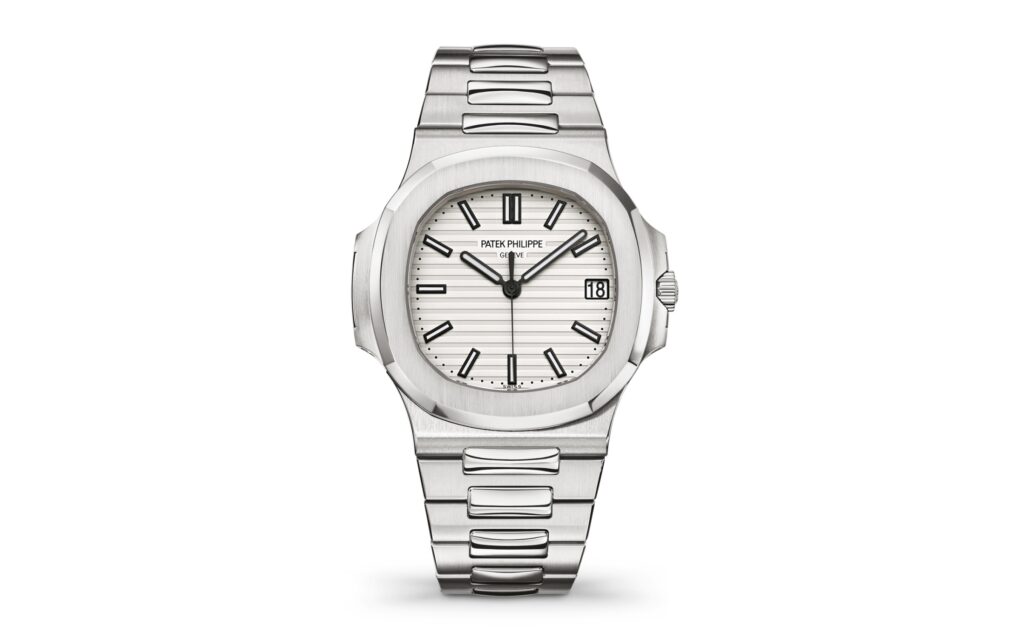 Masked by its simple design, this silver Patek Philippe Nautilus Date/Sweep Seconds 5711/1A timepiece has class and understated elegance.
The minimalist watch features a silvery-white dial which complements a 40mm stainless steel case and bracelet. Besides that, it has the self-winding mechanical calibre 26-330 SC movement, which gives the watch a 45-hour power reserve.
Furnished with a sweep second hand, the watch flaunts a smooth and delicate movement that would captivate any watch enthusiast. Likewise, this is an unpretentious watch that offers sleek functionality with a touch of sophistication.
Patek Philippe Nautilus Moon Phase 5724G with Diamonds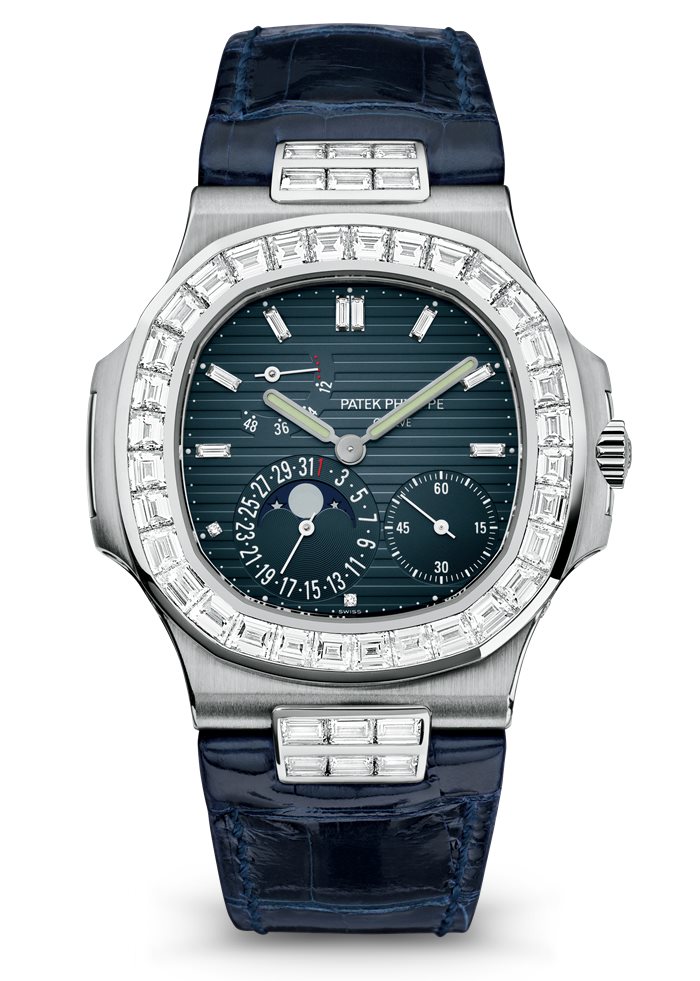 With a diamond-embedded bezel, this Patek Philippe Nautilus 5724G Moon Phase watch calls out to the gentlemen who are out to make a statement. Embellished with 44 baguette diamonds on the bezel, the watch comes in a 40mm white-gold case. In addition, a navy blue alligator leather strap completes its elegant design.
Far from compromising the masculinity of the watch, the diamonds add a new dimension to the watch, creating a dignified and stylish look. Additionally, thanks to its self-winding mechanical movement, this dashing timepiece is perfect for the modern, fashionable gentleman.
Patek Philippe Nautilus Perpetual Calendar 5740/1G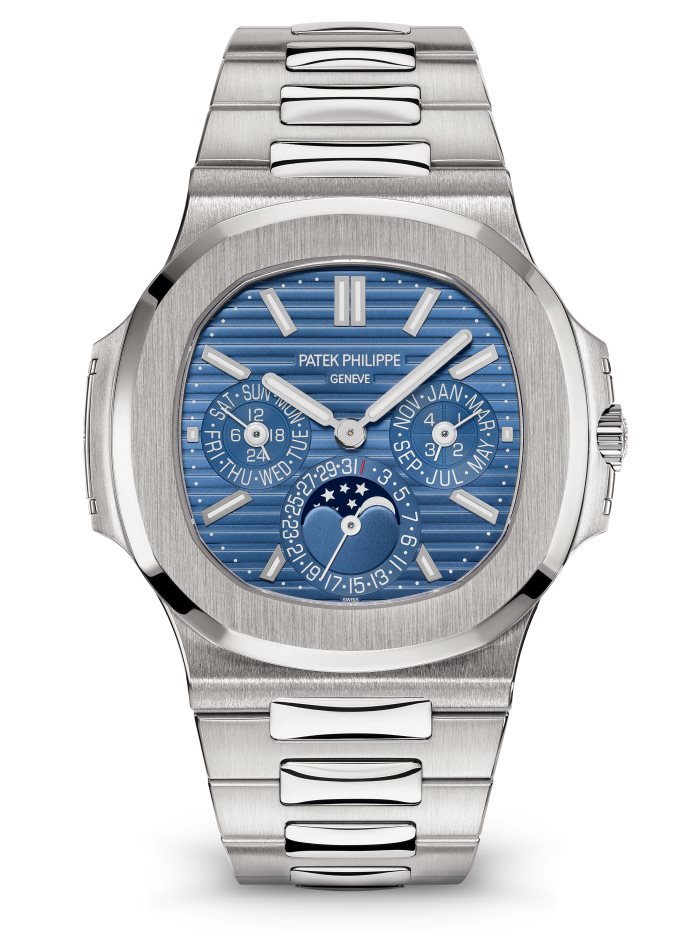 Launched in 2018, this is the first grand complication in the Patek Philippe Nautilus line. The Patek Philippe Nautilus 5740/1G showcases an analogue perpetual calendar, with three subsidiary dials harmoniously integrated into the blue dial. A testament to the technical finesse at Patek Philippe, this timepiece features the ultra-thin self-winding calibre 240 Q movement, making it Patek Philippe's thinnest perpetual calendar.
This Patek Philippe Nautilus also comes in an 18K white-gold bracelet that has a new fold-over clasp. The new clasp design optimises security by preventing any unintended release, at the same time offering greater comfort.
With its new features, this timepiece embodies Patek Philippe's commitment to innovation and watchmaking artistry. Sporting a casual elegance, the Patek Philippe Nautilus Perpetual Calendar is a must-have for any avid watch collector.
Interested to read more about Patek Philippe? Check out our story on the 5 most amazing things you should know about the brand here.