They say that the past is always present, and one proof of that saying is the growing popularity of retro watches. Over the years, there has been a growing trend for vintage-inspired and retro watches. Iconic, unique, and nostalgic, these timepieces tell a piece of history in their own ways.
Nothing beats owning a part of history, and a good way to do that is to invest in retro watches. To help you find one that best suits your style and budget, we have curated a list of models that have stood the test of time. Check out if one or more of these retro watches tickle your fancy.
Best Retro Watches for Every Style
There are different kinds of retro watches — military, '80s, etc. Not to mention, they also come in different price points. To help you decide for yourself, here are a few recommended retro watches for every style and budget. Also, note that some of these models are reissues of retro watches, while some are upgraded versions of the original.
1. Casio F-91W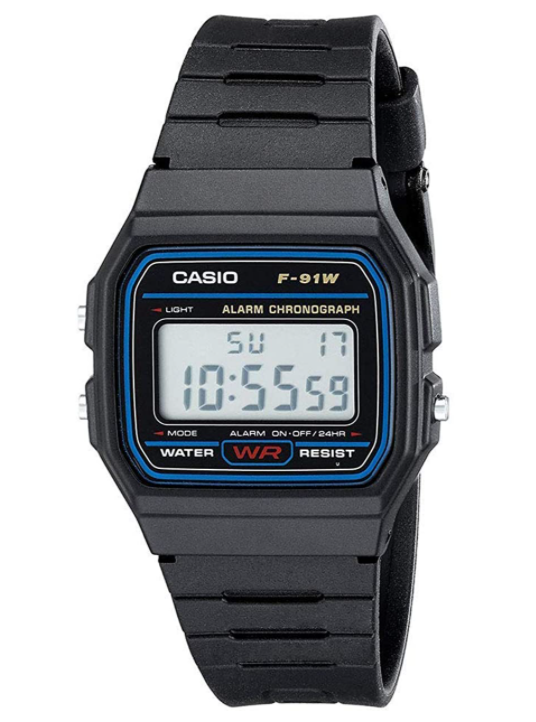 Casio F-91W specs: 
Case material: Stainless steel

Case dimension: 32mm

Movement: n/a (Digital)

Power reserve: n/a

Water resistance: 30m
What makes it special?
Remember that octagonal digital watch that almost every grade schooler wears? It has a name and it's called the Casio F-91W. Back in the day, people would just call it the "cool digital watch", and everyone understood what watch they were referring to. Indeed, this timepiece has been the entry point to watches for many kids in the '80s until now. It is also one of the retro watches that still has that strong appeal.
While this model isn't exactly what was sold in the '80s, it is a faithful reissue in terms of aesthetics. It has the same octagonal shape and lightweight feel. Furthermore, its font and colours will also remind you of old-fashioned Game Boys and crowded arcade places.
When it comes to functionality, it packs a lot of punch, especially for its price. It uses an LCD display, which makes it legible. Besides the time, it has an alarm, a 1/100-second stopwatch, and a beep function. The brand also promised an accuracy rating of +/- 30 seconds per month which translates to +/- one second per day. Of course, as a digital watch, it is not surprising that it gets this level of accuracy.
The Casio F-91W has a retro-chic look that appeals to selected people. If you prioritise value for money, then it's hard to go wrong with this model.
2. Timex Q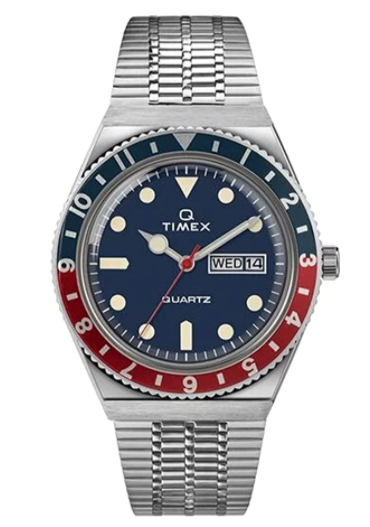 Timex Q specs: 
Case material: Stainless steel

Case dimension: 38mm

Movement: Quartz

Power reserve: n/a

Water resistance: 30m
What makes it special?
The Timex Q is a throwback to the American brand's history. In fact, this is almost a 1:1 reissue of the model they released in 1979. Every small detail of this watch is period correct from the bracelet up to the colourway.
Although it bears the famous Pepsi bezel, I wouldn't say that it's a "budget version" of the Rolex GMT Pepsi. There are key differences which separate the Timex Q from the latter. For instance, its case and bracelet have an integrated look, which gives it a sportier vibe. Furthermore, the outer case is angular and has that '70s feel to it. And instead of a clicking bezel, this has a non-ratcheting one.
The retro aesthetic is more evident with the dial. It kept the lollipop and sword hands. Meanwhile, the hour markers are applied with faux patina, and above it all is a domed crystal that will make every vintage watch enthusiast drool. Lastly, the bracelet is distinct and very easy to adjust. I can imagine this watch going very well with jeans and a leather jacket.
All in all, the Timex Q is a great definition of "blast to the past". Its attractive design will surely catch the attention of people, whether an enthusiast of retro watches or not. 
3. Timex T-80 x PAC-MAN 40th Anniversary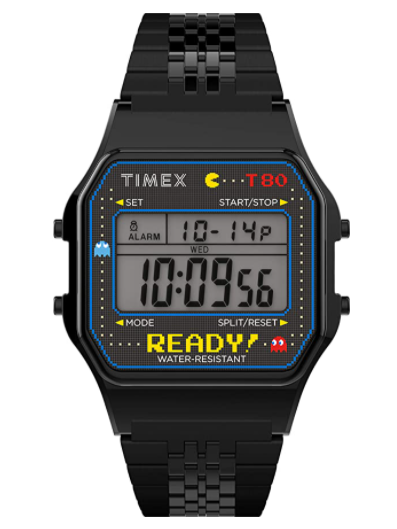 Timex T-80 x PAC-MAN 40th Anniversary specs: 
Case material: Resin

Case dimension: 34mm

Movement: n/a (Digital)

Power reserve: n/a

Water resistance: 30m
What makes it special?
One of the most popular icons from the '80s is that yellow dot-eating 8-bit character called Pac-Man. Combine it with Timex and we got ourselves a timepiece with real retro goodness. Indeed, the Timex T-80 PAC-MAN 40th Anniversary is a great way to celebrate Pac-Man's 40th anniversary.
The aesthetic of the watch makes it look like a mini arcade machine on your wrist. Apart from the digital display, it features the Pac-Man ghosts just on the outer side of the dial. You'll also find a Pac-Man engraving at the back and at the bracelet's clasp.
In terms of functionality, it has all the functions of the T80 watch. Among those features are the digital chronograph that measures up to 1/100 of a second, a daily alarm, as well as a month, day, and date display. It also features Timex's Indiglo technology that lights up the whole dial for maximum readability. Furthermore, it is water-resistant up to 30m, which means it can handle a few rain splashes. However, we don't recommend swimming with it.
All things considered, the Timex T-80 PAC-MAN 40th Anniversary edition is a retro watch worth checking out. Apart from its affordable price tag, it nailed that retro look that every '80s kid feels nostalgic about. The '80s just called and they want these Pac-Man retro watches back.
4. Bulova Computron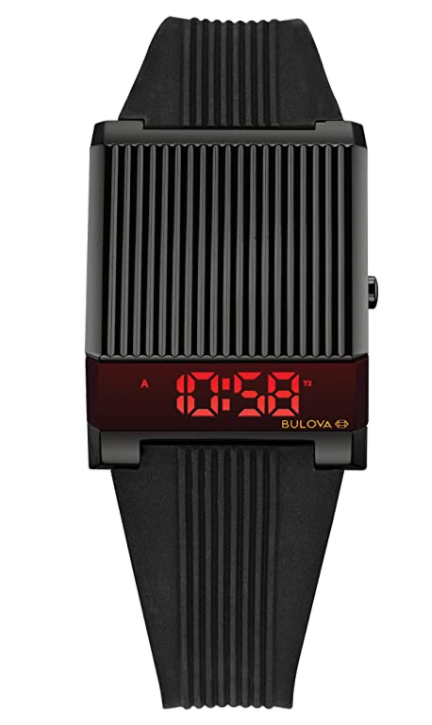 Bulova Computron specs: 
Case material: Stainless steel

Case dimension: 40mm lug to lug, 31mm wide

Movement: n/a (Digital)

Power reserve: n/a

Water resistance: 30m
What makes it special?
If there's one thing that reminds me of the Bulova Computron, it's vintage science fiction. Indeed, it looks like something you would see in the likes of Back to the Future, Foundation Trilogy, or even Star Wars. And yes, despite its futuristic looks, this watch was released in the '70s.
One factor that made this watch unique is its trapezoidal case. And instead of displaying the time on top, Bulova placed it on one side. But don't write it off as a gimmick just yet. According to the designers, they made it this way so that it's easier for people to read the time when doing chores or when driving. With that, Bulova advertised the Computron as a driver's watch.
The display is made with light-emitting diode (LED) and comes in two different colours — red and blue. At a push of a button, it will display the time. A few more pushes will cycle through the running seconds, date, and even a second time zone. Another quirk that you would find from this watch is the battery hatch at the caseback. This means you can open the back by only inserting and twisting a coin.
For sure, the Bulova Computron isn't a watch that you typically see every day. Its robotic looks will definitely make anyone who wears it stand out. That being said, people who are into science fiction and retro watches will find this model attractive.
5. Hamilton Ventura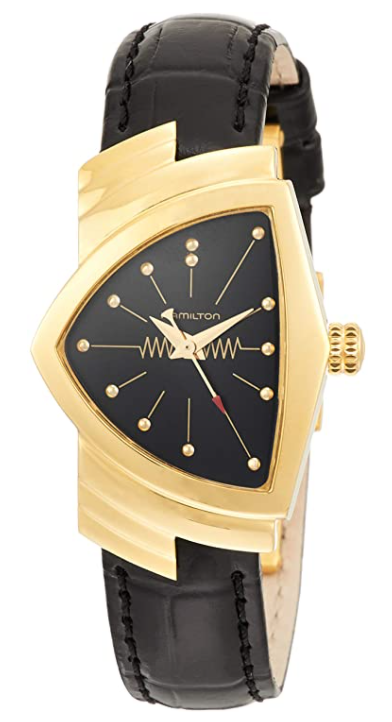 Hamilton Ventura specs: 
Case material: Available in various materials

Case dimension: Available in various sizes

Movement: Available in various movements

Power reserve: Available in various power reserves

Water resistance: Available in various water resistance ratings
What makes it special?
Elvis Presley, the King of Rock, will always have a special place in '50s Hollywood. And if you've read some movie trivia, you probably know that his Hamilton Ventura starred in some of his films. Among those is Blue Hawaii (1961). The watch also made a cameo appearance in other franchises like Men In Black.
The odd-shaped watch is not only famous in the film industry but also in horology. In history books, the Hamilton Ventura is remembered as one of the world's first electric watches, which is why it has an electricity-like design on the dial.
Now, the Hamilton Ventura is available in various models. Of course, there are a few special editions that honour Elvis and MIB. If special editions aren't your thing, Hamilton also released chronograph and open heart versions. Lastly, if you're not much of a quartz person, the Ventura is also available with an automatic movement.
Although modern Hamilton Venturas don't necessarily run on pure electricity, its iconic boomerang shape remained. It was a hit back in the day and certainly until now. If you're looking for something that brings back the rock n' roll spirit of the '50s, this is definitely one of the top retro watches to look out for.
6. Zodiac Super Sea Wolf 68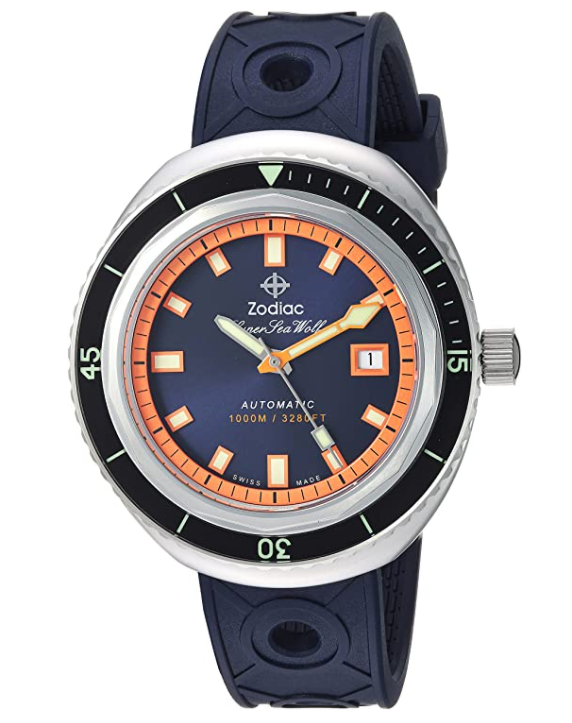 Zodiac Super Sea Wolf 68 specs: 
Case material: Stainless steel

Case dimension: 44mm

Movement: Automatic

Power reserve: 44 hours 

Water resistance: 1000m
What makes it special?
The Zodiac Super Sea Wolf is a different breed of dive watch for a few reasons. One is that it uses bold colours instead of the traditional ones. A look at their catalogue will show you bezels made in bright blue, orange, or even yellow. Another reason why it's special is its durability. While its predecessor only has a water resistance rating of 200m, the Zodiac Super Sea Wolf 68 can handle up to 1000m.
Apart from the funky colours of the Super Sea Wolf, it also features a screwed-down bezel. It also has a safety system that prevents users from accidentally turning it. To rotate the bezel, you have to push it down and then turn it to get those solid clicks. And to add to its diving capabilities, Zodiac decided to give it a bright orange minute hand. This is for better visibility in low-light conditions.
As for its engine, this watch uses an in-house STP1-11 automatic movement. It runs at a frequency of 4Hz and is comparable to the performance of an ETA 2824. Furthermore, it can power the watch for almost two days.
The Zodiac Super Sea Wolf 68 has great quality, especially for its price. Its stellar price-performance ratio definitely makes it a perfect retro-inspired dive watch for anyone looking for distinct and unique retro watches to add to their collection.
7. Longines Heritage Military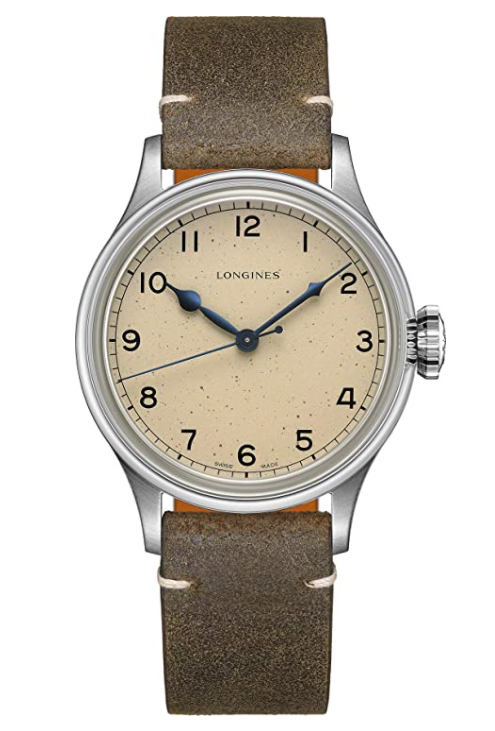 Longines Heritage Military specs: 
Case material: Stainless steel

Case dimension: 38.5mm

Movement: Automatic

Power reserve: 64 hours

Water resistance: 30m
What makes it special?
There are different kinds of retro, and the Longines Heritage Military caters to the vintage military enthusiasts. In fact, this watch was made to celebrate the 100th anniversary of the British Royal Air Force (RAF). Truly, it looks a lot like the watches worn by British pilots during World War II. In case you didn't know, Longines made special orders for the British Ministry of Defence (MoD) back then.
Like other field watches, the Longines Heritage Military has a straightforward design. It has a time-only dial that has easy-to-read Arabic numeral markers. The cream background has a few specks of brown to make it look old. Other than the Longines logo, there are no other texts that you will see on the dial.
The original Longines military watches had 32mm sizes. However, modern trends forced the brand to bump it up to 38.5mm. While it is significantly bigger, the watch is still considered small by today's standards. Furthermore, the whole case of the watch is brushed and not polished. Its crown is also intentionally large to mimic the design cues of the past.
To complete the military look, Longines equipped this watch with a green calf leather strap. Although the brand formally calls it green, it looks more like a tan in some angles. But whichever colour you see it, it certainly is a perfect strap for retro watches.
8. Jaeger-LeCoultre Polaris Memovox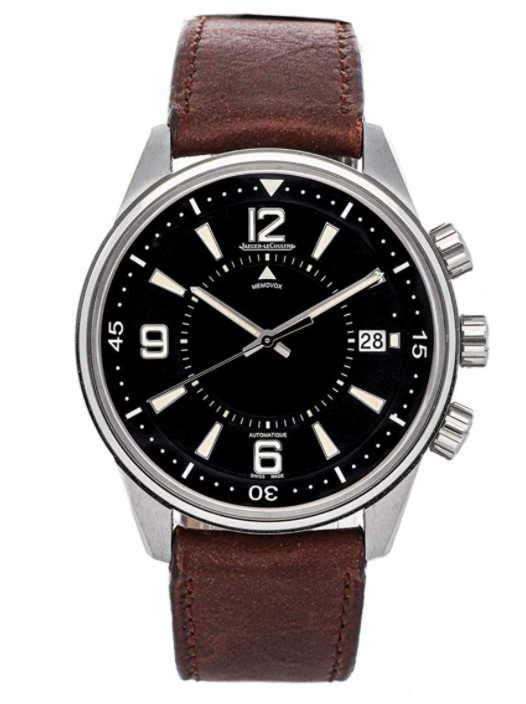 Jaeger-LeCoultre Polaris Memovox specs: 
Case material: Stainless steel

Case dimension: 42mm

Movement: Automatic

Power reserve: 45 hours

Water resistance: 300m
What makes it special?
If you're familiar with a dive watch's functions, you'd know that the unidirectional bezel is there to warn divers when it's time to go up the surface. The Jaeger-LeCoultre Polaris Memovox takes the warning a step further. Instead of just visually indicating the warning, it sets off an alarm. This function soon became known as the "voice of memory".
In 2018, the Swiss watchmaking giant brought a reissue of the 1968 Memovox. This was to celebrate its 50th anniversary. And like the 1968 version, the modern edition comes in a very limited number. In particular, Jaeger-LeCoultre only made 1000 pieces to keep the special timepiece exclusive.
Moving to aesthetics, the Jaeger-LeCoultre Polaris Memovox wears big. In particular, it is 42mm in diameter and 15.9mm in height. But it's good to know that despite its chunky size, the crowns are still easy to access and tinker with. The side of the case contains three crowns — one for adjusting the date, one for the spring to make the alarm go off, and one for setting the alarm time.
At the back of the watch is a simple engraving that says "50th Anniversaire 1968-2018". Likewise, a text saying "One of 1000" is written at the outer edge for that touch of exclusivity. The Jaeger-LeCoultre Polaris Memovox is a big part of the brand's history and is definitely a must-have piece for those who are looking to complete their collection of retro watches.
9. Vostok Komandirskie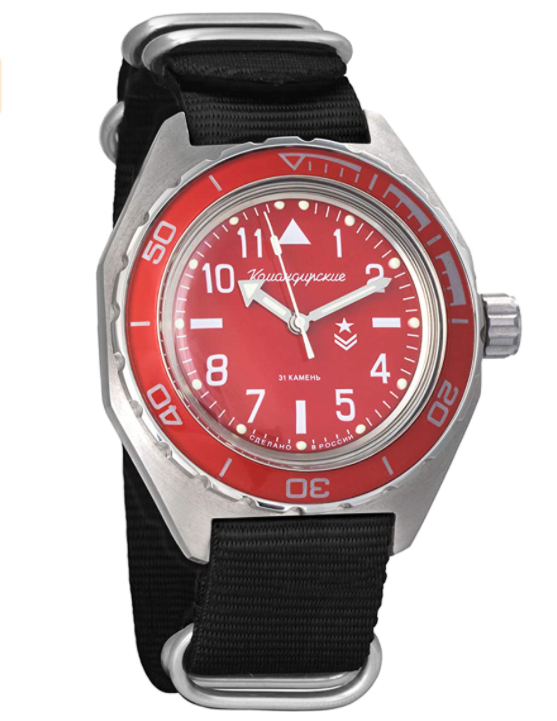 Vostok Komandirskie specs: 
Case material: Stainless steel

Case dimension: 41mm

Movement: Automatic

Power reserve: 31 hours

Water resistance: 200m
What makes it special?
If you're interested in the history of the Soviet side of the war, the Vostok Komandirskie will tell you a bit of a tale. History has it that they once produced defence equipment before making timepieces. Then in 1965, they officially became the supplier of watches for the USSR Ministry of Defense. To celebrate that milestone, they released a new model called the Komandirskie, which means "commander's" in English.
True enough, the Komandirskie looks like something a commander would wear. It has a domed crystal that is durable and common in retro watches. Moreover, it comes with a nylon NATO strap that is comfortable for diving and doing other physical activities. Likewise, its rotating bezel is easy to grip and turn even when underwater.
Speaking of diving, the modern Vostok Komandirskie boasts 200m of water resistance rating. A huge improvement from the 30m rating of vintage models. Another upgrade is its power reserve of 31 hours, which gets extra seven hours compared to the older ones which only have 24 hours.
Among the retro watches on this list, the Vostok Komandirskie will bring you one of the most value for your money. It is functional, durable, and at the same time attractive in a retro way.
10. Laco Paderborn Erbstück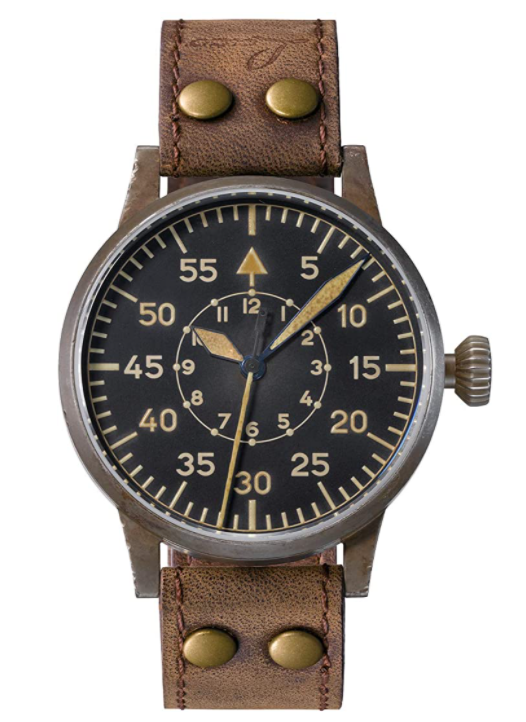 Laco Paderborn Erbstück specs: 
Case material: Stainless steel

Case dimension: 42mm

Movement: Automatic

Power reserve: 38 hours

Water resistance: 50m
What makes it special?
Another military-inspired retro watch is the Laco Paderborn Erbstück. This time, it is a modern version of the pilot watches worn by the German Luftwaffe. Do note that while these went through a lot of modifications from the original, those modifications were necessary to keep the watch wearable. Nowadays, civilians will find the original Flieger watches unwearable as they're specifically designed to fit in with pilot gear and equipment.
If you're not an expert on Flieger watches, its looks can easily trick you into believing that this was used in the war. The faux patina on the dial is convincing and well-executed. Likewise, the stainless steel case bears fake chips and scratches that make it look like a real WWII watch.
Beyond cosmetics, this watch uses the ETA 2824.2 as its engine. This movement beats at a frequency of 28,800bph and can power the watch for up to 38 hours. It also features hacking seconds to let you adjust the time more accurately. All in all, this calibre is considered as a reliable and robust movement by watch enthusiasts.
To complete the look, this watch comes with a worn leather strap. It is accurate to the original straps produced by Laco during WWII. This means it is heavy-duty and will keep your watch securely fastened to your wrist. It is definitely a great addition for that retro look.
11. Glashutte Original Sixties Panorama
Glashutte Original Sixties Panorama specs: 
Case material: Stainless steel

Case dimension: 42mm

Movement: Automatic

Power reserve: 40 hours

Water resistance: 30m
What makes it special?
For that dash of retro funk, the Glashutte Original Sixties Panorama is right up your alley. Its main highlight is its colourful dial which they call the "Fiery Orange". Indeed, it's aptly named as it has a texture that makes it look like it's burning on your wrist.
Staying true to its name, this watch uses period-correct design cues from the '60s. For instance, it has a stylish font that you will see in a lot of retro watches. Likewise, its slightly domed crystal makes it visually striking while making it look vintage. And to take it a step further, sources even say that Glashutte used original tools from the 1960s to achieve this dial.
As for its movement, it uses the calibre 39-47. It is self-winding through a 21K-gold rotor weight. Furthermore, this in-house movement can power the watch up to 40 hours and can be admired through the sapphire caseback.
In a sea of retro watches, the Glashutte Original Sixties Panorama definitely stands out. When you're feeling nostalgic about those groovy disco days when everyone wore elephant pants, this timepiece will surely take you back.
12. Tudor Heritage Black Bay Bronze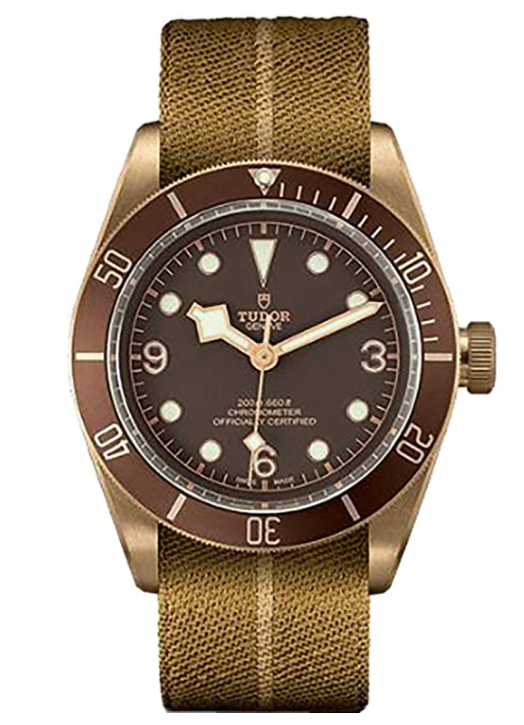 Tudor Heritage Black Bay Bronze specs: 
Case material: Bronze

Case dimension: 43mm

Movement: Automatic

Power reserve: 70 hours

Water resistance: 500m
What makes it special?
There was a time when bronze cases were trendy for retro watches. While trends easily come and go, the Tudor Heritage Black Bay Bronze stood the test of time. Until now, this unique version of the Black Bay still attracts thousands of watch enthusiasts.
Among the Black Bay models, only this version uses bronze as its case material. While it's not as resistant to corrosion as stainless steel, it develops a patina as it ages. This is one of the main reasons for its appeal — to have that authentic retro look. Apart from the obvious cosmetic difference, the Bronze model is larger at 43mm compared to the other models in the collection.
Inside, the Black Bay Bronze uses the Tudor Cal. MT5601 movement. You'd be happy to hear that this calibre is chronometer-certified and top-notch when it comes to accuracy and reliability. It is also resistant to both shocks and magnets, thanks to its upgraded materials.
The Tudor Heritage Black Bay Bronze straddles the fine line between modern and retro watches. Inside, it houses high-quality materials that make it a perfect everyday watch. But outside, it looks as vintage as it gets. You can probably put this beside watches from the 40s or 50s and you wouldn't notice that it's newer!
Final Notes
There are a lot of reasons why these retro watches stood the test of time. Some are remembered for their contribution to history, while some simply have timeless designs. Whichever type of collector you are, there are surely a few retro watches that will suit your taste, whether Flieger or dive timepieces.
Another watchmaker with a rich history is Ebel. Check out our comprehensive guide to Ebel watches!