A lot of people overlook Mido watches. With all the great Swiss watch brands to choose from, the brand often gets pushed behind for the more popular choices. However, Mido goes beyond its name when it comes to producing amazing watches. The brand is responsible for many watches that aren't only modern classics but also worthy investments. Don't believe us? Let's take a deeper look into the brand's generally popular collection, the Mido Multifort. We're confident enough to tell you this collection alone will surely change your mind.
What is Mido?
Founded by Georges Shaeren, Mido joined the market in 1918. Although it's a Swiss brand, its name came from the Spanish phrase "yo mido" meaning "I measure". This name alone generally set the tone for what the brand is all about: time. The company was introduced as a brand with high hopes of becoming an innovative brand. Needless to say, it did just that with attention to showcasing timeless style with innovative technology.
From the very beginning, Mido focused on producing robust, self-winding watches. This made the brand known for its innovative feats with the years that followed. Some of its most notable watches include the Aquadura Crown Sealing System as well as the Powerwind Automatic Winding System. The Aquadura System equipped the crown with a cork gasket that allowed Mido watches to be significantly water-resistant. On the other hand, the Powerwind increased the power reserve of its timepieces. This is made possible by reducing the winding mechanism parts from 17 pieces to just 7! Not only did it improve the sales cost — making it more affordable — but it also enhanced the watch's overall reliability.
The Iconic Multifort Look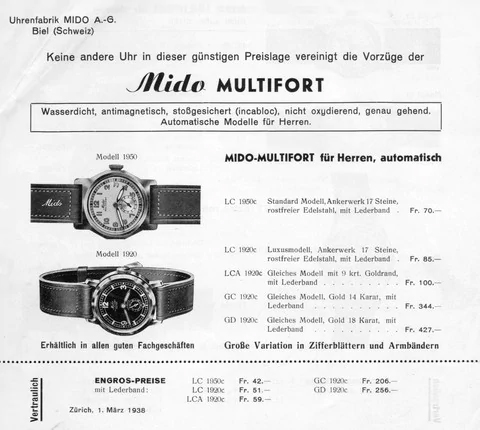 Fans of the brand as well as the range would know that the Multifort's design takes inspiration from the Sydney Harbour Bridge. Generally speaking, this timepiece upholds force and strength as two of its impressive features. The classic look features Geneva stripes or Côtes de Genève on the dial to reflect the usual look of bridges.
Today, the Multifort range goes beyond just date and time and even anti-magnetism. It offers many more modern-day additions, including GMT and Dual Time features. Mido also continues to innovate on the collection with a Chronometer offer. Let's get to know each and every Miltifort watch we can get our sights on.
The Mido Multifort Range
In between these innovative feats, Mido launched its flagship collection, the Mido Multifort. This breakthrough timepiece was launched in the early 1930s with a feature that not all brands can provide. Mido Multifort became known as one of the first antimagnetic watches with an automatic, waterproof, as well as shockproof movement.
1. Mido Multifort Chronometer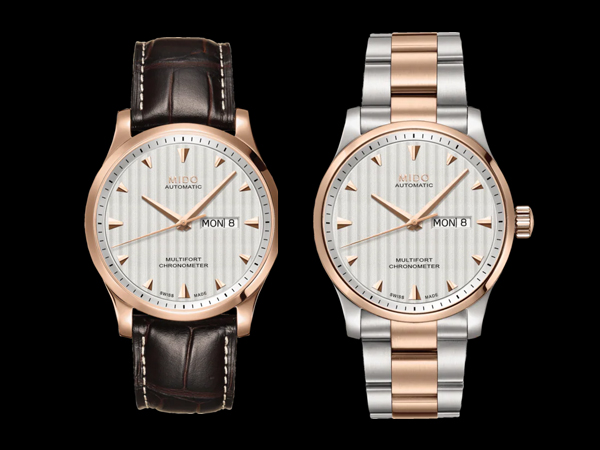 While we're in the topic of bragging the Multifort's track record, let's get right into the most innovative one first. There surely is a lot to unpack when it comes to this timepiece. The Mido Multifort Chronometer goes beyond modern and stylish watch as it upgrades the watch's movement with the Caliber 80 Si. This COSC-certified calibre doesn't only have incredible accuracy but also a power reserve that goes for about 80 hours. This movement came from ETA's C07.821 movement. It also beats at 4 Hz. In addition, it features an ELINFLEX mainspring as well as a silicon balance-spring. All these put together make the COSC-certified calibre that powers the Mido Multifort Chronometer.
The watch comes in various versions. However, every iteration features a 42mm case with 11.8mm thickness. Every Mido Multifort Chronometer is also equipped with an anti-reflective sapphire glass for the dial and caseback. Among the watch's dial colours include silvery-white and black, as well as a full-black design with accents in off-white. The case can also either be in two-tone rose gold, steel, or even with a satin black PVD finish.
The white dial makes for a classic look that remains a standard in most Mido Multifort watch. Not only is it simple but also straightforward with applied indexes and inscriptions that only include the most important information. That includes the brand and collection name as well as the words "Automatic" and "Chronometer". Moreover, this timepiece features a depth rating of 100 metres and also comes with either a leather, textile, or steel bracelet.
2. Mido Multifort Power Reserve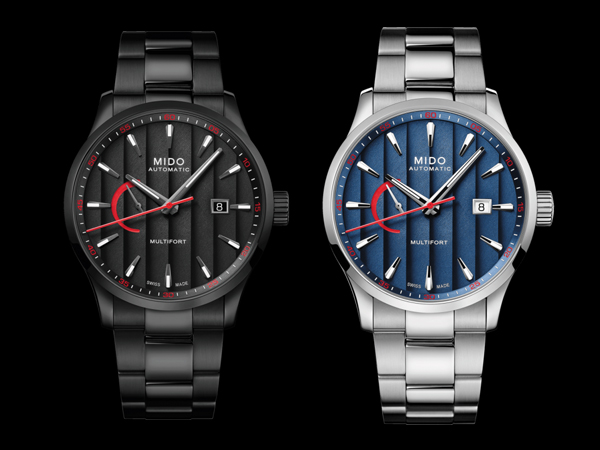 Just as with the Multifort Chronometer, the Mido Multifort Power Reserve features the same Geneva stripes. Thus, making it easily recognisable. This watch also comes at a similar 42mm stainless steel case. However, two other iterations of the watch come with an anthracite PVD treatment that gives it a strong contrast against the Super-LumiNova on the indexes, hands, and power reserve indicator. With that said, you probably know now where its name came from. Yes, it comes from the power reserve indicator found on its dial. This design choice remains a first for the Multifort range. Mido equipped the timepiece with an indicator at 9 o'clock to show how much more you have left of the undeniably remarkable 80 hours of power reserve provided by the Calibre 80.
Aside from the power reserve indicator, the design of the dial goes without any hitch. It remains a simple one with a date aperture at 3 o'clock. It's a typical choice for a watch you can take for everyday use. What's more, the dial is protected by a domed sapphire crystal for added durability and scratch-proof quality. This crystal not only provides protection to the dial but also to the exhibition caseback. It also has an anti-reflective treatment applied on both sides for a clearer view of the dial as well as the movement.
Beating at a standard 3 Hz or 21,600 vibrations per hour, the Calibre 20 features a silicon balance-spring. It's also based on the ETA C07.671. It doesn't take any effort to notice that the oscillating weight of the calibre comes with the same Geneva stripes as the dial.
The Multifort Power Reserve comes with three design options. Firstly, it comes with the stainless steel version with a blue dial red accents. Then there are two watches with a black PVD treatment on the case and bracelet. One of them also features red accents, while the other remains simple with green accents.
3. Mido Multifort Gent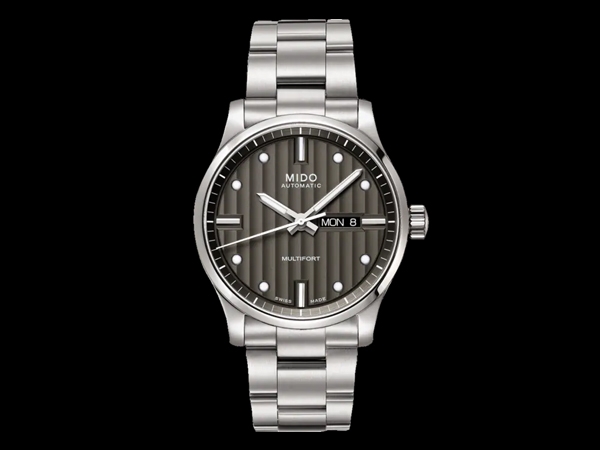 Perhaps the simplest of all Multifort watches, the Mido Multifort Gent proves itself a classic. This line appears to be the most basic of all, making it perfect for everyday wear. It comes in two sizes: the 42mm standard case and the smaller 38mm variant. Furthermore, it also includes an iteration that comes with a rotating bezel for those who need it. However, we prefer the one without it as it looks more refined and polished to the core.
The Multifort Gent has various case options available for everyone. It can come in either a regular stainless steel case or one with PVD coating in either black or rose gold. As aforementioned, it may also come with a rotating bezel feature. Just as wide as its selection is, the Gent may also come with a variation of straps and bracelets. You may avail it in either a steel bracelet, a leather strap, or even a rubber strap.
As expected, the Multifort Gent powers through with the Calibre 80. It vibrates at 21,600 beats per hour with an 80-hour power reserve.
4. Mido Multifort GMT & Dual Time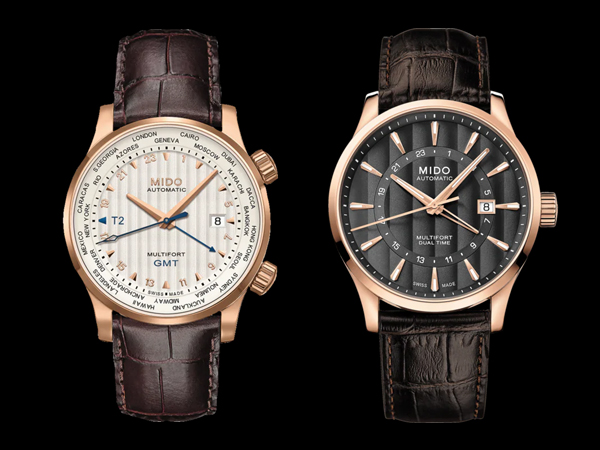 There are various versions of the Multifort GMT made available to its clientele. Firstly, a Multifort GMT comes with a dual-crown as well as an internal bezel. Another version you'd see around is the Mido Multifort 80th Anniversary GMT Edition. The former features a moving, compartmentalised flange that shows names of the 24 cities representing the time zones around the world. The time on this watch can be set through the crown at 2 o'clock. It comes in either a stainless steel case or one with a rose gold PVD treatment. Either way, this timepiece would appear to be the more refined version of the Multifort GMT family.
On the other hand, another iteration of the Mido Multifort GMT comes in various colourways. While it doesn't have the city names on the dial, this one has a 24-hour ring printed on the dial. It's friendlier for those who like a simpler look and to avoid confusion when reading the time.
Meanwhile, the Multifort Dual Time features a 24-hour ring on the dial, a smaller one compared to the Multifort GMT. It also comes with multiple colours and straps that make it quite a fashionable tool watch to wear especially when travelling.
5. Mido Multifort Adventure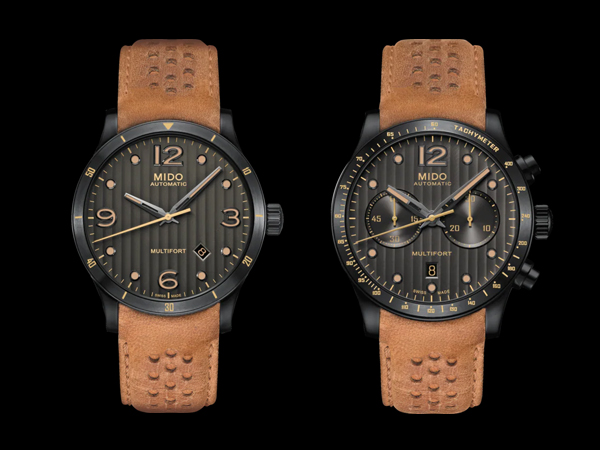 The Adventure appeals mostly to the outdoorsy type. It's also perfect for people who'd like a more rugged look without sacrificing a classy detail. The Multifort Adventure offers its wearer incredible readability. This is made possible through the sand-coloured Super-Luminova on the applied indexes as well as the skeletonised hands. It comes with a leather strap with patina as well as a dark grey case for a classy feel with a touch of an outdoorsy look.
This model also comes in a Mido Multifort Adventure Chronograph iteration with two sub-dials as well as a tachymeter on the bezel. Both come with 100 metres of water resistance.
6. Mido Multifort Chronograph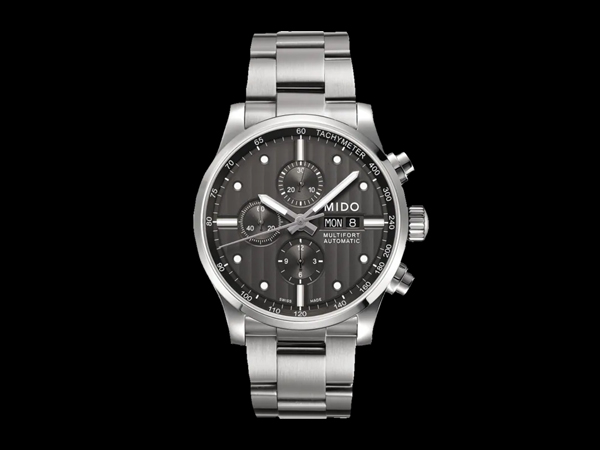 Speaking of chronographs, let's take a look the Multifort Chronograph, which remains a staple in the range. After all, a collection wouldn't be complete without an open-edition chronograph for everyone who likes their time measured up to the 100th of a second. The Multifort Chronograph comes with various designs. The first three designs are straightforward with two subdials. Firstly, a stainless steel watch with a black PVD coating and black dial with blue accents on the rotating flange and hands. Secondly, you'll find an anthracite dial version for the stainless steel watch. And lastly, a silver-toned dial on a stainless steel case. Another version of the Multifort Chronograph features a C-shaped lineup of sub-dials. They come with a tachymeter on the inner bezel and a day-date window at 3 o'clock.
7. Mido Multifort Escape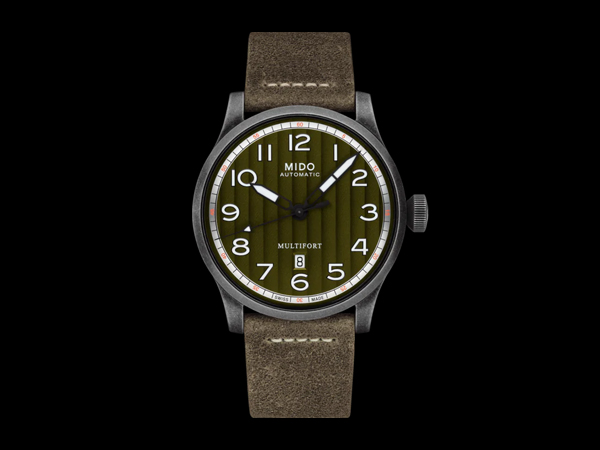 The Multifort Escape, on the other hand, comes with a more vintage feel to its design. While it retains the iconic Geneva stripes on the dial, its hour markers are Arabic numerals. It would remind you of classic war watches and this is, perhaps, the image this Multifort watch is looking for. It's powered by the similar Calibre 80 by Mido.
8. Mido Multifort Patrimony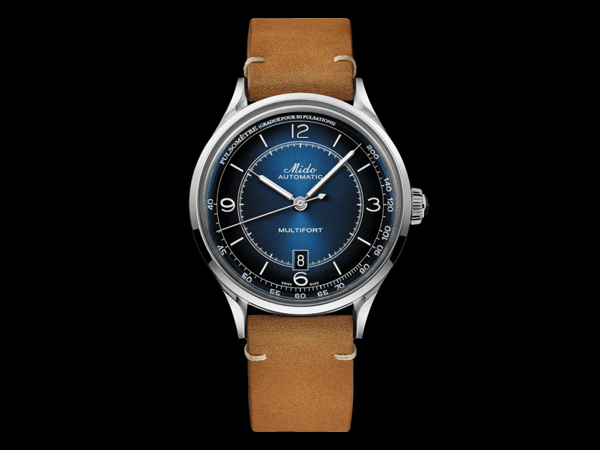 The Mido Multifort Patrimony perhaps has the most different look among the Multifort watches we've discussed. Firstly, it has a gradient smooth dial, so the typical Geneva stripes are absent. However, the look remains a classic with a vintage touch to it. This version of the Multifort comes with a box sapphire crystal as well as syringe hands. On the dial, you'll find a pulsometer. Powering it is the Mido Calibre 80 based on the ETA Co7.621 with an 80-hour power reserve. It comes in either stainless steel with a blue or anthracite dial or a gold PVD-coated stainless steel with a black dial.
Mido Multifort Special-Edition Watches
As Mido continues to innovate with their timepieces, it's not surprising to get special edition watches every once in a while. So far, there had been two special edition watches under the Multifort category. One's a three-hand timepiece with a date window at 3 o'clock and the other's a chronograph. Both can easily be spotted from anywhere, even in dark. All that's thanks to the orange accent that surely makes it a stand out, without a doubt. Let's take a closer look!
9. Mido Multifort Special Edition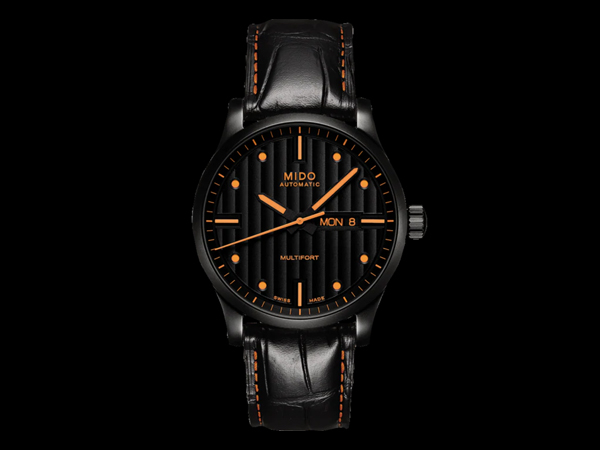 At 42mm wide, the Mido Multifort Special Edition watch isn't really much different from most Multifort models. However, it's a bit thinner with only 10.95mm thickness. The stainless steel case of this watch also undergoes the PVD coating process, giving it not only a sleek black look but also maximum resistance to corrosion. PVD coatings do more than just give the watch an aesthetically pleasing look. Given that it's also microscopically thin, a layer of PVD gives the watch a robust shield all around. Moreover, it provides the timepiece with hypoallergenic properties so you don't have to worry about uncomfortable wear.
While we're at it, let's discuss the solid look this watch offers. It's cool and trendy without sacrificing the classic feel. It features a black dial with orange appliques as well as hands. This contrast makes it a very compelling timepiece as well as a stylish choice for everyday wear. to protect this dial, it employs the help of a flat sapphire crystal with an anti-reflection treatment for a clear, unrestricted view. This refreshing look proves one of the reasons that it's popular among collectors and casual wearers. Tie it in with the Geneva stripes and you get a classic Multifort look, upgraded to a fashionable option.
As any other Multifort watch, it comes with a screw-in crown as well as 100 metres of water resistance.
10. Mido Multifort Chronograph Special Edition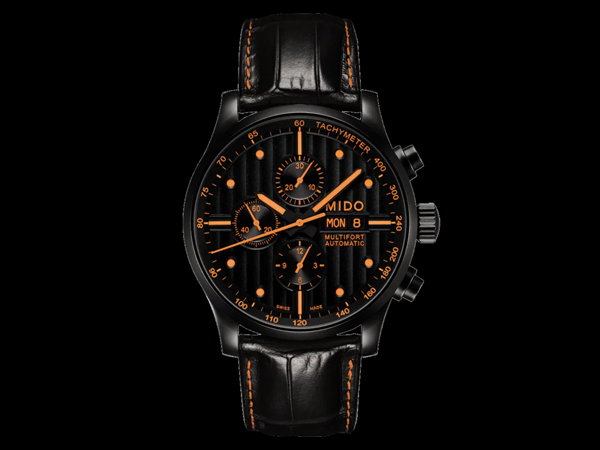 A tad bigger than its non-chronograph counterpart, the Mido Multifort Chronograph Special Edition comes at 44mm in diameter. This watch features a C-shape-counters layout for the three subdials. Employing the remarkable ETA 7750, you'll surely get the reliable industrial Chrono movement seen all over the Swiss watchmaking industry. Given the brand's ties with ETA, Swatch Group made sure that one of its brands gets only the best movements for its watches. Over the years, the brand upgraded the movement with an Incabloc shock system as well as a Glucydur balance spring. Thus, making it more reliable than ever! There are also a few quirks found on the movement such as blue-coloured screws that make it an interesting sight to see.
As with the non-chronograph special-edition watch, this timepiece also has PVD coating on its stainless steel body. The dial also has orange accents that make it a sporty timepiece in general. The 1mm deep disc pieced on the sub-dials as well as the Geneva stripes gives this watch incredible depth. With a multi-layer assembly technique applied to this watch, you'll see the dynamics of this timepiece depending on the angles it's viewed from. With the hands positioned properly, it also gives a crosshair effect that ups its sporty look even further.
An Underrated Must-Have
Mido remains an underrated classic if you ask us. The company holds the 4th most number of chronometer watches. That means that the company is dedicated when it comes to providing accurate time readings to its clients. They do that, too, without letting you break the bank. There's a lot more to unpack with this brand but we hope you gathered all the information you can get when it comes to the brand's flagship collection. As the Multifort continues to evolve, we remain excited for the future offerings that it'll come with.
---
Underrated brands are all over the industry. Check out our review of Ebel watches, a timeless favourite among collectors!
Photo credits: All photos courtesy of Mido