Who needs a diamond ring when you can buy yourself a diamond watch instead? Well, maybe not right away — but perhaps in the very near future after you have saved up for it. Because, really, when it comes to buying a diamond watch, you would want to take your sweet time before committing.
Granted you will be shelling out a lot of money for a diamond watch. But it's a lifetime investment, one that you'll be able to pass down from generation to generation, especially since we are not just talking about simple diamond hour-markers here. We mean full-on, all-diamond watches.
Here are eight of the most covetable ladies' diamond watches you can post on your vision boards — for now — to keep you all inspired and motivated.
Bvlgari Serpenti Jewellery Watch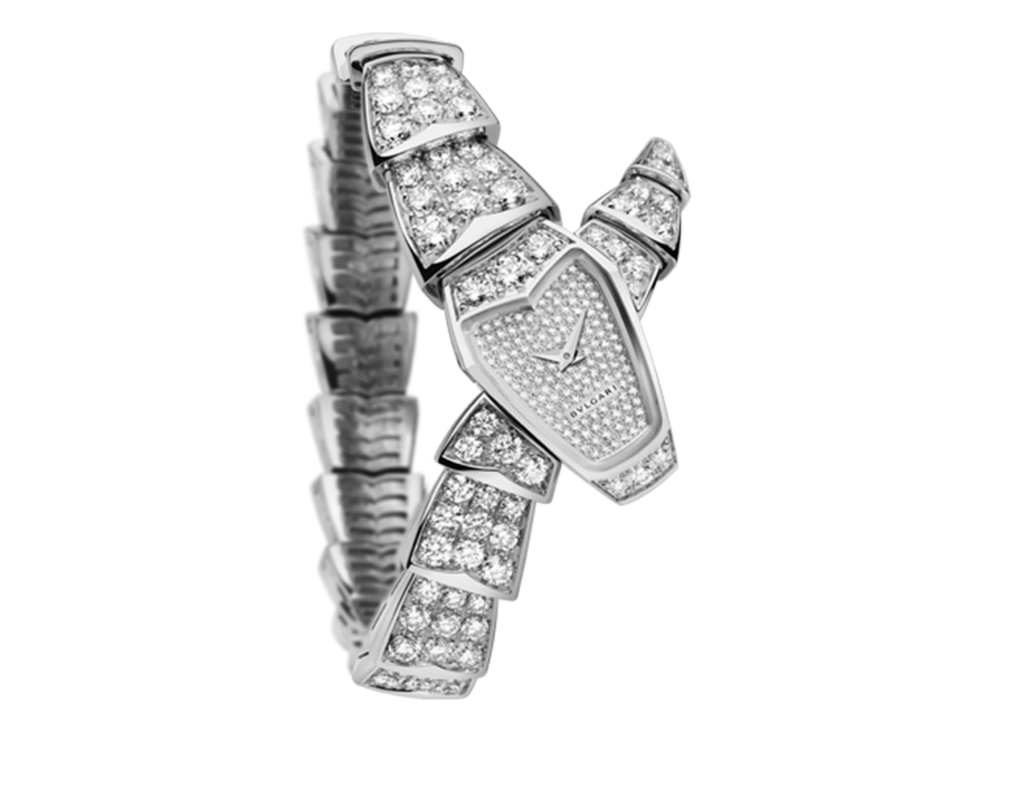 No woman likes a snake unless it's a Bvlgari snake. The Italian luxury house first introduced the Serpenti motif in the 1940s when it produced snake-inspired bracelets. But it was in the 1960s when the Italian luxury brand introduced its Tubogas-style Serpenti watches that the world took notice.  
The Serpenti design became a household name when it was seen on the wrist of Elizabeth Taylor on the set of her movie 'Cleopatra'. Sixty years later, the snake motif continues to seduce.
This Serpenti Jewellery watch in 18K white gold is sexy and sophisticated without being too over the top. Powered by a quartz movement, the dainty 26mm timepiece features a snow-set pavé dial, while the single spiral bracelet is set with brilliant-cut diamonds.
Sensual, unique, and certainly not for the faint of heart, the Serpenti Jewellery watch can be yours for US$83,000. If you want something less expensive with a pop of colour, the Serpenti Tubogas watch with a red lacquered dial is a stunning option, too!
Van Cleef & Arpels Ruban Secret Watch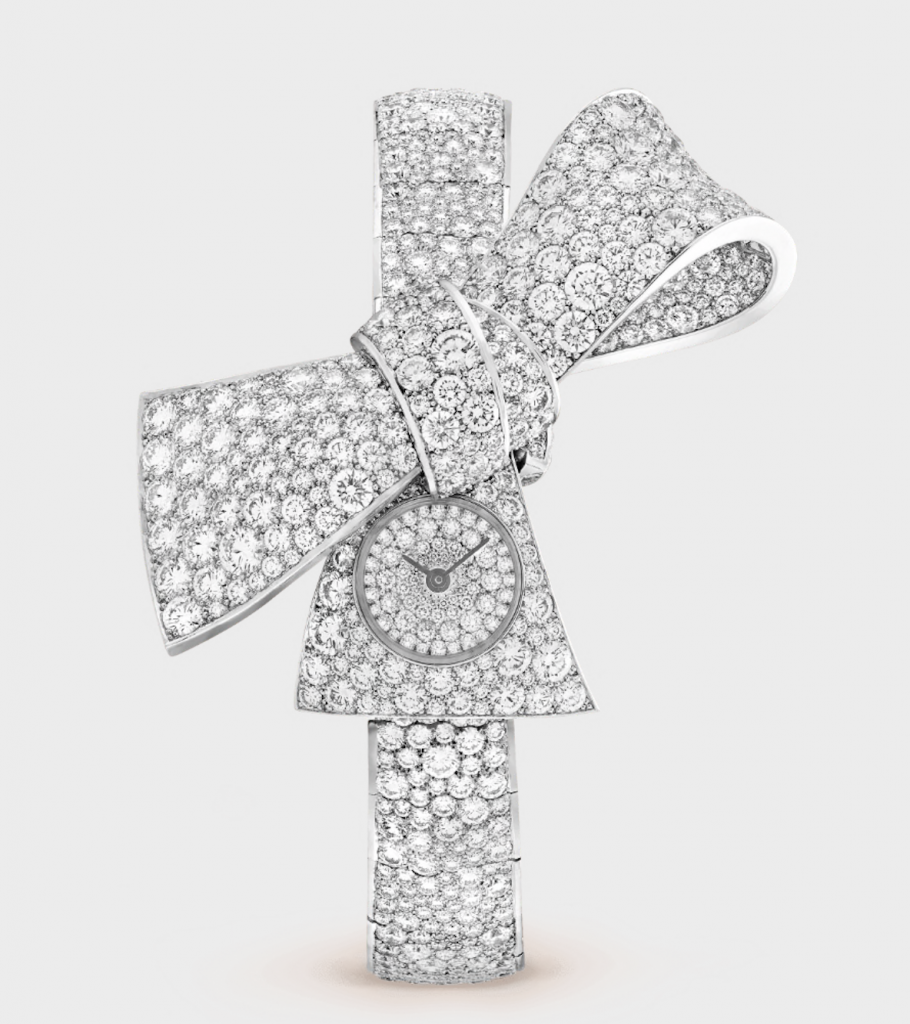 You haven't seen 'flirty feminine' until you have laid eyes on the Van Cleef & Arpels' Ruban diamond watch. Think ribbons, diamonds, and the playful seduction of a secret watch.
A total of 20.66-carat round diamonds of various sizes adorn the 18K white gold dial, bracelet, and bow. And within its dainty frame lies a quartz movement.
Giving a nod to haute couture with the delicate ribbon design — an iconic motif by Van Cleef & Arpels since the 1920s — this high jewellery timepiece is a sight to behold. Gently slide the jewelled bow to hide or reveal the time.
Price on request.
Graff Oval Diamond Secret Watch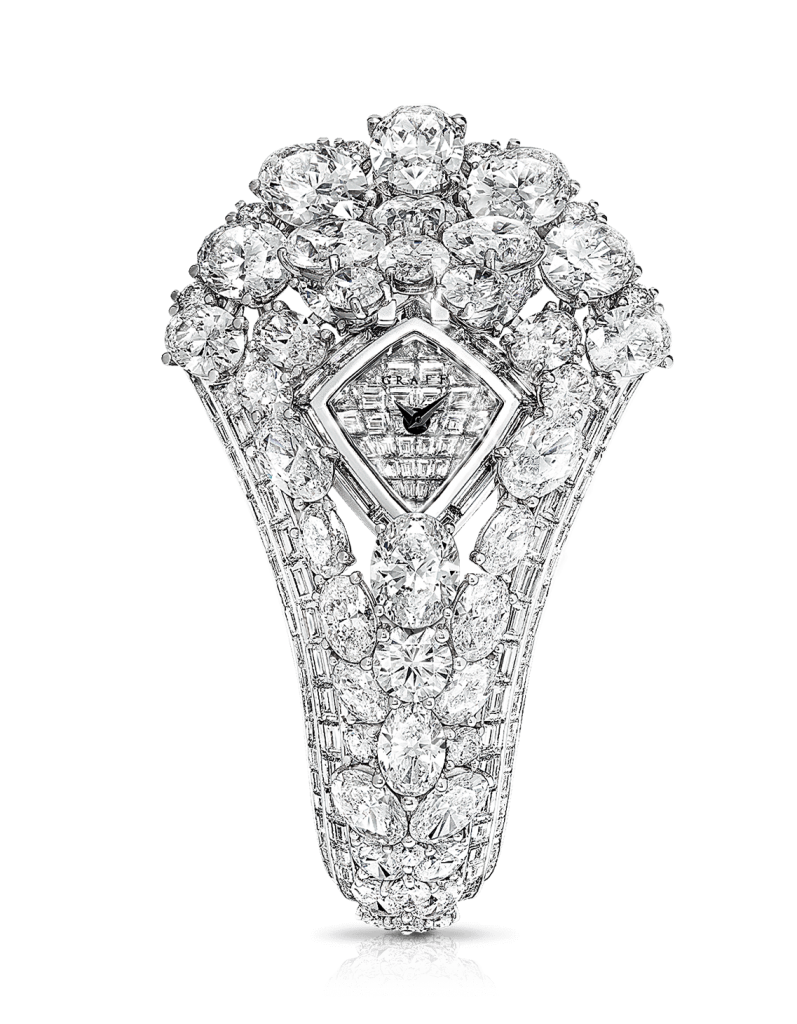 Shhh… women love diamonds as much as they love keeping little secrets. Case in point: this stunning Oval Diamond Watch from Graff.
The British luxury jeweller owns some of the most expensive diamonds in the world, establishing high standards in diamond setting and fine jewellery craftsmanship. And this Oval Diamond Secret Watch is just another elegant reminder of the brand's ingenuity.
To create harmony and complex volume using mixed-cut diamonds — totalling 56.76 carats — Graff's master craftsmen spent hundreds of hours setting the diamonds in a beautiful fan motif. Reveal or hide the time at will by gently sliding the stones.
Price on request.
Chopard Happy Diamonds Icons Watch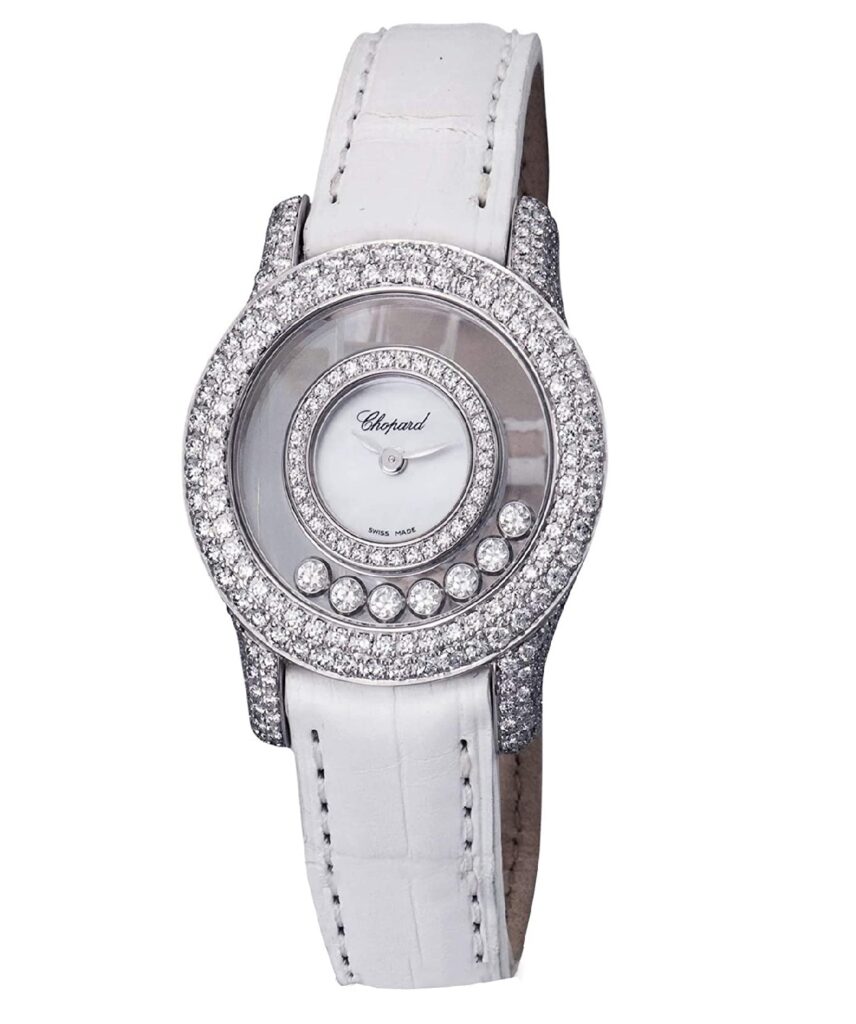 More than 40 years ago, Chopard introduced the dancing diamonds concept in its jewellery and watches — much to every woman's delight.
This Happy Diamonds Icons Watch in 18K white gold will surely make your heart dance in delight. Round diamonds embellish the watch, while seven of them effortlessly dance around the mother-of-pearl guilloché dial in between two sapphire crystals. A quartz movement powers this 30mm beauty.
For US$35,900 (or approximately US$12,200 for the green leather version), you can have a happy wrist by Christmas.
Cartier Mini Baignoire Panthère Spots Watch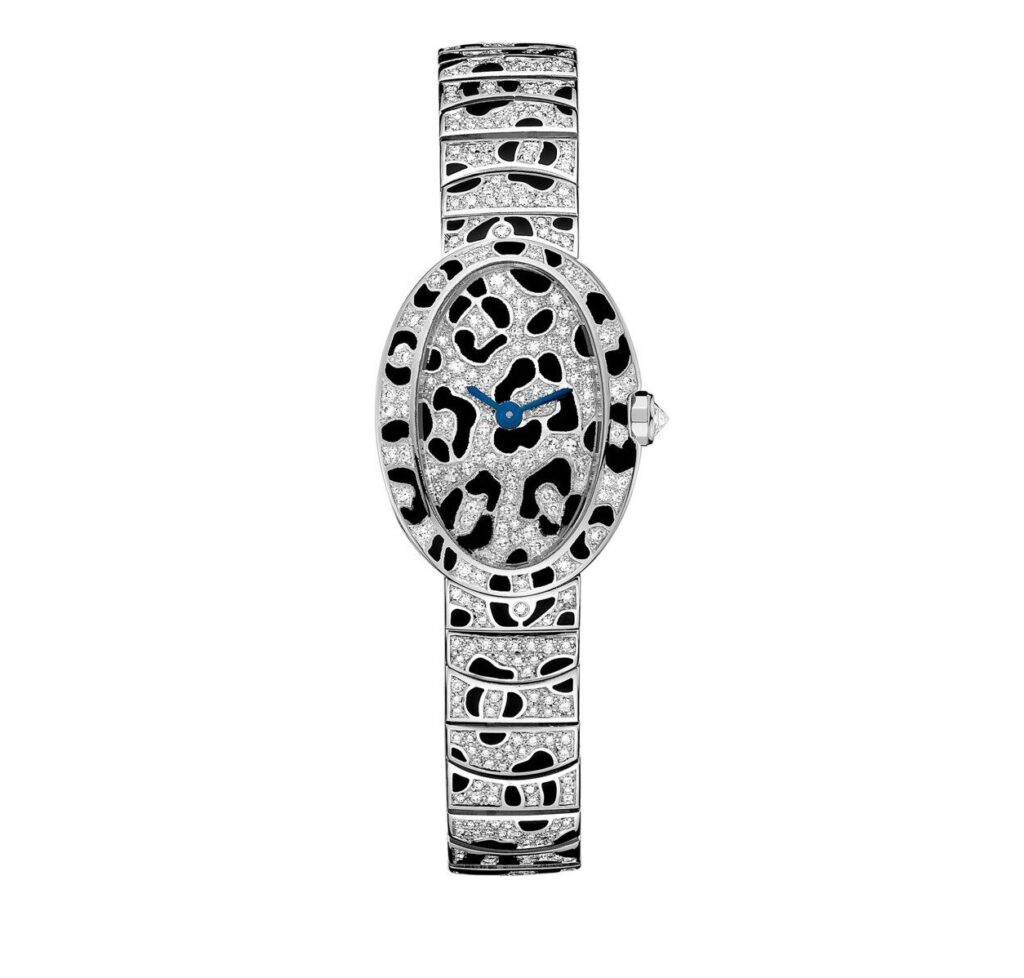 Popularised and refined in the 1940s by Jeanne Toussaint — one of Cartier's legendary creative partners — the Panthère motif is now an undeniable icon in the jewellery world. To justify a high jewellery collection, one must own a Panthère piece.
This Mini Baignoire Panthère Spots Watch in 18K white gold is set with brilliant-cut diamonds, featuring black enamel 'panther' spots and a quartz movement. Elegant with a hint of audacity, the panther spots perfectly complement the soft eclipse-shape of the Baignoire.
For many jewellery watch aficionados, to own a Cartier Baignore with a Panthère motif is a dream come true. Get yours soon for US$79,500.
Breguet Secret de la Reine Watch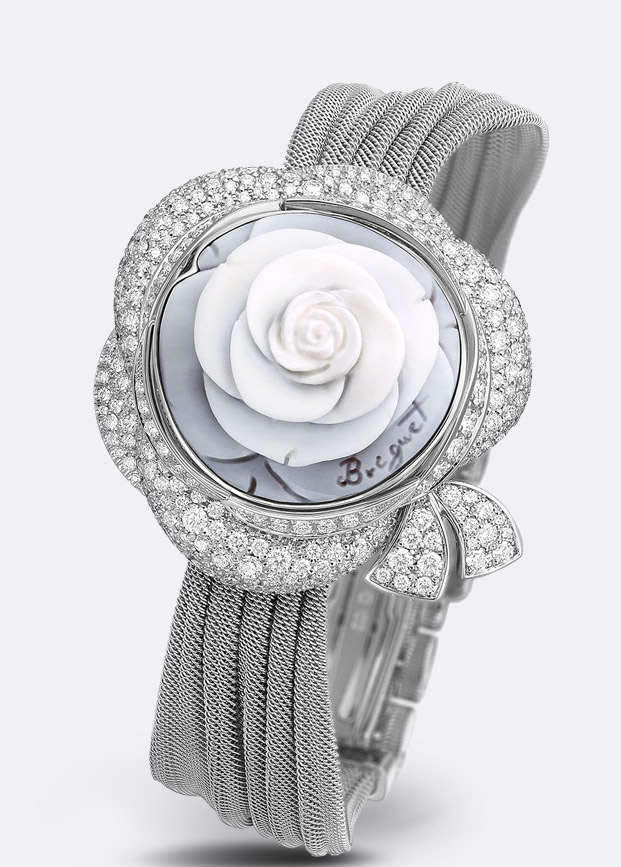 Inspired by the "Marie Antoinette with the Rose" portrait of the Queen of France, the Breguet Secret de la Reine timepiece is yet another favourite classic.
Ever-present in the must-covet list of most jewellery watch collectors, the Secret de la Reine watch has that vintage-romance vibe with its rose-engraved cameo case studded with diamonds. Engage a hidden hinge to reveal the diamond-pavéd dial underneath the hand-carved flower.
Powered by a self-winding movement, the exquisite watch boasts a 38-hour power reserve and an 18K white gold bracelet. Also available in rose gold.
Price on request.
Piaget Limelight Stella Watch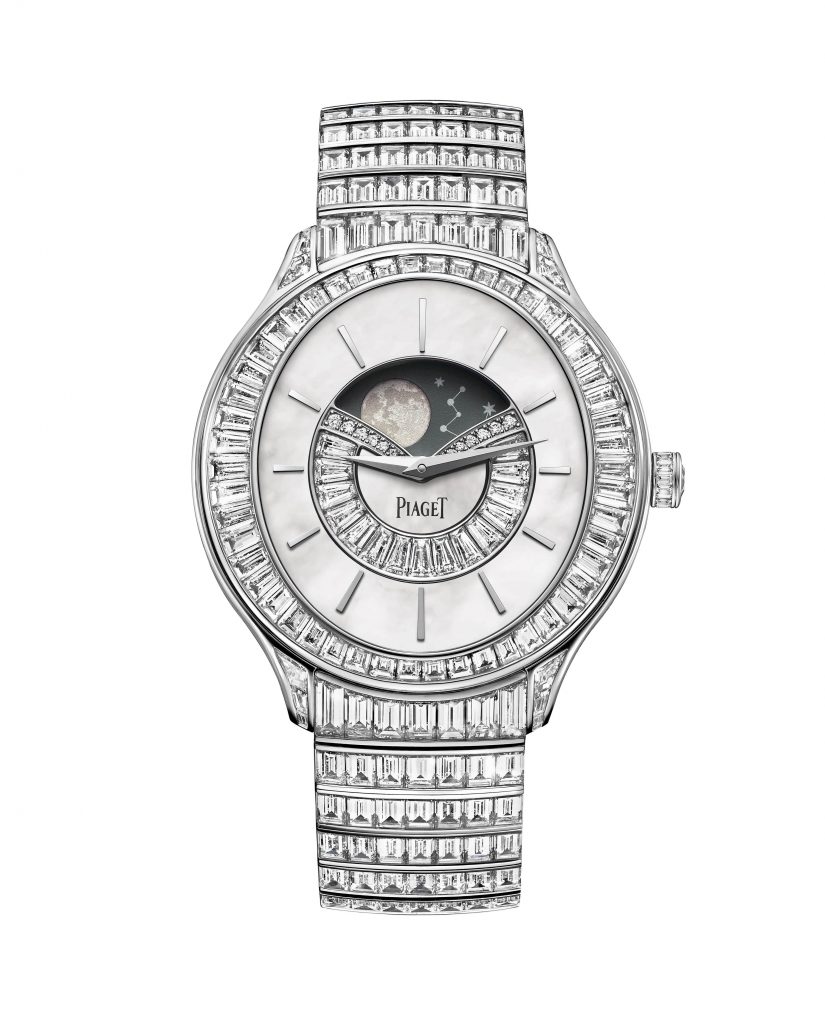 Just like in a real woman, a little complication in watches only make them more interesting. And Piaget knows exactly that.
Embodying the Swiss luxury brand's passion for both high jewellery and fine watchmaking, the Limelight Stella diamond watch is studded with diamonds and features a self-winding mechanical movement with a moon phase function. With baguette-cut diamonds, the watch maintains an understated design for the minimalist diamond lover.
The 39mm case complements the jewellery watch's minimalist beauty, making it easy to spot the moon phase indicator at 12 o'clock.
Price on request.
Omega Constellation Manhattan Master Chronometer Watch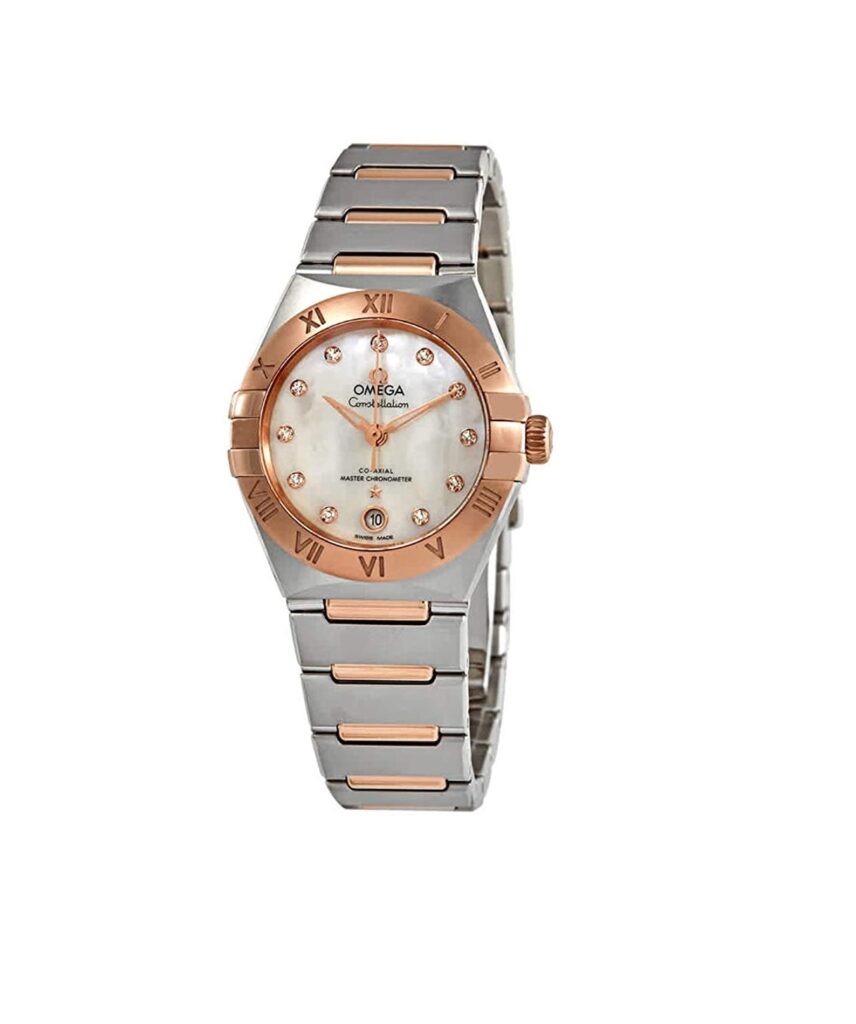 Last but not least, if you prefer just the right amount of brilliance in your daytime watch, then you definitely need this Omega Constellation diamond watch in your life. The 29mm stainless steel timepiece features a diamond-pavéd bezel and a white mother-of-pearl dial complete with diamond hour-markers.
The sapphire crystal case is scratch-resistant for everyday wear. And powered by the Omega Co-Axial Master Chronometer Calibre 8700 movement, this elegant watch is easy on the pocket, too, at US$10,000. For a more cost-effective and daintier option, you may go with the Omega Constellation Quartz version for only US$4,200 instead.
For more affordable yet still stunning ladies' watches, check out our feature on impressive watches for women under $500.