Watches, in general, are round. But no other model embodies the shape like the Seiko Tuna. Apart from its shape, the Tuna is known for its high water-resistance rating. In fact, this high-performance diver is one of the popular Seiko models that are commonly found in a watch collector's lineup.
If you're interested in diversifying your dive watch collection, then you've come to the right page. Here is a definitive guide on what the Tuna is and why you should check one out. We also included a brief history on the model and a list of our top picks. Check them out below.
History of the Seiko Tuna
A Product of Criticism
The Japanese are generally known for having excellent work ethics. And whenever Seiko receives criticism regarding their watches, they strive to make their watches better. In 1968, they received a complaint that their models were not robust enough. The watches could not be exposed to underwater pressure for a long period of time.
Of course, Ikuo Tokunaga — an engineer at Seiko responsible for many of the brand's iconic sports and dive watches — took on the challenge. And together with his team, they crafted the "perfect professional diver's watch".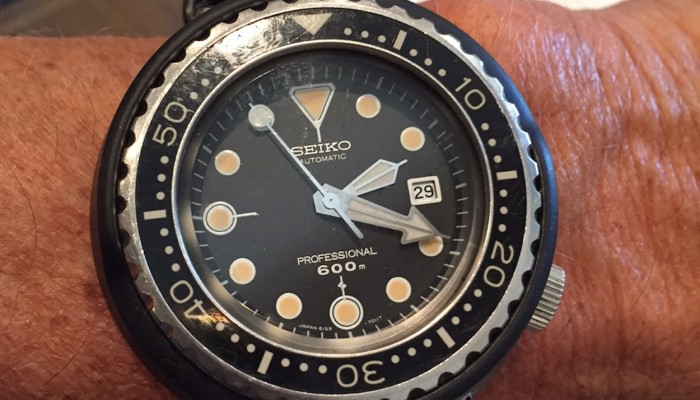 The First Tuna
It took a few years for Ikuo Tokunaga and his team to develop the Tuna. But in 1975, they were proud to unveil the 6159-7010 model. Outside Japan, it is usually referred to as the 6159-7019, but for consistency's sake, let's call it the 6159-7010 throughout this article. Watch collectors also gave it the nickname "Grandfather Tuna".
Under the hood, it had the mechanical Calibre 6159B movement. This was the same movement used for the earlier Seiko diver models. However, the major difference was more on its exterior rather than what's inside.
The Seiko Tuna 6159-7010 was the first-ever watch to have a titanium monocoque case. Along with it is a titanium shroud coated with ceramic. Apart from those, it pioneered the use of an L-shaped gasket and a vented rubber strap.
To ease the minds of the critics, Seiko submitted the watch for ISO testing. As expected, the Grandfather Tuna surpassed the standards.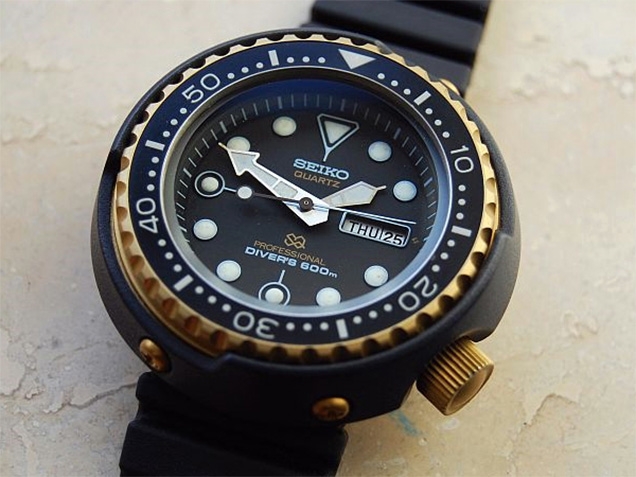 The Golden Tuna
In 1978, Seiko incorporated the quartz trend into the Tuna. They gave it the model number 7549-7009. While the shift may be nonsensical today, it was considered a feat during that time. To the unacquainted, the 70s was the time when quartz watches were just starting to become big.
To make it look different, the model had a nitride coating which gave a golden colour on its titanium case. This was the reason why people fondly call it the Golden Tuna.
One distinguishable characteristic was the size. The Grandfather Tuna came in a large 51mm case. Meanwhile, the Golden Tuna was smaller at 49mm. Even by today's standards, the case is considered as extremely large.
Another fascinating thing about this model is that it was used in a James Bond movie. In For Your Eyes Only (1981), there's a scene where the English spy was diving to the St. Georges wreck in a submarine. Of course, his trusty steed was no other than a Seiko Tuna 7549-7009.
Darth Tuna
From James Bond, we now go to Star Wars. For aesthetic reasons, Seiko got rid of the gold accents and gave the watch an all-black case. Of course, Star Wars fans were quick to associate it with their favourite character so they nicknamed it the "Darth Tuna".
Apart from the design, it had a water-resistance rating of 1000m. This was a large jump from the 600m water-resistance of the Golden Tuna.
All Hail the Emperor
After a few reissues of the Golden Tuna and the Grandfather Tuna, Seiko decided to create a different kind of breed in 2009. They called it the SBDX011 Marinemaster Automatic Professional. And as expected, it wasn't long before Seiko fans gave it the nickname "Emperor Tuna".
As an upgrade, they used a sapphire crystal instead of the usual Hardlex crystal. Its 52mm case was covered in PVD titanium and can protect the watch for up to a depth of 1000 metres.
But the biggest upgrade was its movement. After years of producing quartz Tuna watches, Seiko decided to give it a traditional treatment. The movement used was the calibre 8L35. It is hand-wound and has a hacking feature to ensure more accurate timekeeping.
If you're a watch collector eyeing this model, I have bad and good news for you. The bad news is it's a Japan-exclusive model. But the good news is that it's easily obtainable from resellers.
The Ultimate Tuna
What do you get when you take a movement that's meant for a Grand Seiko watch and put it inside a Tuna? You get the ultimate Seiko Tuna model! Fondly called the Golden Spring Drive Tuna, this version combines the accuracy of Grand Seiko and the robustness of the Tuna line. No wonder it also goes by the moniker "Ultimate Tuna".
It was released in 2013 to celebrate the Tuna's 100th anniversary. Moreover, its original reference number was SBDB008. It was also sold in a limited number of pieces — 300 to be exact!
The Spring Drive movement of Seiko's luxury brand is something to boast about. It is a hybrid of a quartz and automatic movement. Furthermore, it has a hacking feature, a 72-hour power reserve, and an accuracy rating of -1/+1 second per day.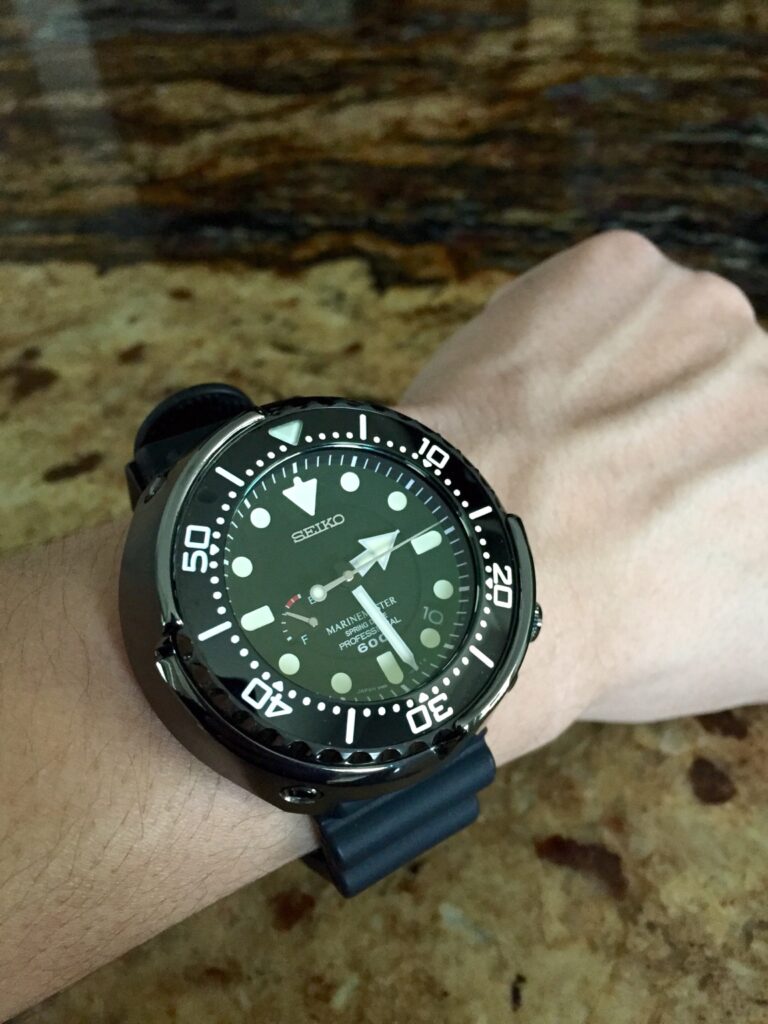 Another Spring Drive Tuna
It seems that people could not get enough of the Spring Drive-powered Tuna. So after only a year, Seiko launched the SBDB009 "Spring Drive Tuna". The most recognisable difference between this and the previous model is the bezel colour. While the SBDB008 borrows the golden hues of the Golden Tuna, this one is more like the Darth Tuna with its all-black case.
These anecdotes are proof that Seiko never becomes satisfied. They continually find ways to further improve their product. And as the years went by, Seiko has released a few reissues and limited editions of the watch. 
Here are a few variations of the Seiko Tuna which have caught our attention.
Recommended Seiko Tuna Watches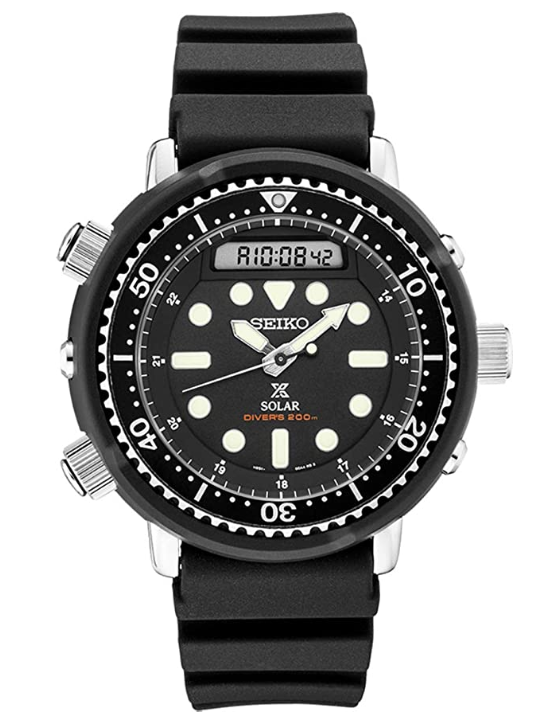 1. Seiko Tuna "Arnie"
Why is it good?
The Seiko Tuna has its fair share of Hollywood screen time. Significantly, the Seiko Tuna "Arnie" was Arnold Schwarzenegger's pick in the movies Commando (1985) and Predator (1987). Yes, the Austrian bodybuilder is the reason why this model is called the "Arnie". 
Furthermore, it is one of the world's first analogue-digital timepieces. At first look, it's like an ordinary Seiko Tuna. But at the top portion of the dial, you'll see a small window. This LCD display lets the user set a second time zone. Apart from the dual time zone, the watch also has a chronograph and an alarm.
As for its movement, it uses the Calibre H851. It is a quartz calibre that is solar-powered. No need to change its batteries every now and then!
Seiko Tuna "Arnie" Specs:
Case: Stainless steel

Movement: Quartz

Dimensions: 47.8mm

Water resistance: 200m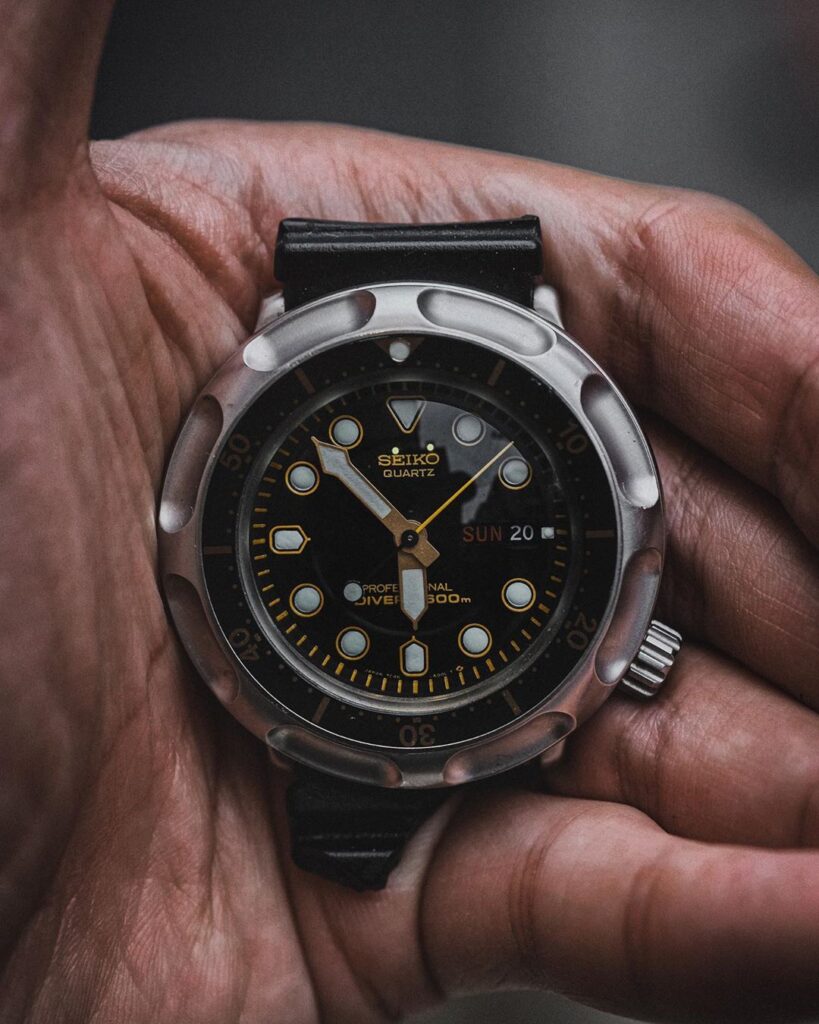 2. Seiko Tuna Ash Tray
Why is it good?
The Seiko Tuna Ash Tray may look different from the other models in the lineup. Despite the difference, it shares the other Tunas' durability and reliability. Around the titanium bezel are oval recesses, which makes it look similar to ashtrays you can find in bars or restaurants.
However, not everyone may be impressed by the unique design. Despite that, one thing is for sure — everyone will drop their jaw when they hear about its specifications. For one, it is capable of saturation diving with its 600m water-resistance. Furthermore, its size is only 45mm in diameter, which is perfect for people who value comfort when diving.
Internally, it uses the Seiko 7C46 quartz movement. This calibre is known to be sturdy. It is antimagnetic and can handle extreme temperatures.
Seiko Tuna Ash Tray Specs:
Case: Titanium

Movement: Quartz

Dimensions: 45mm

Water resistance: 600m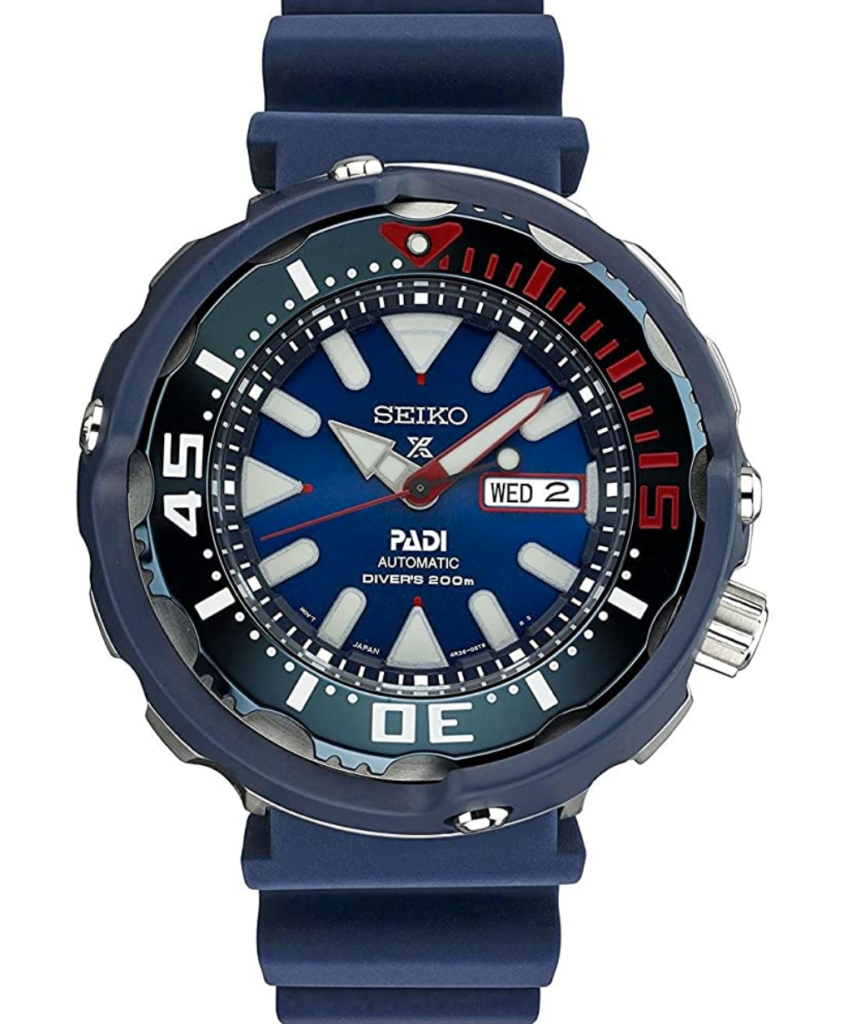 3. Seiko Monster Tuna
Why is it good?
The Seiko Monster Tuna is what you get when the Tuna hits the gym. In other words, it is the marriage between Seiko's own Monster and Tuna collections. Undoubtedly, this watch screams "adventure!" 
To add to that, it comes in a metallic blue and red colour scheme. This is a nod to Seiko's collaboration with the Professional Association of Diving Instructors (PADI). Now that I've mentioned it, this collaboration ensures that this watch is reliable enough for diving purposes.
Apart from that, the Monster Tuna comes with a durable and slip-resistant strap. This makes it comfortable to wear on top of a diving suit. And in contrary to its size, the Monster Tuna can fit under your sleeve in case you want to wear it casually.
All things considered, the Seiko Monster Tuna is a good choice for divers who need a backup for their diving computers.
Seiko Monster Tuna Specs:
Case: Stainless steel

Movement: Quartz

Dimensions: 50mm

Water resistance: 200m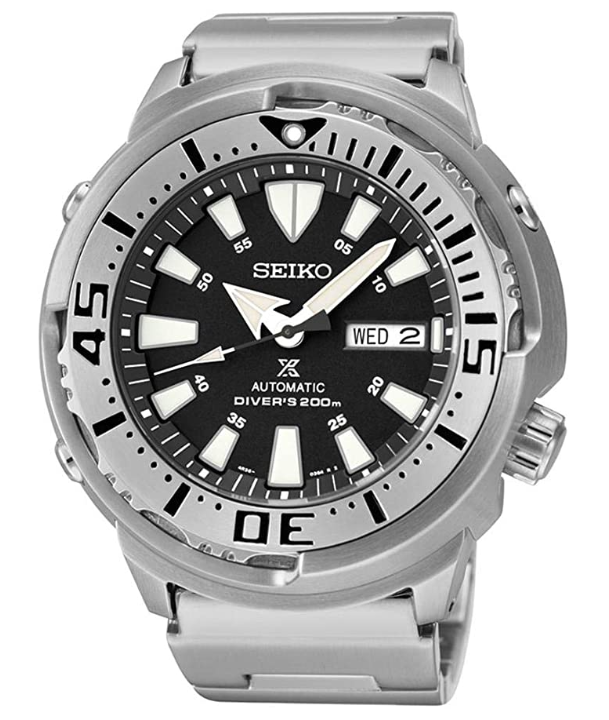 4. Seiko Baby Tuna
Why is it good?
In spite of its name, the Seiko Baby Tuna is not for kids. In fact, it is an affordable dive watch with professional specifications. It comes in a large 50mm case, which is larger than most dive watches. Apart from that, the stainless steel bezel is covered with a ceramic coating to make it more appealing.
Thankfully, the watch's curved design makes it comfortable to wear. Additionally, the lugs are short to make it feel smaller than it actually is.
Under the durable case lies the calibre 4R36. It is a self-winding movement that has 24 jewels and runs at a frequency of 21,600vph. Additionally, it has hacking and hand-winding features.
Seiko Baby Tuna Specs:
Case: Stainless steel

Movement: Automatic

Power reserve: 41 hours

Dimensions: 50mm

Water resistance: 200m
5. Seiko "Save the Ocean" Tuna
Why is it good?
The "Save the Ocean" edition of the Tuna is a continuation of Seiko's marine conservation theme. It comes with the familiar navy blue bezel which represents the water. Meanwhile, the dial features horizontal lines that are meant to mimic the waves.
Inside, it is powered by a quartz movement. Thanks to its solar power capabilities, you wouldn't have to change the battery of the watch for a long time. In fact, the movement can power the watch up to 10 months when fully charged. That's almost one year!
At the back, there is an engraving of an ocean wave. It also bears the logo of the Prospex line. For the unacquainted, the name Prospex comes from the words "professional specifications". So there's no doubt that this watch was made for exploring the depths of the ocean.
Seiko "Save the Ocean" Tuna Specs:
Case: Stainless steel

Movement: Quartz

Dimensions: 46.7mm

Water resistance: 200m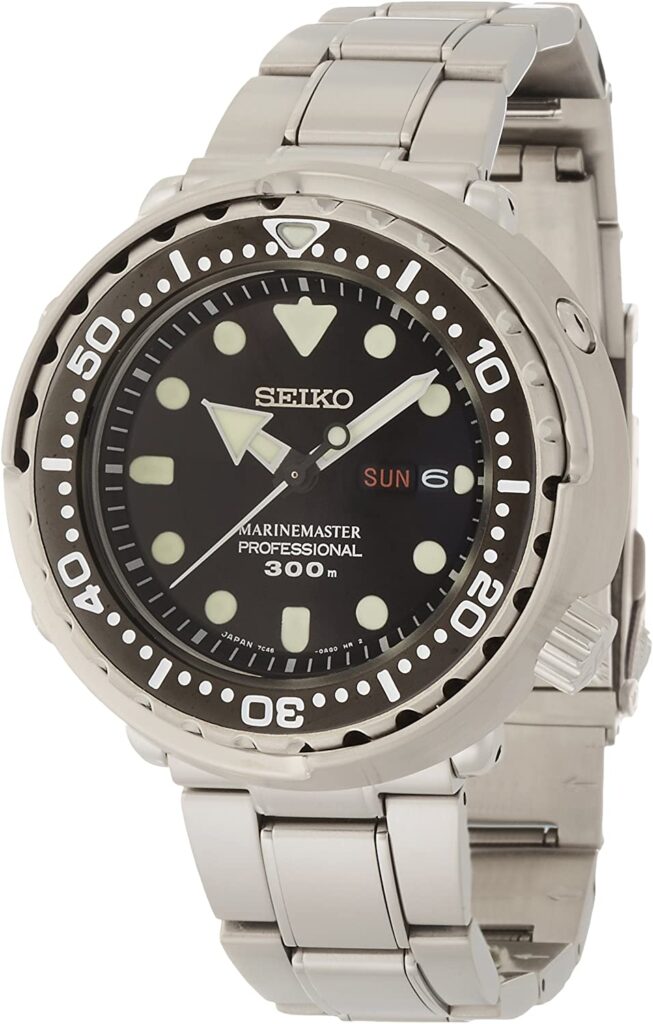 6. Seiko Tuna Can
Why is it good?
The Seiko Tuna Can looks and feels robust. One of the first things you'll notice is that among the Seiko Tuna models, this one resembles a can of tuna the most. Hence, the nickname.
Its silver case measures 48mm in diameter. A very large size even by today's standards. Meanwhile, its domed Hardlex crystal is screwed down to the case. This helps improve the watch's resistance to water pressure.
For a huge watch, the Seiko Tuna Can is surprisingly comfortable. In fact, it is more comfortable than other smaller dive watches. One big factor that makes it comfortable is its shortened lugs. This makes it a good watch for daily wear and not just for diving.
On the inside, it's powered by the Seiko 7C46. It is a 5-jewel quartz movement with a battery life that's rated at 5 years. Overall, this movement is considered as one of Seiko's best quartz movements.
Seiko Tuna Can Specs:
Case: Stainless steel

Movement: Quartz

Dimensions: 48mm

Water resistance: 300m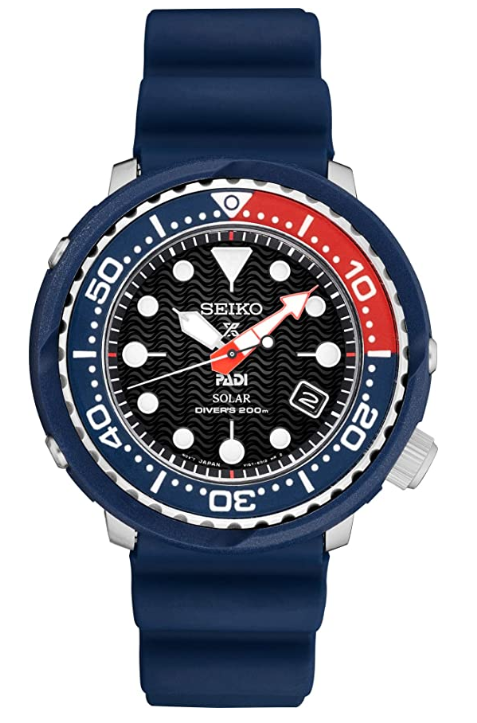 7. Seiko Tuna PADI Special Edition
Why is it good?
For divers, the red and blue colour scheme of the Seiko Tuna PADI Special Edition is like a green flag. As mentioned before, PADI is one of the most prestigious diving organisations in the world. And any watch it collaborates with is surely a gem.
Like the other PADI models, this one bears the wave pattern on the black dial. Meanwhile, its whole case and strap are both navy blue in colour.
Among its features are the date display, a quick-start function, and an overcharge prevention function. Apart from those, it has a water-resistance rating of 200m which surpasses ISO standards.
When it comes to the movement, it is powered by the Calibre V157. It is a solar-powered quartz that can operate the watch for up to 10 months when fully charged. Additionally, it has an accuracy rating of +/- 15 seconds per month.
Seiko Tuna PADI Special Edition specs:
Case: Stainless steel

Movement: Quartz

Dimensions: 46.7mm

Water resistance: 200m
Final Notes
The Seiko Tuna has a strong pedigree when it comes to diving. And as mentioned earlier, it was a product of Seiko's passion for creating the ultimate dive watch. It came a long way and is continually improving as the years go by.
Granted its design is not for everybody. However, one thing is for sure, the Seiko Tuna is undeniably one of the best dive watches in the market.
Looking for more dive watches? Check out our top Oris Aquis picks!