Seiko is synonymous with quality and innovation. The Seiko dive watches alone from its Prospex collection have proven how this brand has led the watch industry towards new developments.
The large following that Seiko dive watches has garnered over the years should be more than enough to prove the quality of these products. This is also reflected in several timepieces that are branded legendary by many.
Introduced in 1965, the innovative Prospex line, the iconic Seiko dive watches, is preferred by professional divers. The prestige this range of dive watches enjoy is a result of more than 50 years of watchmaking innovation.
Seiko offers countless of watches that are worthy of the praise it receives. Moreover, its the Seiko dive watches that easily take the spotlight not only for its high quality but also for its competitive prices.
Here we take a look at 20 of the best Seiko best dive watches available in the market today.
Seiko Prospex STBR025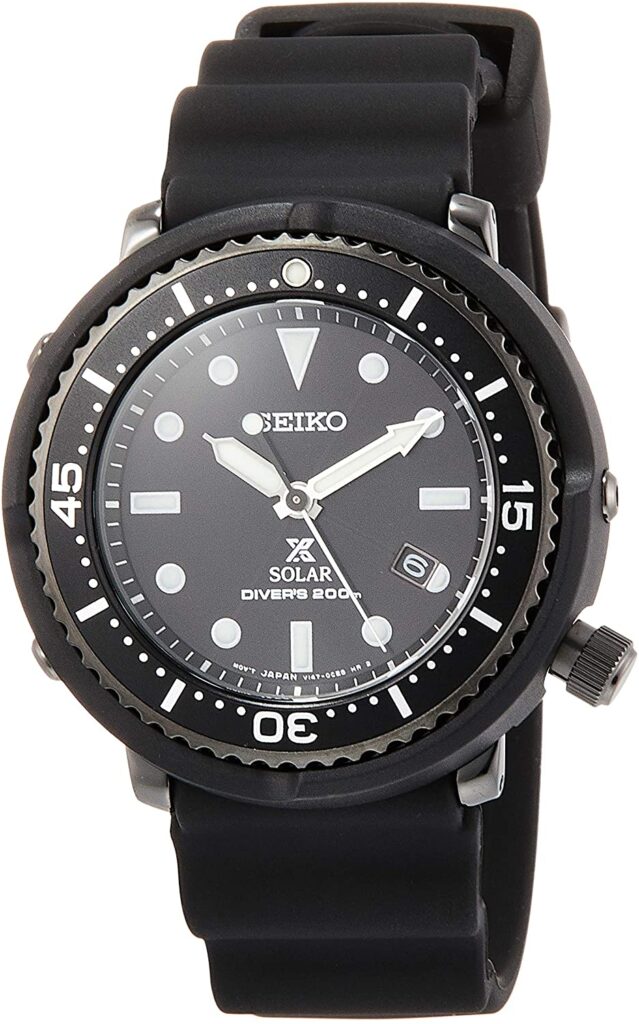 Seiko designs its Prospex line to challenge every single possible limit. These Seiko dive watches are the first choice amongst sports lovers and adventure seekers alike.
The Seiko Prospex STBR025 dive watch has great reliability and safety for divers. A bonus is the affordable price this timepiece is set at.
The watch makes use of the Japanese Calibre V147 solar quartz movement. Its case is made from a hard stainless steel coating with polymer.
The black dial is reinforced by Hardlex glass. Other features include a date display, luminous coated markings, and an enigmatic crown.
Seiko Prospex STBR023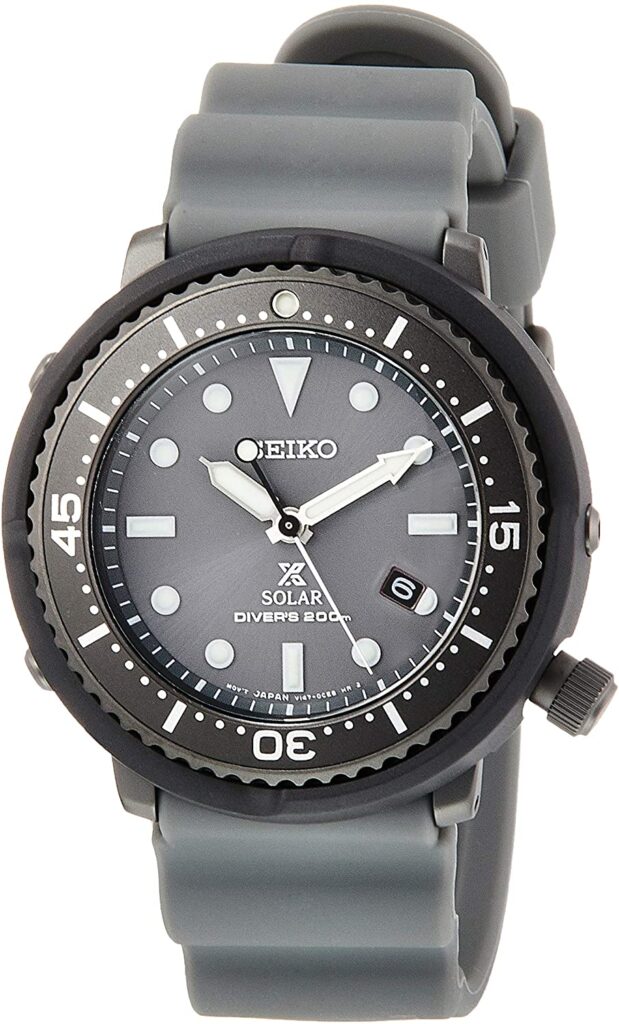 The Seiko Prospex STBR023 is the immediate predecessor of the brand's street series.
This timepiece leans more towards a stealth vibe of adventure-related styles. Some even refer to this model as a tacti-cool timepiece in every aspect.
This Seiko dive watch is ideal for those who aren't fond of bright-coloured sports watches for daily use. With this timepiece, you can wear it with any outfit and in any setting.
The case features a stainless steel and plastic shroud with a grey dial. The strap is also made of a durable silicone material that is comfortable to wear all day long.
Seiko Prospex SBDC071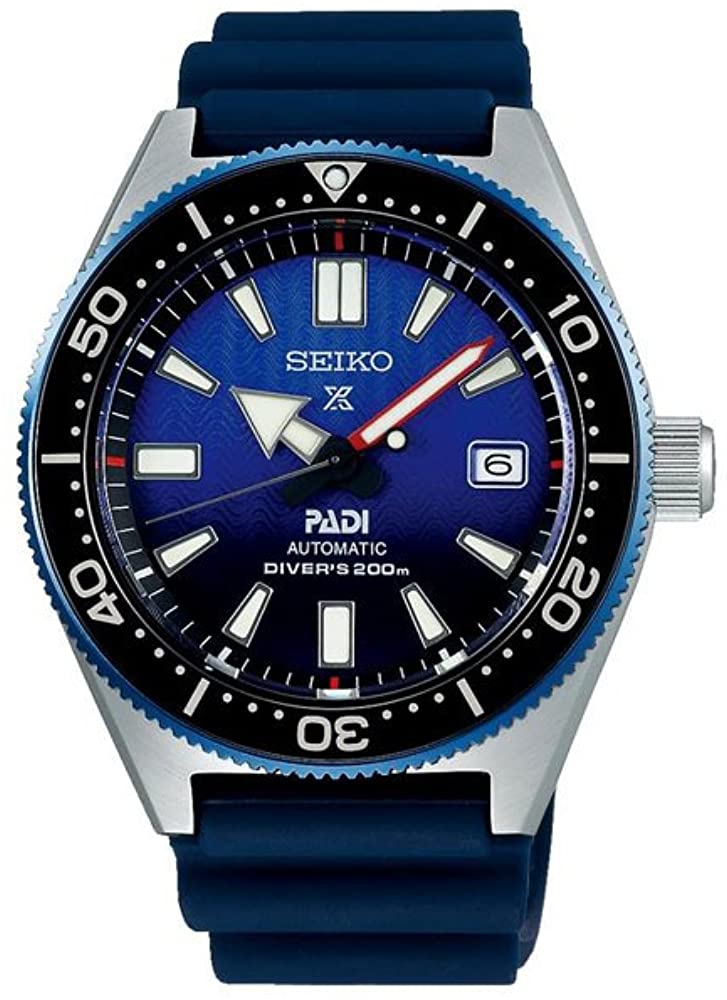 The word Prospex stands for Professional Specification. This pertains to the very high standards that professionals use in watches.
The Seiko Prospex SBDC071 takes inspiration from the late 60s designs but updated with its functions. This watch boasts 200m water-resistant and is powered by Seiko's automatic calibre movement.
The power reserve on this timepiece lasts up to 50 hours. It also has a luminous coating on its markers for easy visibility in the deepest depths of the ocean.
Seiko Prospex SBDJ045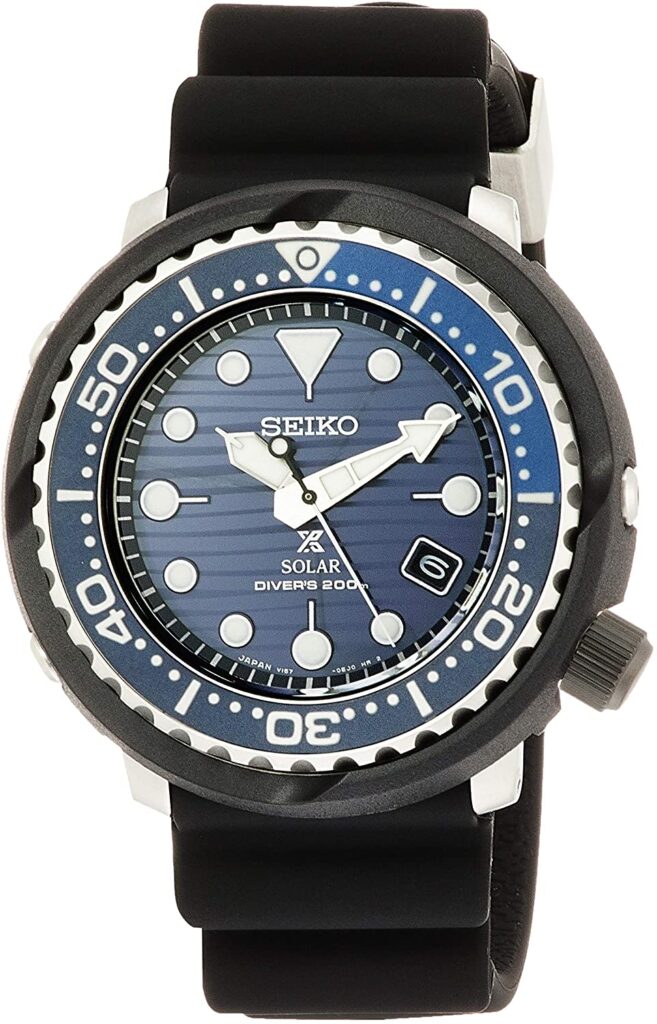 Seiko dive watches are known for having great quality at a very competitive price. The Seiko Prospex SBDJ045 is also known as the Save the Ocean model. It uses a soft silicone rubber strap for a comfortable fit throughout its use.
The inspiration for this model comes from the '07 Fieldmaster case. This watch also uses the proprietary Solar calibre V157 movement. This particular mechanism can operate for a good 10 months when fully charged. It also has a water resistance of 200m in depth.
The indexes are much like the classic Seiko hands and come with a LumiBrite coating for maximum visibility.
Seiko Prospex STBR021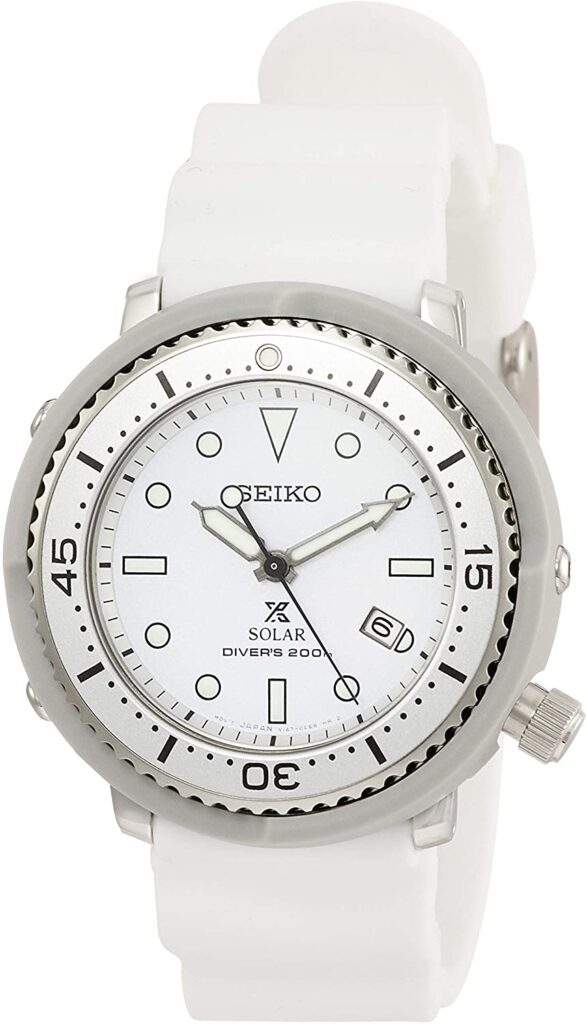 The Seiko Prospex STBR021 features an all-white look paired with a curved glass on the dial. The silver casing adds an extra sparkle to the timepiece giving it a more radiant appeal.
A quick start function and overcharge prevention functions are among the key features of this watch. It also has a fair bit of amount of the original 1975 Seiko diver embedded into it.
This timepiece uses the V147 calibre solar movement and can run up to 10 months on a full charge.
Seiko Prospex SBBN042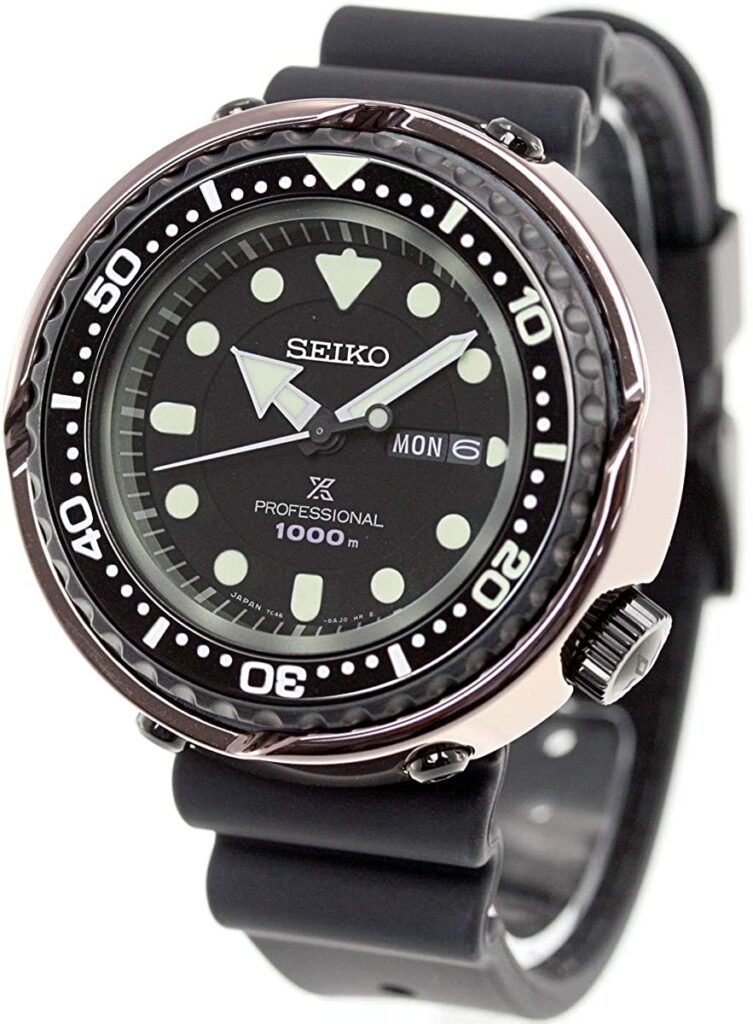 Seiko celebrates its expertise in diver's watches with the Seiko Prospex SBBN042. This is one of Seiko dive watches that features a titanium case with a super-hard and durable coating.
Like the original 1968 automatic watch, this dive watch features a one-piece case construction. It also uses the 8L55 calibre movement designed for diving.
The dial of the watch is black with silver detailing. The markers also feature luminous coating for extreme visibility even in low-light conditions.
Seiko produced this model in a limited quantity. This Seiko dive watch is one of the rarest and most unique collectables amongst Seiko dive watches.
Seiko Prospex SBDC065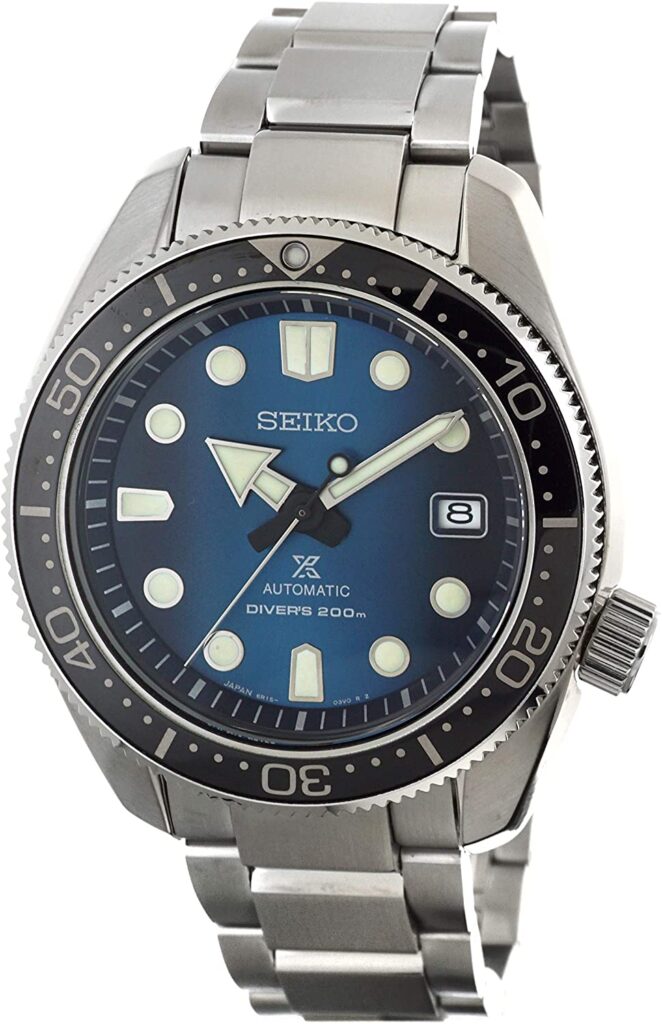 This Seiko Prospex is dubbed the Japanese domestic model that is equivalent to the SPB083. It runs on an automatic 6R15 calibre movement, which gives it a power reserve of 50 hours.
The Seiko Prospex SBDC065 also comes with hacking and hand winding capabilities. With 200m water resistance, this Seiko dive watch is the perfect dive buddy.
This watch also makes use of Seiko's new Dia-Shield coating on its case and its bracelet. This provides a better scratch-protection plus an extra resistance to corrosion.
Seiko Prospex SBDN053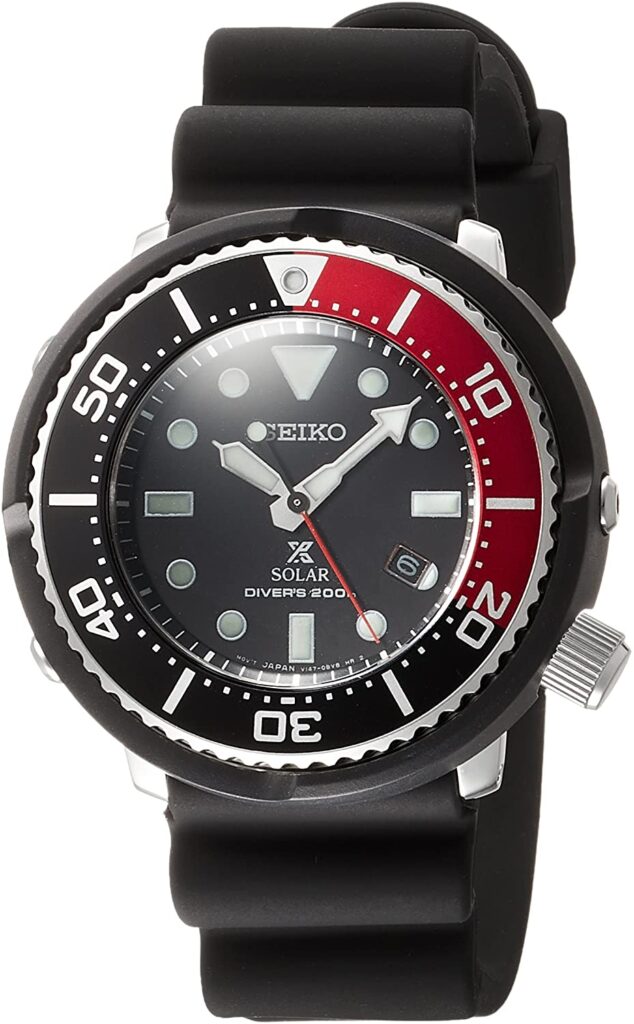 This Seiko Prospex SBDN053 dive watch is a modern interpretation of the original Seiko 62MAS. This addition to the Seiko Prospex line comes in a mid-size diver with a water resistance of 200 metres.
A sapphire crystal with a scratch-preventing Dia-Shield coating gives this timepiece robust protection. The 316L stainless steel is also durable enough to withstand the roughest of diving conditions.
While this model may be a dive watch, its design features more of a contemporary aesthetic. This makes it a perfect match for all kinds of occasions.
Seiko Prospex SBBN040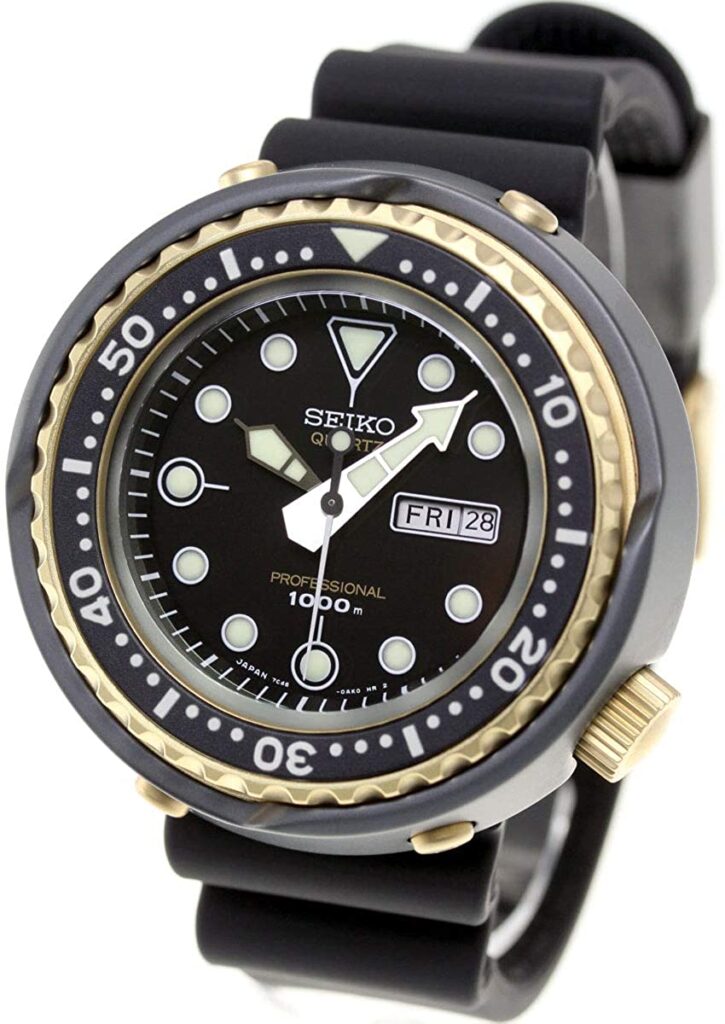 This is a Seiko timepiece that captures all the brand's trademark qualities of sophistication. This limited-edition Seiko Prospex SBBN040 dive watch has high precision and accuracy that no one can beat.
From the Prospex collection, this watch has all the features you could ever ask for in a watch. The black dial showcases contrasting and luminous white indexes and hands that ensure legibility in the dark. It also comes with a date aperture at the 3 o'clock position and finished with a silicone band.
Seiko Prospex SBBN033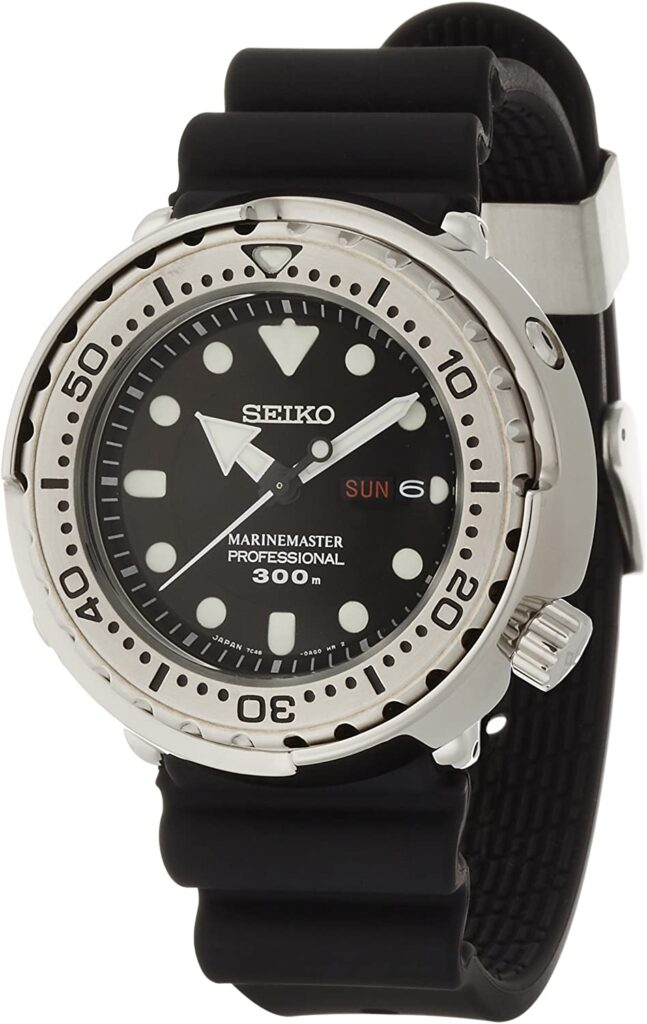 Seiko dive watches are well known for their sublime quality at the best possible price, except for this Seiko Prospex SBBN033.
The SBBN033, also known as Seiko's Ninja Tuna, comes at a hefty price range for a Marinemaster diver watch. But this timepiece is no stranger to its usual 300m water resistance and stainless steel body.
The timepiece is more durable and uses the 7C46 calibre quartz movement. This Seiko dive watch is suitable for those who prefer not to accept anything less.
It is also a good match for both professional and recreational divers.
Seiko Prospex SBDY017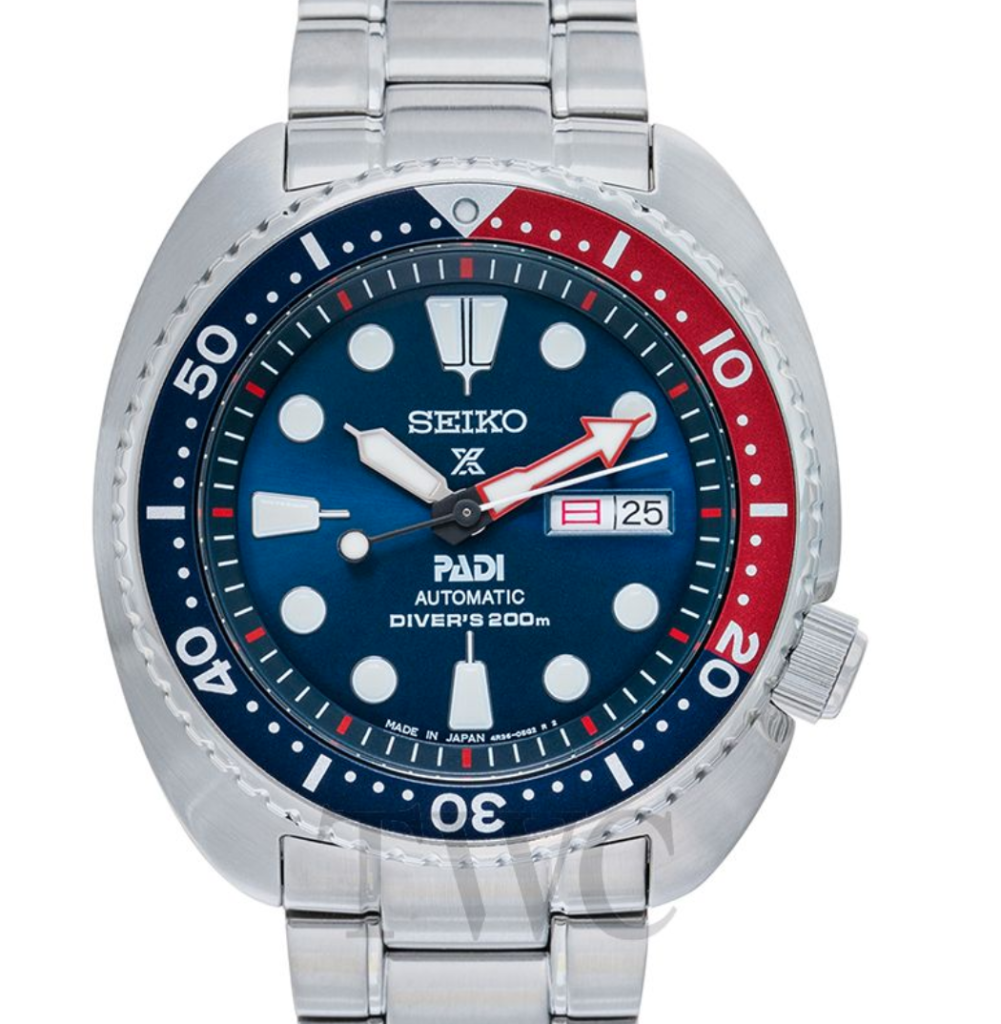 This Seiko Prospex SBDY017 dive watch has similarities with its SRPA21J1 counterpart. The only difference is that this model is only available in Japan and comes with an English or Kanji date.
This might seem like a subtle difference, but amongst watch collectors, this means a lot.
This 47.7mm automatic dive watch features a blue and red theme. It was released back in 2018 for the Japanese market. It has a one of a kind design that gives off a quirky and unusual case silhouette.
The Seiko SBDY017 is also powered by Seiko's automatic 4R36 calibre movement, which operates at 21,600 BPH (3 Hertz). It also comes with hacking and hand winding capabilities.
Seiko Prospex SBDN043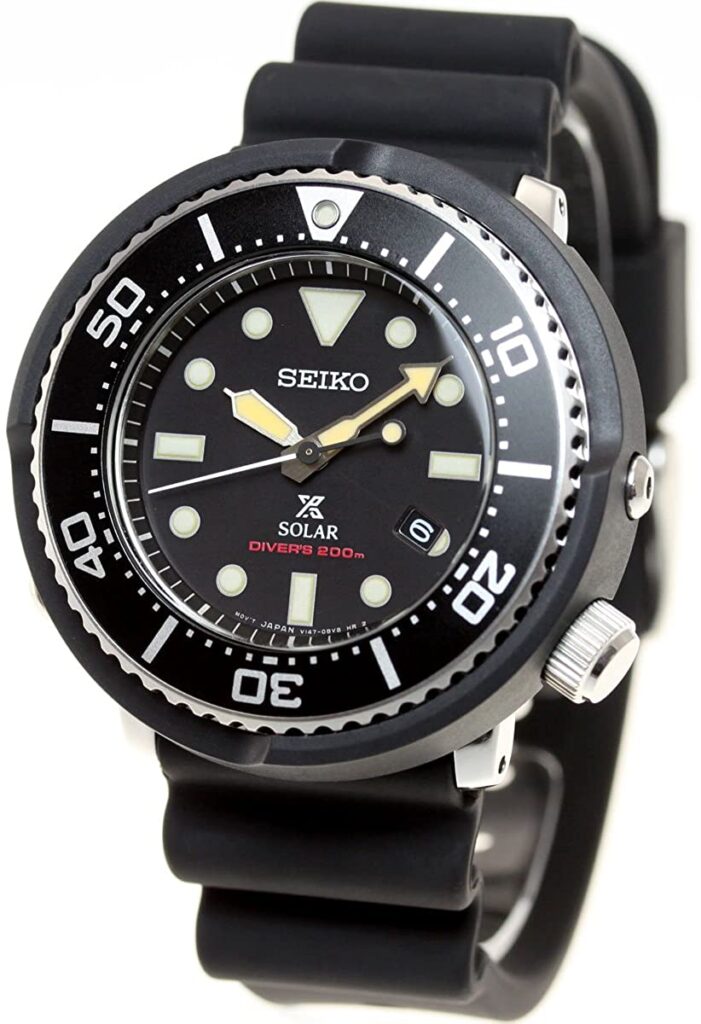 Despite the 45.5mm width, users find the Seiko Prospex SBDN043 dive watch a good looking and comfortable fit.
This timepiece makes use of the  Japanese V147 calibre solar movement. The stainless steel polymer case is shaped into a fine round shape.
The black dial complements the silver tones of its hands and markers. It also has water resistance up to 200 metres.
Seiko Prospex SBDC055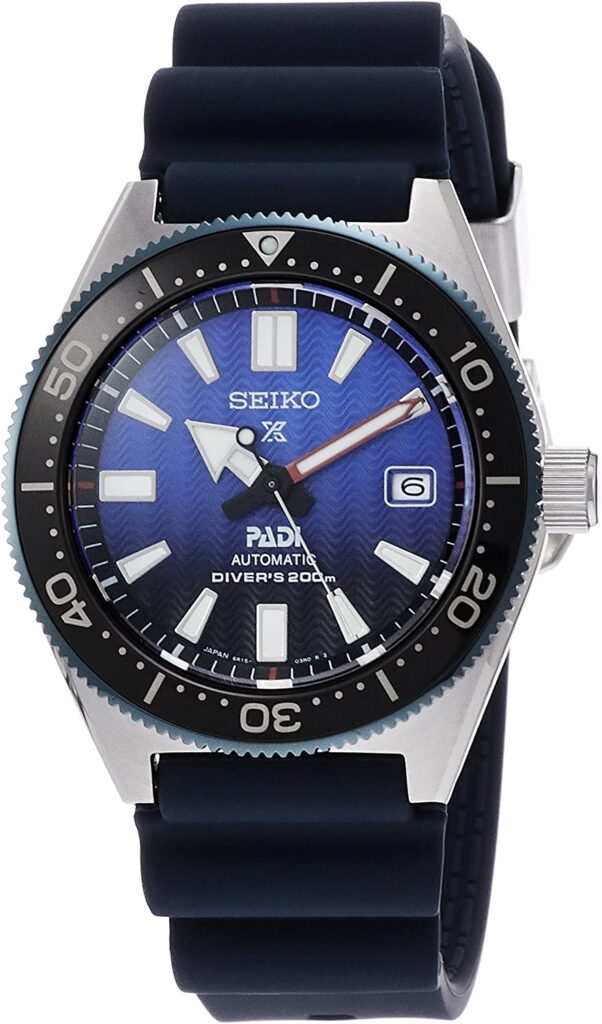 As a celebration of Seiko's continuous relationship with PADI, the brand introduces a new collaboration. Out of the Seiko X PADI line, the Seiko Prospex SBDC055 is one of the most anticipated models yet.
Seiko uses a modernised and pocket-friendly priced Seiko Prospex PADI 200M automatic movement, which gives it a robust 50-hour power reserve. It also takes inspiration from the design of the original 1965 dive watch.
This Seiko dive watch makes use of all the latest technology in their functions. It also makes sure that these meet all of Seiko's most strict standards for its timepieces.
Seiko Prospex SBDY009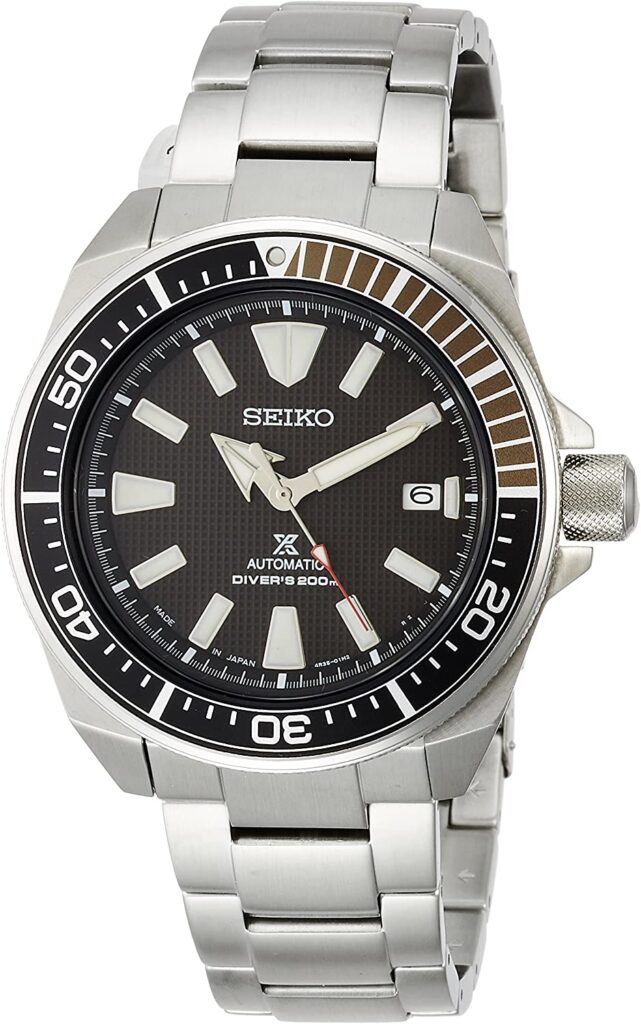 The Seiko Prospex SBDY009 dive watch makes use of the Japanese automatic 4R35 calibre movement. The case is made of stainless steel with a rounded and stylish shape.
The black dial is reinforced by a mineral glass and paired with a stainless steel bracelet. The hands of the watch are also coated with a luminous material for greater visibility even in low light.
The watch also has an anti-magnetic feature and a date window at 3 o'clock.
Seiko Prospex SBDY007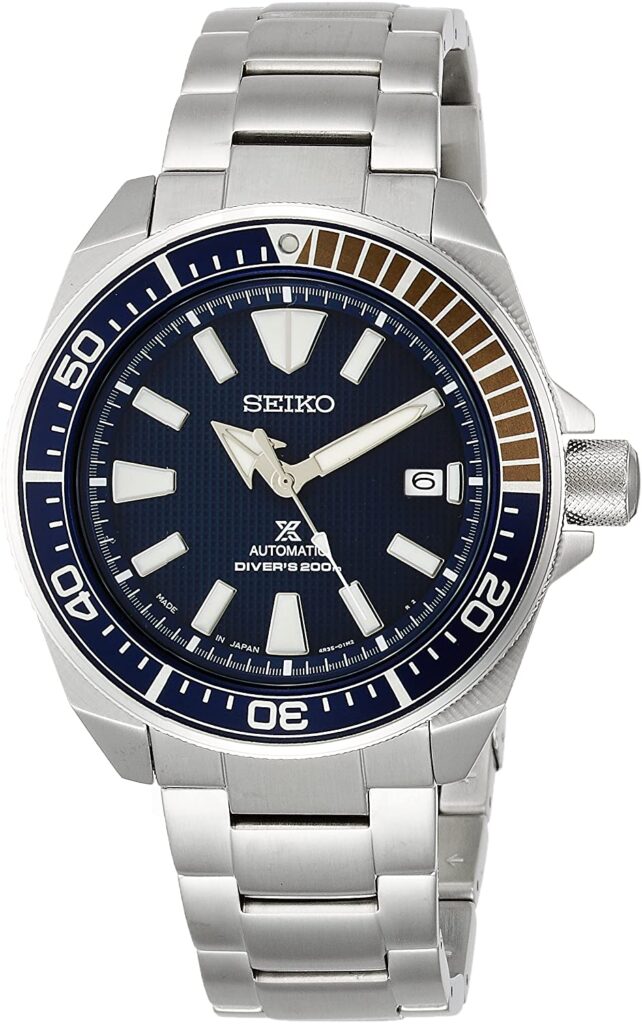 Seiko dive watches are often only a fraction of the price of a used Rolex. It's no surprise that you get a better bang for your buck with the watches from Seiko collection.
Seiko dive watches are unique and made in limited quantities. Without a doubt, the Seiko Prospex SBDY007, in particular, has all the details and features that watch collectors often prefer.
This is also a good investment piece as it is durable enough to pass down onto future generations. This Seiko Prospex SBDY007 dive watch also has a water resistance of 200 metres.
Seiko Prospex SBDY015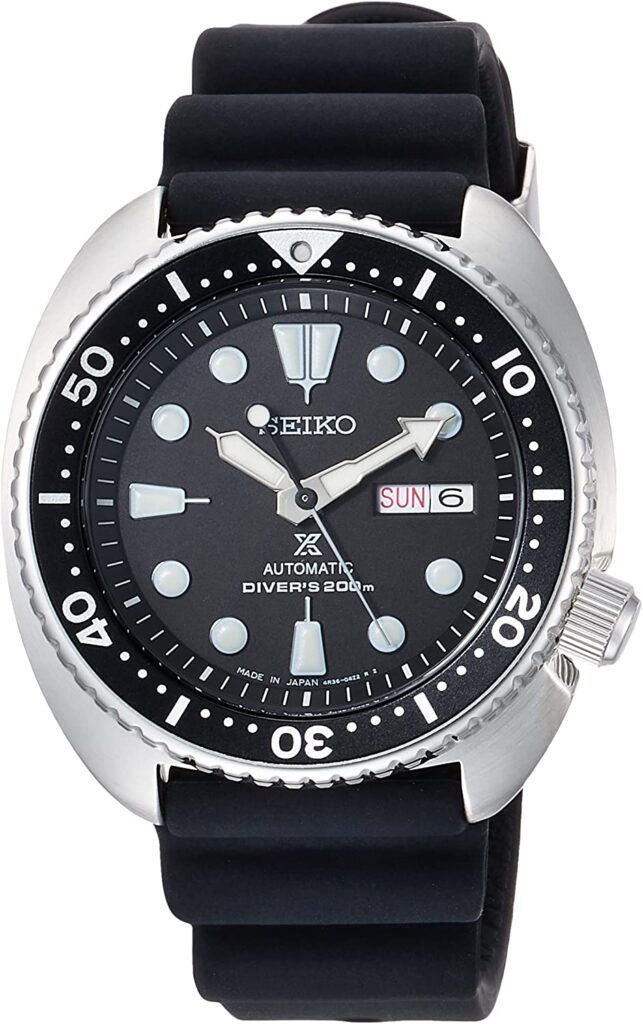 A classic design paired with phenomenal function. This Seiko Prospex SBDY015 dive watch makes use of an anti-magnetic feature that allows it to perform in any environment.
The 44mm timepiece also makes use of a stainless steel case moulded into a round shape.
The watch also features the automatic 4R36 calibre movement that helps it keep accurate time. Moreover, the black design with silver/white details radiate a look of class and simplicity.
Seiko Prospex SBDC061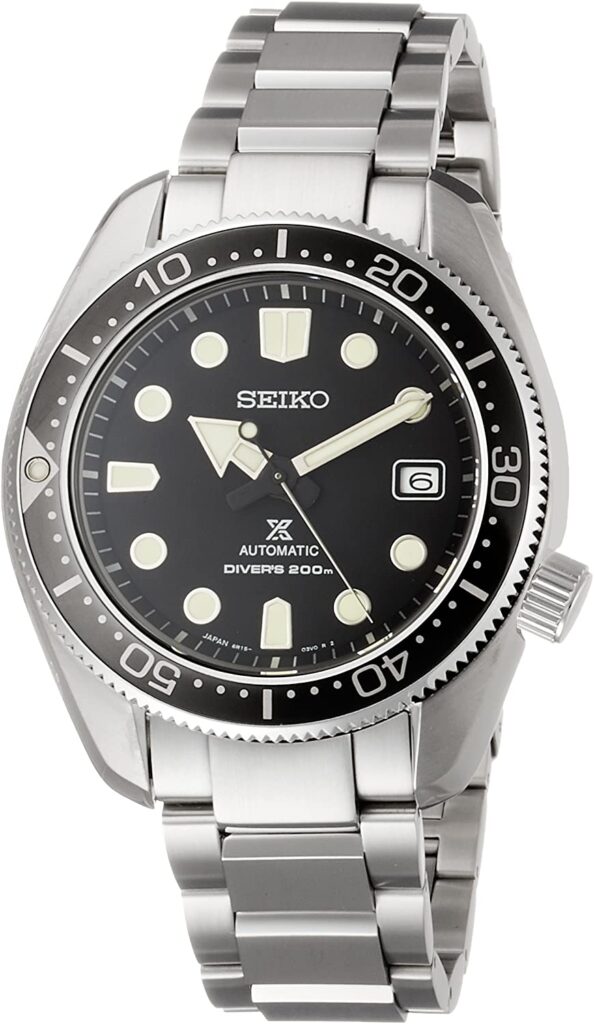 This Seiko Prospex SBDC061 dive watch takes inspiration from the designs of its late '60s timepieces. Despite its old-school inspiration, it is up to date when it comes to functionality.
It runs on Seiko automatic 6R15 calibre movement. The power reserve can last up to 50 hours, thanks to a Spron 510 mainspring. It also has water-resistance that can go up to 200m in depth.
Seiko Prospex SBDN049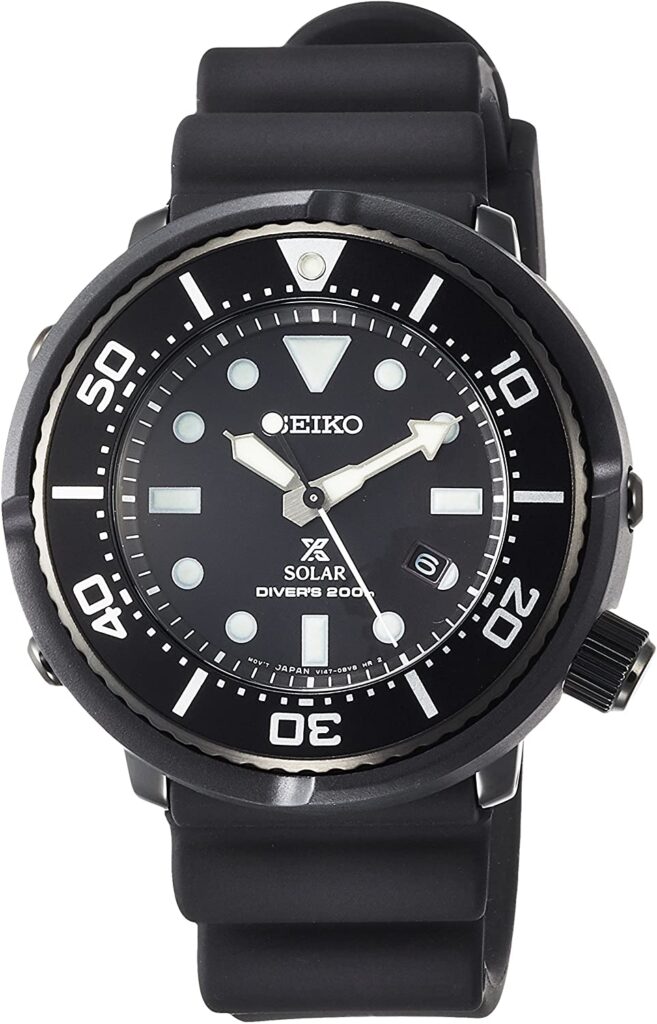 This Seiko Prospex SBDN049 is 45.9mm in diameter and 12.1mm in thickness. But despite this bulky dimension, the timepiece has a comfortable fit in and out of the water.
It makes use of the Japanese V147 calibre solar quartz movement, which gives it 10 months of power reserve. Additionally, a hard coating of stainless steel and polymer protects the case of the watch.
The black dial also complements the silver and white tones of its hands and hour markers. Furthermore, the hands have a luminous material for better visibility in the dark.
This watch also reinforces water resistance of up to 200 metres.
Seiko Prospex SBDC051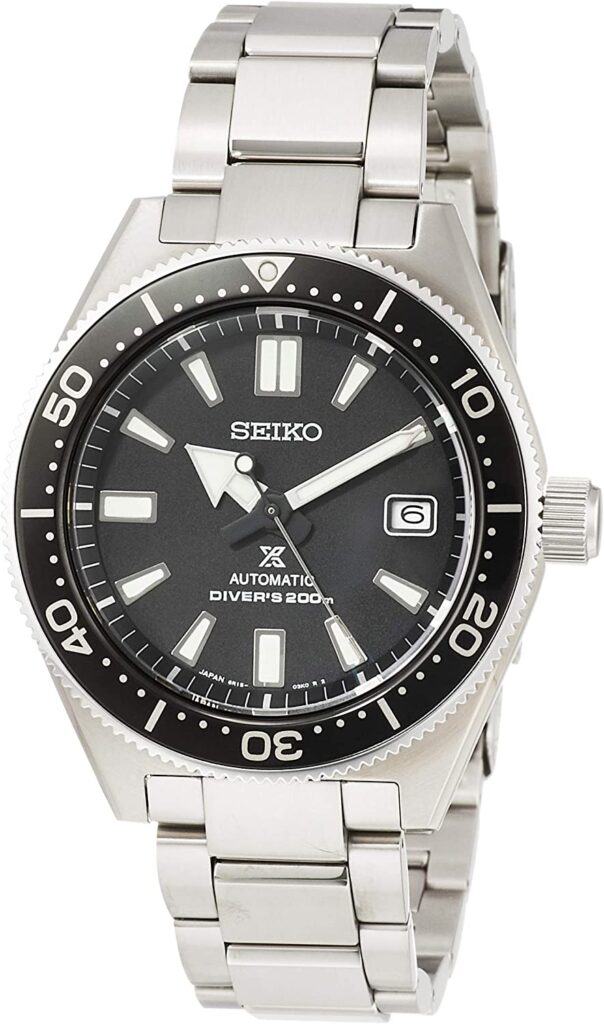 Another piece that takes inspiration from Seiko's original 1965 design is the Seiko Prospex SBDC051. It operates on the same movement as the SBDC061 and can last up to 50 hours.
A mixture of satin brush and Seiko high polishing evident on the watch. The Zaratsu polished line on the case side also adds a touch of contemporary style to the watch.
Seiko Prospex SBDJ019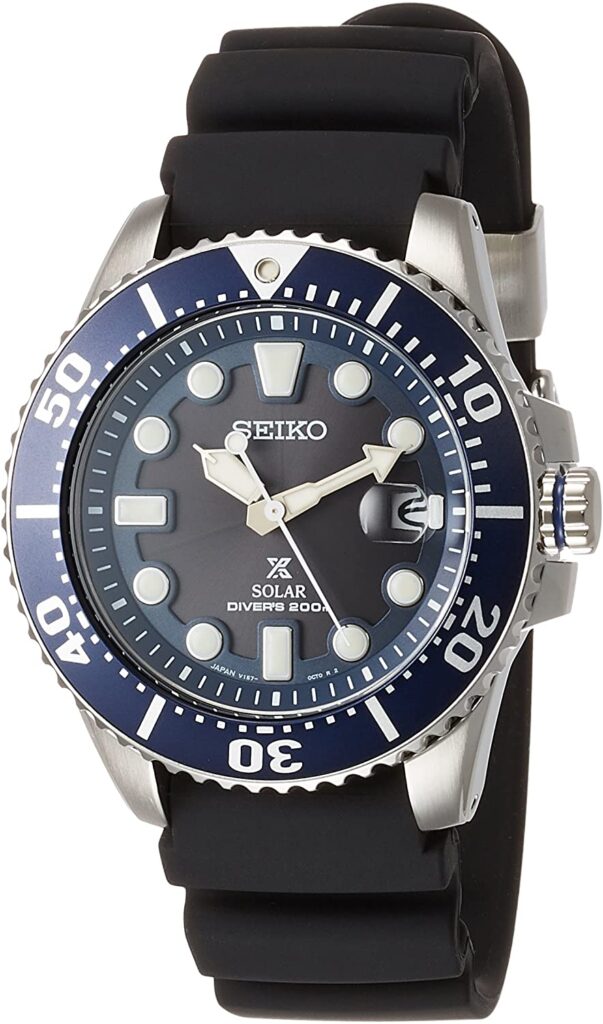 The final spotlight for this feature goes to the Seiko Prospex SBDJ019. This Seiko dive watch also uses a Japanese V157 calibre movement. Additionally, it measures 43.5mm in diameter and 11.5mm in thickness.
The blue dial with silver contrast provides an easy look of elegance and style. Moreover, this is reinforced by Hardlex glass, while a luminous coat provides the finishing touches.
For the ladies, check out our feature on Seiko's trendiest ladies' watches here.