MVMT is making waves in the watch industry. The Los Angeles-based company is a rising disruptor in affordable luxury. The brand's market has significantly improved since 2013. Its patrons now reach across the globe. Altogether, the brand sold more than 1.5 million watches and counting.
At the present time, MVMT watches are well-known among millennials. With sleek designs and functionality alongside affordability, an MVMT watch is easily every millennial's first choice. Inspired by its very patrons, the brand ultimately met success.
Today, aside from quartz watches, the brand also produces accessories. These include eyewear and jewellery. Every watch from the brand is made to meet the millennial lifestyle. Not to mention, the founders themselves are innovative millennials. With this in mind, every watch is undoubtedly fitting to its patrons.
However, forming the brand was not an easy task. From its humble beginnings to its flourishing future, MVMT is a true millennial story in itself.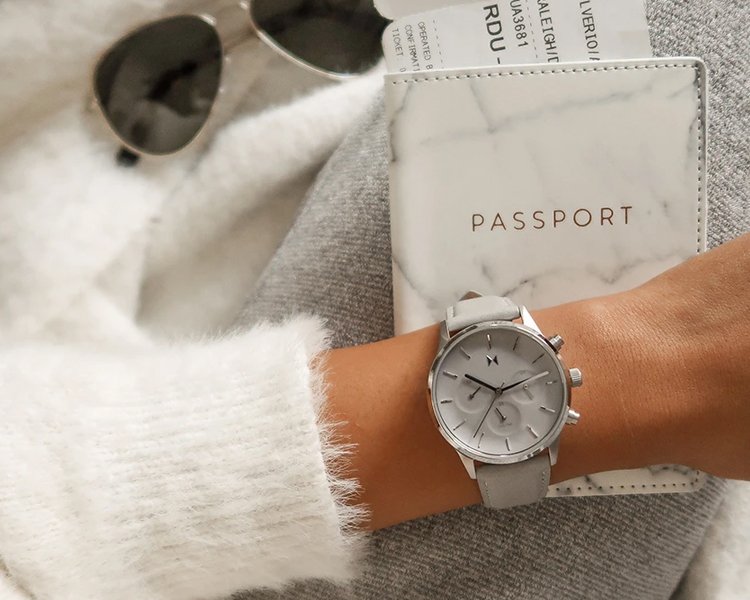 MVMT is for Movement
The company begins in Los Angeles, California. In 2013, Jake Kassan and Kramer LaPlante — then both 25 years old — established the brand. According to them, MVMT is a play on the word "movement". Thus one of its most famous copies: "Where will the MVMT take you?" This will eventually become the foundation of its current audience.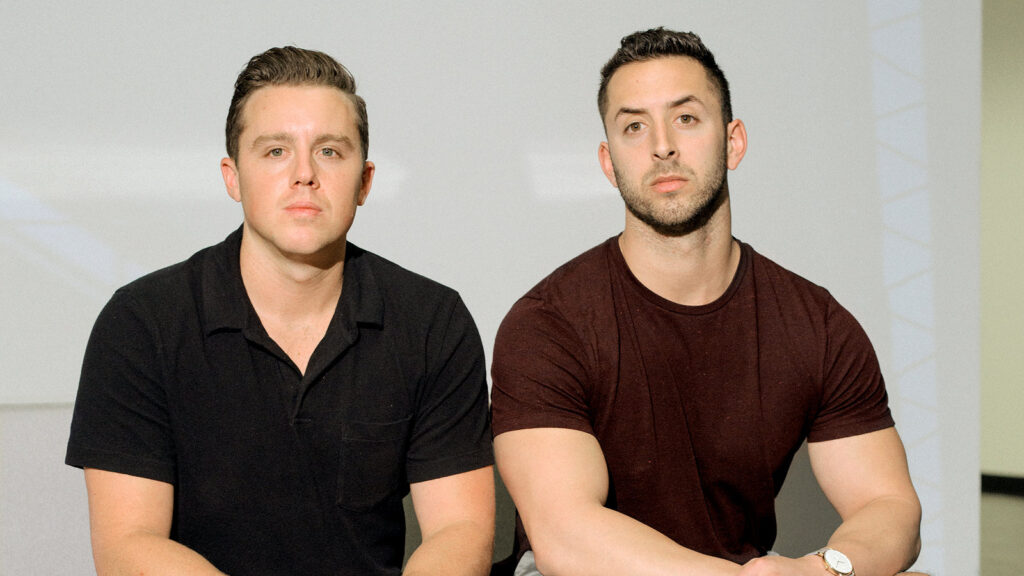 The company leverages on what millennials are all about. Not only are millennials searching for a place to belong, but they also aim to stand out. This puts the brand in the right place at the right time. Where functionality must meet style at a radically fair price, they emerge.
The brand begins with a crowdfunding project. Founders Kassan and LaPlante successfully raised about $300,000 for the brand. This exceeded their original target of about $220,000. The founders took on this challenge in the hope that investors will take on their vision. The two took a chance and this ultimately became their stepping stone to success.
Upping the Social Media Game
Every brand goes through an ordeal before greeting success with a high-five. To step up their game, MVMT took on the social media game. The company produces content aligned with their audience's interests. Millennials double tap on aesthetics. So, to sell their products, they take on photography and social media marketing. Aside from this, they also tapped influencers to parade their products online. We've seen Kourtney Kardashian, Kylie Jenner and Klay Thompson wear their products. Surely, this step helped build their rep.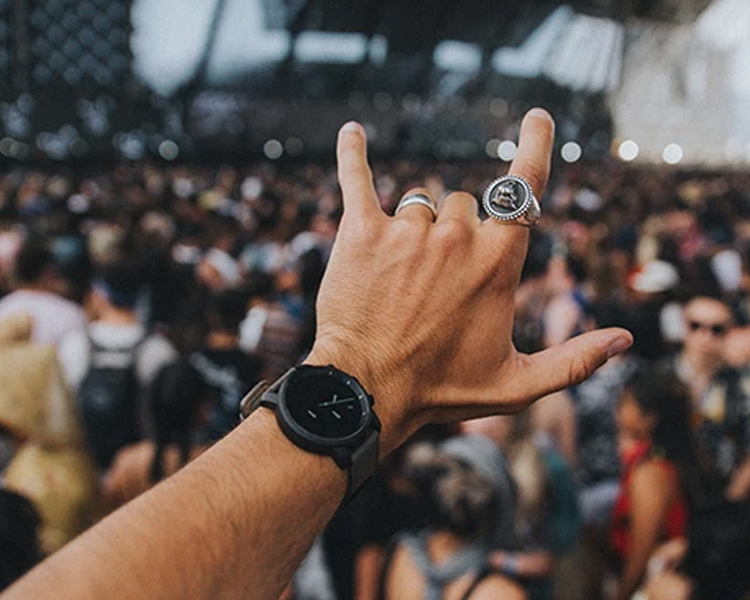 With a solid marketing strategy, MVMT begins its rise. Its following began to grow and formed a 'tribe'. While their products are mostly sold online, they are also distributed in stores. From a solid vision, it has truly become every millennial's go-to brand.
20 Best MVMT Watches for Every Millennial
MVMT boasts watches that are in style and on-trend. Each MVMT watch undoubtedly represents every personality there is. It certainly is hard to pick from the variety of watches in their catalogue. But this also assures that there's definitely a watch for everyone. To make it easier for you, we picked 20 of the best watches from their catalogue. From minimalists to young bosses, there's an MVMT watch for you.
1. MVMT 40 in Blue Brown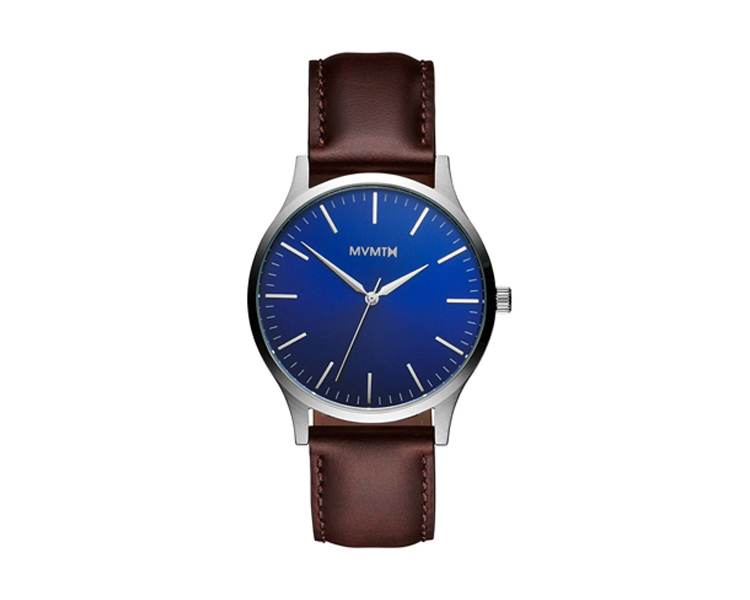 Every man deserves a timepiece that celebrates identity and adventures. The 40 Series features watches with 40mm diameter cases with approximately 7mm in thickness. It also has interchangeable straps with a variety to choose from. The leather straps are 100% genuine and significantly robust. Its silver hands and hour markers also make time easier to read.
2. MVMT Avenue in June
The Avenue Rose reveals elegance to its bearer. Its understated design in rose gold gives a flushed dash of blush in your style. Moreover, its interchangeable strap will make styling easier for you. Now, that's just style made effortless.
3. MVMT Arc Automatic: The Obsidian Ore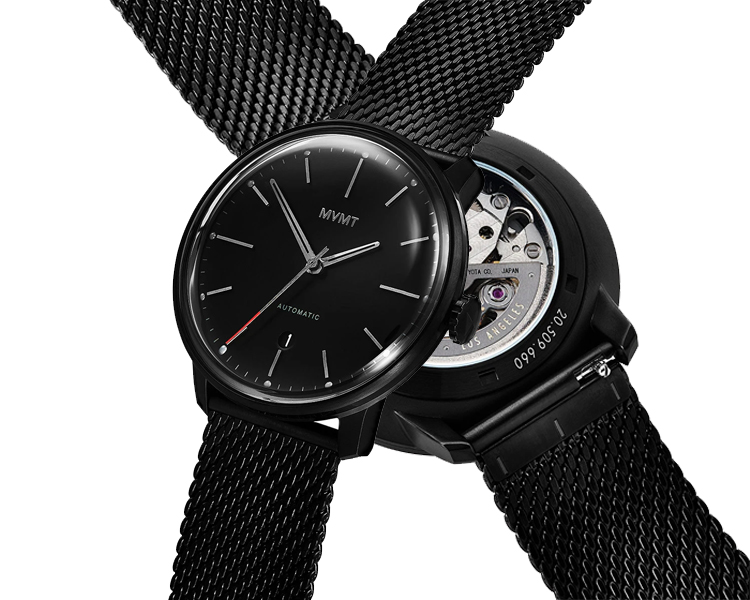 Black is, perhaps, the easiest colour to style. Inspired by modern California design, the Obsidian Ore Arc Automatic takes on the jet black colourway. It also has a Milanese mesh strap for a distinct look. Furthermore, its quality is at the top with domed crystal glass and 41mm stainless steel case. Additionally, it has a special exhibition caseback to display its automatic movement.
4. MVMT Bloom in Burnt Poppy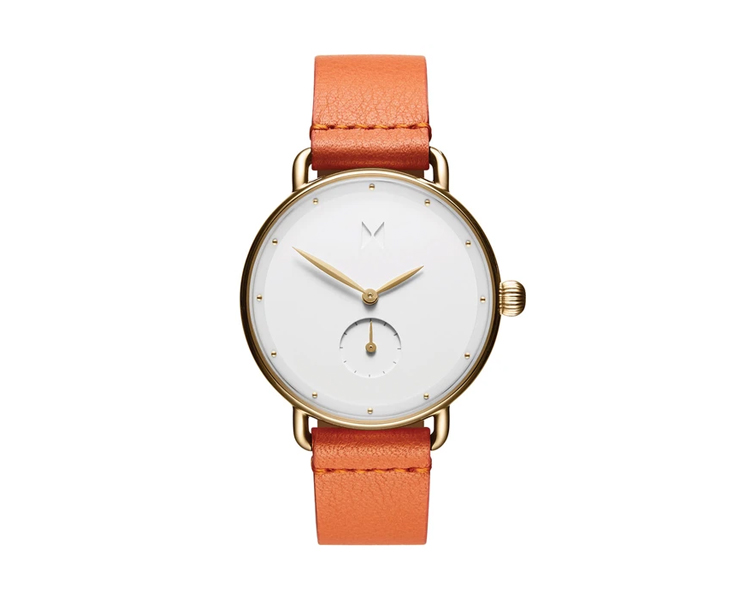 Bloom is not for the faint-hearted. Despite its understated aesthetics, Burnt Poppy's 100% genuine leather strap is a bold fashion choice. With gold hands and hour markers, it is elegance at its bravest. Its dotted markers and the matte white dial will definitely give a clean drift to your style.
5. MVMT Blacktop Caviar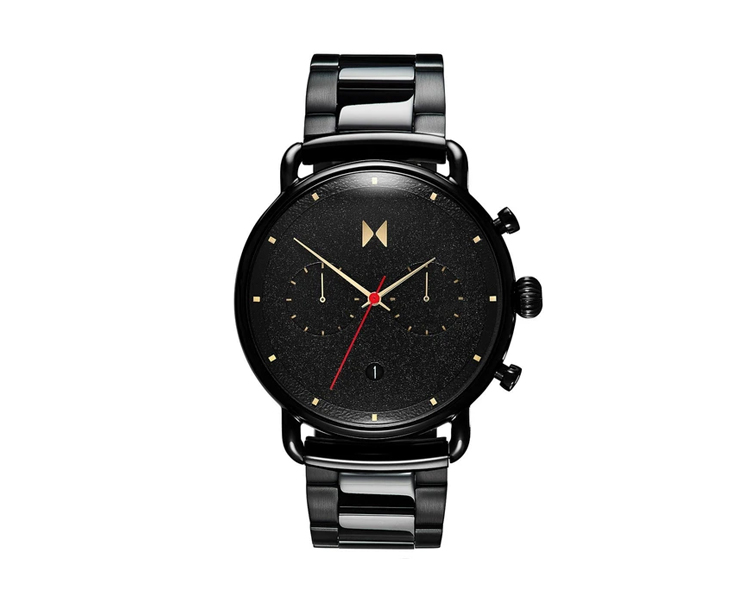 Blacktop is MVMT's largest watch to date. However, its 47 mm polished black stainless steel case proves to be its stylish point. This MVMT watch has a thin profile as well as a domed glass case. With straps matching the case, it's an easy day-to-night choice for every man. Whether you're at your 9 to 5 or a night out with friends, this will be the watch you'll need.
6. MVMT Boulevard in Laurel Marble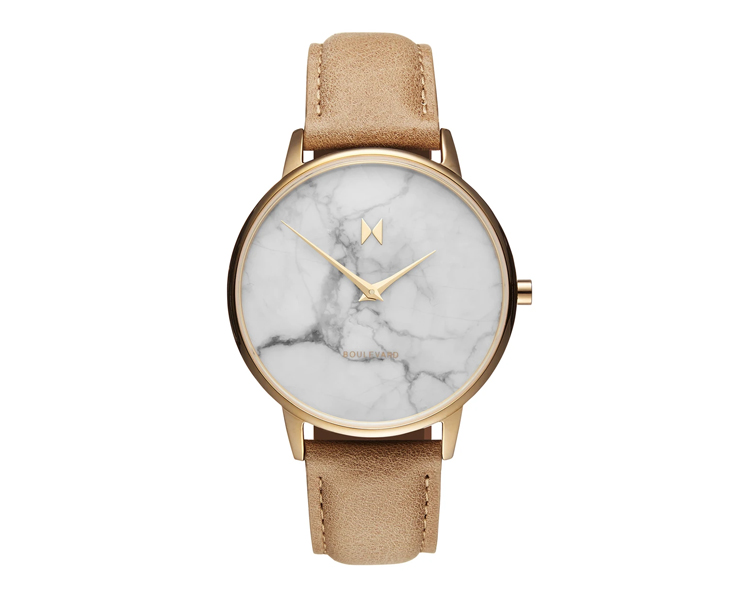 A chic addition to the list, the Boulevard in Laurel Marble is every woman's dream. Young professionals will enjoy the watch's minimalist design. Along with the 38mm brushed gold case and leather strap, it also has a white marble dial. The beauty lies in its details, indeed.
7. MVMT Chrono in Gritty Glow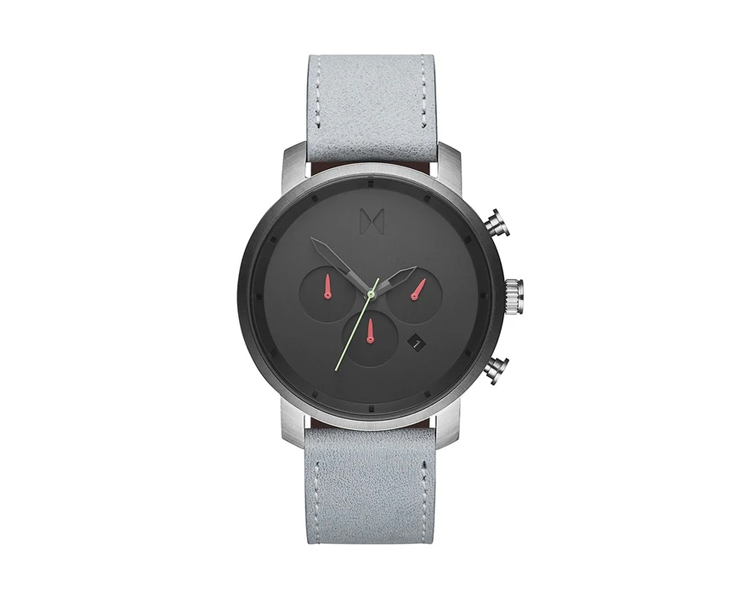 MVMT's Chrono watches come in either 40mm or 45mm cases. With a 12mm thickness, it sits tall on its wearer's wrists. But it's sleek dial design make up this. The Gritty Glow comes in a 45mm stainless steel case. Its silver hands and hour markers also have red and green lume for peak readability. It also includes a 24-hour subdial, 30-minute timer, and a 60-second timer. It's everything you need for time precision.
8. MVMT Coronada Crestliner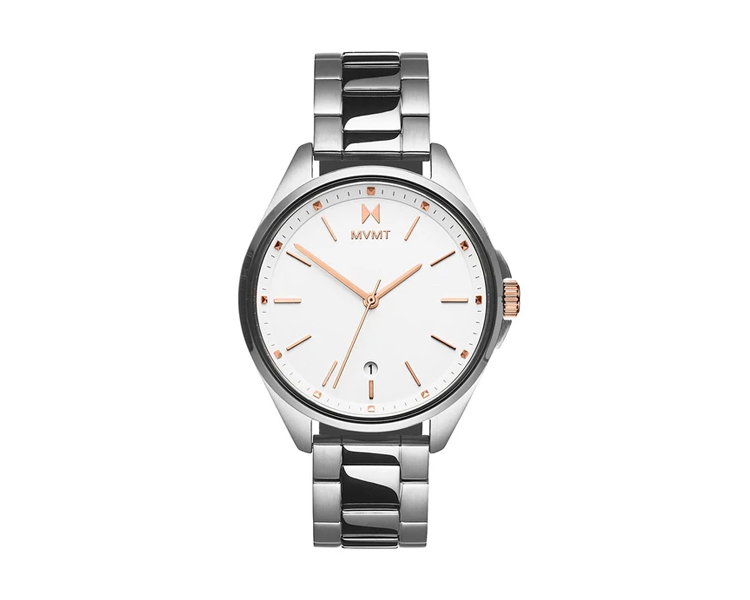 Every woman requires a statement piece to stand out. The Coronada can be your perfect choice. It is bold yet wearable in a 36mm case. Its 8mm thickness gives it a sportier look for overall wearability. It has rose gold hands and hour markers for added femininity. This MVMT watch also features a silver stainless steel link bracelet and case for contrast. This could be the day-to-night watch you're looking for.
9. MVMT Classic Monochrome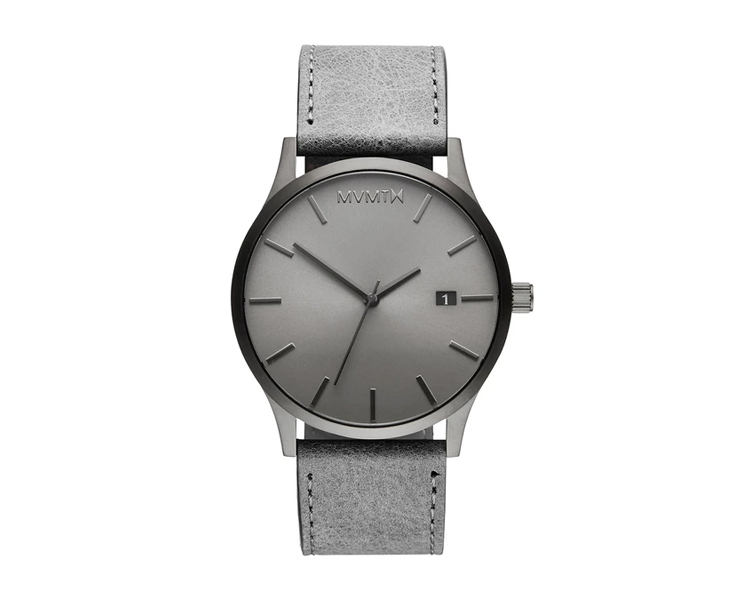 Classic is every man's go-to watch. With its sleek and bold modern design, this MVMT watch stands at 9mm just for the right fit. Its 45mm case in brushed smoke stainless steel case adds to its sleek design. This watch is every minimalist's dream accessory. The Monochrome embraces minimal design with a gunmetal flush from case to dial.
10. MVMT Dot Vibe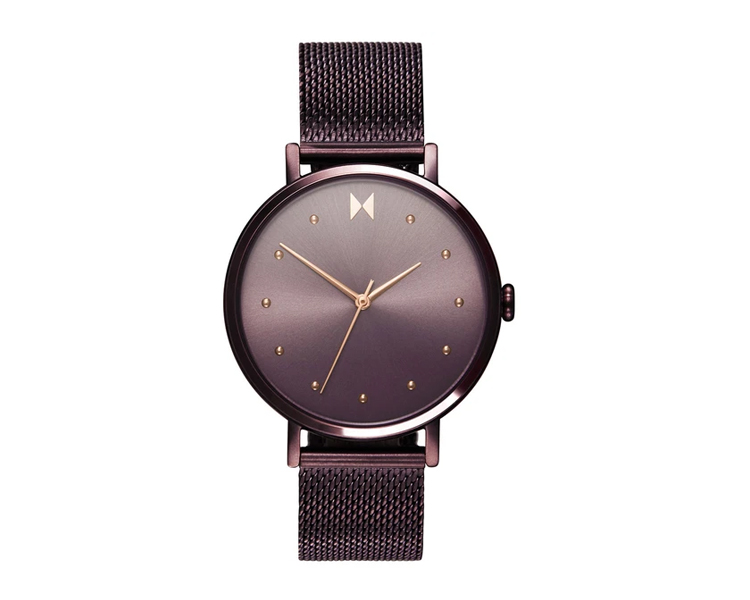 Minimalist design meets a bold choice of colour. Dot Vibe sits pretty at your wrist in 36 mm wine-brushed stainless steel case. Its midsize case will perfectly face your hand with its chic look. It features rose gold markers and hands that also stands out from its wine dial. Not to mention, its mesh strap is interchangeable for better wearability.
11. MVMT The Element: Aether Gold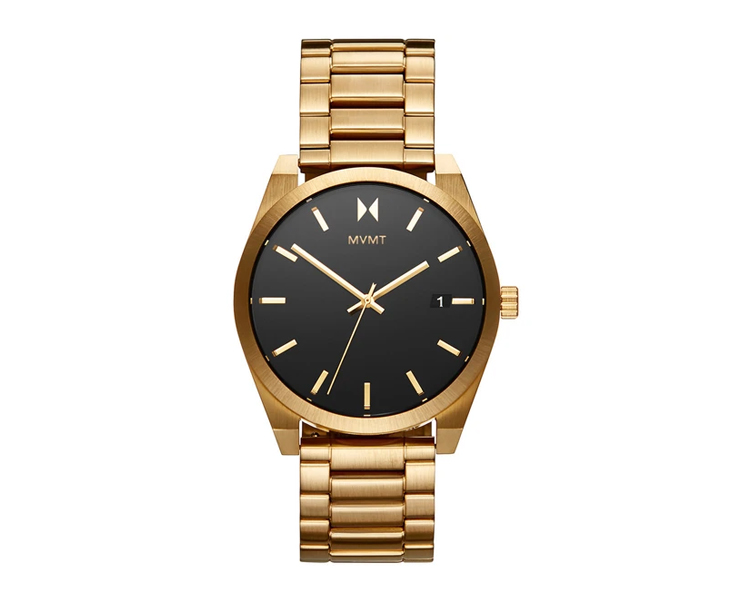 The Element collection from MVMT will definitely add a hint of luxury to your style. With the Aether Gold, your watch is more than just a functional time-telling device — it's also a stylish piece of accessory. The 43mm gold-brushed stainless steel case alone evokes luxury. Meanwhile, its gold hands and hour markers stand out against the black dial. Not to mention, it includes a date window for better functionality.
12. MVMT Element Chrono: Bronze Ore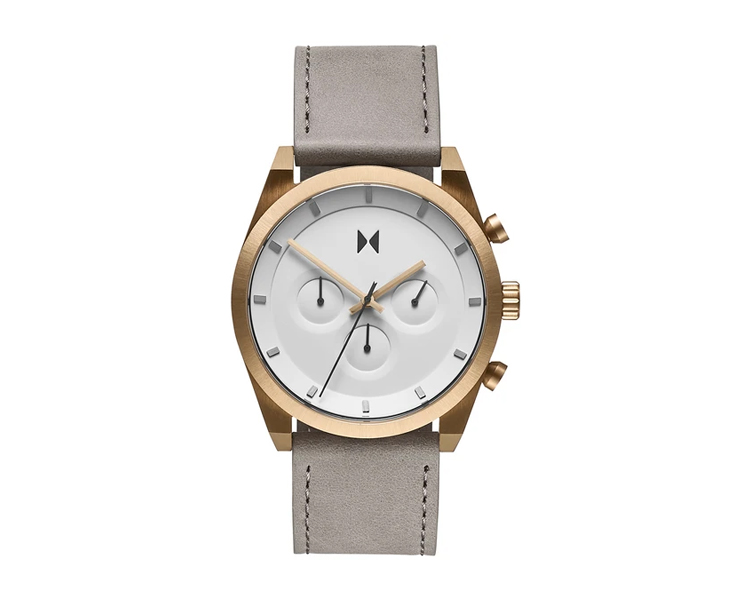 As an added bonus to the Element collection, MVMT launches The Element Chrono Collection. Not only does it feature the classic Element design but it also has the functionality of chronographs. Together with the basics of Element, it includes a 24-hour counter, 30-minute timer, and 60-second timer sub-dials. Chronographs are almost never this stylish. Our favourite design? The Bronze Ore.
13. MVMT Duet in Juliet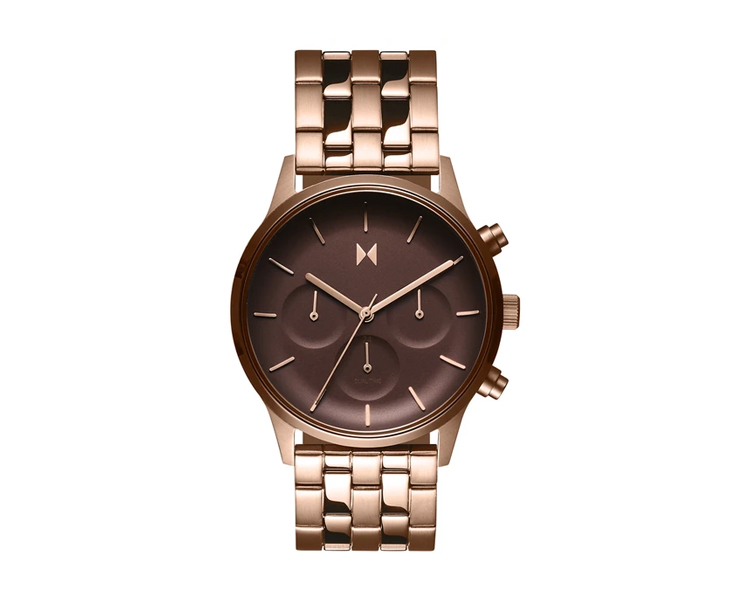 The Duet is the perfect MVMT watch to match your power suit. Its smart design includes dual-timezone sub-dials. Not only professionals but also jet-setting adventurers get to enjoy this feature. The minimal design of the timepiece will keep your style chic and on-point. A meeting at 9 and a flight at 5? Worry not with MVMT's Duet watches.
14. MVMT Field Forest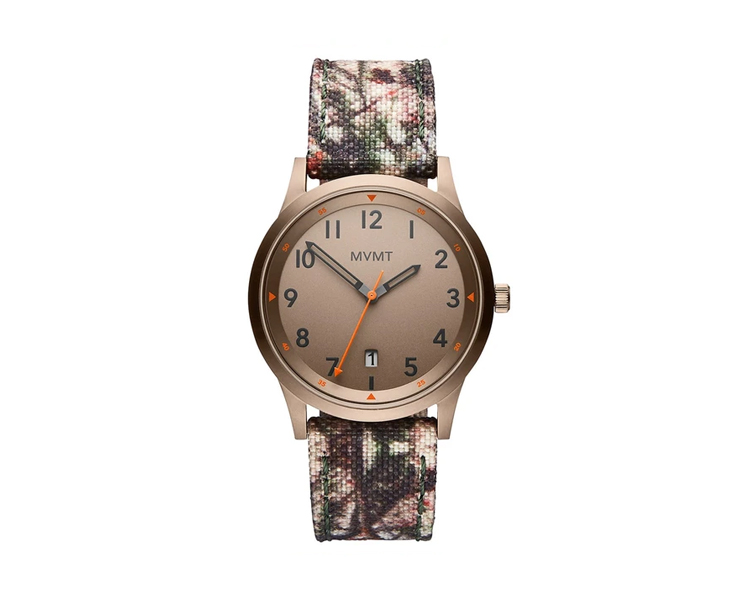 Field is every adventurer's dream. It's ready for every environment you are to face 24/7. From the demands of urban lifestyle to the call of the wild, it's the only MVMT watch you'll need. Adventurers enjoy a fixed-number dial as well as cardinal points. The timepiece also features up to 100 metres of water resistance. It has a durable canvas nylon strap and sits comfortably with its 41mm case. The Field Forest is tactical as it's called with a camo strap that is perfect for you hiking ventures.
15. MVMT Blacktop in Astro Blue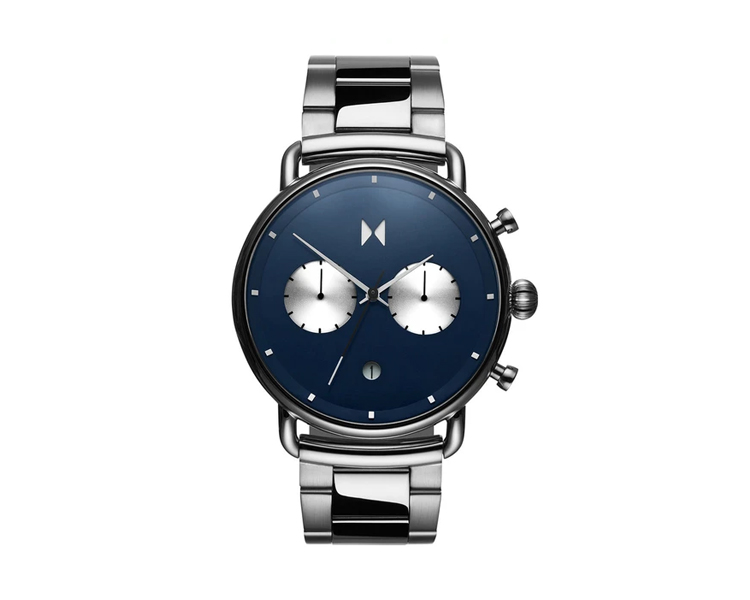 The Astro Blue stands out among its brothers in the collection. Its navy blue dial surely emerges with its vibrance. The silver hands and hour markers complement the dial and additionally makes reading easier. Meanwhile, its sub-dials include a 60-minute timer and running seconds. What's more, its hardened K1 mineral crystal ensures durability and resistance.
16. MVMT Mod N2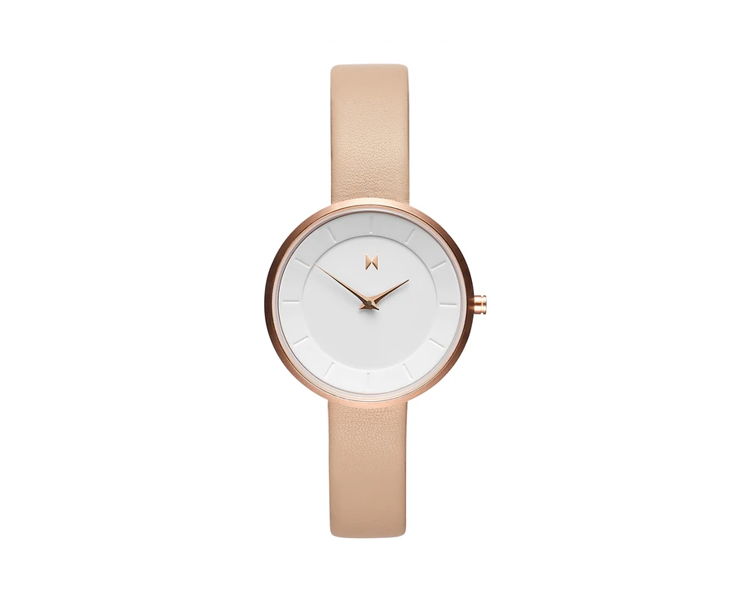 This MVMT watch is minimalism at its finest. The Mod N2 will surely keep you in style without all the glimmer. It only needs a rose gold-brushed stainless steel case paired with its white dial to stand out. Together with this, its dented hour markers make an even more minimalist design. The genuine nude leather strap is interchangeable and completes its refined look.
17. MVMT Oddysey Limitless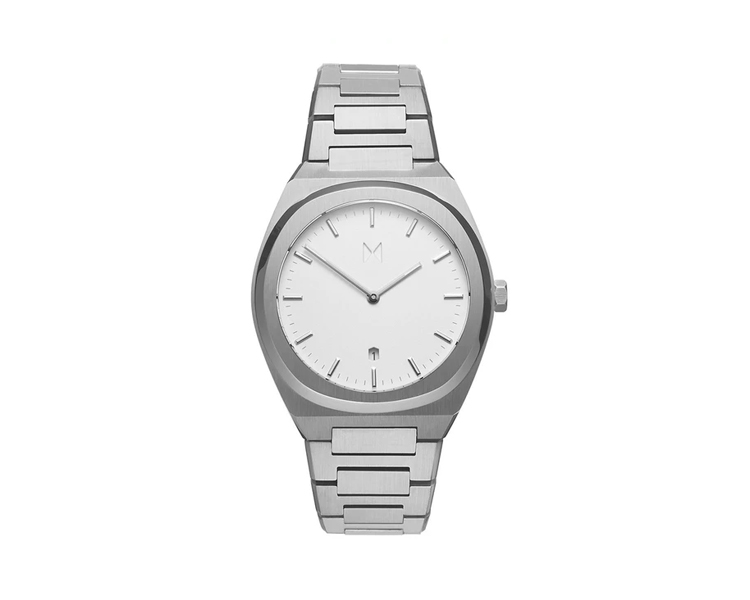 The Oddysey Collection is a one-of-a-kind offer from MVMT. It has an innovative hexagonal shape together with a compact 40mm case. Not to mention, it features a razor-sleek 8mm profile that fits perfectly on the wrist. What's more, the silver hour markers and hands also have white lume for optimum readability.
18. MVMT Nova in Terra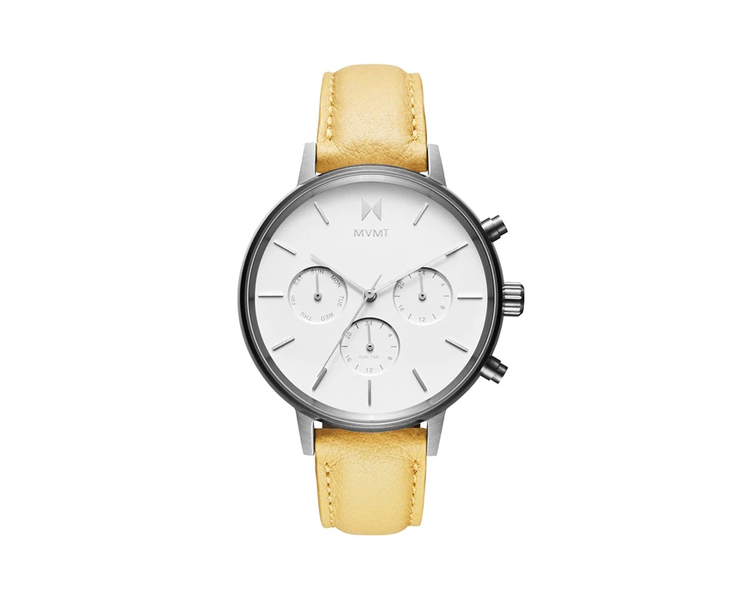 With its chic and bold design, the Nova could be your companion for any adventure. Pair it with complementary jewellery and you're all set for an adventure — whether its a road trip weekend or a music festival. The watch has three sub-dials. Aside from the day dial, it has two 24-hour dual GMT timer. Time travel in style with this watch and make it a bold one with your choice of design. Our design of choice? The Terra with its yellow genuine leather strap. This MVMT watch is, without a doubt, a timepiece to die for.
19. MVMT Rise: Thirteen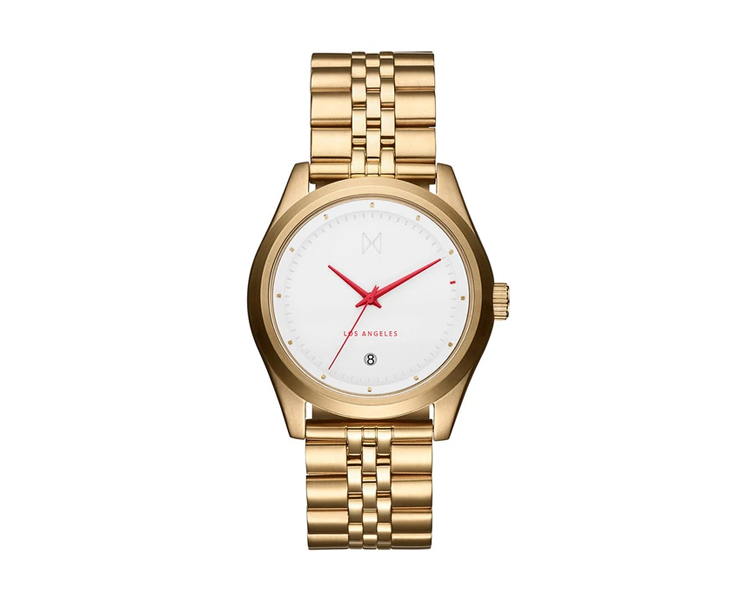 To celebrate the brand's beginnings, MVMT launched the Rise collection. This watch is inspired by the hustle and bustle of modern-day Los Angeles — a place where their dreams begin and aim to inspire patrons to reach for theirs. Aside from this vision, the collection is also a reference to millennial style. One of our favourite designs is Thirteen. The watch's red hands stand out against its white dial and gold-brushed case and bracelet. The hour markers remain minimal in design and definitely suits any dreamer's style and aesthetics. Not to mention, it's modest date window keeps you on track of the days and adventures ahead.
20. MVMT Voyager Rosewood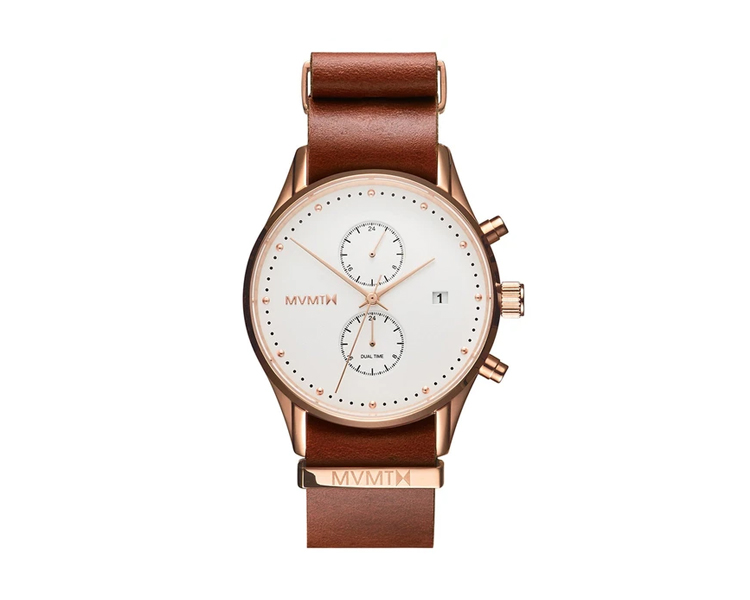 Millennials are always ready to take on any adventure. That's why MVMT has come up with various collections to celebrate this innate millennial trait. Above all these, one of the standout design is under the Voyager collection. Together with its dual-time feature, it also has a classic design that can take you places and adventures! Its natural tan leather NATO strap completes the classic look. You'll definitely be ready to conquer the world with this on your wrist.
Disruptors and Dreamers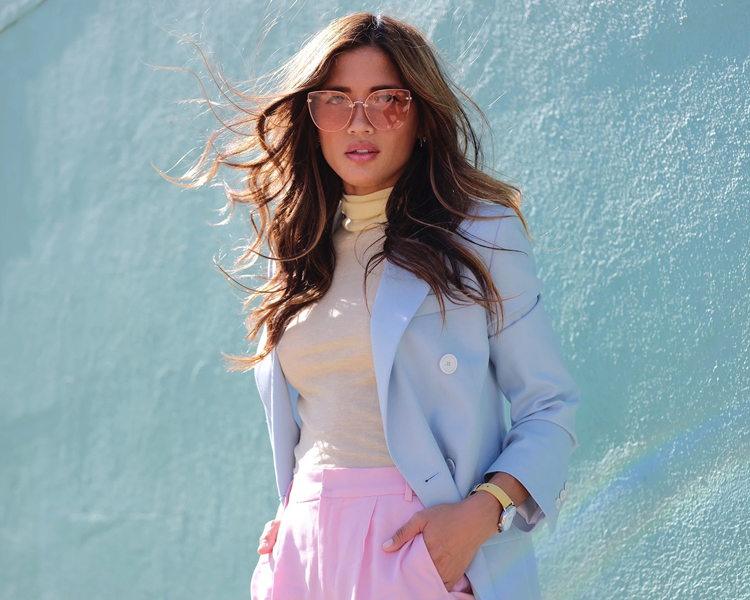 As part of MVMT's ongoing mission to inspire generations beyond, they've tapped on to Disruptors and Dreamers from various industries. This not only became the brand's stepping stone to getting known but also their statement in breaking rules and barriers.
They've worked with people such as activist Candace Reels, fashion icon Rocky Barnes, pro-skater Nyjah Huston, and creative director Jeremy Davis also known as Thatoneblondkid.  These people have pushed boundaries and upheld the vision of the brand. MVMT aims to become more than just a brand but a lifestyle. Despite its nature as a business, the brand promotes individuality and belongingness in more ways than one.
---
Keen to read about another watch brand with a pioneering spirit? Check out our story on Hamilton Ventura, the world's first electric watch.