Over the past decade, digital and smart watches have been steadily gaining popularity. This is largely because of people's innate wonder and thirst for constant innovations in almost all aspects of life.  Most of us were so hyped when the first generation of the Apple Watch was released years ago. Now, if you see someone on the street "talking" to their watch, not a single person will bat an eye because of how accustomed we are to contraptions like that. It is almost like we have been desensitised to truly appreciate technological feats, no matter how big or small it is, because of our constant craving for more.
However, it was a different story nearly 40 years ago when Seiko launched their infamous TV watch. It immediately gained the attention of the public back then and, until now, many people are still willing to pay hefty amounts to get their hands on one. Even though I wasn't born until 15 years after its release, I find this piece so interesting and advanced for its time that I cannot help but satisfy my curiosity about it. The Seiko TV watch, the history behind it, and how it has changed digital watchmaking will be the centre of today's article.
Digital Watches Through The Years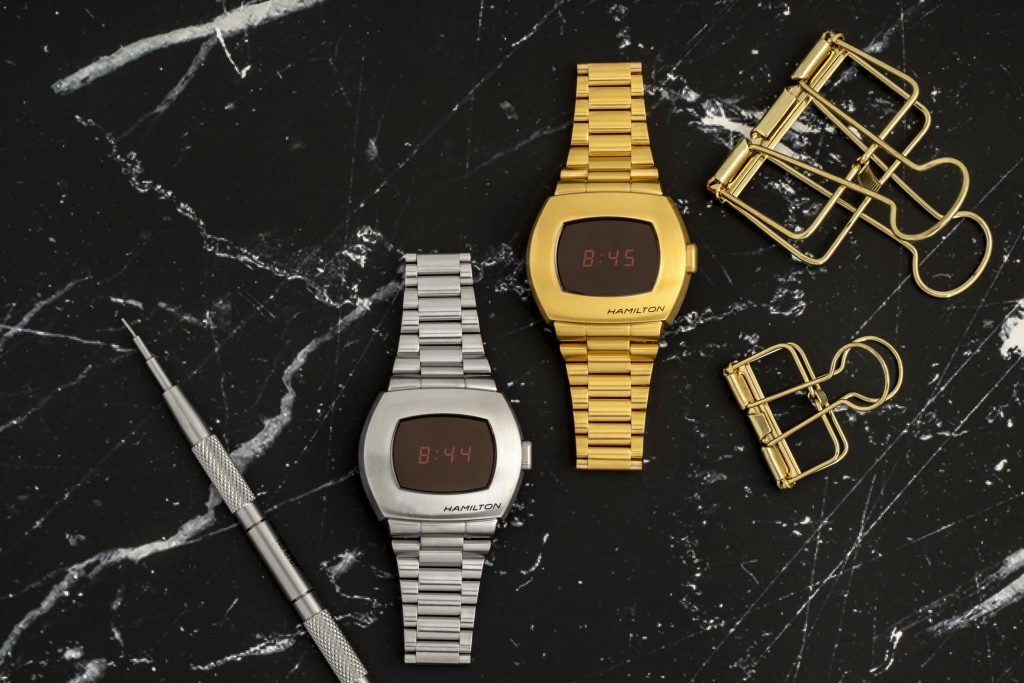 In order for us to truly appreciate the Seiko TV watch, let's have a quick glance at how digital watches have evolved through the years. 
Hamilton Pulsar Time Computer (1972)
The first-ever digital watch released was called the Pulsar Time Computer manufactured by Hamilton Watch Company in 1972. This often comes as a surprise to people who associate Hamilton with military-themed analogue timepieces but, yes, they are the creator of the world's first digital watch. The Hamilton Pulsar was met with great success and would forever be known for its title.
The Hamilton Pulsar Time Computer features LED technology in which the time is displayed on the screen with the press of a button. However, there were some who thought that the watch was a bit too much because they found it weird to adjust to the switch from analogue to digital. Regardless, it was a revolutionary piece that would eventually precede a variety of iconic digital watches. 
Hamilton Pulsar Calculator Watch (1976)
Another innovative digital wristwatch created by Hamilton is the Pulsar Calculator Watch (1976). Just from the name, it is already obvious that this piece included a built-in calculator function on top of simply telling time. The Pulsar Calculator Watch actually came with a stylus for better reach of the buttons and also used LED technology. Even though Hamilton released two futuristic wristwatches in the '70s, it wasn't all fun and games. The company ended up discontinuing the Pulsar pieces and selling the Pulsar name in the same decade. 
Casio Game-1o (1980)
The '80s was also a rather colourful decade for digital watchmaking. Most, if not all, manufacturers were already using LCD technology this time around, which led to relatively cheap prices for LCD wristwatches. In order to continue profiting, brands had to constantly innovate the different functions their timepieces offered. Casio is the perfect example for this. They released the Casio Game-10 watch in which it had a feature where you can play a game similar to Space Invaders. This piece is one of the first watches to ever have this function while simultaneously displaying time.
Casio C-80 (1980)
Casio also released their own version of the calculator watch called the Casio C-80. This calculator watch is different from the '70s Hamilton Pulsar Calculator for two reasons. First, the Casio C-80 featured a different layout that included a bigger screen and buttons (meaning no more need for a stylus). Second, the C-80 retailed for a way lower price than the Pulsar Calculator watch because of its plastic case. Overall, this was a very popular model during its time. 
Timex Datalink 150 (1994)
The '90s came with equally great technological advancements in digital watchmaking especially with the rise of computers, softwares, the Internet, etc. In this decade, what would be considered today as the world's first smartwatch was created. The Timex Datalink 150 was the product of a collaboration between Timex and Microsoft back in 1994.  This model includes a cool feature where you can transfer data from a PC to the watch through an optical censored software. It is amazing to think that the Timex Datalink 150 would be the predecessor of numerous modern-day smart watches. 
Casio Wrist Camera (2002)
Moving on to 2002, we have yet another impressive additional function to a normal wristwatch. Casio launched the first wristwatch that can also capture photos specifically in black and white. The Casio Wrist Camera included about 1 MB memory space and an option to transfer photos to a computer through an IR port. While having a camera watch on your wrist sounds cool, many found it rather impractical and unnecessary. Regardless, Casio did a remarkable job in creating a watch that had the functions of a digital camera as well.
Apple Watch (2015)
This timeline would not be complete if we don't include one of the most popular smartwatches at present. Six years ago, in 2015, Apple launched the first series of the Apple Watch. It was almost like a wristwatch version of an iPhone but not really. The Apple Watch not only had a very chic and smart design but it also included numerous features, from being able to answer calls to measuring your heart beat and a whole lot more. Since then, Apple has been releasing new and improved versions of the Apple Watch. However, they are not the only company that offers high-quality smart watches today. There are other brands out there like Samsung, FitBit, Garmin, Fossil, etc, that produce smart watches with similar features. 
A Resilient Industry
Now that we know more about the evolution of digital watches over the past decades, hopefully we have a better understanding of this industry. If I were to compare the progression of digital watches to something, I would say that it is like one great rollercoaster ride. From having to constantly innovate for profit to being able to fairly compete with the analogue watches, the digital watch market has gone through its share of ups and downs through the years.
Seiko: The Brand Behind It All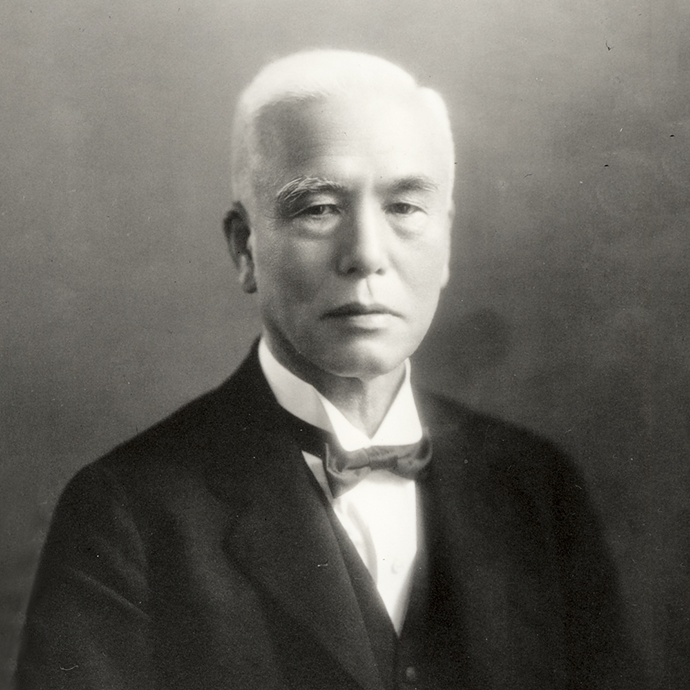 If you haven't noticed yet, I purposefully did not include Seiko in the timeline. This is because Seiko has made a lot of contributions to digital watchmaking, more than just the TV watch, and it deserves a spotlight section of its own. 
Kintaro Hattori founded Seiko, a well-established brand today, in 1881. What started as a small shop that sold and repaired timepieces in Tokyo became one of the leading watch brands in the industry today. Much like other respected watch manufacturers out there, Seiko has a long and rich history behind what it is now.
Seiko's History
After only 11 years since Kintaro Hattori opened his shop, he was able to buy a factory (the Seikosha) where he first produced his very own timepieces. In 1913, he was able to launch the first wristwatch manufactured in Japan called the Laurel. However, in 1923, an earthquake struck Japan leading to the destruction of the Seikosha factory. This did not stop Hattori from continuing what he started and, a year later, the first watch under the Seiko name went on sale. 
The decades that followed came with numerous achievements and breakthroughs for Seiko. From their involvement in the construction of the infamous Wako Clock Tower in 1932 to being the Official Timer of the Tokyo Olympics in 1964 to launching the world's first-ever quartz watch in 1969, Seiko is definitely one of the brands in the forefront of the watchmaking industry. 
Seiko Goes Digital
While Seiko is more known for its array of innovative analogue watches, they have also made an impact in digital watchmaking. In 1973, they came out with their first digital watch. It featured a liquid crystal display with six-digits to indicate the hour, minutes, and seconds. This model was another first for the world and had garnered a lot of attention. In 1975, Seiko introduced the first ever multi-function digital watch with a chronograph and further proved their status as a trailblazer. It included features like a 1/10 of a second recording time, a lap time function, and internal light for better visibility.  
In 1982, Seiko released the Seiko TV watch, but let's skip that first since we'll be talking about it in detail later in the article. Moving forward, in 1983, Seiko launched Voice Note, which is a watch that had a voice recording function and voice alert feature.
Seven years later, in 1990, they released the Scubamaster, which is the first computerised divers' watch. It included a water sensor, depth indicator, and other relevant information needed by divers. Last on our list of digital breakthroughs by Seiko is the E-Ink watch, launched in 2010, which featured an active matrix system and more advanced display. Most, if not all, of the digital pieces mentioned are milestones not only for Seiko but also for the world. 
All About The Seiko TV Watch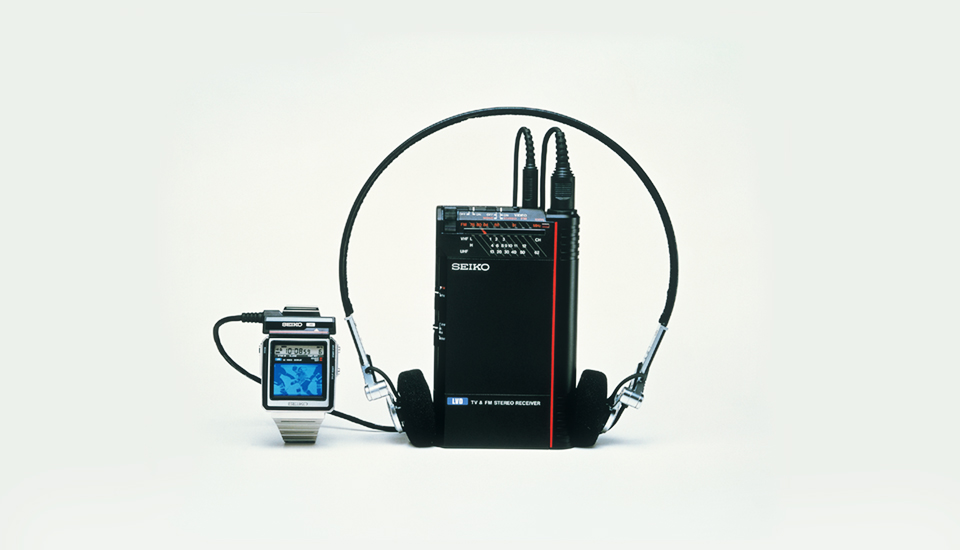 Now, it's finally time to talk about the Seiko TV watch, also known as the Seiko T001. This incredibly advanced timepiece was introduced to the public in 1982. It was Seiko's metaphorical leap towards the future. If it wasn't obvious from the name yet, this watch did more than just display time. It included a feature in which you can watch the television on your wrist. It probably sounds boring to people who grew up with Apple watches, but when you think about its manufacture date, you will realise that the Seiko TV watch was a device ahead of its time. 
Anatomy of the Seiko TV Watch
The Seiko TV watch came with five main components: the headphones, a headphone cord, a receiver, a video connector, and a wristwatch TV. The receiver included the following: a power switch, tuning components, a volume control dial, TV/FM switch, brightness control, a battery compartment, and lots more. The wrist TV layout, on the other hand, had a small screen for the time-calendar display and a bigger screen below it for the TV.
How does it work? 
The receiver had to be connected to the watch proper (plus the headphones) in order for the TV feature to fully work. An illustration released by Seiko showed a man wearing headphones connected to the Seiko T001 on his wrist along with the video connector under his sleeves and the receiver in his chest pocket. This was the recommended and probably most comfortable way of wearing the Seiko TV watch. Aside from the TV function, the Seiko T001 also had a calendar, stopwatch, and alarm feature. 
Additional Features
The Seiko TV watch used a liquid crystal display for the screen as this technology was best for running small images on a lower power consumption. Furthermore, the T001 could last for up to five hours, which greatly appealed to people who enjoyed watching TV but were often "busy" during the day. This became the focal point of Seiko's marketing plan for the T001. The 1984 Guinness Book of World Records recognised the Seiko TV watch as the smallest television in the world. However, since the wrist TV itself is connected to a rather big receiver, many find it questionable. In terms of price, the Seiko TV watch retailed for over USD 400 back then, which equates to around a thousand dollars today.
Seiko TV Watch In Media
Aside from being a technological milestone in digital watchmaking, another reason why the Seiko TV watch caught the attention of the public was because of its appearance in films and series. Agent 007 himself uses a prototype version of the T001 TV watch in the 1983 James Bond film Octopussy. This immediately increased the popularity of the Seiko T001 to the point where it is still associated to the said film today. The TV watch makes another movie appearance in a 1987 comedy film called Dragnet, with Actor Tom Hanks wearing the watch.
In the more recent years, the Seiko TV watch was featured in an episode of Pawn Stars in 2014. For those who don't know, Pawn Stars is an American television series where people buy, sell, and pawn different vintage artifacts. In that specific episode, they mentioned its appearance in Octopussy and said something along the lines of "What's cooler than wearing the same watch as James Bond?". 
A Timepiece For The True Collector
After tackling the history of digital watches and learning more about the Seiko TV watch, some of you may be wondering if it's still possible to get your hands on one, or if it is worth the time, money and effort. Since it is considered a vintage item now, it will be hard to find one for reasonable price. If you check online selling platforms like eBay, you may be able find one in a good condition. You may also want to try your luck at your local pawnshop or other vintage stores around you. However, chances are they're either super expensive or incomplete. 
Whether it's worth it or not, honestly, you are the only one who can decide. We all have different factors to take into consideration when purchasing items like price, condition, durability, etc. If you think buying a Seiko TV watch is something you'll truly appreciate in the long run, then go for it. There is a reason why this piece is so highly sought after. Aside from being a technologically-modern vintage item, the Seiko T001 is proof of how much digital watchmaking has evolved. Its appearances in films only boosted its appeal, making it a great collectible especially for the vintage lovers.
Final Thoughts
The Seiko TV watch is just one of the many impressive timepieces out there. What makes it so great is that it is a product of Seiko's desire to constantly innovate. The Seiko TV watch is a great example of a groundbreaking piece that was appreciated by the world. As technology continues to progress, let's not forget to look back at revolutionary pieces like this.
If you want to know more about Seiko, check out our feature on the 10 trendiest watches for women.