More than 100 years ago, Fortis was launched in Grenchen, Switzerland. This Swiss watch brand cleverly put together luxury and function in its timepieces. Fortis watches are notable for different achievements. For instance, the brand developed the first mass-produced self-winding wristwatch as early as 1926. Many years later, they produced the Venus Caliber 230 collection, durable watches that accompanied military forces of Switzerland, Germany, Hungary, Greece, as well as Taiwan.
Like many Swiss watch brands, the story of Fortis is one with many ups and downs. When then 29-year-old Water Vogt started the brand, he only wanted to create a watch that would stand out. At the time, the Swiss watch industry was already saturated with various brands that have already made a name for themselves. Vogt then built his way up to success by building a factory right next to the local train station.
Like many other businesses, the new age of watchmaking became difficult for the brand. In fact, in 2017, Swiss media heard of the brand's financial struggles. Many newspapers reported on the company's impending closure. However, a Fortis enthusiast breathed life into the watch brand by rebranding it.
Today, the brand continues to provide great aesthetic and useful movements with functions that are way out of this world. Eager to learn more about Fortis watches? Read on to find out how Fortis evolved from a Swiss brand to a brand worthy to travel to space.
History of Fortis Watches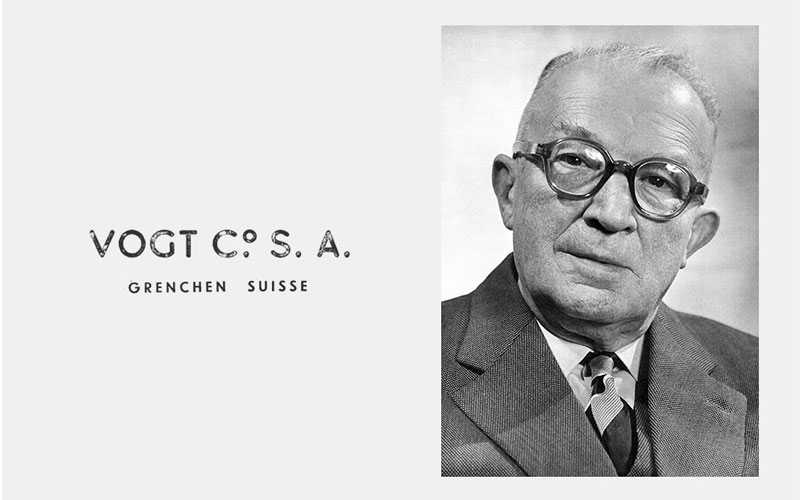 The year was 1912 and the place was the municipality of Grenchen in Switzerland. Then 29-year-old watchmaker Walter Vogt opened a watch factory near a train station. Vogt received watchmaking training in Biel and even worked at Eterna, a Swiss watch manufacturing company. Vogt single-handedly managed his company for the years to come.
Then, in 1926, a British watchmaker named John Harwood joined the team. He helped with the mass production of the world's first automatic watch. This met with great success. Almost a decade later in 1937, the company launched its first chronograph watches. This includes the Autorist as well as the Rolls. The watches were introduced in celebration of Fortis' 25th anniversary.
From there, the brand only went on to produce watches that made a mark in the industry. For instance, in 1940, the brand launched its first water-resistant watch called the Fortissimo. Then, in 1956, the Manager received the Swiss Institute's leading chronometer award. The Manager is their first water-resistant watch with a mechanical alarm.
Fortis continued to make waves until the 1960s when the brand decided that there's more to timekeeping than what we see on Earth. The brand then began its adventure to space, and eventually Mars.
Fortis Watches in Space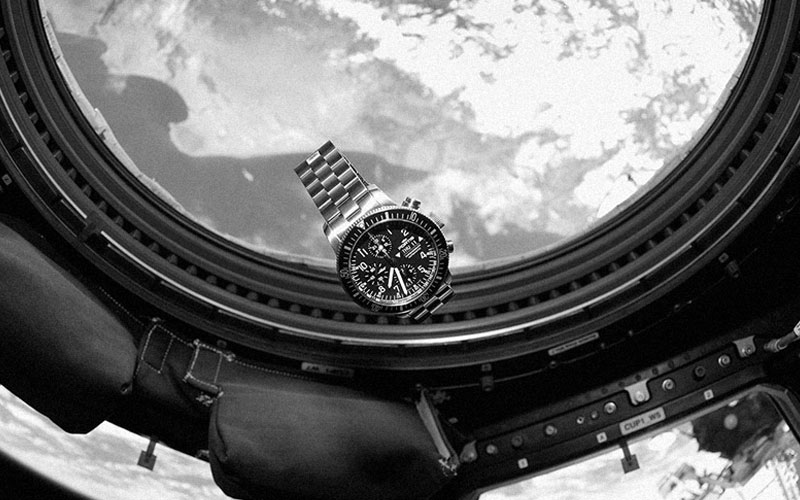 Since 1962, the brand has been keenly related to space exploration. Taking inspiration from the 1960s space race, Walter's son, Rolf, presented the Spacematic AR (or All Risks) to NASA. This is the first space watch made by Fortis, honouring the courage and efforts of the first astronauts who travelled in space.
Fortis successfully wowed NASA. The brand then started supplying astronauts at the Gemini program with its Spacematic watches. To this day, Fortis remains heavily associated with space flights. Among its most iconic moments happened in 1992 on a project called "West in Space". This is a collaboration between Fortis and West, a German brand of cigarettes. Fortis released space-themed watches with West's logo on them, a watch that many collectors vie for to this day.
Today, the brand is known for its close relationship with Russia's Roscosmos State Corporation for Space Activities. The partnership between the two organisations gave birth to the Official Cosmonauts series. These watches have permission to bear the "Roscosmos" name after passing rigorous tests at the Yuri Gagarin Cosmonaut Training Center. To this day, Russian Cosmonauts still wear the Official Cosmonauts Chronograph watches which was launched in 2003 as part of their spacesuits.
Sky's The Limit
While Fortis primarily boasts itself as a watch brand made for the stars, it also has a very robust collection that explores the skies and seas. In fact, its tie-up with space explorations only gave way for the brand to produce more varied styles, colours, and designs. It also allowed the brand to release affordable versions of its watch sin plastic to cater to all ages and budgets.
The brand also supplied special watches to military forces from all around the globe. That includes Germany's Jagdgeschwader, Hungary's NATO Forces, Taiwan's Thunder Tiger Aerobic Team, Greece's Hellenic Tigers, and Switzerland's Swiss 11 Fighters.
Fortis also launched its first pilot's watch in 1952, calling it the Jubilee. From there, the brand grew its collection of pilot's watches through their Sky Collection. Its watches like the Aeromaster and Pilot Classic enjoyed great popularity around the world.
Generally, Fortis uses ETA calibres to power its watches. As expected from Swiss watch manufacturers, they modify these movements in-house and assign new names to them. This proves successful as the brand boasts calibres like the F-2012 for being certified by the Official Swiss Chronometer Testing Institute (COSC).
In more recent times, Fortis faced a difficult time as well as a new beginning when Jupp Philipp acquired the company. Philipp is a private investor and a long-time fan of the brand. Today, the brand boasts the name FORTIS Watches AG.
A Look at Fortis Watches Collections
Contrary to popular belief, Fortis doesn't only produce space-ready watches. Its catalogue is wide and vast, with tool watches perfect for the sky and the sea as well. Here are the main collections of the brand.
Fortis Space Collection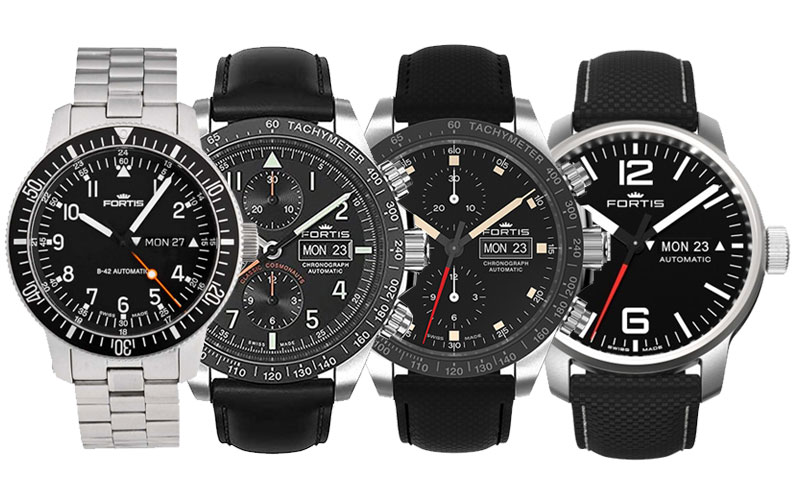 The Fortis Space Collection holds exactly what you think it does, watches made for space and space-themed models. These watches can handle space missions and today work to reach the surface of Mars. The collection houses four main types of watches, namely Official Cosmonauts, Classic Cosmonauts, Stratoliner, and Spacematic.
Let's start with Official Cosmonauts. These watches either come in brushed stainless steel cases or have a black PVD coating. They also have up to 200 metres of water resistance and their iconic look features a black dial as well as luminous hands. The watches come with various functions, such as a self-winding chronograph and may come in stainless steel bracelets or Condura straps.
On the other hand, we have the Classic Cosmonauts. They hold up to 100m of water resistance, and they come in either metal-coated silver, matte black, or matte white dials. These watches also boast very luminous hands. As expected, you can find Classic Cosmonauts that are automatic with some featuring a chronograph such as the Classic Cosmonaut Ref. 401.26.11 L10. They all come in stainless steel bracelets.
Meanwhile, the Stratoliner features part-brushed, part-polished stainless steel bodies. They also come with see-through casebacks and they even have ceramic bezels. Their dials can come in either matte white, matte black, or matte grey. With 100m of water resistance, it's also a trust tool watch. These watches are powered by an automatic calibre with chronograph functions and with Cordura fabric straps.
Spacematic watches are, perhaps, the oldest among the bunch. They have been in Fortis' catalogue since the 1960s. These watches come in either black PVD coated or brushed stainless steel cases. The casebacks of these watches are in stainless steel with the word FORTIS engraved on them. With matte white or matte black dials, they're true classics. Dials of the watches from this collection also have metal-coated and finely grained structures as well as luminous hands. They are also self-winding and come in leather straps.
Fortis Sky Collection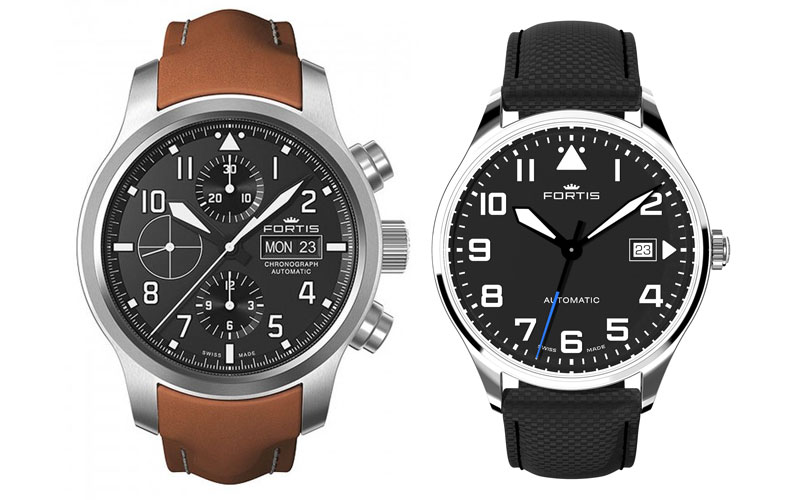 If you're always flying across the globe, you must explore the Fortis Sky Collection. This collection carries watches that prove strong and accurate even with frequent air journeys. Many pilots across the globe use these watches for their features and stylish looks. You'll find two main watches in the Sky Collection: the Aeromaster and the Pilot Classic.
The Aeromaster watches come in brushed stainless steel cases. They may come with an exhibition or an embossed caseback. Aeromaster watches also have black or royal blue dials with luminous hands. These watches may also come with a three-hand function such as the Fortis Aviatis Aeromaster Day-Date or a chronograph such as the Fortis Aviatis Aeromaster Chronograph.  They're also water-resistant enough with leather and stainless steel bracelets available.
The Pilot Classic watches, on the other hand, is your quintessential aviation watch. It has either polished or brushed stainless cases with exhibition caseback and sapphire crystal. It also boasts various functions with time as the centre of all features. What's more, with Condura straps, the watch is durable enough for sports activities.
Fortis Sea Collection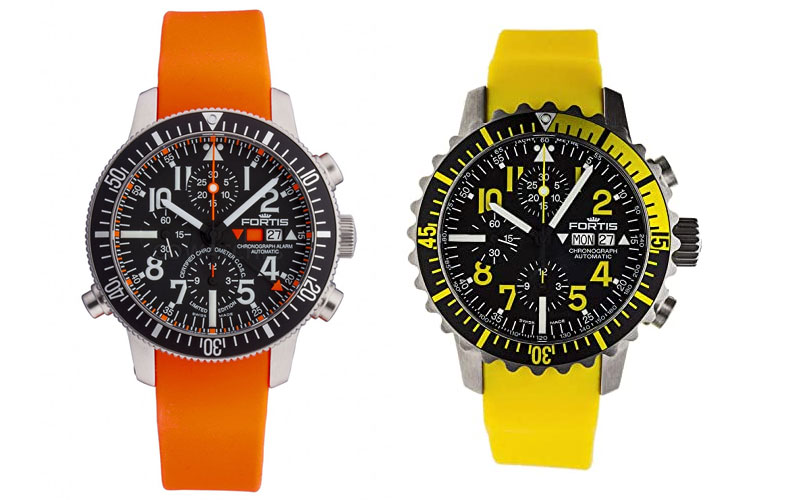 It's not a Swiss watch brand without a collection of dive watches. The Sea Collection consists of watches made for adventurers and travellers. They're for the active people as well as professional divers. Many skilled divers use these timepieces to accompany them underwater. Watches in the collection include the Marinemaster Alarm Chronograph, Marinemaster Silver Chronograph, and Marinemaster Yellow Chronograph.
The Marinemaster Alarm Chronograph comes in a brushed stainless steel case. The matte black dial and luminous hands make it easier to read even underwater. Plus, it comes with a stainless steel bracelet. This watch can go as deep as 200 metres with a feature that not all wristwatches have, an alarm chronograph. Fortis included this feature in collaboration with Zurich expert watchmaker Paul Gerber.
Meanwhile, the Fortis Marinemaster Silver and the Fortis Marinemaster Yellow Chronograph watches come with an automatic self-winding chronograph. While they don't have the iconic alarm chronograph, they also have the same look as well as the 200m water resistance.
Fortis Watches: Are they any good?
Ask any watch aficionado around and they'll surely have good words for Fortis watches. These watches have superior style, design, as well as quality. They come in great looks and functions that work for any occasion. You can wear them to work as well as during parties or even outdoor activities. In fact, Fortis watches can handle a lot of environmental factors.
Moreover, these watches come with great features, such as automatic calibres, chronographs, and even great water-resistance.
To tell the truth, Fortis watches easily get compared to brands such as Oris or Longines as well as Alpina. These brands are known for a wide range of selection for the same price range as Fortis. That's why many collectors still prefer these brands over Fortis.
There isn't much selection from Fortis and not nearly as many functions as these other brands offer. However, it's still a great Swiss watch brand that deserves more recognition. It has a great selection, although not as many. But the great thing about that is that you can rest assured that the company focuses on what it already has and continues to improve it rather than just come up with new models every year.
Buying Fortis Watches
There are various ways you can buy Fortis watches for yourself or for others. You head over to the brand's official website that offers shipping to select European countries. However, if you're not in Europe, you can always find a store and service centre through the brand's locator. Fortis also helps clients directly who are interested in buying their watches. These days, your best bet at buying Fortis watches from the US is through Amazon.
Every Fortis watch come from Grenchen, Switzerland, where the headquarters for FORTIS Watches AG sits. So you can rest assured that they are authentic and Swiss-made. Buying a Fortis watch also entitles you to a two-year warranty from the date of purchase. It covers manufacturing and production defects. You can avail of it by presenting a warranty card signed when you purchased a watch. You should also include the payment receipt from the store where you purchased the watch.
From Switzerland to Space
Fortis watches may not be at par with other Swiss giants like Rolex or Omega, but the great thing is that Fortis doesn't aim to be. It's a brand that thrives in itself as a company that produces tool watches. With new management, there's only a lot more to expect from the brand. We're looking at new models, new collections, and perhaps, new achievements for the brand. Fortis watches will always be a great option that remains strong despite the struggles it's been through and that's a testament to what it can bring to its fans in the future. From Switzerland to space and beyond, Fortis's legacy continues to live on.
---
Looking for more Swiss brands to explore? Check out our features on Chronoswiss, Certina, and Mido watches.
All photos courtesy of FORTIS Watches AG.