You may not be familiar with Certina watches but athletes sure are. Even sports fans laud the Swiss watch company  for producing timepieces that can do basically everything. Certina watches can ride the tides with surfers as well as explore the deep ocean trenches. They can win you a million-dollar deal at 9 then race with you at 5. Certina's watches are undoubtedly one of the most reliable watches with precise mechanisms in the market. So it's definitely no surprise how they remain strong 130 years since its establishment.
But what exactly sets them apart from other brands? Here are some clues: Swiss precision, sports standards, and modern tech. Curious? Read on to learn more about Certina below.
Certina Watches Through the Years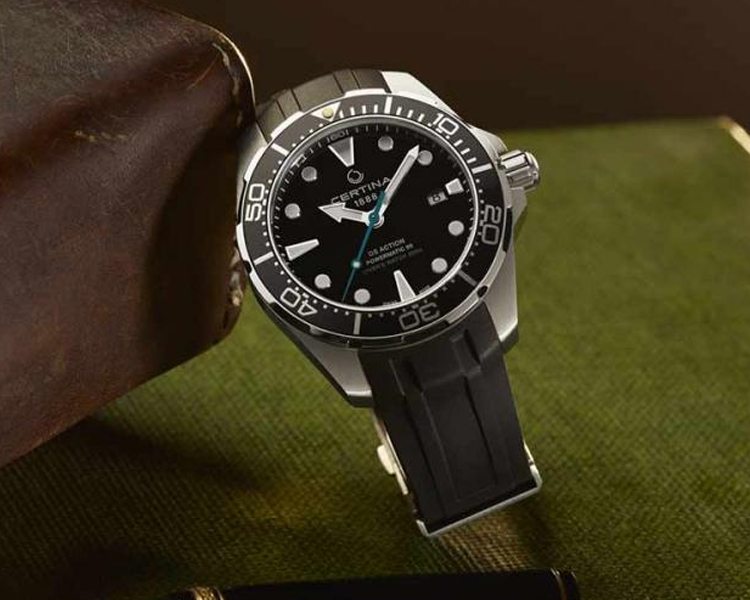 It would be an understatement to say that Certina has been through a lot. Indeed, the brand has come a long way from the Swiss town of Grenchen. It was in 1888 when Adolf and Alfred Kurth opened up shop at the foot of the Jura mountains. Humbly, they began their watch production business together with three employees at the annexe next to their family home. With the booming watch industry, their company flourished thereafter. Subsequently, the brothers opened more branches and hired even more employees.
But it wasn't until the beginning of the 20th century that they begin to earn rightful recognition for their timepieces. At this time, the brothers introduced the name "Grana", short for "Granacus" which is the Latin name of Grenchen. For years, the brothers had overall control of the company. However, difficult times call for them to put Alfred Kurth's sons Erwin and Hans in position. With optimism and grit, they led the company through the Great Depression that took over the entire world.
Despite the economic turmoil of the time, the brand remained afloat through a loyal clientele. But the company didn't stop at that as they aimed for wider patronage. During the 1930s, the company marketed the brand name Certina. The brand name came from the word "certus" meaning"sure". Furthermore, it's easy to pronounce in just about any language. Following its registration in 1939, Certina became its sole brand name in 1949. By 1983, Certina joined brands like Omega and Hamilton in the Swatch Group.
The DS Concept and Its Journey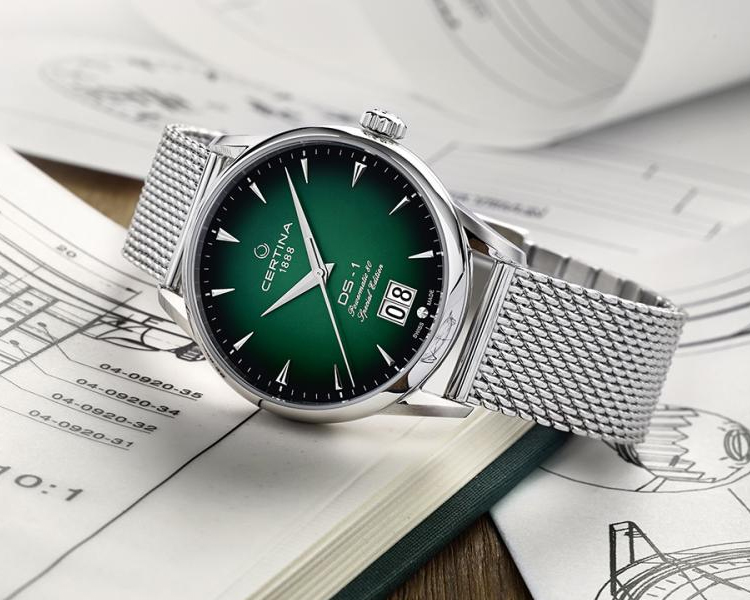 In 1959, the company gave birth to the DS Concept that later became the pillar of sports watches they produce. DS, meaning Double Security, displays remarkable resistance to anything. Not only is it shockproof but it's also water-resistant for up to 200 meters. As a result of its production, Certina raises wristwatches to higher (or deeper) standards. Now, hikers and deep-sea divers worry less about time tracking with the DS Concept.
Due to its remarkable values, the DS Concept moved on to greater heights ⁠— figuratively and literally.
The DS conquered the Himalayas to demonstrate how it beats environmental changes. In 1960, the Certina DS successfully ascended the Dhaulagiri in Nepal that is 8,167 metres high. Not to mention, with pressure and temperature shifting throughout the journey, the mechanism didn't pose any problem at all. Five years later, the Certina DS dove deep with the US Navy. Its participation at the Sealab II project further proved the DS's reliability underwater. But it appears that the brand just doesn't know when to stop. In 1969, they accompanied four scientists as they lived underwater for two months. This Tektite water experiment, observed by NASA, further strengthened the case of the DS Concept.
For more than 60 years now, the Certina DS has been exemplifying maximum resistance, continuously evolving through research and experiments. It's safe to say that the DS holds the highest standards in sports watches. Now that's a feat you can't surely ignore.
Certina Watches On Land and In The Air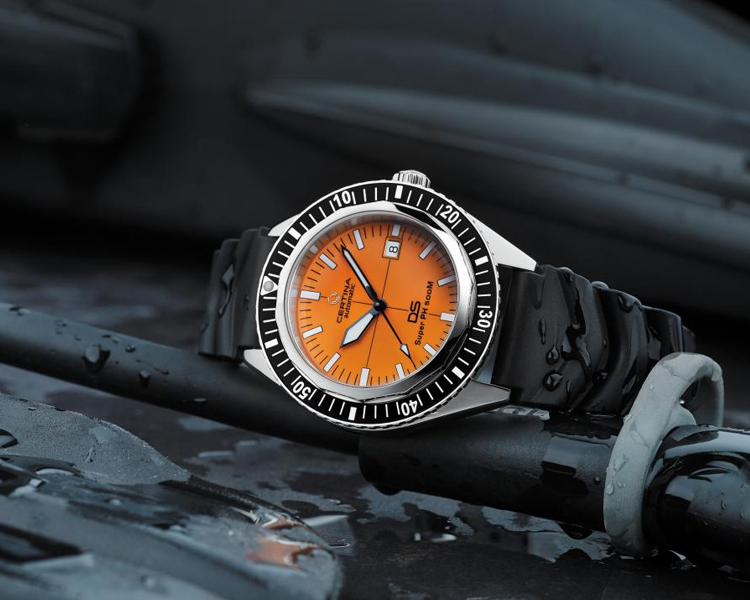 With Certina watches rising up the ranks, they later become a favourite in extreme sports. As Certina proves itself reliable high above and way below sea level, it's time to take it for a spin.
The DS-2 Chronolympic accompanies Japanese skier Miura through a daring stunt in 1970. The skier ascended 1,000 metres through 1,000 metres from an altitude of 8,000 metres in the Mount Everest. This, by and large, proved the watch's reliability in the cold way up high.
After that, at the motocross world championship, the Certina DS 288 basked in all its glory. Belgian rider Roger de Coster wore this timepiece as he won the 500cc class for the third time in 1973. Soon after, more and more sports personalities sport Certina watches. For instance, you have Muhammad Ali with the DS DiaMaster in 1976. Talk about a powerful man with a timepiece to match his strong punches!
The Best of Certina Watches
Certina undeniably wins in the sports industry. Moreover, Certina watches also stand out with its modern aesthetic. Despite its features, these timepieces remain wearable and easy to style with. So without further ado, let us present the timepieces you'll only ever need.
Certina DS Action Diver Powermatic 80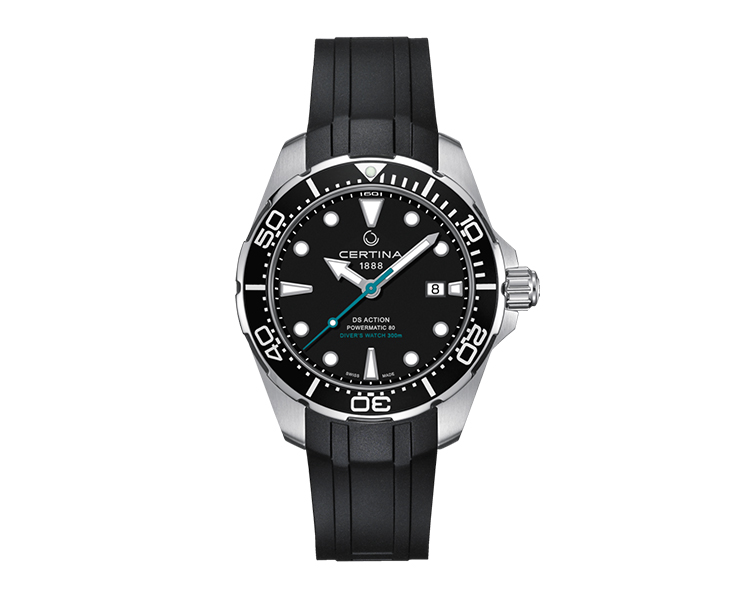 The waves are no match for this rather popular Certina watch. This special edition Certina DS Action Diver markedly meets the ISO 6425 standard with 300-meter water resistance. The timepiece has a power reserve of up to 80 hours, therefore the name. Made possible by the Powermatic movement, survived underwater for three hours. Additionally, Certina became partners with Sea Turtle Conservancy in 2017. Not only can you dive in style but also do it responsibly!
Certina DS Podium Chronograph 1/10 sec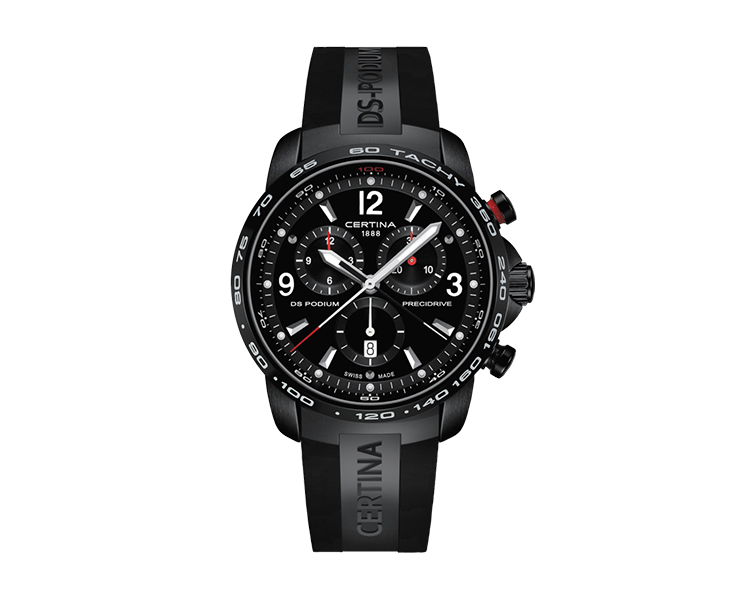 The Certina DS Podium is a classic not only in its look but also its features. But it gets an even sportier twist with the DS Podium Chronograph. Besides its given water-resistance of up to 100m, it gets a Tachymeter, 30-minute chronograph, and 1/10 sec in realtime. In addition, the watch gets an upgrade with PVD coating for scratch resistance. It also comes in various straps and colourways to mix and match all possible styles. You can get it in cow leather strap as well as a durable rubber strap (as pictured above). Chronograph watches can't get any better than this.
Certina DS Super PH500M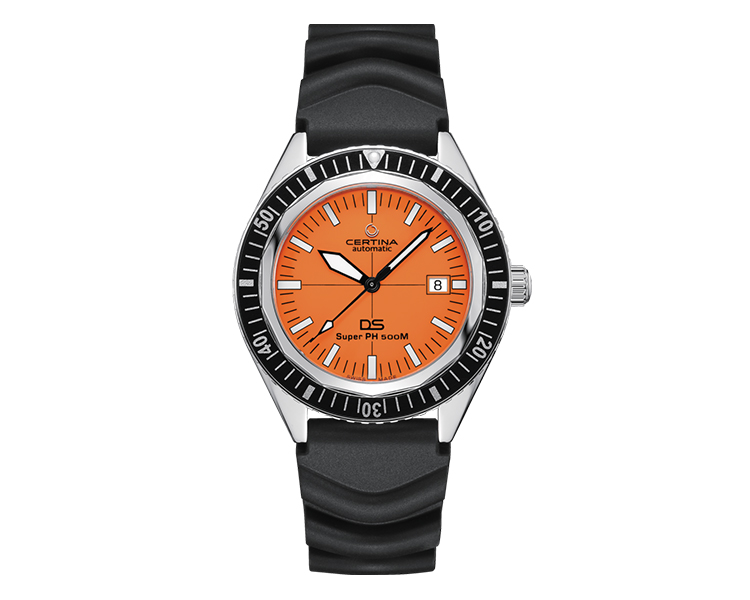 Headed toward deep trenches? Dive deep with the Certina DS Super PH500M. This diving watch strikes with an orange dial as well as its retro style. As a predecessor to the watch used at the Tektike I underwater lab, this surely embodies most — if not all — diving watches. To demonstrate its capabilities, the NivachronTM balance spring keeps it anti-magnetic. Plus, it's water-resistant for up to 500 metres, thus, its name. In addition, it also has a turning bezel and additional NATO straps that fit perfectly in your wetsuit.
Certina DS First Lady Chronograph Moon Phase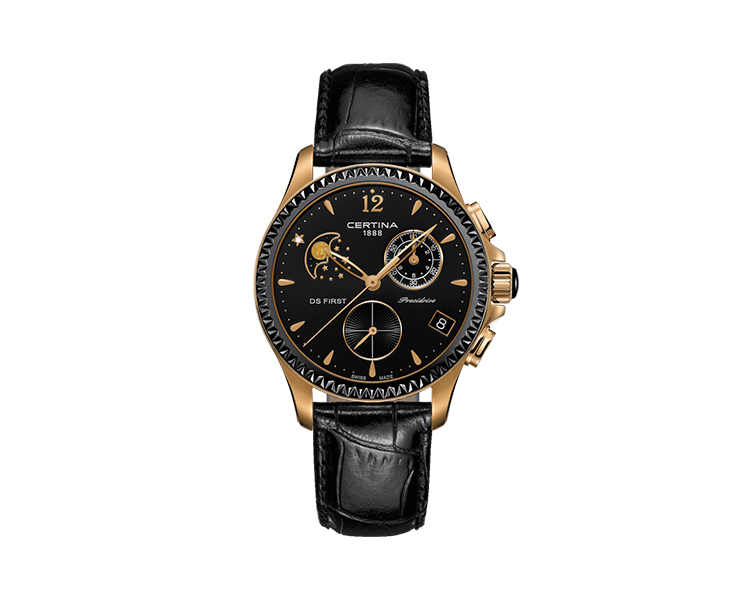 Certina caters to any and all people, so the ladies also have offers impossible to resist. The First Lady Chronograph Moon Phase is undeniably a Certina DS with its astonishing features. Made for slimmer wrists, the 38mm case comes not only in stainless steel but also in rose gold. This watch is the very first ladies' watch with a moon phase display. Aside from that, you'll get a 12-hour chronograph as well as PVD coating to make it scratch resistant. The protected crown also enhances its sporting abilities so you can wear it anytime.
Certina DS Caimano Chronograph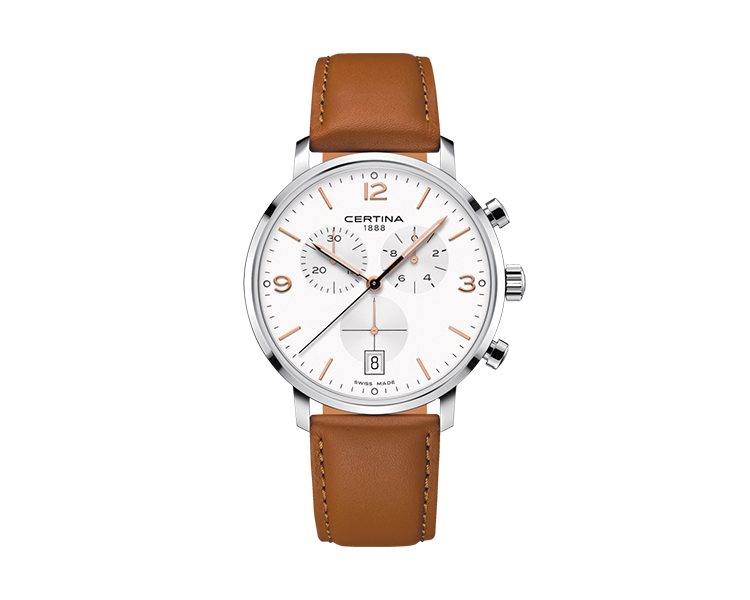 Who says sports can't be elegant? The Certina DS Caimano Chronograph begs to differ with its surprisingly understated design. It's doesn't only feature modern but tech but also contemporary design that appeals to everyone. To emphasise precision, it has a 30-minute chronograph. It can also withstand water pressure of up to 100 metres. To up its styling potential, it's available in either cow leather or stainless steel straps.
Certina DS Action Lady Diamonds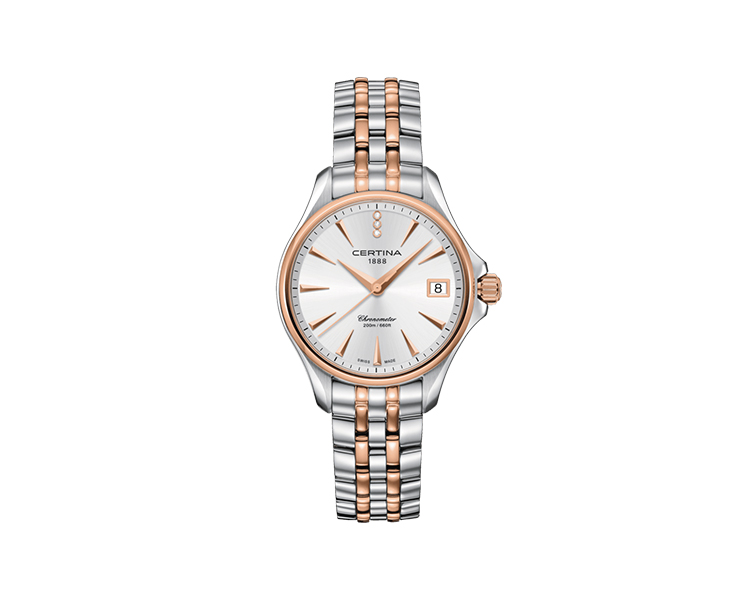 At Certina, watches for women are just as reliable as their men's counterparts. To prove that, the Certina DS Action Lady Diamonds is exactly that. While it looks delicate with the single-cut diamond details, you might want to think twice. Not only is it elegant but it also has all the quality of a robust sports watch. Powered by the Precidrive quartz calibre movement, it's most certainly precise and durable. Quartz watches absorb shock better than mechanical watches. So if you're expecting quite an adventure over the weekend, this should be your timepiece of choice.
To further prove its precision, this timepiece is COSC-certified. Therefore, the official Swiss testing authority tried and tested this independently. But this Lady is one that refuses to back down on any adventure. What's more, it's water-resistant up to 200 metres. It truly is a representative for most ladies' diamond watches.
Certina DS Action GMT Powermatic 80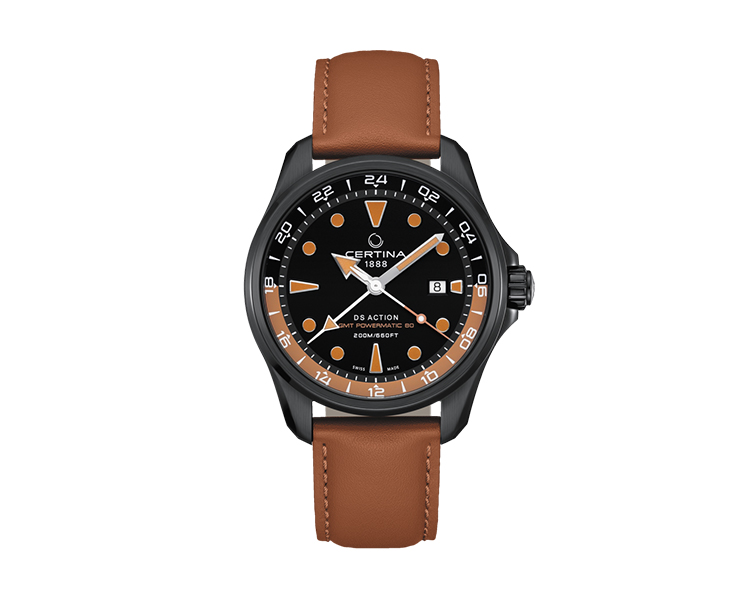 Every jet-setter deserves a watch that can keep up with their lifestyle. The Certina DS Action GMT Powermatic 80 does just that and more. Just like the Action Diver on the list, the Powermatic also powers this one of a kind watch. Among all mechanical watches on the list, this certainly stands out. It specifically matches with your journeys with a separate 24-hour display. Travel at ease with this second timezone tracker that's equally as fascinating as time travel.
In addition, it comes in various colourways to match your personal aesthetic. Not to mention, the PVD coating lets you get into an adventure without worrying for it to catch any damage. You can also swim whenever you want as it boasts a water resistance of up to 200 metres. Not only is it stylish but also robust to accompany you throughout your journeys. It is, indeed, one of the best watches for travellers.
Certina DS-1 Powermatic 80 Himalaya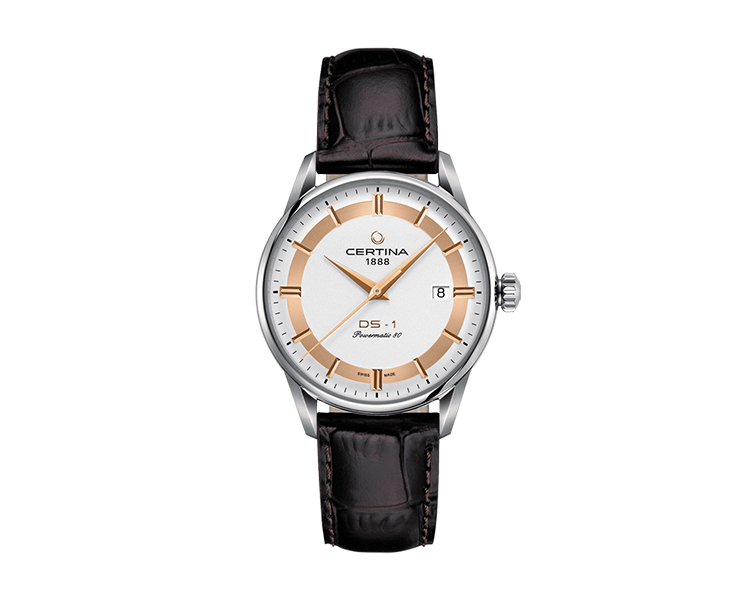 The DS-1 Powermatic 80 Himalaya is the ultimate throwback timepiece not only for Certina but for the whole sport watches' history. Remember the little fun fact we mentioned earlier? Yes, the watch that survived the Himalayas just got a timely upgrade. While that feat remains in the 1960s, it's still way ahead of its time. It also seems like there's nowhere to go from there. But Certina just proved us all wrong with this innovative interpretation of the model. The watch now works with a Powermatic 80 movement besides all the amazing abilities its predecessor proved then. Additionally, it honours the previous model with an engraving of the mountain panorama on the transparent caseback. Along with this is the "Dhaulagiri, 8167 m, 1960" inscription. It just sends you back, doesn't it?
Certina DS-2 Chronograph Flyback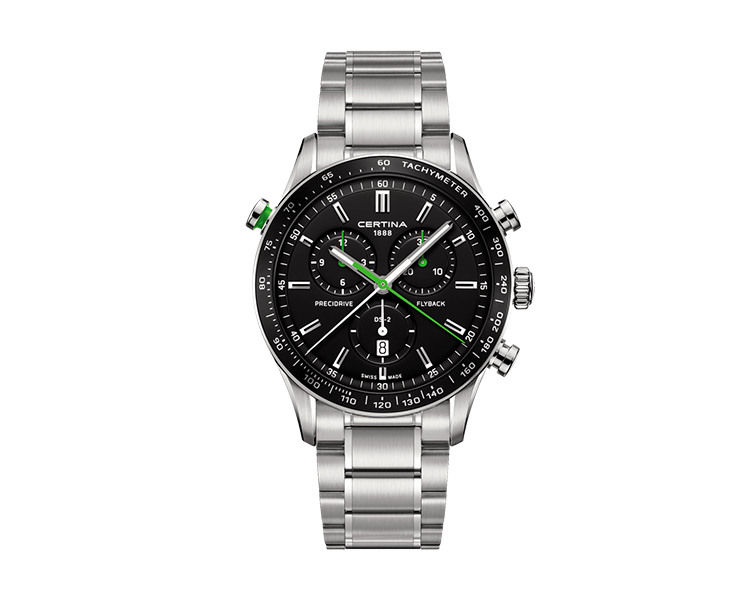 This watch simply takes precision on a whole new level. We're talking split seconds with the Certina DS-2 Chronograph Flyback. If you're looking for a watch that takes the accuracy on a whole new level, this certainly is it. This 43mm chronograph watch does a lot more than just stun people with its striking visuals. With hands that add a pop of colour to its black dial, you're surely in for a classic sports watch look. Moreover, with a Precidrive quartz movement, the flyback function proves itself reliable. This gives the bearer the power not only to start and stop with a single press of a push button but also to reset it back to zero. Need a more accurate reading? Worry not for it also has an additional split-second hand that can function simultaneously with the other sub-dials. It is, indeed, your archetype sports watch but better.
Certina DS Eagle Chronograph Automatic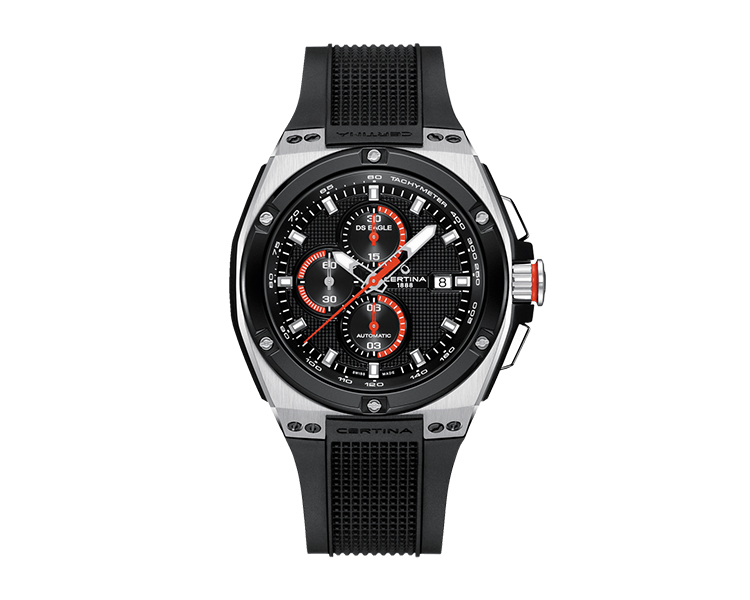 Certina is undeniably synonymous with sports. They produce just about every watch you can wear on any sport. And as its history proves, the brand is long-term affiliated with the motorsports industry. To celebrate this, the brand launches not only a watch that functions for that specific occasion but also looks the part for it. The DS Eagle is your quintessential motorsports watch from look to function. It has coloured hands and red accents as well as a case protector that is inspired by cooling fins. Its bearer will instantly feel the heat on the tracks with its aesthetic alone. But its mechanisms are just as cool as how the watch itself looks. Through the exhibition caseback, you can view the C01.211 movement. Its rigidity and complexity for having 50 individual parts for the case alone proves its stability through the race track and beyond.
Certina Sports Watches Then and Now
If there is anything these watches and their histories proved, it's that Certina evidently goes beyond expectations. With their surprising innovations and one of a kind offers, it is impossible not to trust their promise. From then till now, the brand embraces any and all adventures. The brand is a clear example of how reliability and style can be moulded into one.
---
Want to know what timepieces accompanied golfers to their wins? Check out which luxury watch is for which golfing legends!