Basketball fans have just seen the most anticipated event this year — the NBA finals. And if you're active on Instagram, each NBA game comes with a pre-game fit check. Indeed, some of these famous basketball players not only bring heat to the basketball court, but to the runway, too. Of course, part of the outfit that people take note of are their watches. If you're curious if your favourite guard has an eye for timepieces, here is a list of famous basketball players and their timepieces of choice.
Famous Basketball Players and Their Watches
Here are a few famous basketball players (both active and retired) who also have a strong wrist game.
1. Lebron James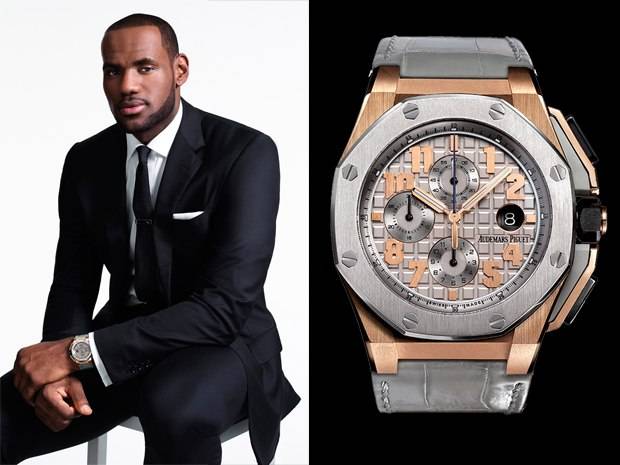 Among the famous basketball players in this list, there is no doubt that Lebron James is currently the most talked about. Indeed, his fandom is only getting bigger and bigger after every game he plays. That being said, it is not surprising that he signed with big brands like Audemars Piguet. There are also some reports that James himself is a fan of watches so the partnership was ideal.
Last 2013, the Swiss watchmaker released a limited-edition Royal Oak Offshore in honour of the then-Miami Heat player. To add a personal touch to it, they also let James have a say in the watch's design. The watch has a pink gold and silver colour scheme, which came to a surprise as a lot of people were expecting that it would be inspired by the Heat jersey. However, it seems that Audemars Piguet made the right choice as the watch drew a lot of praise.
James also loves wearing other timepieces from the brand aside from his signature model. In one instance, he was spotted wearing a Royal Oak Offshore Chronograph Tourbillon while watching a Big3 League game. I'm sure every watch enthusiast on the court gawked at the sight of this open-worked dial. This makes it extra fun to observe the spinning tourbillon inside.
2. Stephen Curry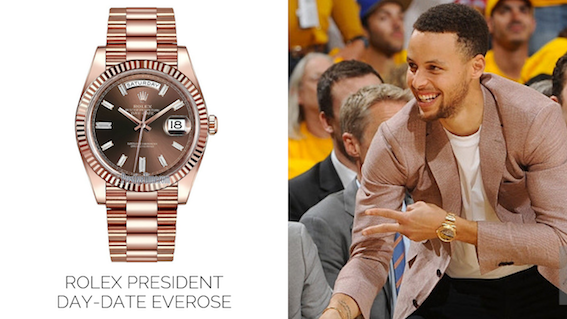 The Golden State Warriors' point guard may have eagle vision on the court, but his fans have sharper eyes for spotting his chosen timepieces. Based on observation, Curry loves sticking to the big names like Rolex, Cartier, and Audemars Piguet. By pairing his watches with flawless outfits, Curry has proven that he is one of the best-dressed famous basketball players.
Glancing at his carefully-curated collection, his favourite is a Rolex Deepsea Dweller. In fact, he has been seen numerous times wearing this diver with a suit. And honestly, we think he wore it well as its black dial is versatile enough to wear both casually and semi-formally. Apart from his Deepsea Dweller, he also has a Rolex Day Date II in Everose. With this, he made a bold move as the Day Date II is significantly bigger at 40mm compared to the classic 36mm Rolex Day Date.
Another proof of his good taste is his skeletonised Cartier Santos. Curry was seen wearing this $57,000 watch while watching a game of his team against the Mavericks. Looking closely, the watch is made with 18K pink gold instead of the usual stainless steel. Furthermore, he paired it with an alligator leather strap to make it more visually interesting.
On the court, even famous basketball players praise him for his shooting skills. But off the court, watch enthusiasts would drool over his exquisite taste in timepieces.
3. Kyle Kuzma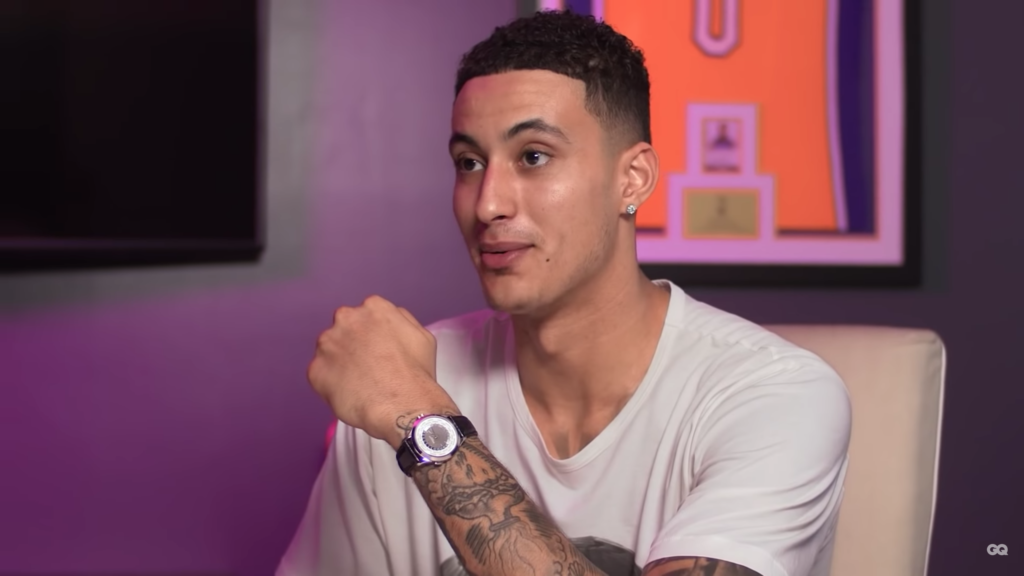 It's true that the fashion scene in LA is thriving because next on our list is another LA Lakers player. In a recent interview, Kyle Kuzma showed off his breathtaking watch collection. And like his fellow teammate Lebron James, Kuzma is also a fan of Audemars Piguet. In fact, he owns a one-of-one Royal Oak Offshore which comes in a white and gold colourway. That means no one else in the world owns this type of watch.
Apart from Audemars Piguet, Kuzma also admires Patek Philippe. As a matter of fact, he does not only own one but three models from the brand. The first one is a 20th anniversary edition of the Patek Philippe Aquanaut, which he praised for being versatile. And the second one is a Patek Philippe Nautilus, which comes in yellow gold instead of the usual stainless steel. The last one is a Patek Philippe World Timer, which gained him respect from the watch community. 
Kuzma also seems knowledgeable about investing in watches. And as a tip, he said that if you want to get into watches, you should know that the rare ones usually appreciate in value as the years go by. He also explained that he loves rubber straps on his watches due to its versatility as he can wear it with a lot of his outfits.
4. Kobe Bryant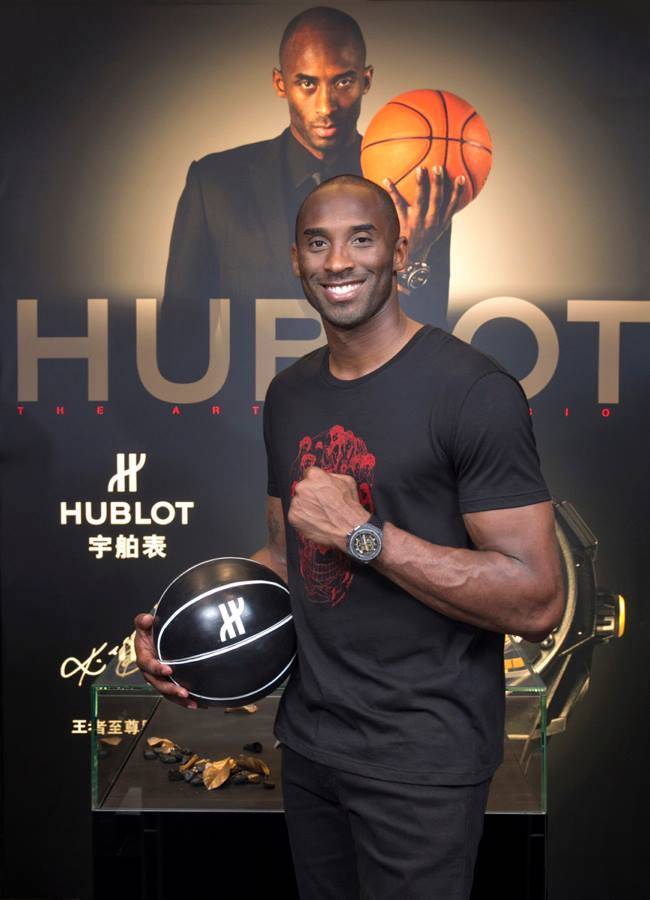 The late Kobe Bryant will always be remembered as one of the greatest basketball players. Apart from that, he will also be remembered as a great watch enthusiast. There are even sources saying that he was a part investor in a Swiss watch brand called Nubeo. In fact, there is even a whole line of watches made in honour of him.
That being said, Nubeo partnered with him in 2009 to release a Mamba watch collection. The collection included three models — the Black Mamba, Black Mamba MVP, and Black Mamba Ultimate. All three watches have hidden easter eggs and design cues that were inspired by Kobe Bryant. For instance, they released only 24 units of the Black Mamba MVP as it's the same number as Kobe's jersey.
Unfortunately, Nubeo experienced a financial crisis which ended their partnership with Kobe. But when one door closes, another one opens, and it wasn't too long before Kobe signed a partnership with Hublot. Under Hublot, more Black Mamba watch models were released. Among those pieces are the King Power Black Mamba Chronograph Watch, the Big Bang UNICO Chronograph Retrograde Kobe "Vino" Bryant, and the Classic Fusion Kobe Bryant Hero Villain.
5. Michael Jordan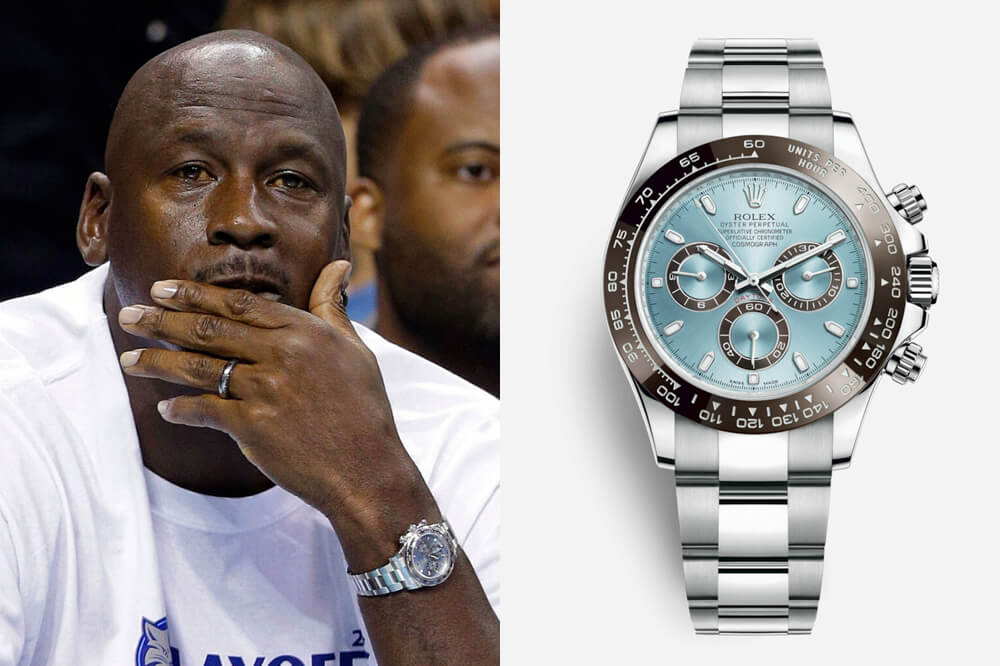 Although already retired, Michael Jordan is lauded as the GOAT (greatest of all time) by many basketball fans. His name needs no introduction as even those who are not into sports have probably heard of him. But is his watch collection also the GOAT? Let's find out below.
Of course, it is expected that a billionaire like him owns a few Rolex models. In particular, he has a platinum Rolex Daytona, which is one of the brand's highly sought-after pieces. He also has a Rolex GMT Master II in 18K gold. And to make it more interesting, his timepiece features diamonds and sapphires on the bezel and the lugs. His Airness really needs that bling in the court.
Moving to a less popular model, the Roger Dubuis Excalibur Spider Pirelli is also part of his collection. This model was made in exclusive partnership with Pirelli and even has a strap that's made of tyres from a Formula 1 car. Furthermore, MJ was also seen wearing an IWC Big Pilot. While the watch is infamously large at 46mm, it fits perfectly on Jordan's muscular wrist.
Taking a look at Michael Jordan's watch collection, you could say that the GOAT has a unique taste. Even his popular pieces like the Rolex GMT and Daytona are rare models of the lineup. Truly, his watch collection stands out.
6. Tony Parker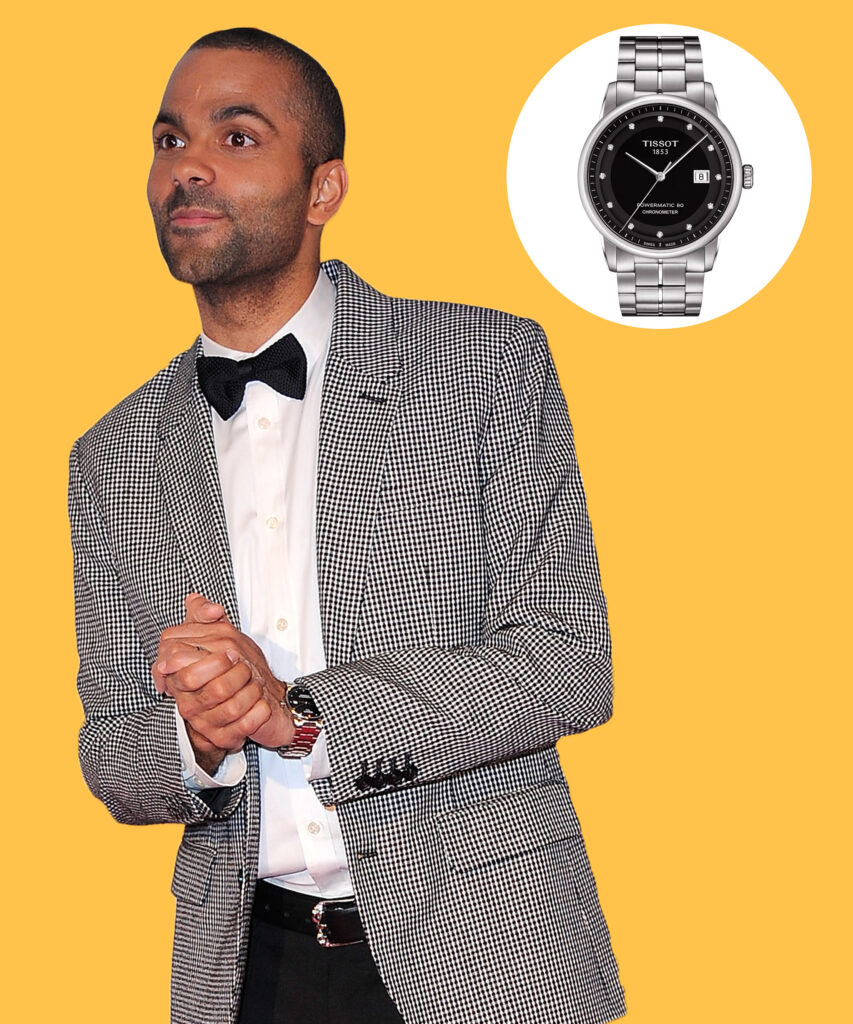 If you're a Spurs fan, then you've probably heard about Tony Parker's jersey retirement in late 2019. Moreover, you also probably know that he is an ambassador of Swiss watch brand Tissot. In fact, he also lent his creative ideas in designing watches for the brand.
In one of his interviews, Parker said that he admires Tissot for having a watch for every kind of situation. Case in point: if you need something formal, you can opt for a Tissot Visodate or a Tissot Le Locle. On the other end of the spectrum, a Tissot T-Touch is enough for something sporty.
And if you're wondering what the dashing French player wears himself, it is the Tissot Luxury Automatic Chronometer 80. It has a satin-finished steel case with a black dial. Moreover, it has diamonds as hour markers. Indeed, the watch is as dapper as Tony.
Apparently, the partnership does not only consist of Parker designing watches for them. Tissot also sponsors two of his basketball camps. So merci, Tony Parker and Tissot, for your contributions to both the basketball and horology community.
7. Kyrie Irving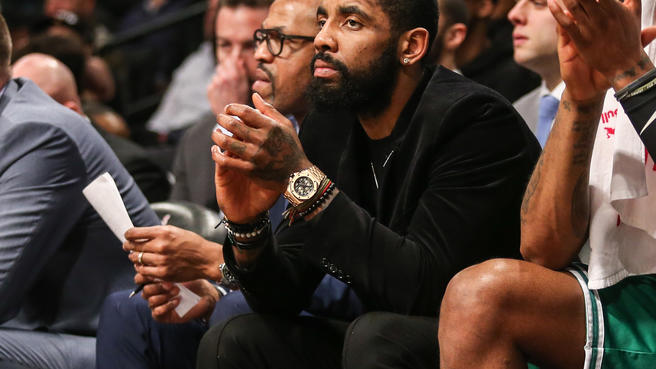 Kyrie Irving is one of the famous basketball players who have the biggest watch collection. In fact, he seems to keep a theme for his watches. Looking closely at his collection, the Brooklyn Nets player only has models made with precious metals.
To start, he owns a Rolex Day Date 40 in Everose gold. Like his fellow NBA players, Irving chose the 40mm version instead of the original size of the Day Date. It seems to be a trend for basketball players to wear bigger watches. Besides that, he also has a Rolex Sky Dweller in yellow gold, which he pairs with a tobacco brown leather strap.
Aside from Rolex, Irving also has an Audemars Piguet Royal Oak Offshore in 18K pink gold. And looking closely at the watch, it has a ruthenium-toned dial that blends well with the case. To boot, it has the Méga Tapisserie pattern that the Royal Oak is known for. Lastly, he also wears the Hublot Big Bang Original Ceramic Gold in some events. While its case is made out of gold, it is one of his sporty-looking pieces as it has a rubber strap and carbon fibre pattern on the dial.
8. Matthew Dellavedova
Next up is a former teammate of Kyrie Irving. Matthew Dellavedova is a Cleveland Cavaliers player as well as an ambassador for TAG Heuer. During one of his photoshoots, he was seen sporting a TAG Heuer Carrera Calibre Heuer 01 Chronograph. In-store, this model is available in both rubber strap and metal bracelet.
According to the athlete, the TAG Heuer Carrera 01 is his choice because it is a versatile watch. Indeed, it looks professional enough to be worn with a suit during a draft or to a dinner. On the other hand, it is sporty enough to be worn with sweatpants and a t-shirt.
Compared to the other famous basketball players in this list, Matthew Dellavedova's taste in watches is toned down. While others prefer timepieces with a lot of bling, Matthew sticks with the versatile classics.
Final Notes
When they're not playing hoops, a lot of famous basketball players seem to collect luxury watches. And based on what we've just seen above, a lot of them have exquisite taste. To add, there seems to be a trend towards watches made with precious metals. This explains why a lot of shiny yellow gold watches are sometimes referred to as "baller watches".
Looking for a good luxury watch? Check out what we think about Montblanc watches through this guide!