When they were first released, the word Smartwatch brought to mind, boxy, tech-driven oversized wristwear, that didn't lend themselves to high fashion. Nowadays, the world of wearable technology has come along in leaps and bounds, and there's a smartwatch that will look stylish with every outfit. The worlds of fashion and tech are more intertwined than ever, with names like Michael Kors and Emporio Armani offering up wearable technology and smart watches that don't compromise on style. Here are a few of our favourites: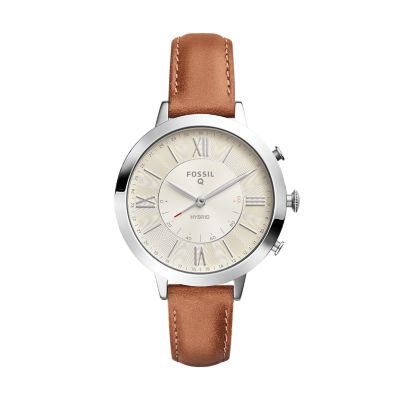 If the idea of a full-on smartwatch is too techy for your style, a hybrid might be just the answer. A spin on a classic watch, the Fossil Q Jacqueline looks like a traditional watch, but has smartwatch functionality. It's available in a number of different colours and straps, all in a classically stylish design that's perfect for everyday use. Features include activity tracking, social media, messaging, email and alarm alerts, as well as being compatible with both Android and iOS.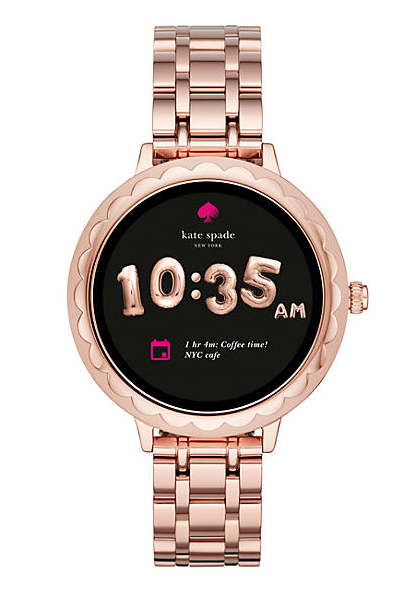 The Kate Spade New York Scallop is the perfect style if you're looking for a touchscreen smart watch with a fun design. It uses Kate Spade New York's iconic scallop design around it's bezel and is available in both a leather strap and a bracelet style. It runs of Watch OS by Google, and features include activity tracking, and you can download a number of apps onto the watch.  The best part? You can customise the watch's face with a vast range of cute Kate Spade designs, ensuring you'll never get bored of the watch's look. It can even pick a face for you that coordinates with your outfit using the 'Choose your look' app!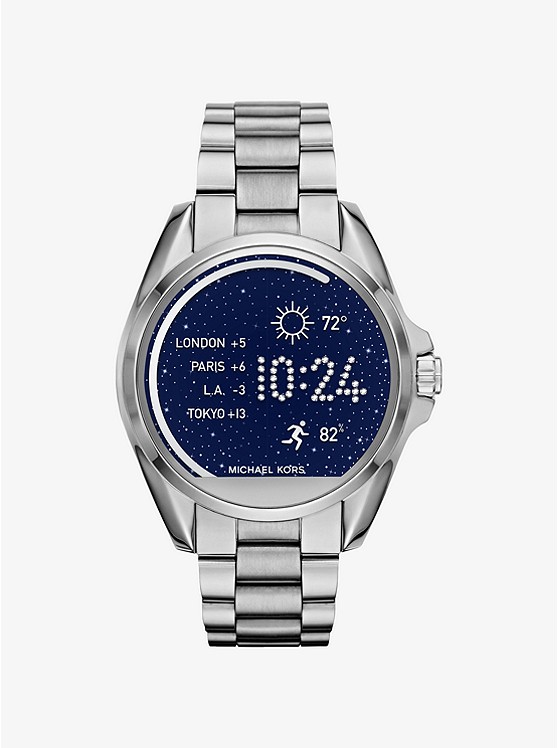 One of the first fashion brands to foray into smart watches, the Michael Kors access range includes a number of fashion forward designs, ideal for fans of the brand. Our pick is the Bradshaw. It features a chunky bracelet design, for a bold fashion statement, and is ideal for an oversized boyfriend look. The Michael Kors Access range includes a number of personalisable watch faces, and you can even interchange the strap or bracelet if you want to switch up your style. This watch runs on Android Wear, which works on both Android and iOS. You can get notifications on the phone, as well as GPS, music controls, voice control and activity tracking amongst other features.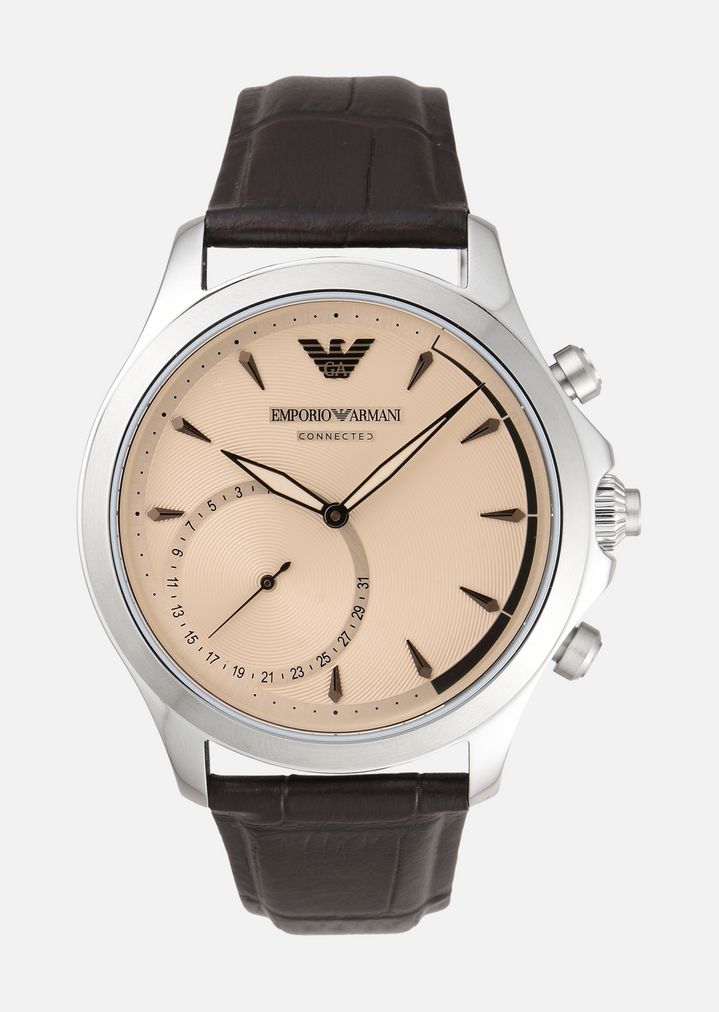 For another hybrid style smart watch, the Emporio Armani Connected is  a great choice. It sticks to the same design you'd expect from an Emporio Armani timepiece, with a simple and chic feel available in a range of styles – from stainless steel to rose gold combined with different coloured leather straps, so it's easy to find a look that matches your style. With a traditional watch face, this watch features small functional buttons to control the watch features. It's compatible with both Android and iOS, through an app you can download onto your smartphone. It allows you to set alarms, receive notifications and control your phone's camera among other features – as well as activity tracking.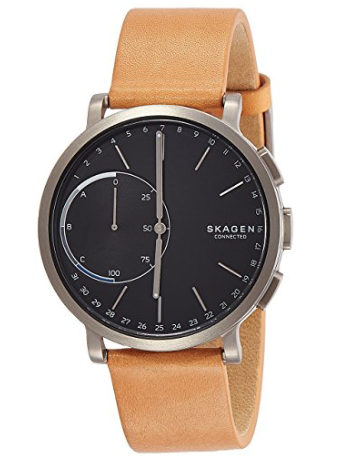 If you're looking for a smart watch with a classic, minimalist design, the Skagen Hagen Connected is the way to go. It's another hybrid design, preferring sleek scandinavian design over flashy tech. With four styles available, you can choose between stainless steel or titanium, with leather or mesh straps.  This watch uses your phone to keep an accurate time, meaning there's never a need to reset the dial, as it updates automatically.  Other features include notifications, activity tracking, sleep tracking and music control.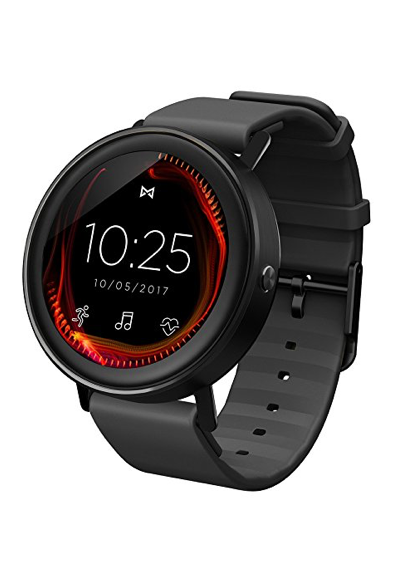 The Misfit Vapor offers a bold and chunky design, for those who like a more statement look from their wristwear. You can choose between black, rose, or gold tone designs – we'd say the golder tones are ideal for day to day wear. You can also mix and match the watch's straps, for a customisable look. This smartwatch is ideal for sporty types, as it's waterproof and it's activity tracking function makes it perfect for the gym. You can track all kinds of activity including walking, running, cycling and swimming, with Google Fit pre-installed. It also includes a heart monitor.  It runs on Android Wear, and has features including downloadable apps, customisable watch faces, notifications and google assistant.
Are you thinking of buying a stylish smart watch? We hope our top picks have given you some inspiration on what design is right for you!