While Throwback Thursday might be an appropriate way to have this started, it seems like some things from the past might not make it to that list anymore! Rising from the ashes of their glorious pasts, some Fashion trends are still making massive statements, like they never left.
Like most things, fashion also deserves a little bit of recycling and we're glad it is happening. Certain trends were too good to let go off of and we're ecstatic that they are making an appearance again in the world of fashion, where appearance certainly is an understatement.
For the old schoolers, we're sure you remember these from back in the days and for the new kids on the block, don't forget that your momma rocked these pieces in her time.
1: Flared Pants 
I think you'd also like to refer to these babies as 'bell-bottoms' and they were quiet the rage in the 80s. Flared, high-waist jeans are bringing back some major retro vibes and we love the ease with which they can be styled and flaunted.
We prefer going all out with this one and truly believe that more dramatic the flare, the better it is and that is one mantra we'd totally live by! Opt for heels with these perky pants and watch them roll out in style. Make sure the blouse balances the boldness of the pants and keep the accessories minimal for a whimsical effect!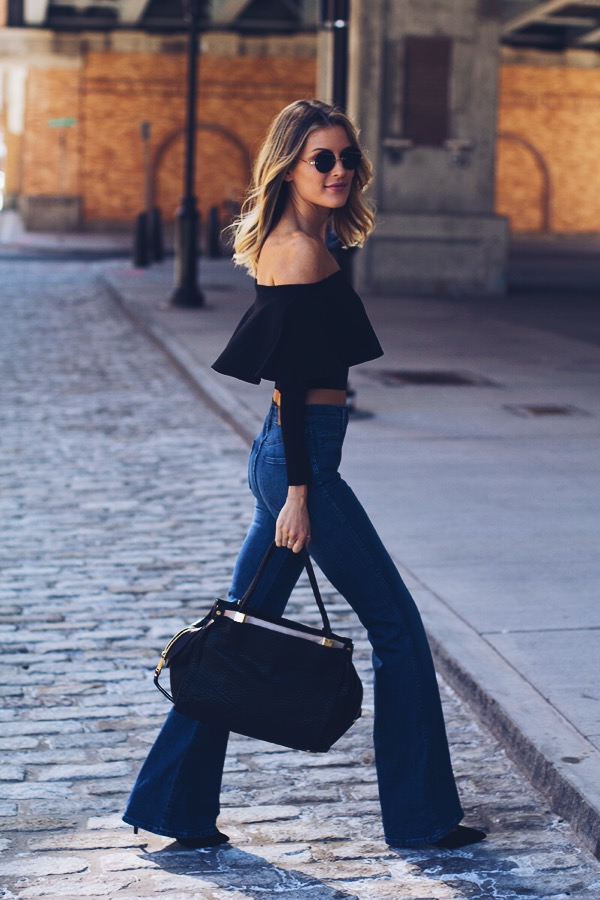 Source: https://blog.bloglovin.com/blog/19-outfits-that-will-inspire-you-to-wear-off-the-shoulder-tops
2. Printed Separates 
Well, hello there, gorgeous! Isn't that what you hear every time you choose to don a pair of separates or co-ordinates? They're absolutely chic and sassy and can totally transform your look in a jiffy. Taking a cue from the very famous 90s trend, separates are the new and relaxed way to glam up your wardrobe.
Keep things easy with this look. There is already too much going on and thus, you'd want to keep the fashion language simple. Uncomplicated the ensemble with a basic sling and an elegant watch to really ace the day.
3. The Round Frames  
This has to be the biggest fashion blessing in disguise since Lennon and we're totally bound in its charms. Round glasses are fun and playful and give us a great way to mix your look up. Totally on the radar, this trend has hit all the right chords and nerdy is cool again!
Aren't we thankful to the 90s yet again for bringing this back and letting us sport this with perfectly puckered lips and a floral blouse to the rescue?
4. And the Offbeat Matrix Sunglasses 
They might strike you as weird and ancient but they're only coming back after 18 years. All the rave in the 2000s, these Matrix Inspired sunglasses were everyone's dream. Almost two decades after its first brush with fashion, these sunglasses are making a grand entrance again with the Kardashians and Jenners falling at its feet!
This trend truly needs all the attention. Spice it up with denims and baggy tops to be insta-ready and watch it spruce up that mundane look in an instant.
5. The Fanny Pack 
We personally never believed that the fanny pack would be a tasteful fashion accessory until Gucci came and showed us how it is done! Literally ruling the world of fashion, the fanny pack is the latest low-maintenance accessory that everyone wants. It can get tricky at times but what is fashion without a bit of a challenge.
The Fanny Pack looks adorable with skirts and sneakers and makes the perfect pair with a little bit of that bling around your wrist. Keep it laid-back with this look and embrace the goodness it offers.
6. Logos
Have you ever felt like everything is in your face and you could not possibly thrift your fashion anymore? Well, yes. Those times are back and they have been exploding our feeds everywhere. Nothing is subtle anymore and we totally didn't see this one coming.
Logo tees are helping us keep it basic on one hand and simultaneously revving up our fashion engines with some freshness. You might want to hold on to your old labels and flaunt them with those mom jeans this summer!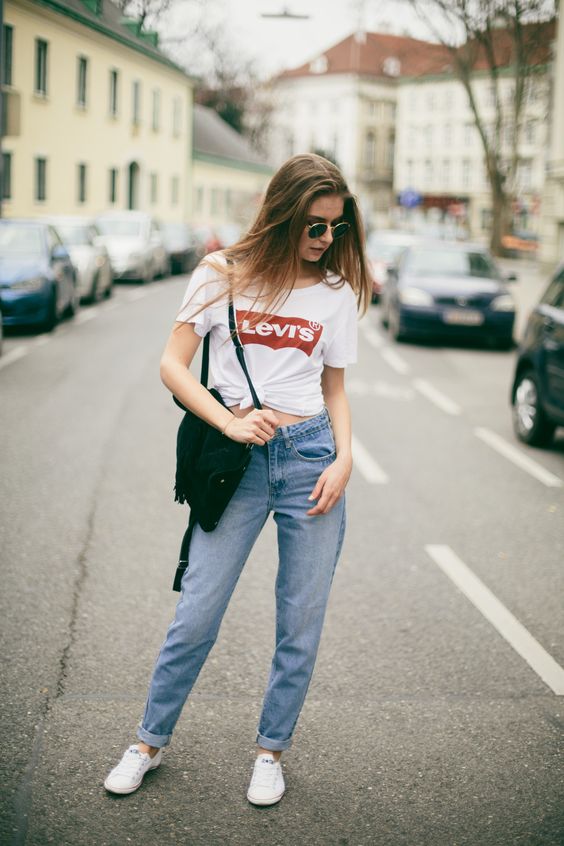 Source: http://www.guitamoda.com/2017/01/como-usar-mom-jeans-no-verao.html
Fashion will keep coming back and we love how its stirring up the scene. Seems like this flashback got the better of us and now we really need to pull out these gems from the back of our closets and flaunt them in style!