Let's not deny it — all of us have probably been fond of collecting something once in our lives. At some point, most of us wanted to have the latest models of Nintendo game consoles or the newest comic books. Perhaps, some were into gathering nature's gems like plants, while others want a wide selection of wines in their racks. But for watch enthusiasts, especially the novice collectors, scoring vintage timepieces — like a Gruen watch — has become their ultimate hobby of choice.
Gruen as a Superior Watch Provider
Watch connoisseurs adore vintage timekeeping devices for many reasons. Not only do vintage watches provide a great investment value, especially when sold in a pristine condition in a couple of years, they also carry a unique story and vital pieces of history— something that the newly-released ones do not have. Moreover, since they have proven to have withstood the test of time, expect that these models are of good quality. Not to mention, they can also instantly elevate your style no matter how simple it is.
When we think of vintage timepieces, Rolex, Omega, Patek Philippe, and Seiko are the first ones to come to mind. These brands have proven their worth throughout the decades by coming up with spectacular and majestic releases and creative collections. Furthermore, many folks have placed their trust in these companies because of their superb watchmaking techniques and technology.
However, what we do not realise is that there are many other renowned labels in the industry that provide the same level of excellence and mastery, and one of them is Gruen. Hailing from the Land of Liberty, the United States, Gruen is home to many exceptional battery-operated and mechanical timepieces. When put alongside big names in the world of horology, the  timepieces offered by Gruen are not underdogs. One should not underestimate these watches because they provide guaranteed longevity and reliability. The structure and composition of a Gruen watch are also definitely on par with those of global giants. Moreover, expect that the value of a Gruen watch will soar higher as more people discover and eventually learn the intention and offerings of the brand.
In this article, we will take a closer and comprehensive look at Gruen's extensive history as well as its important practices. Moreover, we will dive into the best and ideal Gruen watches you should hunt and eventually add to your growing vintage collection.
A Glance At Gruen's Complex History
It was in the late 1800s when Dietrich Grün, a watchmaker of German descent, decided to institute his own company. His interest in the niche sparked in the 1840s, when he started receiving training from a watch expert based in Friedburg named Martens. At age 29, he was already enjoying the fruits of his labor with the establishment of the Columbus Watch Manufacturing Company. With the aid of William J. Savage and his investment, Dietrich was able to run the business smoothly in Ohio. At the same time, the manufacture and import of high-quality movements from its Biel/Bienne, Switzerland production office never became a problem.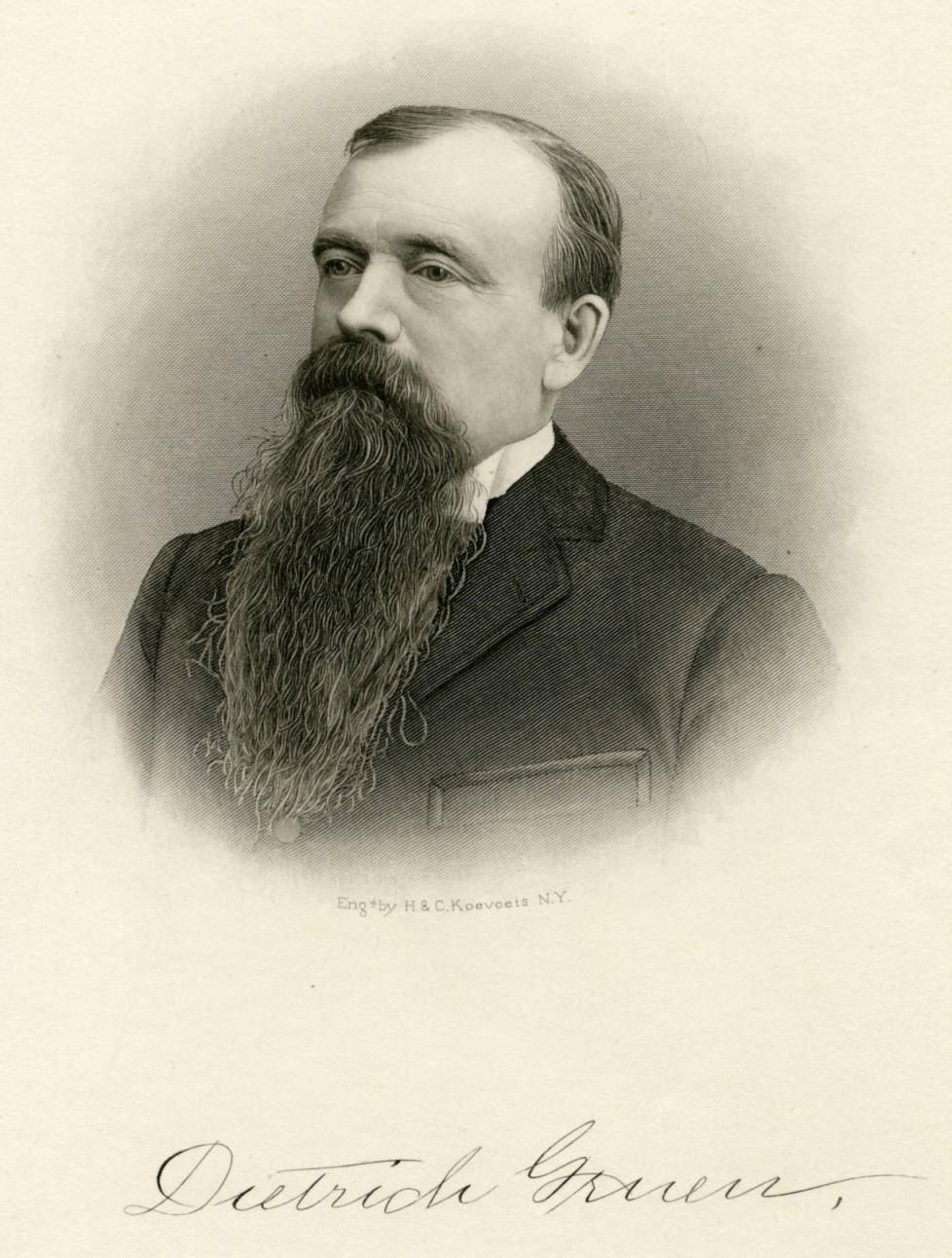 The success streak of Dietrich continued as his company picked up its pace in 1882. Known as the Columbus Watch Company, the brand has now joined the lineup of horology masters to look out for. All eyes were on this thoughtful and ingenious American brand, whose mission is to supply timepieces anyone can be proud of. Thanks to the help of investors and their efforts to enhance the reputation of the brand, the company was able to expand its reach and services. 
New Leader in the Trade
While he holds a high position in his company, Dietrich's determination to make his business more dependable did not stop. During his term, the dedicated owner decided to start producing movements for their products directly at their Ohio warehouse. Subsequently, the Columbus Watch Company started releasing new versions of their signature models with stem wind mechanism. The movements they made were also enhanced for optimal usage.
However, Dietrich's momentum did not last, as he was ejected from the company during the Panic of 1893. This period brought several devastating economic problems that placed corporations in the watchmaking industry in danger of complete closedown.
Though the company eventually bounced back under a new administration, Dietrich decided to move forward to establish D. Gruen & Son, with his oldest son Frederick. Two more name changes later, the company decided to stick with Gruen Watch Company, after a huge merger of all Gruen enterprises took place in the early 20th century.
Simply put, the new and final name led the brand to its success. Despite Dietrich's sudden death in 1911, Gruen became a leader in the industry in the 1920s, with sales accumulating to over USD 5 million. Because of this achievement, they became known as one of the largest watch manufacturers in the United States during that time.
Significant Contributions
Gruen proved that no matter how many times you fall, you can still rise and get going. This is evident with how the brand prevailed despite coming up against several challenges, including numerous changes in names and stockholders and facing the uncontrollable effects of economic downturns and wars, among others.
Significantly, the firm was able to combat the inevitable trials with their robust range, designed specifically to accompany wearers for a long time. What's more, the pieces Gruen came up with are no ordinary. To say that owning a Gruen watch is a blessing would be an understatement. They are a reflection of the family's immense desire to experiment and come up with the boldest compositions that still provide functionality.
Models with the Veri-Thin movement became extremely popular because of the comfort it brings to users. Not to mention, they also demonstrate Dietrich's wit and creativity. Meanwhile, Gruen wristwatches also became a popular option amongst watch lovers during that period. While they became favoured by women at first, men started to appreciate its beauty during World War I. Since then, Gruen continued to supply durable strap watches for the army until the conflict subsided in 1918.

Fast forward to 1935, Gruen had its breakthrough with the release of the Curvex watch. This piece changed the watchmaking game forever with its unique idea of placing the movement into a curved position. Through this idea, wearers were able to position their wrists correctly and nicely onto the mechanism.
Changes in Management
Gruen continued to push through with the manufacture of their unprecedented and premium models in the subsequent years. Proving there is so much more in its arsenal, the brand remained at the top because of its dedication to continuous improvement.
However, like many other organisations engaged in the same trade at that time, Gruen started experiencing setbacks in the 1950s. Though the renowned business still tried its best to revive the glory it had before the war, its efforts were still not enough. In other words, the company slowly fell apart, with the Gruen family eventually selling their shares in 1953. Other important names in the business were urged into early retirement, while some got involved in internal fights. Gruen did not also easily escape the public eye as it got involved in numerous legal proceedings. 
After a couple of years, an attempt to continue Gruen's operation was made under new ownership. Despite the company moving to New York, it still did not flourish enough as they expected it to be. At present, M.Z. Berger holds all the rights and privileges to Gruen. This means that it is the only company in the world who can use the name for business purposes.
The Importance of Safety Pinion to a Gruen Watch
There have been numerous debates surrounding the establishment year of Gruen. While some claim that the company started doing business in 1894, when the name D. Gruen & Son was coined, others believed that it was in 1876 with the inauguration of the Columbus Watch Company.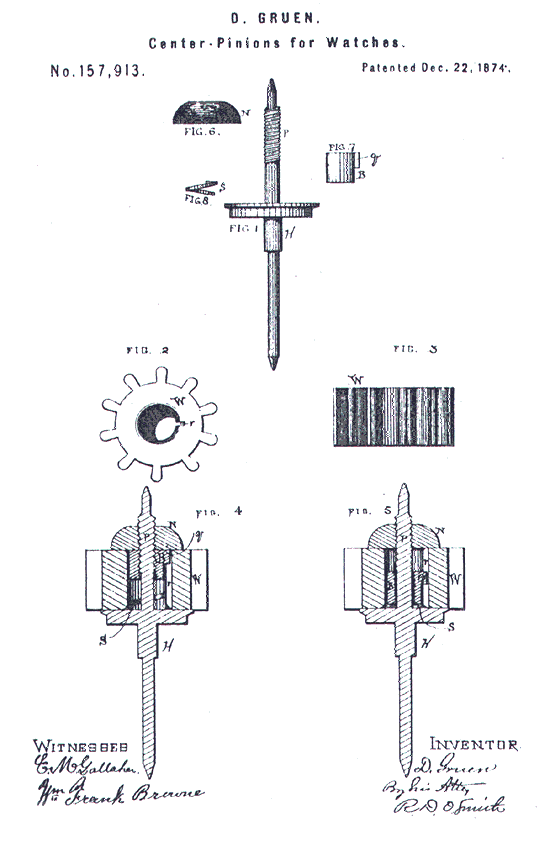 Unknown to many, Gruen's roots go way back to 1874 — the time when Dietrich requested for a patent certification on his version of a safety pinion. In fact, this moment is so significant in the horological spectrum that enthusiasts celebrate it until now.
Registered under number 157,913, the patent's primary intention is to modify the safety pinion and enhance the serviceability of a movement. After learning that mainsprings being utilised in older pocket watches are of inferior quality, Dietrich decided to incorporate his improved safety pinion to the timepiece to avoid massive damage and destruction. The device somehow saved both the wearer and the creator from unforeseen repairs and watch parts replacement. In other words, the safety pinion holds significant power as it glues the watch movement altogether. Due to the benefits the tool brings, the incredible device is a must for any Gruen watch.
Best Vintage Gruen Watches To Look Out For
Gruen did a great job in producing a wide selection of refined timekeepers perfect for any gender. Other than having great technicality, the company's releases also have a luxurious vibe, making them one of the unforgettable vintage brands of all time. Below is our curated list of the mighty and mesmerising watches from the brand you should put your attention to.
1. Gruen Veri-Thin 1910 Pocket Watch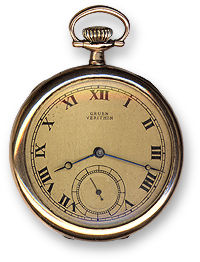 It would only be right to begin this compilation with a flagship model from the brand. This beauty is one of the Veri-Thin Pocket Watches that was released by Gruen in 1910. Moreover, this is also one of the first models that carried the brand's super-slim movement. By incorporating several new techniques, Gruen became successful in changing the original blueprint of pocket watches in that era to a sleeker one. Every small detail of this timepiece is a sight to behold. It also has its own charm to it despite being straightforward. This pocket watch also has the ability to instantly transport you to an era when simplicity is all that matters.
Specifications
Aesthetically, the gorgeous gold colour of the outer case is pleasing to the eye, making every watch connoisseur drool. Oozing with regality, it also has a crisp and clean dial that has almost the same tint as the case. The railroad-shaped borders in the dial also give the pocket watch a unique look.
The hour-markers stamped in Roman numerals also make the timepiece stand out more. The retro atmosphere is more evident with this model, with the addition of the classic lollipop hands. Moreover, this also comes with a sub-dial that perfectly fits the 6 o'clock position. The placement of the said feature does not affect the overall design at all. Rather, it adds more character to the piece, making it worthy to add to your collection.
Any lover of the minimalist trend will truly love this pocket watch since the signature is created without fancy fonts. As if the design is not yet enough, this runs on a 17-jewel movement that guarantees potency. This watch may be harder to find nowadays, but if you happen to see this gem online or at your local vintage shops, be sure to purchase it right away.
2. Gruen Precision Day-Date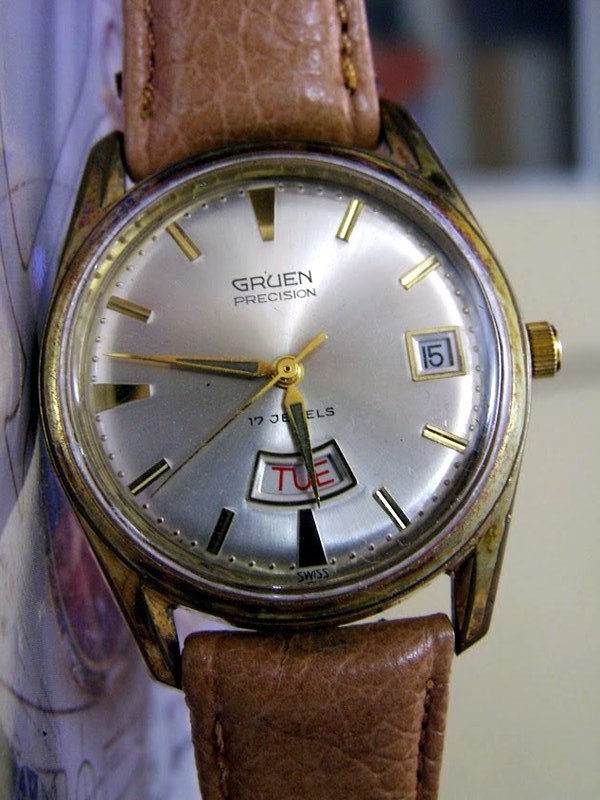 Stylish and excellently accurate, any Precision by Gruen watch is a head-turning and interesting piece, guaranteed to make your jaws drop. Despite its many other variants, the Gruen Precision Day-Date is a timeless and classy dress watch bound to look great on any wearer. This timepiece is so elegant that you won't be able to immediately take your eyes off of it at first encounter.
Specifications
Aside from its magnificent exterior, the Gruen Precision Day-Date packs a lot of other features. For one, it comes in a 34mm gold case, while housing the 17-jewel Gruen 512CB movement as its very core. The dial is in lustrous and shiny champagne colour, adorned with the revered Gruen Precision signature that is perfectly symmetrical to the 12 o'clock position. Matching the perfect hue of the slightly-curved lugs, we have numberless hour-markers and fine hands. This timepiece also boasts a stunning tan strap, which is comfortable to the wrist. What's more, it also adds flair and compliments any look you prefer, may it be casual, business, or formal.
However, the focal point of this manual wind watch is the double-digit date display and huge day window, placed at 3 o'clock and 6 o'clock, respectively. Tracking dates, days, and time simultaneously will be easier if you score this watch, especially at a good price point. The plain font style and bold font colour also aid in achieving optimum readability. The crown is also aligned with the date indicator, making it more comfortable for users to wind the time. Indeed, this model is a must-have for people that want vintage timepieces that scream modesty and sophistication.
 3. Gruen Techni-Quadron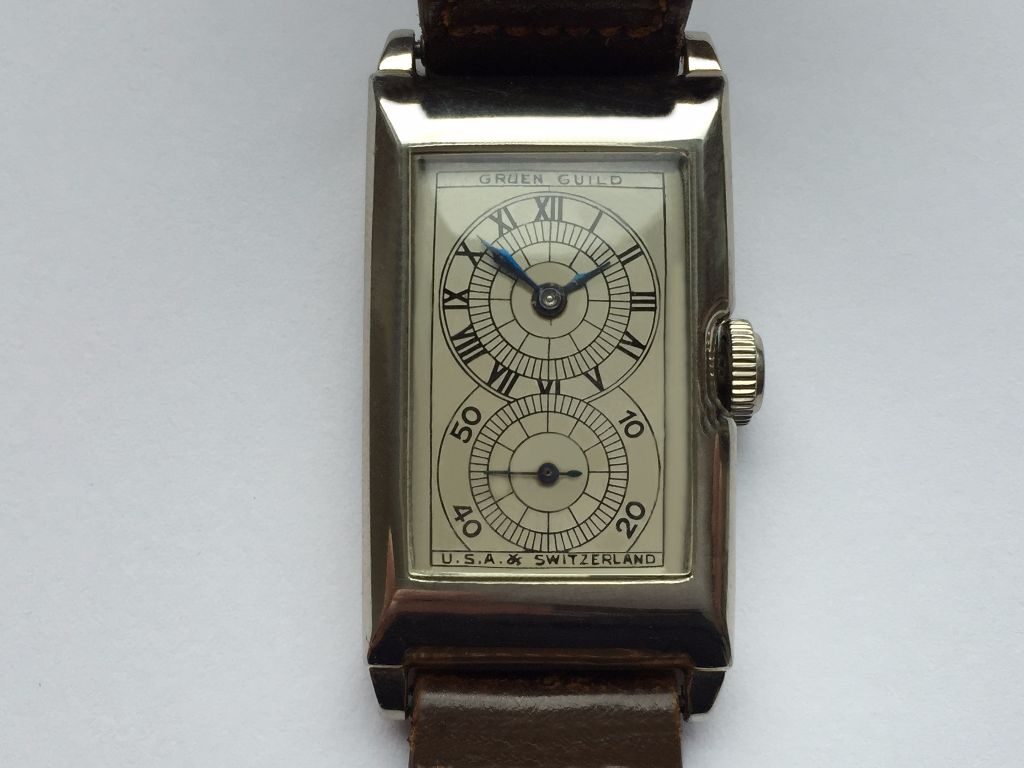 Looking for your next durable and highly-fashionable leather wristwatch that could instantly pass as a conversational piece? Then the Gruen Techni-Quadron in a cool, brown leather strap should be at the top of your list. Besides the fact that it never goes out of style, this flexible accessory is special because of its unconventional shape that will surely and quickly garner others' attention.
Originally devised for doctors, the timepiece is a clear reflection of Gruen's prestige and genuine dedication to different sectors of society. As mentioned earlier, the company provided outstanding watches for the members of the U.S. Army during the Great War. Moreover, the brand also ensured that both men and women got an equal chance to experience the breathtaking attributes of the watches it produced. With the creation of the Techni-Quadron, Gruen emphasized that no one should be left behind.
Specifications
Unlike the afore-noted Gruen watches, this elegant model has a long, rectangular-shaped 41mm x 21mm case made out of white gold, with a stunning and intricately-patterned black leather strap. It boasts two huge white dials, with both hour and minute hands sitting nicely just above the passage of the crown. The balanced arrangement of both dials gives the watch a neat look.
First released in 1928, this masterpiece also has a sub-dial placed at the lower part that allows one to measure seconds precisely. This is how Techni-Quadrons became known as "doctor watches" for it provides an accurate measure of a patient's heart rate. This was also a sought-after watch for those in the field of engineering, where people are required to take seconds seriously. The hands dedicated for the seconds are enormous unlike succeeding high-tech timepieces we usually see today.
Other than it can hold approximately 58 hours of power, this watch also runs on a premium calibre Aegler 877s manual winding movement. Above all, collectors should vie for this stellar watch if they prefer a piece that is useful and at the same time, has a meaningful story.
 4. Gruen 50th Anniversary Watch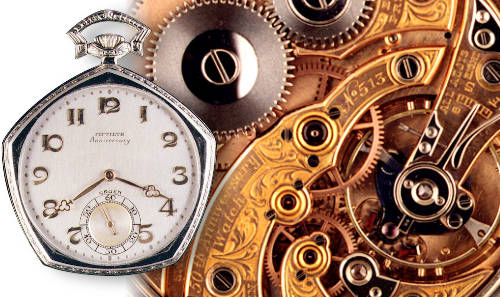 Next up, we have the Gruen 50th Anniversary Watch number 513 that looks similar to the first model on the list. The only difference is that the case is in a pentagon shape, with a lighter and calming ambiance. Instead of a yellow tone, the case sports a white gold hue that is extremely pleasing to look at. As the name suggests, Gruen launched this piece for their golden anniversary. Notably, the company came up with the model in commemoration of Dietrich Grün's contribution to the enhancement of the safety pinion.
Specifications
Made with only first-class parts, this pocket timepiece defines the phrase "built to last".  Moreover, all components of the 23-jewel Precision movement were plated in 12ct gold. Adorned with diamonds, the mechanism also has subtle abstract patterns that elevate its overall magical feel. Matching the dainty look of the watch, we have a white dial, with numbered hour markers all in gold colour. Peeking through the middle of the 7 o'clock and 5 o'clock positions, a second indication grabs the attention of spectators. Not to mention, the hands are also very opulent and attractive. Furthermore, the clover detail of the hands sitting in the main dial has a lavish vibe. This makes the piece more satisfying to get your hands on.
Another key thing to remember about this remarkable model is that buyers were given the privilege to customise the watch's case. Notably, those who purchased it had the option to choose between the platinum material or exteriors embellished with diamonds of superior quality, among others, depending on one's liking. Gruen's meticulosity is evident with this one as the watches from the line were packed in a marvelous jewellery container. Back in the days, pocket watches do not only provide timekeeping functions, they also indicate one's social status. And Gruen did a great job in making sure the user of the Gruen 50th Anniversary Watch will feel special. If you want something that you would proudly bring up in any horology-related conversations, then this one is a piece to look out for.
5. Gruen 21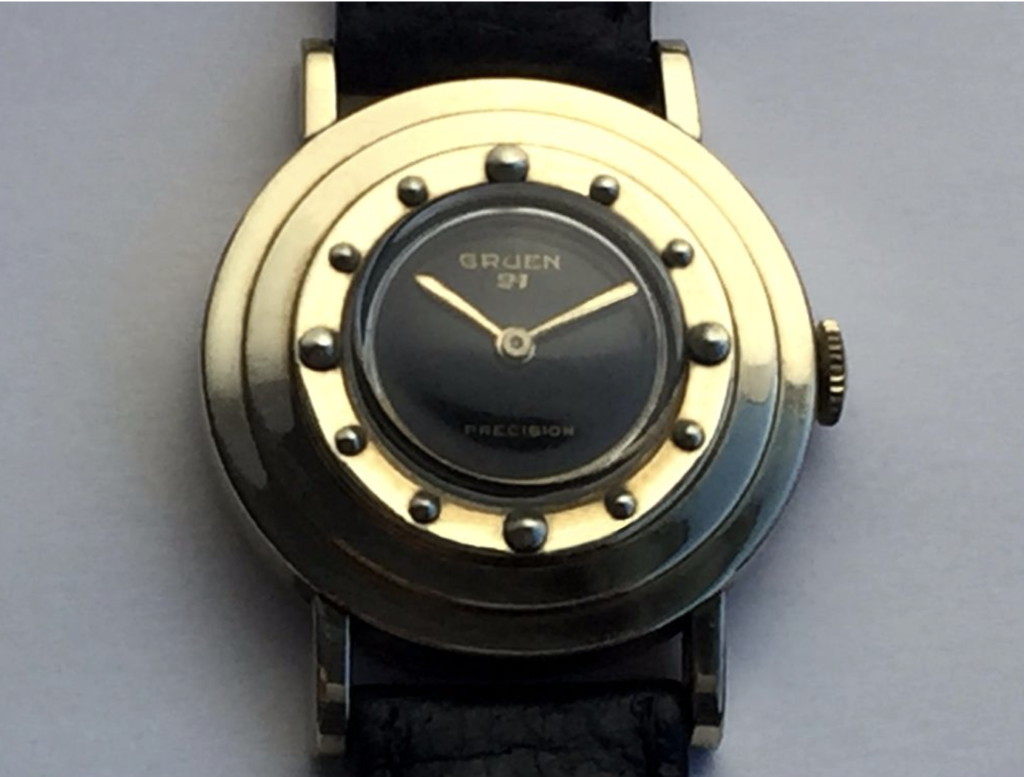 As emphasized above, Gruen is known for coming up with versatile and highly-precise timepieces. The Gruen 21 is no exception. While it was assembled directly in the United States, the timepiece's functions are on par with those watches directly produced in Switzerland. The company was able to set the bar higher by releasing this model. It also solidified their title as a well-loved vintage label.
Specifications
This gorgeous watch comes in a flawless round case, made out of 18ct gold. Its two-layered look is also what sets it apart from other Gruen releases.  Specifically created for men, the watch runs on a 21-jewel 335 Veri-Thin calibre. However, it can also pass as the prime example of a Gruen ladies watch for it exhibits a low-key appearance. The strap is also in an insanely attractive black colour, which makes the watch a closet staple especially for women. Demonstrating there is beauty in simplicity, this watch has a black dial, with hands sporting a gold colour. Rather than using Arabic numbers or Roman numerals, the hour-markers are in tiny and different-sized circles. With the addition of this peculiar detail, Gruen was able to exhibit their amazing artistry.
Even though this model does not have any sub-dials, the signature and the uncomplicated design of the crown is striking enough for people to appreciate the charms of the watch. Since the timepiece has a classy feel, it will go well with any clothing piece you wear it with. You would not need to worry about wearing this every day as its composition is tough and sturdy as a rock. Overall, this one is the ideal option for all the go-getters out there.
Where can I get a Gruen Watch?
Unfortunately, you won't find any brand-new Gruen watch nowadays. Its latest collection was released ages ago, despite the name being currently owned by M.Z. Berger. Much like any other forgotten classic, the company does not offer a separate website that compiles all the models it released since its establishment.
The best thing to do now is to simply conduct a Google search. With just a click, you can find several authorised sites that offer Gruen models, particularly the newest ones. If you are lucky enough, you can score one at a discounted or low price. This is why it is important to check these websites frequently for a chance to get a great deal. While doing this can take a huge chunk of your time, you will realise in the search why retro pieces are great collectibles.
Unlike Rolex and any other brand known for its vintage timepieces, Gruen is also more reasonable in terms of pricing. It should be kept in mind that prices still depend on the quality, structure, and materials used in the watch. Perhaps, the website where you will buy it from also matters.
Final Notes
Gruen watches, in general, deserve more recognition. Aside from the fact that they are products of strong commitment, all models from the brand carry distinct qualities you will never find from others. Conceptualising curved and thin movements, inventing a novel safety pinion, and creating extremely useful wristwatches are some of the events that made Gruen notable.
What makes Gruen distinct is how well they incorporated revolutionary and unorthodox aesthetics and functionality into its pieces. Moreover, deciding to place its production factory in Switzerland did not hinder the American company's growth. Instead, Gruen treated it as a strength and privilege, making them more admirable than ever. Whether you are a newbie or an expert at watch collecting, Gruen's releases should go on your must-have list.
Want to learn more about other vintage brands where you can source timepieces for your growing collection? Make sure to check out our article about the 12 Best Retro watches for every style and and budget.
Featured image courtesy of Ceri Jones from Flickr