Over the past couple of years, square watches have been gaining momentum once again. While most people still prefer to use the quintessential round case timepieces, square watch enthusiasts seem to be increasing every day. There is no denying that square watches are just as functional and beautiful as circular ones, so the shift is totally understandable. If you've been looking for a square watch for some time now, then you're in luck. Here we present to you a lowdown of some of the nicest square-face timepieces out there. 
What is a square watch?
A square watch is exactly what it's named. It makes use of a square case rather than the typical round case we often encounter. They've been around for almost as long as round watches. One of the most well-known brands for producing square watches is Cartier, particularly their Santos-Dumont pieces. It was one of the first wristwatches they every created, which is why square-faced timepieces are deeply embedded in Cartier's history. But they're definitely not the only brand that offers square watches.
Why should I get square watch?
Square watches are relatively unique. I know we said that square watches are becoming quite normal now but round case timepieces are definitely still more abundant. If you're the type of person that does not want to conform to the norms (and trends) of society, then maybe getting a square watch is the first step for you.
Square watches are aesthetically pleasing. There's just something about the angles and corners of a square watch that is really appealing to the eyes. Also, if you like complex features on your timepieces, they won't look as intimidating or overwhelming on a square watch because it has more space.
They have countless options. Some people might think that there aren't that many options out there for square watches, but really almost every watch brand has at least a couple of square watches in their collection. You definitely won't feel restricted or limited when choosing.
Square watches have vintage feels. This is probably one of the main reasons behind the current popularity of square watches. People often associate square watches with certain eras, dating back to the mid/late 1900s. A lot of the clothing trends we have today are simply modern-day versions of what it was back then. It's the same case with square watches because most of the pieces really have that cool, retro vibe to them. Square watches are definitely a must if you're a vintage lover.
12 Square Watches To Check Out
Now that we have gone through why you should consider getting a square watch, here's a list of timepieces that are surely worth checking out. 
1. Nomos Tetra Reference 408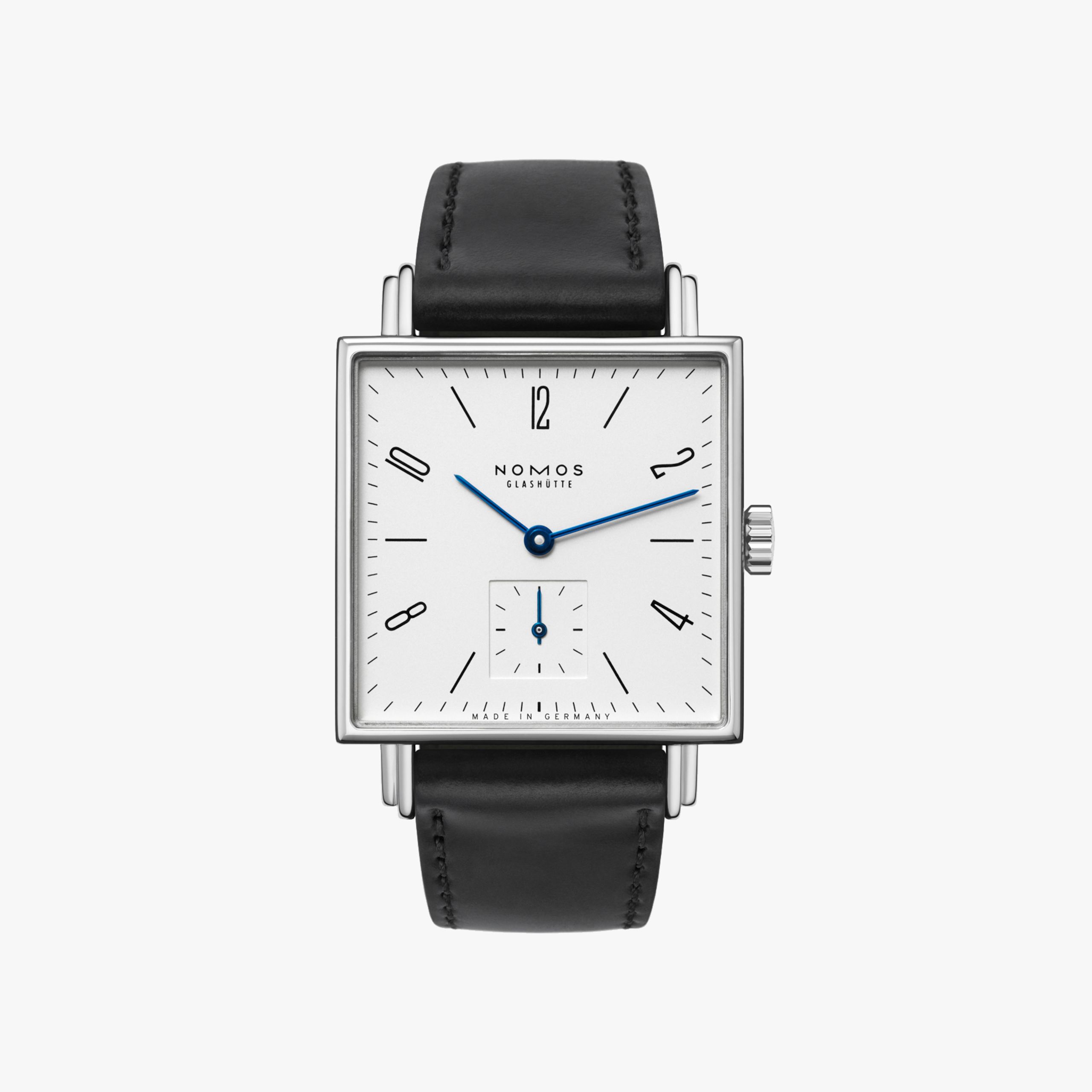 The perfect brand to begin this list with is Nomos Glashütte. Nomos is a widely successful watch company that originated from Germany. They are best known for producing minimalist timepieces that are beautifully crafted and of high quality. Every model they have is so intricate that even the typography of their logo contributes to how visually appealing their watches are. Nomos offers many collections today, but their Tetra range exclusively consists of contemporary-looking square watches.
This Nomos Tetra watch is the perfect combination of classic and modern. It is a stainless steel square watch paired with a Horween Genuine Shell Cordovan leather strap in black. The white dial follows a straightforward layout featuring blue hands and numerals. It also has a seconds sub-dial at 6 o'clock in line with the square theme. Lastly, this Nomos Tetra runs on an in-house calibre Alpha movement with 17 jewels and has a power reserve of up to 43 hours. I think this is one of those pieces that you can't really go wrong with. Indeed, it's an excellent square watch for those who fancy quintessential and minimalist accessories. 
2. Casio AQ230GA-9BVT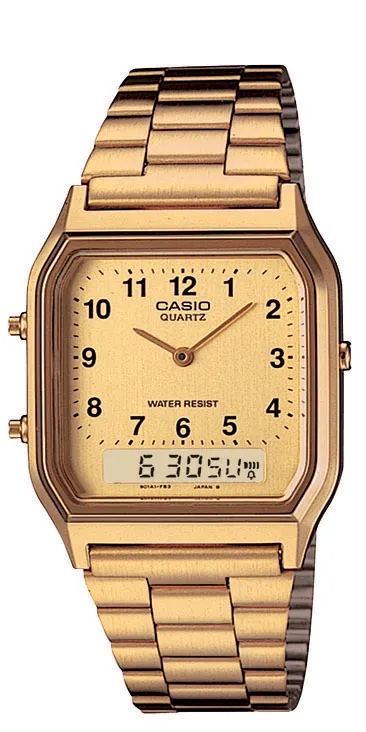 Casio is a familiar brand to most of us. They have an extensive collection in their arsenal, ranging from dressy pieces to outdoor ones. Moreover, Casio is best known for manufacturing diverse watches that are really affordable and of good quality. This also means that they have many pieces that differ in shape, size, colour, and the like. Casio is definitely a great brand to start with when looking for a square watch on the affordable side. 
The Casio AQ230GA-9BVT is actually a piece from the brand's vintage collection. It is reminiscent of  their models from the 1980s which really gives a retro feel to the watch. The exterior comes in a resin case and a stainless steel bracelet both in gold colour. The dial is a combination of an analogue and a digital display and it has the indexes and hands of a normal watch but with a digital component at the bottom area. Lastly, this quartz piece includes the following specifications: an auto calendar feature, dual time, daily alarm, and a stopwatch. If you're into retro or vintage square watches, then this is a great (and affordable) option to consider. 
3. TAG Heuer Monaco WAW131E.FC6420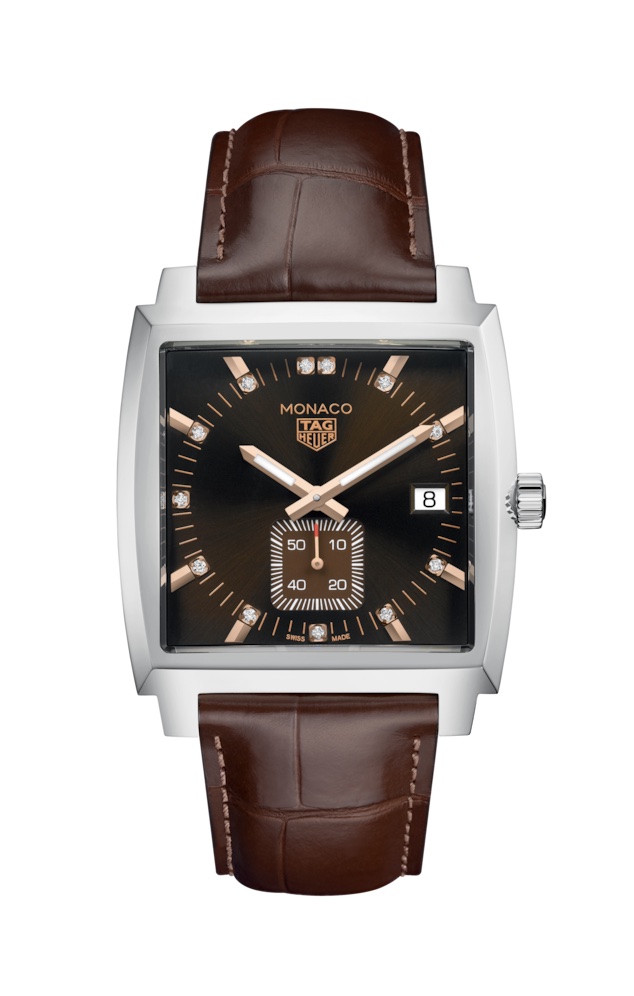 Next up is a model from one of the most well-recognised luxury timepiece brands out there. TAG Heuer is a trusted watch manufacturer that truly values reliability and precision above all. In fact, many watch connoisseurs have high regard for the brand especially as a trailblazer in the watchmaking  industry. TAG Heuer's Monaco collection offers a variety of intricate square face watches that oozes luxury. 
This TAG Heuer Monaco is a very sophisticated piece that can somehow attract people's attention in the most subtle way possible. Right off the bat you'll know that it is a luxury watch but not in an obnoxious way. The exterior comes in a 37mm polished steel case along with an alligator leather strap in brown. Meanwhile, the brown dial includes 12 diamond hour markers and luminescent baton hands. It also features a seconds sub-dial and a date component at 3 o'clock. This quartz piece is the perfect square watch for all subtle luxury lovers. 
4. Rado True Square Automatic Open Heart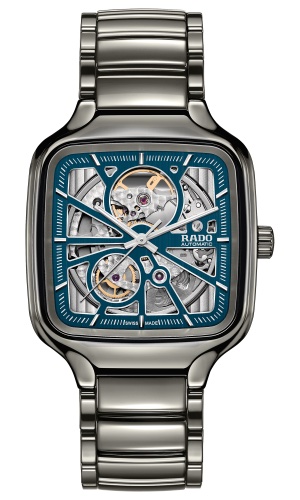 Rado is a Swiss brand that dates back to as early as 1917. What started out as a simple atelier in Lengnau would later on become one of the most innovative watch companies in the world. At present, they are best known for their use of eccentric materials in crafting equally unique watches. Moreover, Rado has a specific range dedicated to square-face timepieces called the True Square collection. 
The Rado True Square Automatic Open Heart watch is a very unique and delicate timepiece bound to catch someone's eye. Even though skeleton watches are kind of an acquired taste in the watchmaking world, there is no denying that this piece was really well crafted. It comes in a 38mm plasma high-tech ceramic case and a bracelet of the same material. The blue dial follows an open heart layout with indexes in the outer area. Moreover, this piece runs on the automatic C07 calibre and has a power reserve of up to 80 hours. If you like very distinct and masterful pieces, then this might be the right square watch to look into. 
5. Cartier Santos-Dumont W2SA0011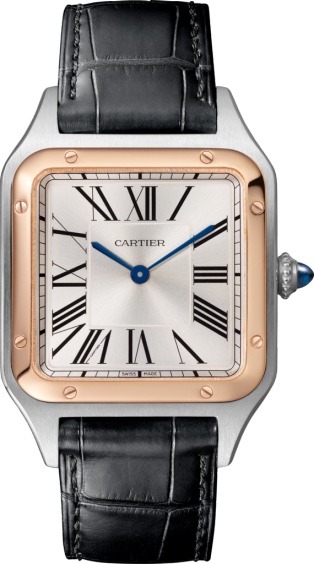 Cartier is another a well-known brand all around the world. They have already established a name for themselves as a manufacturer of luxury jewellery especially given their vast catalogue of accessories. In terms of timepieces, they offer multiple collections that are all based on different themes, concepts, people, and/or events. This model falls within the Cartier de Santos series which is inspired by aviation legend Alberto Santos-Dumont. Moreover, the Cartier de Santos range, consisting of extravagant square watches, is considered as one of the most iconic collections released by the brand. 
The Cartier Santos-Dumont W2SA0011 is a good square watch for those who wish to add a classic flair to their look. Some luxury timepieces out there are too overwhelming, but this particular model gives off a refined and modest vibe. The exterior consists of a stainless steel case, an 18K rose gold bezel, and an alligator leather strap in black. Meanwhile, the silver dial follows a sun ray effect with large Roman numerals and blue sword hands. Overall, this is a dapper watch meant to complement its wearer. 
6. Nomos Tetra Neomatik Midnight Blue Reference 422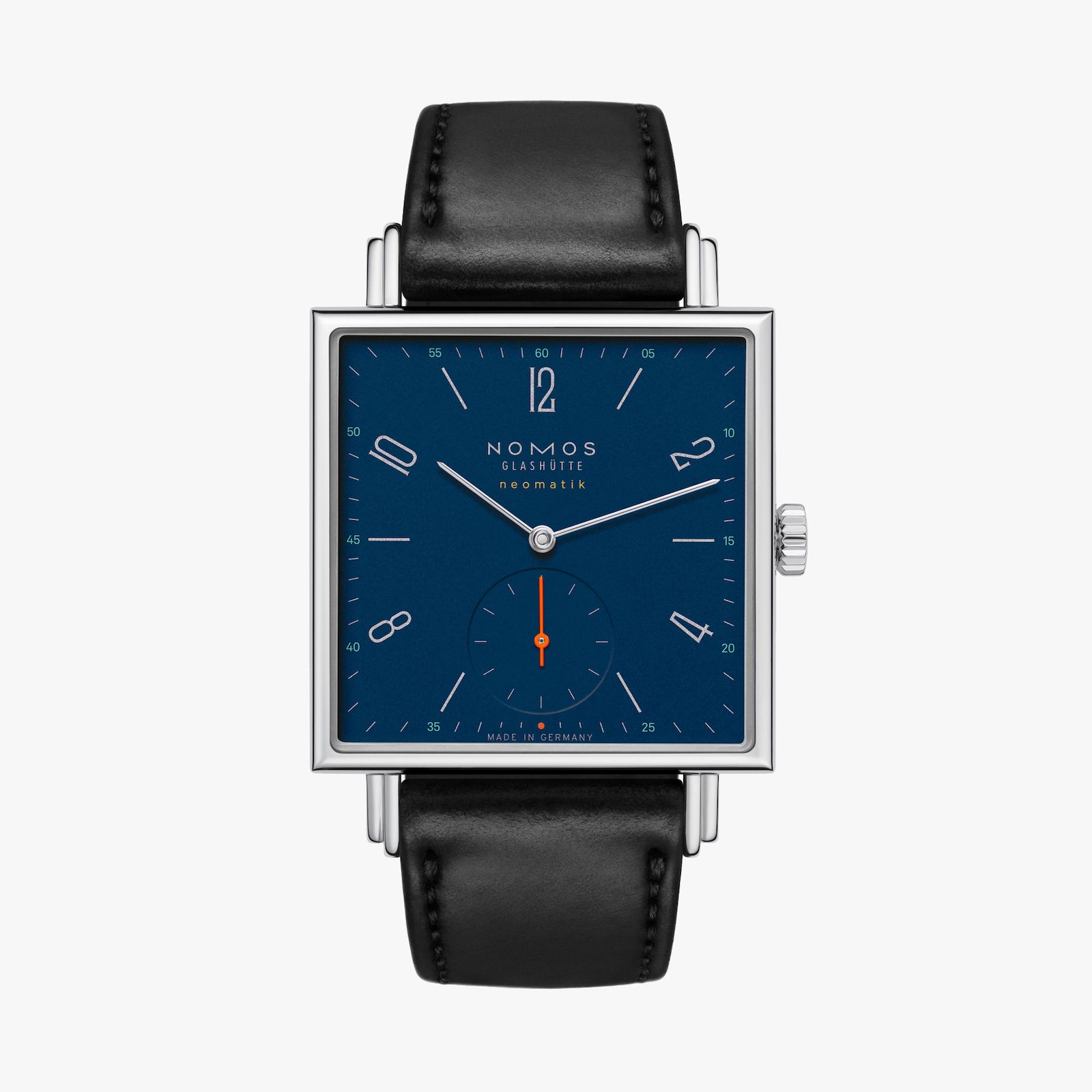 Next up, we have another piece from Nomos. While it is also part of the Tetra collection, it has a completely different vibe compared to the previous model. This one will definitely appeal more to those who like a little colour in their accessories. Though I wouldn't call it vibrant, something about the midnight blue colour just really draws people to it. 
This Nomos Tetra Neomatik watch is, of course, very minimalist and aesthetically pleasing overall. It comes in a stainless steel case paired with a black Horween Genuine Shell Cordovan leather strap. The midnight blue dial consists of indexes, numerals, and hands in white. Moreover, there is also a sub-dial for the seconds component which makes use an orange hand. In terms of technical details, this automatic watch runs on the in-house calibre DUW 3001 and has a 43-hour power reserve. This is definitely one for the minimalist (and colour lovers) at heart. 
7. Hermes Cape Cod Watch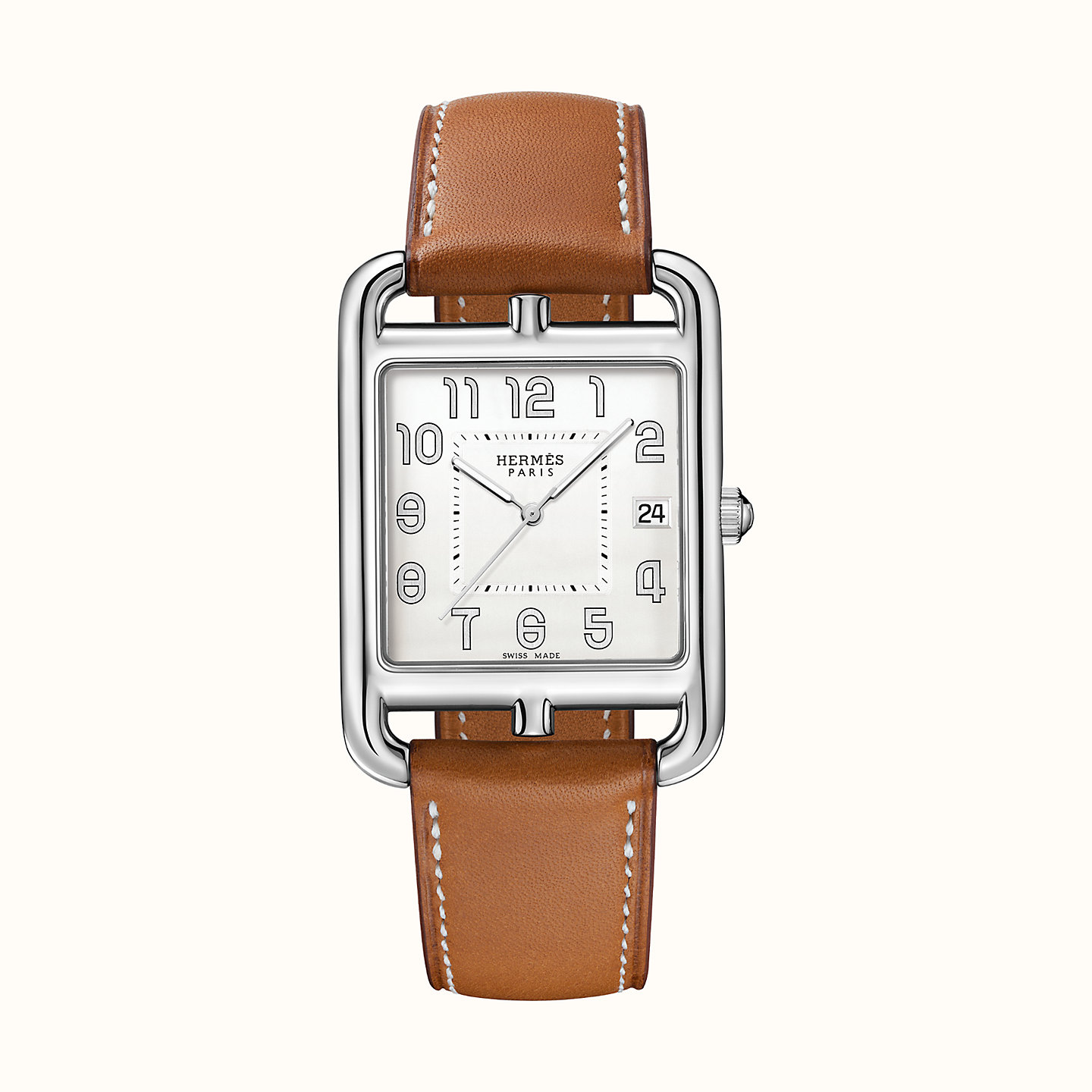 Now, we all know Hermes as a famous brand that houses the iconic Birkin bags. Though, on this list, they are a company that offers beautiful square-face (and other) timepieces. As mentioned, Hermes isn't actually popular for their watches simply because their bags already have such an irrefutable reputation. However, rest assured that the timepieces in their catalogue are just as high quality as the other products they sell.
One of the best things about luxury timepieces is that brands choose to uphold simplicity in their designs. There is no need for exaggerated and overly complex details because taking the classic route brings out the sophistication of a watch. The Hermes Cape Cod is a perfect example of that concept. The exterior comes in a 33mm stainless steel case along with a natural Barenia calfskin leather strap. The opaline-silvered dial includes numerals, hands, and a date component at 3 o'clock. All the little details they used, from the font to the colours, really give a refined feel to the whole piece. Overall, this is a very versatile square watch that seems easy enough to incorporate in either your casual wear or formal attire. 
8. Casio A700WMG-9AVT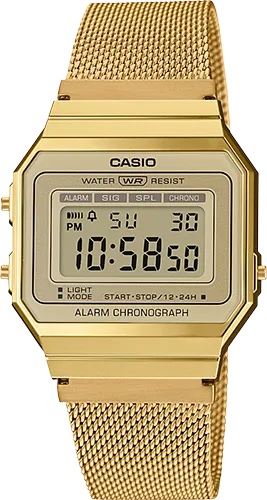 Here we have another piece from Casio. Most of us probably know that Casio has a pretty established background when it comes to digital watches. One of their most iconic models is the F-91W, launched in 1989, which happens to be very similar to this one. Just like the other Casio watch, the Casio A700WMG-9AVT also has a vintage vibe, making it such a nostalgic piece. 
The exterior is made out of stainless steel case, mineral glass, and a stainless steel milanese band. Meanwhile, the dial makes use of a digital display which features an LED light, a daily alarm, a stopwatch, and an auto calendar. If you want a square watch that can bring you back to the '80s, then you should not miss out on this one. This is a reminiscent piece perfect for all retro patrons out there.
9. Glashütte Seventies Chronograph Panorama Date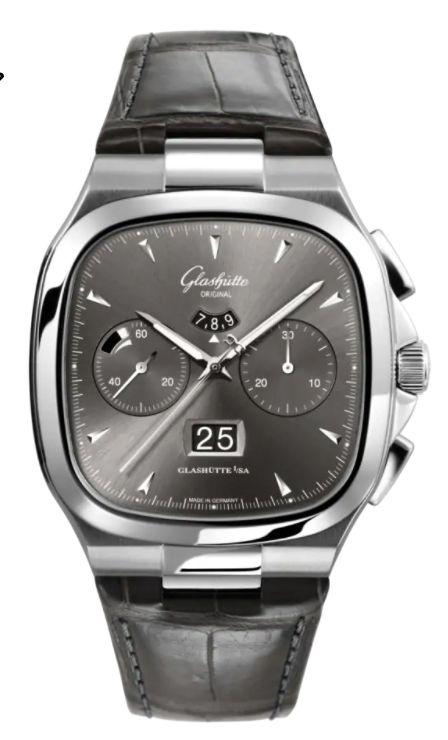 Glashütte Original is a watch manufacturing company that originated from Germany. One of their philosophies is to showcase German engineering to the world through the watches they make. They value excellence, originality, tradition, modernity, exclusivity, and beauty. These are the basic principles they take into considering when crafting timepieces. More than that, they also offer masterful square watches that boast German craftsmanship. 
This Glashutte Seventies Chronograph comes in a 40mm stainless steel case and a Louisiana Alligator leather strap in grey. The sunburst-patterned dial features a 12-hour counter, a 30-hour counter, panorama date, a power reserve display, and others. Lastly, it follows an automatic calibre 37-02 movement and has an Incabloc shock protection. The use of grey and silver really makes the watch look so elegant and polished. I would say this is an exquisite square watch that would look good on anybody honestly. 
10. Seiko SUP896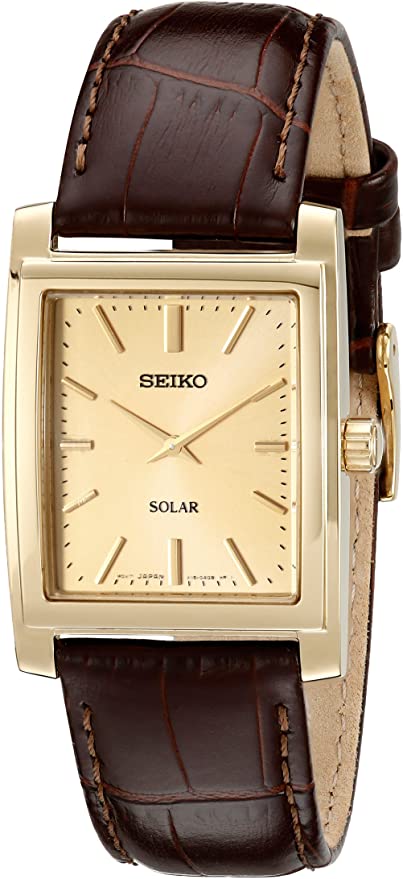 Seiko is a well-recognised Japanese watch company that has been consistently providing the world with quality timepieces. In comparison to most of the brands on this list, they definitely cater to a wider demographic since the watches they offer range from different price points. It is only expected that they also have their fair share of square watches in their array of collections. 
The Seiko SUP896 is a very vintage-looking piece. The first time I saw it I was reminded of watches that my grandfather would wear. This is another watch that can really hit you with that sense of nostalgia because of how intricate it looks. The exterior comes in a stainless steel case in gold and a maroon calfskin leather strap. Around 95% of the dial is also in a gold colour, from the background to the hour markers and hands. Lastly, this piece follows a quartz movement powered by solar energy. Again, if you are on a tight budget, then this is another classy-looking square watch you can get without breaking the bank. 
11. Rado Ceramica Automatic Diamonds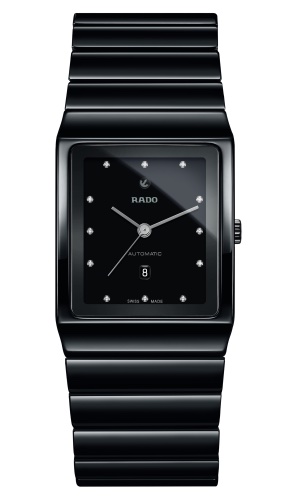 This Rado Ceramica Automatic Diamonds square watch is a very sleek and stylish piece. It comes in a high-tech ceramic case paired with a bracelet of the same material. The dial features 12 diamonds in lieu of the hour markers, hands, and a date component at 6 o'clock. Furthermore, it runs on an automatic movement and has a power reserve of up to 38 hours. The diamonds really complement the blackness of the entire watch. Overall, it's a very elegant piece that would look amazing regardless of the situation.
12. TAG Heuer Monaco CAW211P.FC6356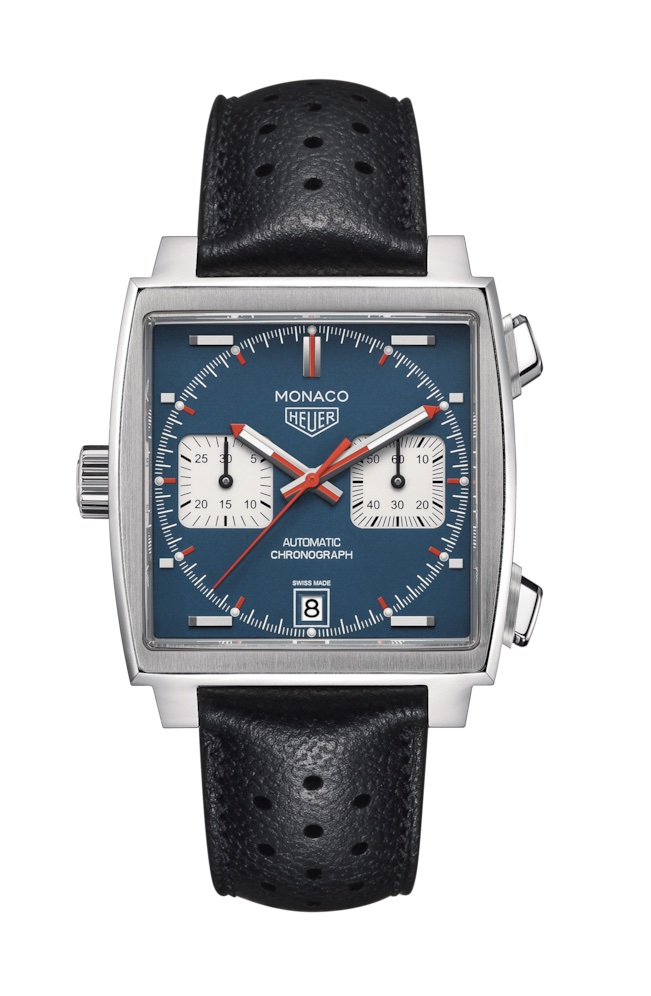 Last but not the least, we have the iconic TAG Heuer Monaco. This is the original model of 1969 Tag Heuer Monaco. It was first seen in the film Le Mans, worn by Steve McQueen himself. Moving on from that legendary introduction, the Tag Heuer Monaco would eventually become one of the most recognised and revolutionary square watches to ever exist.
The TAG Heuer Monaco CAW211P.FC6356 comes in a 39mm polished steel case along with a black leather strap. The blue dial consists of hour, minute, and hand markers in red and white. It also features two sub-dials for the minute and hour plus a date component at 6 o'clock. It is a beautiful, well-crafted square watch, definitely a must-have for luxury watch collectors.
Final Thoughts
Overall, there are many brands out there that offer beautifully crafted square watches. You don't have to be a vintage lover or a watch collector to be interested in getting a square watch. As seen with the rise of the Casio vintage digital watches, brands have been doing really well in marketing square-faced timepieces to the general public. Honestly, you really can't go wrong with a square watch.
Passionate about minimalism? Check out our article on the Best Minimalist Watches.