There are two most common ways to power a watch. Mechanical watches require winding either automatically or manually. Quartz watches, on the other hand, need batteries. However, with the dawn of new technology, we also get to witness the birth of solar-powered watches. Brands such as Seiko, Citizen, and Casio lead the pack when it comes to these watches. Not only is this a practical feature but also a great way to promote sustainability.
While the Japanese watch market leads when it comes to solar watches, there are also western brands that carry solar-powered technology. With that said, prices for solar-powered watches range from incredibly affordable to premium. On this list, we'll go through solar watches from various brands and price points. Each watch features different functions as well as its own pros that make them a unique addition to the list.
Without further ado, here are the 20 best solar-powered watches, in no particular order.
20 Best Solar-Powered Watches
1. Seiko SNE325 Solar Dress Watch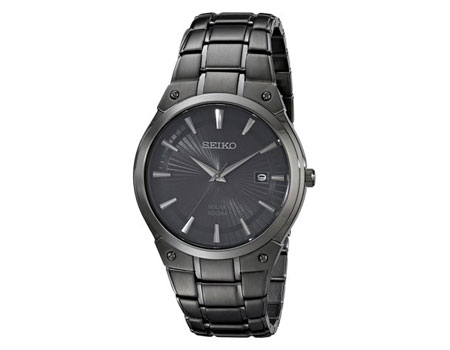 There's a lot to love about this watch from its function to its aesthetic value. Rightfully so, the Seiko SNE325 black ion-finish solar watch from Seiko opens our list. It comes with great functionality as well as a beautiful design that makes it look like a premium watch. Powering this watch, as expected, is solar-powered Japanese quartz that comes with a whopping 10 months of power reserve.
This solar-powered watch has a black ion plating over the stainless steel case and bracelet. That gives it an even more durable exterior while making it aesthetically pleasing. It also comes with a patterned black sunray dial and silver-toned hands and markers. It's an elegant watch that perfectly fits most casual and even formal settings. Given that it's from Seiko, you can expect a Hardlex crystal dial window for this watch. It's the brand's proprietary mineral crystal, improved with better scratch resistance.
Furthermore, this watch also has a date window at 3 o'clock and water-resistant up to 100 metres. That said, you can take it for a shallow swim but not for deep dives.
2. One Eleven SWII Solar Casual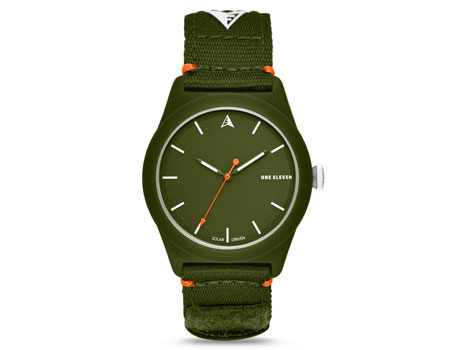 The main selling point of One Eleven watches is sustainability and comfort. They also present a great style that recalls that of 1960s field watches. All One Eleven watches are solar-powered. They offer a huge range of styles, sustainably built for the conscious consumer.
The One Eleven SWII, for instance, is a 42mm watch crafted from sustainable materials. Made from bio-plastic, you know that One Eleven is a brand that takes sustainability seriously. The bio-plastic casing comes from plant-based castor oil. Moreover, it comes with a 22mm green fabric rPet Strap made from recycled water bottles.
The solar movement of this watch charges from both natural and artificial light. But the brand doesn't stop there. Even the packaging of their watches comes from 100% recycled paper with non-toxic ink for prints. Plus, you get to contribute to the brand's sales where 1% goes to environmental causes.
The watch has 50m or 5 ATM of water resistance and comes with a mineral crystal lens to protect the dial. What's more, One Eleven watches are also on the more affordable side of the scale.
3. Garmin Tactix Delta Solar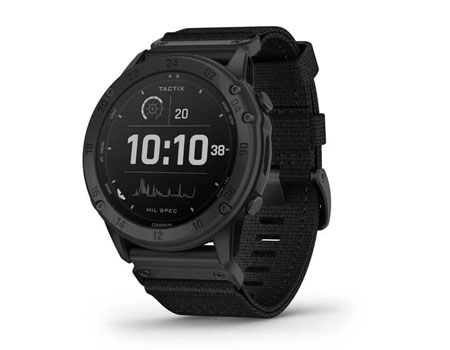 There's nothing like a solar-powered outdoor watch. Garmin has long been producing solar-powered watches and the Gramin Tactix Delta Solar is one of the best in their catalogue. This watch comes built to military standards (MIL-STD-810), boasting great features that you'll need outdoors, especially on the battlefield. You'll get features like mapping, music, and advanced training with this watch.
That said, you can rely on this watch to be "mission-ready". It has a stealth mode that disables location-sharing as well as wireless connectivity. It also wipes all memory data.
As for the design of the watch, it's a rugged timepiece that doesn't sacrifice its look. It still looks incredibly sophisticated for a tactical watch. With a 1.4-inch display, you can read information fed to you easily. It also has a black DLC-coated bezel as well as sapphire crystal. A black PVD coating protects the rear cover and has a black tactical nylon QuickFit band.
Overall, the Garmin Tactix Delta Solar is one of the best tactical watches in the market. Its battery lasts up to 21 days if you're indoors. When exposed to the sun, it can last up to 24 days. That means you don't need to charge it for three whole weeks even with continuous use.
4. Citizen Eco-Drive Promaster Nighthawk Dual Time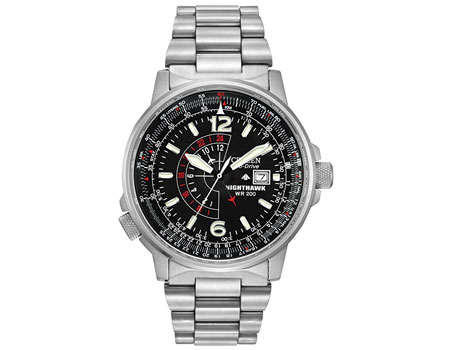 The great thing about the Citizen Eco-Drive Promaster Nighthawk is that it looks and works great. It's a professional-grade sports watch that comes with rugged construction. This watch, in particular, works perfectly for pilots and jet setters.
It has a sleek design with a black dial and details finely put over it. The stainless steel case makes it great not only in a professional setting but also during a casual set-up. It also a scratch-resistant mineral crystal protecting its dial. As an aviation watch, you can get a lot of features great for pilots. For instance, there's a slide rule in the chapter ring operated by a crown at 8 o'clock. It also comes with a great dual time display to monitor two time zones at once. At 3 o'clock, there's a date window that stands out with a white background.
As a solar watch, you get 6 months of power reserve for this watch. It also comes with great water resistance at 200 metres, which is especially useful for a pilot's watch.
5. Junghans Force Mega Solar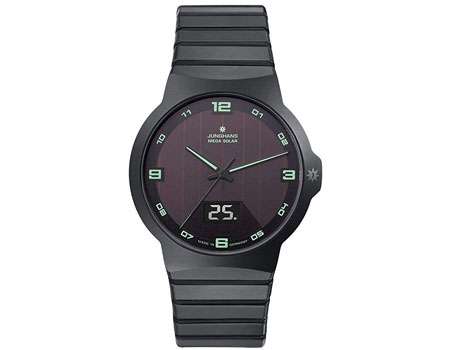 We all know German watchmaker Junghans as the brand that carries the Max Bill watches. Its designs are usually Bauhaus-inspired, that's why the Junghans Force Mega Solar stands out in its catalogue. It comes with a design that combines the power of digital and analogue display. At the same time, its' a sleek watch with great features.
This watch also uses the power of both solar energy as well as radio technology. The Junghans Force watch comes with a multi-frequency, radio-controlled solar movement. Its power reserve goes up to 21 months. You can easily adjust its settings using the Junghans MEGA app.
Furthermore, it has a mineral crystal dial as well as a luminous hand. The ceramic bracelet has a titanium folding clasp. So, you're sure that this watch is a durable one that you can take just about anywhere.
6. Casio PRO TREK Night Safari PRG-650Y-1CR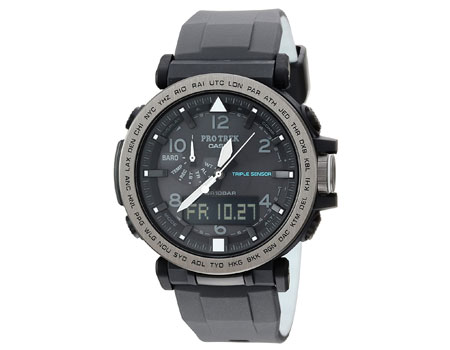 We all already know how Casio is the brand responsible for the world's toughest watch, the G-Shock. Another great option for the outdoors is the brand's PRO TREK collection. The Casio Pro Trek Tough Solar comes in a resin case with scratch-resistant mineral crystal. That said, it also has great shock resistance so you'll surely enjoy it being outdoor-friendly and durable.
As its name suggests, it has Casio's Tough Solar technology, a great feature for the outdoors. It also has a Triple Sensor, which means it has an altimeter and barometer, compass, as well as thermometer functions. Not to mention, it boasts great water resistance at 200 metres. Plus, the tide and moon graph also helps with checking weather conditions if you're out at sea. It displays information not only in numerical value but also through a trend graph. On top of all of that, it also has five daily alarms, full auto-calendar until 2099, an hourly time signal, and a 1/100-second stopwatch. It also has a countdown timer and a world time function.
This watch works with Japanese quartz that tells time using Multi-Band 6 atomic timekeeping. Rest assured that this timepiece is accurate and reliable.
7. Garmin Quatix 6X Solar
The Garmin Quatix 6X Solar comes packed with great features for an outdoor smartwatch. It has profiles perfect for paddleboarding, canoeing, skiing, and even kayaking.
This watch comes with a transparent Power Glass solar-charging lens on the 1.4-inch display. The display is crystal clear so you can read any and all information even under the sun. At a single glance, you can see real-time solar input on the timepiece. It also comes with a Power Manager so you can adjust the functions of the watch. You can see how each sensor uses the battery so you can extend the watch's battery life according to your needs.
Furthermore, the Garmin Quatix 6X Solar boasts water resistance of up to 100 metres. You can use Garmin chart plotters and other marine electronics with this watch. That alone makes it the perfect watch for fishing, sailing, and other aquatic sports.
8. Seiko Prospex PADI Solar SNE435P1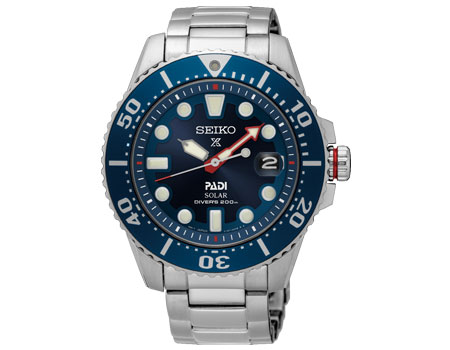 There's no dive watch like a Seiko Prospex watch. Seiko dive watches are some of the best in the market. The great thing about the Prospex collection is that it also has solar-powered options, like this PADI Solar watch. The Seiko Prospex PADI Solar SNE435P1 comes with a stunning blue dial and bezel on a stainless steel case and bracelet.
As a solar-powered watch, it uses Japanese quartz with 10 months of power reserve. It's a great feature that a lot of divers need. Plus, you get 200 metres of water resistance, a unidirectional rotating bezel, and large hands and markers. They're also luminous so you can still see the time even when you're underwater. It has a screw-down crown and caseback responsible for its great water resistance. Coming from Seiko, it uses Hardlex crystal and has a date window at 3 o'clock.
9. Citizen Perpetual Chrono A-T AT4008-51E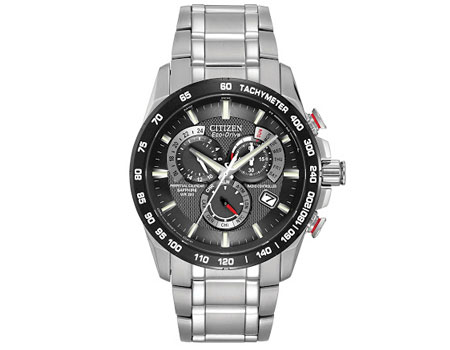 Citizen is one of the leading brands that produces solar-powered watches. The Citizen Perpetual Chrono A-T AT4008-51E comes with a chronograph function as well as a tachymetric bezel. This makes the watch not only incredibly functional but also aesthetically pleasing. To those who are not aware, Eco-Drive is Citizen's proprietary technology that converts any light into energy.
The Citizen AT4008-51E has that very feature plus a low-energy warning and even a power-saving mode. When this watch is charged to maximum, you can use it for seven uninterrupted years even in the dark. Using Citizen's Radio-Controlled Atomic Clock Synchronization Technology, it has extremely accurate timekeeping.
This stylish watch uses an anti-reflective sapphire crystal and water-resistant of up to 200 metres. It's great for professional diving activities as well as water sports.
10. Garmin Fēnix 6 Solar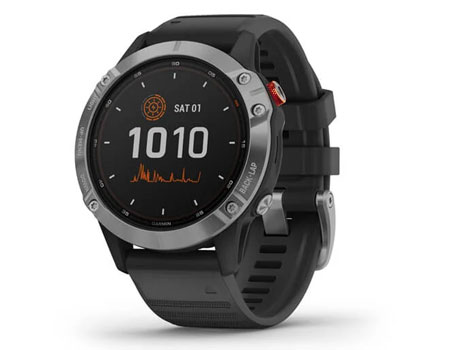 The Garmin Fenix 6 is already a reliable smartwatch in itself. Adding solar power to its many features just makes this one great smartwatch for the outdoors. The Garmin Fenix 6 Solar has features geared toward survival and connectivity, making it a great choice not only for adventures but also for the city.
This watch has a Power Glass solar charging lens. You can adjust how the watch's features utilize battery through the Power Manager. It can last up to nine days in smartwatch mode when you're indoors. However, if exposed to the sun, you can have it function for up to 26 days.
You can use various profiles specific to various activities such as surfing, biking, and even indoor climbing. You can also use the watch to monitor your health. It comes with an Advanced Sleep Monitoring system as well as the Pulse Ox sensor. This allows you to see your stress score and even sleep insights.
11. Bering Time Solar 14440-222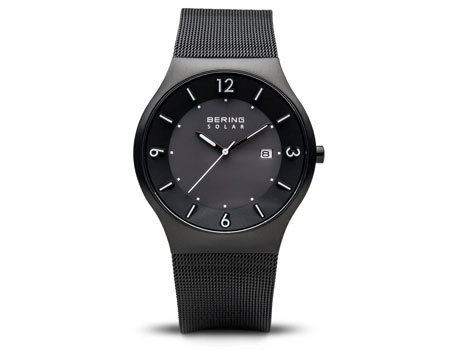 Bering Time is a Danish watch brand that takes inspiration from the Arctic. Its watches, therefore, are sleek and clean looking. The Bering Time Solar 14440-222 will definitely give you that impression.
Given the brand's tagline, "Inspired by Arctic Beauty", you can see how its watches remain elegant with minimal design. The stainless steel case of the watch comes with black ion plating. This makes it a durable watch, matched with the scratch-resistant sapphire crystal dial window. With white accents on the dial, it definitely has minimal yet legible details. It comes with a Milanese mesh bracelet as well as a power reserve that can last for 6 to 12 months.
You can take this watch up to 50 metres underwater. Therefore, you can use it for a recreational swim.
12. Seiko Prospex World Time Solar Chronograph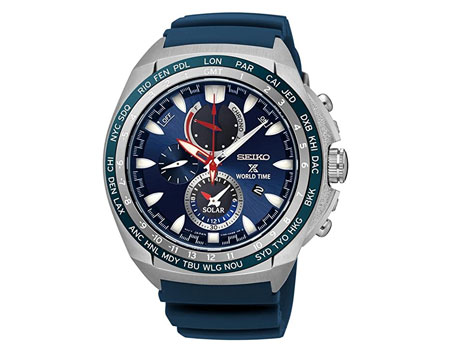 If you don't notice it yet, Seiko is one of the best brands to look for solar-powered watches. The Seiko Prospex World Time Solar Chronograph Watch does exactly what you think it does. Perfect for world travellers, you get features that work for adventures as well as travelling overseas.
This Prospex watch comes with a sunray blue dial with accents in silver. The glossy blue and silver bezel frames the scratch-resistant sapphire crystal dial window. For those who are looking for a comfortable strap, this watch fits the bill. It comes in a blue silicone strap, which is trendy and cool at the same time.
Among its features include a unidirectional rotating bezel that works as a GMT scale and world time. You can see a second time zone with this watch. Plus, it has a chronograph and alarm function. The date window sits at 4 o'clock. Water-resistant to up to 100 metres, it's a great watch you can take on the beach as well. The watch's solar-powered Japanese quartz movement gives it 6 months of power reserve.
13. Casio G-Shock GWM5610-1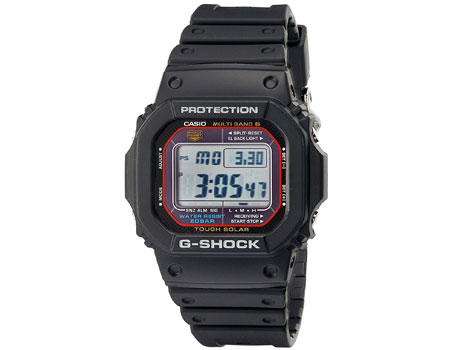 The Casio G-Shock GWM5610-1 is the ultimate G-Shock watch. It carries a classic design that's sleek and functional as well as rugged. This watch has all the features you're looking for in an everyday watch with the casing of the world's toughest watch.
It comes with an iconic octagonal case and a black resin band. It also has a water resistance of up to 200 metres or 660s feet. Indeed, it is perfect for water sports, a recreational swim, or even snorkelling.
Among its features, you get to enjoy atomic timekeeping, world time from 29 time zones and 48 cities, as well as a full auto-calendar. It's shock-resistant as expected and has an EL backlight. The watch also features a 1/100-second stopwatch and battery indicator as well as a power-saving mode. Fully-charged, the watch works up to 10 months without any exposure to light.
14. Solios Solar Watch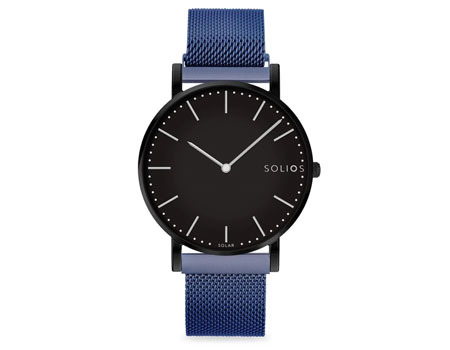 Solios is a Canadian watch brand that focuses on creating minimalist solar watches. The brand is also geared toward sustainability in watchmaking. Solios is the first watch company to apply for the B-Corp certification. With every watch sold by Solios, they commit to protecting one acre of rainforest.
This watch from Solios is made of 316L stainless steel with 7.5 mm thickness. That's impressive, especially for a solar watch that has 6 months of power reserve. It also has a scratch-resistant sapphire crystal coating and a water resistance of up to 30 metres.
Even the packaging of their watches are recyclable and made from 100% recycled materials. There are various straps to choose from and the selection ranges from magnetic mesh, hemp nato, or even eco vegan leather.
15. Garmin Instinct Solar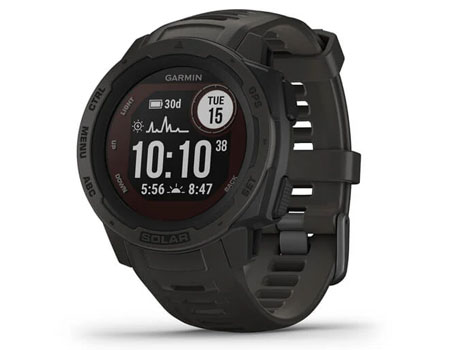 Garmin Instinct is one of the most sought after smartwatches in the industry. It's a consistent entry to the best smartwatch lists. There's a good reason why. Firstly, it's built to last under military standard 810 for thermal, shock, and water resistance. It also has great features that make it not only a great outdoor watch but every city person's must-have smartwatch.
Adding solar power to this watch only makes it an even better choice. As a solar watch, the Instinct has a better and extended battery life. It also has bolder designs and even high-contrast displays so you can see the information you need even in a bright environment.  What's more, you can pick activity-specific editions namely surf and tactical.
These editions help you train smarter and even record your activities with ease and accuracy. It also has the Pulse Ox 2 sensor, so you can determine the oxygen absorption of your body and see stress levels.
16. Casio G-Shock Rangeman GW-9400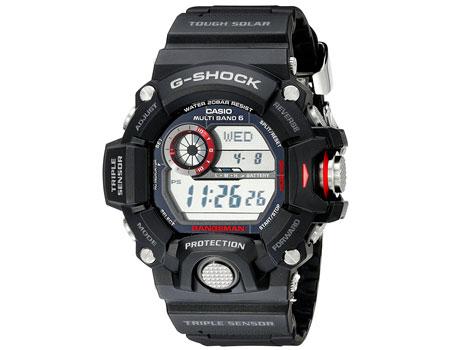 The Rangeman is also one of the best watch series from Casio G-Shock. Designed to take any and all gruelling conditions, the Casio G-Shock Rangeman GW-9400 is the ultimate outdoor watch. It has a shock-resistant Triple Sensor to help you navigate outdoors with ease. You can use the watch's altimeter, barometer, thermometer, as well as the compass.
Other features of the watch include sunrise and sunset data, as well as a one-touch time recording. You can also record elapsed time at a single touch. The watch comes with the iconic G-Shock toughness and durability. This watch was made for rangers, rescuers, and other professionals with demanding outdoor activities.
Fully-charged, the watch works for up to 7 months even without light exposure. It uses Multi-Band Atomic Timekeeping and is mud resistant! To top it all, it has 200 metres of water resistance to boot!
17. Tissot T-Touch Expert Solar II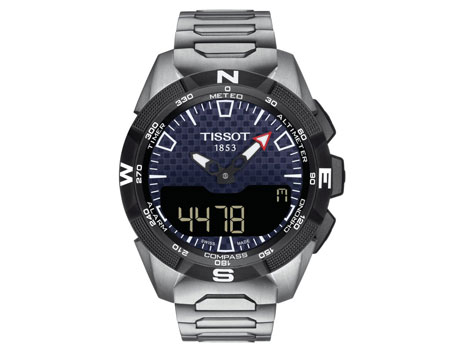 One of the premier watches on our list, the Tissot T-Touch collection is an interesting one. It has a lot of features and comes with a rugged design so you can use it outdoors. We're used to seeing Swiss brands produce mechanical watches, so the Tissot T-Touch Expert Solar II is a breath of fresh air in the market.
It's a great watch that offers all the best of a smartwatch and a rugged outdoor watch. The best part is that it's powered by light, so you don't have to worry about batteries for a while, especially when you're out on your adventure. Lastly, it also comes with 100-metre water resistance.
18. Seiko Solar Chronograph SSC017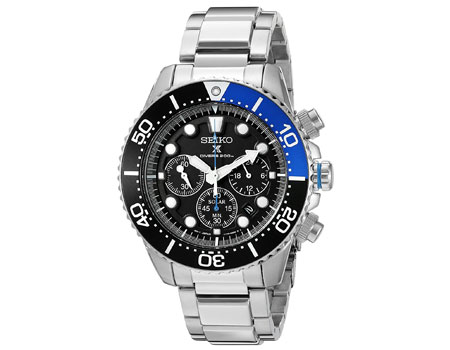 The Seiko Prospex Solar Chronograph SSC017 is a great chronograph watch powered by the sun. It comes in a 43mm stainless steel case with a mix of blue and black details that look great especially underwater. This watch comes with ISO 6425 certification as well. Aside from the chronograph function, it has a unidirectional rotating bezel as well as 200 metres of water resistance.
You can choose between a stainless steel bracelet or a NATO strap, so you can dive with ease and comfort. The power reserve of this watch is at most 6 months, so you don't have to worry about it dying on you in the middle of your outdoor adventure.
19. Citizen Eco-Drive Corso BU2013-08E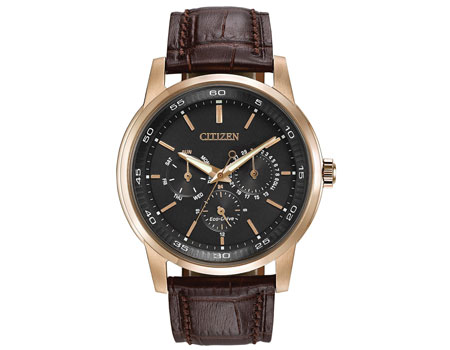 This watch from Citizen is a stunning dress watch that comes with a day and date dial. Using the brand's Eco-Drive technology, the Citizen Eco-Drive Corso BU2013-08E is also powered by any kind of light. It doesn't need a battery change, plus, it looks stunning.
Looking elegant, the watch has a great leather strap but may also come in a stainless steel bracelet. The rose gold stainless steel case contrasts the black dial. On the dial, you'll find a 12/24-hour time, as well as day and date. What's more, it also has 100m of water resistance, so you can take it for any light encounters with water!
20. Casio G-Shock G-Rescue GW7900B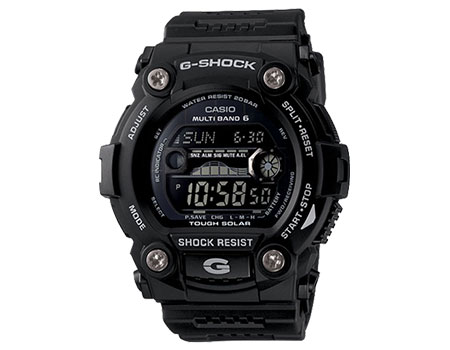 We can't get enough of G-Shock and this time, we're featuring the G-Rescue GW7900B. Part of the brand's G-Rescue series, it's made for people who need accurate timekeeping. It works perfectly for rescue staff and other demanding professionals.
This watch doesn't only have solar-powered technology but also atomic timekeeping. That means that the watch works using the Tough Solar tech and uses radio signals for accurate timekeeping. It uses Multi-Band 6 atomic timekeeping. It also has a large display and buttons for ease of use. Another feature to look forward to is the tide and moon data, which is perfect for those who work in the waters. Plus, it's water-resistant for up to 200 metres.
How do solar-powered watches work?
Powering a watch through light or solar power is one of the reliable features of quartz watches. It doesn't come with the attachment to constant battery changes or winding as with mechanical watches. So, how exactly does this work? Simple. Solar-powered watches have solar cells that absorb light. These cells convert light energy into energy stored in the batteries of the watch. A lot of people would know this already. However, not everyone understands that being "solar-powered" doesn't necessarily mean only the sun can power these watches. Any light source can ultimately work as a power source for these watches.
That said, identifying a solar watch is an easy task for many. Solar cells on watches usually come in with a purplish tint. However, as time went by, manufacturers learned to obscure these cells. After all, they're not the most aesthetically pleasing features a watch can have. Especially if you plan on getting a solar-powered dress watch, solar cells don't look all that great on your formal watch. Companies such as Citizen and Seiko cleverly sealed away solar cells without hindering their function. They are still on the dial but not as tiny purplish squares as we knew them. As a result, even traditional dials or dress watches get to enjoy the function of solar-powered technology.
Benefits of Solar-Powered Watches
Owning a solar-powered watch can work wonders especially if you're someone who's always on-the-go and doesn't have time for winding your watch or changing batteries every now and then. Here are a few reasons why you should own a solar watch.
Firstly, we all know that solar power is a renewable source of energy. That said, what makes it even better is that you don't even need the sun at all. Light energy, in itself, can come from anywhere indoor or outdoor. Whether it's the sun or fluorescent light, you can surely charge your watch anywhere.
That said, you should also consider that exposing the watch on light alone is the easiest way to charge it. You don't need to change your batteries at a service centre or even have it wound with a machine or by hand. You just need light and your watch will be good to go. This also makes solar-powered watches low maintenance compared to mechanical or battery-operated quartz watches.
Moreover, solar watches have great power reserve. It can store up to 6 months of power when not in use. This is impressive compared to the typical 2 or 3-day power reserve of mechanical watches.
If you're concerned with the environmental effects of owning a watch, then a solar-powered watch is best for you. Unsurprisingly so, solar-powered watches are more sustainable choices. Some brands, as mentioned above, use recycled materials for the watch, even using vegan leather for their straps.
The Rise of Solar-Powered Watches
As technology develops, many watch manufacturers also get creative with their watches. You can see just from the entries on our list how solar power can be used not only on a tactical watch but also on smartwatches and dress watches. It's definitely one of the many demands of today's tech, especially with the fight against climate change.
---
Looking for more reliable watches? Check out our review of the best ceramic watches and their pros and cons.