German watches. They're not as popular as Swiss-made ones but I'd be lying if I said they aren't at par with them. If Switzerland has Zurich and Geneva, then Germany has Glashütte and Pforzheim. That is to say, the Swiss aren't the only watchmaking wizards in western Europe. In fact, the Germans also have their fair share of finely-crafted timepieces.
Proudly Made in Glashütte
When it comes to German watches, "Made in Glashütte" is more than just a phrase. It is an achievement. To earn it, it's not enough that the brand is based in the country. These high-quality German watches need to have at least 50% of its parts produced in Germany.
It is important to note that only selected companies are allowed to use it. So bearing that seal means a great feat.
The Hallmark of German Watches
But what exactly sets German watches apart from their Swiss counterparts? The answer is in plain sight. Apart from the obvious "Made in" print on the dial, many German watches follow a design principle — an idea which you call the Bauhaus movement.
The Bauhaus Movement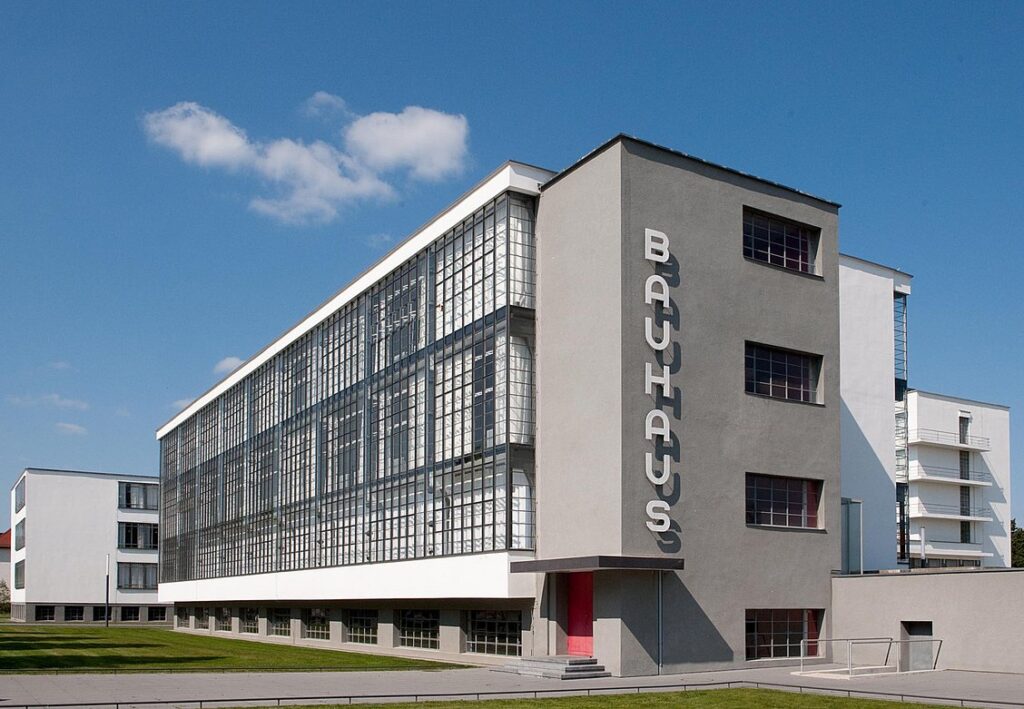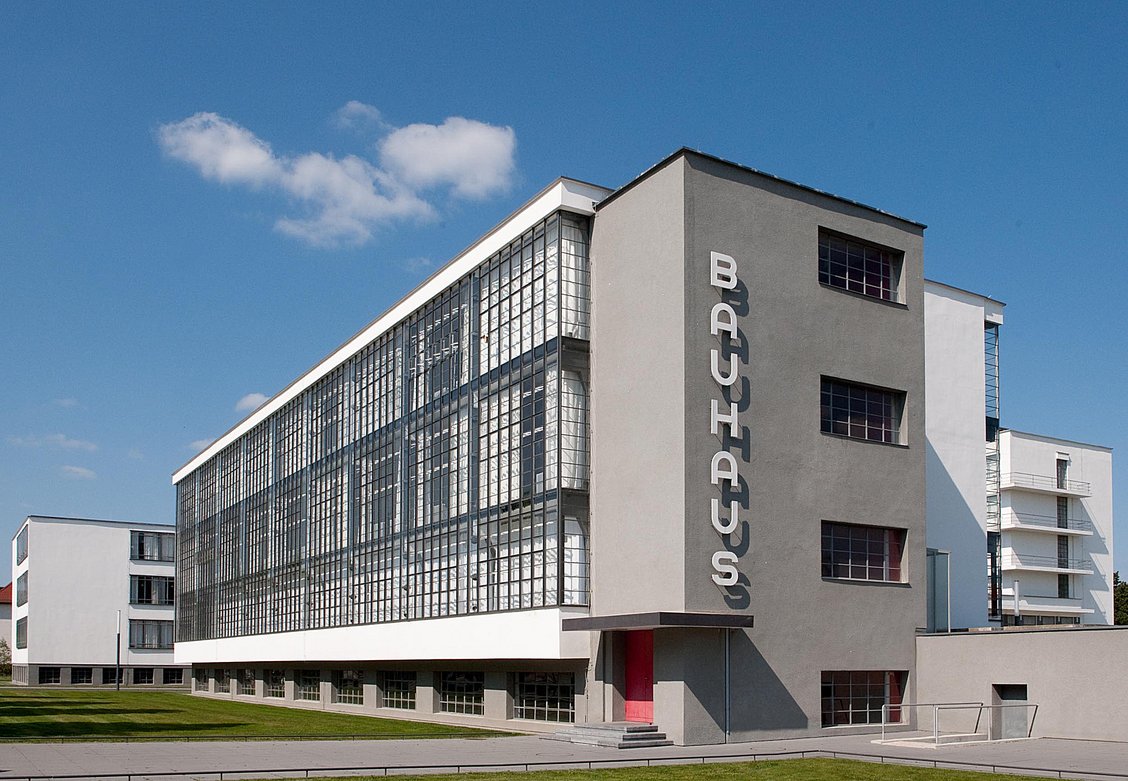 Bauhaus, which literally translates to "construction house" was a German art school that operated from 1919 up to 1933. Among the many art schools, this one stood out from the rest specifically because of its unique approach. Eventually, because of its influence, it became a modern art movement. It even influenced the design of not only German watches but some Swiss watches as well.
How many watches do you own that have fancy functions? As a follow-up question, how many times have you maximised those features? These are the questions that the followers of the Bauhaus movement will ask. To put it simply, they believe in the concept that form should follow function.
Form or Function? Why Not Both?
As stated above, what the Bauhaus movement tries to achieve is to strip something down to its basic form so that it does what it's supposed to do excellently. In other words, they love to keep things minimalistic.
They believe that art should not only look good. It should have a purpose. If you're going to put something, there should be a reason why. We'll get to see this principle in action in the recommended German watches below.
But just because it has less design doesn't mean it's easier to achieve. If truth be told, creating a minimalistic design is no joke. There's a big challenge in making something simple stand out.
Top German Watches with a Bauhaus-inspired Design
Whether you're filling a hole in your collection or just starting, your choice of German watches is limitless. Here are a few recommended German watches for you to watch out for.
1. Sternglas Naos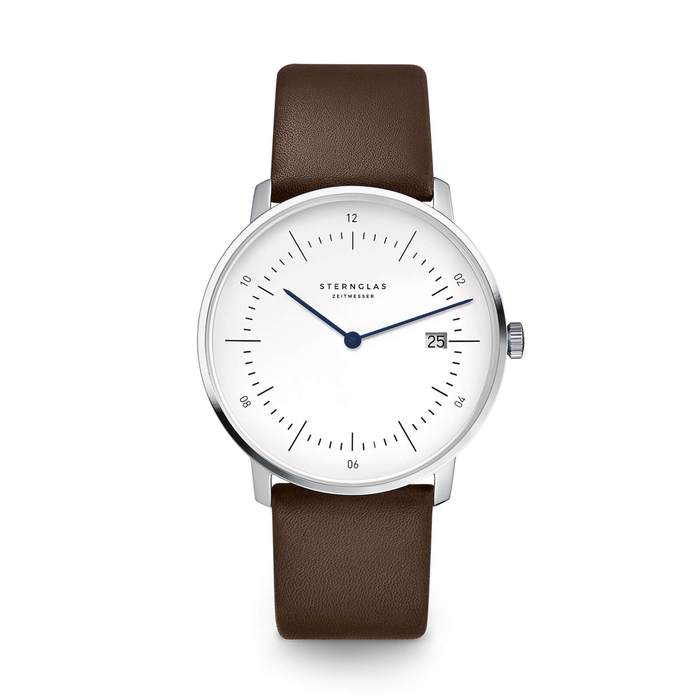 If there's one thing that best describes Sternglas, it is the word Bauhaus. The brand is known to make watches with the art movement in mind. One fine example is the Sternglas Naos.
The Naos, which started as a crowdfunding campaign, is now one of the most popular German watches for a good reason. Apart from its relatively inexpensive price, it features a classic Bauhaus design.
To keep things simple, they did away with the seconds hand. The Naos designers believed that stripping it away will make the watch less distracting. Meanwhile, the rest of the markers use a uniform colour for extreme readability.
2. Sternglas Junis 34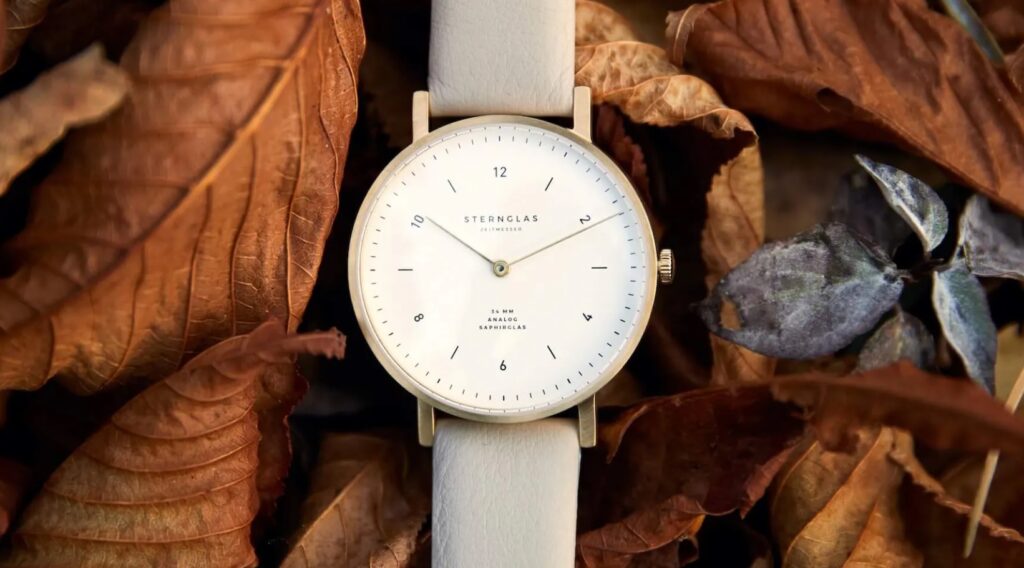 The Sternglas Junis 34 was made especially for the ladies. As seen in its name, this timepiece is smaller than the average, with only a size of 34mm. And according to the brand, it is the smallest watch in their lineup.
The dial is very Bauhaus with thin indexes and numerals to tell the time. Meanwhile, the matte brushed stainless steel case is like the icing on the cake. It elevates the watch's elegance while keeping it simple.
3. Nomos Metro Date Power Reserve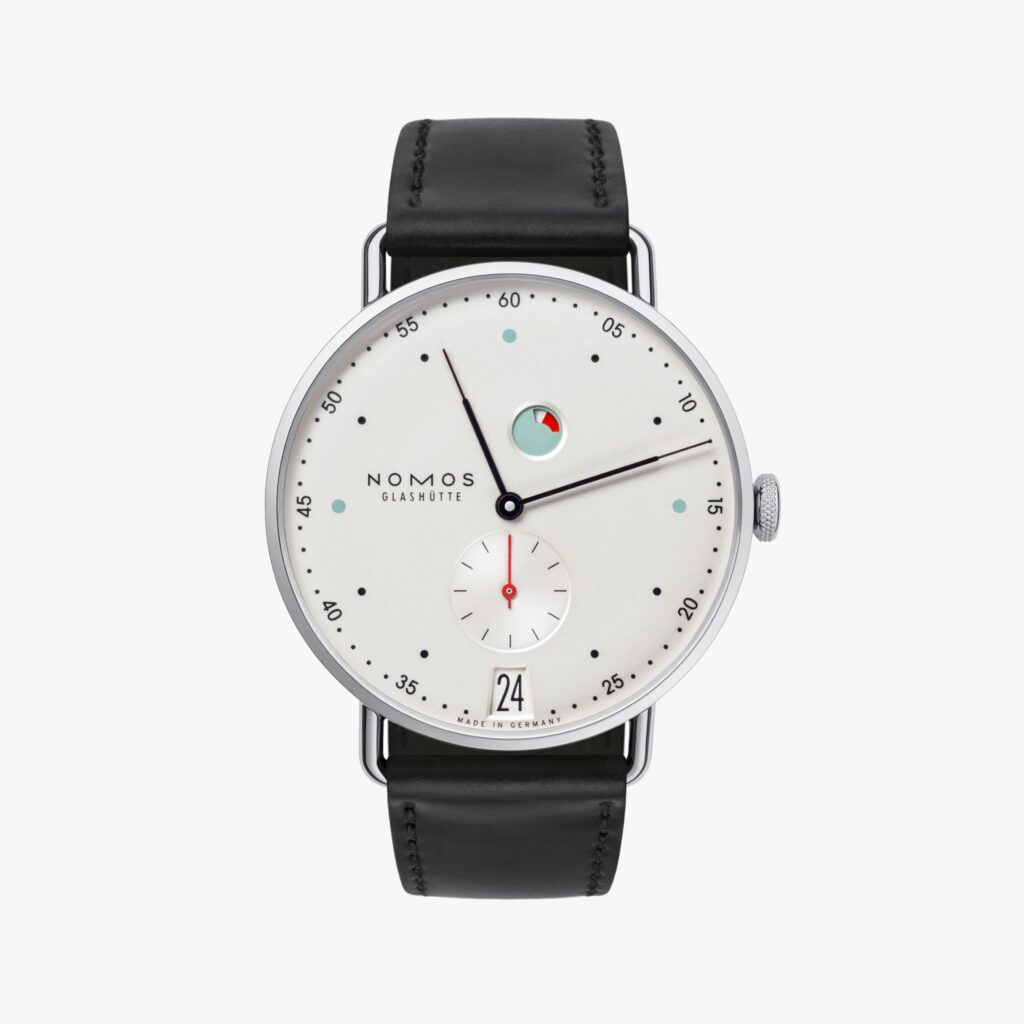 It is very easy to say that the Nomos Metro Date Power Reserve belongs in a modern art gallery. Just look at it. While this model is a bit bold for a Bauhaus watch, it still clings to the idea of the art school.
Following the Bauhaus principle, the circular mint green you see isn't just for show. It is a power reserve indicator that reminds the wearer when it's time to wind the watch. This goes to show that even minor details of its outstanding design have a purpose.
Beyond looks, the Metro uses Nomos' very own Swing System, proving once again that German watches are advanced in horological technologies.
4. Nomos Tangente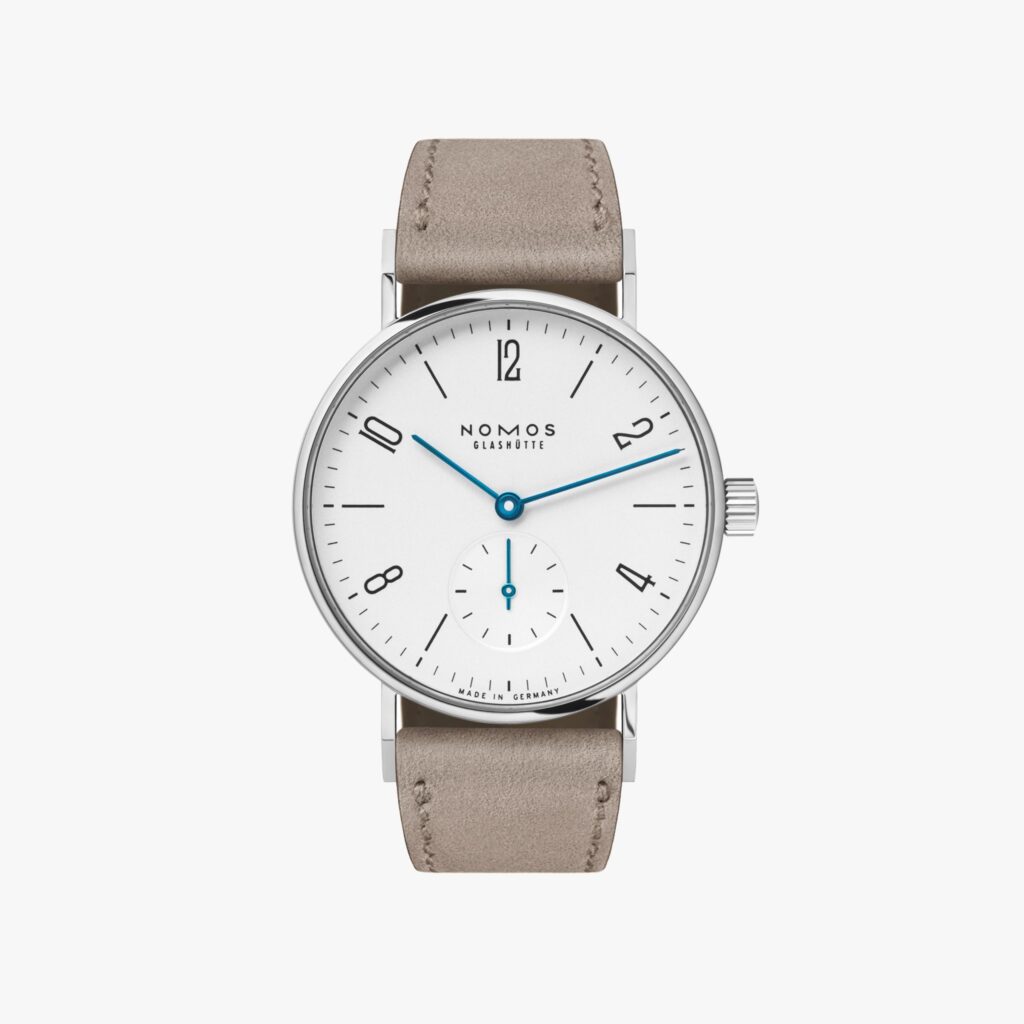 If there's one model that embodies Nomos, it's the Tangente. Even the brand calls it the "epitome of a Nomos watch". If you don't believe it, then let its sales chart speak for itself. For over 25 years, it has been their bestseller.
This classic Bauhaus watch comes in a matte dial. Other than the hour markers, it only features a small subdial on top of the 6th-hour marker.
At the back, you'll be able to see a clear caseback so you can admire the craftsmanship of the movement.
5. Nomos Club Campus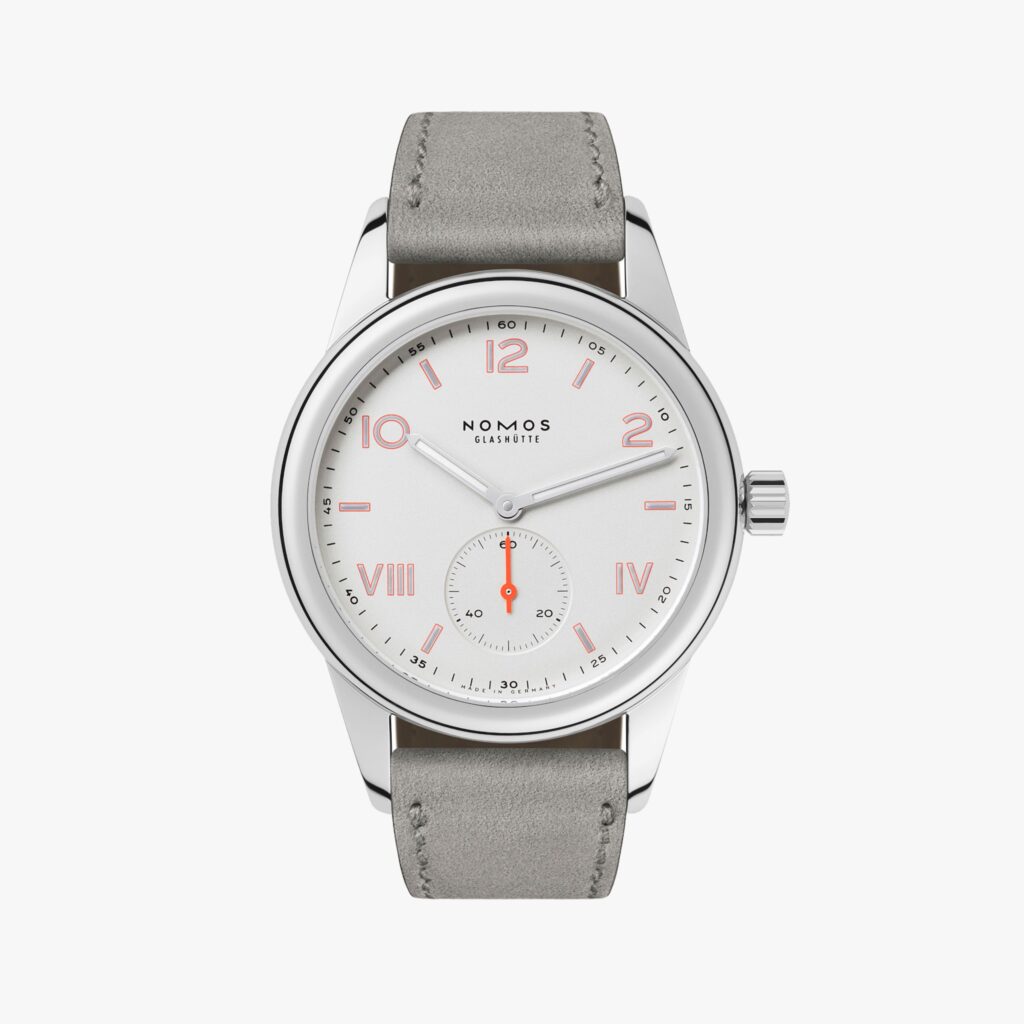 German watches can be expensive. The two other Nomos models in this list, for instance, can run up to $3,000. For those who are new to this or want to keep their budgets in check, we have good news for you. It goes by the name Nomos Club Campus that goes for half the price of the other two.
While it is cheaper, it is not to be underestimated. The Nomos Club Campus has its charm. To keep things exciting, it tells time in two languages — Arabic and Roman numerals are printed in bold and large typography. This might seem a little too much for a minimalistic watch. However, Nomos magically keeps the dial clean and simple. If anything, it even made the dial more legible.
6. Stowa Antea Klassik KS
Unassuming and simple yet elegant enough to be a dress watch. This best describes the Stowa Antea Klassik KS. What's more, people often compare it to the Tangente. Side by side, they do look similar. However, the Stowa Antea is the better option if you're tight on budget.
Like the Tangente models before 2005, the Antea Klassik uses the Peseux 7001 movement. This goes to show that this beauty is also great on the inside as well as the outside.
The Stowa Antea Klassik KS is your best bet for a cheaper Nomos Tangente alternative.
7. A. Lange & Söhne Lange 1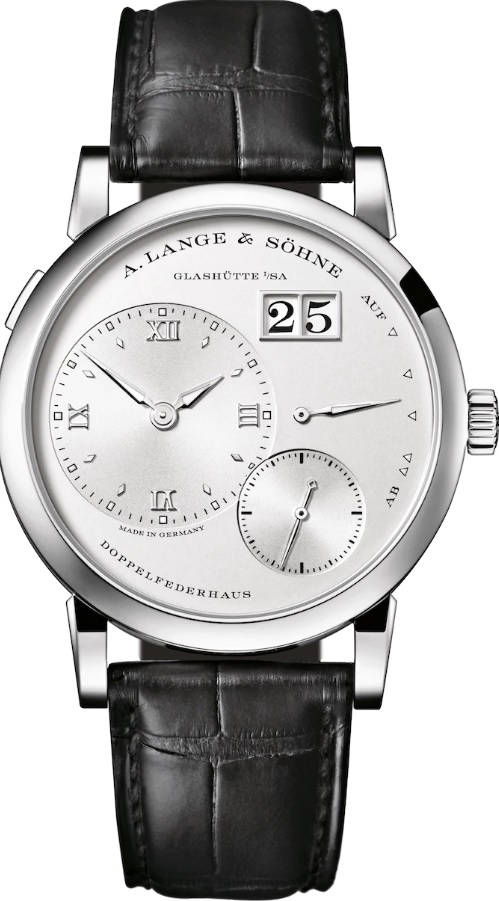 All rise for one of the OG German watches. A. Lange & Söhne, alongside Stowa, produced one of the first Bauhaus watches in history. That is why this list will not be complete without their Lange 1. The brand even calls it their living legend and the epitome of Lange watchmaking.
Aesthetically speaking, the Lange 1 is a melting pot of traditional and modern designs. It keeps the outer dial simple by using small dots as hour markers. The subdials, despite being scattered, look harmonious with the rest of the watch.
The other elements and markers were carefully placed on the dial to keep it easy to read. And, as we all know, legibility is a big deal when it comes to Bauhaus watches.
8. Junghans Max Bill Automatic 100 Jahre Bauhaus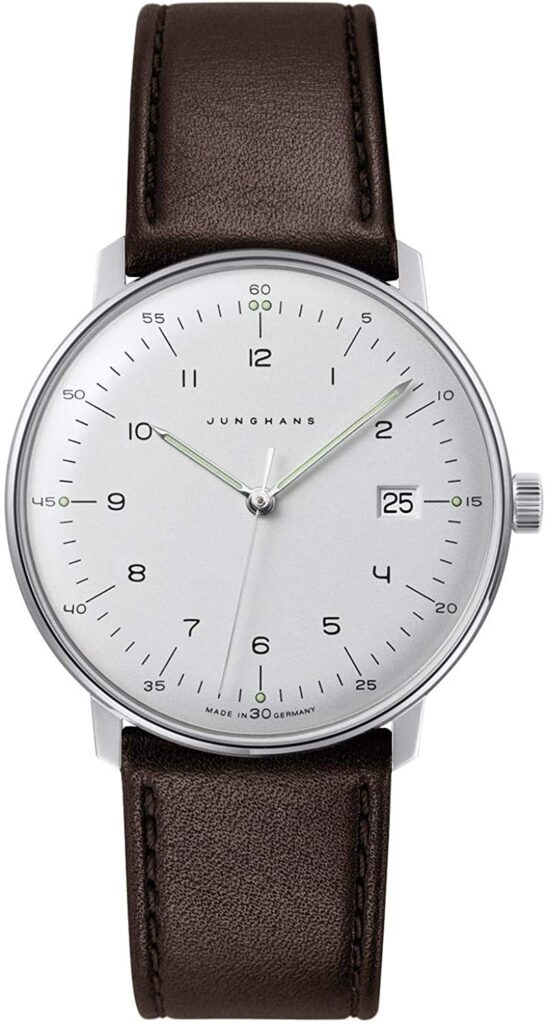 First off, Max Bill was a Swiss designer and architect. However, this does not make the Junghans Max Bill Automatic 100 Jahre Bauhaus any less of a German watch. Need proof? Just Google the person this watch was named after. You'll see that he contributed a great deal to the Bauhaus philosophy.
To make my case stronger, the watch's design was inspired by the Bauhaus building itself. Its matte silver dial honours the building's white walls. Meanwhile, the touches of red were borrowed from its famous red entrance.
The design on the caseback is also a treat. It bears a graphic design of the Bauhaus building. Its windows serve as a cutout where you can observe the gears of the watch.
9. Junkers Bauhaus 6050-5 Watch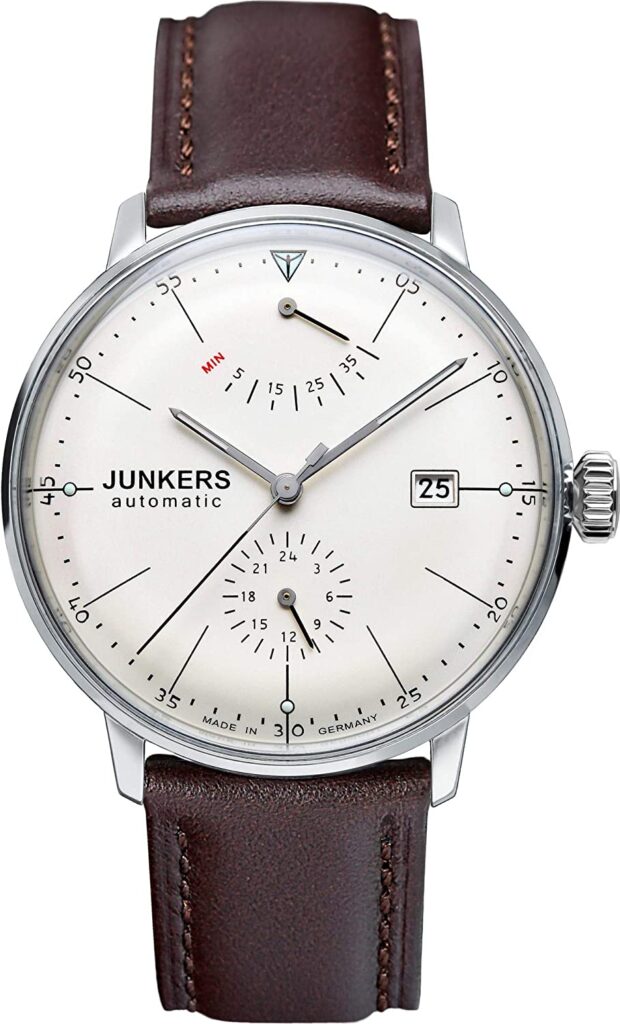 The Junkers Bauhaus 6050-5 watch can be seen as the child of a pilot and Bauhaus watch. Indeed, the brand's German roots and connection with aviation proved to be a pleasing combination.
This watch features a cream dial with nothing but lines and dots to tell the time. Without a doubt, this timepiece is the perfect blend of classy and modern.
People often call this watch the "poor man's Max Bill". However, this can be considered a compliment. It truly is amazing when a brand can sell something cheaper but with a quality that's on par with the other. Its friendly price tag makes it a great option for people who are just getting into German watches.
10. a.b.art FN41-001-17L Bauhaus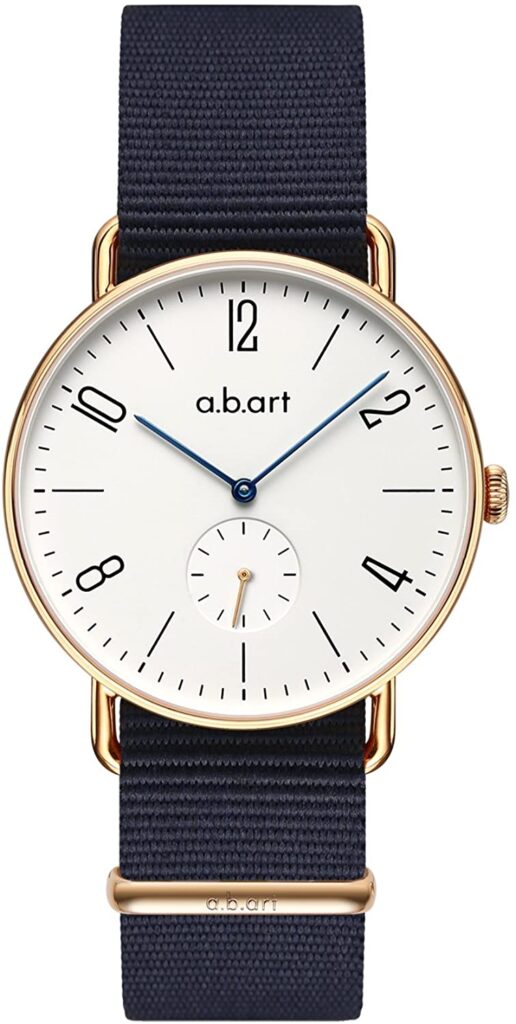 The a.b.art FN41-001-17L Bauhaus is one of the cheapest German watches you can find. But don't be fooled by its inexpensive price tag. It still makes for a great item in your collection.
It ticks all the checkboxes that make a Bauhaus watch. Focused on being functional? Check. Minimalist? Check. With its price, you'll get more than what you paid for.
11. Defakto Akkord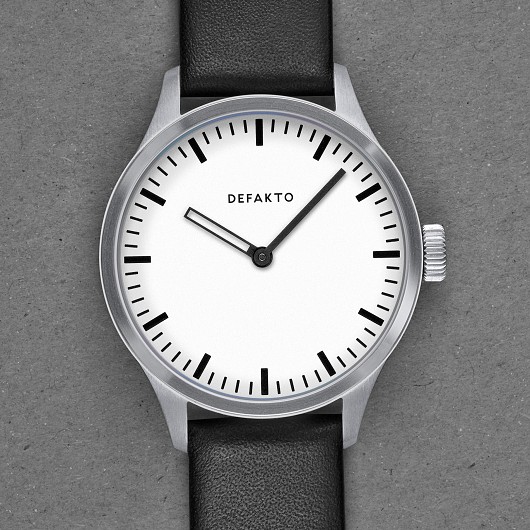 The Defakto Akkord is one of the newest German watches on the market. The independent brand has only been around a little over a decade.
This simple yet striking model offers great readability. That is thanks to its contrasting colour scheme. The dial is also semi-coarse to give it a subdued texture. Furthermore, it is powered by an accurate ETA 2824 automatic movement.
Its simple design is perfect to be worn casually on a daily basis. Yet it is elegant enough to not look out of place under a suit jacket during fancy dinners.
12. Braun AW 10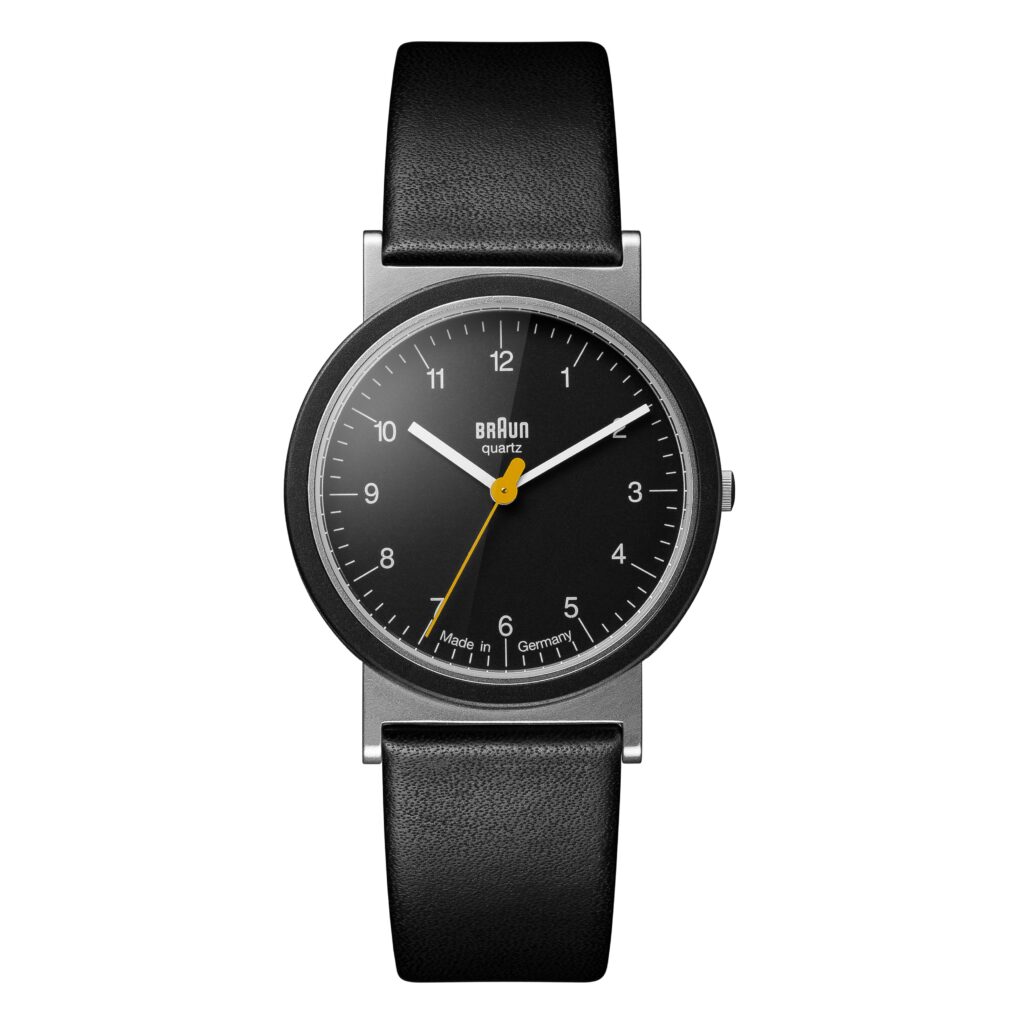 Other people would say "less is more", but Braun would rather say "less but better". Indeed, this philosophy can be seen in their lineup of watches.
The AW 10 is the brand's first analogue wristwatch. And it was born out of the brand's vision to create a watch that showed time in the most functional way possible.
While they kept the dial simple, Braun was not afraid to add a touch of colour to it. To illustrate, the seconds hand comes in a bright yellow hue. It's a great way to make the watch more exciting. 
13. Kent Wang Bauhaus Watch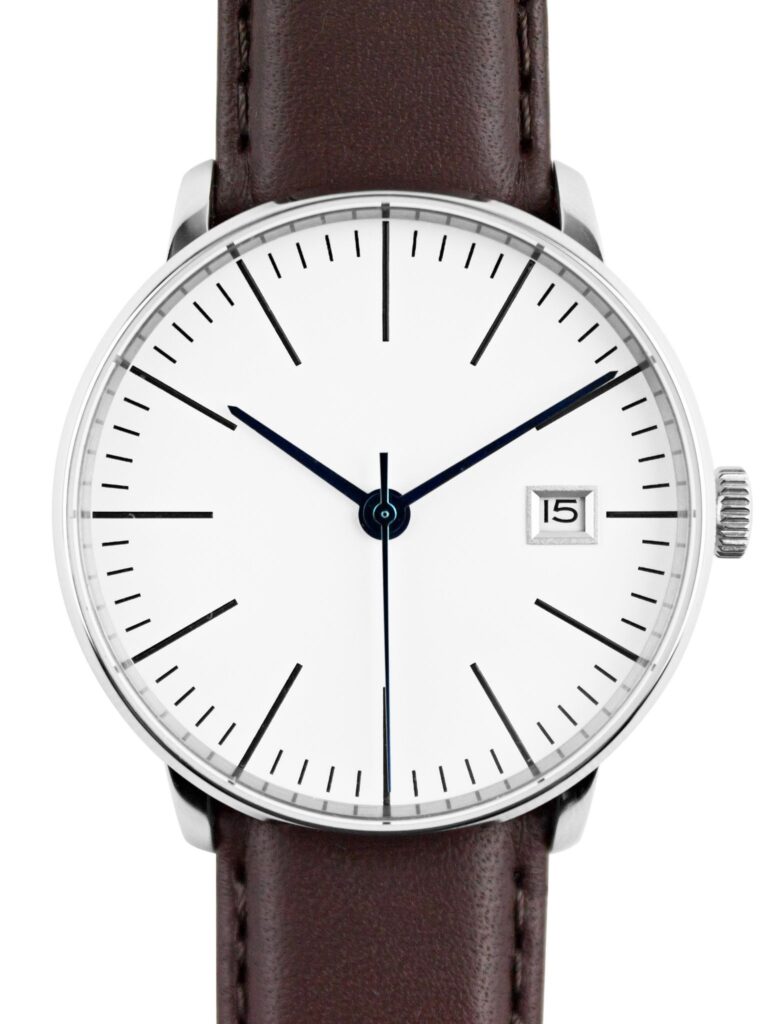 Kent Wang isn't German. In fact, it's not even originally a watch brand, but please hear me out. The Kent Wang Bauhaus is listed among these great German watches for good reason.
Firstly, it has a very evident Bauhaus design. Its dial is as minimalist as it can get. It contains no logos, no text, and no numbers save for the small date window. And for $395, it is equipped with the Miyota 9015 automatic movement that has a power reserve of 40 hours.
The logo-less design is also an advantage for those who like to keep their accessories low-key. In truth, it is rare for German watches or even watches, in general, to not plaster the logo on the dial.
Why Consider German Watches?
The Germans are outstanding when it comes to both engineering and art. And these characteristics show in their watches. Sure, a watch's functions are important. But they make sure that form isn't left out. 
Currently, the term "Swiss made" is like the trump card in the world of horology. But it is important to note that their fellow European is catching up fast. And it will be no surprise if one day, the seal "Made in Glashütte" will be seen on the same level as "Made in Switzerland".
It doesn't matter whether you're a long-time collector or a newbie. You can never go wrong with a Deutsch watch in your closet.
In the market for a new timepiece? Check out this watch buying guide before you whip out your wallet!