From its humble beginnings in 1848 by founder Louis Brandt, Omega has now become one of the most prestigious brands in the world. The Swiss luxury watchmaking brand has grown from a small workshop in La Chaux-de-Fonds, Switzerland, to a worldwide success with various collections to boast, including the Omega Speedmaster, Seamaster, and Omega De Ville, to name a few.
Not only has Omega been top-of-mind luxury wear, but it has also been a favourite timepiece by the filmmaking industry, making it easily one of the most patronised luxury watch brands in the world.
With the company's beginnings as La Generale Watch Co. — Omega's original name, Louis Brandt has created custom-made key-wound precision pocket watches for his patrons from England, his primary market, to Italy and Scandinavia. Brandt crafted his creations from materials and parts supplied by his local craftsmen. Brandt's vision remains strong even after his death in 1879 as his sons stepped in to carry on a legacy.
Louis-Paul and César Brandt, sons of the founder, crafted a revolutionary mechanism that allowed for parts of their prime watches to be interchangeable. This was the beginning of the rise of the Omega brand under La Generale Watch Co. Through the years, Omega has risen through the ranks. It became known for its maintained timekeeping accuracy. In 1903, with demand proving itself powerful, the Omega brand launched as a standalone company, Omega Watch Co.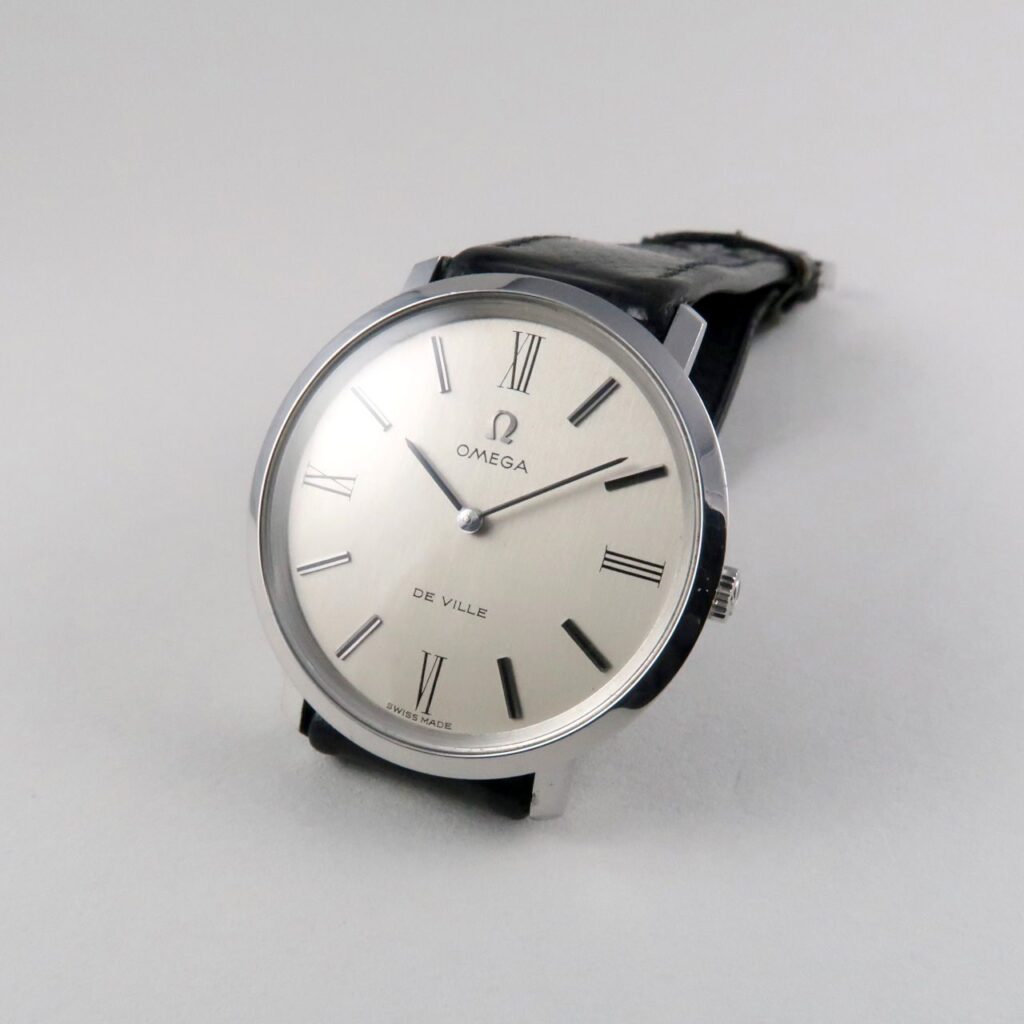 A Glimpse at the History of Omega De Ville
Known models of Omega watches continue to dominate the market. Most of it is due to each timepiece's unique components and features. From Speedmaster to Seamaster, Omega has proven itself worthy of its affluent status among enthusiasts.
One of its most exquisite line of watches is the Omega De Ville collection. Omega introduced the De Ville watches as a part of the Seamaster series. Back then, it was one of the most prominent dress watches under the line. Later, the brand decided to separate De Ville from the collection. Soon after, Omega launched the dive series. In 1963, the inscription "Seamaster De Ville" first appeared on its dials.
Due to its popularity, Omega launched the De Ville collection as a separate line, identified by a more streamlined look. Compared to the sporty appeal of the Seamaster, the De Ville collection is more refined. Like any line Omega has released, it easily became a best-seller for its variety and quality.
In the 1970s, the collection received the Grand Prize "Triumph of European Excellence". The Committee of European Excellence awarded the brand for embodying the 'art of living'. The committee recognised the collection for its quality, original creativity, and aesthetics.
The De Ville Co-Axial and De Ville Hour
Fast forward to 1999, Omega De Ville launched its first watch with the new Co-Axial calibre. George Daniels invented the Co-Axial escapement in 1974. It improved the lever escapement mechanism with some incorporations of the detent escapement. It was successfully commercialised by Omega. The brand went on to apply it on the first-ever De Ville Co-Axial. This mechanism was the first practical escapement watch launched in two centuries. Another feat for the Omega team!
Omega never stopped producing groundbreaking creations. With in-depth research, the company manufactured the new automatic calibre 8500 in 2007. Putting together the improved co-axial escapement and the automatic calibre 8500, the De Ville Hour was born. Each De Ville Hour stood out with complexity in its craftsmanship. Its remarkable dial, shielded by a scratch-resistant sapphire crystal.
Today, the De Ville collection is a growing family with sub-collections under its name. It includes Gent's Collection, Hour Vision, Ladymatic, Prestige, Trésor, and Tourbillon series. Want to know more about De Ville's illustrious lines? Keep reading for more!
The Omega De Ville Family
Omega De Ville Gent's Collection
Carefully curated, the collection bridges the gap between tradition and innovation. Each watch in the Omega De Ville Gents' Collection illustrates the company's heritage. It's seen through classic designs and a salute to the Co-Axial escapement.
In this collection, you'll find watches in 42mm case, which is either made of 18K red gold or stainless steel. Each design is marked by Roman numerals and equipped with the Co-Axial mechanism.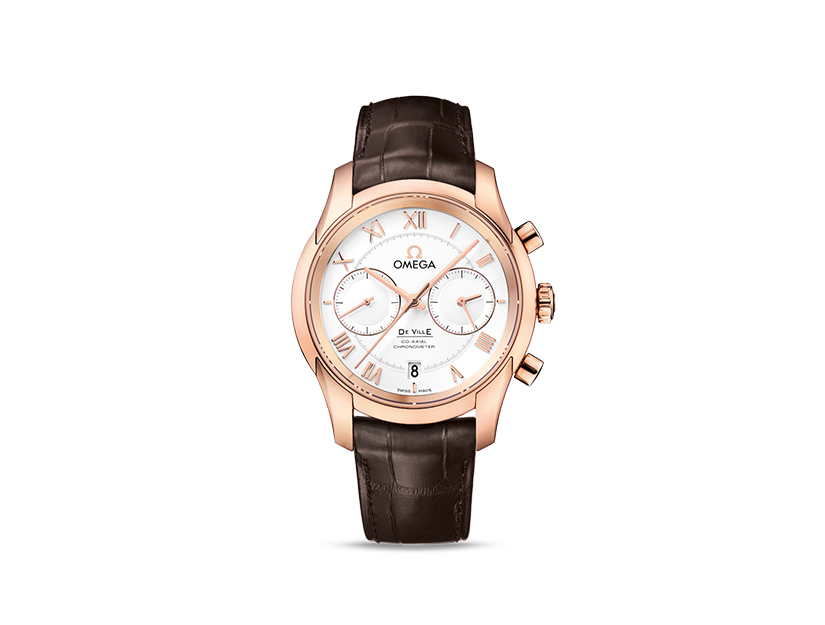 The Gents' Collection also features the chronograph member of the Co-Axial family, the Omega Co-Axial calibre 9300/9301. Establishing better accuracy and precision in time-reading, the designs include two sub-dials. A sub-dial can be seen placed at the 9 o'clock position, carefully systemised for the small seconds function. At 3 o'clock, another sub-dial incorporates both the chronograph minute and hour counters.
The Gents' Collection catalogue highlights another stand-out design. The Annual Calendar model, which features month and date apertures at 3 o'clock. Powered by the OMEGA Co-Axial calibre 8601, the watch is at its prime accuracy, and is available in either a black leather strap or a matching bracelet.
Omega De Ville Hour Vision
The
Omega De Ville Hour Vision
displays sophistication and craftsmanship. It's seen through delicate simplicity and complex mechanisms of each watch. The watches under the Hour Vision collection are all certified as a Master Chronometer.
The line is highly regarded by industry experts. It passed 8 exhaustive tests arranged by the Swiss Federal Institute of Metrology (METAS). The dials are luxury right at your wrist — available in opaline-silver, brown, bronze or blue. Each case is 41mm in diameter and come in 18k Sedna™ gold or classic stainless steel. Straps come in a variety of black, blue or brown leather options. The wearer also has the option for an 18K gold-encrusted and polished-brushed 9-row bracelet with a butterfly clasp.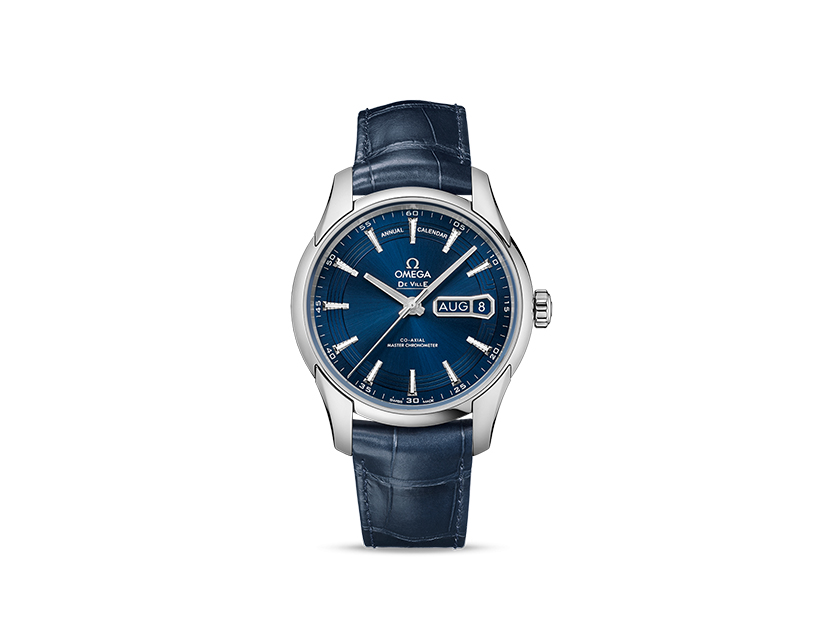 This particular Hour Vision Annual Calendar watch stays true to its De Ville Hour heritage. It features a distinctive see-through sapphire caseback. It also has a sun-brushed blue dial to complement its blue leather strap. The hour, minute and seconds hands are in 18K white gold. Select designs from the Annual Calendar Series feature a date window at 3 o'clock. Each watch will definitely bring style comfort.
Omega De Ville Ladymatic
The Omega De Ville Ladymatic line featuring self-winding timepieces was was first launched in 1955 specifically for women. About half a century later, Omega decided to revive the line. The brand revamped its features without sacrificing its known feminine grace. The new Ladymatic line features a Co-Axial calibre 8520 and 8521. Omega's elite Si14 silicon balance spring makes each design resistant to external shocks.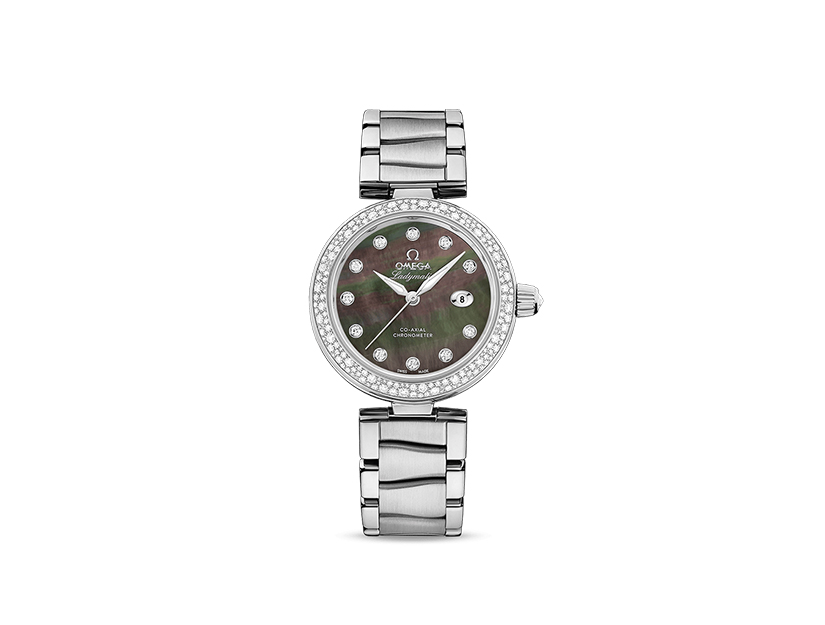 Each of the 34mm Ladymatic watches comes in various designs. You'll find it in striking 18K red or yellow gold with a titanium case body. It's also seen in stainless steel with matching case body. Some designs feature a combination of gold and steel. All designed, finished with either polished or snow-set diamond-paved bezels.
Ladymatic timepieces feature Supernova patterns on their faces. Designs are available in a variety of dynamic colours. Most of its designs feature a small date window at 3 o'clock. The designs are also available with 11 diamond-set indexes.
Omega De Ville Ladymatic Luxury Edition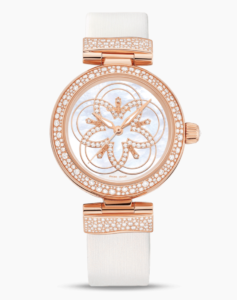 The Ladymatic Luxury Edition is a fashionable take on watchmaking. It's defined by 18K Sedna gold case that is unapologetically sensual. Designed with mother-of-pearl marquetry and diamonds, the Ladymatic "Luxury Dial" is in 18K red or yellow gold. This elevates its luxurious character to even higher standards.
Omega De Ville Prestige
The Prestige collection is one that's for the books with five sub-collections under its name: the Prestige Gents' Collection, Prestige Ladies' Collection, Prestige Orbis, Prestige Butterfly, and Prestige Dewdrop. 
De Ville Prestige Gents' Collection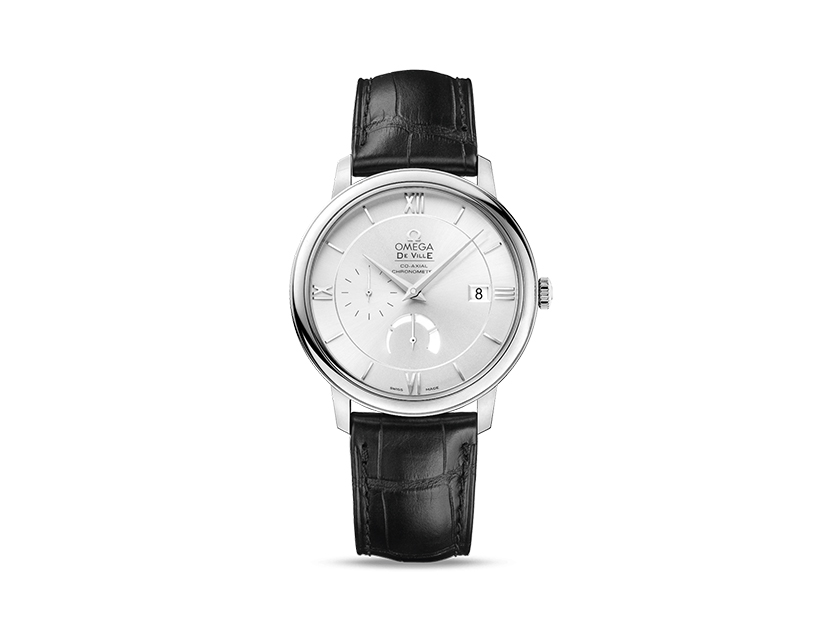 Known for its pure classic styling, the Prestige Gents' Collection is one of the line's best-selling sub-collections. The Co-Axial design offers a variety of styles and a combination of materials perfect for every man. The designs are characterised by two diameters — 39.5 or 36.8mm — both equipped with the Omega Calibre 2500. Meanwhile, the Co-Axial Power Reserve watches feature a power reserve indicator on the dials powered by the Calibre 2627. The Co-Axial Power Reserve watches are determined by leather straps and 39.5 mm cases in 18K red, white or yellow gold, or in stainless steel or sometimes in bicolour colourways.
De Ville Prestige Ladies' Collection
One for every woman, the Prestige Ladies' Collection is a new take on a classic with a definitive retro touch. Each design is simple and elegant with contemporary styling and state-of-the-art mechanisms. The collection comes in stainless steel, 18K red gold, 18K yellow gold, or in bicolour versions with polished central hour, minute and seconds hands. The collection is also available in 32.7mm and 36.8mm models with diamond-paved butterfly and 50 full-cut diamonds on the bezel.
The Ladies' Collection includes the Co-Axial 32.7mm and 36.8mm watches and De Ville Prestige Quartz in 27.4mm and 24.4mm options for people who prefer smaller watches. 
De Ville Prestige Orbis Collection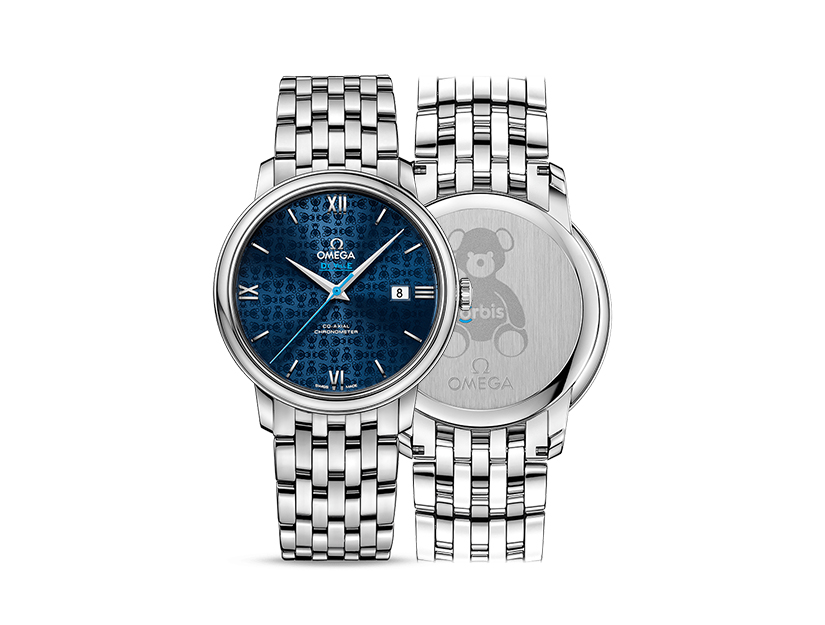 In celebration of Omega's partnership with Orbis International and its Flying Eye Hospital, the Swiss watchmaker launched the Orbis Collection defined by the Orbis colour blue. Each watch includes an inspired teddy bear pattern on the dial and comes in a specially engraved Orbis caseback. A portion of each sale from the collection is donated by Omega to continue fighting curable blindness. Each watch is made to perfection with Omega's Quartz Calibre 1376 with polished-domed Roman numerals, eight diamond indexes, and rhodium-plated hands.
The collection also includes a men's 39.5mm model distinguished by polished-domed Roman numerals and a ladies' 32.7mm model characterised by a white mother-of-pearl dial and eight diamond indexes, both powered by Omega's Co-Axial Calibre 2500 and features a date window.
De Ville Prestige Butterfly Collection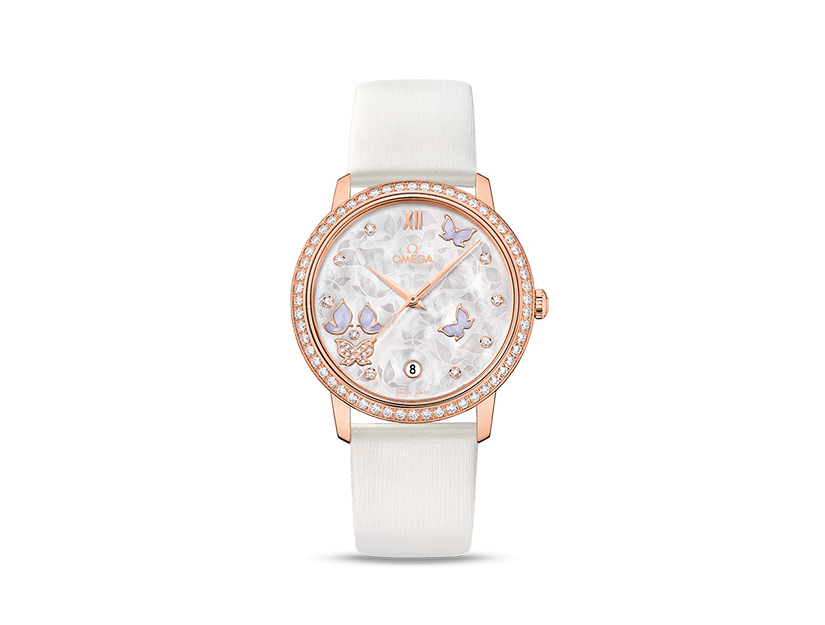 The Omega De Ville Prestige Butterfly embraces nature as an aesthetic. Timepieces in the collection come with a delicate satin-brushed leather strap. The collection is available in three captivating designs. This includes one with a champagne-silver dial with a unique butterfly pattern. Another design features a mother-of-pearl dial with a diamond-paved butterfly between 7 and 8 o'clock. The third design displays a matte transferred butterfly outlines on a mother-of-pearl background. Eight or nine diamond indexes embellish the three dial designs. The timepieces from the Prestige Butterfly collection come in 36.8mm and 32.7mm sizes in 18K white, red or yellow gold.
De Ville Prestige Dewdrop Collection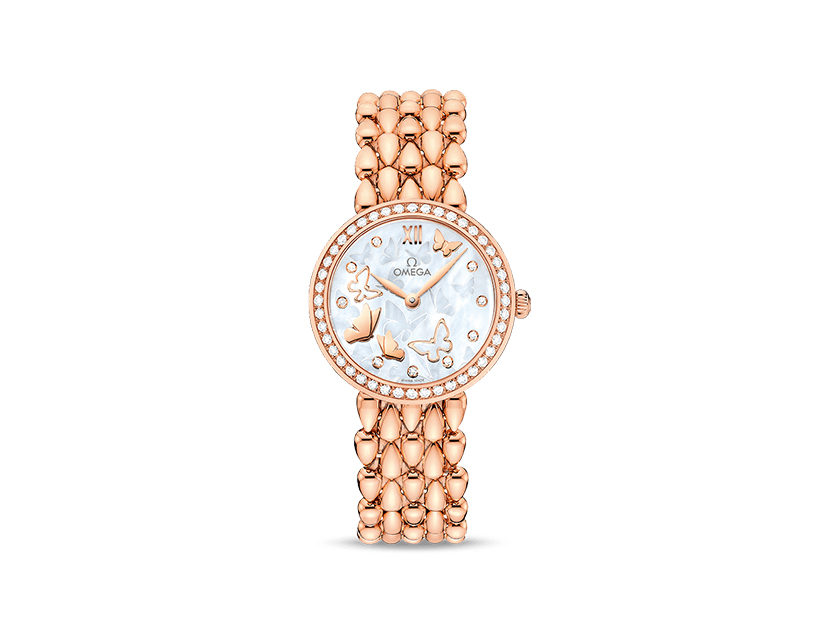 A stand-out collection, the Prestige Dewdrop features exceptional aesthetic for its eye-catching bracelet made of 18K red or yellow gold beads that form its iconic look. Some designs include a single dewdrop on either side of the case connecting the face to a uniquely patterned leather strap that comes in a variety of colours. The collection comes in two models; one powered by the quartz calibre 4061 and the other by Co-Axial calibre 2500. 
25th Anniversary De Ville Prestige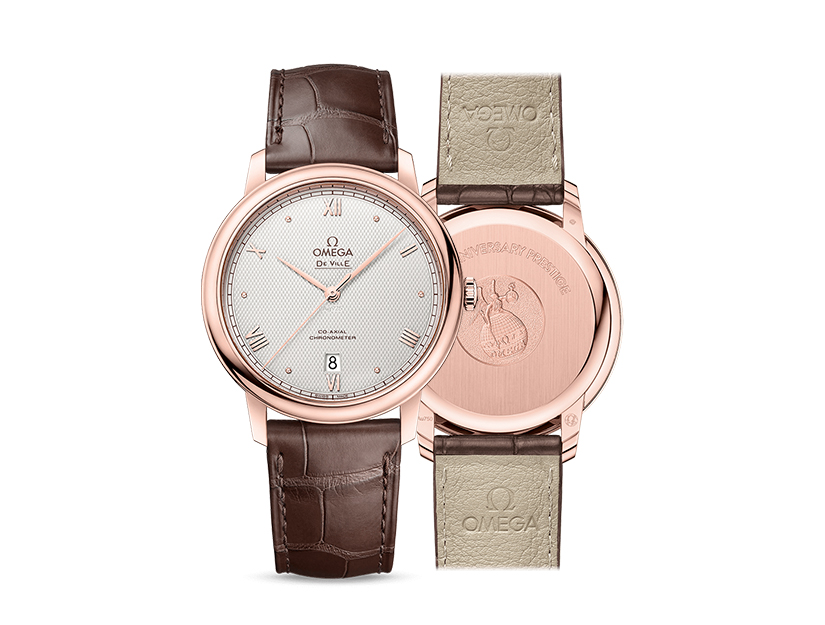 To celebrate the 25th anniversary of the De Ville Prestige in 2019, Omega released a timepiece in 18K Sedna gold. Find the commemorative case stamped with Ag925 on its original silver dial. 
Omega De Ville Trésor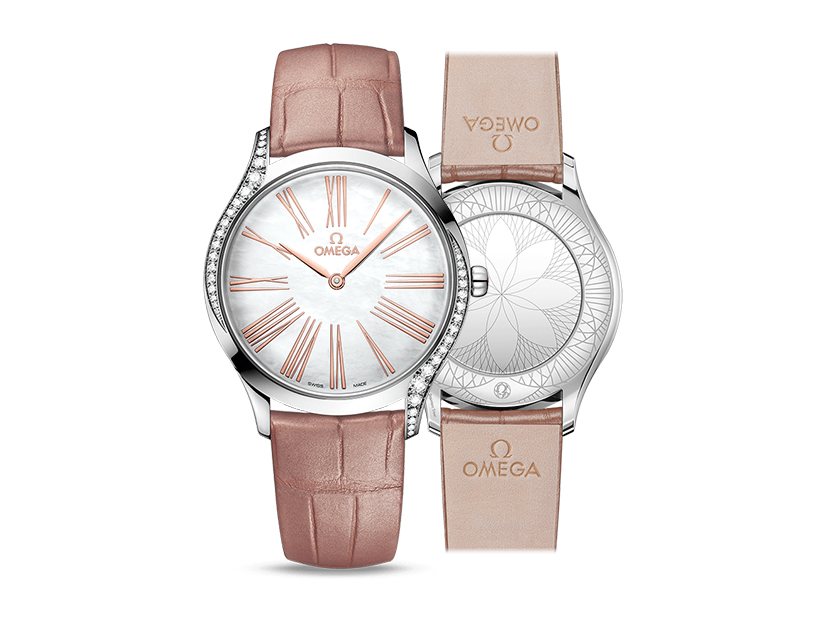 In 1949, Omega referenced the precise movements inside a De Ville watch using the word Trésor. Today, this innovative timepiece collection nods at Omega's history of watchmaking by taking inspiration for its designs while applying modern technology and contemporary finishes to its aesthetic. The collection comes in 39mm or 36mm sized thin cases enhanced by leather or fabric straps for variety.
The De Ville Trésor is defined by diamond-paved bezels made by carefully hand-picking a row of high-quality diamonds selected to fit the indentions on the curves along each side of the case. Beneath each elegant dial is a calibre 4061 for a quality precision in reading time.
De Ville Trésor Luxury Collection
Omega launched two new De Ville Trésor designs with an additional luxurious impact. You'll find designs in 18K Canopus gold and 18K white gold Roman numerals studded by 262 diamonds! The models come in either a blue aventurine dial and a blue leather strap or a mother-of-pearl dial and red garnet leather strap.
De Ville Trésor 40mm Collection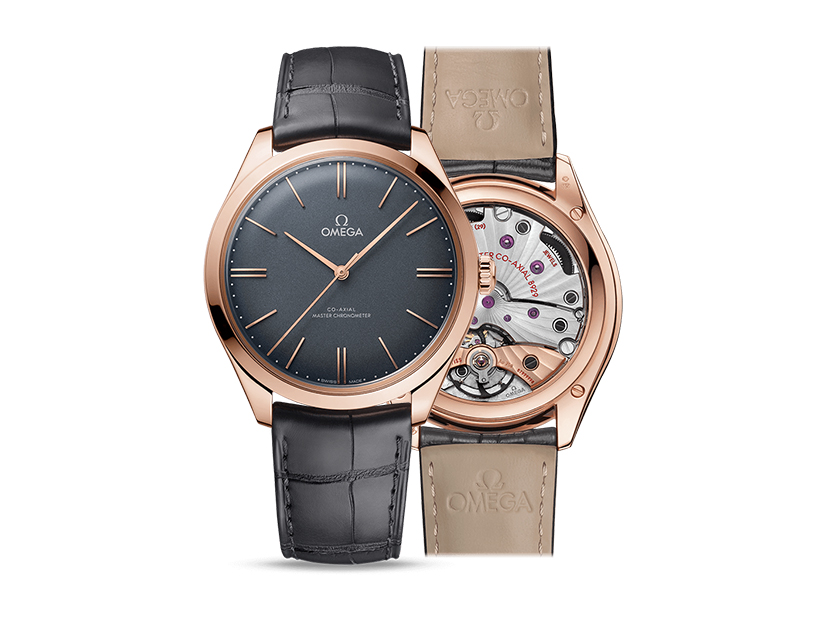 Launched primarily with its legendary 30mm watches, the slim Trésor line was a classic timepiece back in 1949. With innovative adjustments made to the design, we can now find 40mm cases in 18K gold or stainless steel versions. 
Introducing the manual-winding Master Chronometer movement into the Trésor collection, Omega has successfully incorporated modernity in its classic designs. The dials of the De Ville Trésor 40mm Collection are domed and enhanced by a range of colours, styles, and materials. The designs include enamel dials or a brass-stamped pattern. 
De Ville Trésor 125th Anniversary Collection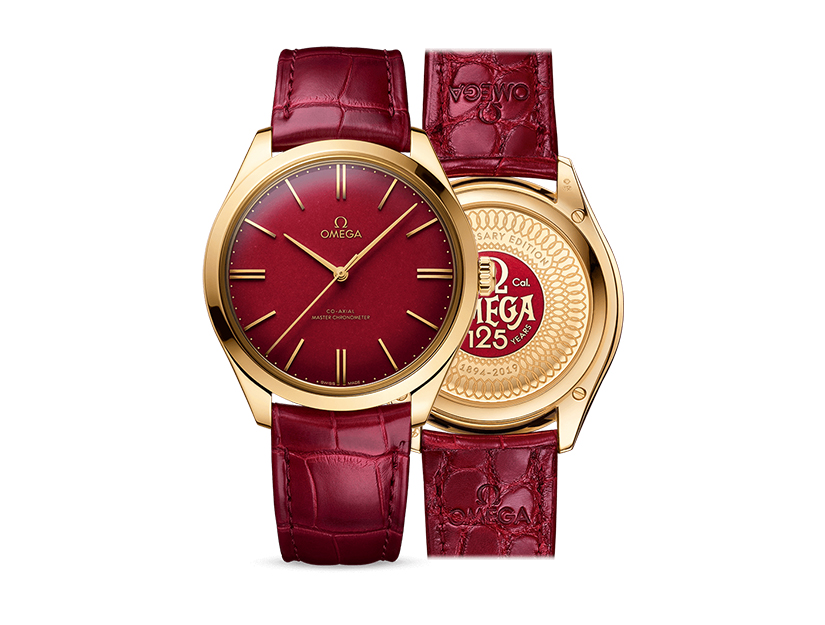 To celebrate the 25th anniversary of the De Ville Trésor collection, Omega launched a special timepiece. The new Trésor comes in a 40mm case in 18K yellow gold and red enamel. This edition of the De Ville Trésor is, of course, powered by a METAS-certified Master Chronometer movement from Omega.
Omega De Ville Tourbillon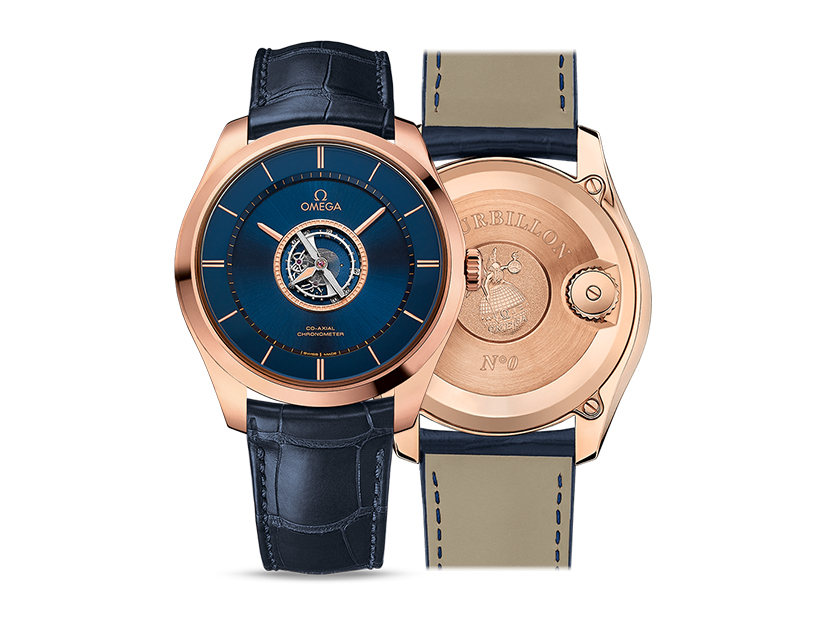 Introduced in 1994, the Omega De Ville Tourbillon collection is, undoubtedly, a sublime representation of the art of watchmaking. Select horologists craft the timepieces at Omega's Cellule Haut de Gamme in Bienne. Raw in its essence, the De Ville Tourbillon uniquely displays the science of watchmaking.
The central 60-second tourbillon cage's rotation offsets the effect of gravity on the performance of the watch. The watch also comes in a Co-Axial 44mm blue timepiece. It has a hand-finished tourbillion cage sitting at the centre of the dial. The seconds hand? Made of 18K Sedna gold. Be delighted with the engraved case back of the 44 mm Tourbillon. On it, you'll see a God Chronos medallion. The word "TOURBILLON" and edition number mark its case back.
Celebrities and Their Omega De Ville Timepiece of Choice
Many storied names from various industries patronise Omega and their high precision watches. We have, of course, seen these timepieces on both the silver screen and on TV. You've probably seen Omega on James Bond movies and the hit US television series NCIS. Not to mention, Omega is the first watch to ever reach the moon. Buzz Aldrin wore it during the historic moment. Want to know who else wears timepieces from the Omega De Ville family? Check out the list below.
George Clooney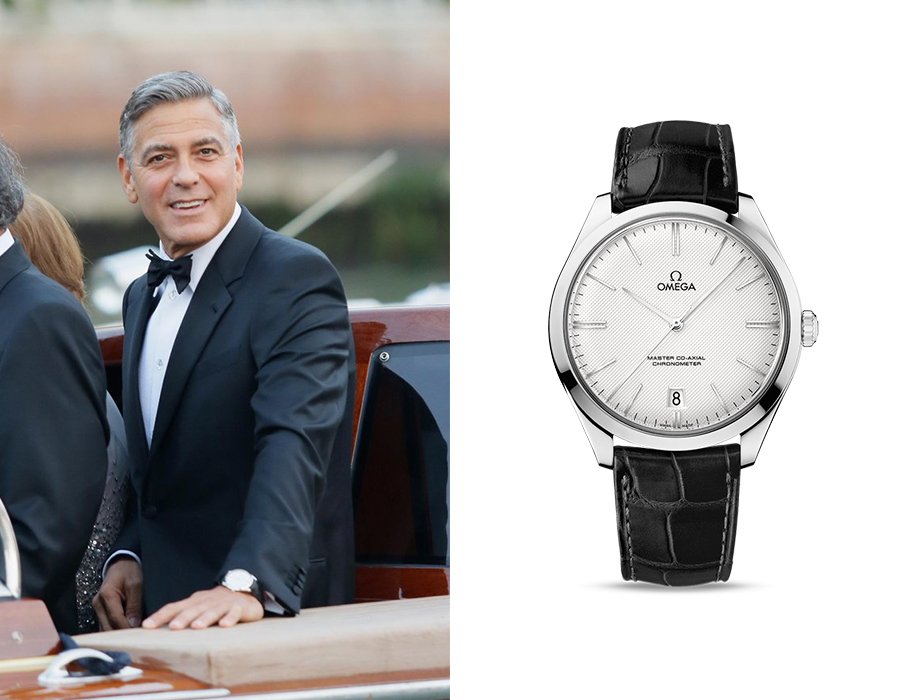 It's no secret that George Clooney — a man who needs no introduction — is a fan of Omega. Clooney lets his Omega timepieces accompany him on various occasions. He even wore it at his wedding with humanitarian and barrister Amal Clooney. Clooney, the brand's ambassador, has a bunch of designs to choose from. However, it seems that he's all for the Omega De Ville Trésor in 18K white gold. The actor was also seen wearing a steel-cased Omega DeVille Hour Vision with a black leather strap in the movie Up In The Air with actress Anna Kendrick.
Nicole Kidman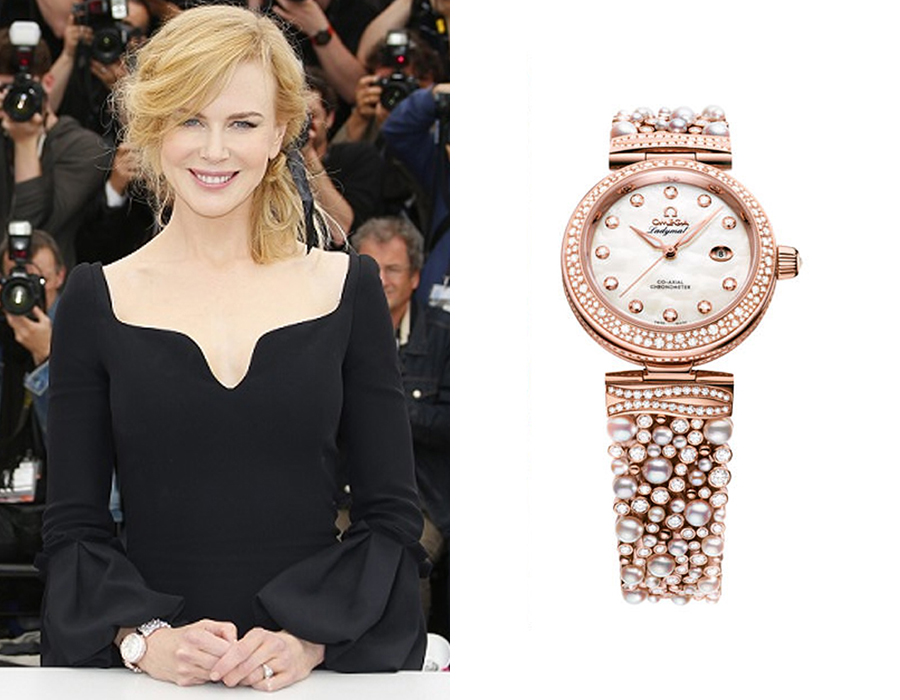 Nicole Kidman turns magazine pages with her classic glamour. She has also been sporting various Omega De Ville designs on numerous events. She wore an Omega Ladymatic Diamonds and Pearls at the 66th Cannes Film Festival.
Kaia Gerber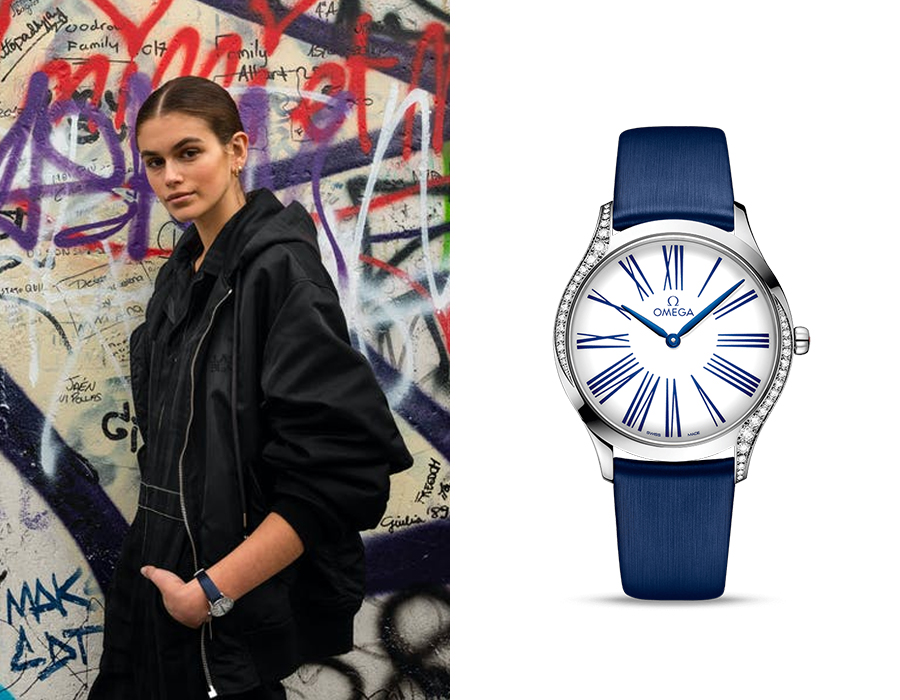 Model Kaia Gerber is not only an ambassador for Omega but a known collaborator of the brand. In the collaboration, Kaia and Omega have produced two new camo straps for the De Ville Trésor. But Kaia has been sporting the brand on casual occasions. She donned a 36mm De Ville Trésor Quartz in various magazine shoots since becoming an Omega ambassador. Gerber also elevates street style with an Omega De Ville Prestige Quartz Butterfly Watch.
Jon Hamm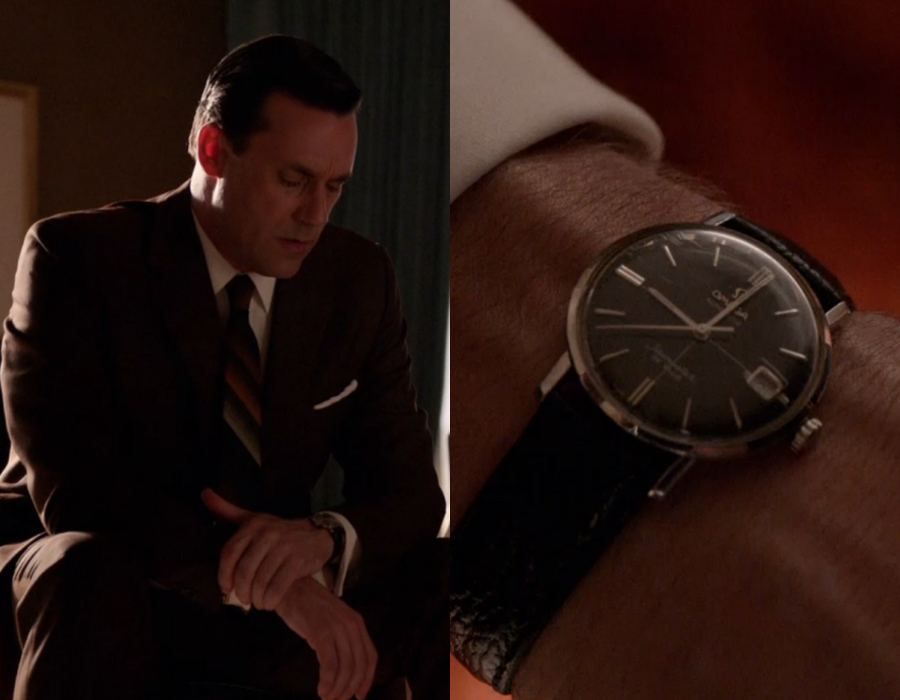 Mad Men is no doubt one of the best television series to have ever been created. And characters like Don Draper deserve to wear only the best, especially with the series' classic setting with impeccable fashion statements. In the "Field Trip" episode of the 7th season of Mad Men, Don Draper is seen (and highlighted!) to be wearing a vintage 1966 model of the Omega Seamaster De Ville.
Camilla Belle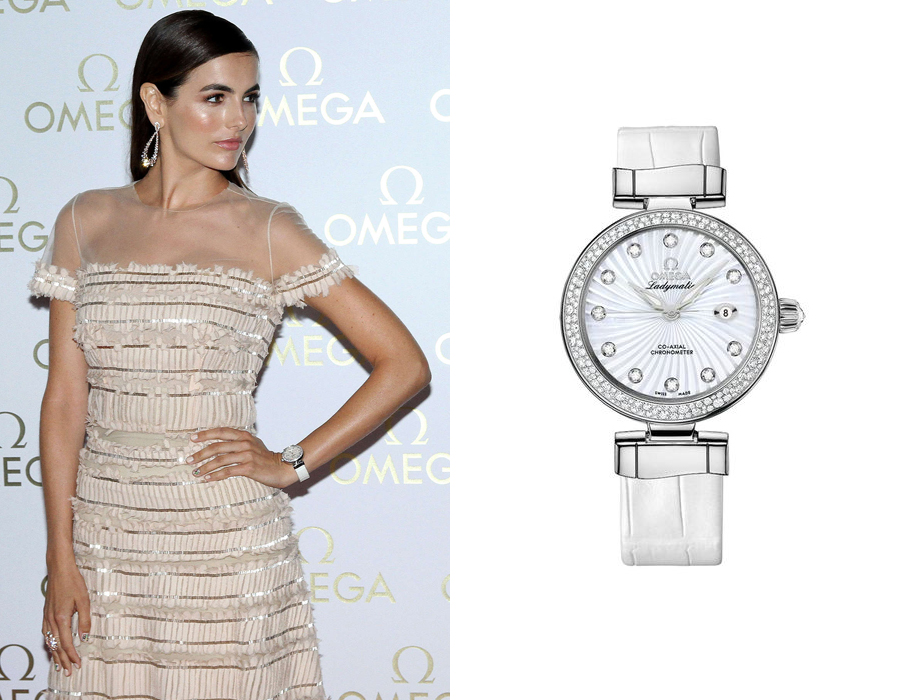 American actress, director, and producer Camilla Belle has sported the feminine choice of Omega De Ville Ladymatic. The actress' timepiece of choice is the Steel De Ville Ladymatic Co-Axial 34MM with Diamond Bezels.
---
Want to know more about Omega? Check out these 5 things you should know about the brand!