By Chanel Lim
Established more than a century ago, Bulova watches continue to impress and push the boundaries of watchmaking. In fact, nobody could have foreseen that Joseph Bulova's risk-taking spirits could change the watch industry, and subsequently the world, one invention at a time.
With creations like the fully-electronic watch, proprietary tuning-fork based technology and the world's first curved chronograph movement, Bulova is a great choice for mechanical watches.
Basically, as one of the oldest brands in the industry, with 143 years of history, Bulova focuses on developing watches that are relatable, wearable, and cost-effective.
For the gentleman who values accuracy and craftsmanship, Bulova offers a few reputable collections that will suit every design, lifestyle, and budget preference. Here are six of them.
Bulova Classic Dress Watch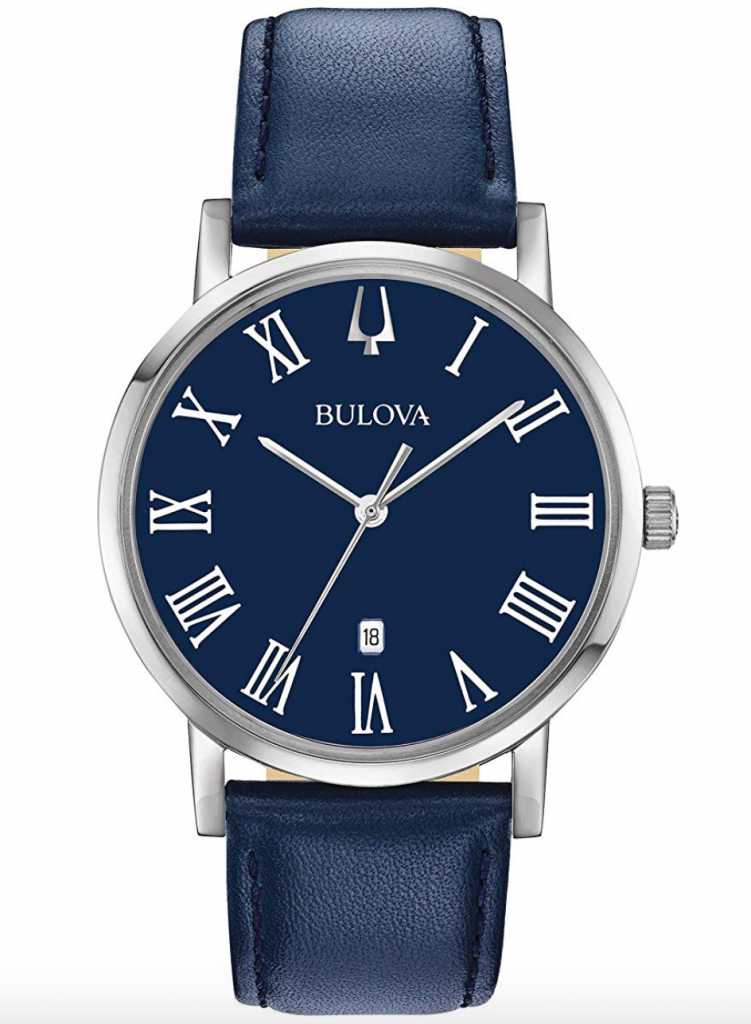 Stripping away all distractions and presenting a simple, dark blue classic watch face, the 96B295 Bulova's Men's Classic Watch is the epitome of sophistication and modesty.
Rocking a new American Clipper slim profile, this timepiece is best for men who are a fan of timeless designs. Despite its minimalist design, much thought was put into the creation of this timepiece. Moreover, it has a fixed bezel and a flat-surface dial that is scratch-resistant due to a mineral crystal coating.
Additionally, this watch's blue leather strap is fitted with a buckle clasp and it is powered by a Quartz movement with fresh power cell to ensure constant reliability for up to a year.
Bulova Curv Chronograph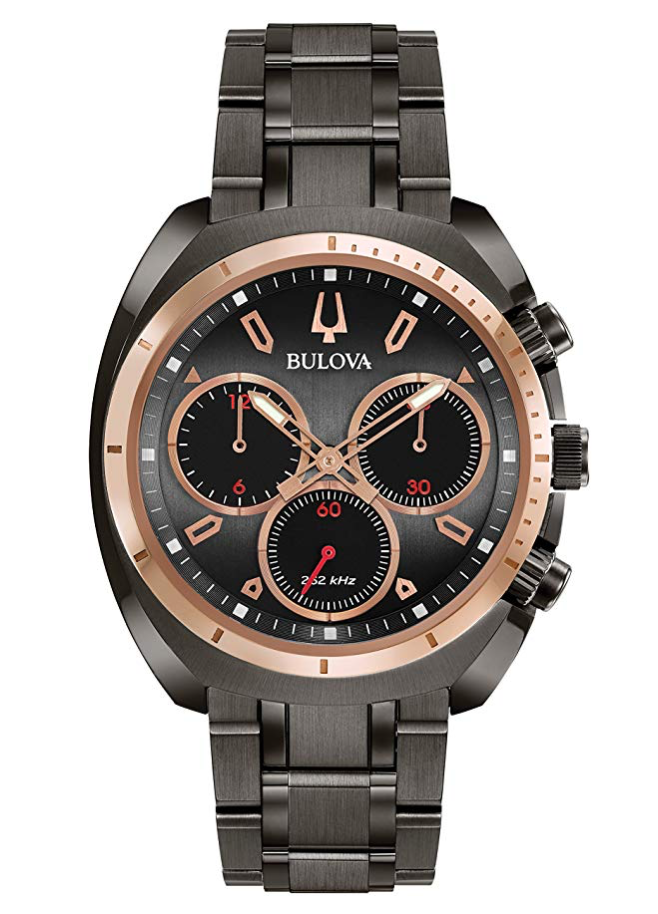 With the world's first curved chronograph movement ever created beating at its heart, the Bulova's 98A158 Curv Chronograph watch is representative of the brand's watchmaking prowess. It features the collection's splendid high-performance quartz technology that operates at 262kHz frequency for absolute precision and efficiency. Concurrently, on its dark grey dial lies a one-of-a-kind five-hand chronograph featuring luminous hands that ensure visibility in different brightness levels.
Most men are attracted to the resilience and durability of the case and strap. Meanwhile, some feel drawn to exaggerated and intricate designs. Whatever attracts you to this robust timepiece, getting one for yourself will be one of the best decisions you'll ever make.
Bulova Futuro Gold Dress Watch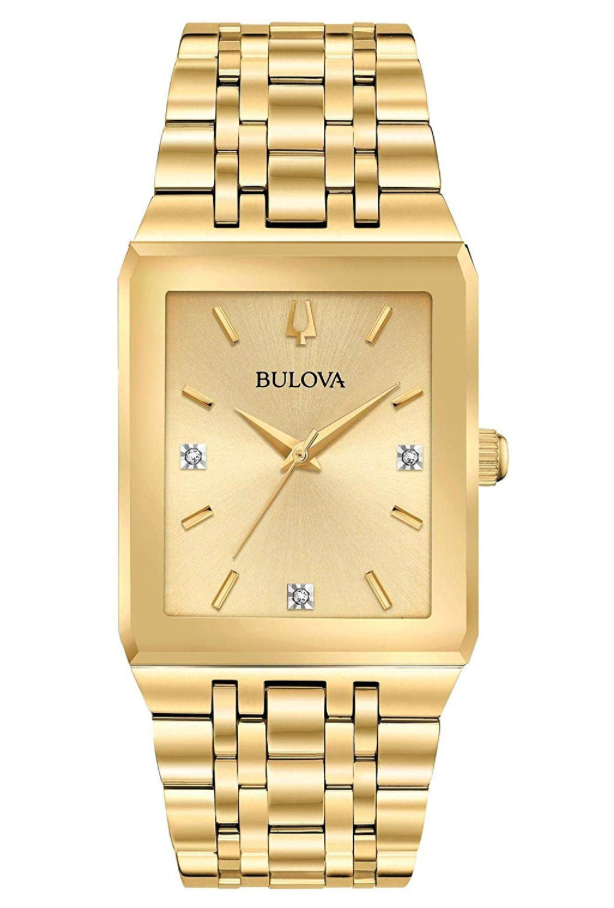 Other than the fact that it is clad entirely in gold, the 97D120 Futuro Dress Watch has many alluring points to discover. The new tank design features a stainless steel case with anti-scratch and anti-corrosion mineral crystal. Embellished with three diamonds, the champagne sun-ray dial is exquisite in its simplicity. It's also suitable for the gents who love a subtle hint of opulence.
A three-hand analogue quartz movement powers this dress watch. Lastly, like other watches in the Futuro collection, it also features a fold-over clasp closure with push-button release. Overall, this watch is a go-to for men with class and refined taste.
Bulova Harley-Davidson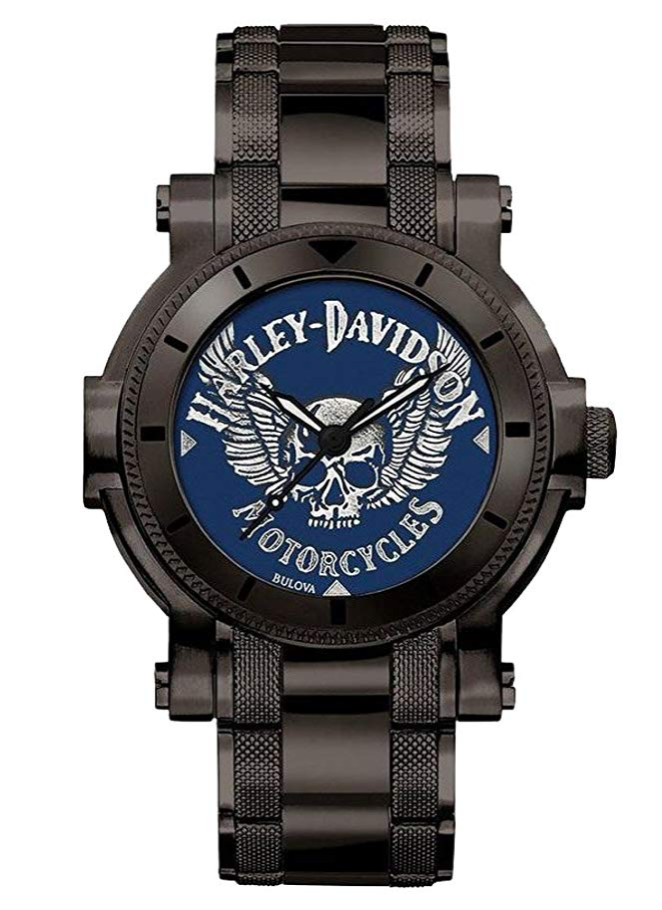 The 78A117 Harley-Davidson Men's Watch is not your usual timepiece. With an outstanding and creative dial design, this watch appeals to the big motorcycle fans of Harley-Davidson. Its blue dial features a silver medallion print of the Harley-Davidson logo and luminous hands. Besides that, it carries a black second hand with signature H-D counterweight for extra character. Its stainless steel case and bracelet are in gunmetal ion-plated finish, increasing the watch's rugged appeal.
Working on a quartz movement, this timepiece boasts resistance and durability. A collaboration between Harley-Davidson and Bulova, this watch symbolises both brands' constant pursuit for excellence and innovations. To summarize, this bold and edgy is perfect for the motorcycle and watch enthusiasts.
Bulova Futuro Latin Grammy Edition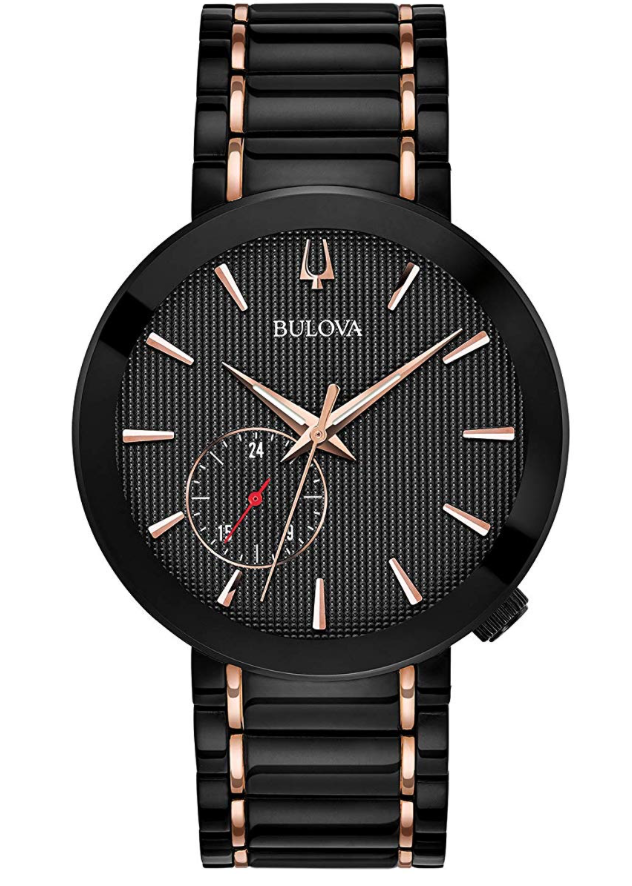 Clad in a stainless steel case with black and rose gold-tone IP finish, the 98A188 Special Latin Grammy Edition Men's Futuro Watch is a relentless timepiece. Its sleek black dial has a sub-sweep seconds hand and features an anti-reflective domed sapphire glass.
A black stainless steel bracelet with double-press closure and water-resistance of up to 30 metres complete this watch. If you're on the lookout for a dress watch with a character, this could be your timepiece. What's more, a Latin Grammy logo on the dial adds prestige to the overall look of this award-winning timepiece.
Bulova Marine Star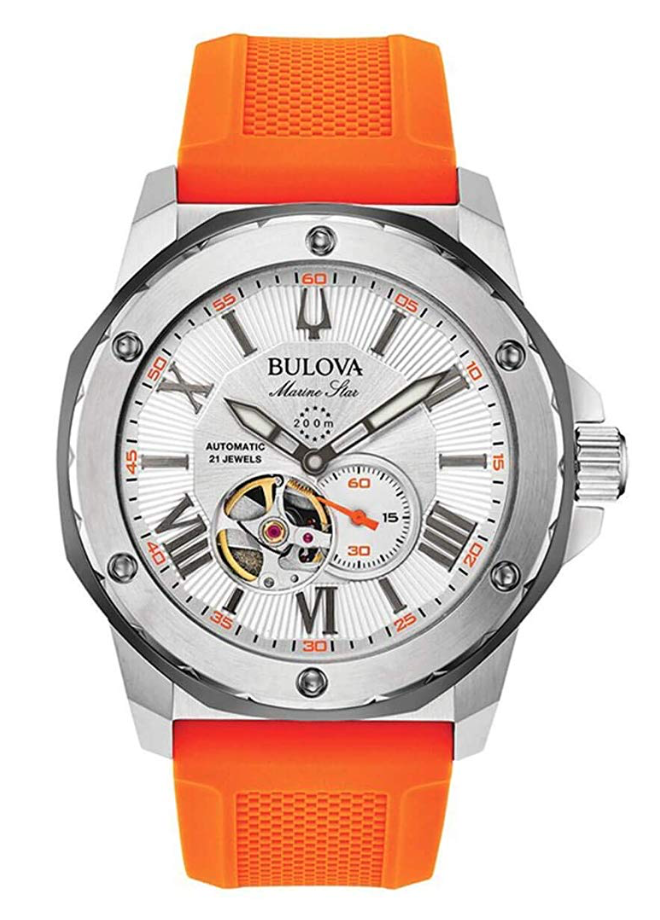 At first glance, the 98A226 Men's Marine Star Watch is striking with its vibrant orange textured silicone strap and contrasting grey case. Look closer and its technical features will blow you away.
Built to encourage active and adventurous spirit, the 98A226 Bulova watch comes with a water-resistance of up to 200 metres. Against the white dials and silver case, the orange Roman numerals add character. By the same token, its silver-white dial features flat mineral crystal to ensure a clear view of the seashell-like dial design.
Take a glimpse of its automatic movement through an open aperture 7 o'clock. As a matter of fact, this watch is not only sporty and mechanical, but it also appeals to the wearer's fun side. Robust at 45mm, this Bulova watch can be your go-to accessory for adventurous weekends.
If you're on the lookout for ladies' watches, check out our feature on the Bulova ladies' watches here.