Name a fictional dog more iconic than Snoopy. We'll wait. If you don't know who Snoopy is, then you've probably lived under a rock. Lucky for you, he's too iconic not to be accessible through a single Google search. Believe it or not, Snoopy is way older than you'd think. For a fictional beagle whose first appearance dates back to 1950, Snoopy evidently made a mark in a lot of people's lives. In more ways than one, Snoopy and the whole Peanuts gang truly shaped childhoods — from our parents' parents to ours. That's why it's not so surprising how various brands leverage on such an iconic character for an epic collaboration. We've all seen a Snoopy shirt, shoe, and even bags. But have you seen a Snoopy watch?
You might have heard of Timex's iconic Snoopy collection, but there are more brands who collaborated with Peanuts for the beloved character. You have storied brands carrying the iconic dog on their watch's dials. For instance, in this list, you'll find the iconic Omega Speedmaster Snoopy Watch as well as Limited-Edition Snoopy Fossil. Let's dive into each collaboration and learn more about our favourite beagle!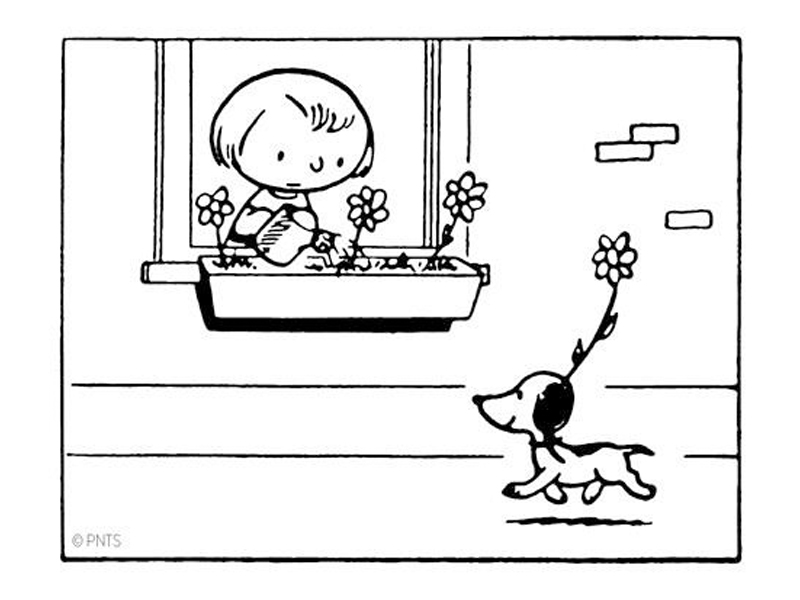 Peanuts' Snoopy by Charles M. Schulz
'Peanuts' is undeniably one of the most iconic and influential comics in all of history. The strip, created by Charles M. Schulz, grew from more than just a comic strip to film, TV shows, books, and a whole lot more. Name a platform and Peanuts has probably been in it. The comic strip took over the whole world and graced the pages of over 2,500 newspapers all over the world.
Peanuts debuted on October 2, 1950. Two days later, on October 4, 1950, Snoopy — a good-natured beagle — made his first appearance. At the time, Snoopy was a nameless dog in the comics. It was only on November 10 did people read about his name for the first time. Originally, Snoopy was Patty's dog. However, on a December strip, Snoopy seemed to have become fond of Charlie, the comic's main character.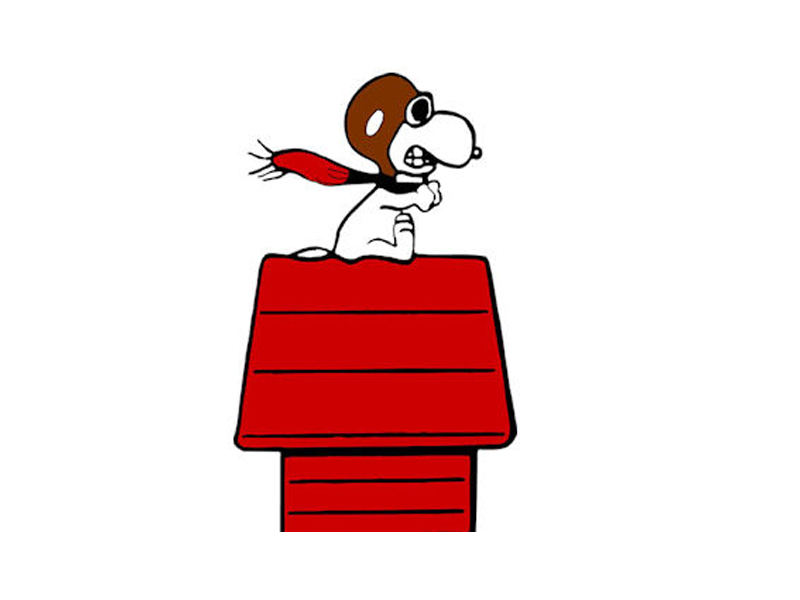 Snoopy immediately grew in the hearts of the readers for his imaginative and good-natured personality. Albeit lazy at times, the lovely beagle was a figure of loyalty. According to Schulz, his very own childhood dog Spike inspired Snoopy's likeness. While the comic strips give Snoopy a few thought bubbles allowing him for a few imaginative lines, he's ultimately just like any other dog. He couldn't speak at all.
Throughout the comics, Snoopy would adapt various characters such as a college student named "Joe Cool" or an attorney. However, his most popular character would be a British World War I flying ace. This became the most popular look of Snoopy as he wore an aviator helmet as well as goggles with a scarf and a swagger stick.
Every Snoopy Watch Ever Made
With Peanuts' popularity and unquestionably dominant status, it became a brand on its own. The franchise attracted various collaborations on various industries. Snoopy alone had various collaborations to his name. Snoopy has been NASA's favourite mascot, making him ultimately proving him to be the most popular Peanuts character.
Along with these collaborations would be between the franchise and fashion brands. From streetwear to children's wear, Snoopy's face is every person's favourite design. The watch industry, too, is no stranger to the character through various collections. Here are the most iconic Snoopy watches from various brands all over the world.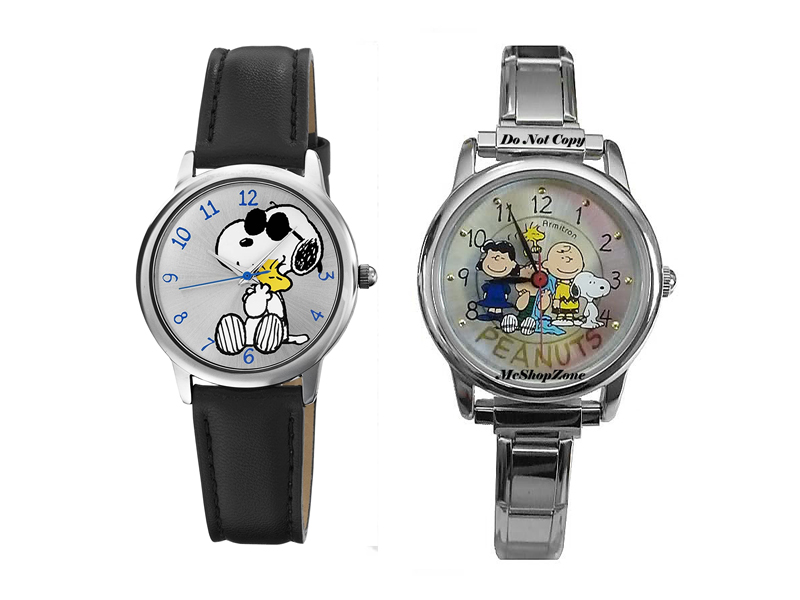 1. Armitron Peanuts Collection
The brand is about the same age as the Peanuts comics strip. Armitron, founded in 1956, is an American brand who had a great affiliation with the iconic group. This would most probably be the reason for the company's move to incorporate Peanuts-designed watches. Albeit a popular collaboration, Amitron no longer releases new Peanuts watches. However, you may still find various Armitron Peanuts watches on sale at various sites like eBay. Some designs not only show Snoopy but also his adorable bird sidekick, Woodstock.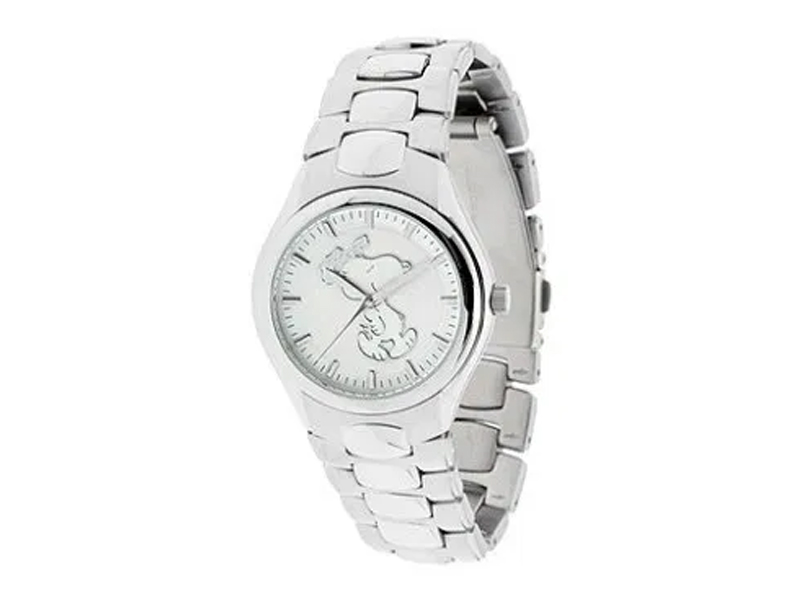 2. Fossil Snoopy Watch (Limited Edition)
Fossil, also an American brand, didn't fall behind when they released a limited-edition Snoopy watch. The watch has the same Snoopy branding on its dial. The Fossil Snoopy watch had a stainless steel case and bracelet as well as a white dial. On the dial was Snoopy, smiling gleefully as you check the time. However, as a limited-edition watch, it's no longer in production. But you may still find a few sellers online.
3. Invicta Character Watches: Snoopy
There's no denying that Invicta is one of the best, affordable luxury watches out there. The brand is also no stranger to collaborations. You'll find popular franchises under their name such as Marvel and DC as well as Disney. However, one of their most popular collaborations would be the Characters Collection. The collection featured popular and beloved characters from various shows. Some of the characters Invicta designed their watches around include Garfield, Popeye, and, of course, our beloved Snoopy.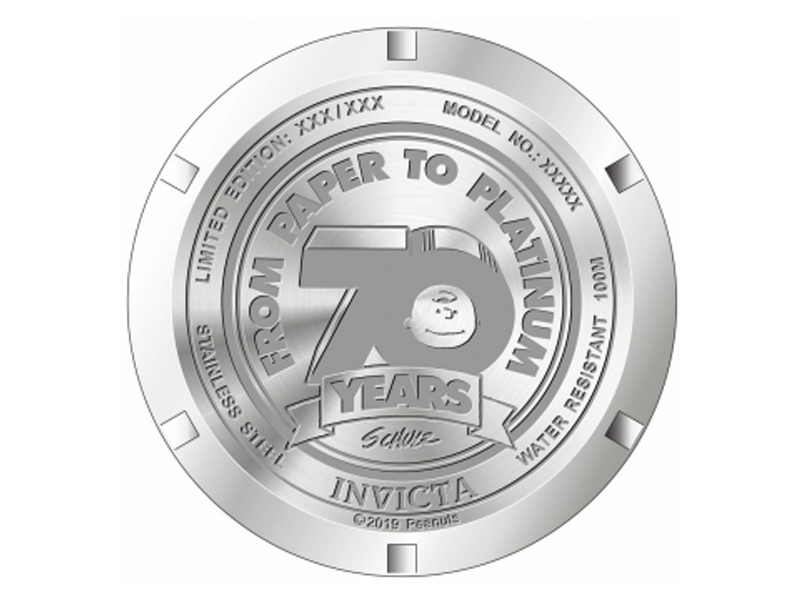 To this day, there have been various variations of their Snoopy designs. In fact, if you visit Invicta's website, you'll find a ton of Snoopy watches on the roster. Invicta will also launch three new designs to commemorate the 70th anniversary of Peanuts. Each of the watches features an engraved Peanuts tribute on the back with the words 'FROM PAPER TO PLATINUM' as well as Charlie's face.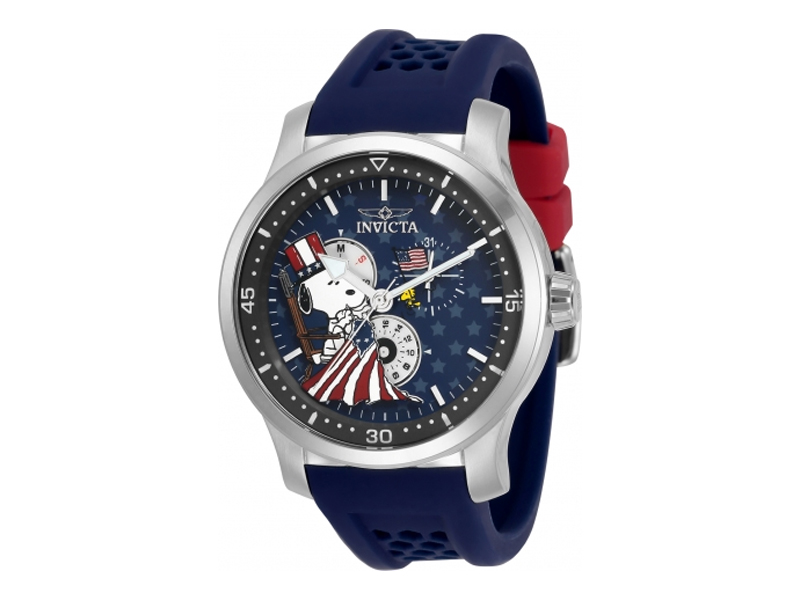 One design features Snoopy, sitting on a rocking chair, sewing the American flag (45mm Model 33173). The colourway appears to be a patriotic nod to America in red, blue, and silver. Woodstock would also be noticeably present on the date calendar at 2 o'clock.
Another design shows Snoopy marching while bearing the American flag. The 40mm watch, Model 33177, appears to be a chronograph with three sub-dials. Its tone takes it down a notch on the bracelet with a brown leather bracelet. This is to offset the detailed dial and to emphasise its bright colours.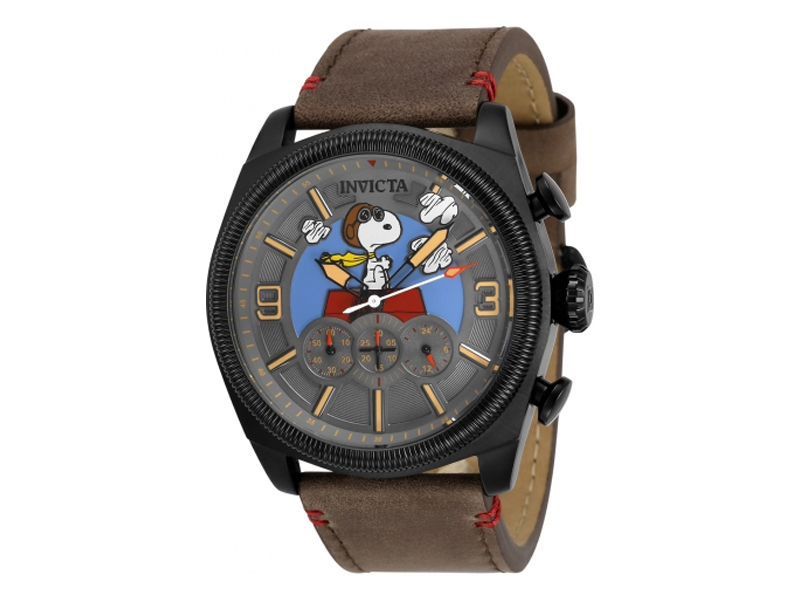 Meanwhile, another design shows Snoopy wearing his World War I pilot outfit, sitting on top of his iconic red house. The 47mm watch — also a chronograph — shows an even more refined design meant to highlight the artwork that is Snoopy on the dial. The hints of red make the watch even more enticing without having to remove the spotlight from its main character.
4. Undone Peanuts Watch Designs
Undone is a platform for the lovers of customised and made-to-order watches. The Hong Kong-based company began as a three-man team which now grew to the American market. In the past, its founder only customised already-existing grail watches for his patrons. However, today, Undone has models of their own made with the highest quality standards. The brand allows customisation of already-existing watches by allowing the customer to choose from a wide array of materials for the cases, dials, bezels, hands, as well as straps. Learn more about the brand and check out more custom watch brands that will surely meet your taste and standards.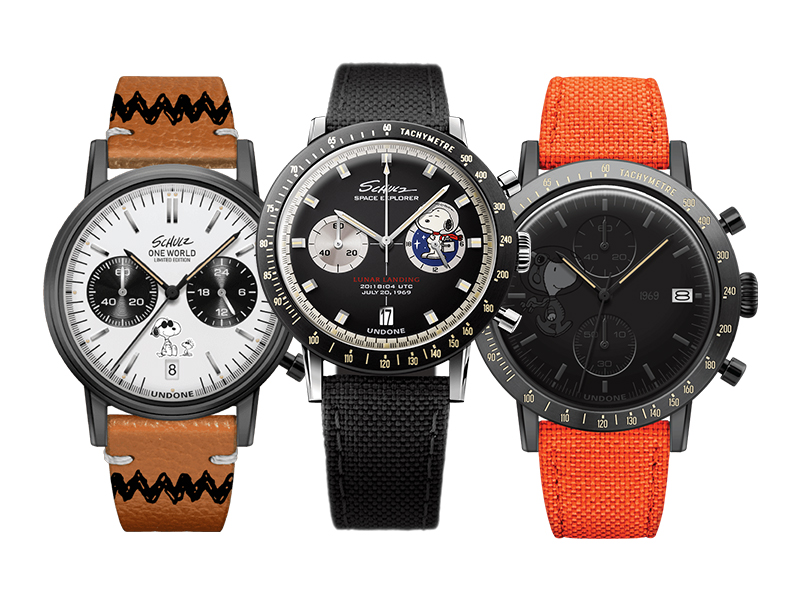 More than just customisation, Undone does various collaborations. The brand collaborated with Peanuts for their URBAN 'One World' Chronograph Collection. Undone boasts the first fully customisable Peanuts watch through the collection. The collection has six models including one that's limited edition and one that's fully customisable. Customers may build their own custom Peanuts watch to match their personality. Additionally, Undone also launched a special Charles Schulz watch to celebrate his birthday in November 2019, limited to only 150 watches.
The brand also celebrated the 50th anniversary of Apollo 11 through the Peanuts: Lunar Mission collaboration. The watches are fully customisable. These watches are in stainless steel cases, with a hardened domed K1 crystal. They're also water-resistant for up to 30 metres. Furthermore, the watch is powered by a Seiko VK61/VK64 Mechanical-Quartz Hybrid Flyback Chronograph movement.
5. Timex Peanuts & Snoopy Watch Collections
Peanuts' affiliation with Timex is something almost unimaginable. They have been collaborating for so long that they've imprinted on each other. Thanks to devoted fans and avid collectors, Timex has various models to boast.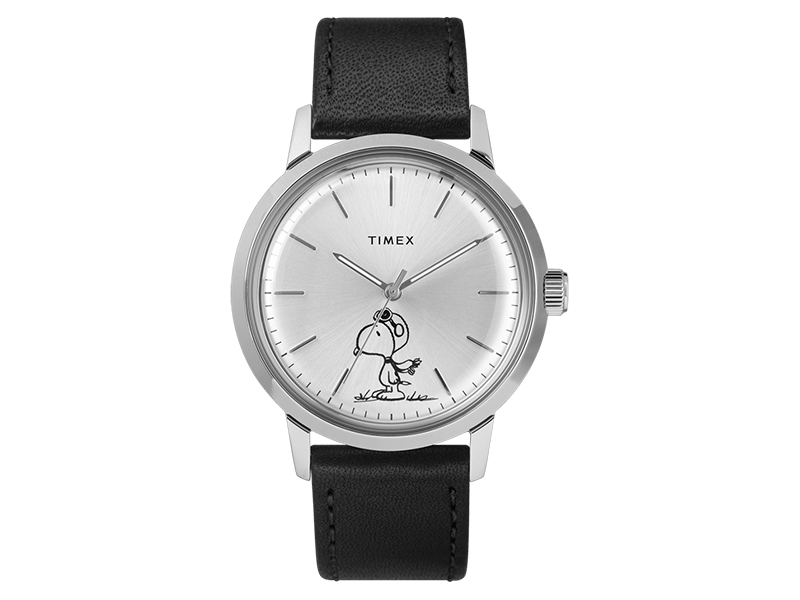 Timex Marlin
The Timex Marlin is one of the brand's most popular watches. It has an understated design that can surely transcend time. The watch has the classic 1960s aesthetic of a domed crystal as well as a leather strap. So, in celebration of the 50th anniversary of the Apollo 11 mission, Timex launched the Snoopy Space Traveler watch. The watch is a Snoopy watch is a Marlin with the same aesthetic, plus the Snoopy branding. It immediately became a hit and to this day is one of the fan favourites. The Snoopy Flying Ace which is the crowd favourite remains to be its most popular design.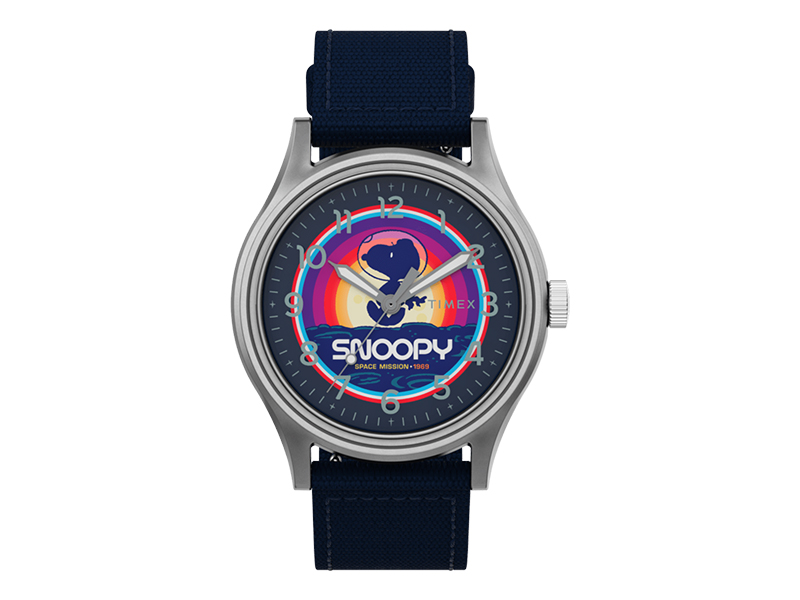 Timex x Space Snoopy MK1™
Also to celebrate the 50th anniversary of the lunar landing, Timex launched the Space Snoopy watch. The limited-edition watch features the silhouette of Astronaut Snoopy against a multi-colour dial. Moreover, Timex Indiglo lume enhances the watch's visual capacity and appeal. The retro-styled watch is in a 40mm stainless steel case with a quartz analogue movement, as well as an acrylic crystal. The watch numbers are also etched directly on the domed lens to make it more visually intriguing.
The watch is also available in a kid's size at 28 mm. Its strap is made from elastic fabric making it a comfortable as well as a stylish choice for a commemorative watch.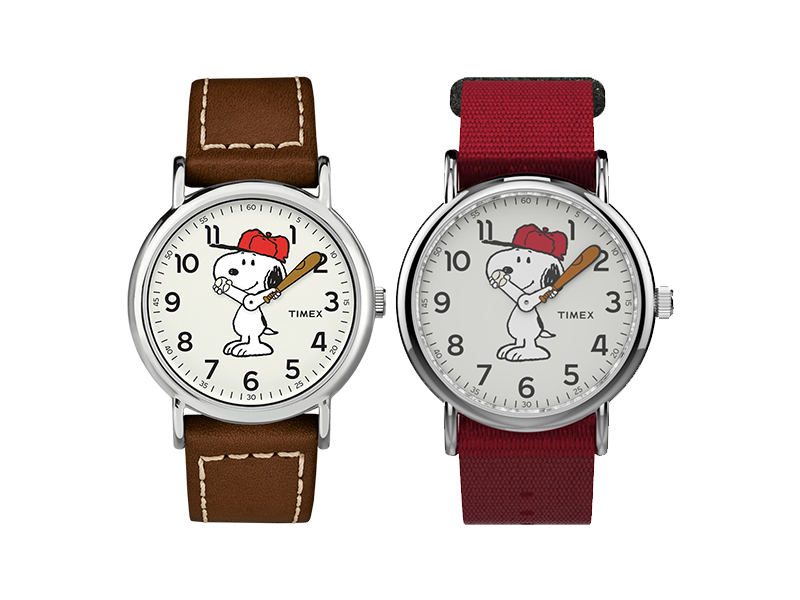 Timex x Peanuts
This collection is just as fun as its cousins. The 38mm watches feature the characters' arms as watch hands. The Snoopy design features him holding both a baseball and a bat. It has either a brown leather strap (TW2T61000JT) or a red fabric bracelet (TW2R41400JT). The playful watch has an overall classic design with Arabic numbers as indexes with an Indiglo feature. It's one of the best-selling designs from the brand!
The collection is an upgrade on the Timex Weekender model and also features more Snoopy-centric designs in various colours. However, the Weekender Snoopy watches don't feature his arms as watch hands but only depict him on the dial, relaxing and having a time off. The Timex x Peanuts collection is also available in the Timex Welton models.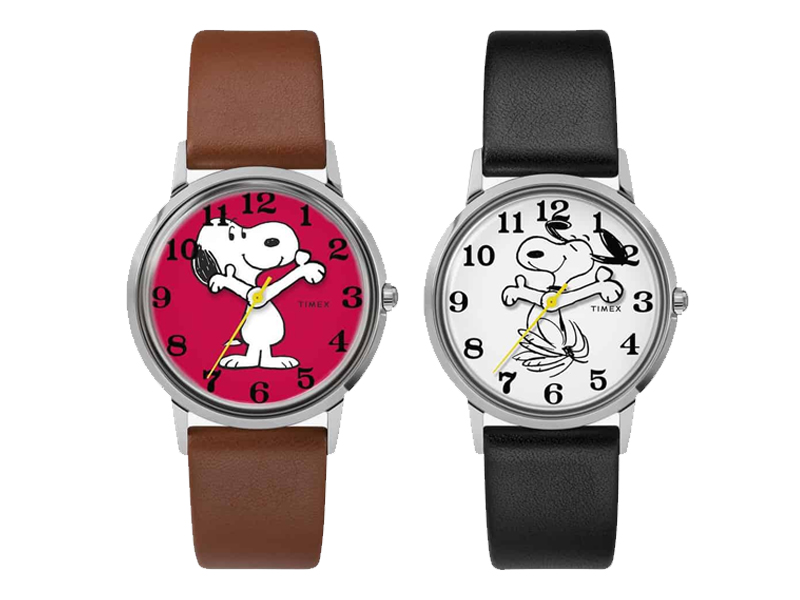 Timex Peanuts For Todd Snyder
The brand also realised a co-branded watch with Todd Snyder. The designs, just like the Timex x Peanuts collection, feature the characters' arms as watch hands. The difference on the Snoopy design would be the absence of the baseball and the bat. The Snoopy Todd Snyder watch comes in either white or red dials.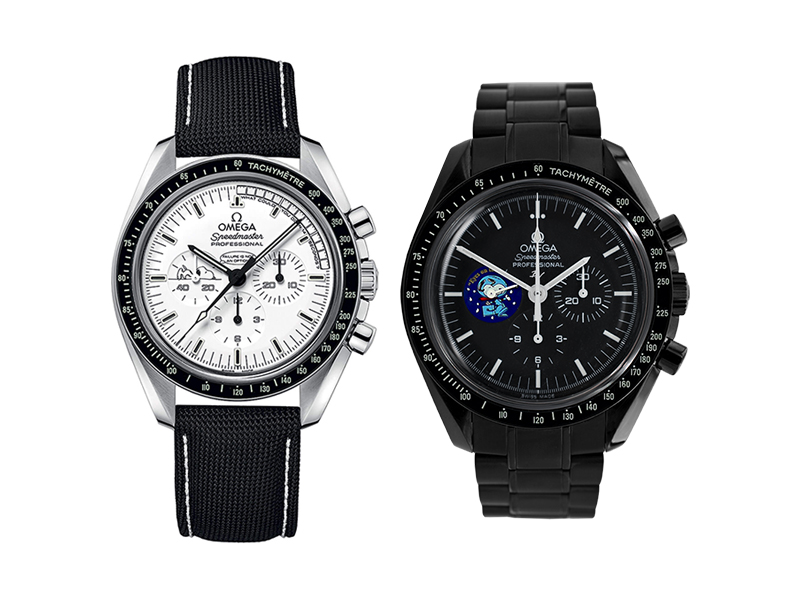 6. Omega Snoopy Speedmaster
Omega launched a limited-edition Speedmaster in 2003. A derivative of the usually sporty yet sleek Omega Speedmaster, this one had a quirky trait to it. On the seconds sub-dial at 9 o'clock is Snoopy in a spacesuit. Above his helmet are the words "Eyes on the Stars". The image can also be found on the caseback of the watch. It was no surprise that Snoopy, NASA, and Omega all have affiliations to each other. Snoopy has been the space organisation's mascot for the longest time, and Omega was the timepiece that accompanied the astronauts on their space missions. So, to celebrate the 45th anniversary of the Apollo 13 mission and the Silver Snoopy Award received by Omega from NASA, they released the special Speedmaster.
Another popular design features Snoopy's image on the sub-dial and has Super-Luminova for a more enhanced visual of the little quirk. On the upper right hand is the question: "What could you do in 14 seconds?" It was a homage to the 14 squares of a typical Peanuts comics. The watch has a more elegant design with a sleek black and white colourway that could also be attributed to the monochromatic newspaper.
The chronograph watches are in stainless steel cases with coated nylon fabric straps. They feature a small seconds sub-dial as well as a tachymeter with a ceramic bezel.
Final Thoughts
For the most part, Snoopy is more than just a cartoon character. His imagination and quirky antics, even the sarcastic remarks, make him more human than a dog. However, it remains true that he is a loyal friend to the main character that is Charlie. No matter where the tides take them both in adventure, he remains to be good-willed beagle with a heart for adventure. To put him on a timepiece would be a metaphor for a life that doesn't stop seeking adventure. After all, these timepieces should not be a reminder of what time we have left. Instead, they should be a reminder of how much time we have on our hands and how we're able to control it to our hearts' desires.
Snoopy watches are, indeed, a throwback to such an enriching childhood. Perhaps, we've lost the newspapers that brought him to our homes, but these watches keep him alive. Through and through, these watches will be a reminder that Snoopy is in each and every one of us! Whichever timepiece you believe suits you more, remember that at the end of the day, it's that little beagle we adore we're chasing after.
---
Looking for more collections to explore? Check out Drake's watch collection and find out which ones you have in common!