Six years after the Graff Diamonds Hallucination jewellery watch was introduced at Baselworld, this gem of a watch continues to fascinate the world over. Dubbed as the world's most expensive watch — the extravagant watch costs $55M and studded with diamonds of every colour imaginable!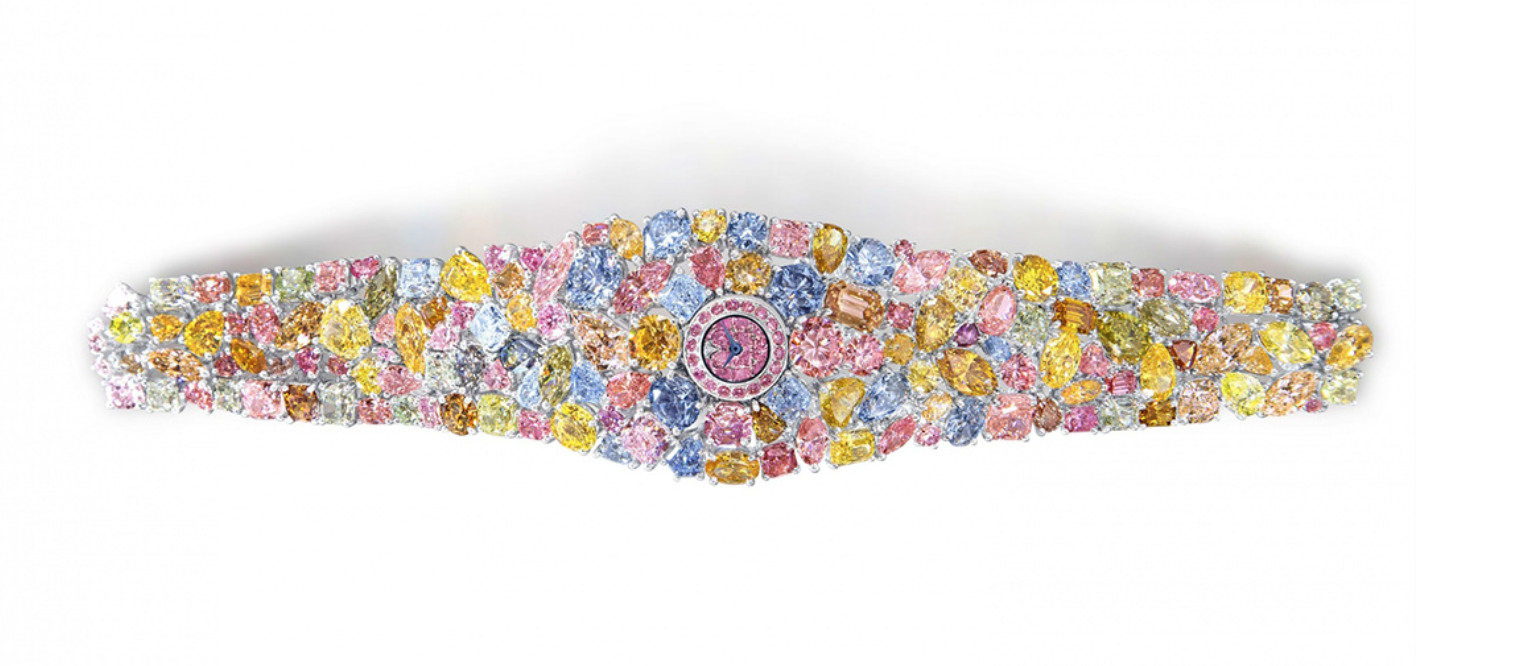 Well, it's not surprising, given that Graff — a British multinational jewellery company — owns some of the biggest and most expensive diamonds in the world. 
Boasting over 110 carats of an exquisite kaleidoscope of rare, multi-coloured diamonds, the Graff Diamonds Hallucination is a testament to the company's unrivalled passion for luxury jewellery and watchmaking. 
A Glimpse into the Brilliant History of Graff Diamonds
Founded in London in 1960, Graff is the product of British jeweller Mr Laurence Graff's passion for diamonds. Mr Graff's passion for diamonds started when he was 15 years old, as an apprentice in Hatton Garden — a famous jewellery district in London.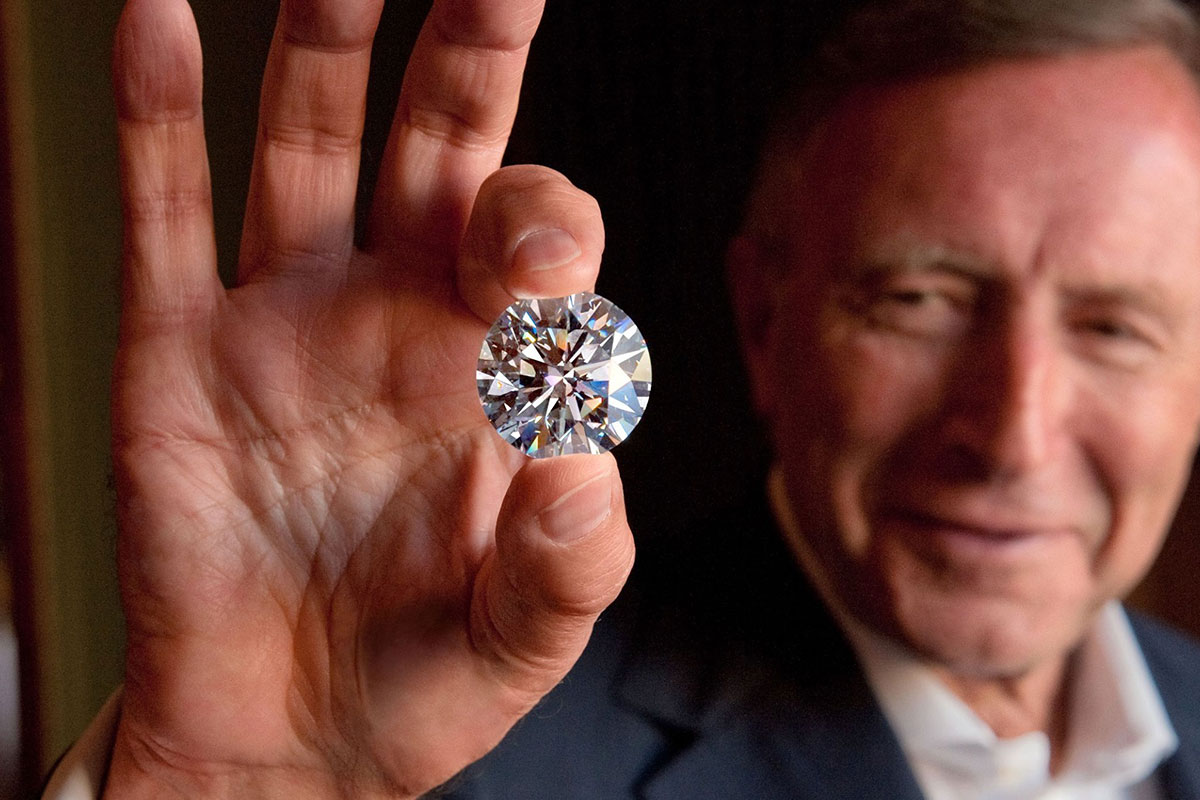 He was so good at his job and so fascinated with diamonds that three years later, at age 18, Mr Graff founded his own company and began fixing Victorian jewellery. It was then that his genius not just as a jeweller but also as a businessman was developed. 
There was one time when he got 33 small diamonds from a dealer, and instead of making 33 rings out of them, he decided to place all the diamonds in one ring, creating one big cluster of diamonds. He was able to sell it to a client, who then immediately sold it to another. Needless to say, the client ordered another, and the rest, as they say, is history. Since then, he kept thinking of unique ways to showcase diamonds in jewellery. 
In 1967, he decided it was time for him to go global and began travelling and exhibiting his creations internationally. Just like his well-loved diamonds, Mr Laurence Graff — known today as the 'King of Diamonds' — started raw and rough and turned into a polished, world-renowned gem.
Graff Diamonds Hallucination: A Baselworld Star
For years, Graff has always been a must-visit booth at Baselworld not only for its enchanting display of jewellery and watches but also because they always have one of the most beautifully-designed booths.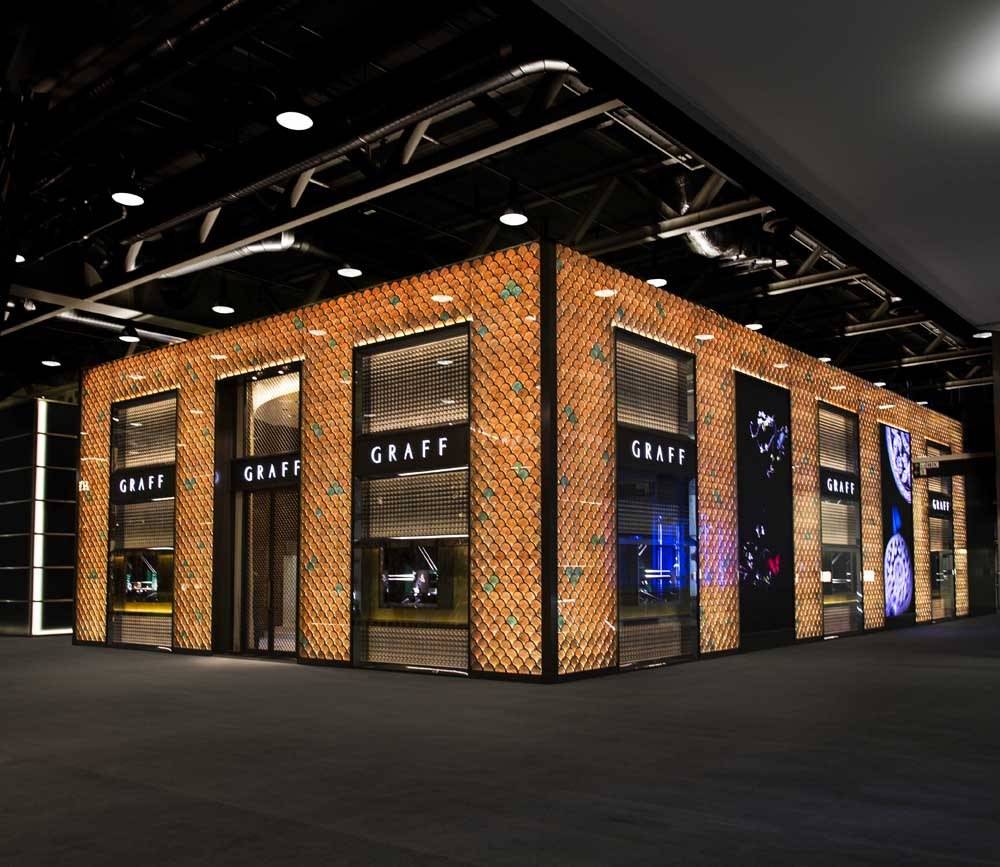 However, in 2014, Graff surpassed itself. Graff's interior design team designed the booth — all 503sq of it — to resemble a Graff Boutique. It was impeccable and exquisite with all the dazzling diamond jewellery imaginable displayed in its every nook and cranny. But the star of the show was, of course, the Graff Diamonds Hallucination watch, which was unveiled for the first time during the fair. 
Even the people who had no idea it was worth $55M were enchanted by the sheer brilliance and magnificence of the jewellery watch! Fun fact: the Graff Diamonds Hallucination watch tops the list of the most expensive watches in the world.  
Up Close with the Hallucination Watch
Designed by Mr Graff himself, the Graff Diamonds Hallucination watch is a sculptural masterpiece, as he described so himself. Mr Graff and his team of designers, gemologists and master craftsmen spent thousands of hours to create this masterpiece. The watch is studded with the rarest of coloured diamonds — all 110 carats of them — in different cuts and shapes and set in a platinum bracelet.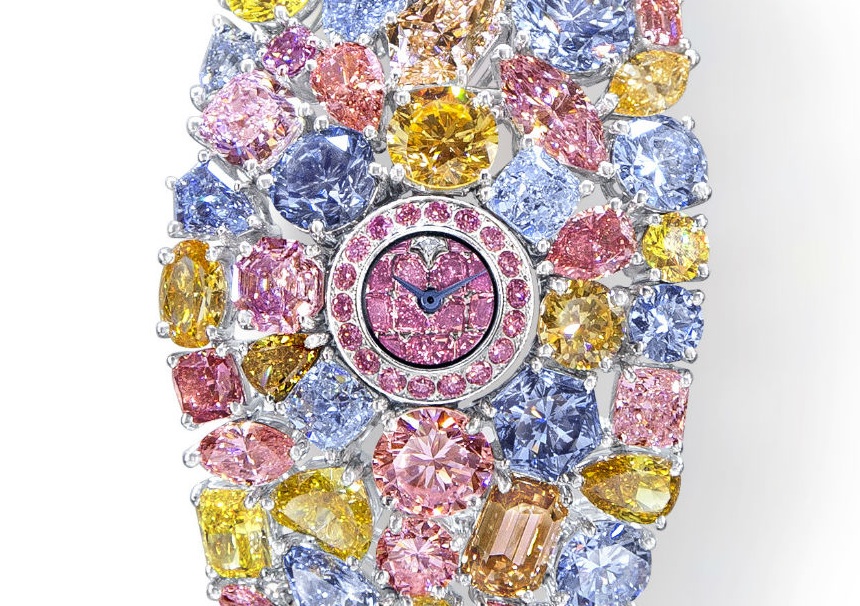 From the dial to the bracelet, the watch is entirely encrusted with fancy coloured diamonds — pink, violet, yellow, blue, and green of different shades and brightness, too! These are cuts in many different shapes as well, which really showcased the brand's expertise in diamond-cutting and gem-setting — from heart-shape to pear-shape, emerald and marquise, as well as round. The watch is such a marvel through and through that you'll actually find yourself getting lost in all its brilliance. With the name 'Hallucination', the watch certainly is not for the faint of heart. 
So, where is the actual watch, you ask, if you can only see are dazzling diamonds? Well, look closely and you'll see at the centre a small, delicate dial made of white and pink diamonds. Surrounding it are studs of pink diamonds as well — so, the dial sort of just blends in with the rest of the gems. Only the two blue hands indicate that it is a watch dial and that it can actually tell the time!
Powered by a quartz movement, this jewellery watch keeps accurate time. It wasn't clear why Graff chose to equip the watch with a quartz movement, instead of a mechanical one. But most people believe that to be able to keep the dial small, they have to go for quartz instead of the bulky mechanical movement. 
Inspiration Behind the Hallucination
The Hallucination watch is more than just another exquisite masterpiece from Graff. It is a showcase — a testament, really — of what the brand can do in terms of skill and innovation in the jewellery and watchmaking industry.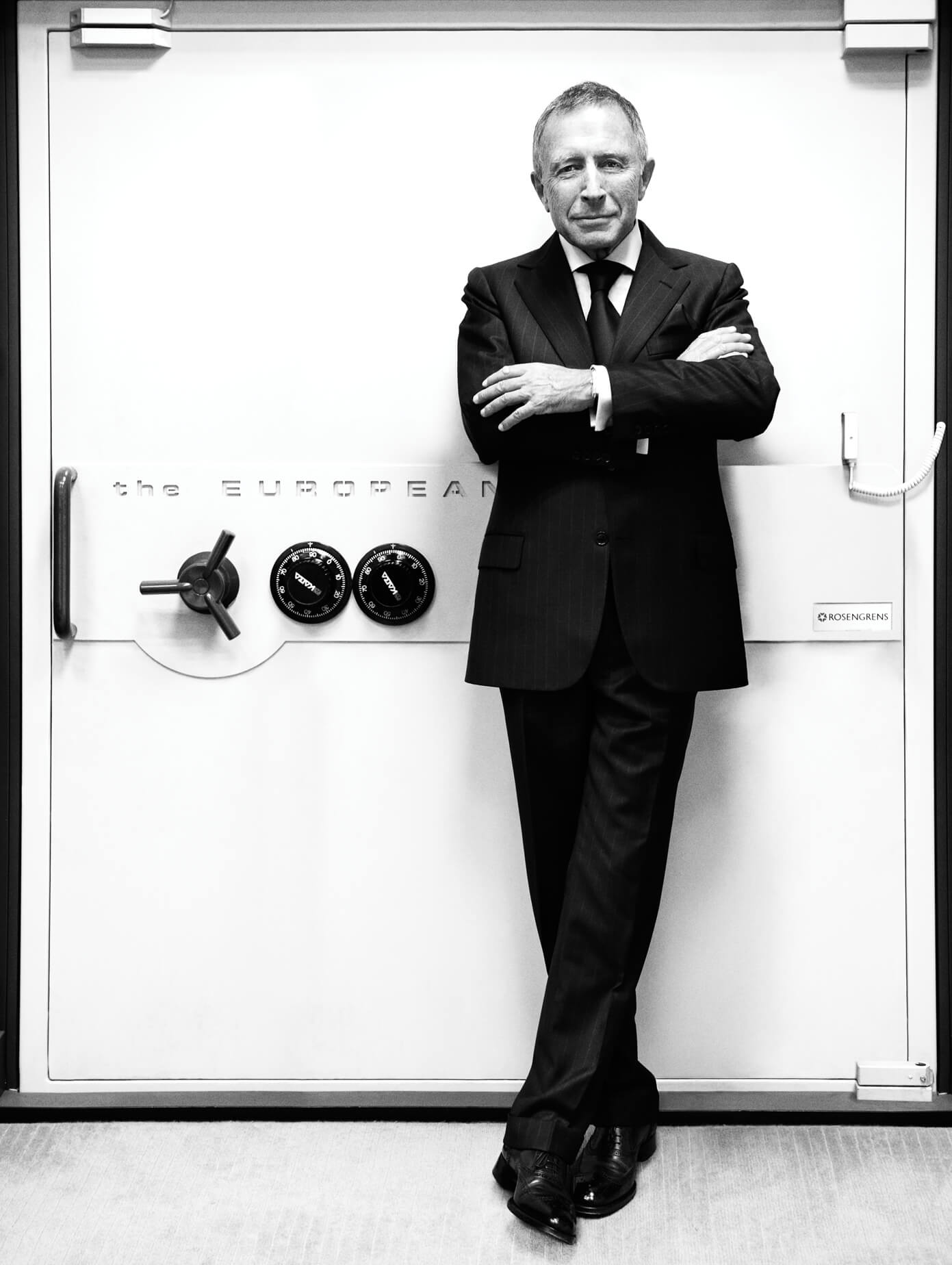 In fact, the Graff Diamonds Hallucination watch has been years in the making. Mr Graff himself spent years collecting the rare diamonds that they used in the watch. "For many years now, I have thought about creating a remarkable watch that illustrates our all-consuming passion for diamonds," shared Mr Graff in one of his interviews. "The Hallucination watch has made my dream a reality."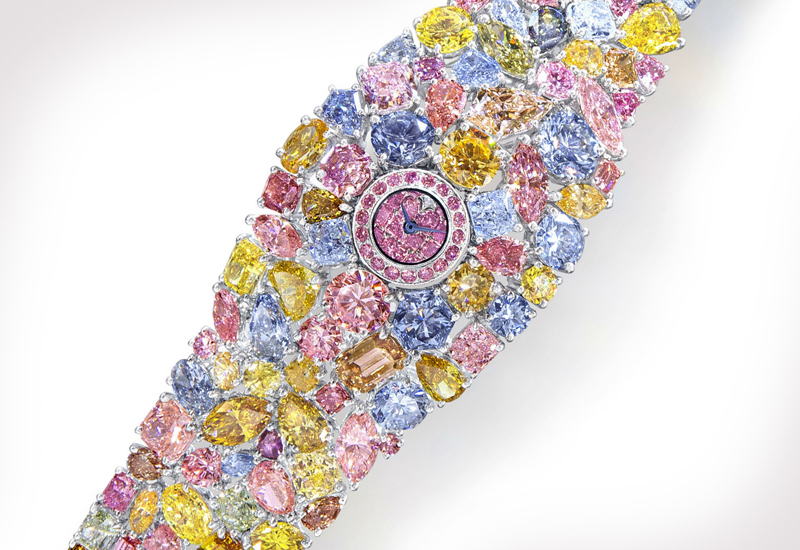 Graff has very particular requirements when it comes to their diamonds. Their factories cut and polish tens of thousands of diamonds on a regular basis. And only a small percentage of it is used in their jewellery and watches. 
The Graff team searches for diamonds and precious stones on a daily basis all over the world — from rough to polished. No wonder the brand owns some of the rarest, biggest and most expensive diamonds in the world, including the 302.37ct Graff Lesedi La Rona — the largest, highest clarity diamond ever certified by the GIA, the Graff Empress Rose — a pear-shaped 70.39ct and the largest Internally Flawless Fancy Light Pink diamond in the world, and the Wittlesbach-Graff — a blue diamond that weighs 31.06 carats.
5 More Affordable (But Still Expensive!) Alternatives to the Hallucination
With an impressive collection of luxury watches, Graff offers both jewellery watches for women and complicated mechanical watches for men. So, if you're in the market for something like the Graff Diamonds Hallucination, but maybe on the more affordable and practical side, we have these five stunning diamond watches recommended for you.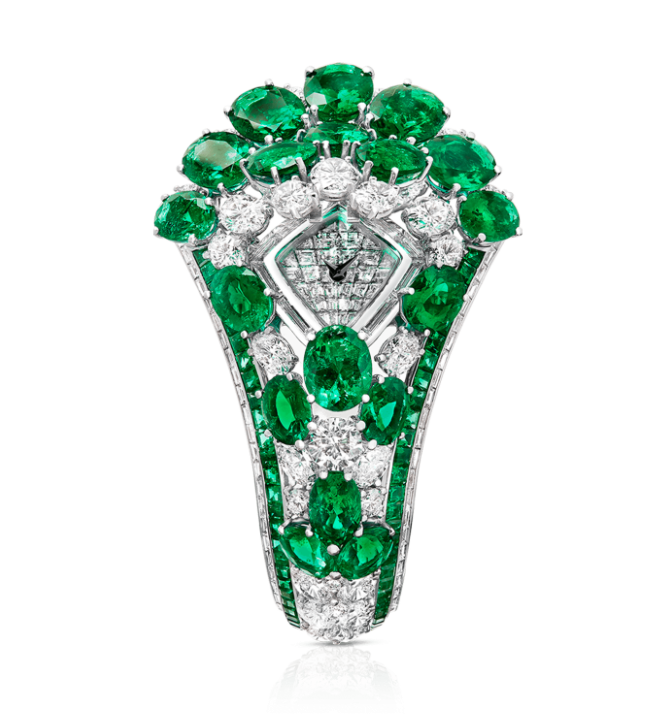 Graff Oval Emerald and Diamond Secret Watch
Featuring 42.32ct emeralds and 27.99ct white diamonds, the Oval Emerald and Diamond Secret Watch is a visual marvel. The fan-inspired design commands attention — from its dial set with baguette white diamonds to its case and bracelet, all studded with emeralds and diamonds of all shapes and sizes. You can hardly see the metal used to set the gems, so you have a vision of fluidity and opulence all dancing in the brilliance of the precious stones! Inside, the watch ticks with a quartz movement.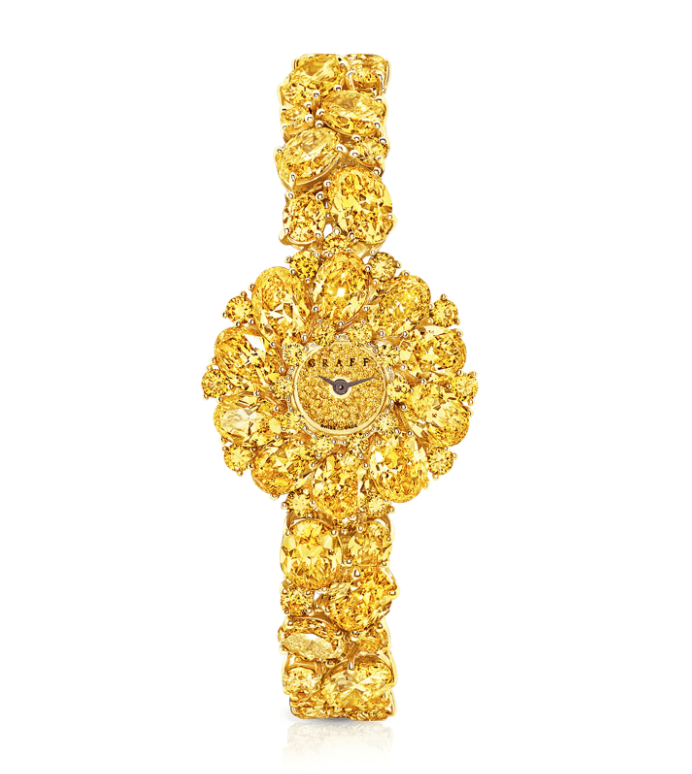 Graff Fancy Vivid Yellow Diamond Watch
Created to celebrate the beauty and rarity of yellow diamonds, this Fancy Vivid Yellow Diamond Watch is pure opulence. It boasts over 59 carats of yellow diamonds carefully set on a dainty bracelet! At first glance, it looks like a decadent yellow diamond bracelet. But look closely and you'll get a glimpse of a tiny dial, paved with small yellow diamonds and adorned with two small hands to the tell the time.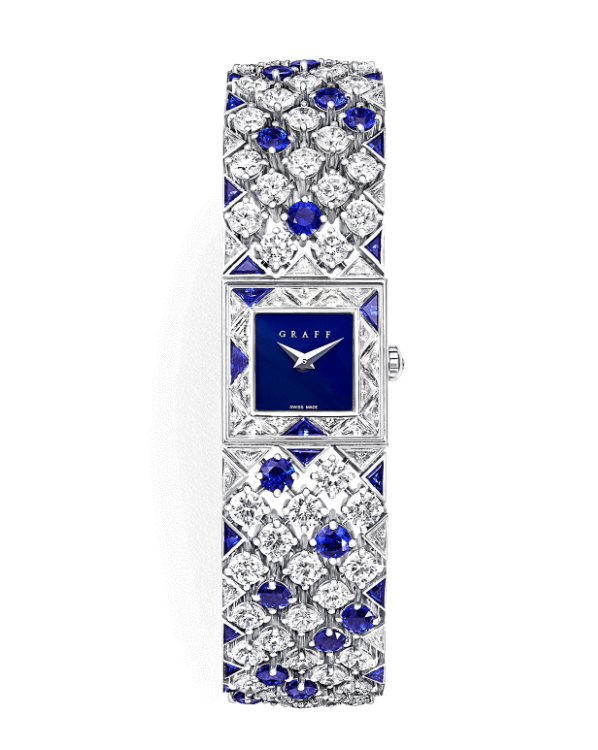 Graff Snowfall Slim Sapphire and Diamond Watch
A sight to behold! The Snowfall Slim watch comes fully set with sapphire and diamonds in an enchanting Art Deco design. As the name suggests, it has a dream-like appeal with brilliant-cut and step-cut triangular diamonds and sapphires gracefully set on a fluid platinum bracelet. The watch reminds its wearer of the beauty of falling snowflakes in the winter. The dazzling blue dial is minimalist with only two small hands adorning it. A quartz movement powers this opulent watch.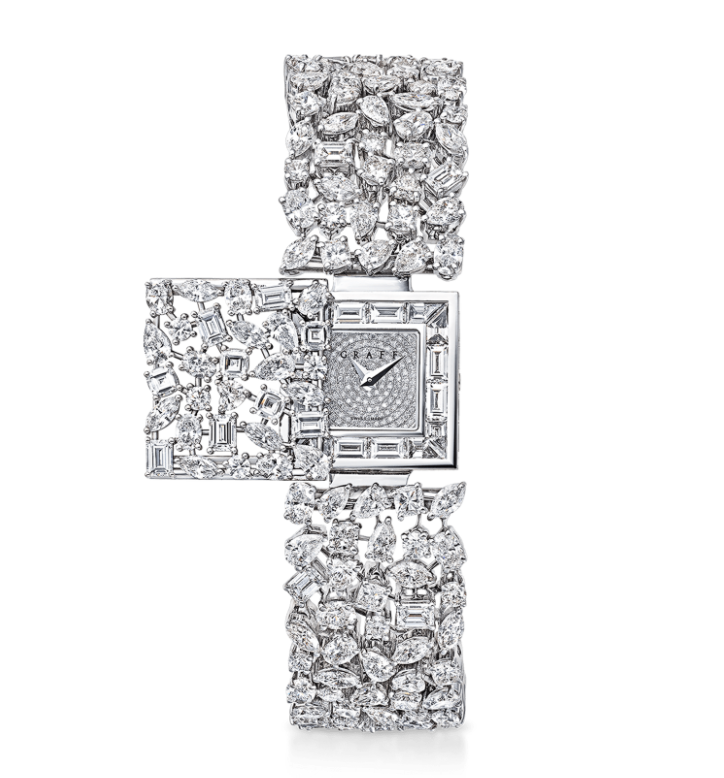 Graff Multi-shape Diamond Secret Watch
It was said that in the past, it was rude for women to check the time. Hence, secret watches were invented! And Graff has some of the most romantic secret watches ever created. Case in point: this Multi-shape Diamond Secret Watch. It features different shapes of white diamonds set in enchanting design, moving fluidly with the wearer's every move. Underneath its splendour lies a delicate watch dial paved with tiny brilliant diamonds.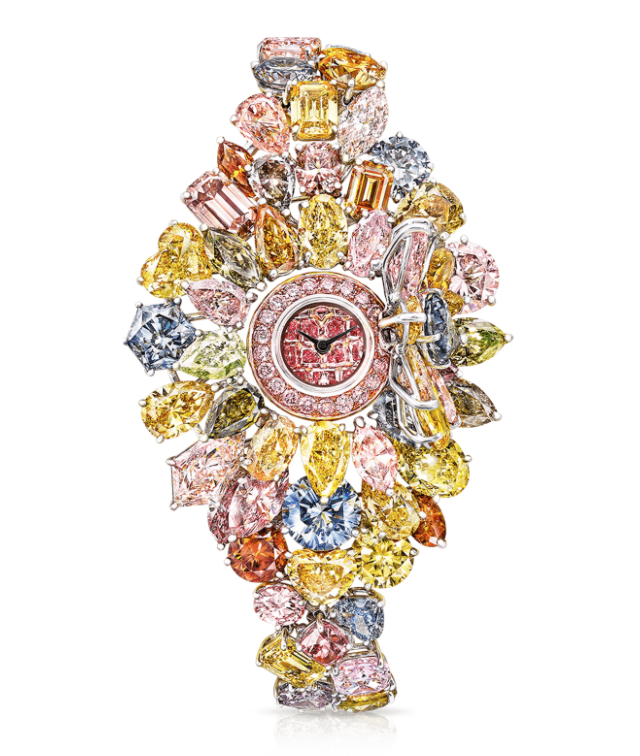 Graff Multi-coloured Diamond Secret Watch
You really love the Hallucination watch but don't wanna shell out $55 million? Then this Multi-coloured Diamond Secret Watch is for you! It looks just like the Hallucination with the pastel-coloured diamonds and dainty pink diamond dial. This watch showcases over 89 carats of the finest pink, yellow, blue, grey and orange diamonds! Hidden within this exquisite bloom is a tiny pink diamond pavéd dial that tells precious time. 
A Gem of a Watch
Graff is famous for its collection of breathtaking jewellery and diamond watches. And the $55M Hallucination diamond watch simply proves that Mr Graff deserves the title of 'King of Diamonds'. Granted the watch is so extravagant and impractical. Who in their right mind would go about their business wearing a $55M watch anyway? But the watch really is not meant to be worn but to be admired. It should be hanging in a pedestal, like a work of art that it truly is.
In the market for more diamond watches? Check out our feature on Diamond Watches Worth Investing In.