Nobody could ever bring up the Quartz Crisis without mentioning the Seiko Astron. How could they when it's the very watch that started the movement? Indeed, this watch not only changed the horology industry but also the whole world. Let's find out how by reading its story below. 
History of the Seiko Astron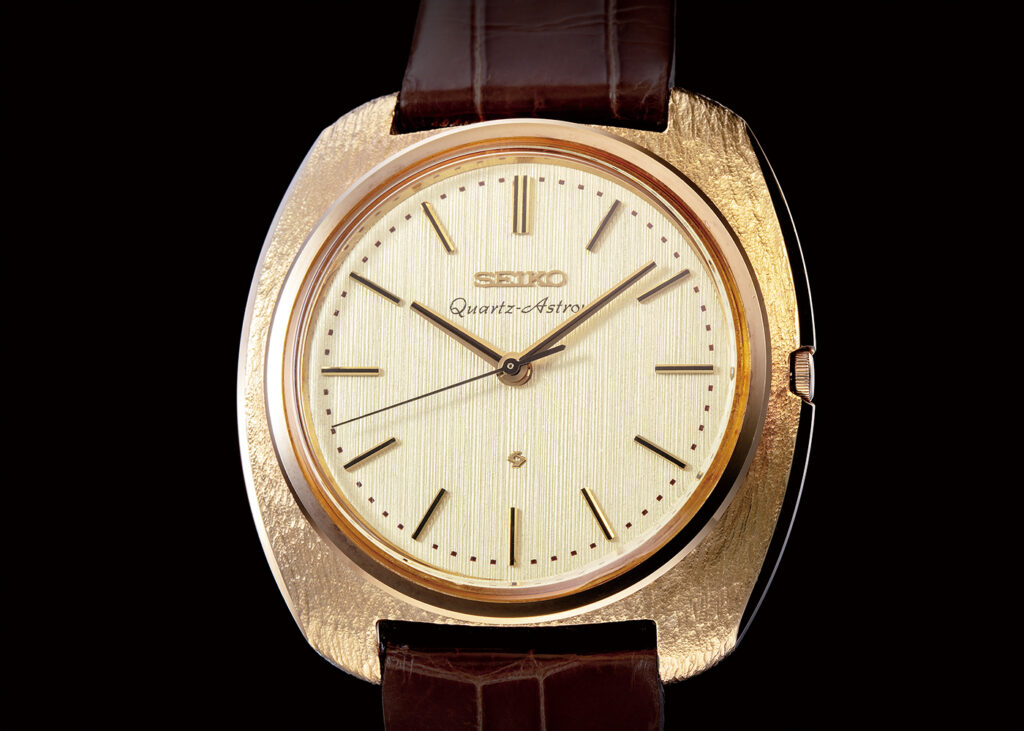 The Seiko Quartz Astron 35SQ
If you know Seiko, then you'd know that it is one of the most innovative watch brands around the world. So on Christmas day in 1969, the Japanese brand launched a revolutionary watch that was very different from the rest. They called it the Seiko Quartz Astron 35SQ. The new model was marketed as the world's first quartz watch. Meaning, the timepiece was run by batteries instead of gears.
You see, before 1969, most watches were powered by a mechanical movement. That's why its launch was well-received. In fact, the watch was the product of a decade-long research at Suwa Seikosha. According to the brand, its accuracy rating was at +/- 5 seconds per month with a battery life of at least 1 year. 
Apart from the fact that it works differently, the watch is undeniably beautiful. It came with a yellow gold case with a dark brown leather strap. The design was made by Kazunari Sasaki of Suwa Seikosha.
All things considered, it's no surprise that the watch sold like hotcakes. Within a week, Seiko sold 100 units at a retail price of 450,000 Yen (approximately $1,250). Not long after, people started preferring quartz watches to their mechanical ones. And this marked the start of the Quartz Crisis, which put dozens of Swiss watchmakers into bankruptcy.
The Second Revolution
It seems like they never run out of tricks on their sleeves. For an innovative brand like Seiko, the quartz watch was just the first step. Indeed, the Seiko Astron was not only the first-ever quartz watch. But soon, it also became the world's first GPS Solar Watch.
No doubt, Seiko was obsessed with making their watches as accurate as possible. In fact, they set out a project to develop a timepiece that could achieve accuracy anywhere in the world. Apparently, there are only four countries on Earth sending out standard time signals. What this means is that the data obtained from those satellite stations would not be as accurate.
So in 2012, Seiko introduced an upgraded Astron. It had a GPS Solar technology that boasts top-notch precision. In fact, it displays the exact local time. But how exactly does it do that? Simply put, the watch gets the time and location data from a GPS network instead of the satellite stations mentioned above. This makes it a breeze to change from one timezone to another.
After a few years, Seiko has released a few more versions of the watch. Some were even released in limited numbers. Let's take a look at those recommended models later in this article.
What Makes the Seiko Astron Good?
The answer to this question can be summed up using only one word: innovation. What makes the Seiko Astron so special is that it not only brought a lot of features to the table but it also changed the way the world manufactured watches. Because of the Astron, we are not just limited to expensive mechanical watches.
Recommended Seiko Astron Watches
While the Seiko Astron originally came out in one version, the succeeding models branched out. Some focused on motorsports, while some were made for more formal occasions. However you like your watch, it won't be difficult to find one that suits you. Read on to know more about our recommended models.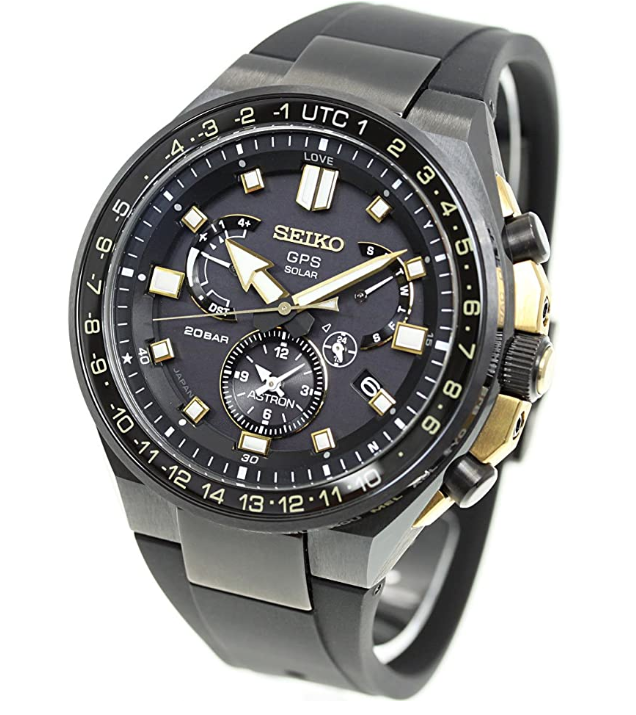 1. Seiko Astron Executive Sports Line Novak Djokovic Limited Edition
Why is it good?
Do you have a passion for both watches and sports? If yes, then the Novak Djokovic Limited Edition should be on your radar. This model features not only the highly-coveted features of the Astron, but also a lot of interesting design cues inspired by the famous tennis player.
What I like about this watch is that the tennis-related elements in the design were not forced. Indeed, you have to pay attention to get the references. For instance, the tennis point system (Love, 15, 30, and 40) is used for the minute markers. Apart from that, the 8 o'clock marker is shaped like a star. A symbol that honours Djokovic for being one of the eight players in history to earn a career Grand Slam.
The side of the bezel is engraved with UTC codes. While others are in silver, the four cities that host the Grand Slam (London, Paris, New York, and Melbourne) come in gold. At the back of the watch, you'll see an engraving of the signature of the athlete. To add, it displays a serial number that is unique to every watch.
Specs:
Case: Titanium (super hard coating) with a ceramic bezel

Dimensions: 46.7mm

Movement: Quartz

Water resistance: 200m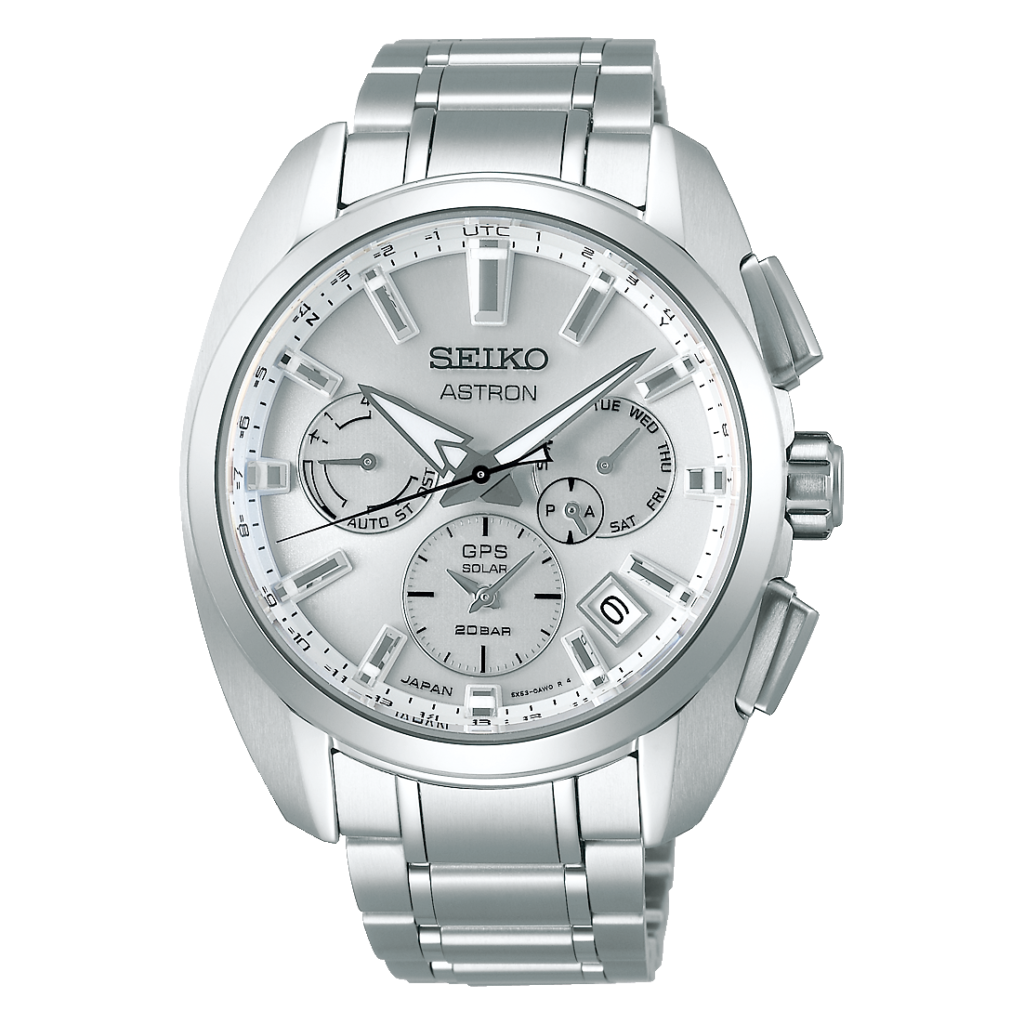 2. Seiko Astron SSH063J1
Why is it good?
For those who are fans of white watches, the Astron SSH063J1 is a good choice. Indeed, a big percentage of its dial is made of white. I believe this is the reason why despite the sub-dials, the whole face still looks uncluttered.
Right beside the 3 o'clock position is the day indicator. Meanwhile, the date window is nicely tucked right between the 4 o'clock and 5 o'clock positions. This is a very unusual placement since this complication is usually beside the 3 o'clock. However, its position blends well with the whole design.
Like the other Astron models, this one is loaded with high-tech features. A few of them are the DST (Daylight Saving Time), dual-time function, and perpetual calendar among others. Legibility is not a problem as its hands and indexes have LumiBrite on them.
In spite of its classy exterior, this timepiece is tougher than expected. Its case material is made with "super-hard coating" while its crystal is made with dual-curved sapphire. Finally, its bracelet comes with a new adjustment system. With it, you can instantly make minor adjustments with a touch of a button.
Specs:
Case: Titanium (super-hard coating)

Dimensions: 42.8mm

Movement: Quartz

Water resistance: 200m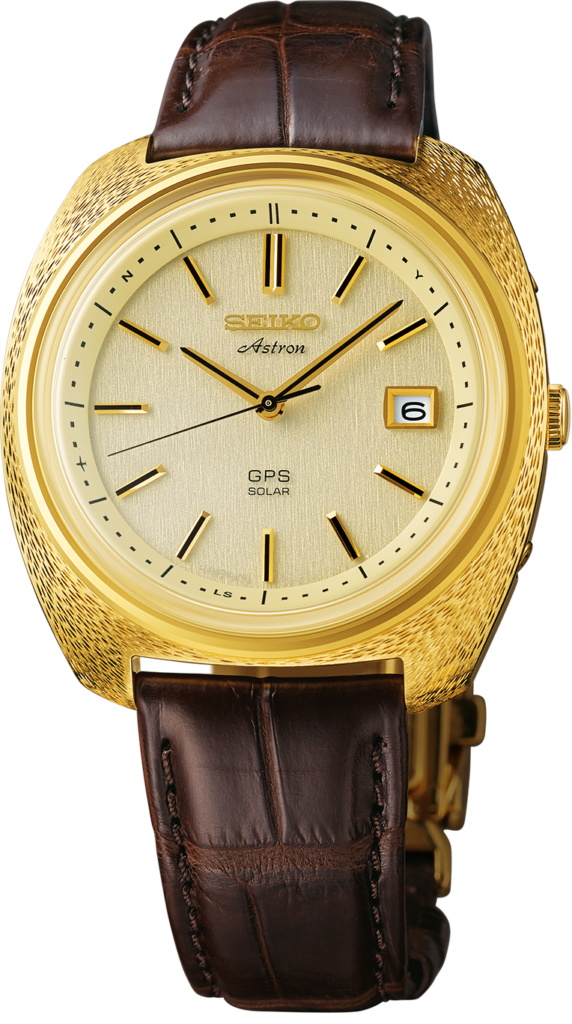 3. Seiko 1969 Quartz Astron 50th Anniversary Limited Edition
Why is it good?
A 50th anniversary is definitely an amazing feat. With that said, Seiko celebrated it with a special version that stays true to the original model. It is inevitable for high-tech watches to have modern designs. But if you're feeling nostalgic for the good old days, then this is a perfect choice without compromising features.
Its case comes in 18K yellow gold. And to make it more special, each case was hand-carved by skilled artisans. Meanwhile, the dial itself comes with a vertical hairline pattern. Furthermore, the hands and the indexes are thin and feature a black line on the surface. Just like the ones you see on the first Astron.
However, its similarities stop right there. Inside, it is fitted with the new Caliber 3X22. It is considered as one of the world's thinnest GPS solar calibre. Apart from that impressive feat, it automatically connects to the GPS network to maintain its top-notch precision. At times when you have to change time zones, you can simply push a single button to adjust the time.
If you love the Seiko Astron but prefer its vintage look, then this one's for you. Get the retro aesthetic with the modern features in one watch.
Specs:
Case: 18k Yellow Gold

Dimensions: mm

Movement: Quartz

Water resistance: 100m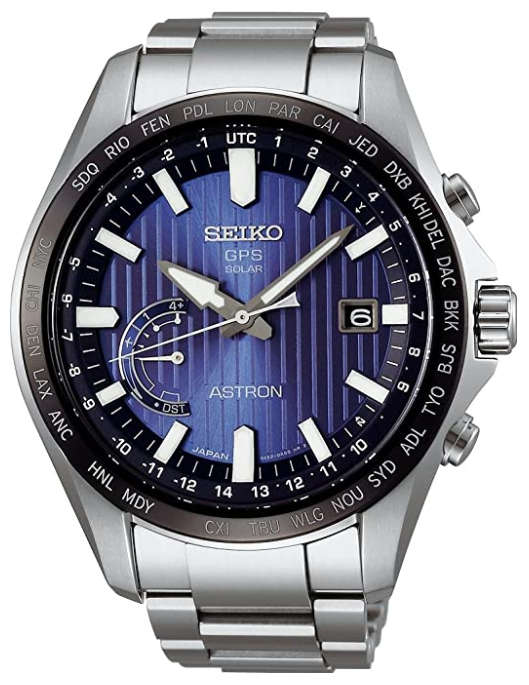 4. Seiko Astron SSE159J1
Why is it good?
The Astron SSE159J1 belongs to the 8X World Time collection. This means that it features a simpler dial than the other models. In fact, the whole lineup revolves around the saying that "less is more".
To demonstrate, this model displays only two complications on the dial. In particular, only the DST indicator and the date window are displayed. However, this does not mean that it has only two important functions. In fact, it has just as many bells and whistles as the others. The automatic time adjustment, in-flight mode, and perpetual calendar is just some of the tricks it has up its sleeves.
In addition to those features, it also boasts a slim case. In fact, its thickness measures only 12.4mm. This makes it one of the slimmest Seiko Astron models. Consequently, the antennae that it uses is inevitably smaller. But don't worry because Seiko managed to develop its circuit so its reception of GPS signals is unchanged.
This model is ideal for people who need an elegant watch that has jam-packed features. Aesthetically speaking, its dial comes in a medium blue shade that gradually becomes lighter as you work towards the centre. To make it more interesting, it also has horizontal patterns that are nice to look at.
Specs:
Case: Stainless steel (super hard coating) with ceramic bezel

Dimensions: 45.4mm

Movement: Quartz

Water resistance: 100m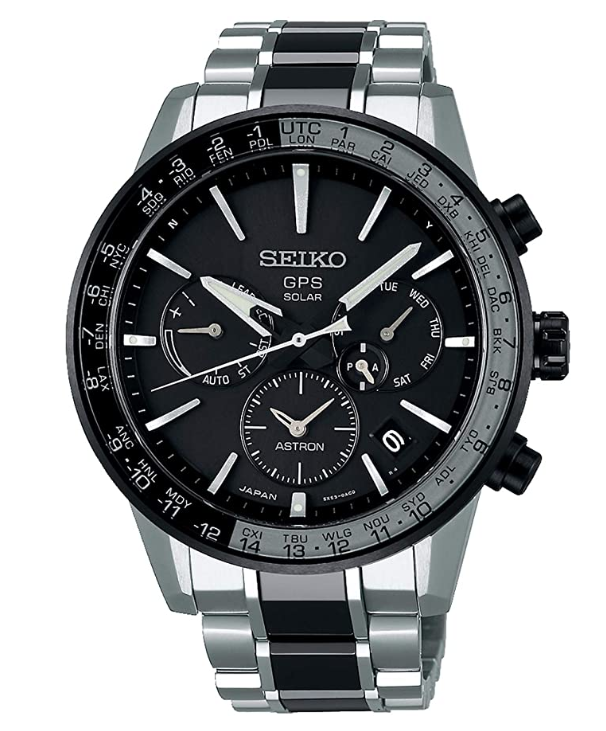 5. Seiko Astron SSH011J1
Why is it good?
Seiko claims that the Astron SSH011J1 is the most advanced ever. And I think they have the right to say that. Indeed, this timepiece takes things to the next level.
To demonstrate, this watch uses a very special calibre called the 5X53. A few of its capabilities are the high-speed timezone adjustment and the time transfer function. With its re-engineered components, it would only take the wearer three seconds to adjust from one time zone to another. If that's not efficient, I don't know what is.
Do you see the sub-dial at the bottom? It shows a second timezone of your choosing (generally called the home time) while the main dial displays the local time. If you mostly travel alternately between two places, adjusting the time can be a pain. Thankfully, the time transfer function will let you switch those two time zones with just a push of a button.
Lastly, this model is one of the world's slimmest GPS solar watches. With only a thickness of 13.3mm, it feels very comfortable to wear every day. It is also easy to fit under your sleeves when wearing suits or blazers.
Specs:
Case: Titanium (super hard coating) with ceramic bezel

Dimensions: 43.5mm

Movement: Quartz

Water resistance: 100m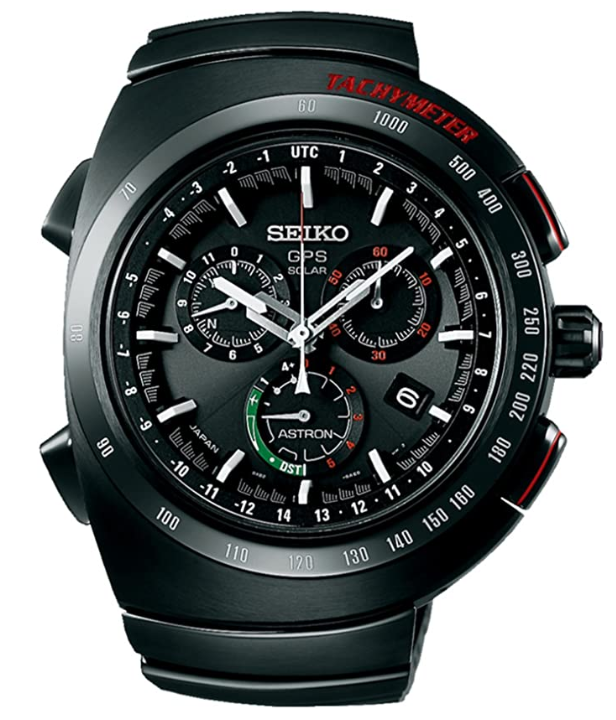 6. Seiko Astron GPS Solar Chronograph Giugiaro Design Limited Edition SSE121
Why is it good?
Being a chronograph, it's no surprise that the Astron became associated with race cars. Take for instance, the Giugiaro Design Limited Edition SSE121.
While the brand's collaboration with Giugiaro dates back to 1983, we're going to talk about the 2017 reissue model. In truth, Giorgetto Giugiaro is an automobile designer and not a watch designer like Gerald Genta. However, it proved to be a good combination and the picture above is proof of that.
Aesthetically speaking, it definitely looks like a watch made for motorsports. Majority of its colour comes in black with a few hints of red and green. The dial consists of three sub-dials for the chronograph. Furthermore, a rectangular date window is placed at 4 o'clock.
Under the hood, the watch is powered by the GPS 8X82 calibre. It is a solar-powered chronograph that is jam-packed with features and add-ons. A few of those features are the perpetual calendar, chronograph, and daylight saving time function.
Specs:
Case: Titanium

Dimensions: 46.3mm

Movement: Quartz

Water resistance: 100m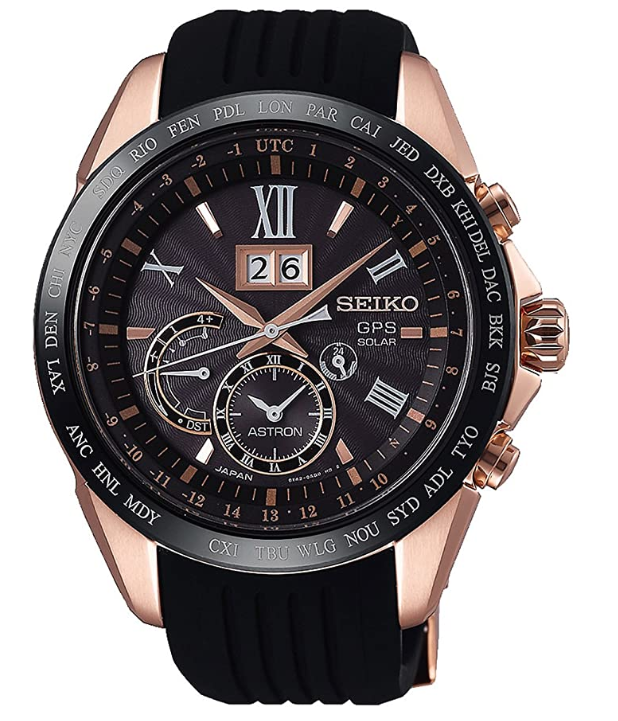 7. Seiko Astron Big Date SSE153J1
Why is it good?
For those who prioritise the date complication of watches, this is for you. The Big Date SSE153J1 is exactly what its name implies. With that said, its date window is bigger than average for easy viewing. 
Just below the 12 o'clock marker are two different date windows beside each other. That's one window for each digit of the current date. Apart from the big date window, the watch also features a second time zone at the 6 o'clock position.
Meanwhile, the case itself is elegant for formal occasions. Although mostly black, it also consists of rose gold accents. Some of the hour markers are in Roman numerals. A classy choice, I might add. And to deviate from the sporty aesthetic of the other Astron, it comes with slimmer hands. In fact, Seiko even advertises this model as the dress watch version of the Astron.
Furthermore, it is also convenient for trans-atlantic flights with its in-flight mode. When this mode is turned on, its GPS reception will not work. Think of it like the airplane mode of your iPhone. This just proves that this watch is ideal for entrepreneurs who mostly find themselves in dinner meetings or business trips abroad.
Specs:
Case: Titanium (super hard coating) with ceramic bezel

Dimensions: 45.5mm

Movement: Quartz

Water resistance: 100m
Final Notes
The Seiko Astron impressed the whole world once but it didn't stop there. Its momentum goes on as Seiko continues to bring new technology and innovations. The modern versions of the Astron are definitely making their ancestors proud.
Without a doubt, you would be hard-pressed to find a timepiece that offers more advanced features than the Astron line. Will future Seiko Astron models be able to connect with your phone or go to outer space? I have no idea, but seeing what the brand has achieved so far, it's not so hard to imagine.
If you want to learn more about the Quartz Crisis, check out the story of Universal Geneve as it struggled during that era.