Have you ever dreamt of collaborating with your favourite watch brand for your very own signature model? There's Kobe Bryant with his Hublot collection and Novak Djokovic with his own Seiko Astron. But can I let you in on a little secret? You can have your very own signature watch with Undone Watches!
Yes, you read that right. This microbrand takes you through a collaborative process to help you make your watch from scratch. You'll get to nitpick every detail of your watch from something as big as deciding the dial layout to something so small as choosing the hands. Read on to find out how to craft the watch that will tell your story.
The Story Behind Undone Watches
Undone is a Hong Kong-based watch brand that has been making noise lately. If you're wondering where you've heard it, this microbrand was launched via the Kickstarter website back in December 2016. Really, Kickstarter is starting to become a goldmine for rising watch brands like Baltic.
From Repairing tProducing Watches
However, the story of Undone watches started years before that. Michael Young, the founder of the brand, was only 15 when his father gave him a Rolex Daytona. It was love at first sight and his passion for vintage watches only grew as the years went by. With that, he started collecting watches and even learned how to repair them.
If you're a vintage watch owner, his name might be familiar to you. To help you remember, he is the owner of a globally-known watch repair and restoration shop called Classic Watch Repair. Over the years, he built his reputation and even earned the nickname "the bracelet magician". Apart from that, he became a supplier for Swiss brands like Omega, Franck Muller, Hublot, and many others.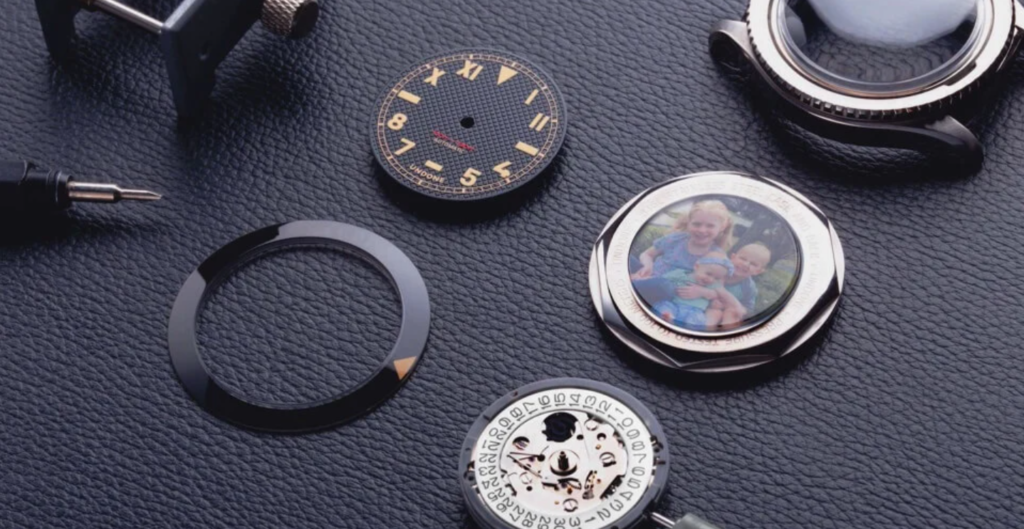 A Watch that Tells your Own Story
Due to his reputation and passion for watches, it is to no surprise that Michael Young started his own watch brand. And to compete with watchmakers that have a lot of heritage under their belts, he turned his weakness into his strength. He may not have a history that lasts for centuries, but he let his customers define that history.
In an interview, he said that people are not satisfied with off-the-shelf timepieces anymore. He thinks people are looking for watches which they can put their own story into. And in my opinion, there's something special with having a watch that lets you express yourself.
What's in a Name?
When you look in the dictionary, one of the synonyms of the word "undone" is "unfinished". It doesn't seem like a fitting name for a high-quality watch brand, is it? However, Michael Young has an explanation behind it. He said the watch cannot be considered done until the wearer has chosen the desired parts and design. The watches that they produce are a blank canvas and won't be complete until the owner brings their own story into it.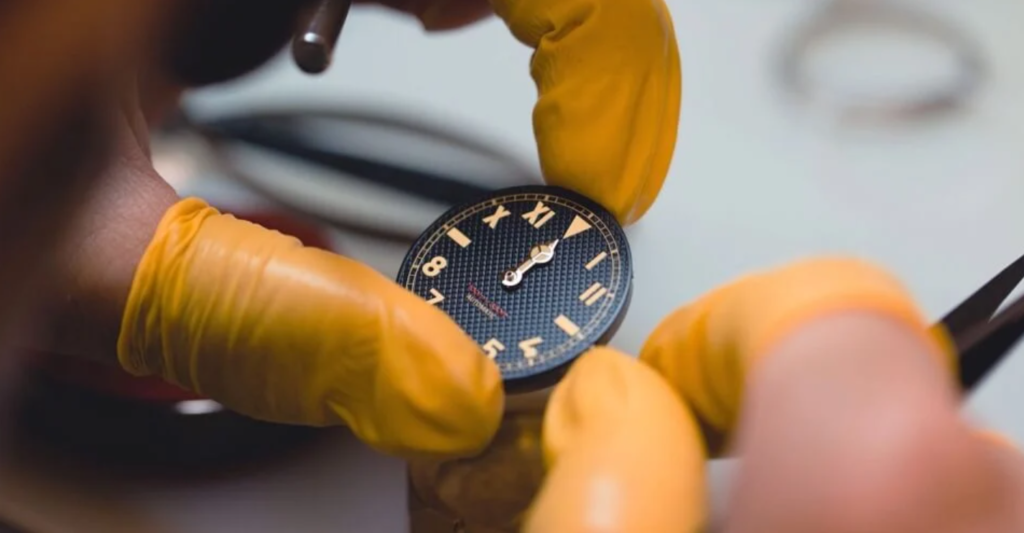 What Makes Undone Watches Good?
For now, Undone Watches is considered as a microbrand. What this means is that it is still a small-scale company. Despite its size, the company has a lot of qualities that will make it popular in no time. Here are a few things that make the brand stand out.
1. Next-level Personalisation
The sky's the limit with the customisation options of Undone Watches. From the dial to the strap, it's all up to you. And each part of the watch that you can choose comes from a carefully-curated menu. Furthermore, each component is inspired by different iconic watches so you're sure that your watch will turn out great whichever one you choose.
But of course, there's no need to worry if you don't have any design experience under your belt. Undone Watches will not leave you to fend for yourself. In fact, it's like you're taking part in a collaboration with the brand as you will stay in touch with the company's designers to guide you.
2. Competitive Price
With all these customisation options, one would think that the watch would cost a fortune. Lucky for you, nothing is farther from the truth. In fact, one of Michael Young's goals is to offer these customisable watches at the best price possible.
When looking through all the watch presets, your choices would only go between $200 and $500. To add, having an extra text printed on your watch's dial will not even cost more than $20!
And you're not just paying for the customisation options. These prices are considered very cheap if you'll consider the fact that the watches are made in-house by experts.
3. Reliable Movement
Michael Young has a lot of experience when it comes to repairing watches. With that said, you can trust him with providing a reliable movement for your watch. In fact, some of his models use the meca-quartz movement. As its name suggests, it is a hybrid between a quartz and a mechanical calibre and it brings out the best of both worlds.
With that said, the calibre features a sweeping second hand that you get from a mechanical movement. Additionally, it retains the accuracy and precision that you would expect from a quartz watch.
For an affordable timepiece, this is considered a huge advantage.
4. Strict Quality Control
In spite of having a small team, the folks from Undone continue to prove that they take quality control seriously. Their team consists of engineers, designers, and researchers to make sure that they're up to date when it comes to modern-day production technologies. Apart from that, Michael Young is also determined to only use materials of the highest quality.
How to Customise your Undone Watches?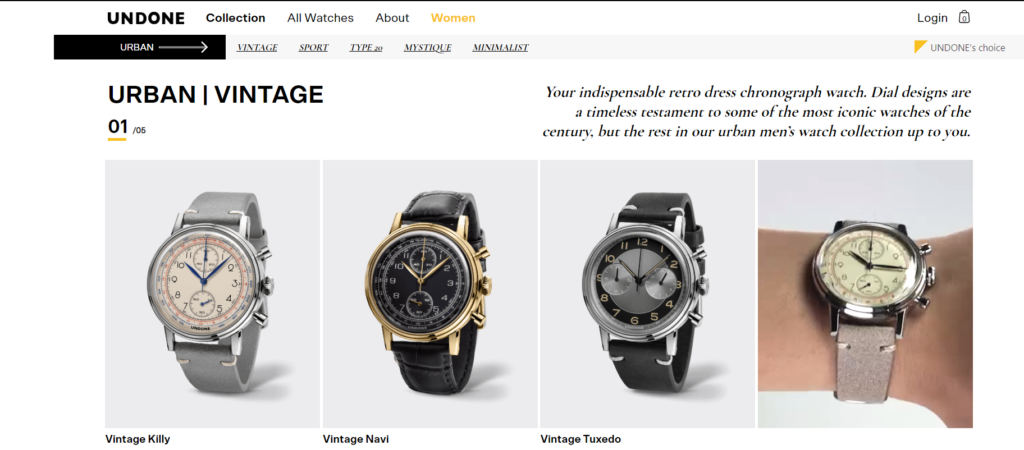 1. Start with a base model.
First off, starting from scratch can be intimidating especially for people with no design experience under their belts. So instead of submitting a draft a la Gerald Genta, you can choose from the presets provided. You don't have to worry about not finding the right one since the selection is wide. In fact, you can choose from four collections and those collections are further divided into different models. We'll dissect each collection in a different section below.
Each preset has its own personality. Some are more sporty while some are vintage. We suggest you choose the closest one you like to the vibe you're aiming for.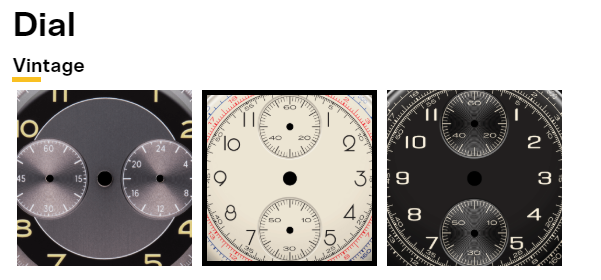 2. Pick your favourite dial.
Next, you can choose the dial layout. Depending on the preset you choose, you can customise different elements of the dial. For some watches, you can choose both the layout and the colour while others are limited to the latter. 
As an example, if you choose a chronograph watch as your base, you have the choice on where your sub-dials are positioned. Whereas if you choose a dive watch, you can only choose the colour since dive watches typically don't have sub-dials.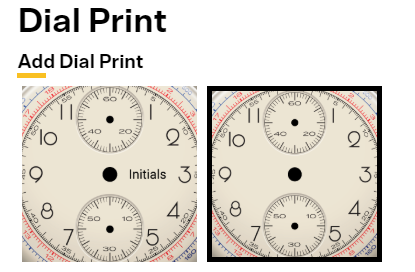 3. Add a dial print.
Apart from the layout and colour, you can add a print on your dial. For now, the designs are quite limited. One of the simplest prints that you can put on it is a maximum of 12 initials for an extra charge.
For some models, you can also choose zodiac sign icons as your design. You can even choose the placement of it. Here's to hoping that they will add more icon options in the future.
With that said, adding texts or icons on your watch's dial is a great way to make your watch stand out!
4. Choose your case.
Once you're satisfied with the dial, it's time to move on to the watch's case. For this one, you have four options:
Yellow gold PVD coating

Rose gold PVD coating

Black PVD coating

Stainless steel
These cases have a bright polished top and brushed sides.
5. Sterile or graduated bezel? (optional)
If you chose the Basecamp or Aqua as your preset, you can customise your bezel. Your two options are the sterile (blank) and the graduated bezel. The former only comes in black while the latter has three colour options — olive green, black, and navy blue.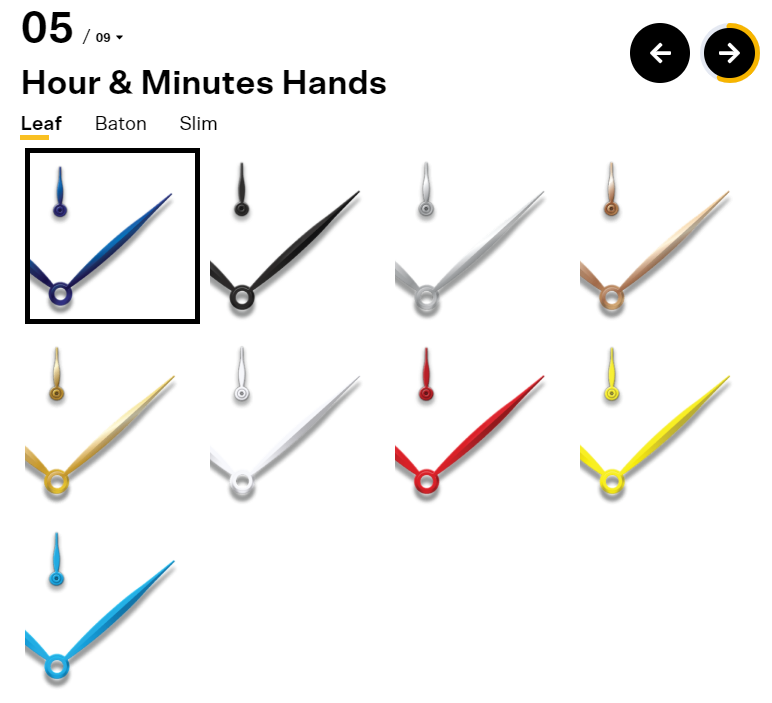 6. Choose your hands.
Next, you can choose your preferred style of the hour and minute hands. The choices depend on the chosen preset. To point out, you can choose leaf, baton, or slim hands for the Urban watches. Meanwhile, the options for the Basecamp watches are Arrow, Sword, or Mercedes hands.
After choosing the hour and minute hands, you can choose a separate design for the seconds hand. It comes in three choices — straight, arrow, or lollipop.
We're guessing that Undone watches provided the ones which will look best with the type of watch.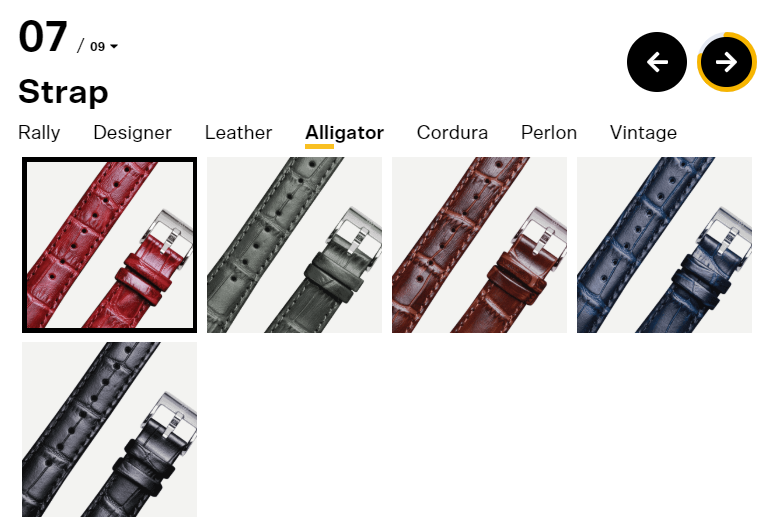 7. Pick your strap.
The choice of the strap can make or break the look of the watch. Fortunately, Undone watches come in all sorts of straps. And we're not exaggerating when we say you'd have a hard time choosing just one.
First, you have to choose the type of strap. The choices are many such as Alligator, Rally, and Perlon among others. And once you've decided which type you want to go for, you can then choose the colour of the strap.
We just love how a simple strap change can alter the whole look of the watch. Looking for something sporty? Check out the Rally strap. Want something to wear to dinner dates or business meetings? The Alligator watch is perfect.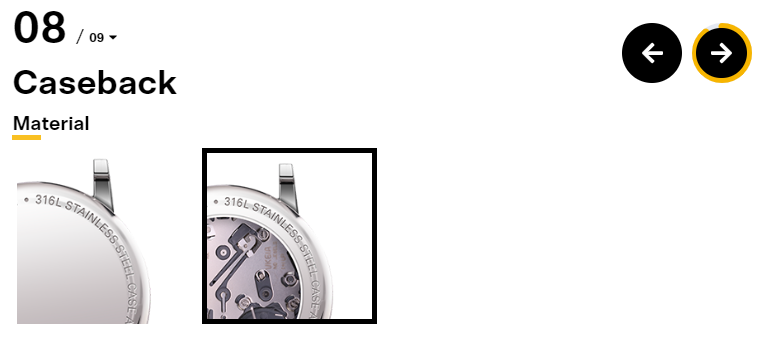 8. Write something on the caseback.
For the finishing touches, you can customise your caseback. The two main choices are the solid and the glass caseback. If you decide to go for the former, you can engrave a few words on it. But if you choose the glass variant, you can have your photo printed on it.
Undone Watches' Collections
As mentioned above, you have to choose a preset for your watch. And those watches are divided into four different collections. Here are a few write-ups to help you decide which type of watch is perfect for you.
1. Urban
The Urban collection is the most popular among the whole lineup. As you can see, it is the dressy collection whereas the others give off a more sporty vibe. While it is divided into four variants, each one features classic dial designs. Let's take a look at each version below.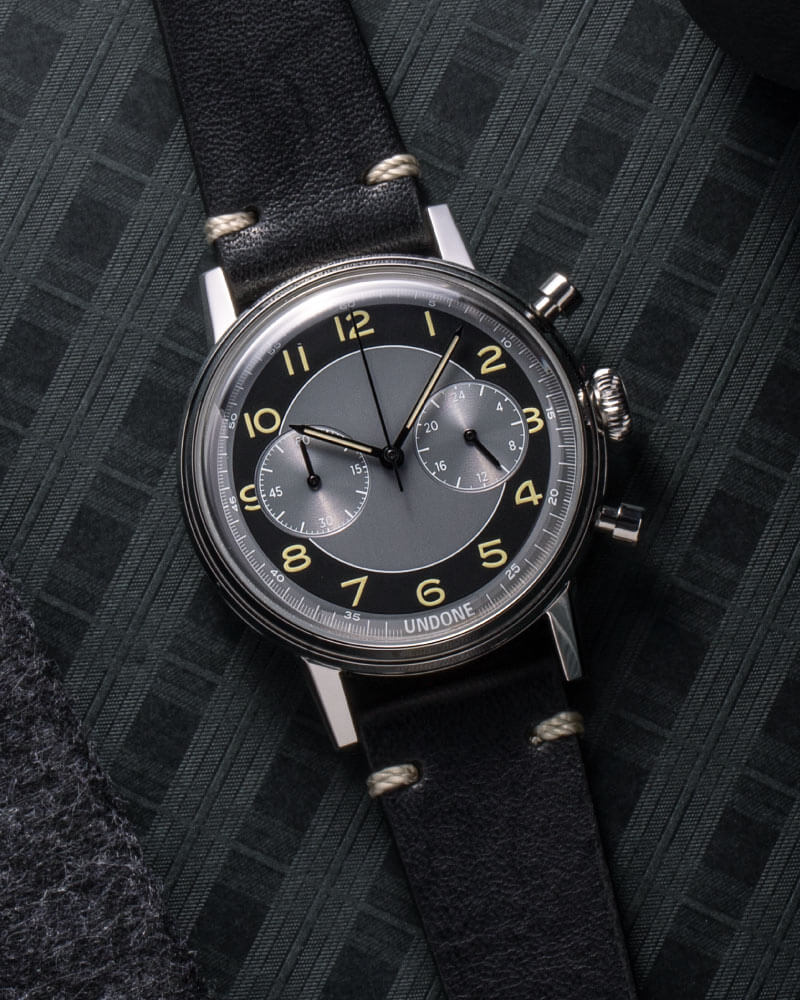 Urban Vintage
Staying true to its name, the Urban Vintage was inspired by iconic timepieces of the past. Its design is classic and never gets old with its intricate details and textures.
When it comes to layout, this chronograph is available in two options. For the first one, the two sub-dials are placed side by side. On the other hand, each dial is located either on the 6 or 12 o'clock positions.
To conclude, the Urban Vintage is perfect for the modern gentleman who is looking for a retro dress watch.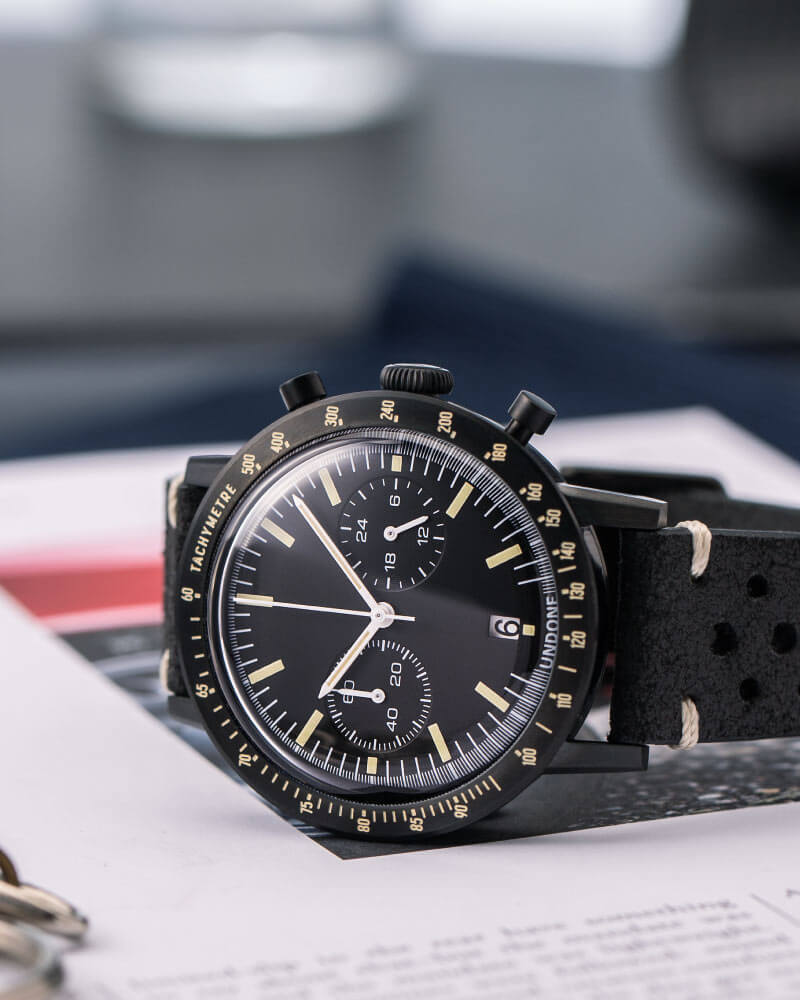 Urban Sport
The Sport variant straddles the line between sporty and dressy. And according to Undone Watches, it is their ultimate racing watch. In our opinion, it gives off the same vibe as a TAG Heuer Carrera.
Like the other motorsports-inspired watches, the Sport features a tachymeter bezel. In addition, its stainless steel case bears two pushers on the side to make tracking time more convenient.
Under the hood, it uses a mecha-quartz movement for superior accuracy and precision. Indeed, this watch is perfect for those who need a dressy timepiece as well as a precise stopwatch.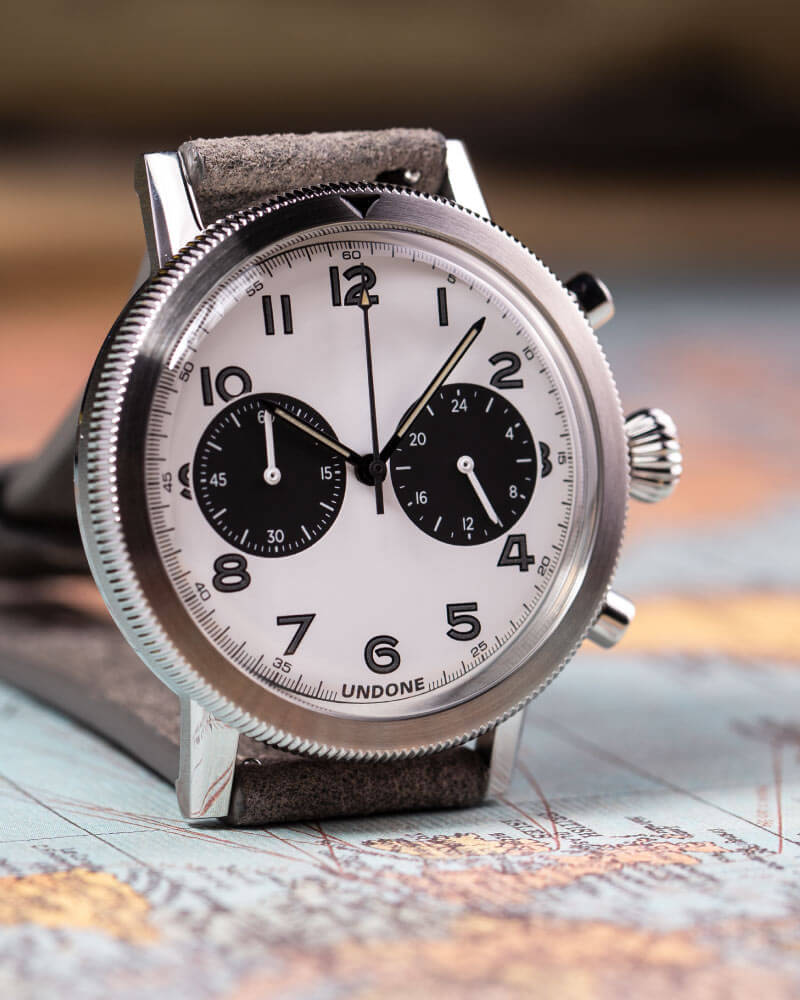 Urban Type 20
Apart from racecard rivers, the folks over at Undone Watches also made something for aviation enthusiasts. This flyback chronograph boasts a retro styling that matches old-school pilot watches.
To give more detail, the Urban Type 20 gets inspiration from the watches used by the French Air Force. This explains its large case diameter and oversized crown. Apart from those, it also features a tactile crown bezel. Meanwhile, its flyback reset function makes it easier for the wearer to track time.
This watch is perfect for those who are into iconic aviation watches.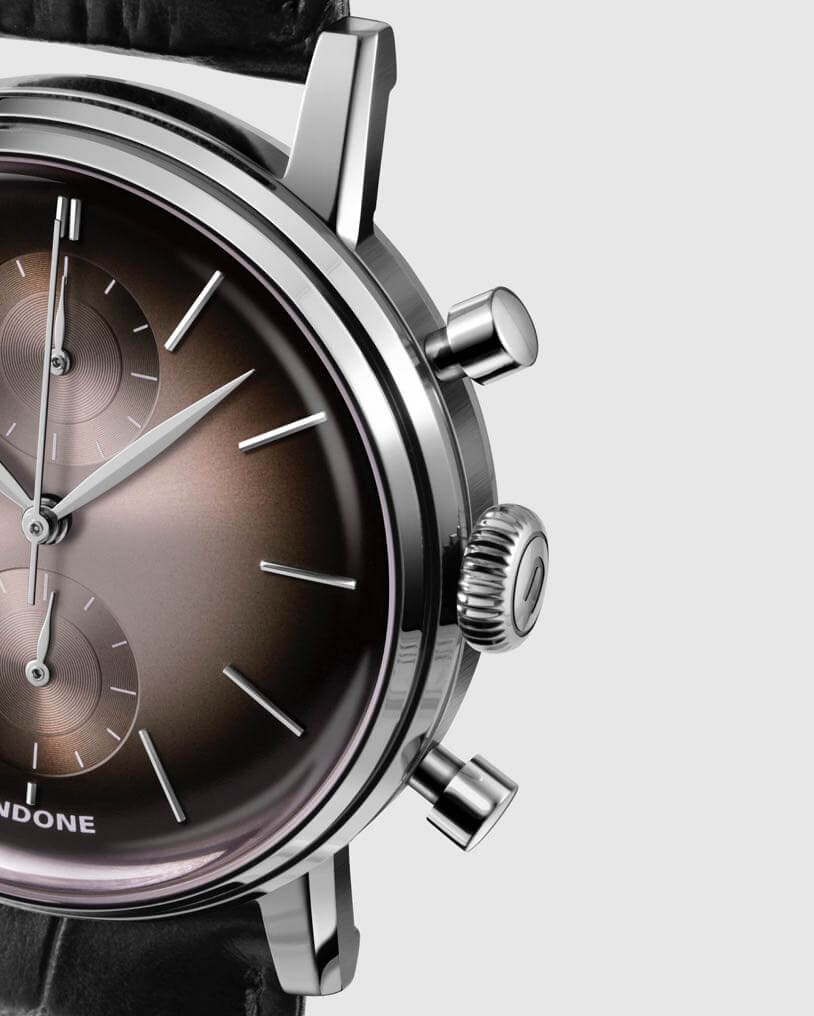 Urban Mystique
Perhaps the most gorgeous dial belongs to the Urban Mystique. Indeed, this variant is a good watch when you want to suit up and stand out from the crowd. The watchmakers from Undone Watches carefully handcrafted each of its luminous fumé dial. With that said, each watch went through 12 labour-intensive processes to achieve this magnificent detail.
But don't let its elegance make you think that it's a time-only watch. In fact, it is complete with chronograph functions. Apart from that, its dial is protected by a hardened domed K1 Crystal. The Mystique only proves that you can be elegant and rugged at the same time.
To conclude, this watch will feel at home when worn with a suit or a blazer during business meetings or formal dinners. Indeed, this watch is perfect for those who want elegance without sacrificing function.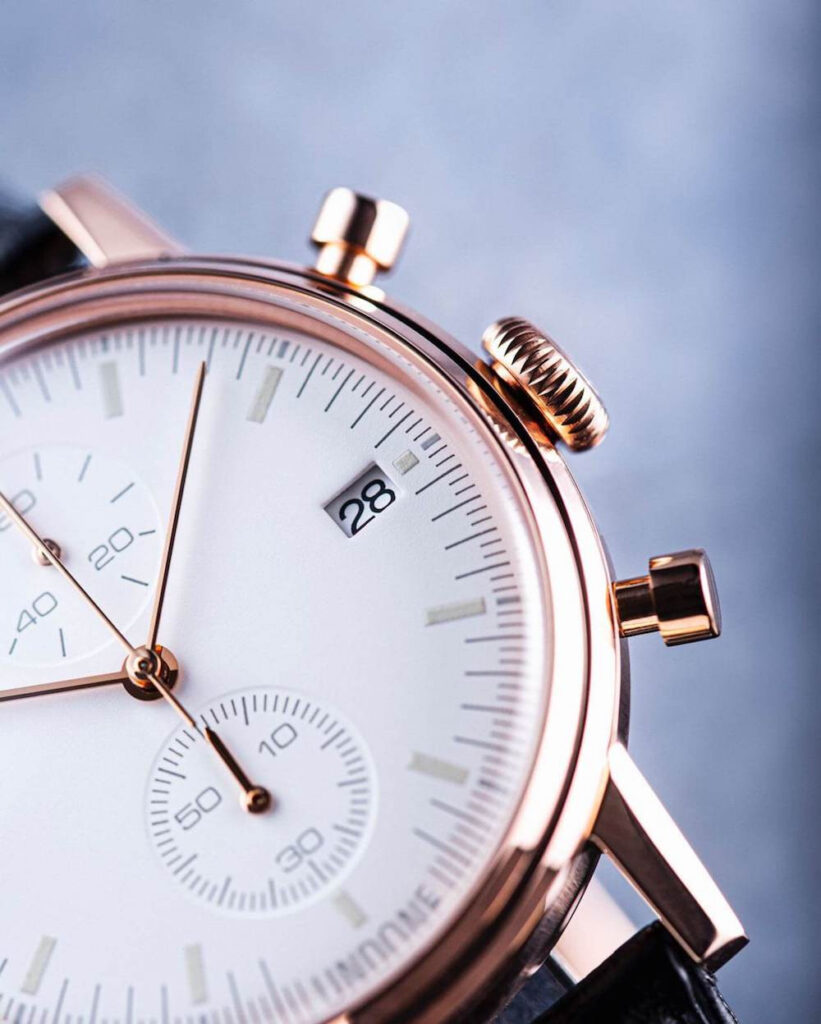 Urban Minimalist
In contrast to the previous variant, the Urban Minimalist is toned down. And according to Undone Watches, it is a "statement of simple sophistication".
The watches that belong to the Minimalist collection have matte-finished dials. Furthermore, you have a lot of dial colour options when it comes to customising your watch. And among those choices are black, white, pink, yellow, etc.
A lot of people choose the Urban Minimalist as a starting block for customising their watches. This is due to the fact that its plain dial is easier to tinker with.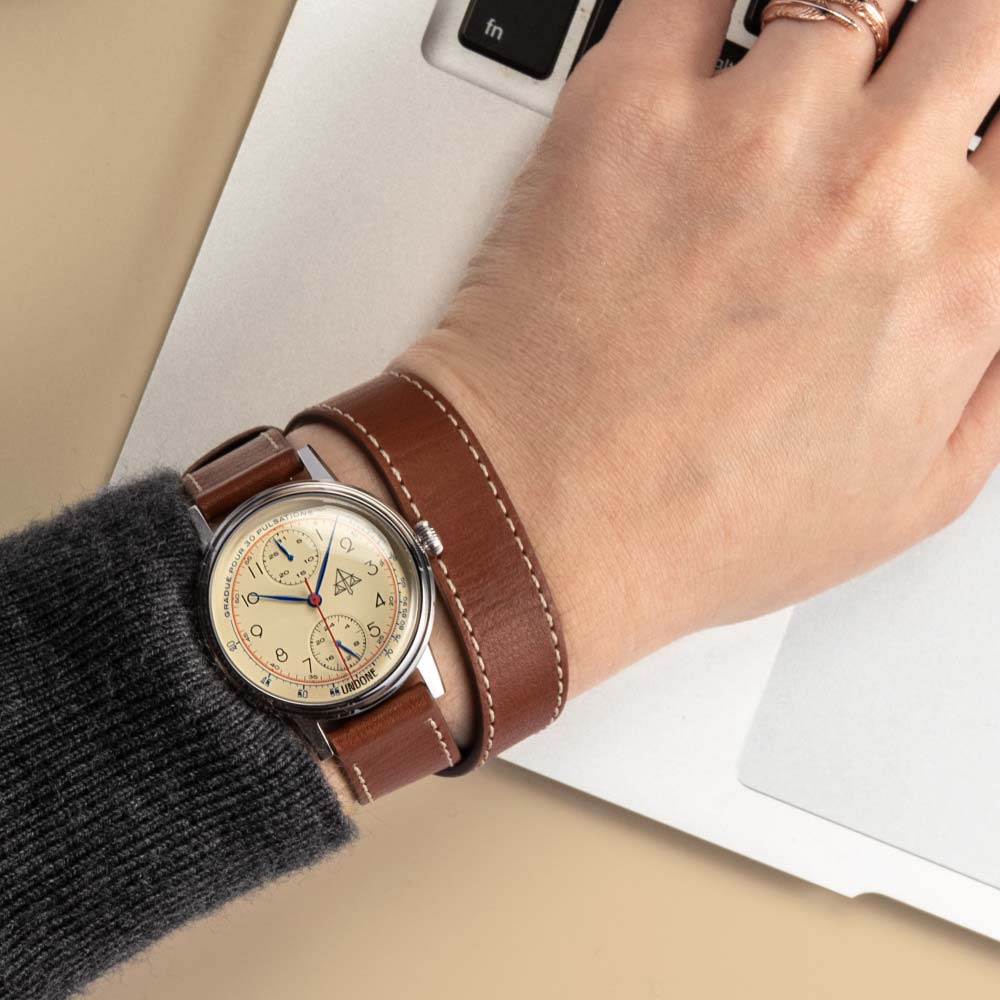 2. Urban 34 Killy
The Urban 34 Killy was made for the ladies with its small 34mm case. Just like the regular Urban, it boasts a vintage-inspired design that never gets old. The dial consists of mirror polishing and brushing which are inspired by watches from the mid-1900s.
In addition to all the customisation options, this model comes with two sets of straps. One is the regular strap while the other is a double tour strap. These straps are also fitted with a quick-release system so you can change the look of your watch in an instant.
Lastly, the Urban 34 Killy gives back to the community by supporting women's rights groups. For every Urban 34 Killy unit sold, Undone Watches donates 10% of the profit to the Global Fund for Women.
3. Basecamp
Military watch lovers will gravitate towards the Basecamp. It is the collection that is inspired by what soldiers wore during the war. But this time, Undone Watches gave them a modern touch. The watch designers even added a bezel! Furthermore, the Basecamp collection is further divided into 3 more categories — the Classic, Cali, and Sandblast.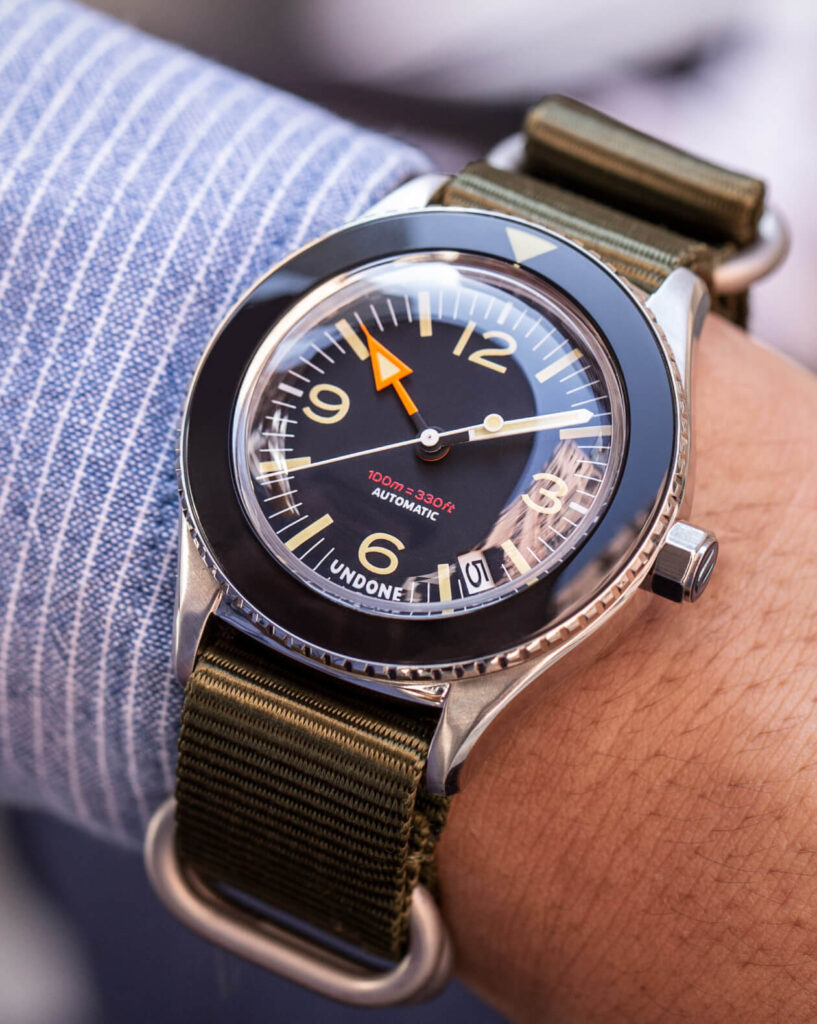 Basecamp Classic
The first variant is the Classic and it has the most basic design among the lineup. It combines functionality with vintage aesthetics.
Moreover, durability and comfort are top priorities of this watch. Indeed, its dial is protected with an ultra-domed plexi crystal. And its case is ergonomically sculpted for daily use.
This variant is for people who adore the classic military look.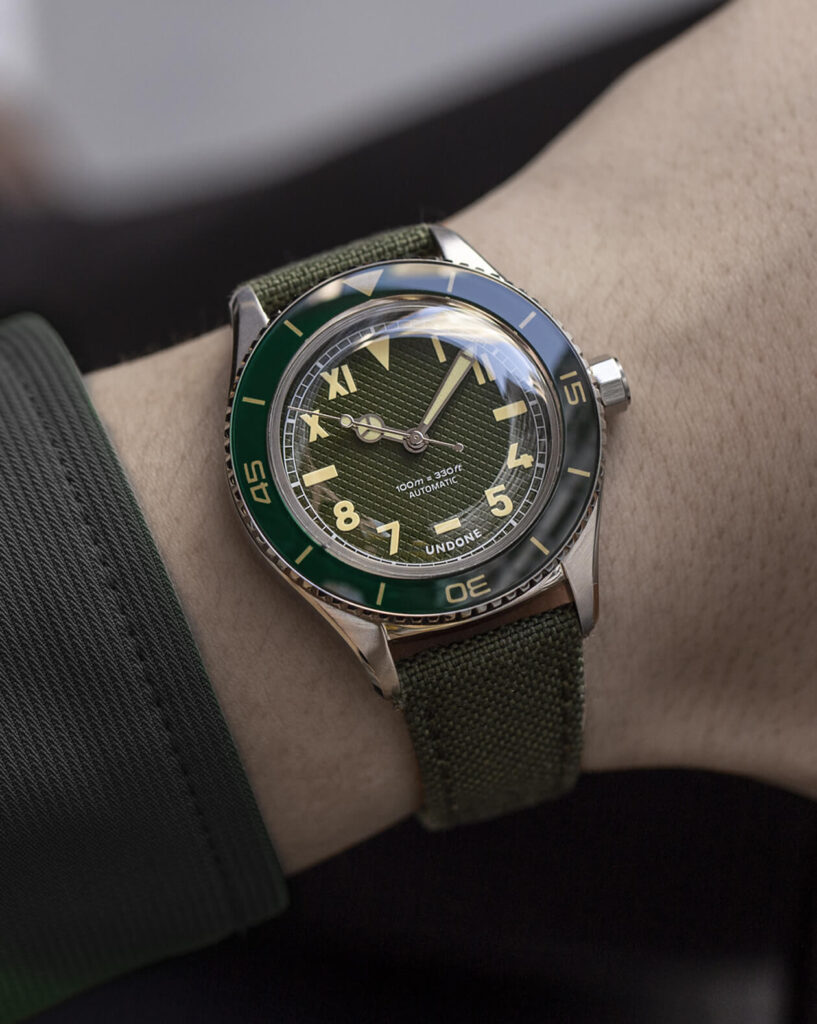 Basecamp Cali
The name Cali comes from the term "California Dial". Its unique layout is a combination of both Roman and Arabic numerals for its hour markers. A lot of sources say that the dial stemmed from the military to make it easier for WWII divers to read the time without fail.
Apart from the unusual dial layout, the Cali models also have an intricate waffle pattern. This gives the watch a very interesting detail especially when you look at it up close.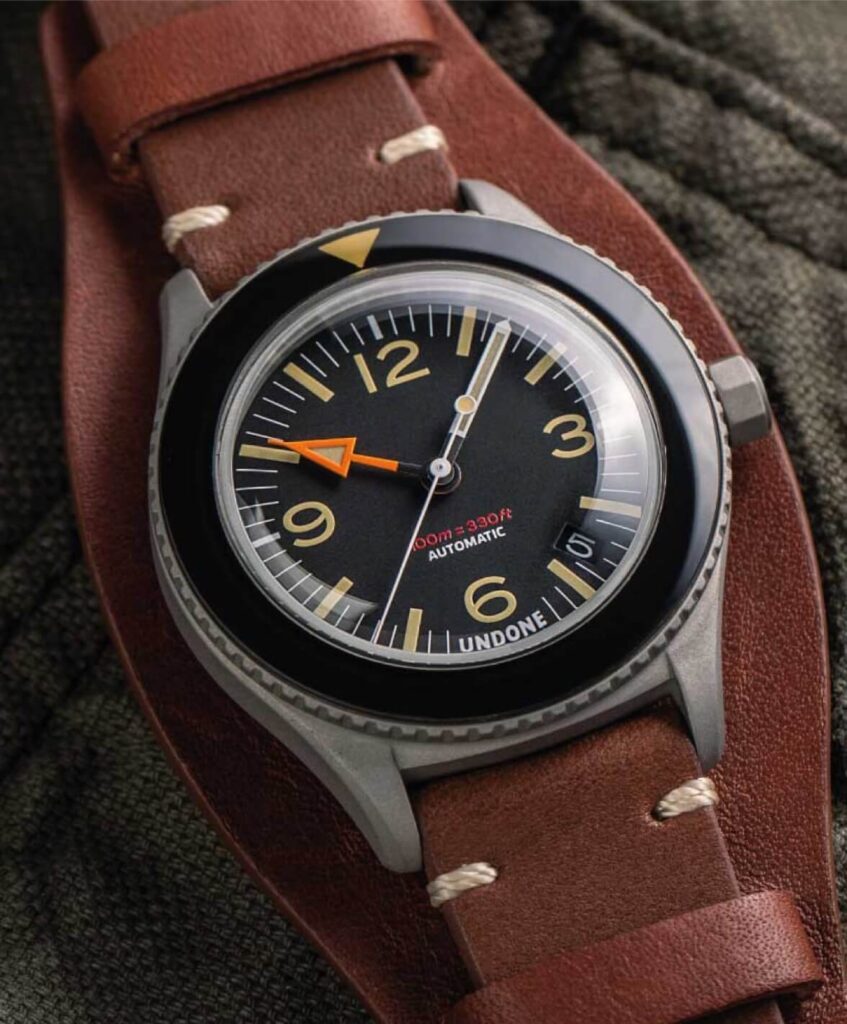 Basecamp Sandblast
As its name suggests, the Sandblast collection features a sandblasted finish. It took inspiration from raw industrial finishings that you can find on hardware and tools. This simple detail makes the watch command a stronger presence on the wrist.
Despite its glossy appearance, you'd be surprised that the finish is actually fingerprint-proof. So you don't have to worry about keeping the watch clean and tidy.
The Basecamp Sandblast edition is perfect for those who are looking for a no-frills, no-fuss tool watch that can get the job done.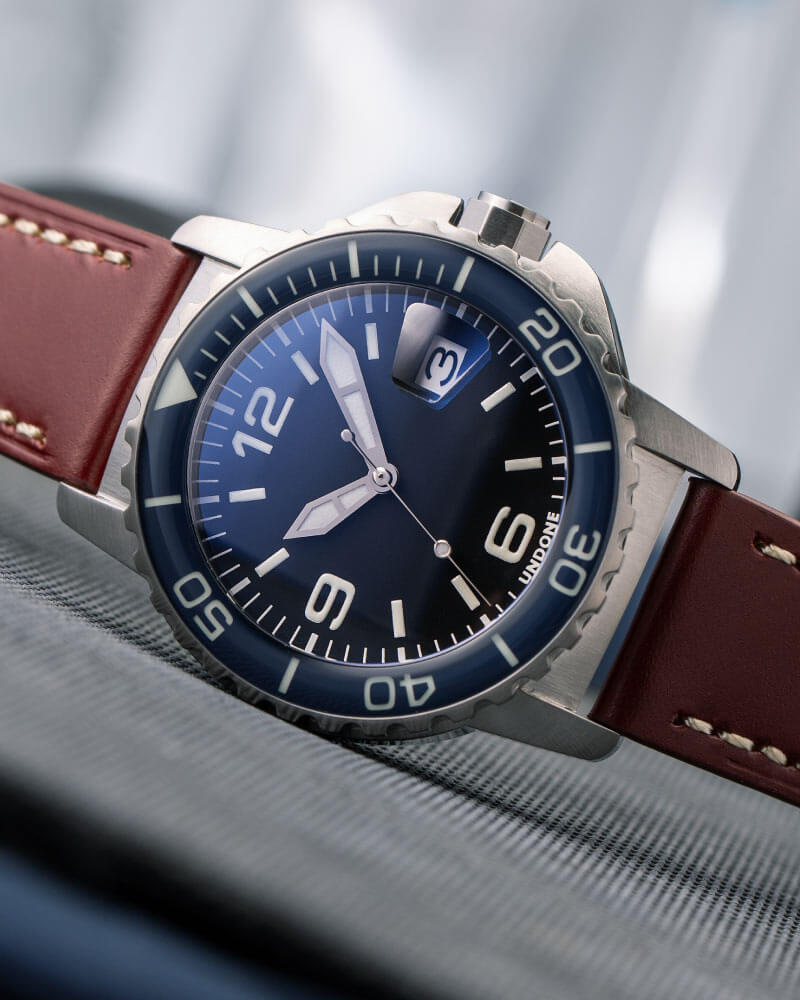 4. Aqua
For people looking for a rugged tool watch, the Aqua is their best bet. Indeed, this model was designed to keep up with a demanding lifestyle. It is also Undone Watches' line of modern divers.
With that said, it features a rotating bezel commonly found in dive watches. Apart from that, the dial is protected with a scratch-resistant sapphire crystal to handle the bumps it can get from physical activities.
Meanwhile, the whole dial itself is legible to make it convenient to read underwater. To point out, the Arabic numeral markers come in a large font and the indices are extra thick. The hour and minute hands are thick as well.
Who should get Undone Watches?
The highly-customisable watches from Undone are great for people who are looking for something very personal and unique. And when I say unique, I mean the chances of seeing someone who owns exactly the same watch are extremely low.
Apart from that, these watches are also good for marking special occasions. Planning to give it as a graduation gift to your son? You can have the date printed on the dial. Or maybe you want a watch to wear for your wedding day? You can have a portrait of you and your partner printed at the case back.
Final Notes
To conclude, the folks over at Undone Watches have provided a fun way to own a watch. The brand gives its customers a very unique experience that you can't get from any other watch company.
But don't make the mistake of thinking that the customisation options are just a gimmick to catch people's attention. If truth be told, the quality of the watches is definitely on par with other famous brands
All things considered, I won't be surprised if, after a few years, Undone Watches will be one of the popular watch brands that will trend in forums and group discussions.
Looking for more customisable watch brands? Check out our guide here!