Waltham is an old watch manufacturer that has had many ups and downs throughout its history. Among them is the use of a Waltham watch by Charles Lindberg on board the Spirit of Saint Louis in the 1920s, the first non-stop transatlantic flight in history.
Several centuries later, Waltham watches became known as affordable timepieces made for the Asian market. Nonetheless, their value varies widely.
To answer the question of whether Waltham watches are valuable, we need to go back to the company's origins, including the beginning of its foray into watch production. By the way, did you know that the company's former complex located in Roxbury, Massachusetts, USA is among the earliest manufactories to produce watches on a large scale?
Before Waltham's manufactory saw the light of the day during the 1850s, producing watches was a tiresome business at best. To make a watch, one needed to visit different workshops to collect the necessary parts.
After the watch parts were collected, they still had to be assembled by hand. This often lead to imprecision even when the pieces fit together.
The founding of the Waltham Watch Company, whose machinery proved capable of producing precise and interchangeable parts, solved these difficulties. Sadly, however, problems of a different sort ended the company's run in the mid-1950s. Today, a Swiss company, led by an American businessman of Italian origin, owns the former American watch company's shares. As such, Waltham remains in business.
So if you're wondering where Waltham watches are currently being made, the answer is that they're currently produced in Switzerland.
How To Find Out How Much Your Waltham Watch Is Worth?
Watches made by Waltham are popular among collectors. Of course, the most reliable method of finding out out a Waltham watch's value is to visit a qualified watch dealer. However, should you wish to do it yourself, you need to take the following things into account:
Age Of The Watch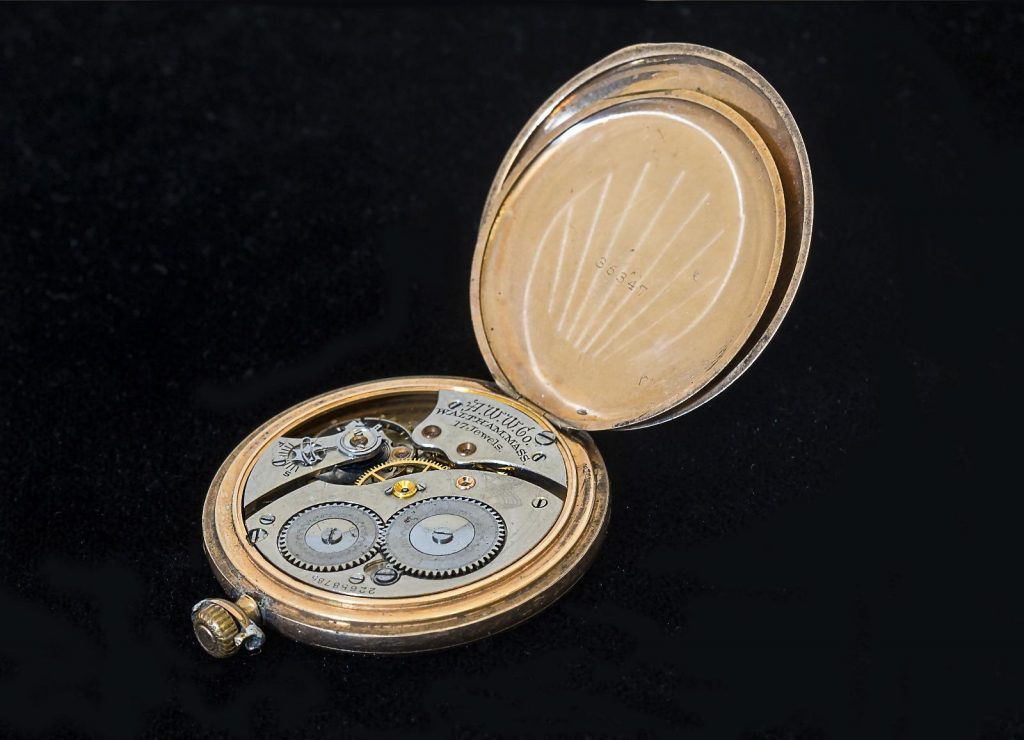 In general, the older your Waltham watch is, the higher its value. You can also determine its age by its serial number. If this is anywhere between 50 and 35,000, it means that the watch was manufactured between 1856 and 1957. In contrast, the lower the serial number of your watch, the older it is.
Additionally, opening a watch's back cover and looking at its mechanical parts can determine its age. This is extremely helpful if you want to get a more precise idea of how old the model is.
Overall Condition
The state of a Waltham watch may easily impact its value more than its age. If the watch has a scratch, dent, or is damaged in some other shape or form, its value is reduced. Furthermore, repaired pieces have a lower value than preserved ones.
If at all you need to repair a Waltham watch, make sure to hire a professional that has experience in working with watches of this brand.
Materials
The use of diamonds, precious metals, and other valuable materials also play a role in determining the value of a Waltham watch.
The above-mentioned are some basic factors that you need to consider when buying or selling a vintage Waltham watch. But if you intend to work instead with modern watches, continue reading to learn which Waltham models are top choices among watch professionals.
A List Of Modern Waltham Watches
Waltham AeroNaval XA Pure Watch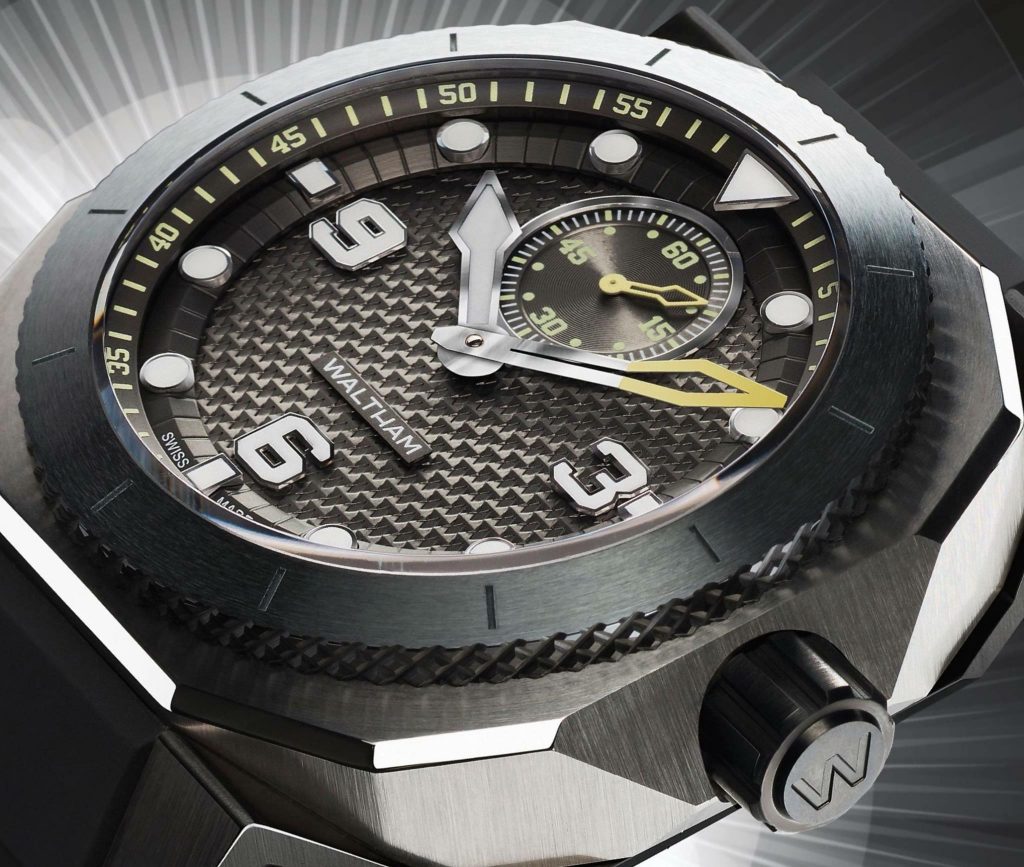 Due to its titanium casing, the AeroNaval XA Pure resembles some military watches made by Waltham when it was still an American company. As such, it is perfect for those who prefer a timepiece with a masculine design.
This watch's design is unlike other models made by various mainstream watch producers. As mentioned, it comes with a titanium casing which might seem a bit bulky due to its 47mm width. As such, it is somewhat heavier as compared to its counterparts.
This watch's high-quality and oval-shaped rubber strap ensures that it is comfortably worn. In addition, it is water-resistant up to 300-metres, which makes it allowable for usage with diving gear and during deep sea diving. While underwater, you can maximize the watch's glow feature in darkly-lit areas.
This watch also contains some other features which make it highly reliable. Besides a sub-dial at the 12 o'clock position which measures seconds, it also includes a battery reserve which can last between 40 and 44 hours.
If you happen to be among many collectors who like to purchase eyecatching watches, then why not include the Waltham AeroNaval XA Pure on your shortlist?
The price of this valuable masterpiece normally ranges from US$4,400 to US$5,500, depending on market forces and the provider.
Waltham AeroNaval AN-01 Watch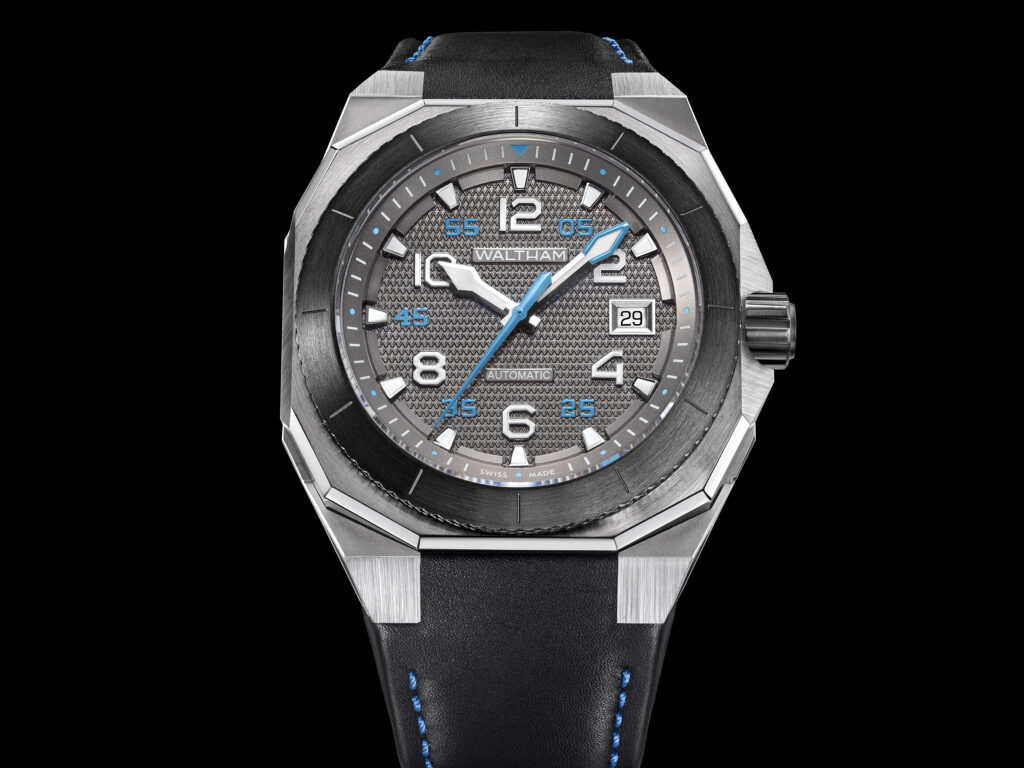 One can say that the AeroNaval AN-01 is a smaller relative of the XA Pure. Of these two Waltham watches, AN-01 has a better fit due to its 43 mm width. This particular model is also available in various colour ranges. Thus, it is perfect for people with differing preferences.
This watch comes with Italian leather straps of exceptional quality in black, blue, and red colours. In addition, it features numerals in different shades too including white, red, blue, and yellow. Under darkly-lit conditions, this watch's numerals and hands radiate a bright green glow.
Another unique feature of the AeroNaval AN-01 is its evenly-numbered numerals (2, 4, 6, and so on). Besides that, it comes with a power reserve lasting 38 hours.
If snorkelling happens to be among your favourite pastimes, then you will find the AN-01 watch to be a good companion. With its 100-metre water resistance, you don't have to worry about possible water damage.
With a price ranging between US$2,750 to US$3,850, the Waltham AeroNaval AN-01 proves itself to be a highly valuable model. So if elegance, compatibility, and functionality accompanied by a low price are your priorities, then consider purchasing this watch.
AeroNaval CDI Black Matter Waltham Watch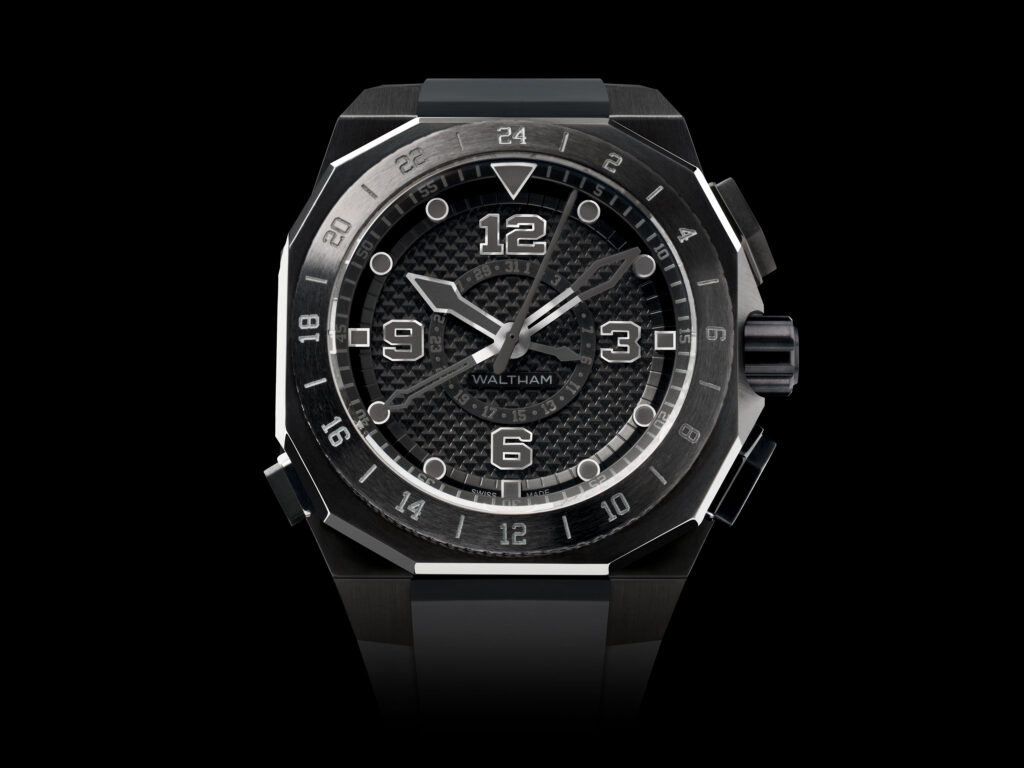 Designers of the Waltham AeroNaval CDI watches sought inspiration from clocks used by the US Air Force during the Second World War. As such, the Black Matter watch boasts of features similar to clocks onboard the Liberator and Hellcat aircraft, which makes it an ideal watch if you're after suave-looking timepieces.
The Waltham AeroNaval CDI (Central Date Indicator) Black Matter watch features a round dial on a somewhat square case, which is reminiscent of the Hellcat aircraft's cockpit instruments.
This watch's wide non-allergenic strap provides a comfortable grip for the wearer. In addition, it comes with a titanium case measuring 47mm wide as well as a non-rotating ceramic bezel.
This Waltham watch is notable for its central date indicator which comes with adjustable date and time zone settings. Other features include a glow-in-the-dark feature, a 300-metre water-resistance feature, and a 44-hour battery reserve.
Due to its various functionalities, the price of this watch is somewhat costly. In general, it costs around US$6,450 to US$8,200.
Waltham AeroNaval ETC Eclipse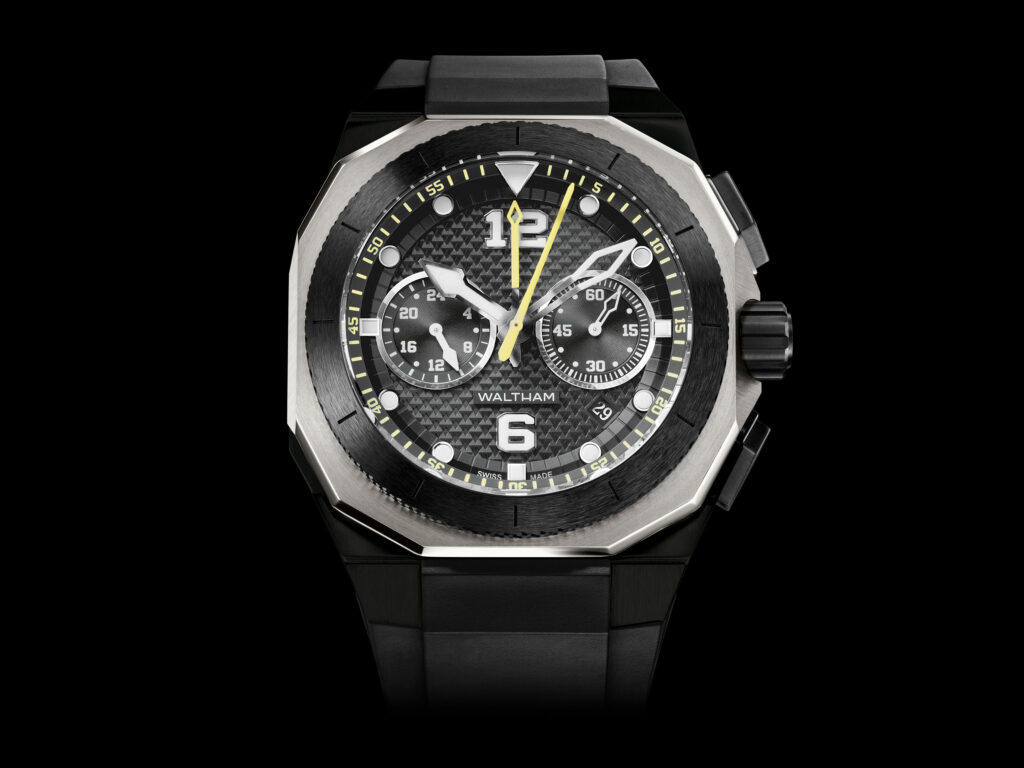 The AeroNaval ETC (Elapsed Time Chronometer) Eclipse is another Waltham watch series inspired by aircraft equipment design. With this watch, Waltham's designers sought inspiration from the F4 Phantom aircraft.
Thanks to its 47mm-thick case and its rubber bracelet, this watch fits comfortably well on wider wrists. Meanwhile, a ceramic bezel surrounds the sapphire crystal which contains an anti-reflective treatment.
This watch's large dial features two sub-dials. One which sits at the 3 o'clock position indicates seconds while the other, located at the 9 o'clock position, is a 24-hour Night & Day sub-dial, which is convenient in darkly-lit conditions.
Although this watch's power reserve lasts a mere 42 hours, it remains a highly useful timepiece. With a water resistance of 300-metres, you can use it while swimming, diving, and exploring underwater areas.
This particular Waltham watch retails around US$7,150. With its many functions, it offers a good value for money.
Waltham Watch XA 37 Type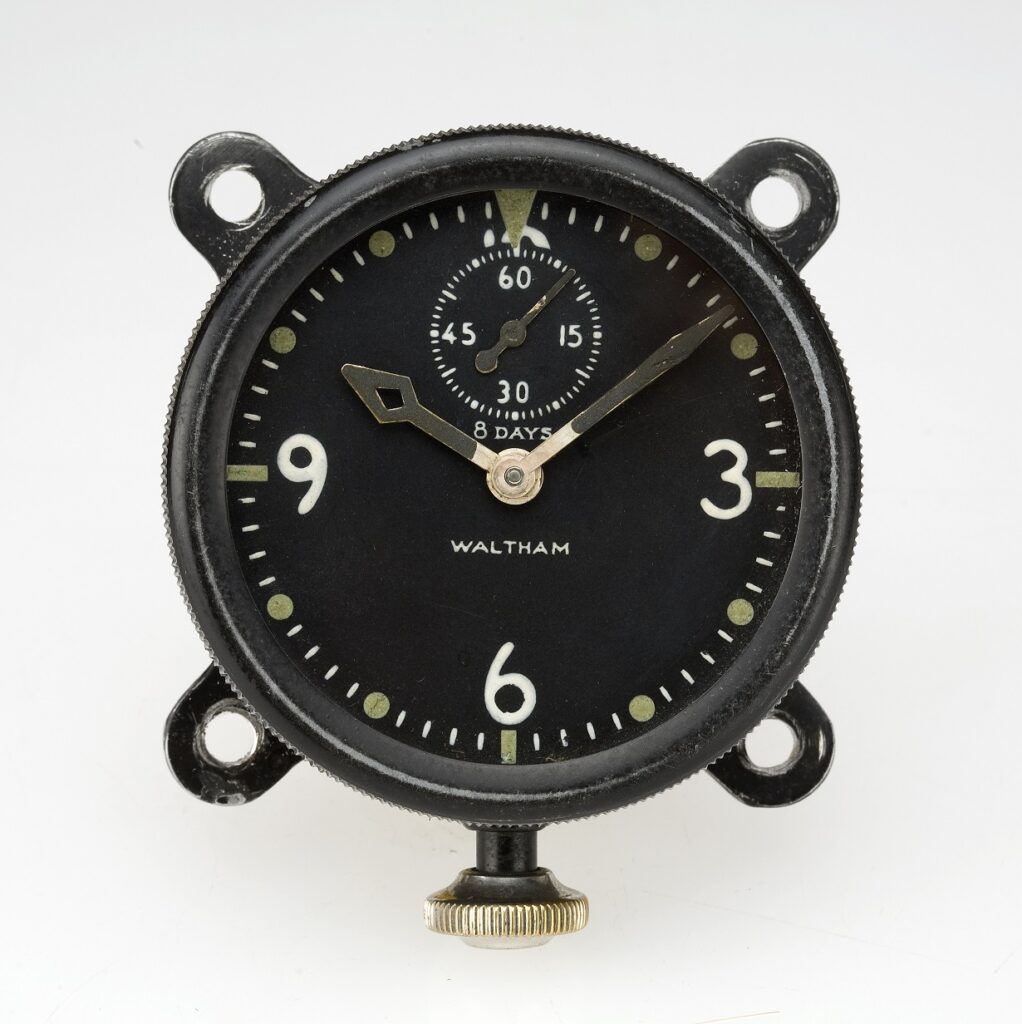 Some people are in need an actual aircraft clock as opposed to a mere replica. If you happen to be among them, then have a look at the XA 37 Type.
This first-class unisex watch features a dial with Hindu-Arabic three, six, and nine numerals. Meanwhile, its sub-dial which sits at the noon/midnight position indicates seconds.
What the XA 37 watch lacks in design (when compared to other Waltham watches), it compensates with its long-lasting eight-day power reserve. However, it is not suitable for deep sea diving treks as its water-resistance feature only works up to 30-metres.
A ceramic bezel outlined with a sapphire glass black dial is included with this watch. Additionally, it comes with a 47-mm case which is in line with most other Swiss-made Waltham watches.
With regards to its value, this watch is worth US$4,900.
Summary
As you have seen, there are many watches made by Waltham which you can find in the market. Besides their features, their value also depends on often changing market forces.
So, if you wish to sell or buy a vintage Waltham watch, then don't forget to analyze the state of the market. You should also be ready to conduct research and determine whether you need to deal with certain downsides in the process.
We hope you enjoyed this article. For another enlightening read, have a look at 6 Things to Know About Montblanc.